Not far from Kobe City in Hyogo prefecture, is the onsen resort of Arima Onsen (有馬温泉). With a history dating back over 1,300 years, Arima is one of the oldest hot spring resorts in Japan and is a popular travel destination for many visitors. I was able to visit this place already twice and would like to share my impressions with you.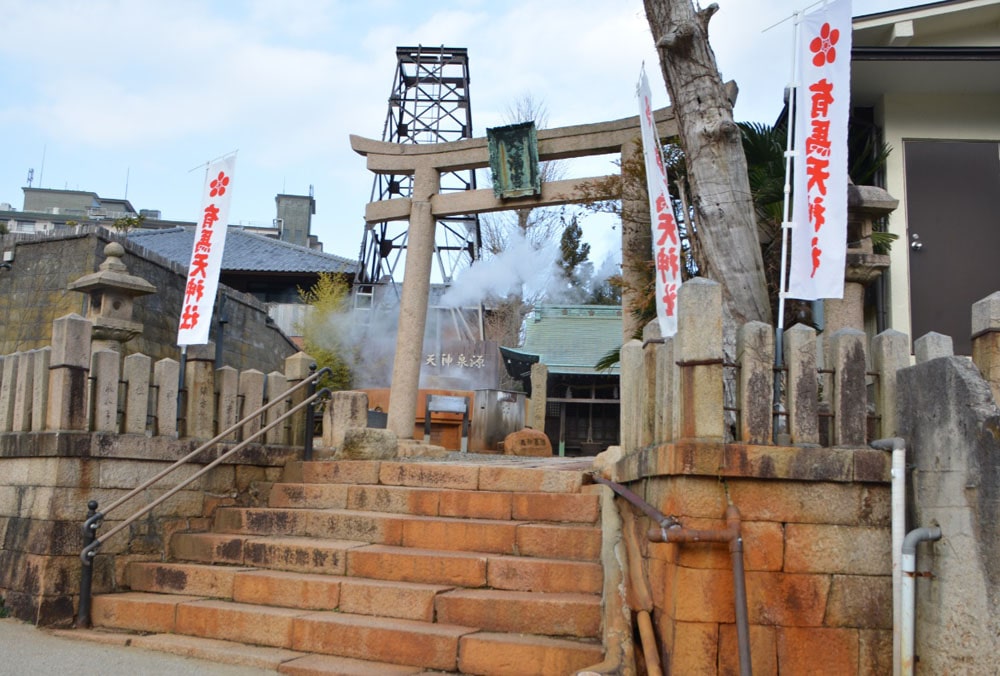 The Hot Springs of Arima Onsen
At an onsen resort, you'll surely have numerous opportunities to enjoy a hot bath. Arima Onsen offers two special types of water. First, there is the "golden water" Kinsen (金泉), which includes a high salt and iron amount. It has a red-brown color, which is caused by the oxidation of iron. On the other hand, you also can find the "silver water" Ginsen (銀泉), which contains radium.

The onsen water is said to help relieve various diseases. These include arthritis, muscle complaints, and circulatory problems. It could help to strengthen the immune system and is good for your skin. Furthermore, inhaling the ginsen water steam is said to alleviate symptoms of bronchial diseases.
At Arima Onsen, there are two public bathhouses which feature two types of water — the Kin no Yu (金の湯) and the Gin no Yu (銀の湯) — "kin," meaning 'gold' and "gin," meaning silver. The first one is located directly in the center of the city and has two indoor baths per gender, and also has a free foot bath in front of the building. The Gin no Yu is located a bit uphill and smaller, with one indoor bath per gender.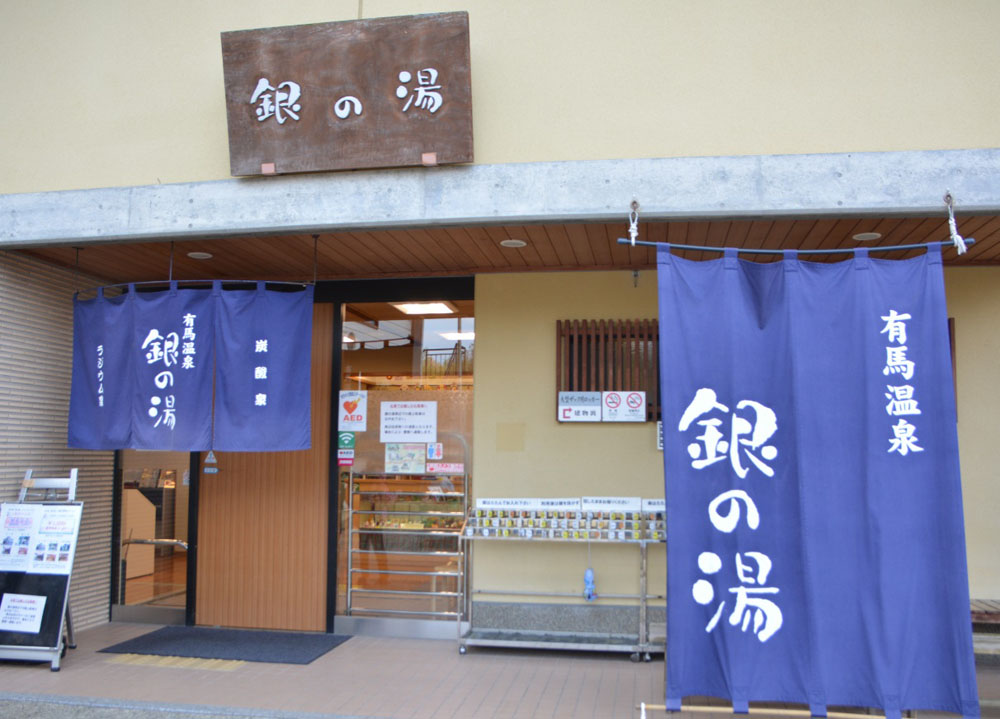 Certainly, there are many more baths at Arima Onsen, but most of them belong to a hotel or ryokan. However, some of them are open to day-time visitors, too.

During our visit, we decided to stay at Gekkoen Korokan (月光園 鴻朧館), a luxury ryokan, which has three baths for private use next to their public onsen area. Those are very diverse because you can choose between a cypress wood bath, a stone grotto, and a red wine bath. We chose the cypress wood bath with a view of the autumnal forest.
Temples and Shrines of Arima Onsen
Arima Onsen also has small temples and shrines which you can visit during a walk through the city. We visited four of them.

A little bit north of the shopping street, along narrow alleys, you can find the Arima Tenjinja Shrine (有馬天神社). The main attraction is the rising steam of Tenjin Sengen — one of seven hot water springs of the area —located directly behind the shrine's stone torii. The shrine itself is quite small but offers a nice view over Arima Onsen.
At the other side of the shopping street, close to the bathhouses Gin no Yu and Taiko no Yu (太閤の湯), are several temples and shrines.

One of these is Onsen-ji (温泉寺), founded by the monk Gyoki in the year 724. Inside, you can find a life-size statue of Yakushi Nyorai (薬師如来), the Buddha of Medicine.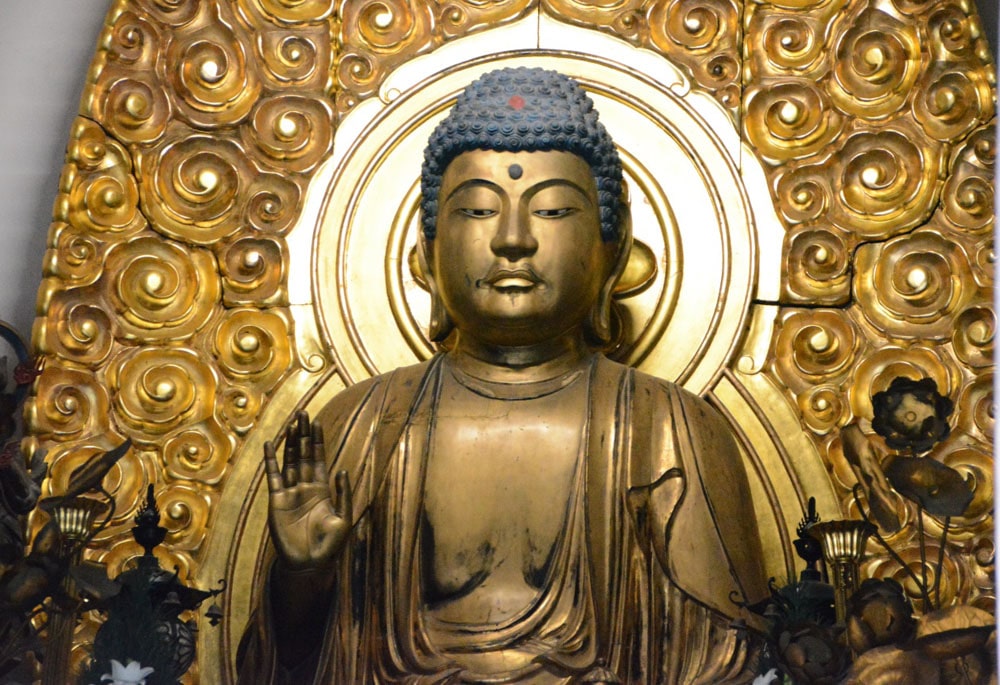 Directly next to the Onsen-ji is the Nebutsu Temple (念仏寺). This one, too, plays an important role in the history of Arima Onsen, together with Gokuraku Temple. These two temples are located where the villas of Hideyoshi Toyotomi, a Japanese general in the sixteenth century, once stood. He often visited Arima Onsen and supported the reconstruction after the war.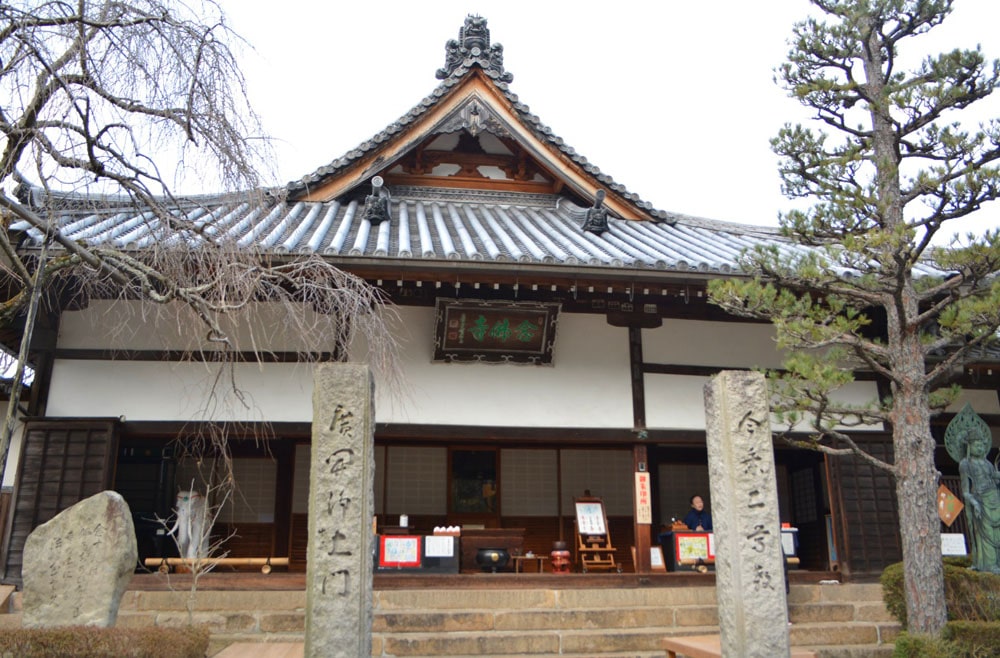 Next to Onsen-ji, are stairs that lead up the mountain. When you walk up the steps, you will reach Tosen Jinja (湯泉神社), a small and inconspicuous shrine where you can relax while being surrounded by nature.

The shrine is dedicated to the deities Onamuchi no Mikoto and Sukuna Biko no Mikoto, who are said to have discovered Arima Onsen as a healing place. However, they are more known to bring fertility, making it a popular place to buy all kinds of amulets and lucky charms to wish for healthy pregnancies and childbirth.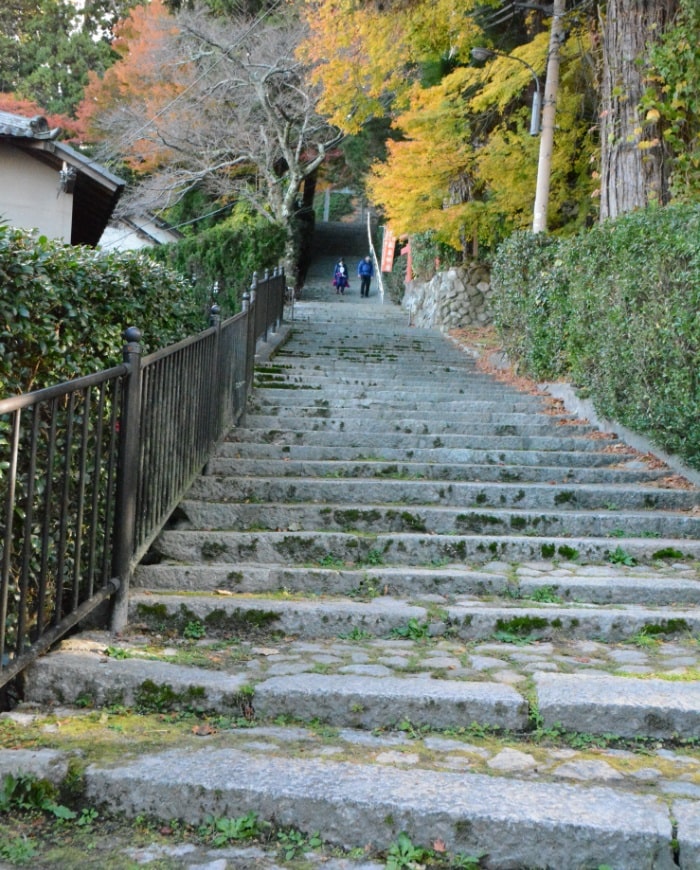 Waterpark and Nene Bridge
If you're walking from Arima Onsen Station to the downtown shopping area, make New Waterpark (有馬川親水公園, Arima-gawa Shinsui Koen) a part of your scenic route.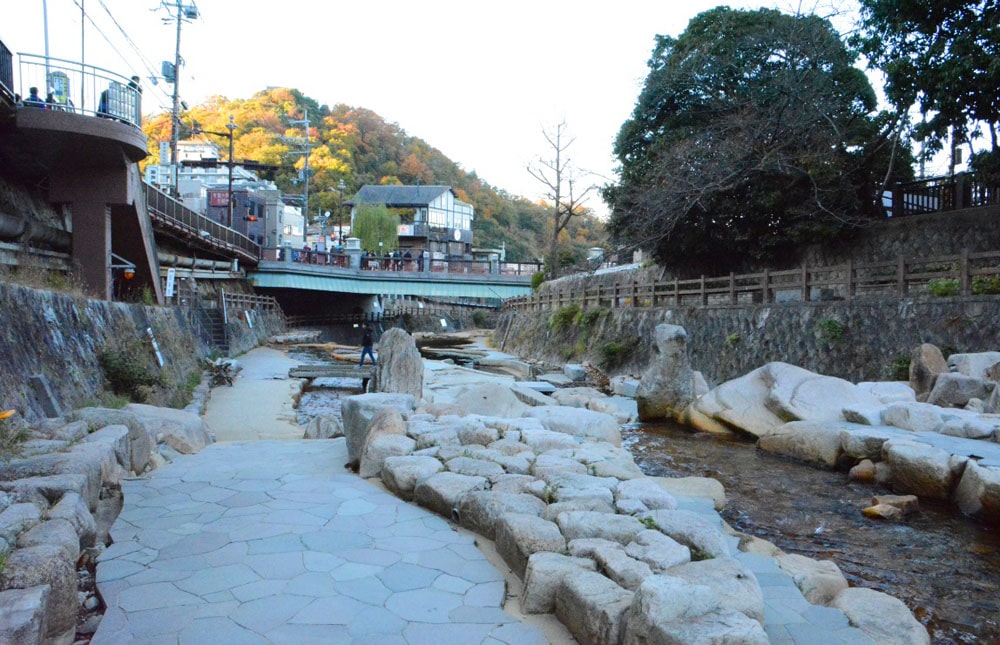 Two bridges in this area cross over the Arima River. The first one is Taiko-bashi (太 閤 橋), on the other is the Nene-bashi (ね ね 橋) a little further up the hill. The second one, in particular, impresses with its arched design and its red color and is especially beautiful in autumn with the colored foliage.

The name also has a special meaning because the bridge is named after Hideyoshi Toyotomo's wife, Nene. Furthermore, you can find a small statue of Nene next to the bridge.
Strolling around the small shops of Arima Onsen
The narrow alleys of Arima Onsen invite you to stroll around. The main street is Yumotozaka (湯本坂). Here, many small shops line up next to each other, and there is a lot to explore. So plan some time to discover its many offerings.

In this area, you also can find the Arima Toys Museum (有馬玩具博物館). It first opened in April 2000 with the toy store Alimali. In July 2003, the museum opened and showed numerous toys from all over the world, in particular, wooden toys and mechanical dolls. You can find German craftsmanship there, too.
Snacks to-go or Souvenirs for Home
While walking along the shopping street of Arima Onsen, you can find many snacks. One of these is Tansan Senbei (炭酸せんべい), which are delicious, thin pastries. Traditionally, they are made from flour, starch, and sugar and include carbonaceous spring water. You can even watch how the senbei are made by hand at some shops and buy the fresh version.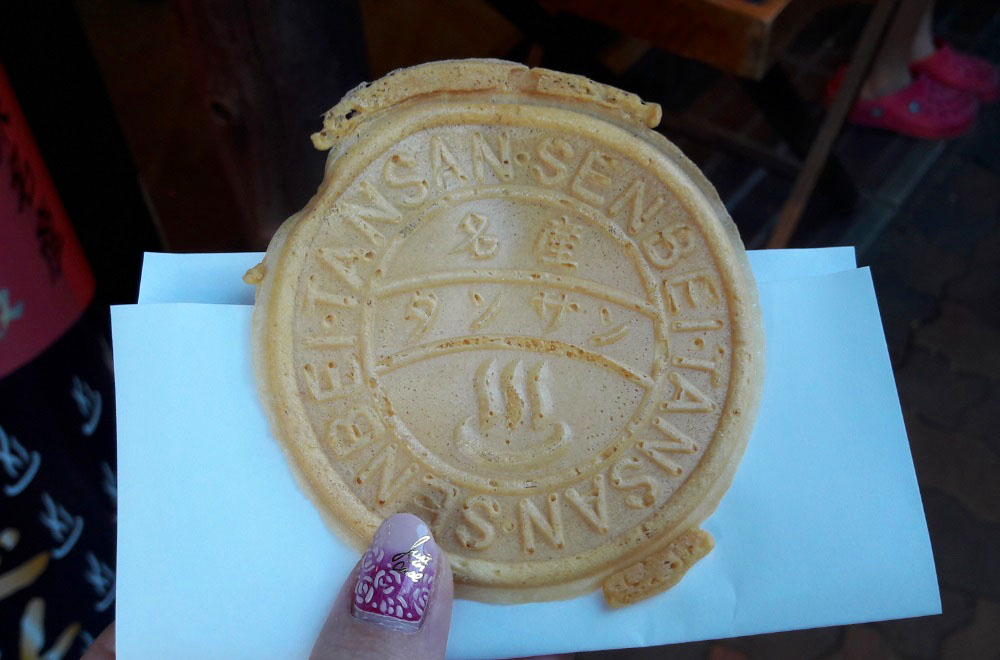 Also very popular at onsen resorts are Onsen Manju (温泉饅頭). The soft pastry, which is filled with red bean paste, gets steamed with hot spring water. I especially enjoyed the sweet Karinto Manju (かりんとう饅頭) made with brown sugar.
It is possible to find presents for your family, friends or colleagues too. Tansan Senbei is a popular souvenir, which you can buy in different packaging. Arima Cider (有馬サイダー), a soda drink in a glass bottle, or incense sticks also make great gifts. Keep your eye open for the KitKat packages with a special Arima Onsen design.
Access from Kobe and Osaka
Arima Onsen is easy to access from Kobe, especially if you decide to take a bus. From Sannomiya and Shin-Kobe, regional buses and highway buses run to the bus center of Arima Onsen. The ride takes between 30 and 50 minutes, depending on the route and the place of departure. From Osaka and Kyoto, there are several highway buses a day going directly to Arima Onsen.

With the train, you have to transfer a few times. If you depart from Sannomiya or Shin-Kobe, you first need to go to Tanigami Station (谷上駅). From there, the Shintetsu Arima-Sanda Line goes to Arima-guchi Station (有馬口駅), and from there you have to change one more time to the Arima Line, which will bring you to Arima Onsen Station (有馬温泉駅). Depending on the connection trains, the ride takes between 30 and 45 minutes.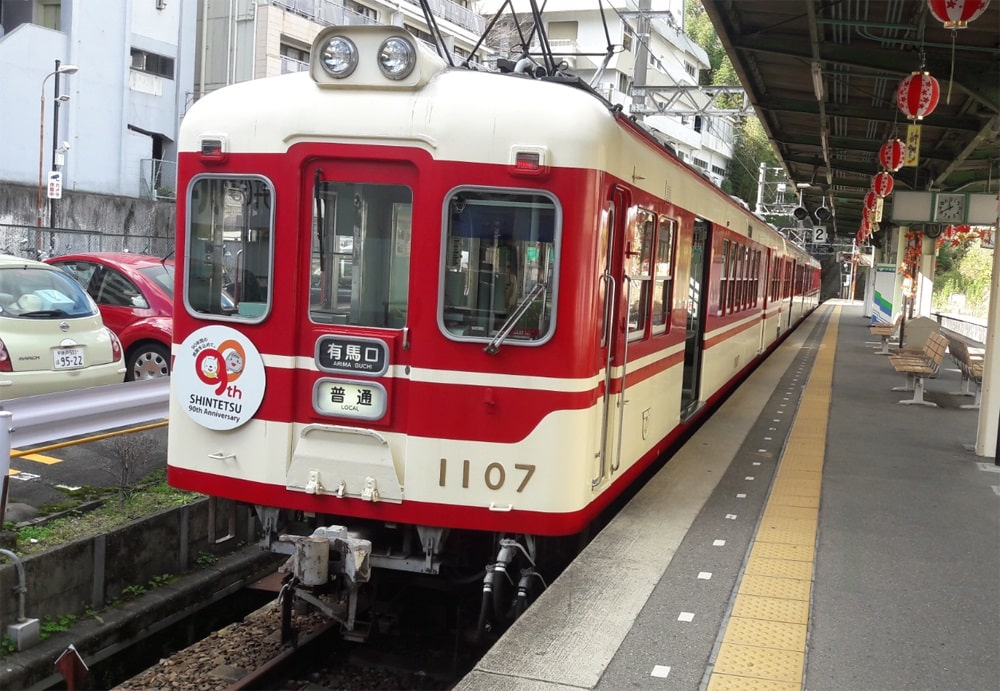 The other alternative is via Mount Rokko. From the train station, take the Rokko ropeway that runs up the mountain and down again on the other side to Arima Onsen. This costs some more time and money but is an adventurous way to make your way to one of Japan's oldest onsen town of Arima! Incidentally, Mount Rokko can be a nice travel destination in itself, for example, using the Shin-Kobe Ropeway.
Arima Onsen can be a great one-day-trip from Kobe and the neighboring cities. You can also stay overnight in one of Japan's oldest onsen resorts, or enjoy a day of hiking.