I've lived in Japan so long now and travelled so much around the country that I thought I might have heard it all. Life on the road, as an international wildlife expedition guide, no doubt does give me a skewed perspective, and I do miss things. So, when I was asked if I'd like to visit the Diamond Route — my first thoughts were: 'What's That?', 'Where is it?' and 'Why haven't I heard of it?'
A little research later and I began to understand that I was not being asked to explore the brightly-lit jewellery stores of Tokyo's Ginza district, but to visit a region of northern Honshu about which I knew very little. The Diamond Route is a new term being applied to the three prefectures of Ibaraki, Tochigi and Fukushima which together are forging a new, joint identity for themselves.
The Diamond Route: Hiking Trails, National Parks, and Searching for Japanese Birds
The Golden Route, between Japan's cultural and commercial capitals of Kyoto and Tokyo, steals the show when it comes to destinations for first-time visitors to Japan, so where should you go on a second or third visit? There are so many options. As a long-term resident of the island, I'd raise my hand for Hokkaido. Then, as a fan of the warm south, its people and its unique wildlife, I'd flag Amami Oshima, the Kerama Islands off Okinawa, and the subtropical islands of Ishigaki and Iriomote. When it comes to mountain hiking I'd head to the alps of the Chubu Sangaku National Park. For mountain biking or e-biking, it's hard to beat the great Aso Caldera and mountains of Kumamoto. For canyoning and kayaking, Yakushima is a great place. For backcountry skiing and snowshoeing, it's hard to beat the mountains of west Hokkaido, and for canoeing — well, the lakes and rivers of the Akan–Mashu National Park in east Hokkaido were I live are a must. But… I'm an ornithologist — a bird-studying naturalist with a fascination for rural Japan, its landscapes and local culture — so where should I go? Well, it turns out that the Diamond Route hits the spot.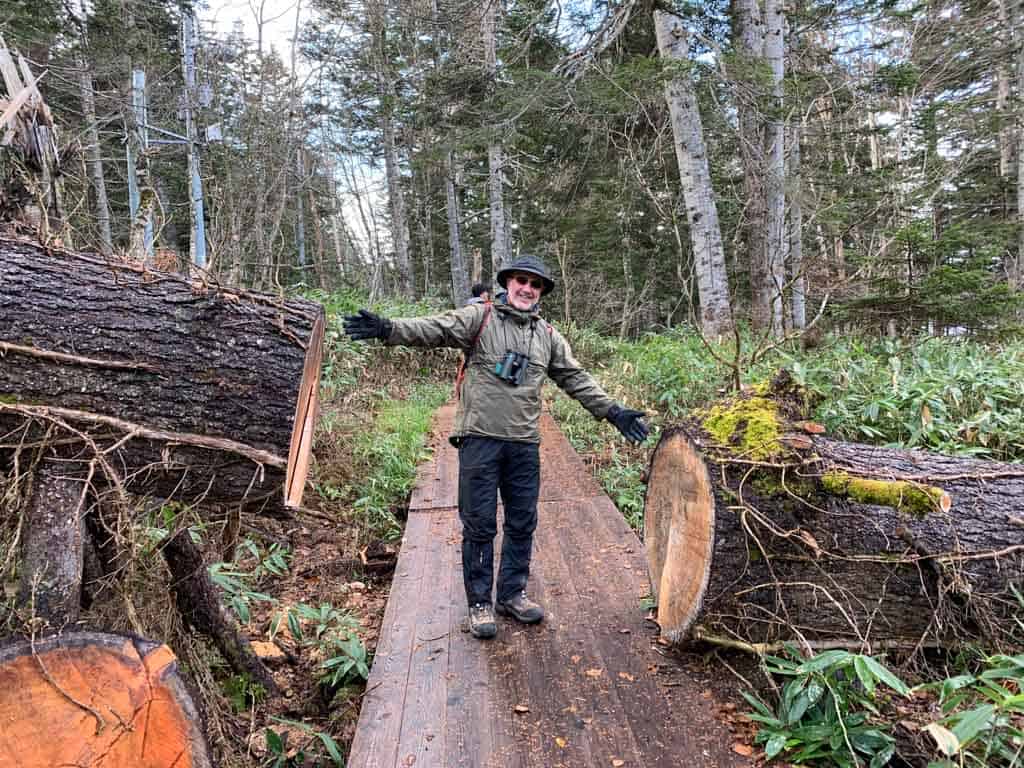 I hail from England, where the only natural spas are the few surviving magnificent Roman-era baths dating back almost 2,000 years, so I am a fan of Japan's innumerable and easily visited hot spring sites such as at Kinugawa Onsen in Tochigi Prefecture. On a wild dash through three prefectures I was forced to pick my spots — for hikes, for dips, for dining and the great outdoors. It soon became clear that two of the finest of Japan's 34 wonderfully diverse national parks are on the Diamond Route, so they immediately became my priority.
Hike in Fukushima in the Forests of Oze National Park
Oze National Park (尾瀬国立公園) was designated as Japan's 29th national park in 2007 and straddles areas of Fukushima (福島), Tochigi (栃木), Gunma (群馬) and Niigata (新潟) prefectures. It includes volcanic peaks and montane marshland, and it is this unique mountainous marshland mixture that makes its scenery so special. I approached the park from the rural village of Hinoemata (檜枝岐村) where I had spent the night in a simple inn serving a meal almost entirely of local ingredients, including a new one for me and my companions, Shimada Masayuki and Matsuura Yuki — salamander tempura!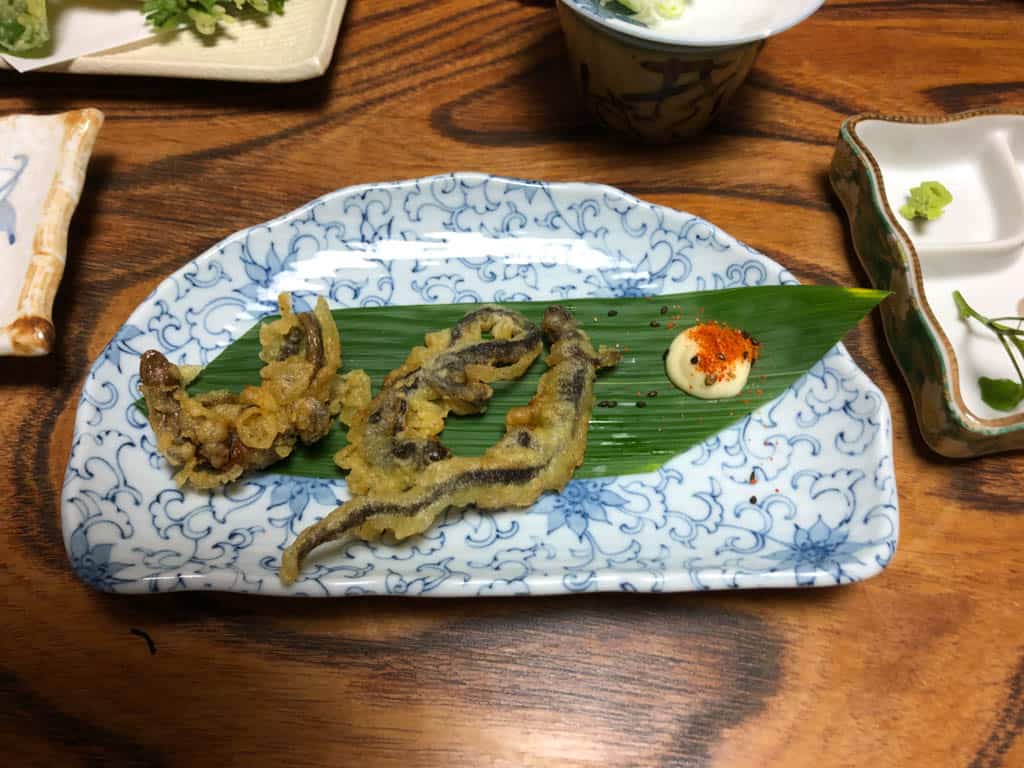 Autumn is a gorgeous time to experience Oze, and I was not disappointed. I had already enjoyed the scenery while stopping at a dramatic, rocky mountain river on the way up to Hinoemata. The rushing river was backed by forests vibrant with autumn colours in the late afternoon light. Sighting a Brown Dipper, a small riverine bird, foraging for insect larvae at the water's edge was an additional bonus. The next morning dawned cold, rainy and cloudy. But as we drove up to the national park entrance, we passed through golden-leaved deciduous forests, and through steamy windows, admired the girth and height of the ancient trees. A colourful shuttle bus then ferried us from the park entrance at Mi-ike to the trailhead at Numayama Pass (沼山峠) and with the rain, at last, slacking off, we tightened our boots, strapped on our backpacks and began our hike.
Our route took us first upslope through a delightful forest of spruce, hemlock, Marie's Fir and Erman's Birch, with a green undergrowth of dwarf bamboo. The trail then led us downhill and eventually out onto a long boardwalk across the marshland. Japan's national park service has yet to discover the value of attaching tightly-stretched chicken-wire mesh across wooden walkways to make them non-slip, as is done in New Zealand's national parks. So, with some trepidation, I negotiated slippery planks and steps, but the beauty of the trees and the winter birds were a great distraction. A Spotted Nutcracker, a highly specialised member of the crow family, called from the trees above us, and a family party of a delightful small forest bird, the Red-flanked Bluetail, flitted ahead of us near ground level. Soon we were out in the open.
The Rich Variety of Japanese Birds While Hiking through Fukushima's Oze National Park
Ahead lay the Oe Marshland (大江湿原) through which the Oe Stream wound its way. For our day hike, we were heading for Oze-numa (尾瀬沼) — as was the Oe Stream. The colour palette changed abruptly as we left the forest, trading the shady green undergrowth beneath the trees for the golden-tawny of the great, windswept grassland meadow that stretched ahead of us. In the distance, beside the lake, tall yellowing Japanese Larches were lit by brief bursts of sunlight breaking through the clouds. With improving weather, the views began to open up a little, and on the mostly level boardwalk, we were at last able to stretch our limbs, taking longer strides on the flatter ground. In summer, the forests and marshland here must be alive with birdsong, with warblers, flycatchers, cuckoos and thrushes. But by October, there was the pleasant cool silence of autumn broken only by the whistles and fluting calls of waterfowl on the lake. Eurasian Wigeon had already arrived from their breeding grounds in northeast Asia, and I wondered how soon the lake would freeze over and drive them on further south.
Oze National Park has a network of trails, some across marshland, some over low mountain ranges and a scatter of mountain huts offering food and accommodation, making it a superb destination for hiking, wandering, birding and botanising. I can't wait to return.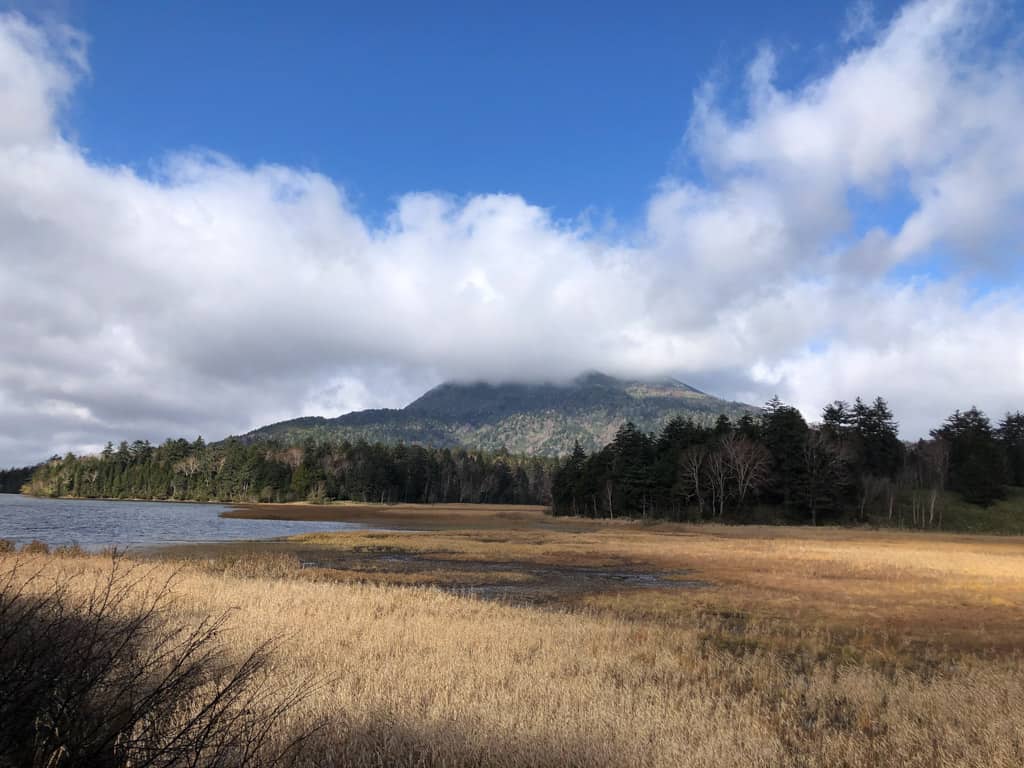 Stay Overnight at the Traditional Japanese Post Town of Ouchi-juku
Retracing our steps to Hinoemata, we left Oze behind us and headed north, and our next stop was in complete contrast. Ouchi-juku (大内宿) is an old post-town, one of several that once existed along the historical route between Aizu (会津) and Nikko (日光). With travel, then on foot and by horse, post towns, at suitable intervals, offered lodging and food to weary walkers and merchants. Today, the area preserves many of the original buildings complete with their thatched roofs, and huge efforts are being made to preserve the town's history and appeal.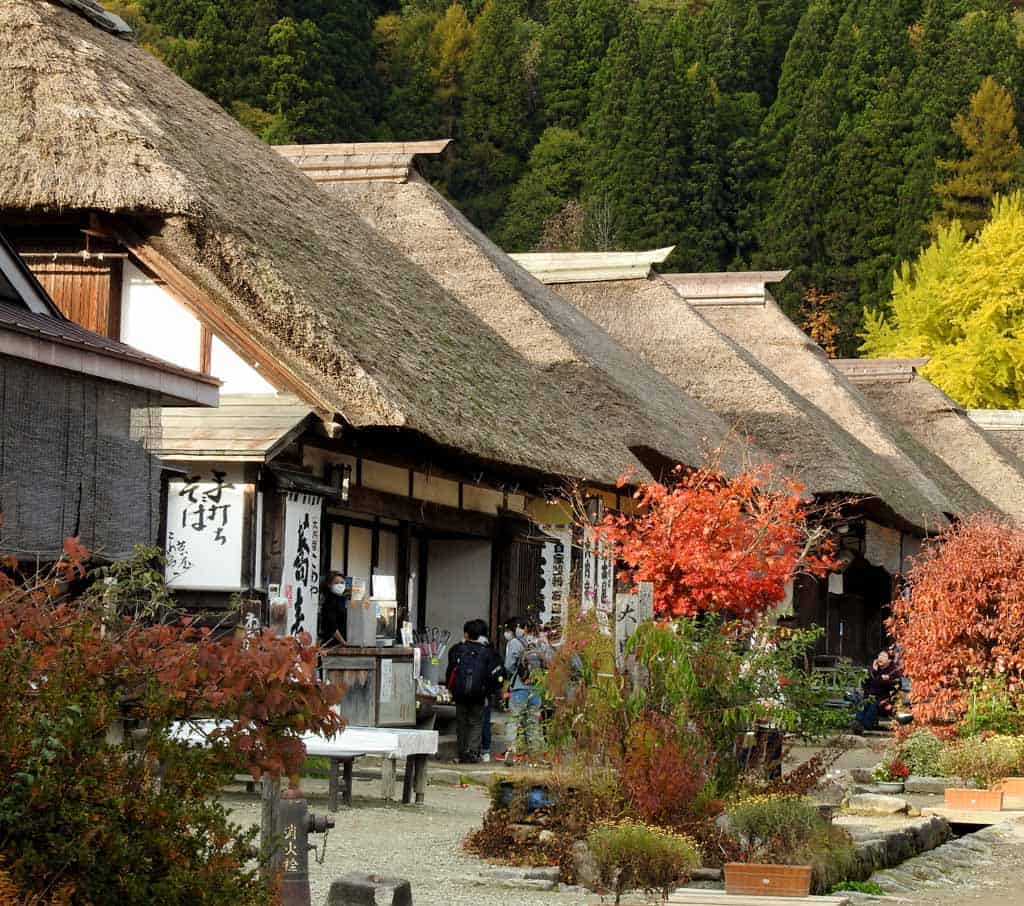 The first thing I noticed — after the functional and charming thatched roofs — was the eye-pleasing lack of overhead wiring. The little town has a broad main street lined with fascinating shops and eateries, and in keeping with its history, it is still possible to stop overnight here. Strolling up the rough road, I was entranced by the local crafts, local dishes on offer, and at the far end climbed the steps up to the viewpoint that looks out over the town. It was a worthwhile climb for its fantastic view. I was determined to stay longer than our original plan permitted and encouraged my companions and driver into Bunke Tamaya for a coffee and some delicious cake. It made the perfect spot from which to enjoy a vista of the town.
The Feudal History of Tsurugajo Castle
From Oze National Park to Bandai–Asahi National Park (磐梯朝日国立公園), the route passes the city of Aizu-Wakamatsu (会津若松). Now in Fukushima Prefecture it was, in feudal times, known as Aizu Province and the local castle was then the strongest fortress in northeastern Honshu. Alas, Tsurugajo Castle 鶴ヶ城 was all-but destroyed by artillery in 1868 during Japan's civil war, and the remaining unstable structure was eventually demolished in 1874. The proud people of Aizu contributed their own funds for the reconstruction of their castle donjon (the innermost part of a castle) in a project that was finally completed in 1965. The replica castle is a focal point for cultural identification in Aizu to this day and is unusual in being the only castle in Japan to have a red tile roof. 
Migratory Birds and Water Sports at One of Japan's Largest Lakes at Lake Inawashiro
To the east of Aizu-Wakamatsu City lies enormous Lake Inawashiro (猪苗代湖, Japan's fourth-largest lake) winter haunt of migratory swans and summer haunt of water sport pleasure-seekers and campers. Northeast of the city stands 1,819 metre-tall Mt Bandai (磐梯山) and the eastern portion of the Bandai-Asahi National Park (磐梯朝日国立公園). The lakes and trails north of the mountain in the Urabandai area provide almost endless opportunities for walkers, wanderers, and hikers with the trail that runs east from Lake Hibara (桧原湖) to Bishamon-numa (毘沙門沼, pond) being of particular interest. It was only after I had wandered bird-watching through the mature forests here listening to flocks of Red Crossbills, sighting Japanese Pygmy Woodpecker and Great Spotted Woodpecker and enjoying the autumn foliage, that I learned that the forests only dated back just over a century!
The Eruption of Mt. Bandai
The modern shape of Mt Bandai, showing a shallow bowl between two peaks that is so famously reflected in various lakes around the area, is vastly different now from how it was just over 130 years ago. In 1888, the lofty single-peaked mountain that was Mt Bandai erupted into life after a dormancy of more than 1,000 years and blew off the top third of the mountain. Today we are attuned to the 'new' shape of the mountain, but that devastating eruption killed more than 500 people in eleven villages who lived, and died, under the mountain. The diverse forests that were planted and now matured on the mountain's flanks and the wildlife that now lives in them, provide a wonderfully rich and natural memorial to those folk who lost their lives.
Access to Diamond Route
The Diamond Route spans Fukushima (福島), Tochigi (栃木), and Ibaraki (茨城) Prefectures. The easiest way to start your Diamond Route trip is to take an hour and 40-minute bullet train ride from Tokyo Station (東京駅) into Koriyama (郡山) located in central Fukushima Prefecture. Explore the outlying areas via the local trains.
In travelling in the region of the Diamond Route, I found much that was memorable, from the local foods, local hot springs and the numerous trees draped with persimmons (they don't grow in Hokkaido). I also found much that was inspiring, from the efforts to preserve delightful Ouchi-juku to the wonderful landscapes of Oze and Bandai-Asahi National Parks. After an introduction to them in autumn, I now dream of visiting again in early summer when the landscape will be lush, and the forests will be ringing with the chorus of summer bird song.
Sponsored by Fukushima Prefecture