One of the Remote Islands in Southwestern Japan(Okinawa)!
Iriomote Island (西表島) is the second largest island of the Okinawa prefecture, with an area of 289.27 km2. Unlike for Hateruma or Hatoma Island, you might want to consider a moped or car instead of a bike. Iriomote may be large, but it is mostly uninhabited and is therefore the most naturally beautiful of all the Okinawan islands. The population is roughly 2,500, scattered in small towns to villages along the north to south east coasts. Each town or village is linked with a single well-made road. Consequently, the inland and the entire west coast is pure unspoiled nature! While much of this land is not so easily accessible, lucky for us, certain areas can be reached in various tour groups by boat or kayak!
Many Options for Accommodations, but Let's Camp!
Since tourism is one of the island's key industries, there are many hotels, guesthouses and minshuku (民宿) that you can stay at. However, it is also possible to visit on a day trip. Alternatively, near the northern Ueahara Port (上原港) you can stay at the Mitorea camp grounds(ミトレアキャンプ場) for 1000 yen per night.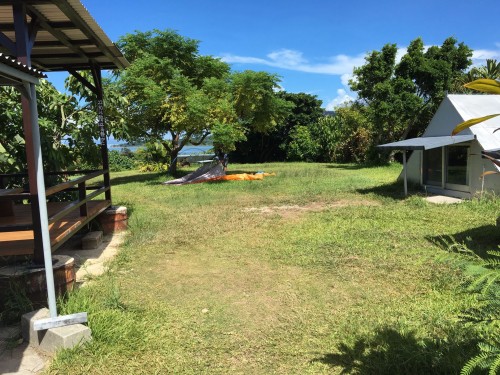 Mitorea is great not only because of its inexpensive price, but also because the facilities are very clean and include hot water showers, drinking water, a kitchen with utensils, BBQs and firewood, an undercover pagoda for when it rains and many hammocks for relaxation. One of these hammocks overlooks the ocean and stars, and I could experience the best night sky I have ever seen. On another night, I was able to watch a lightning storm slowly approaching over the course of an hour or so, and it was fantastic to say the least.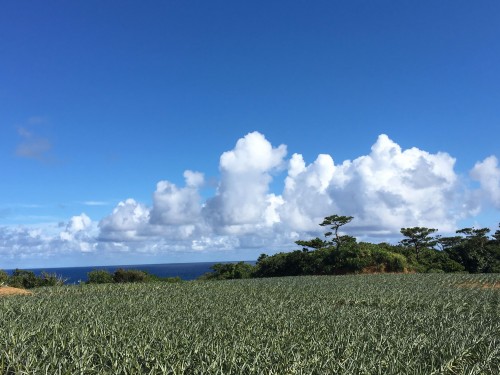 How to Get Around on Iriomote Island
The only downside to the campground is that none of the beaches are quickly accessible by foot. You will need to walk through scenery like above, rent a bike, moped or a car, or catch the bus. Bikes and mopeds can be rented from the nearby guesthouse Mariudo (マリウド); Cars can be rented from a rental agency fairly close-by called Yamaneko rental car (やまねこレンタカー).
Speaking of Yamaneko, you will see this name used around Iriomote Island quite frequently. This is the name of a critically endangered cat species, found only on Iriomote Island. The Yamaneko (mountain cat) numbers at around 100 total, so it is very important that you take care on the roads. Should you see one of these cats (or if you are unfortunate and hit one with your vehicles), there are telephone numbers written in places throughout the island that you are encouraged to call and make a report.
The Best Beach on Iriomote Island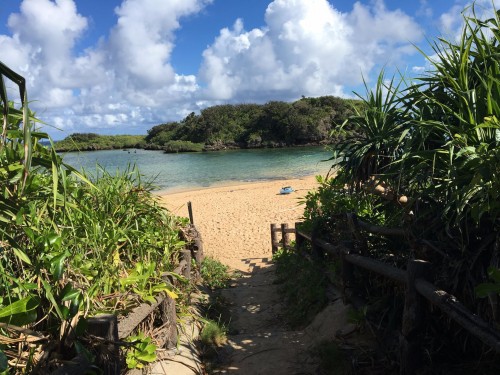 The best beach on Iriomote is probably Hoshizuna (星砂), located at the northern most point of Iriomote Island. The name comes from the fact that the sand looks like little stars ("hoshi" meaning star and "suna" meaning sand). In fact, it should be named "Hoshihone" or something, because the star shaped "sand" is actually the remains of some amoeboid protists. But do not let that image sway you! This beach is really fantastic, with great snorkeling in low or high tides.
Where to Eat on Iriomote Island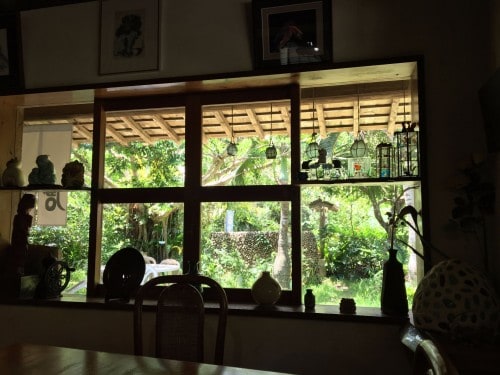 A short bike ride down hill from Hoshizuna is the café Tohenboku (唐変木). This café is really beautiful, and serves the most delicious beni-imo (a type of potato) pie ever. I want to go back to Iriomote just for this pie. I cannot get it out of my mind!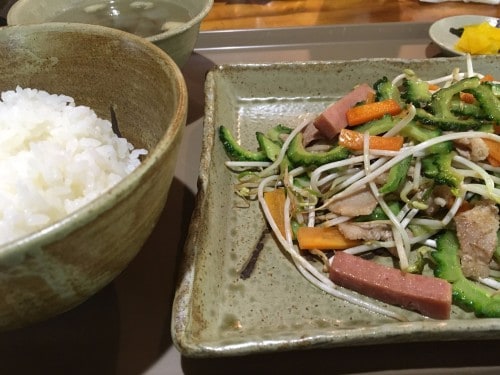 Okininawa is famous for the vegetable "Goya". How do you feel about bitter foods? If you said anything less than "I love them," then try Goya with a little caution. It is well known for being bitter, so I would say it is an acquired taste.
Let's Discover this Jungle!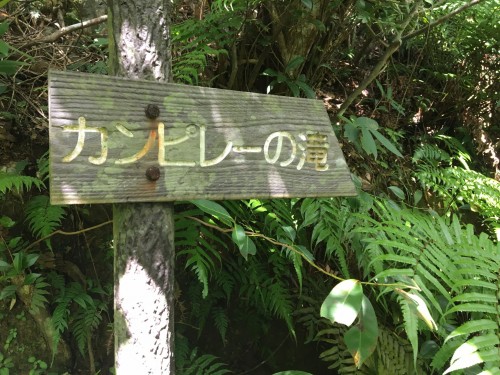 Further down south from Hoshizuna beach and Tohenboku café, we come across a large bridge with a carpark. This is the port for a boat tour to some waterfalls (浦内川遊覧船乗場). The waterfalls are called Mayudo falls (マリュード滝) and Kanpira falls(カンピラ滝).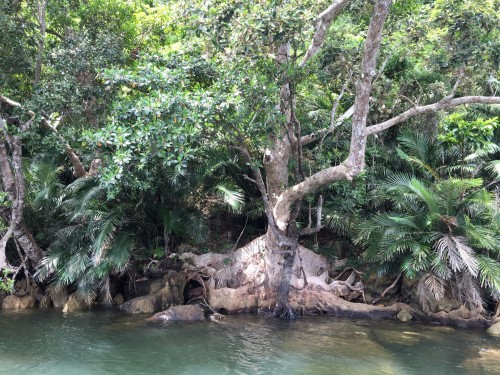 The falls can be reached by taking a boat ride to a hiking trail head, then walking about 40 minutes through the jungle.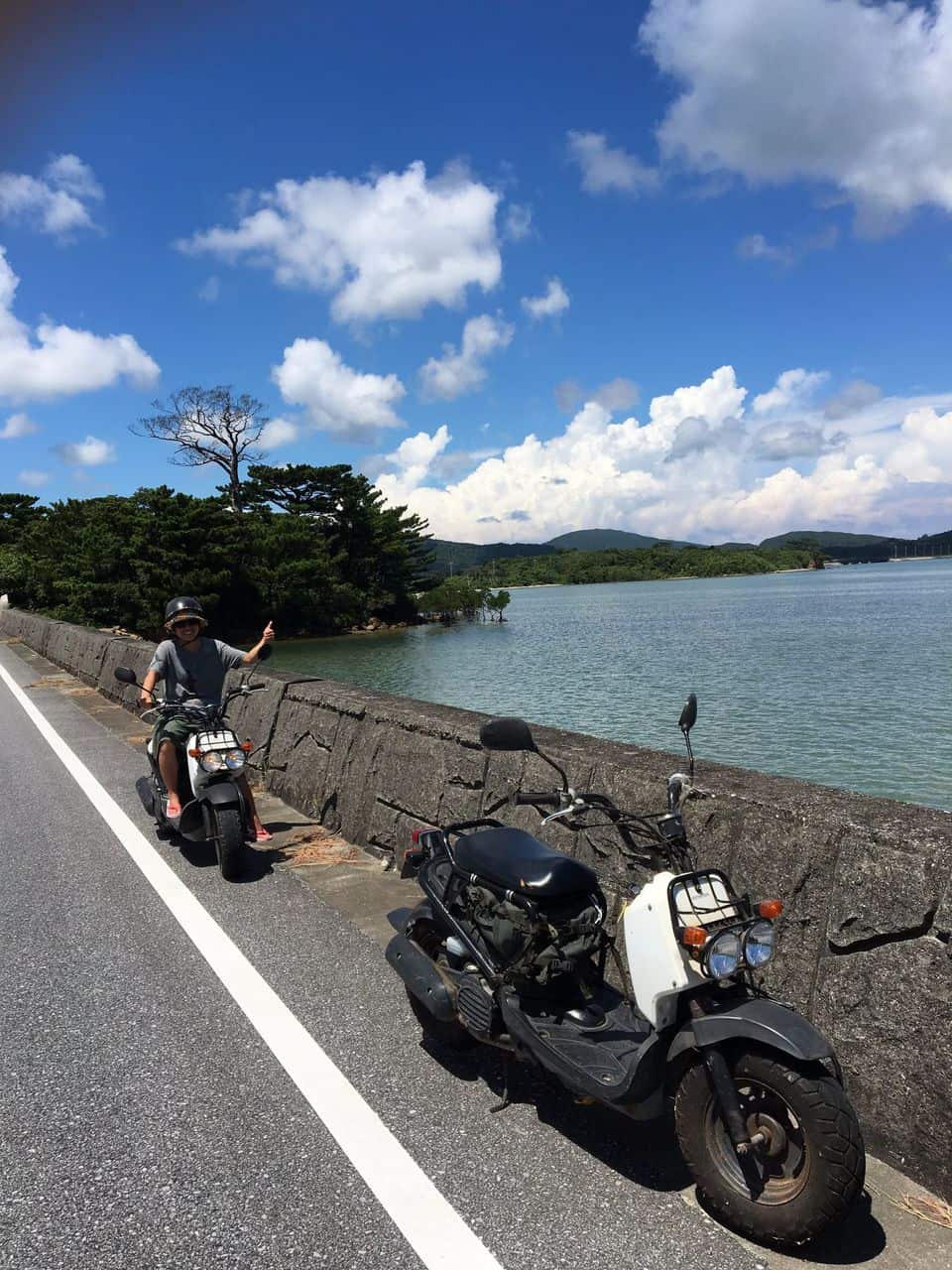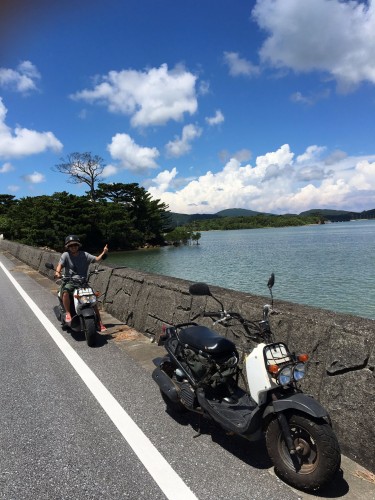 I recommended renting mopeds (原付 Gentsuki) for a fun experience exploring the island between the northern and southern ports. Of course you will need a license to do so, but in Japan a regular car license also allows you to ride a motorbike of less than 50cc.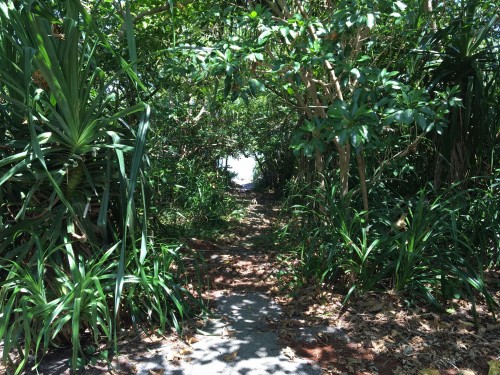 The bonus that comes with using a moped or car instead of the bus is that you are able to make stops whenever anything interesting that catches your eye!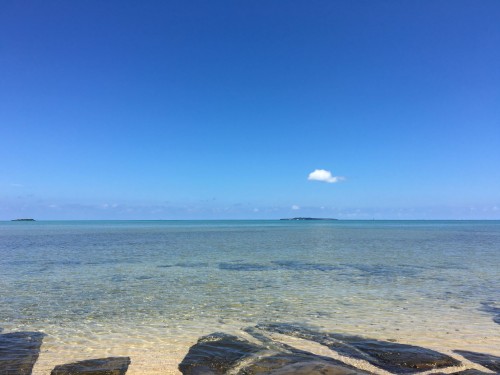 The water here was incredibly warm! I unofficially dubbed it "Iriomote Island Onsen"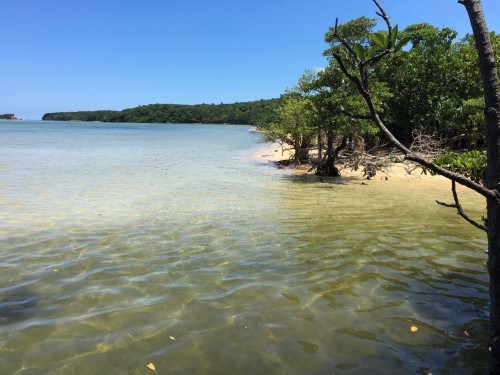 Mangroves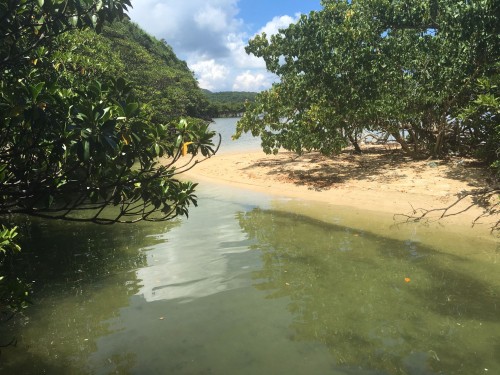 More mangroves. The mangroves on Iriomote Island are really impressive and abundant–my photography skills could not quite capture the magic! You will just have to see it with your own eyes.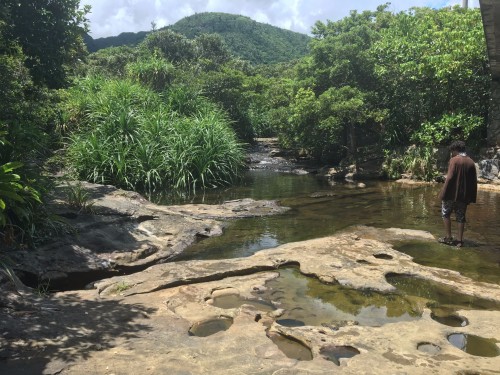 Omisha road park (大見謝ロードパーク) is pretty cool, so make sure to stop by there too.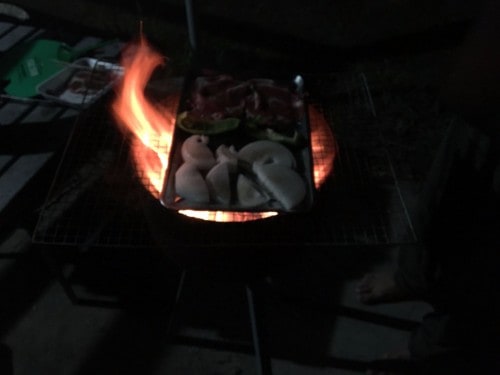 Explore Okinawa by Kayak!
Back home! おかえり~ At this point of my Yaeyama adventures money was running thin, so I had to skip the restaurants…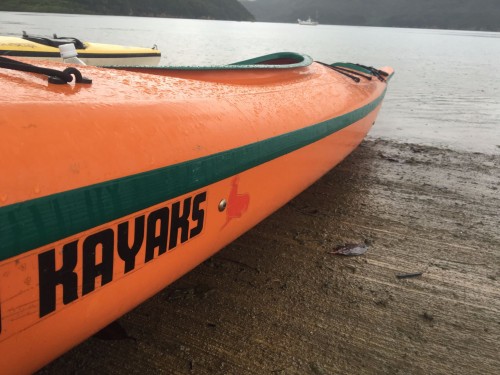 … But no visit to Iriomote Island is complete without a Kayak tour! Yes, it is a little bit more expensive but it is a lot of fun.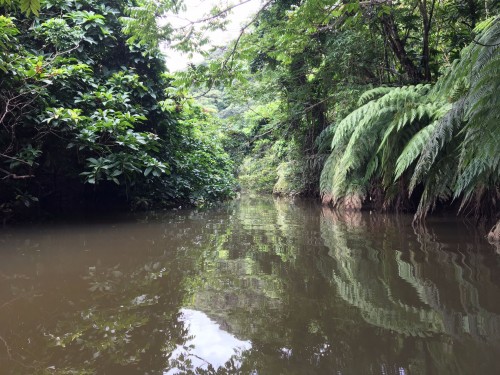 The tour lets you travel up the river into the inland, and it is very tranquil and beautiful.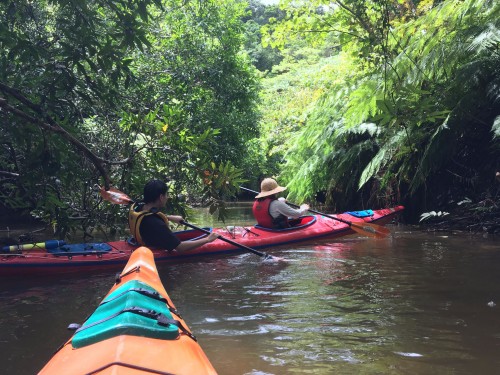 But we aware that it can be a little difficult to navigate if it is your first time!
Eventually the river gets too shallow to continue with the kayaks so we disembarked and continued on foot. The trek was very fun, and involved swimming and climbing. At our destination the guide cooked us an udon lunch and we ate whilst it heavily rained down upon us. Such an experience!
If you enjoy nature and adventures, Iriomote is the perfect place to visit almost any time of the year. There are many things to do (much more than that which was mentioned in this article), and it can be done without spending too much money! Please enjoy Iriomote Island and watch out for the mountain cats!
Iriomote Island Information
Tohenboku (唐変木)
Japan, 〒907-1541 Okinawa Prefecture, Yaeyama District, 竹富町上原749
11:30 to 5
closed Tuesdays
Boat tour to the waterfalls  (浦内川遊覧船乗場)
Uehara, Taketomi, Yaeyama District, Okinawa Prefecture 907-1541, Japan
Bike rentals
Mariudo マリウド
Japan, 〒907-1541 沖縄県八重山郡竹富町字上原984−15
Car rentals
Yamaneko rental car やまねこレンタカー上原営業所
Japan, 〒907-1541 Okinawa Prefecture, Yaeyama District, 竹富町Uehara, 984−57
8am to 6pm
Hoshizuna beach星砂
Japan, 〒907-1541 Okinawa Prefecture, Yaeyama District, 竹富町字上原289