Sponsored by Northern Kumamoto Administrative Headquarters
Ahh, the great outdoors of Aso. Famous for its rich milk and yogurt drinks, Aso is an incredible fusion of contrasting terrains that seamlessly blend into one another. As a Canadian who split her time growing up in the Canadian Rockies and its neighbouring prairies, I felt a surprising spark of familiarity when exploring the landscape here in Kumamoto. With winding roads wrapping around vast, breathtaking views of grass-covered knolls that transitioned into the rocky terrain of Mount Aso, it's no wonder why this area is dubbed "The Holy Land for Motorbikes."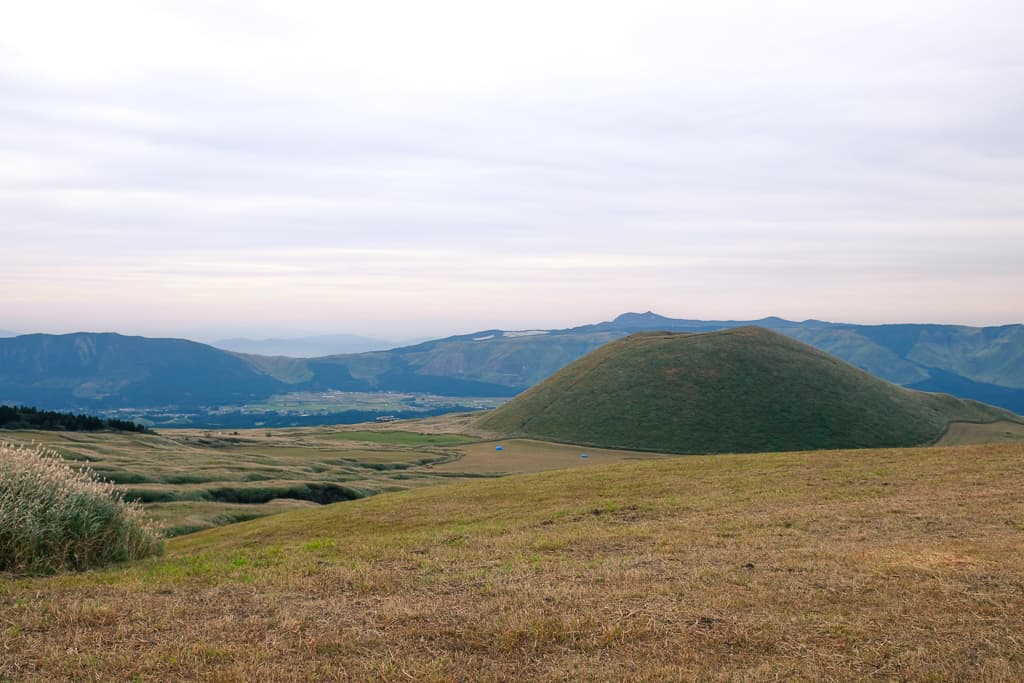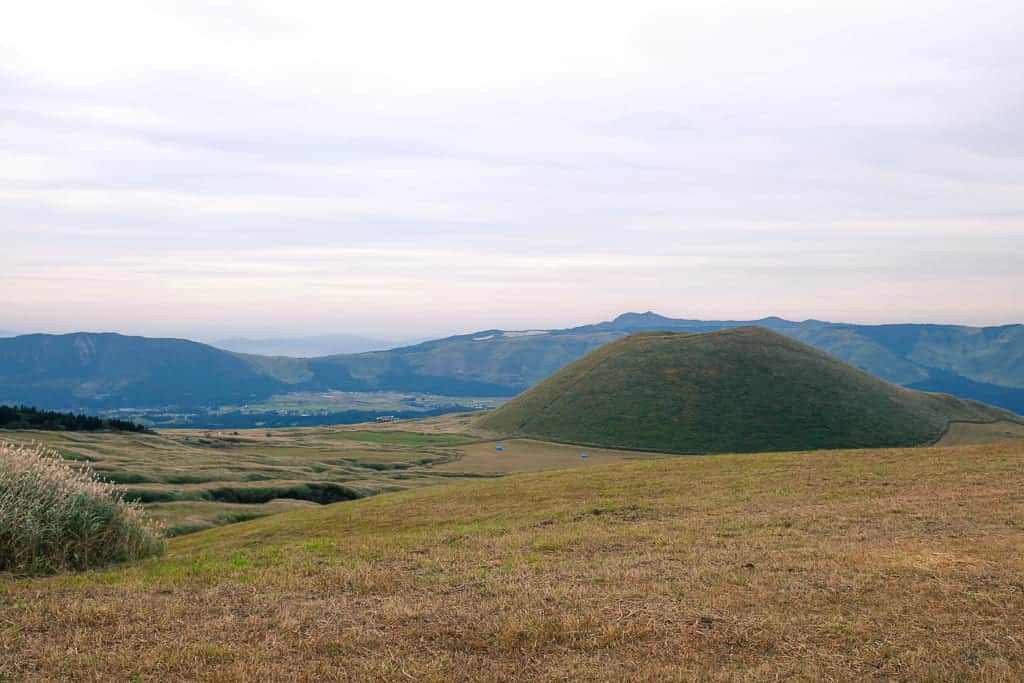 With such a wonderful landscape to behold, it begs to be discovered beyond the confines of the road. To thoroughly appreciate Aso's beauty and splendour, one can take part in several outdoor activities on offer here, from an early morning hot-air balloon ride, a guided waterfall trekking tour and even motorized mountain-boarding (yes, you heard me right). For the next two days, I tried three: paragliding, horseback riding and an all-terrain adventure truck ride.
Paragliding in the Panoramic Views of Mount Aso
I made my way up to Daikanko lookout for my first paragliding experience. On a Sunday, it's teeming with visitors, but there is plenty of walking space to get away from the crowds. Walking up to the lookout point, I'm met by Ms. Kimura, a representative of Aso Nature Land Company, and preparations get quickly underway. Two paragliding instructors lead me down to the jump off point, where I'm strapped into my harness. Peering down the edge of the hill, I started questioning my surety that I wasn't afraid of heights. I guess I was about to find out.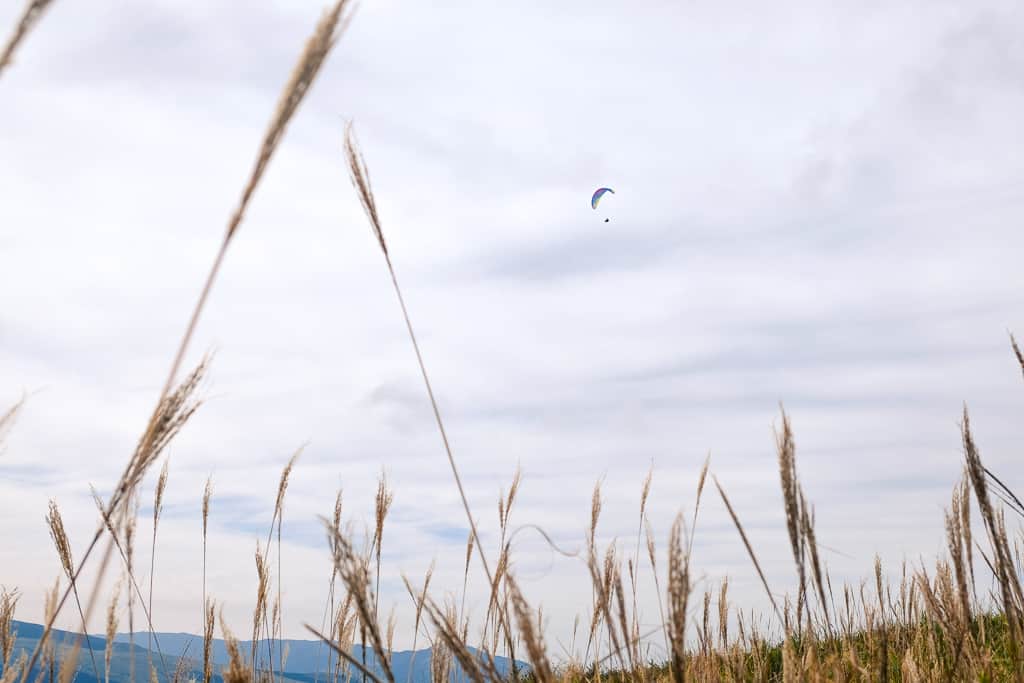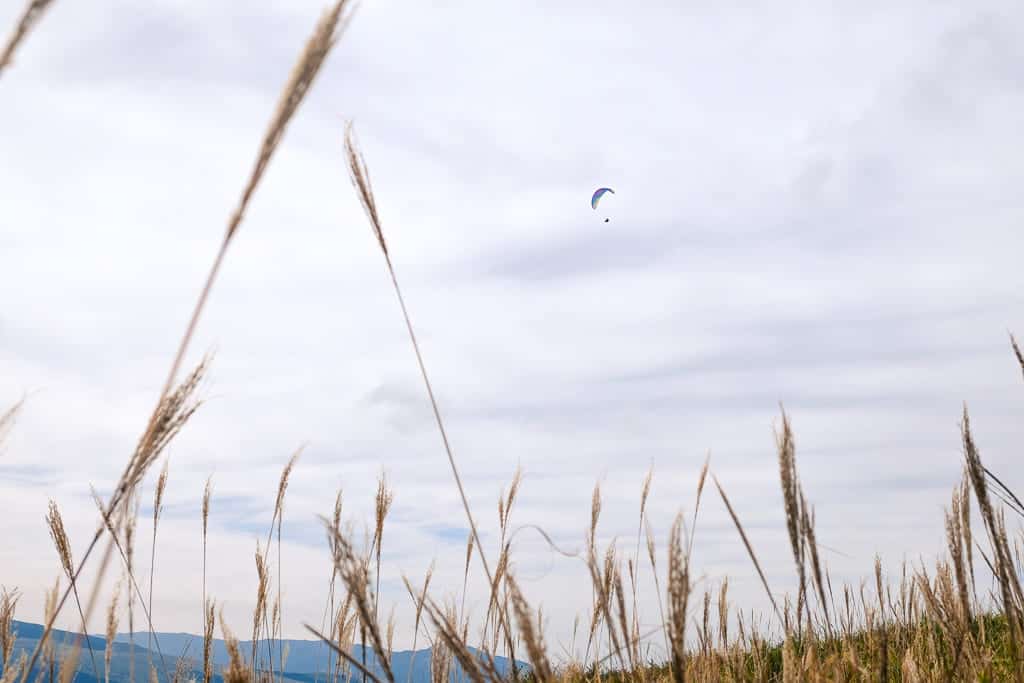 Like a couple of surfers, my paragliding guide and I wait for the right wave of wind to catch us into the air. At this point, a small group of curious onlookers had formed atop the hill. Finally, my guide announced it was time to run. Clenching my seat straps, I sprinted down the hill, and we were whisked up 500m into the air. And it wasn't fear I felt. It was exhilaration. As I swung my legs out and watched the landscape grow more distant beneath my feet, I took in the sensation of weightlessness. I don't think I stopped grinning like an idiot the entire time I was up there.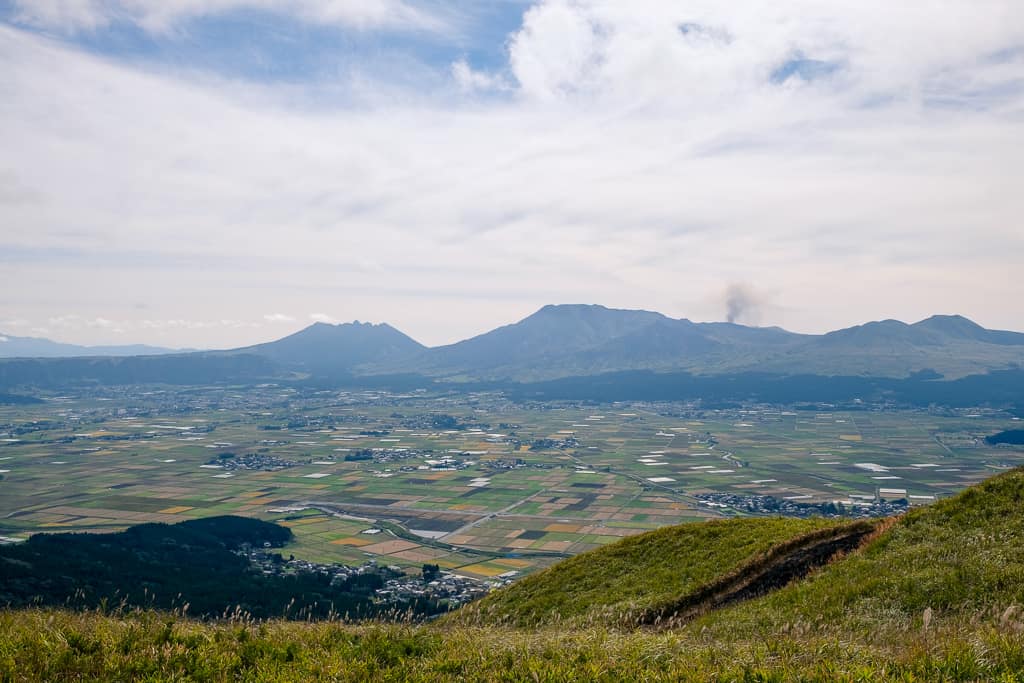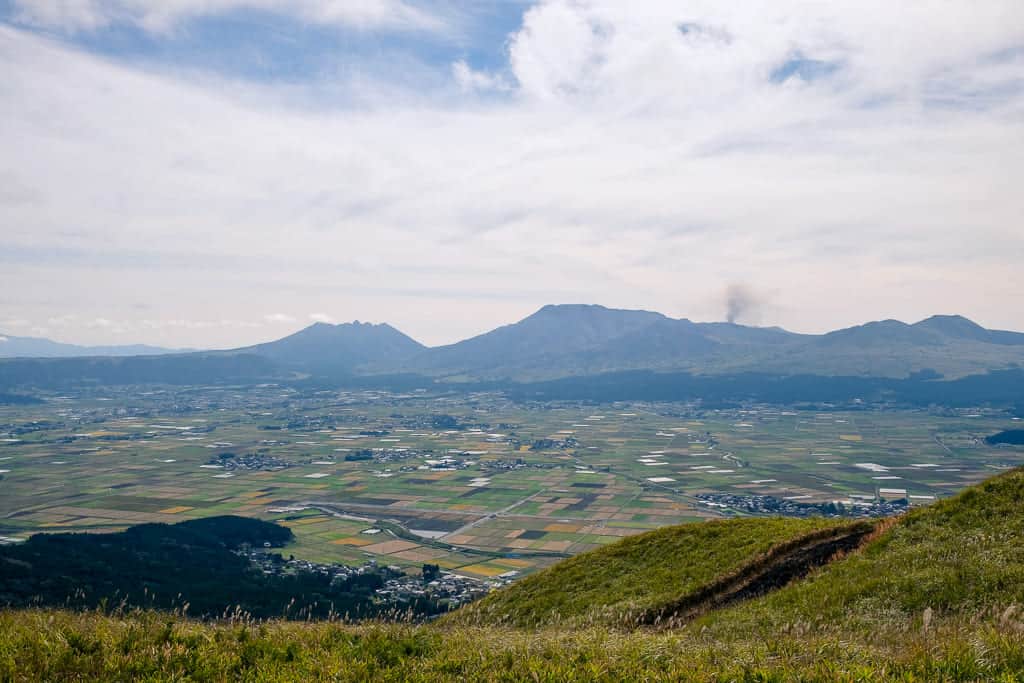 From that altitude, I got a panoramic view of Aso that is missed from the ground. Soft, green hills beside gridded farmland are framed by the Aso caldera's abrupt cliffs formed thousands of years ago. The jagged-toothed Nekodake and Takadate are clear as day, with signs of volcanic smoke coming from the hidden Aso Nakadake behind the mountains.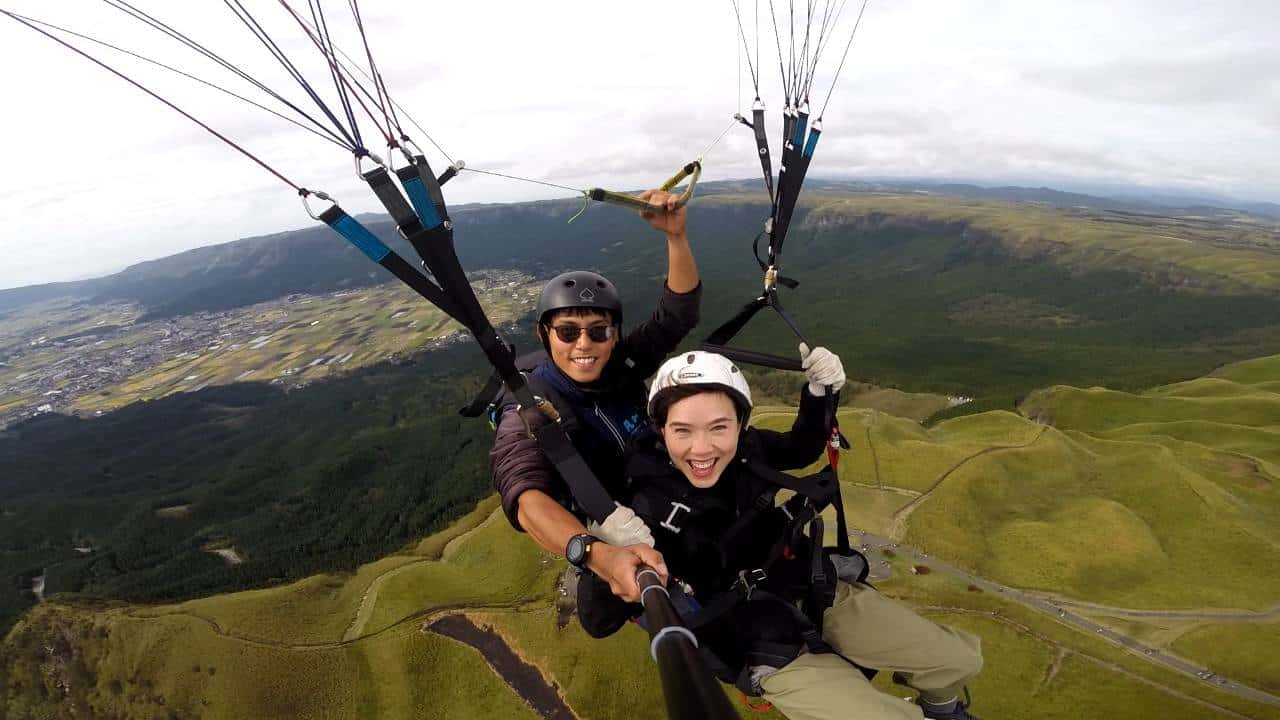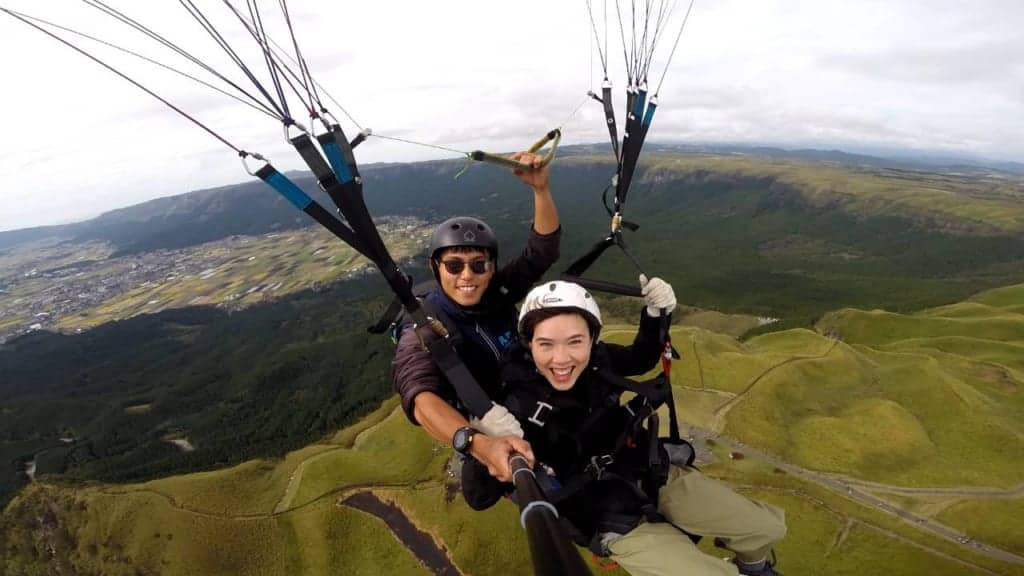 Take in Views of Aso Nakadate by an Adventure Truck Ride
Further south and sitting neighborly west of Mount Aso is the next stop on the agenda, also run by Aso Nature Land Company: A Russian all-terrain truck. I passed by what looked like giant, moss-covered camel humps as the formidable Mount Aso came into view. It feels otherworldly, perhaps made by the fact that Mount Aso had just erupted that day. Like fish cooking too long in a pan, the eruption spewed a sinuous stream of smoke into the air. It was only a small eruption, but it doesn't reduce the dramatic effect it had on the landscape.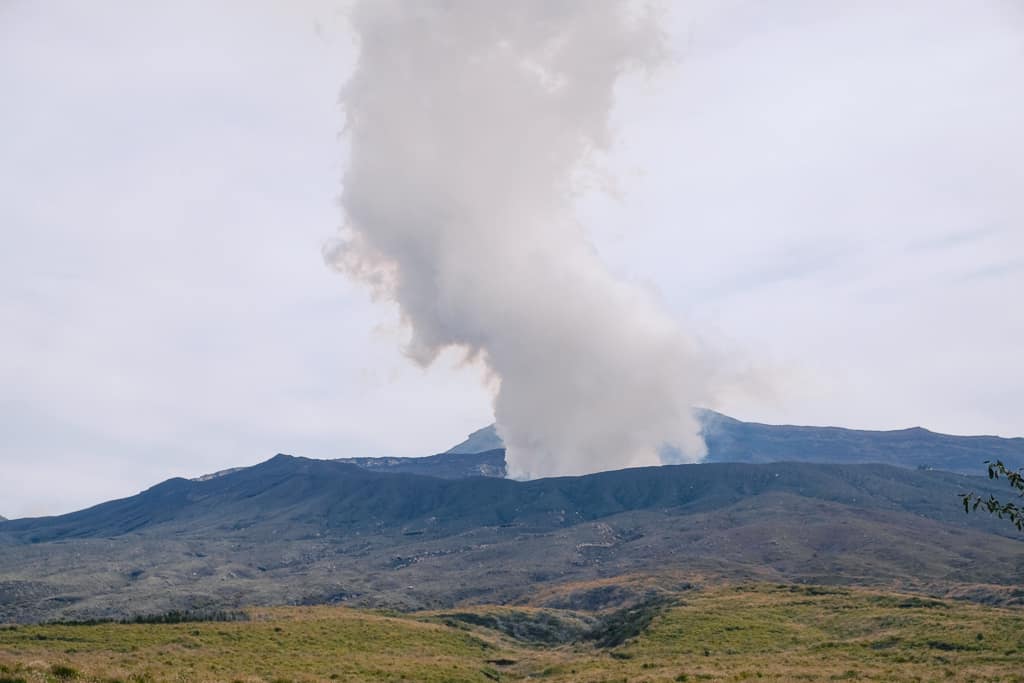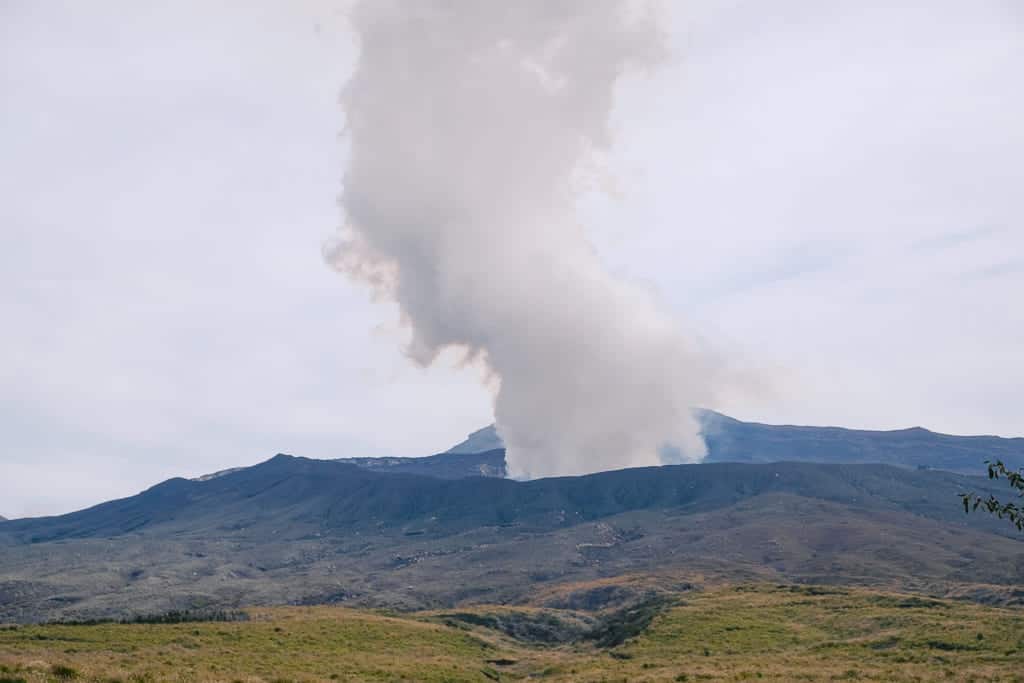 As I waited for my driver, I could hear the distant shrieks of excitement as the bright yellow ATV came into view.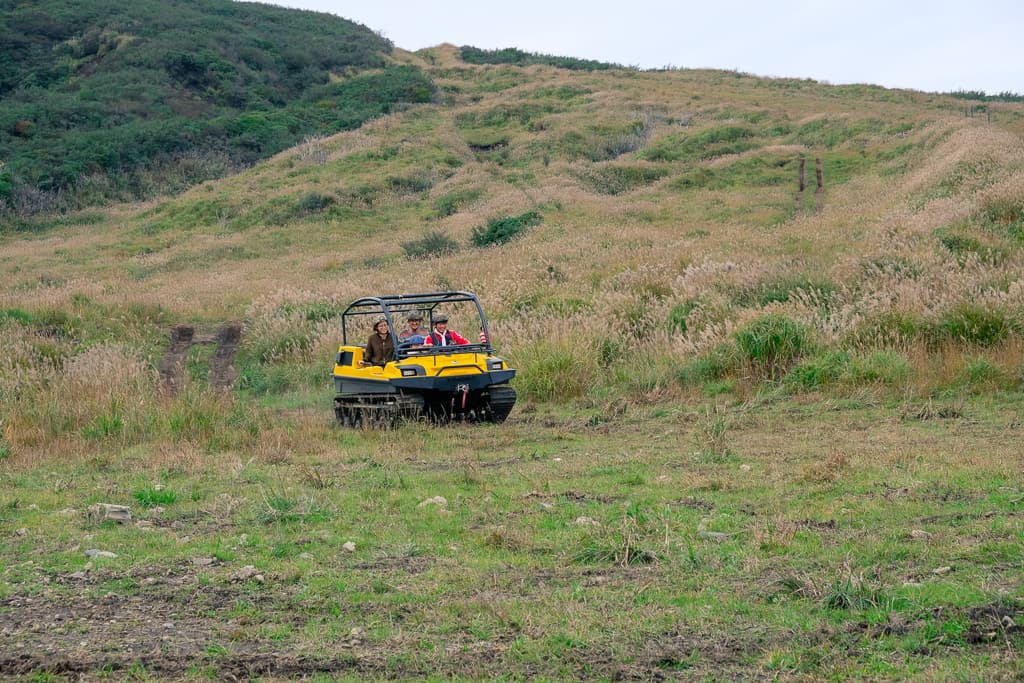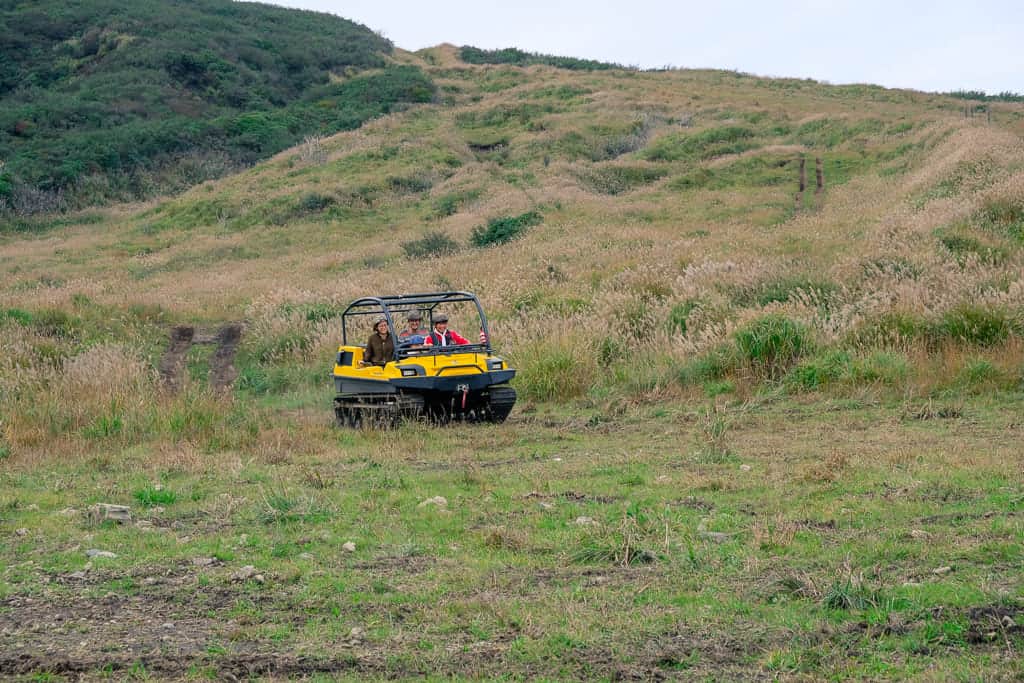 My driver is tanned with a big, toothy grin and flecks of volcanic sand on his face. He explains that the ATV is dexterous on rocky terrain, sand, snow, and even floats on water. Rides start hourly, though in practice it looks like rides start as soon as customers arrive.
I join a ride with two other women, who happily oblige to my request to include them in my photographs. With helmets on, our driver revved the engine a few times before we barrelled up the bumpy hill. The whole ride was full of careening from side to side, lurching over dips in the land and topped off with our collective screams and hoots of laughter.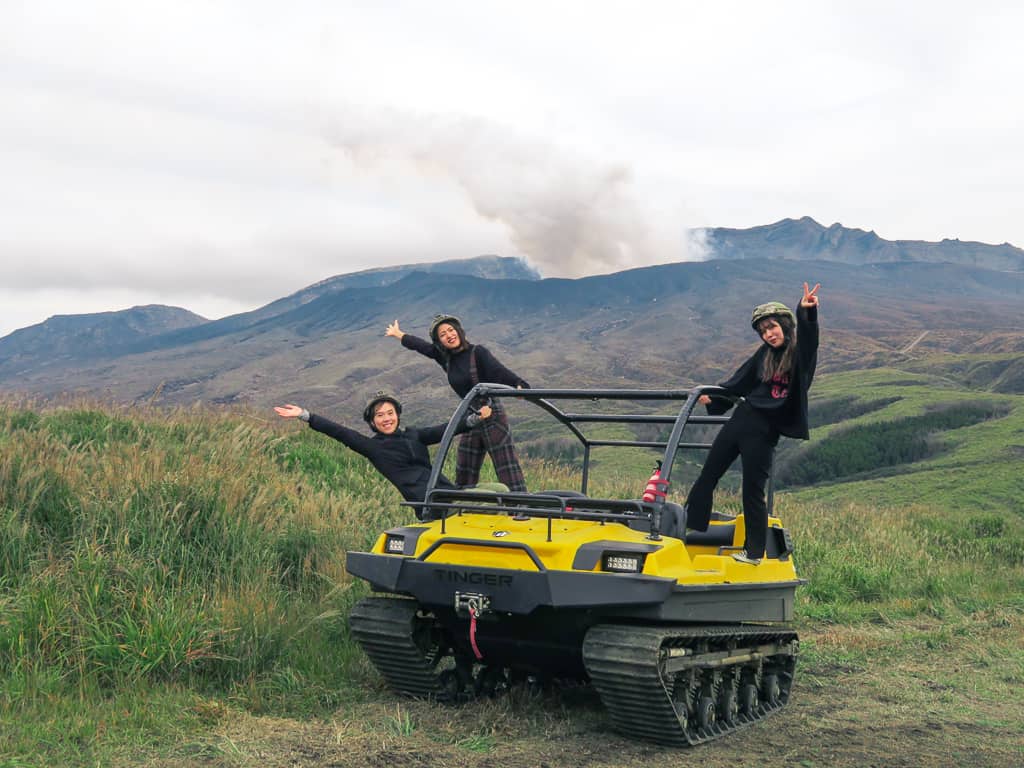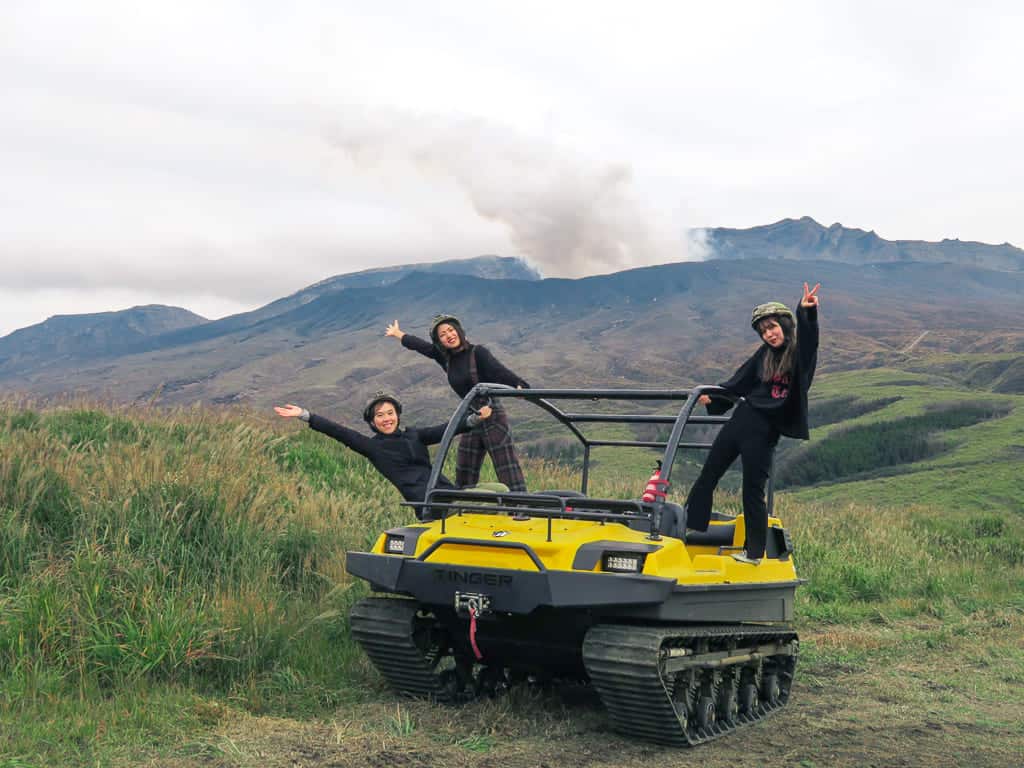 Since our hands are mostly relegated to gripping the cage bars, cameras aren't allowed. However, the driver is happy to take pictures for you. (For those with a bulky camera, be sure to have a smaller camera or smartphone on hand.)
For the regular Adventure Course, you can get a nice view of Aso Nakadake, but for an extra 1,000 yen, you can experience the full scope of the land with the Panorama Course.
Horseback Riding at El Patio Ranch
My next day is the highly anticipated horseback riding adventure. Sitting on top of a plateau, El Patio Ranch is an equestrian ranch in the upper north corner of the Aso district.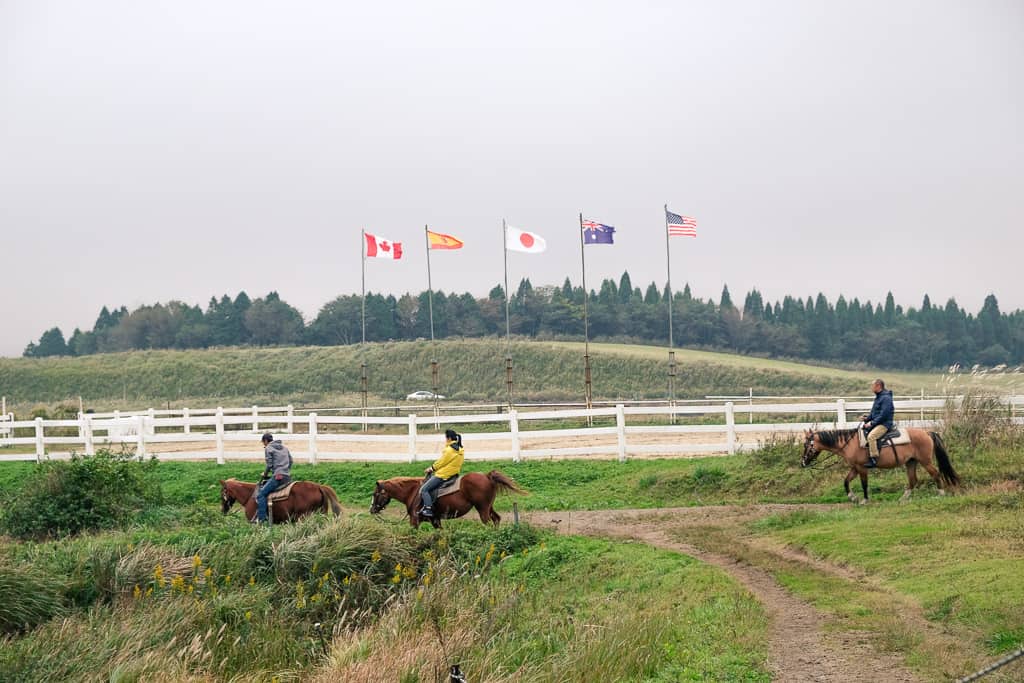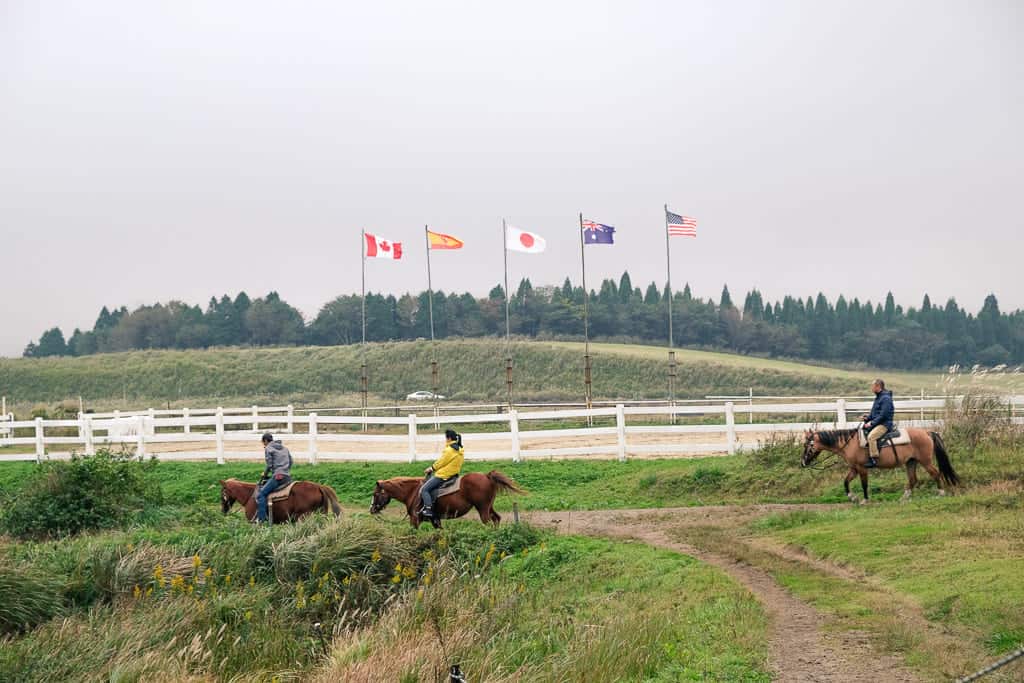 Two of the guides speak English, and show a keen interest when I tell them I'm from Canada. Growing up in a small city in the prairies, I'm surprised to find out not only do they know about my hometown, they once lived in a town no more than 15 km away! One of the best places to learn horse training happens to be the cowboy regions of North America, and most of their horses are also from there.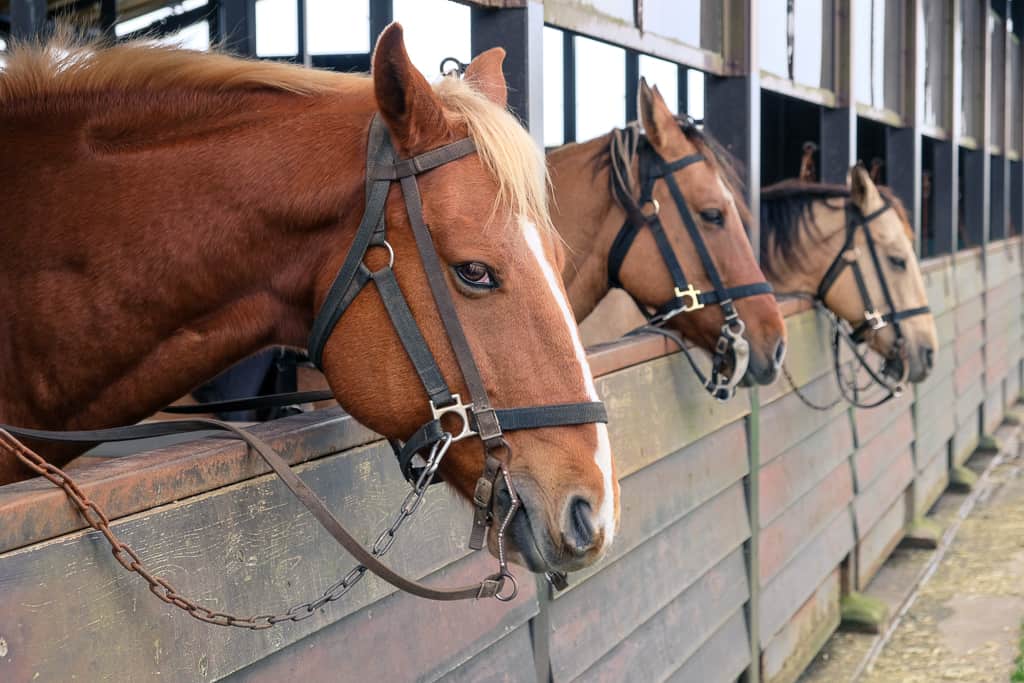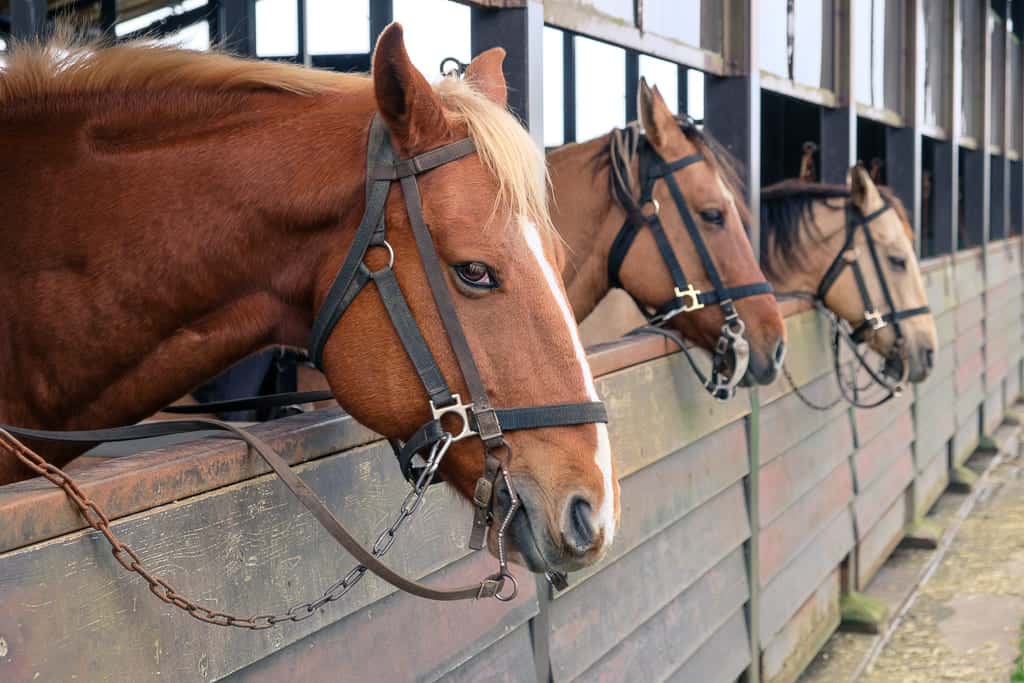 Taking my seat astride my horse, I'm taken back to my first time riding a horse when I was 10 years old. Riding a horse is a little like riding a bike – you never forget how. Even if horseback riding is new to you, the people of this ranch make it easy, no matter your level of experience.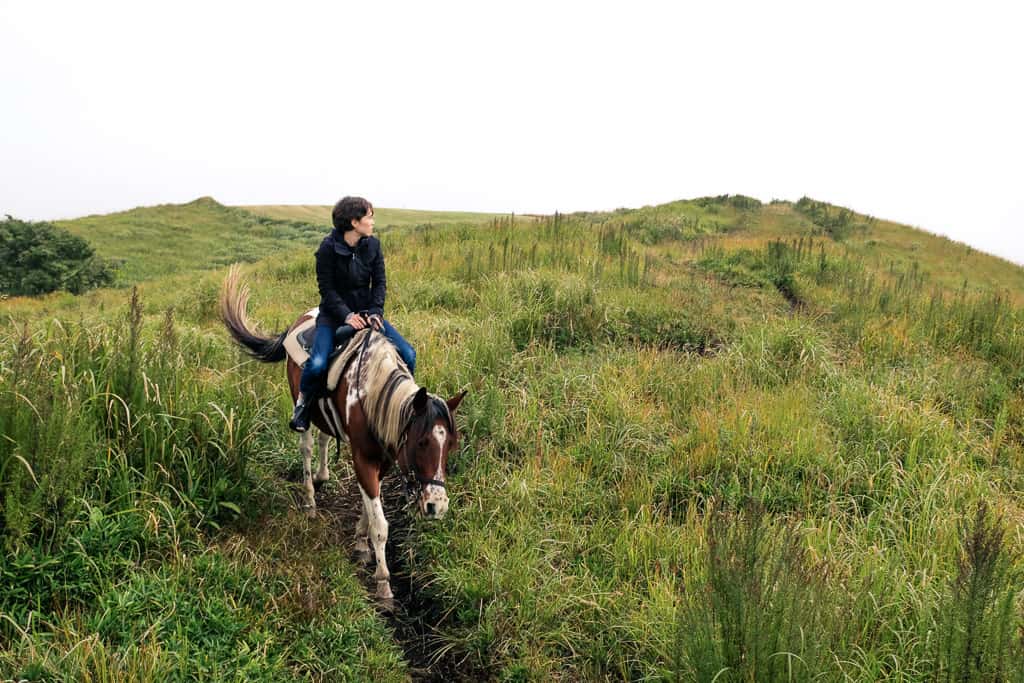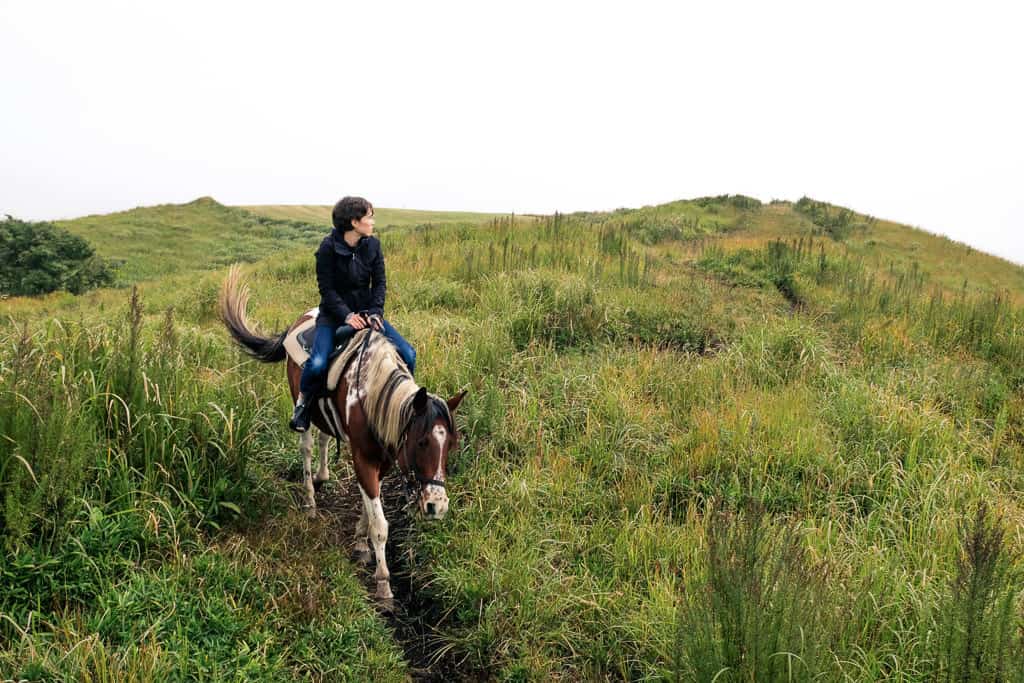 As we are guided through tall grass, I look over the stunning views of rolling ravines of the Aso landscape. Horseback riding is a tranquil experience that I'd recommend to anyone.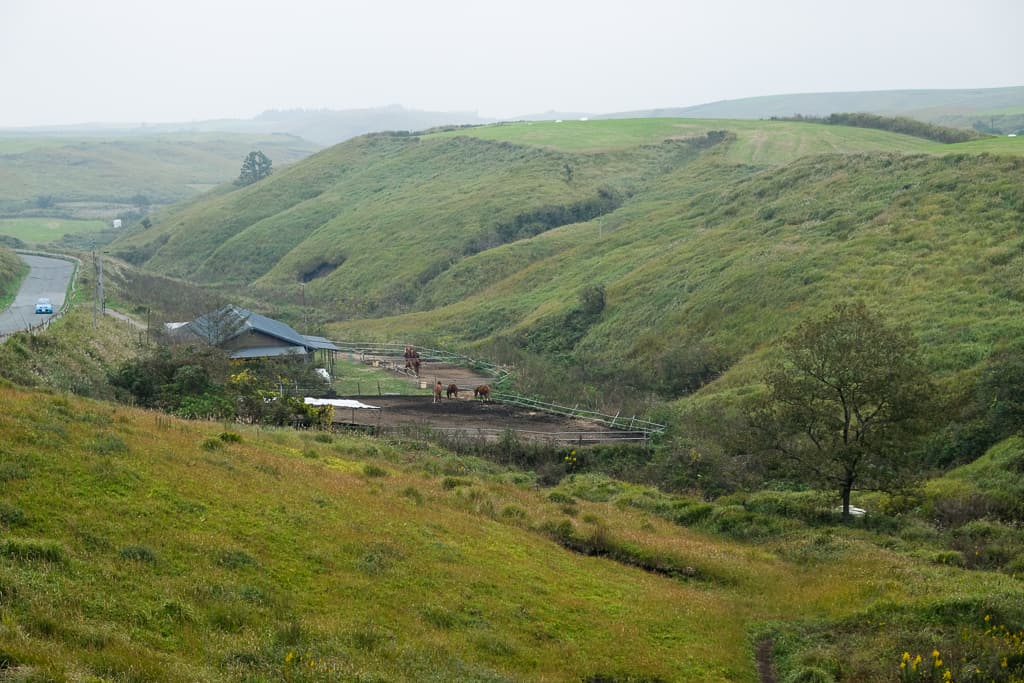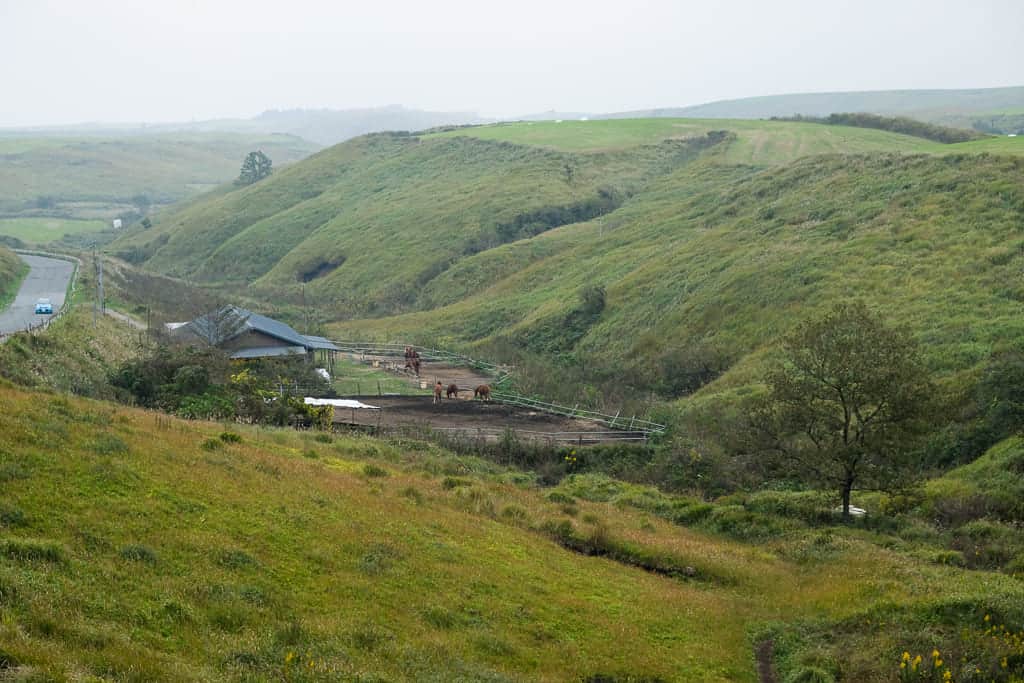 Again, riders are not allowed to carry cameras, though my guide makes a special exception for me by carrying my big camera for me. An extra 200 yen will get you a bowl of hay that you can feed to the horses.
---
How to Get to Aso, Kumamoto
From Oita Station: Take the expressway bus ( 高速バス) from Kaname-machi headed to Kumamoto Station and get off at Aso Station. The JR Aso Boy! Limited Express is also available with discounts for those with a JR Rail Pass, but only run on weekends and holidays.
With a bit of research, one can visit all the spots below by public transit, though I would recommend renting a car to explore the area more freely.
From Fukuoka Airport: about 2 hours and 20 minutes by car
From Oita Airport: about 2 hours and 10 minutes by car
From Kumamoto Airport: about 50 minutes by car
---
Paragliding at Daikanbo Lookout
Price:
15,000 JPY/person
For an extra 1,800 yen, you can get photos taken by your guide.
Business Hours:
9:00 – 18:00 (March to October)
9:00 – 17:00 (November to February)
Closed on Thursdays (except in August)
Phone: 0967-32-4196 or 080-7693-1243
Official Aso Natureland Website (in Japanese)
Reservations are required, but rides may be available on the same day so call ahead to check. Flights are canceled during rain, high and low winds, so the guide may phone to confirm the reservation.
---
Aso Adventure Track Course
From Aso Station, catch the bus at Aso Bus Station (阿蘇駅前) headed towards Aso San Nishi Station (阿蘇山駅前), and get off at Heliport bus stop (ヘリポート前).
Price Range:
Adventure Course – 3,000 JPY/person
Panorama Course – 4,000 JPY/person
Business Hours:
11:00 – 17:00 (Final reception 16:30)
Open Friday to Sunday and public holidays. From Monday to Wednesday, reservations can be made by phone only.
Phone: 0967-32-4196 or 070-4282-3247
Official Aso Natureland Website for Adventure Track Course (in Japanese)
Reservations are required, but rides may be available on the same day so call ahead to check. Without a reservation, it may not be open for business. Rides start hourly from 11:00 to 16:00, and tend to go whenever the truck is full. Rides are canceled during stormy weather, so the guide may phone to confirm the reservation.
---
El Patio Ranch
From Aso Station, there are a few buses that will take you to Miyachi Station (宮地駅), though a 15-minute taxi ride is necessary to make the final trip to the ranch.
Price Range:
Prices range from 4,000 JPY/person for 20 minutes to 19,000 JPY/person for 75 minutes.
Business Hours:
9:00 – 16:30
Phone: 0967-22-3861
Official El Patio Ranch Website (in Japanese)
Though reservations aren't necessary, it's recommended to make one in advance. The ride is determined based on the weather, horse, and trail conditions. It's best to call ahead to check on the daily status if it matters to you. They have English speaking staff who have experience working overseas.
---
What Else to Do in the Aso, Kumamoto
Aso's diverse and rugged terrain is an outdoor adventurer's paradise, with plenty of things to see and do in the area. For another outdoor activity, consider a cycling tour through Aso's grasslands, or take a unique kayaking adventure. For a slightly more leisurely pace, take a trolley train for a different scenic route through Aso's beautiful terrain and finish with a meal of the local Dengaku miso fare.