Sponsored by Northern Kumamoto Administrative Headquarters
When I set off on my drive to Takamori (高森町) in Kumamoto prefecture, a typhoon was looming. Unbeknownst to me, the mist of unsettled grey clouds would become the romantic backdrop to my visit, as I took in the lush landscapes of Takamori by trolley train and local dengaku miso.
As I drove into a terrain of open, grass-covered plains, the eminent silhouette of still active Mount Aso came into view. Morphed by an eruption that occurred over 90,000 years ago, this violent geological past has seeped into the nooks and crannies of Takamori's history, food, and everyday life.
A Scenic "Torokko" Trolly Train Ride in South Aso, Kumamoto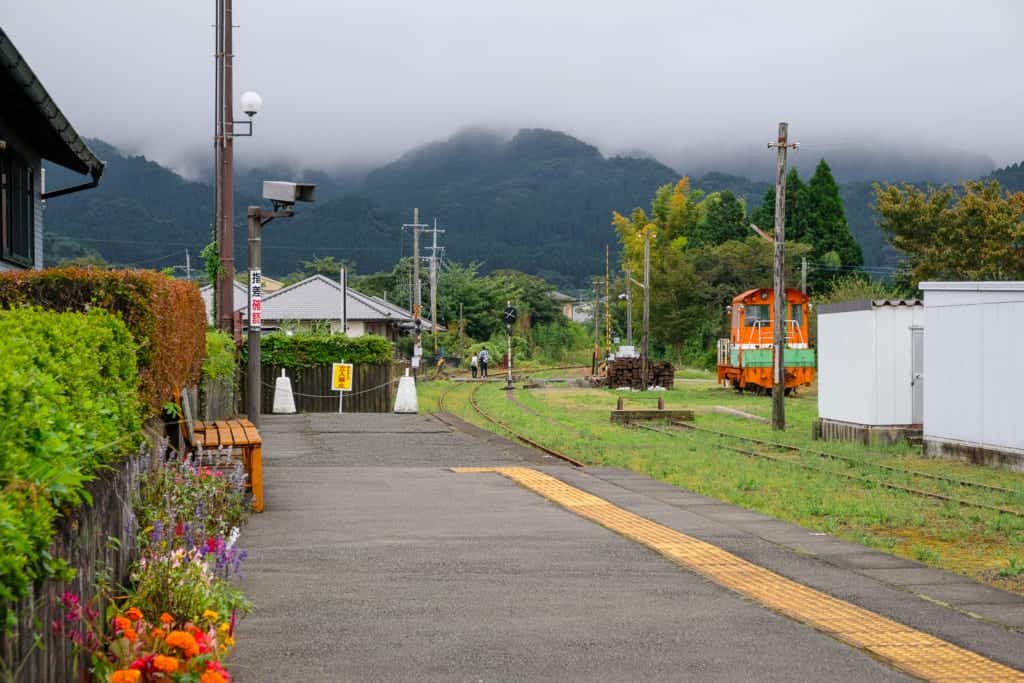 Running along the Minamiaso (South Aso) Railway Line, the "Torokko" sightseeing train is a popular destination for adults and children alike. The trolley train is currently a sightseeing train that runs 7.1km from Takamori Station to Nakamatsu Station. The opening of all lines is scheduled for 2022.
I arrive at 10:00 am sharp, and breathe in the luscious Takamori landscape of fresh greens and misty mountains that look like they've been painted in with watercolors. While waiting on the platform, tour guides in full train conductor gear offered their train caps to their younger patrons, only to reveal a bald cap underneath (much to the glee of children and adults alike.)
At 10:30 am, our train rolls in.
Flanked by the sights of Mount Aso to the north, and a lovely, blue tinged mountain to the south, the scenery is a treasure trove of traditional farmhouses, minshukus, and rice fields. I also see the blackest, most mineral rich soil I think I've ever seen in my entire life. As we roll through the rich landscape, our tour guides point out places of interest. It's all in Japanese, so non-Japanese speakers can relax and take in the magnificent views, which speak for themselves.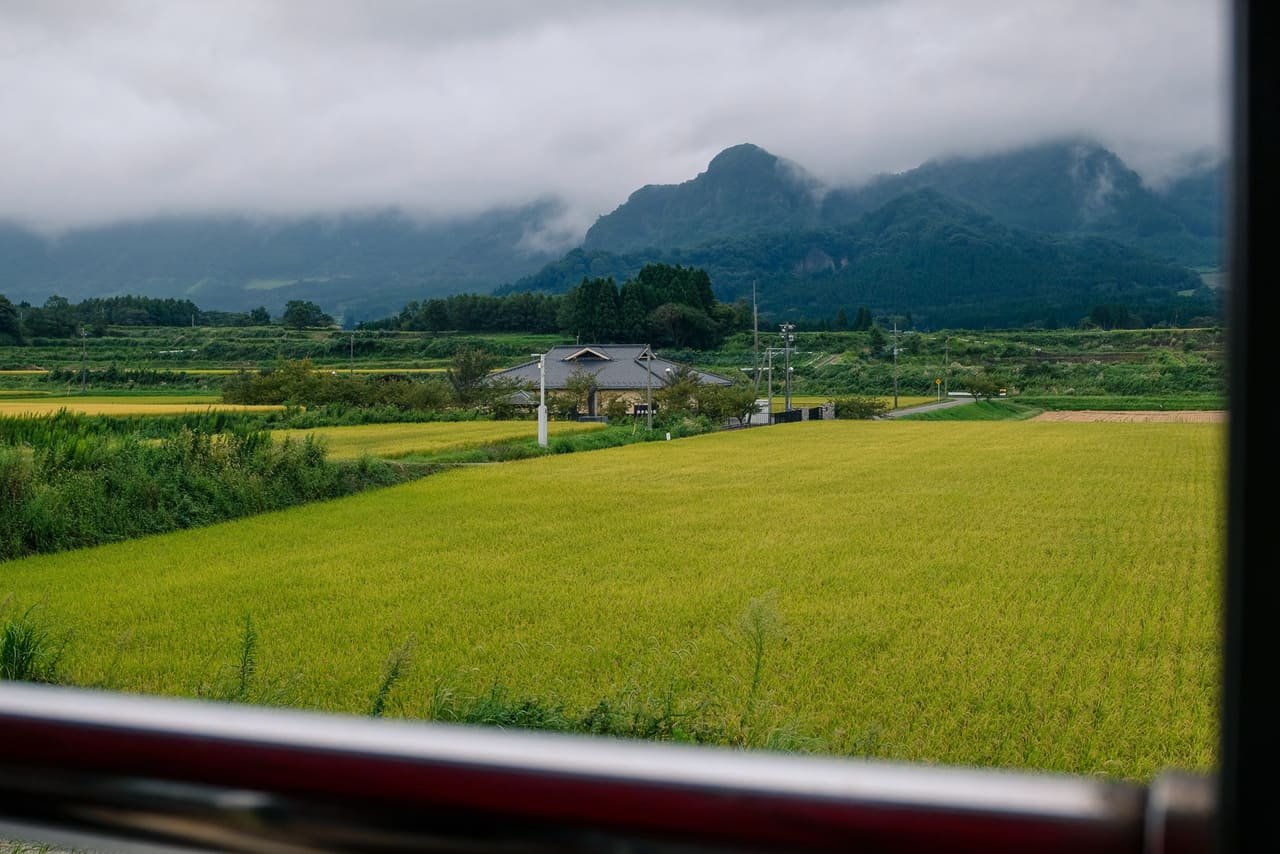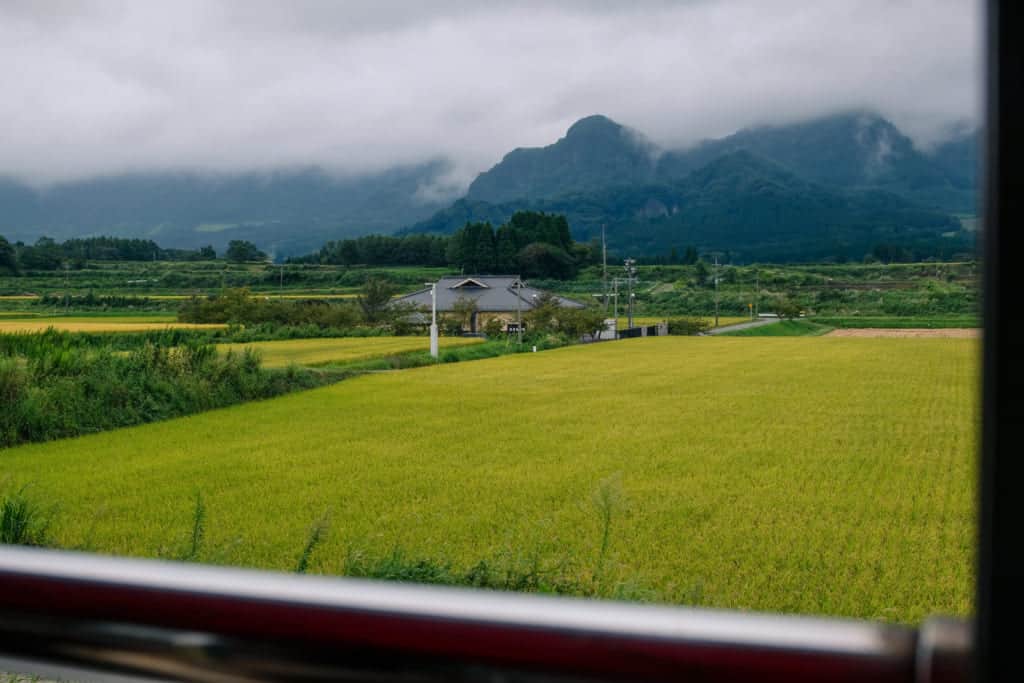 A 5 minute stop at the end of the line at Nakamatsu station allows for washroom breaks and photo opportunities. Get in line for your chance to get a photo with the train conductor's hat (and a glimpse of that funny bald cap) before heading back to Takamori station.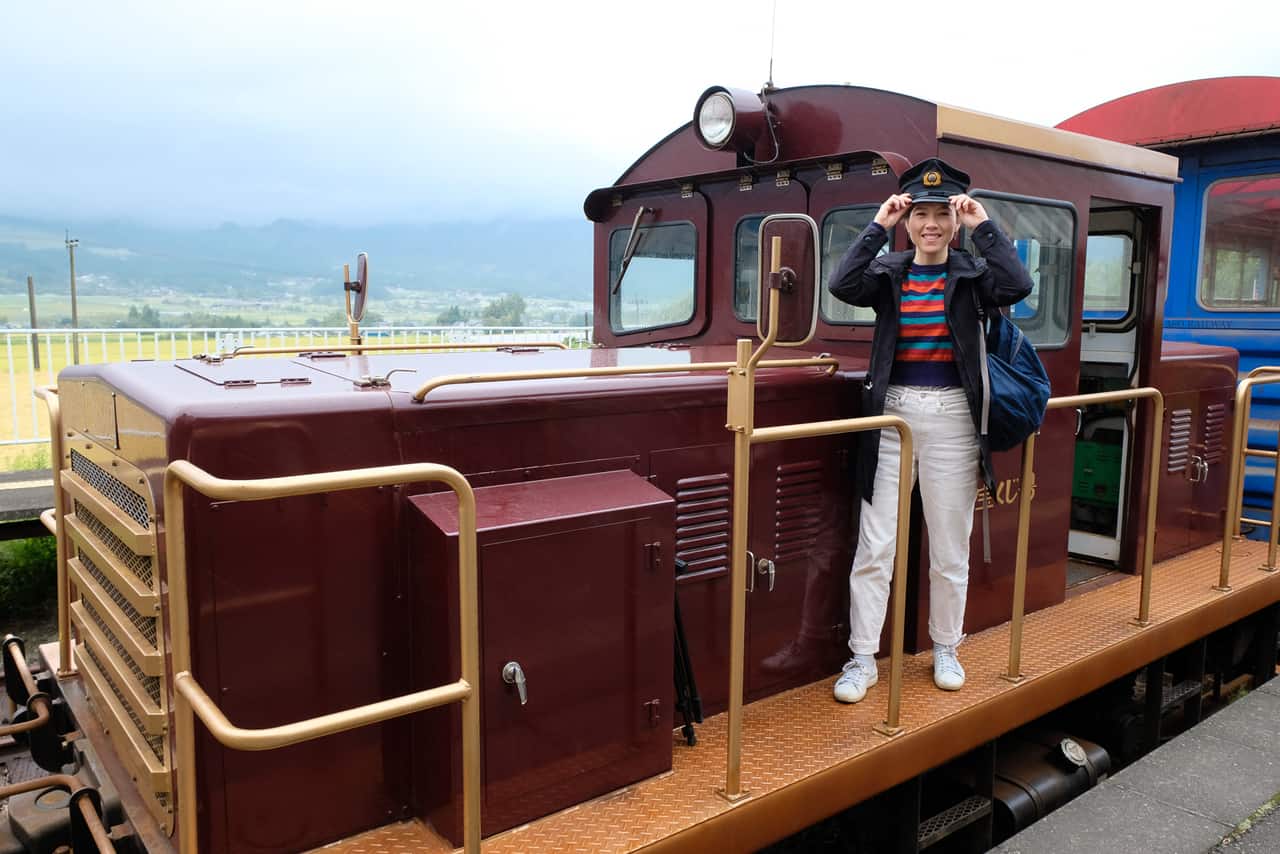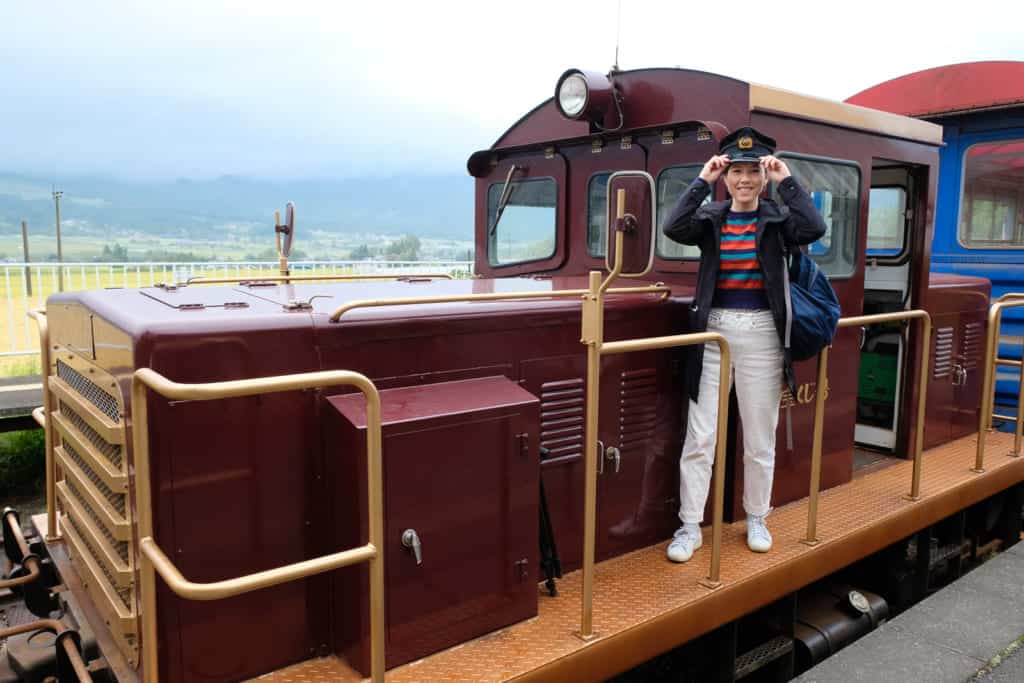 My next stop is a 10-minute drive to Takamori Dengaku Hozonkai, where a 160-year-old hospital-turned-restaurant serves a Takamori variety of Dengaku miso.
Takamori Miso Dengaku: A Regional Specialty from Kumamoto
Dengaku miso (田楽味噌) differs from region to region, with varying ratios of miso, sugar, mirin and sake. My first taste of Dengaku miso was in the Japanese Alps over 3 years ago, in a cozy, dimly-lit restaurant of exposed beams and charcoal. With vivid memories of miso-marinated mushrooms roasting over the low glow of an open flame, it represented one of those special moments where my love for Japan blossomed. As I head into my next dengaku experience at Takamori Dengaku Hozonkai, my expectations are high.
When I arrive, I'm greeted by the owner, Mrs. Honda, who's been watching for my arrival from the kitchen window. With quick introductions and a gentle smile, she shuffles me over to the open sliding doors, where I slip off my shoes and step up into the open restaurant.


On a clear day, a view of Nekodake (Cat Crouching) Mountain and Mount Aso can be seen from the restaurant. Today, the scenery looks more like vaporous, ghostly figures in the distance. I barely register the cool temperatures outside however. As I am ushered to my seat, a shovel full of smouldering charcoal is brought to my hearth. Immediately, I can feel the warmth emanate from the coals to my face, even as a cool breeze rushes over me from an open window. From the soft murmurs of customers in the background to the warm glow of embers, the restaurant has turned into a haven from the damp, grey elements outside.


It's not only on cold days I would suggest a visit. Surrounded by a garden of maple trees, the scenic transformation of the landscape would make this a fantastic place to visit in any season.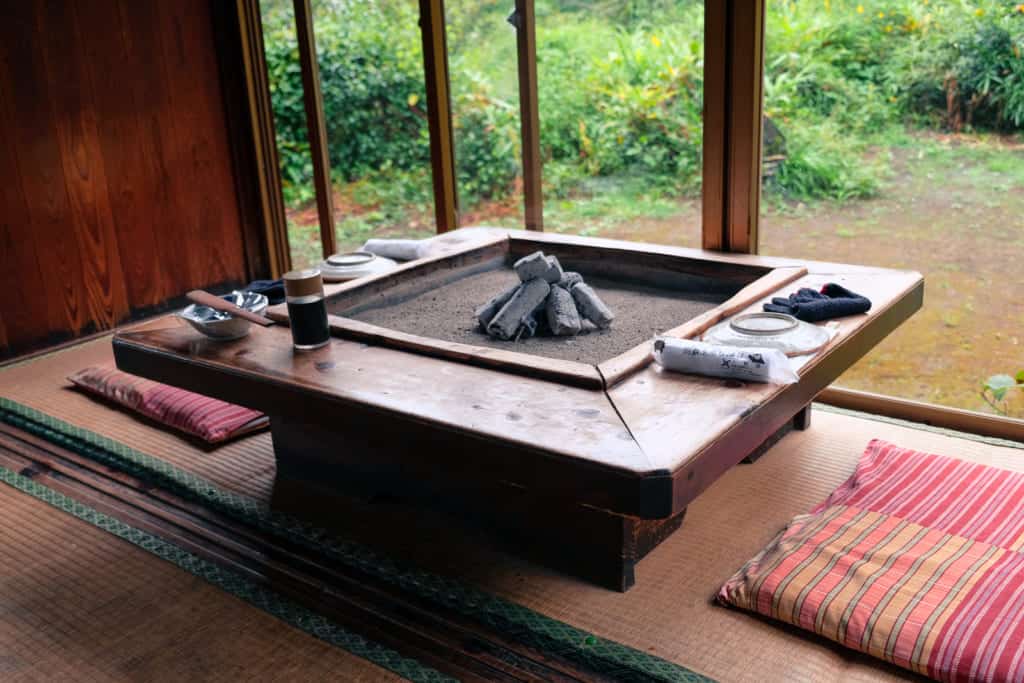 The Takamori Dengaku Course is the main feature on the menu, which includes: Konjac Vegetable, Tofu, Tsurunokoimo Taro, Yamame Trout, Nama-age Fried Tofu, Dry Corn Rice with Japanese Pickles, and Japanese Dumpling Soup.
The dengaku made in Takamori is a sweeter variety compared to other regions. As Mrs. Honda tells me, all the ingredients are locally sourced and made in-house. From the tsurunokoimo taro grown in the mineral rich soil of Aso, to the trout from a nearby fishery, the restaurant is the result of a collaborative, local effort ongoing for over 60 years of business.
There are additional dishes to add on top of your course meal if desired, and English menus are also available.


The skewers of konjac vegetable, tofu, taro, and trout come first. With a true commitment to fresh ingredients, the trout may wiggle a little on the skewers. If you're a bit squeamish, you may want to look away. Placing them into a teepee-shape over the hot ambers, the staff instruct me to rotate them as they broil. Though you may see staff members use bare hands, I wholly recommend that you avail yourself to the woven gloves provided. (Unless you want to lose your fingertips!)
A tip for eating the trout: Eat it like a corn on the cob by holding the skewer from both ends. You'll look like a local if you do, unlike your writer who, unaware of the regular customs of eating trout on a skewer, used chopsticks to ungracefully pick it apart. May you learn from my errors.
While the skewers cook, the remaining course arrives.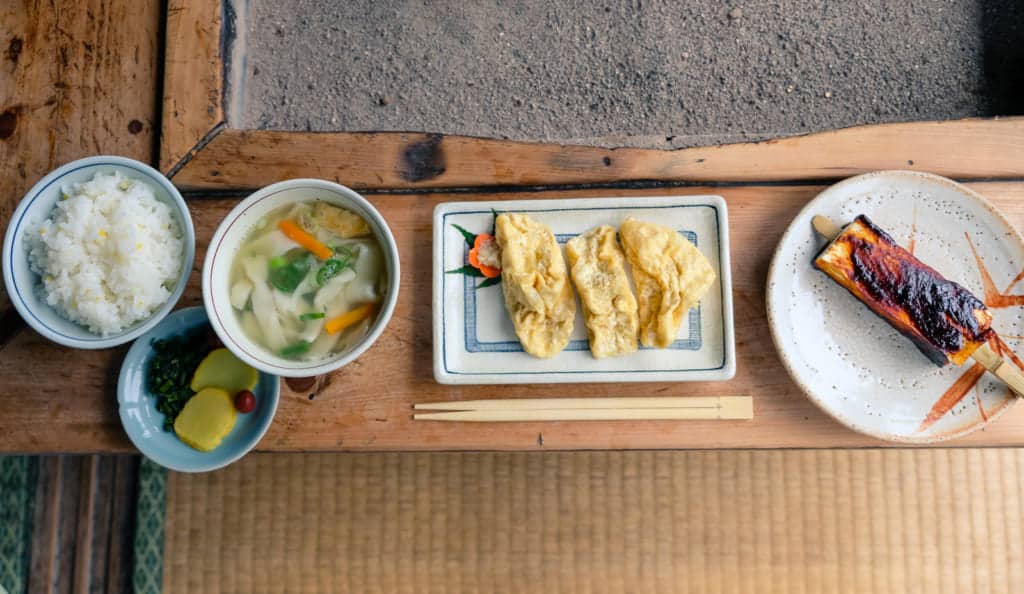 As I savour this wonderful meal, I can feel my body warming to the core, and I have a moment of nostalgia from my first dengaku tasting three years ago. With all the fresh foods, cozy atmosphere and beautiful sceneries, the result is the further deepening of my love for Japan.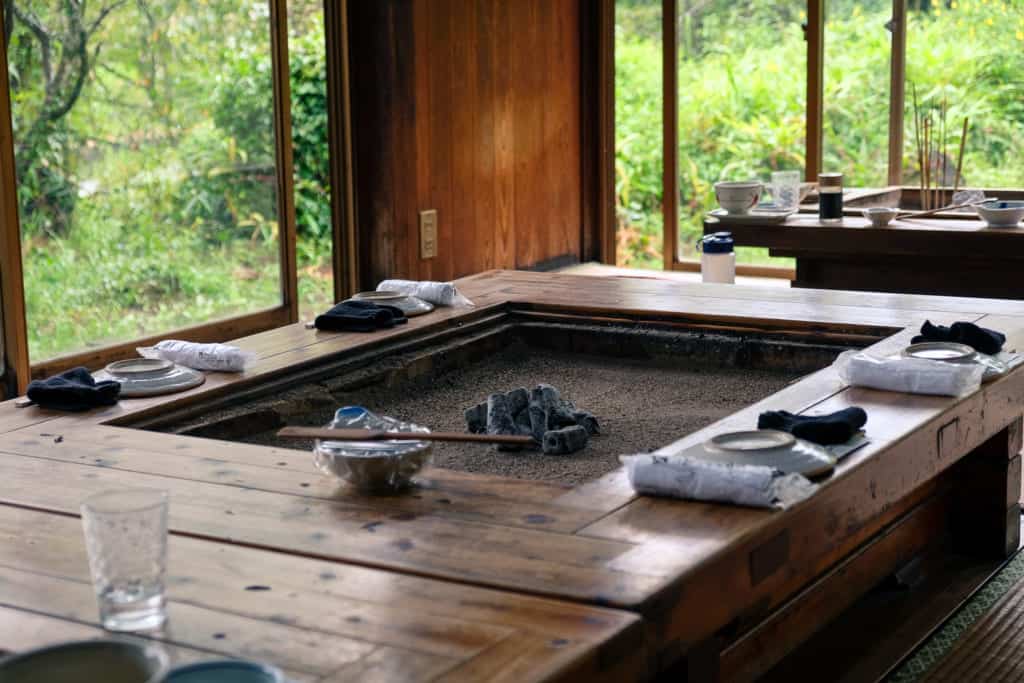 Before you go, grab a container (or two) of the dengaku miso sold at the restaurant. It makes for an easy sauce to cook your vegetables with at home, or as an excellent souvenir for friends and family. Speaking of souvenirs, I couldn't resist the colorful Kumamoto's Higotemari balls.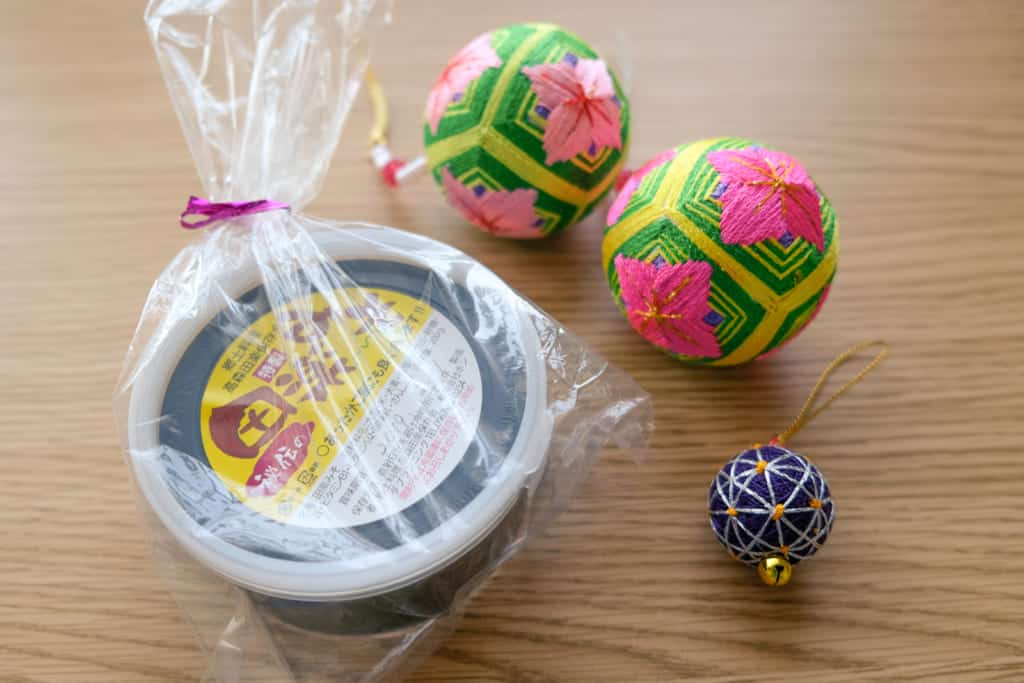 The Scenic Bounties of Nishihara Village and Mt. Aso
If you travel by car, there are a few attractions in the nearby Nishihara Village to cap off your scenic adventure. Roughly a 30-minute drive will bring you to the Moe No Sato product store selling local agricultural products. A seemingly endless cascade of Cosmos flowers envelops a rolling hillside blooming only in the autumn months on the facility's site.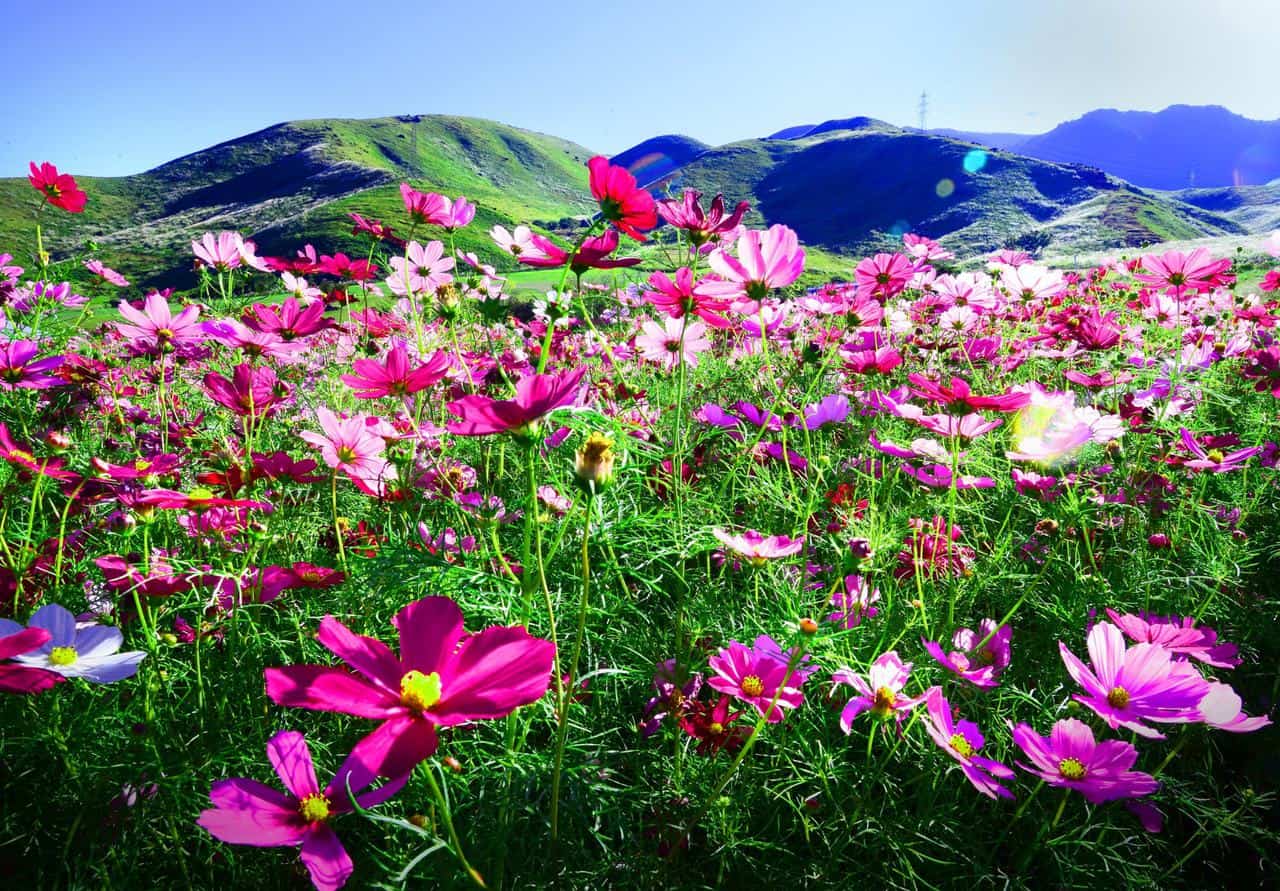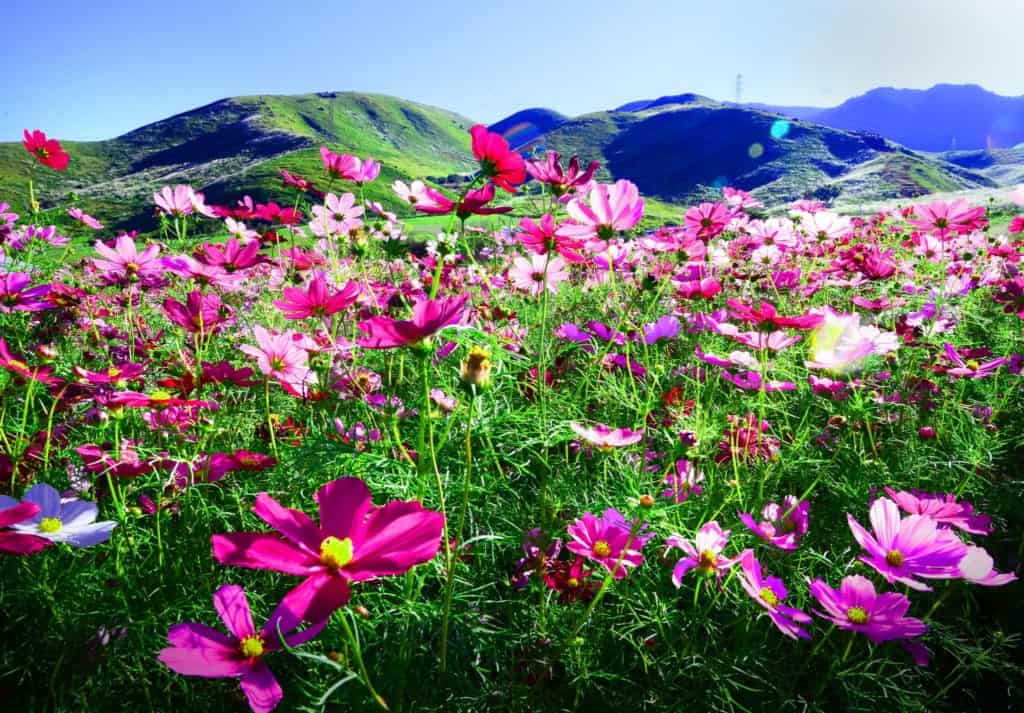 Another 20 minute drive will take you to Shiraito Falls, where a cluster of volcanic rock form in geometric patterns beneath the waterfall. For a leg stretch, take the path upwards to the terraced rice fields which offer grand views of the Aso landscape. During the springtime flooding of the fields, the shimmering reflection of the sky onto the ponds is quite the sight to behold.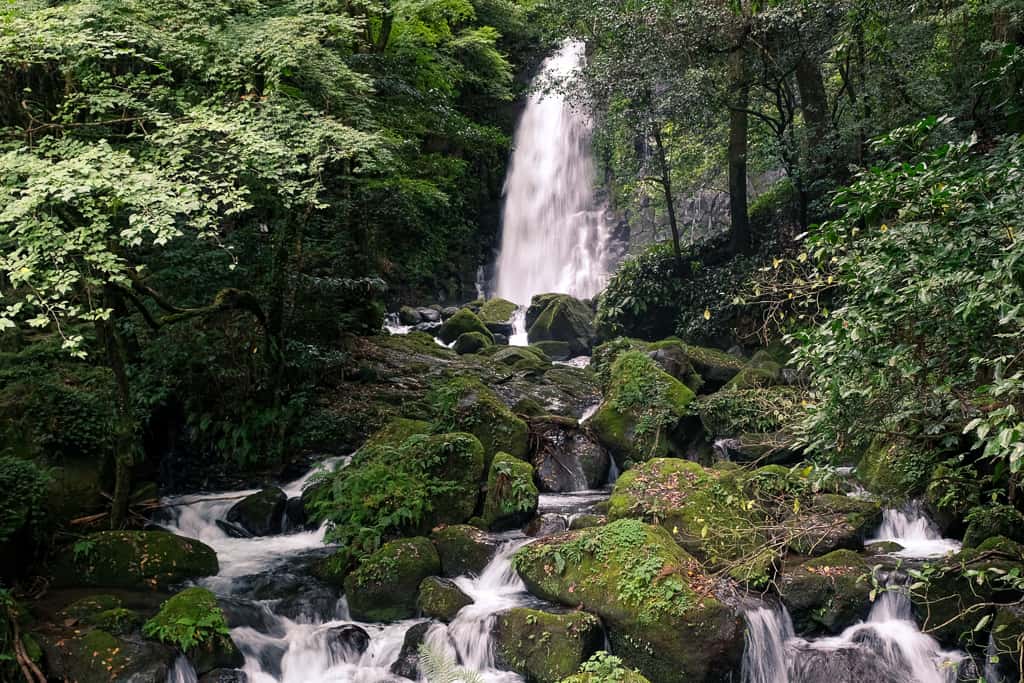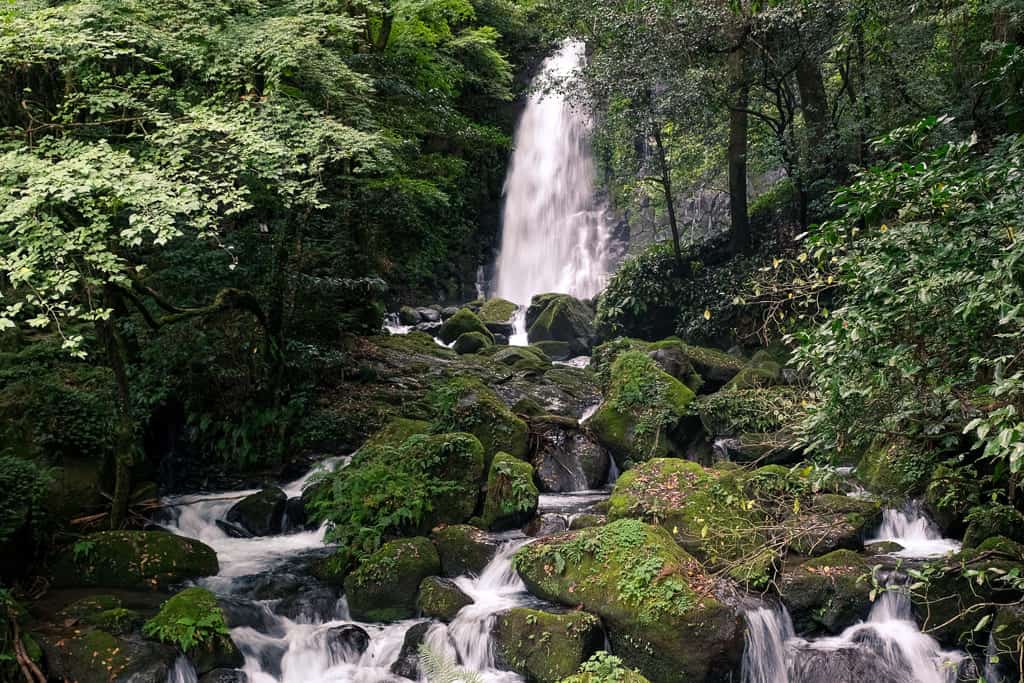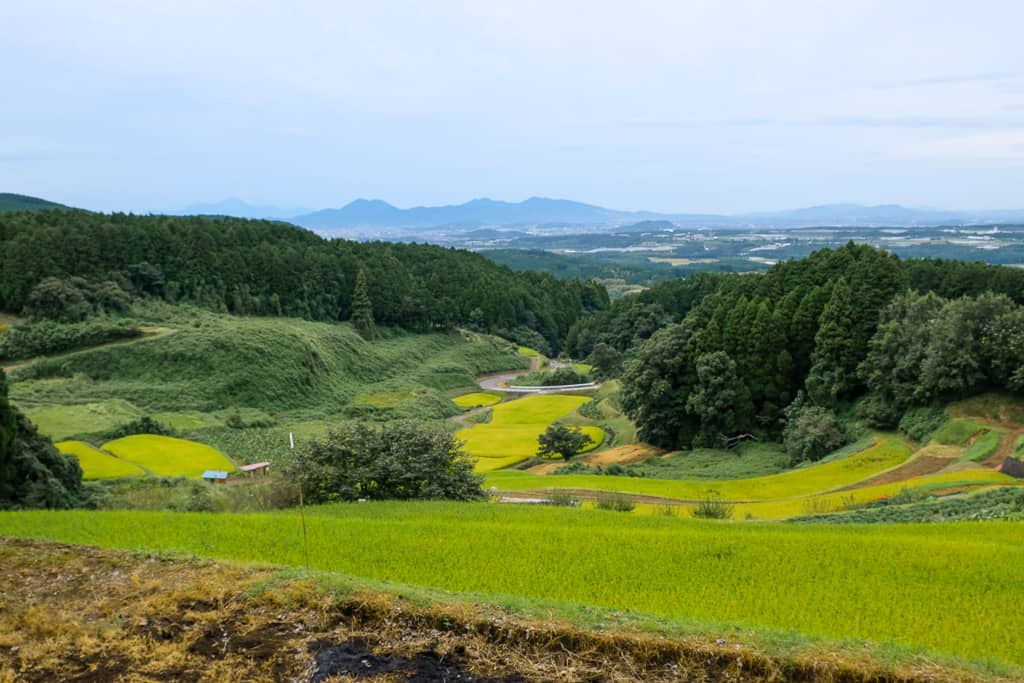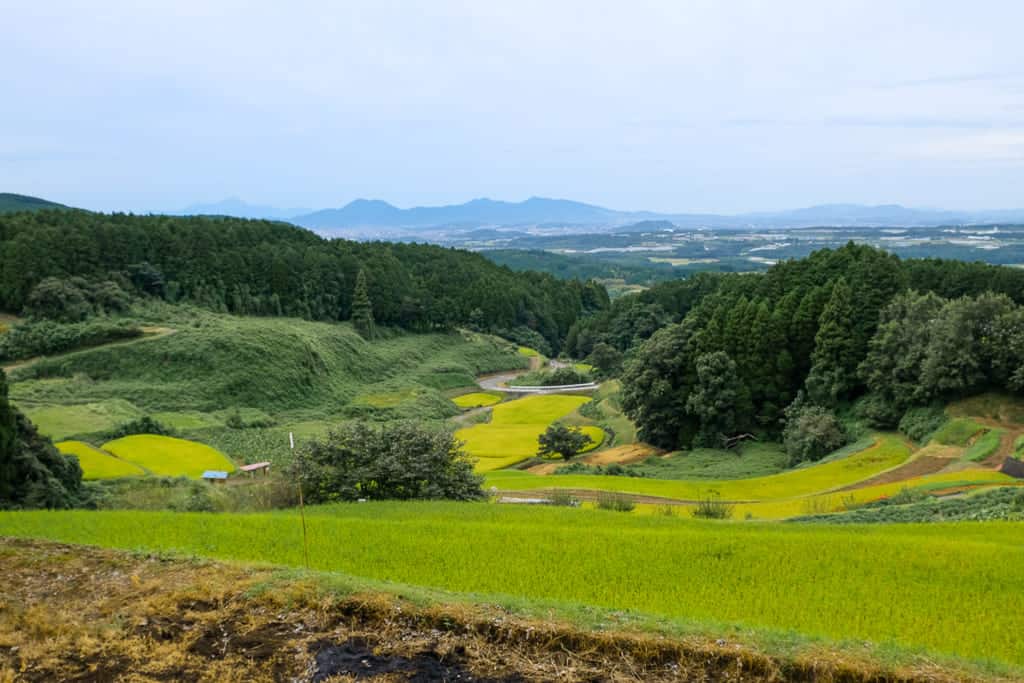 How to Get to Takamori in Kumamoto
I would recommend renting a car to explore the area more freely. Catching a taxi to Takamori Miso Dengaku from Takamori station would be your best option if you're without a car.
Minami Aso Railway
Price Range:
– One Way: Adult¥800 / Child¥460
– Round trip: Adult¥1,400 / Child¥810
Business Days: In 2019, Sat, Sun, and holidays from March 10 to December 1.
Phone: 0967-62-0058
Web: http://www.mt-torokko.com/trolley-train_en/
Takamori Dengaku Hozonkai
Price Range: Course menu / ¥2,100, other dishes, drinks available
Business Hours: 10:00 – 18:00, Open from 11:00 in June to July, December to March
Phone: 0967-62-0234
Web: https://dengaku-hozonkai.com
Nishihara Village
Tawarayama Exchange Center "Moenosato" (There is a cosmos field in the facility)
Price Range: Free
Business Hours: 9:30 – 17:30
Web: http://nishiharakanko.com/2017/05/22/moenosato/
Access to Takamori from other areas
From Fukuoka Airport: about 2 hours by car. From Oita Airport: about 2 hours and 25 minutes by car. From Kumamoto Airport: about 40 minutes by car