For many, the first things that come to mind when they think about Tokyo are the crowded streets full of neon lights in Shibuya or Shinjuku, the anime figure stores and game centers in every corner of Akihabara, the traditional buildings around Asakusa or the tall skyscrapers and luxury stores in Ginza.
But despite all the time I've been living in Tokyo, I'm still discovering new places and hidden gems even today. Without a doubt, some of my favorite spots to explore in Tokyo are the areas called shitamachi (下町). The term shitamachi means 'lower town' and describes areas with little pockets of history and showcase a different side of the city where visitors can still get glimpses of traditional Japan.
Jindaiji Temple (深大寺) and the surrounding area are great examples of shitamachi, where you can stroll through history and nature around the second oldest Buddhist temple in Tokyo.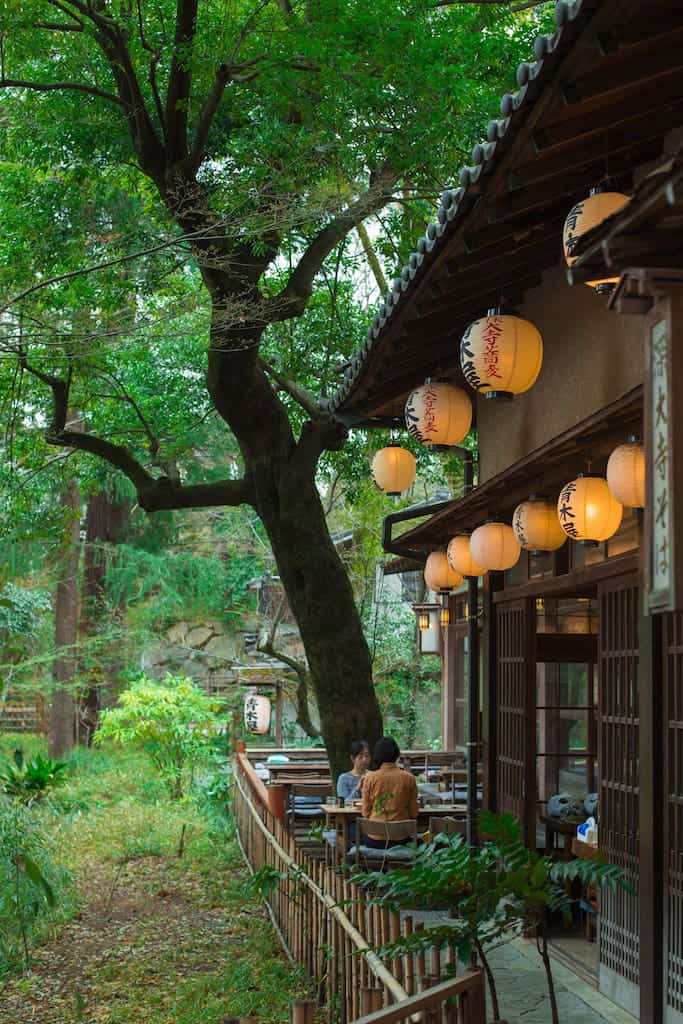 Jindaiji Temple, the second oldest temple in Tokyo
Jindaiji Temple is located in Chofu city, less than an hour from Shibuya and Shinjuku, and is a good option if you are going to visit the Ghibli Museum as you can take a bus to Jindaiji very close to this museum's entrance.
Jindaiji is a Buddhist temple founded in 733 and is the second oldest Buddhist temple in Tokyo after Sensoji in Asakusa. But the atmosphere and surroundings of these two temples are completely different. While Sensoji is in the urban heart of the touristy Asakusa district, Jindaiji is set amidst nature, traditional soba restaurants, and a botanical garden. It is also well known among the locals as a temple at which to pray for success in love relationships and marriage.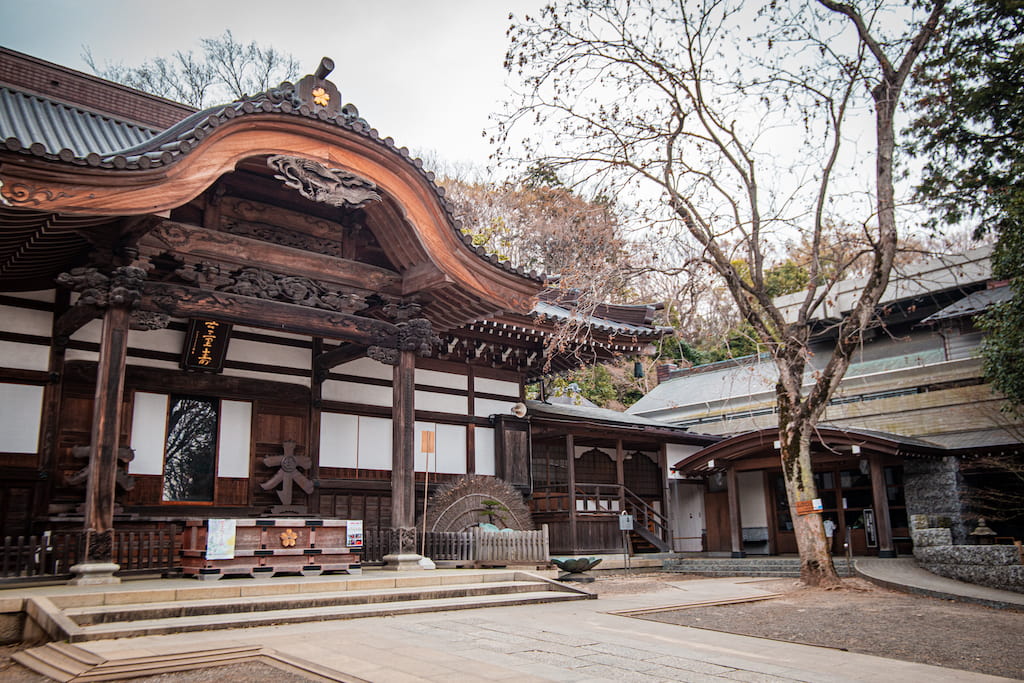 This temple's name comes from the god Jinja Daio, and there is a legend about its origin: It is said that a boy named Fukuma fell in love with a girl from a rich and powerful family. However, her parents opposed the relationship and sent her away to live on a small island in the middle of a large lake.
Fukuma prayed to the god Jinja Daio to help him get the girl back until one day, a mysterious turtle appeared and led him to the island in the lake. Then, seeing that Fukuma had divine protection, the girl's family changed their minds and allowed them to marry.
The couple had a son, who became a monk named Manko Shonin and founded the Jindaiji temple to fulfill his father's wish to thank the god Jinja Daio for all he did for him.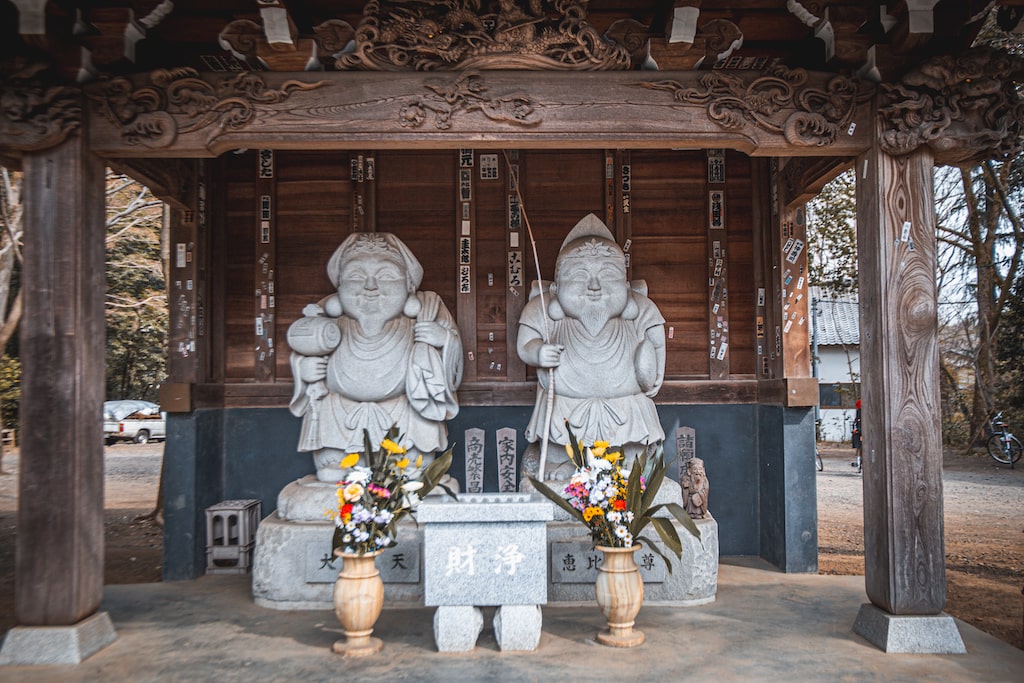 But the Jindaiji area is not only attractive for the temple but also for its surroundings, which make us feel as if we were in a little Kyoto. It's also famous for its soba noodles, and there are several traditional restaurants where you can enjoy this popular dish of Japanese cuisine.
Try the local soba noodles and street food stalls
When I visit the neighborhood, I usually eat at Yusui (湧水), one of the most popular soba restaurants in Jindaiji. This restaurant has two floors, and its style and atmosphere are very traditional. Besides the Western-style tables and chairs, there are also traditional low tables with cushions to sit on the floor.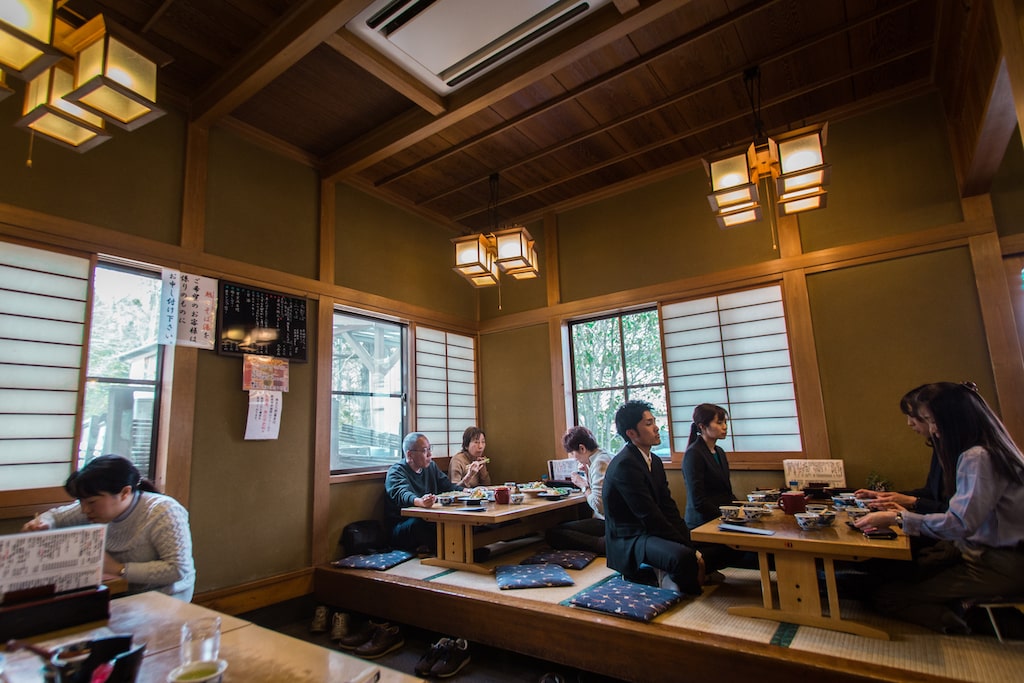 The Yusui menu has many soba noodle options. There is both cold and hot soba, and there are many types of toppings. I ordered the cold soba set with shrimp and vegetable tempura.
Together with the cold soba, they usually serve tsuyu sauce, made from dashi soup stock and a mixture of soy sauce, mirin (rice wine), and sugar. Dip the noodles into tsuyu right before eating it for a delicious mouthful. Yum!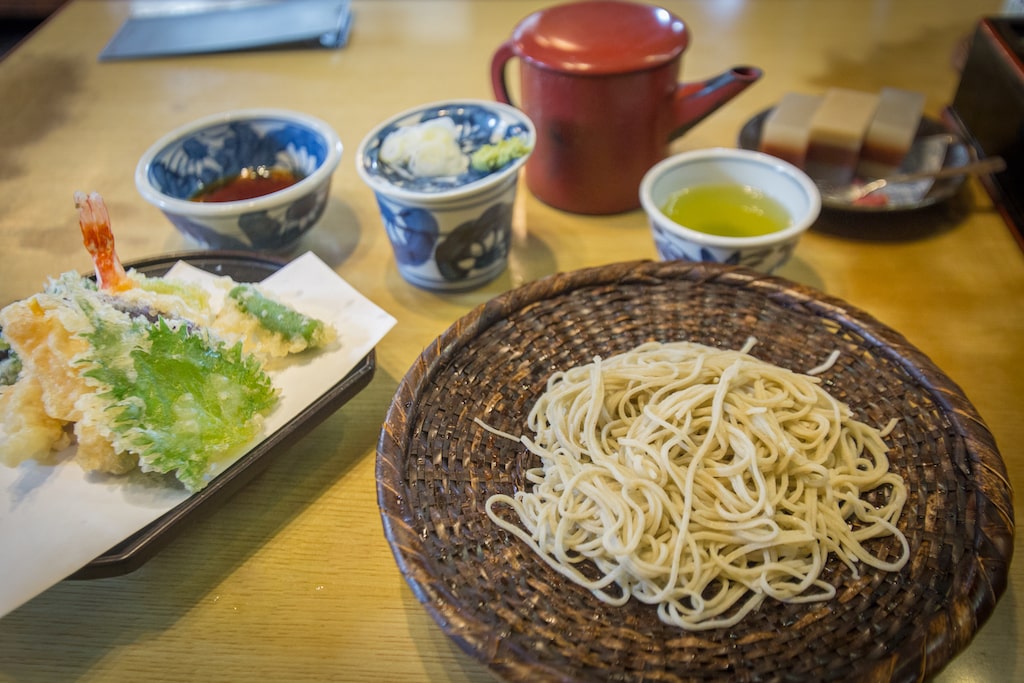 In addition to the soba and tsuyu, they will also give you a small teapot of sobayu, the water in which your soba was cooked, which has a light, slightly sweet, and earthy flavor. When you finish the noodles, pour the sobayu into the tsuyu and mix it with your chopsticks. The result is a very rich and intensely flavored broth to drink at the end of the meal.
For dessert, order typical Japanese sweets made of rice and sweet bean paste and a hot green teacup for free for a satisfying end to your meal.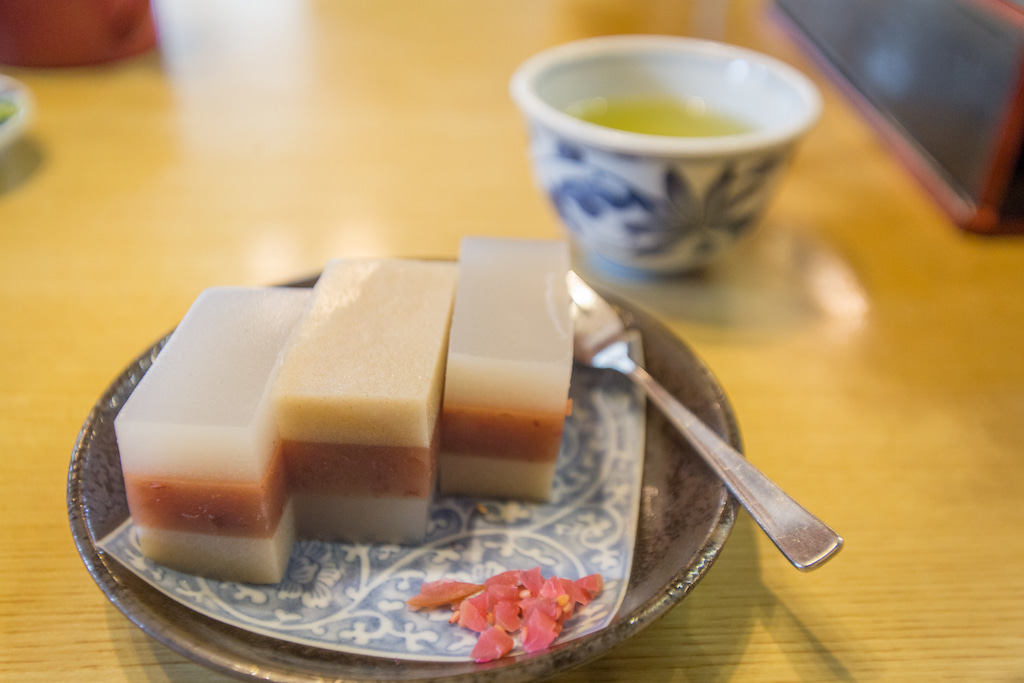 There are also several traditional cafes to have coffee or tea around Jindaiji, including small food stalls where you can buy street food and Japanese sweets.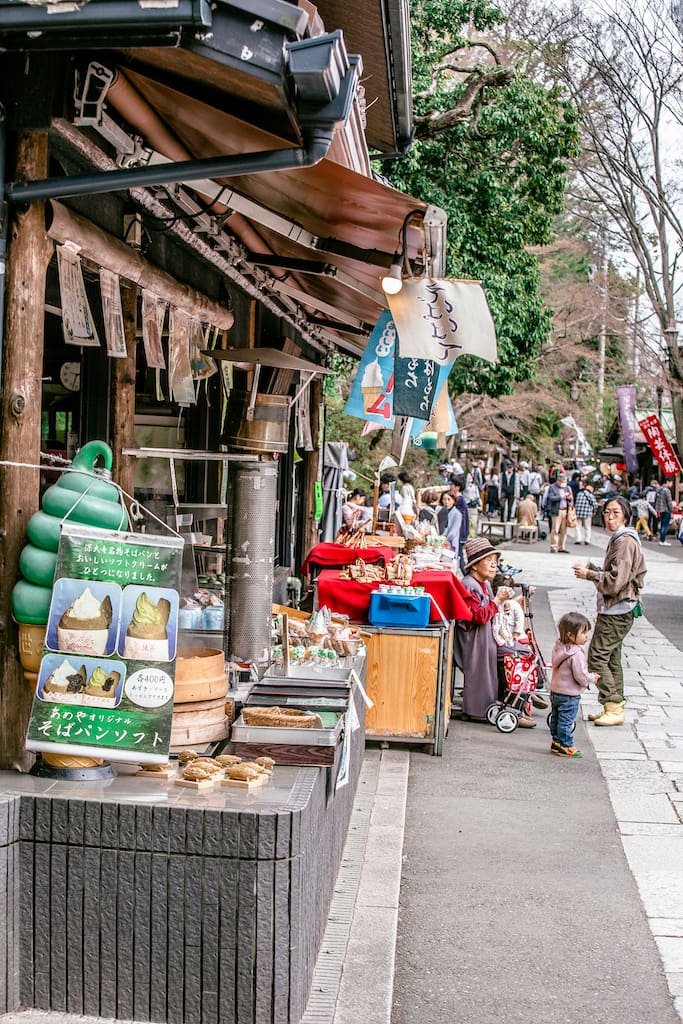 Make your own pottery souvenirs at Jindaiji
Amongst many attractive souvenirs shops, I recommend the Mushashiya Jindaiji-Gama pottery workshop, where you can enjoy a pottery experience and create your unique masterpiece. They offer three different courses:
The easiest and quickest is 'Rakuyaki,' where you can choose a piece of unglazed pottery from more than 100 kinds, paint it and wait twenty minutes until they bake it.
The second option is 'Honyaki,' which is similar to the first option, but they will apply clear glaze and bake your piece for about 16 hours in an electric kiln and then deliver it to you later.
As a third option, they have 'Tebineri,' where you can make your piece by kneading clay and hand molding. Firing takes about one month, but it can also be shipped anywhere in the country.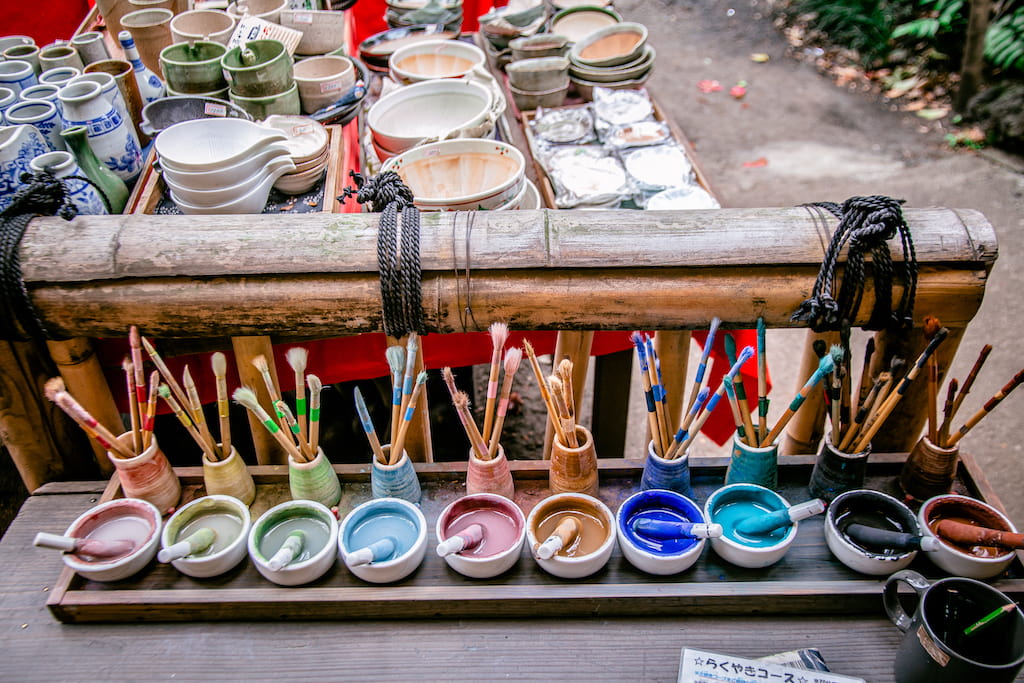 Prices vary according to the course, but it is a great experience to remember your visit to Jindaiji with a unique and handmade souvenir. They also sell many handmade ceramics such as cups, glasses, plates, chopsticks holders, and other Japanese-style decorations.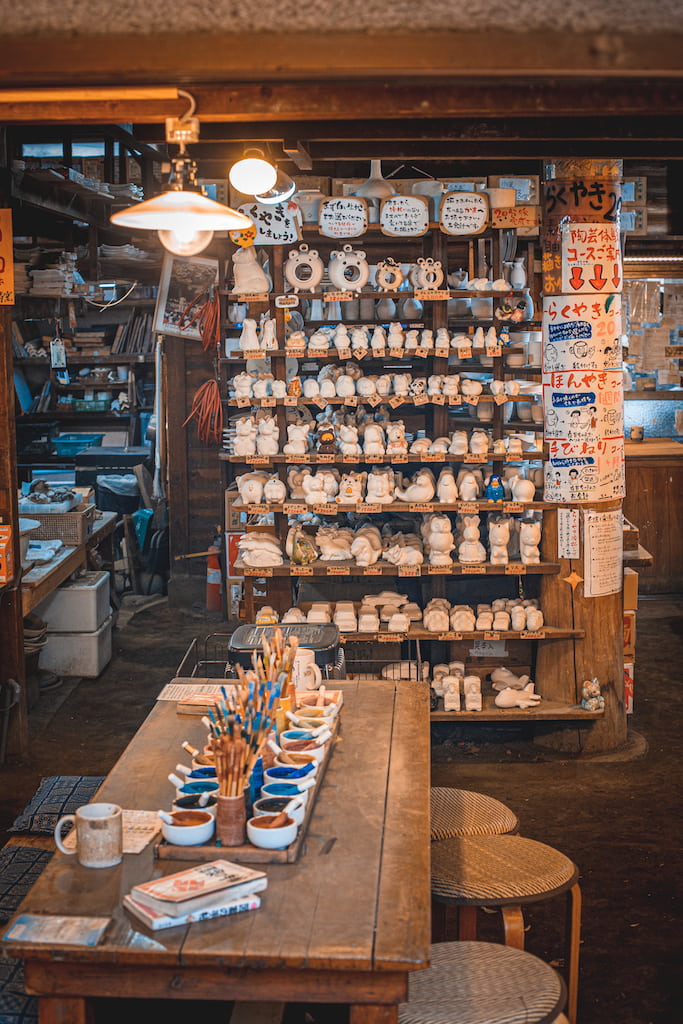 Meet the cute yokai monsters at the GeGeGe no Kitaro store and cafe
Another peculiar place in the area is Kitaro Chaya, a themed store and cafe based on the famous yokai manga "GeGeGe no Kitaro." The store is decorated with the manga's main characters — the yokai, the ghostly creatures of Japanese folklore.
I recommend visiting this place even if you don't know the manga because it is interesting and fun. There is a small exhibit of yokai paintings and other related items on the second floor and a cafe where you can taste themed original sweets and seasonally limited menu items.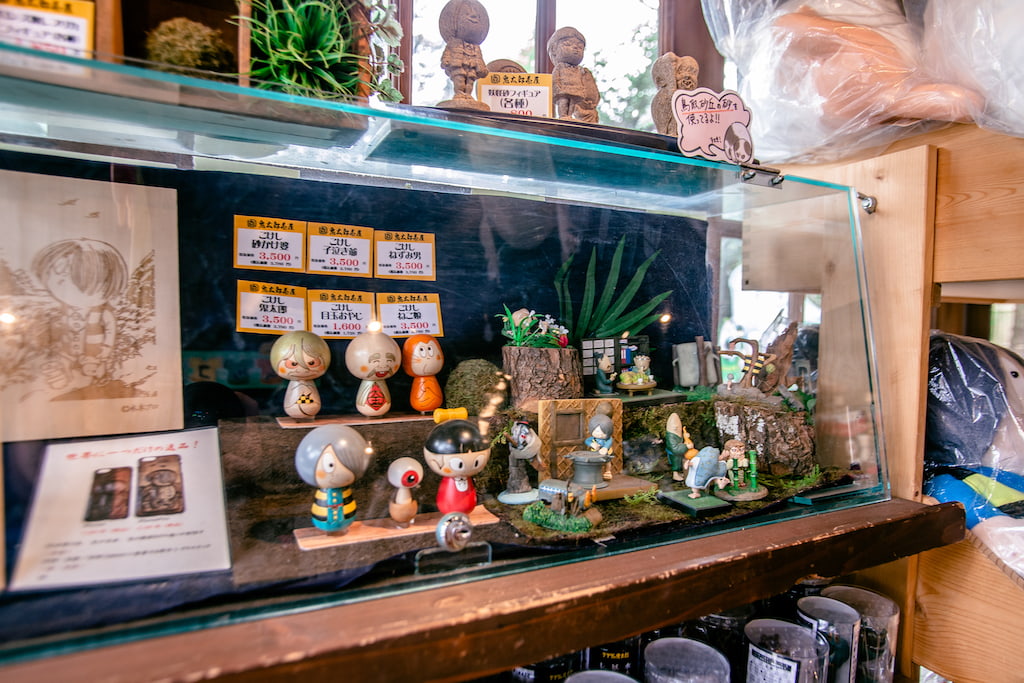 Other things to see and do around Jindaiji Temple
Jindaiji temple area is also home to some interesting sights to make into a whole day itinerary. Here are some of my other favorite spots to visit:
Jindaiji Pet Cemetery: The largest pet cemetery in Tokyo
Jindaiji Pet Cemetery is the largest pet cemetery in Tokyo. Pet owners can rent a small shelf to make an altar and display pictures of their pet, the animal's ashes and amulets, flowers, and even cans of food and favorite toys.
Jindai Botanical Garden: Seasonal flowers in Tokyo
Next to Jindaiji Temple is the Jindai Botanical Garden, operated by Tokyo metropolitan government. More than 100,000 species of plants and trees transform during the seasons. It is famous for having the most extensive rose garden in Tokyo, with more than 5000 blooming roses in mid-October. You can also admire local plum trees, cherry trees, wisteria in spring, azaleas, peonies in summer, and exotic tropical and sub-tropical plants all year round.
Onsen Yumori no Sato: A hot spring in the middle of Tokyo
Here you can experience hot springs without traveling outside Tokyo. It is a 7-minute walk from the Jindaiji temple, and the atmosphere is exceptional and traditional. There are nine different types of baths in total a sauna and a restaurant. The onsen experience consists of three distinct zones, one indoor and two outdoor, and the water is dark, almost black, a phenomenon unique to Tokyo hot springs.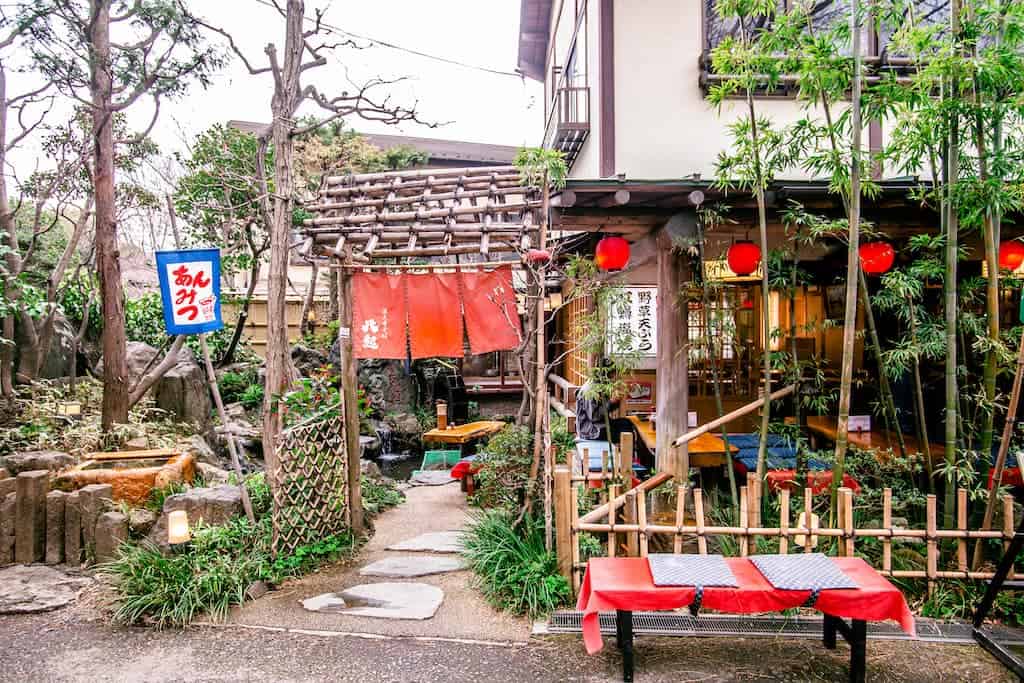 How to Get to Jindaiji
The most convenient way to get to Jindaiji Temple is by bus from Chofu, Tsusujigaoka, Mitaka, and Kichijoji train stations.
I recommend using the bus from Kichijoji as it's a JR station and can be accessed with the JR Pass. However, the bus ticket to Jindaiji is not included in the pass.
The bus stop to Jindaiji is located at the entrance of the Don Quijote store at the south exit of Kichijoji station on platform number 6. You can take the buses 04, 06, or 14, and depending on the bus we take, we'll have to get off at different stops. For example, if we take the 04, we will get off at the Jindaiji (深大寺) bus stop. If we use the 06, we will get off at Jindaiji Iriguchi (深大寺入口), which is a 7-minute walk from the temple. Finally, if you take the 14, get off at the Jindaiji Shogakkomae bus stop (神大小学校前).
In addition, the route of these three buses also passes by the Ghibli Museum, making a visit to both Jindaiji and the Ghilbi Museum an easy day trip. (The bus stop is located three minutes walk from the museum and is called Myojo Gakuen Iriguchi (明星学園入口).)