It was a day of wind and rain — not exactly the ideal weather for a photoshoot in Hyogo Prefecture's (兵庫県) Tamba Sasayama (丹波篠山市). Home to a rich 400-year old history, this Japanese castle town includes a unique pottery culture, a contemporary castle, and perfectly preserved samurai and merchants quarters. As I snapped photos with my camera through the cold, the delicately latticed storefronts in the merchant district and the Edo-esque Fukusumi shone brilliantly through the dreary weather. But what really captured my heart was the glimmering entrepreneurial spirit of the many young businesses that make their home here at Tamba Sasayama.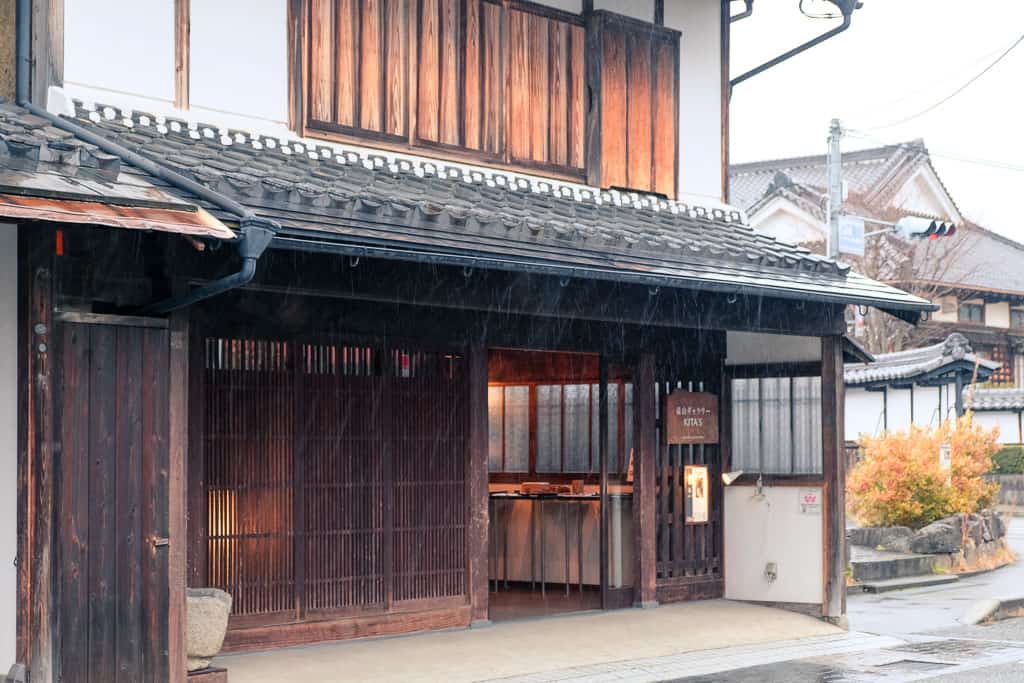 My travelling companion and I arrive in Tamba Sasayama from Osaka in a little over an hour by car. We meet Michiko, our host and guide for the day, and don't waste any time before getting started on our tour. Although this is a small town, our itinerary is packed to the brim, and with only a few short hours before nightfall, we hurry on our way.
From Small Town to Urban, and Back Again
Although many small towns across Japan are losing young people to the big cities, the local government of Tamba Sasayama has found a way to bring a more diverse population back the town in the last few decades. A call put out by various organizations, such as Chiiki Okoshi Kyoryokutai or Members for Local Vitalization, has managed to lure some people back to their hometowns with attractive incentives to get businesses up and running. Many of the Machiya (traditional wooden houses) have been converted to trendy cafes, posh hotels, and craft breweries, and share the streets alongside retro toy stores, tatami shops, and a 400-year old sake brewery. Unlike the frenetic energy of nearby tourism giants Kyoto and Osaka, Tamba Sasayama is a much more serene version of the tradition-meets-modern hybrid that Japan is so famous for.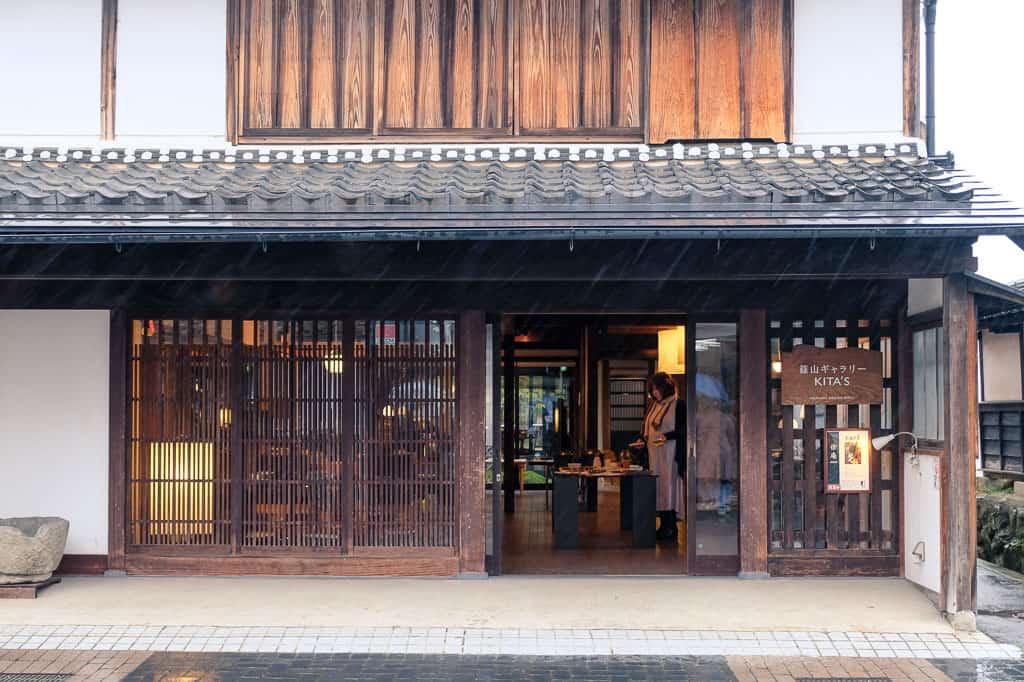 The Kawaramachi Merchant District of Tamba Sasayama
Our first destination is the Kawaramachi Merchant District. A strict tax law imposed on the craftspeople and merchant shops during the Edo period meant that the storefront facades were built narrow, though the entire building extended deep into the city block. Now, its many Machiya have been given a facelift with new businesses making their home here.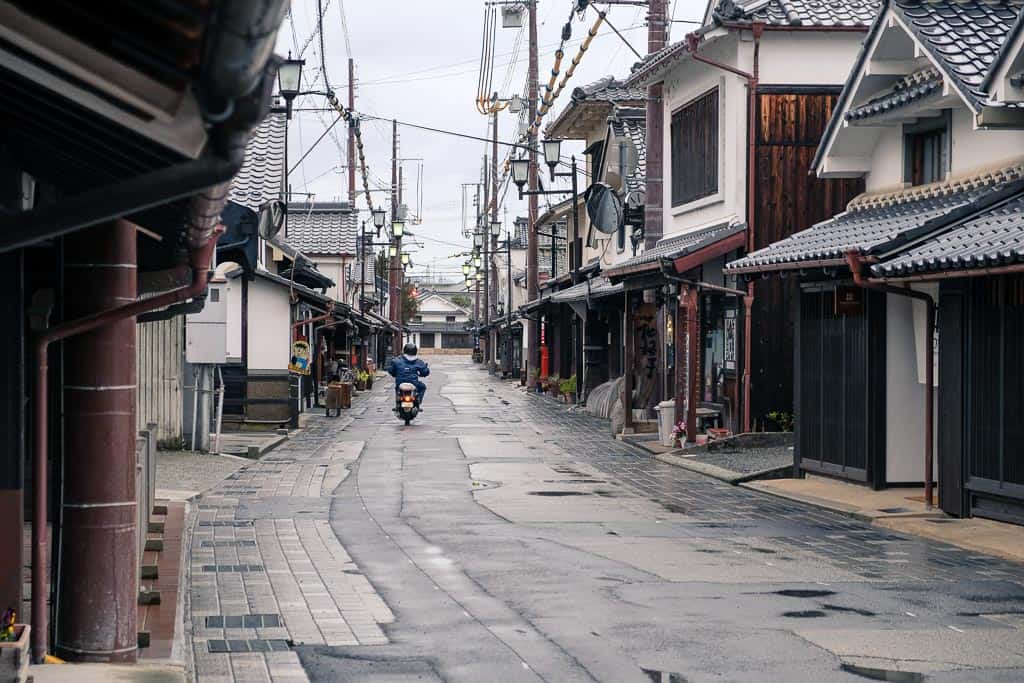 The cold rain falls relentlessly, so we all duck inside the 400-year-old Houmei Sake Brewery, which is almost as old as the city itself. We followed Michiko through the storefront and into a separate building in the back where its sake museum is located. I personally love museums that showcase the traditional ways of making goods in its original location and we browse the old wooden barrels, massive steel containers, and a low ceilinged yeast room freely.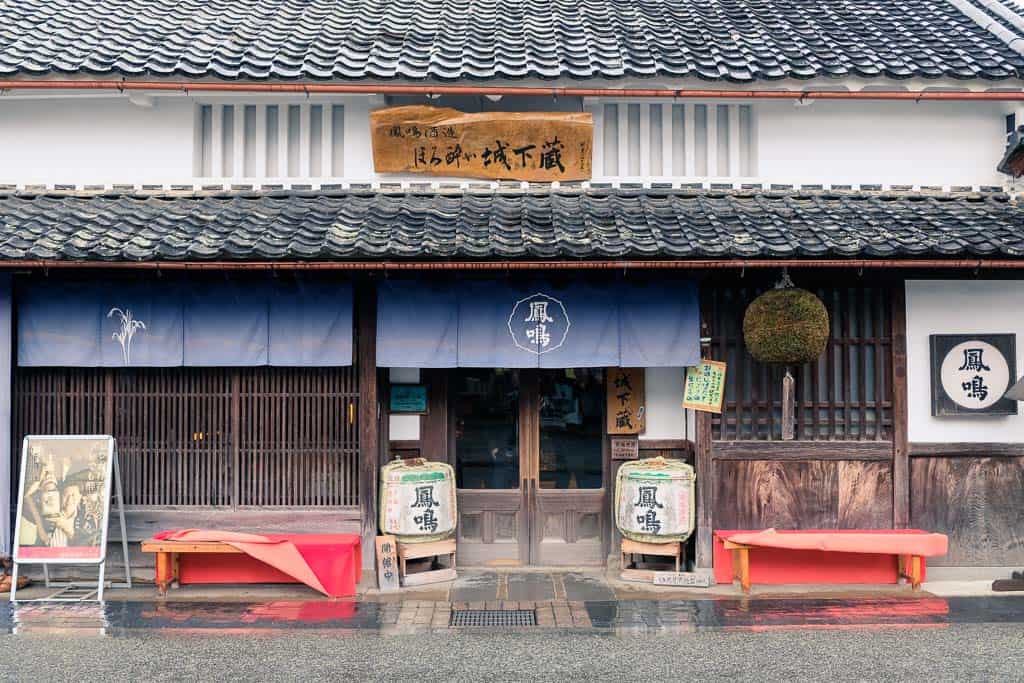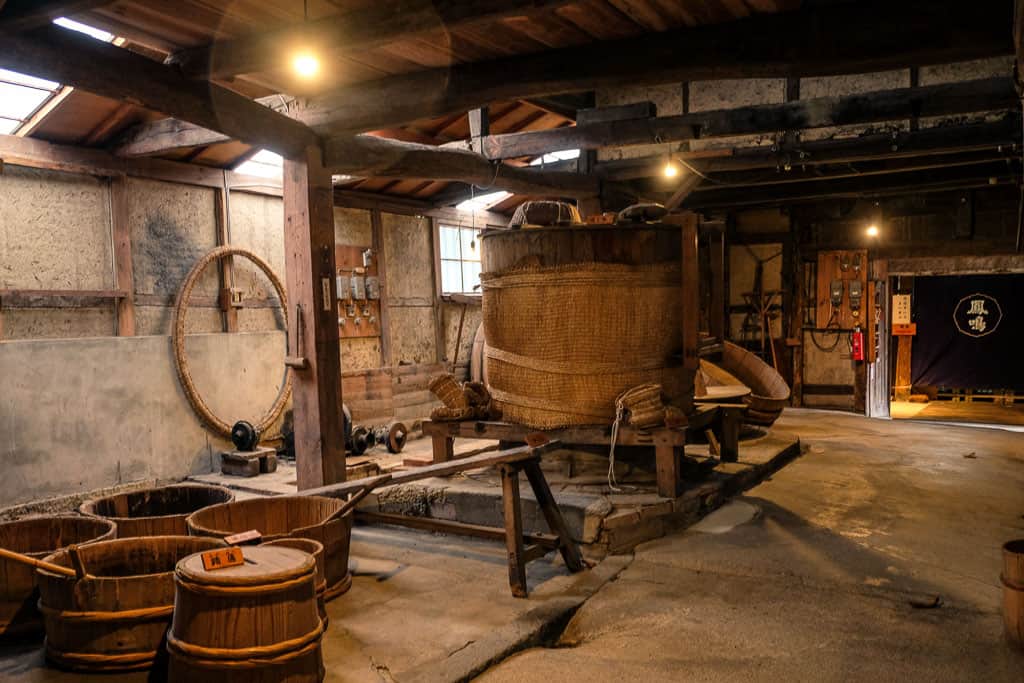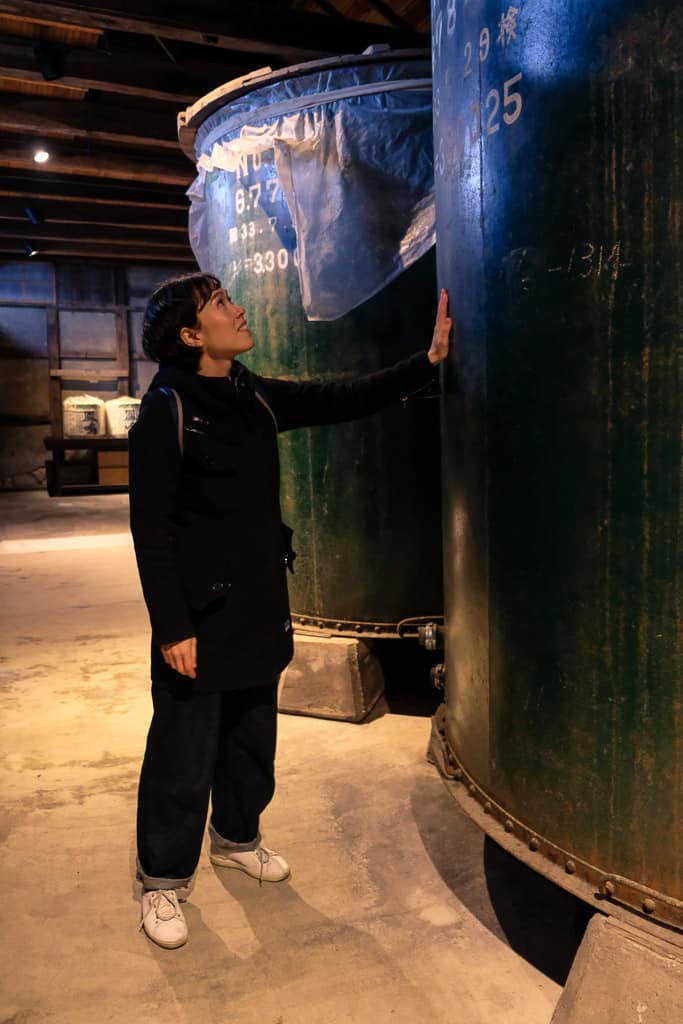 We happen to be visiting Tamba Sasayama during the low season of January, so some stores were closed earlier than usual. However, many stores serving their community are still open, from a local black soybean bakery to the local tatami maker. In warmer months, you'd likely experience more of the bustle of resident activity. Even in the rain, we see groups of high school students riding their bikes and locals popping into shops along the historic streets.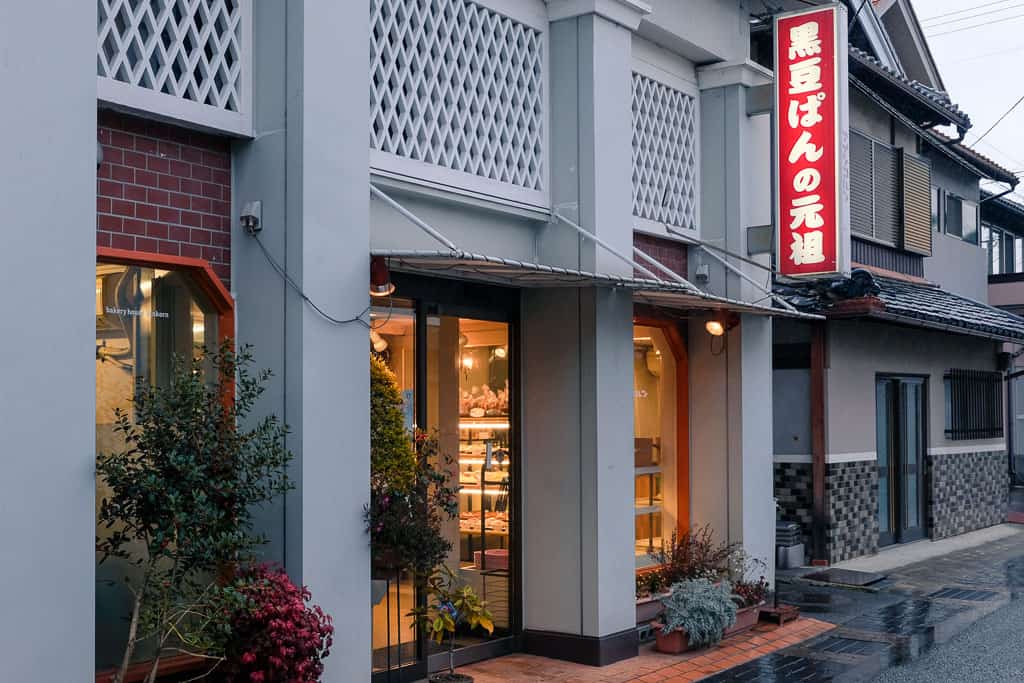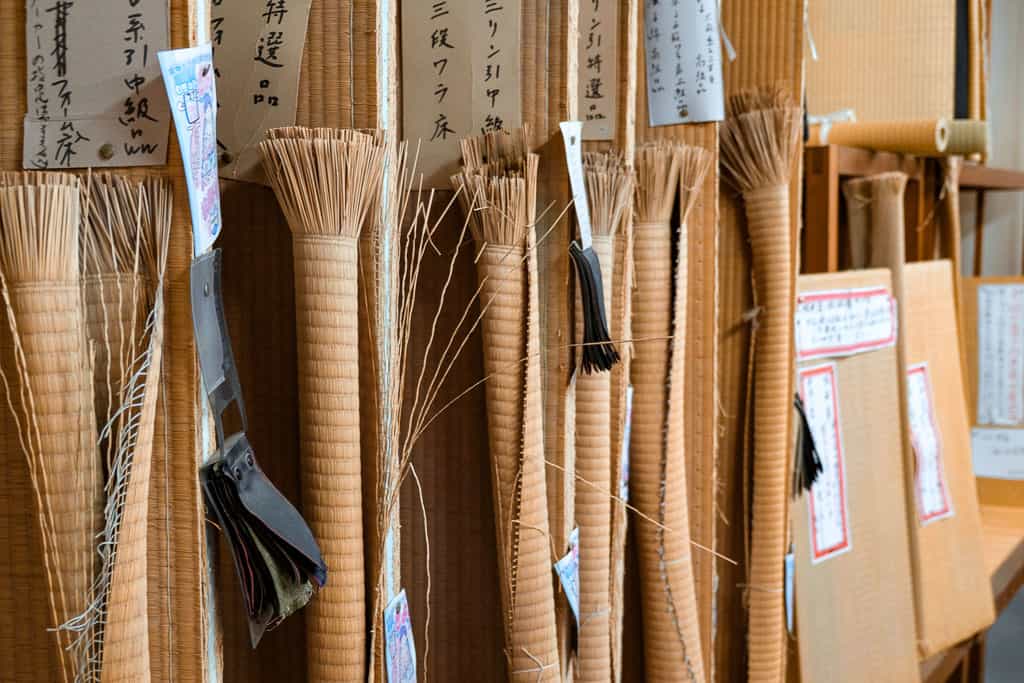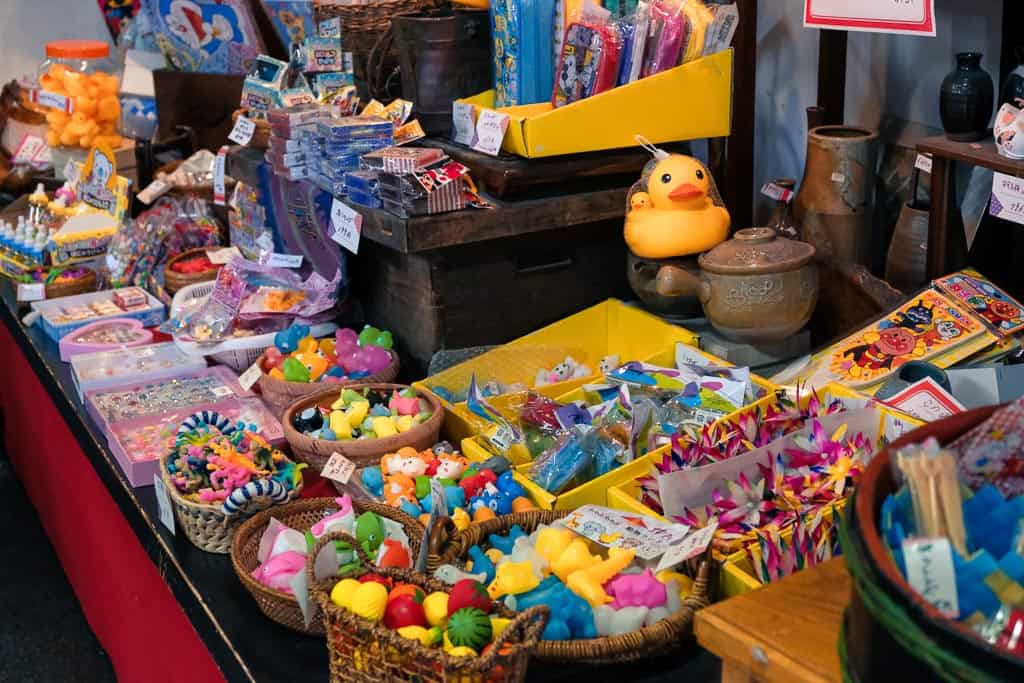 "Hate to Lose" Make-Kirai Inari Shrine
Our next stop is the unusually named Make-Kirai Inari, literally translated as 'Hate to Lose Shrine'. Its history is based on a curious tale of a group of foxes that transformed themselves into sumo wrestlers and successfully won a Tokyo sumo competition as Sasayama representatives. It is said that Tadahiro Aoyama, a Sasayama feudal lord, expressed his appreciation to foxes by offering a banner and ema (prayer board) to each village enshrining foxes in the territory of Aoyama. Now, it's a popular place for many who walk through its vermillion torii gates to pray for success in their job searches, passing exams, and winning sports competitions.
Feudal History of Sasayama Castle
If you're interested in the feudal history of Tamba Sasayama, the Sasayama Castle is a worthwhile visit. Rather than some of the towering castles Japan is famous for, Sasayama castle is comparatively moderate in design. Built on orders of Tokugawa Ieyasu, the first shōgun of Edo Shogunate, Sasayama Castle remained intact until 1944 when it burned down during fire raids. Today, we see a faithful reconstruction, and the Oshoin (main wooden structure) opens its doors to display a fine collection of artifacts in tatami rooms. There's even an opportunity to dress in a suit of samurai armour inside. The Oshoin was closed when we arrive, but luckily, Voyapon staff Clémentine had a few photos from a previous visit up her sleeve to share.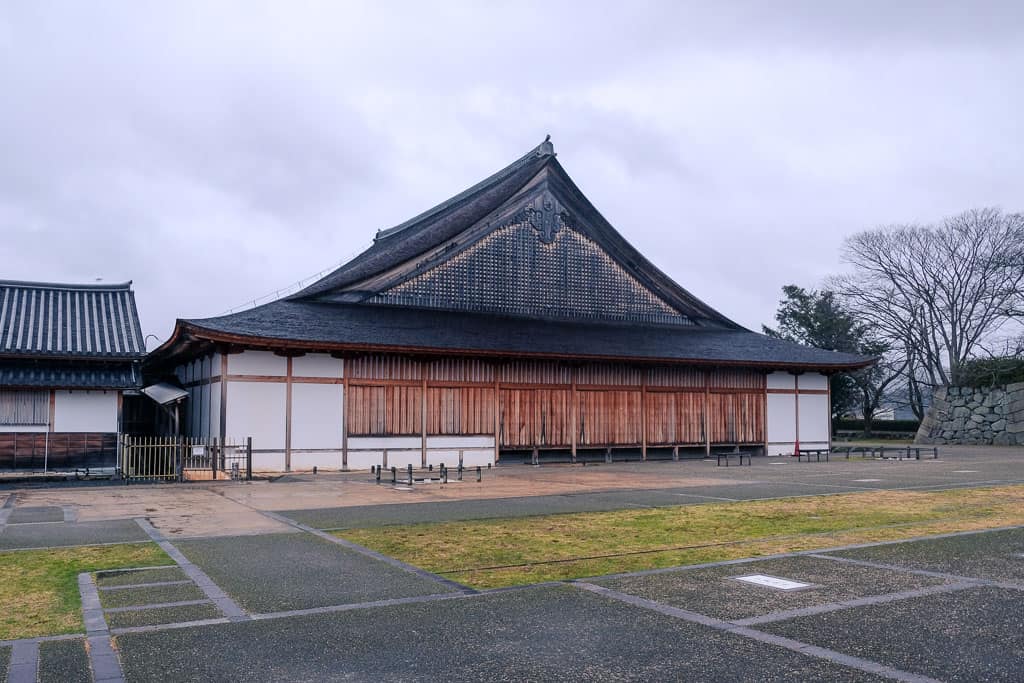 If you're here during the springtime, the original stone walls and moat are lined with cherry trees that break out in festive pink blossoms.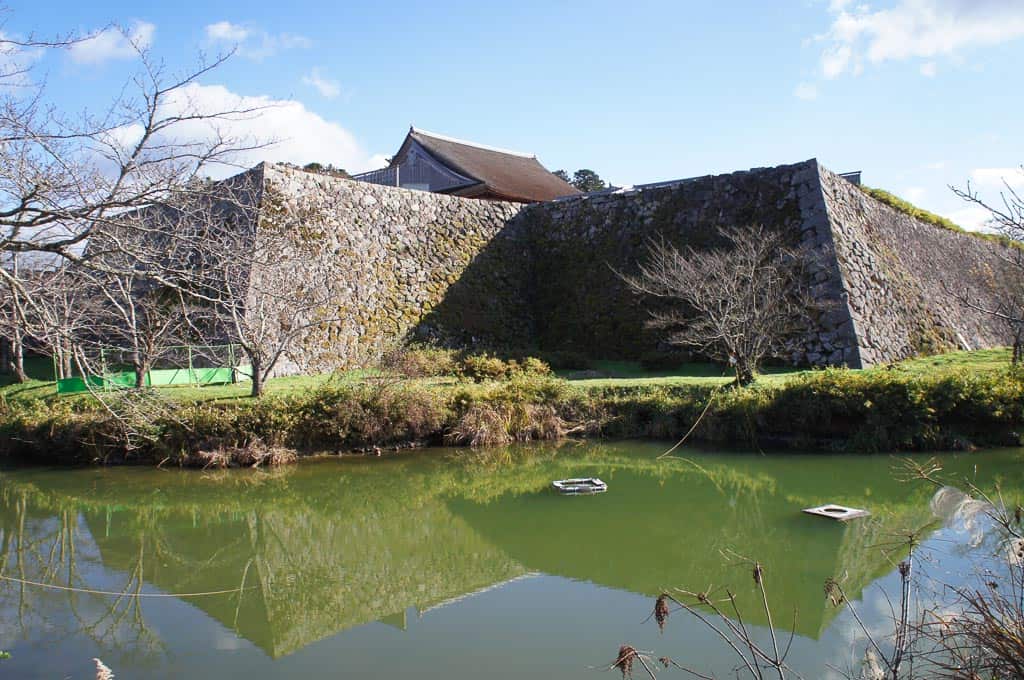 Sasayama's Samurai Residence District
A 10-minute walk from the castle brought us to the preserved Samurai residence district, where many of the original thatched houses remain. The Anma-Family Samurai Museum is a beautiful example of a painstakingly preserved thatched house and has a collection of tools and household furnishings from the Edo era inside.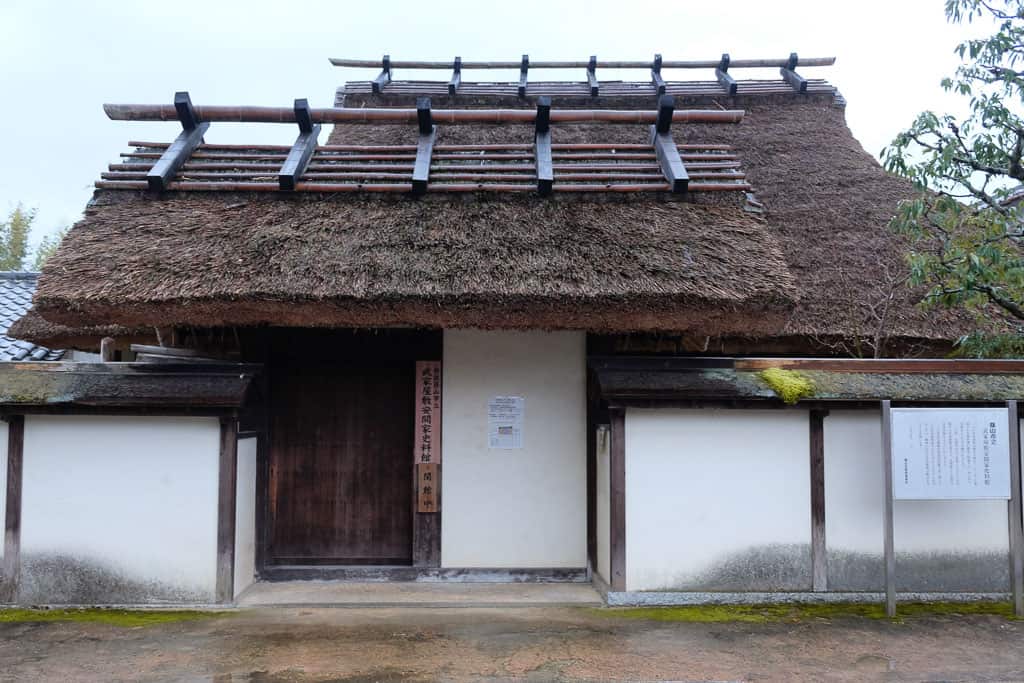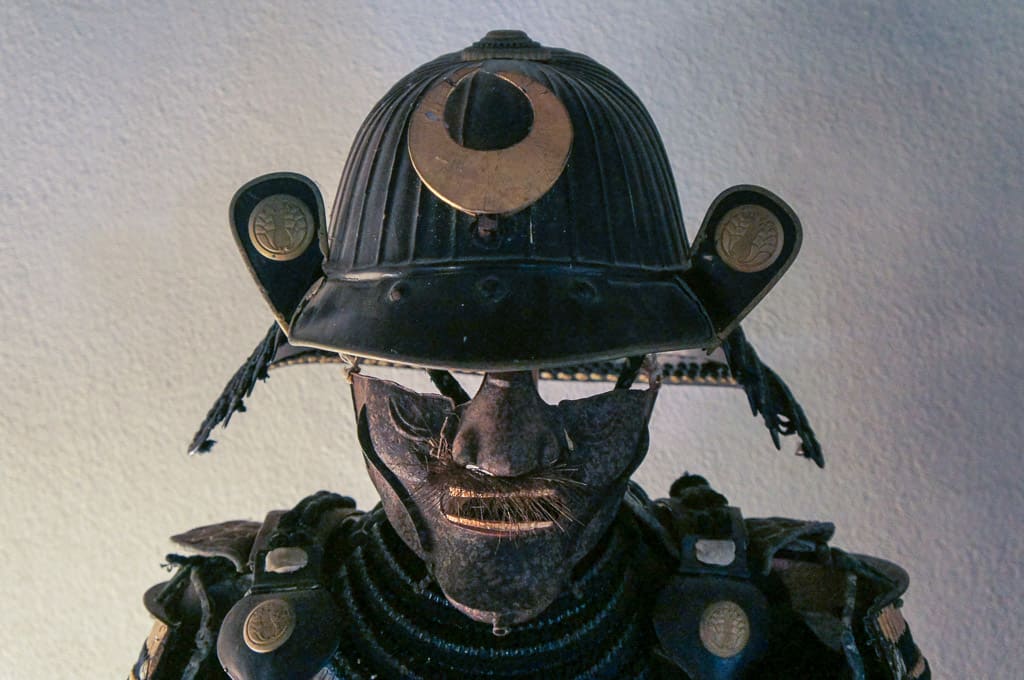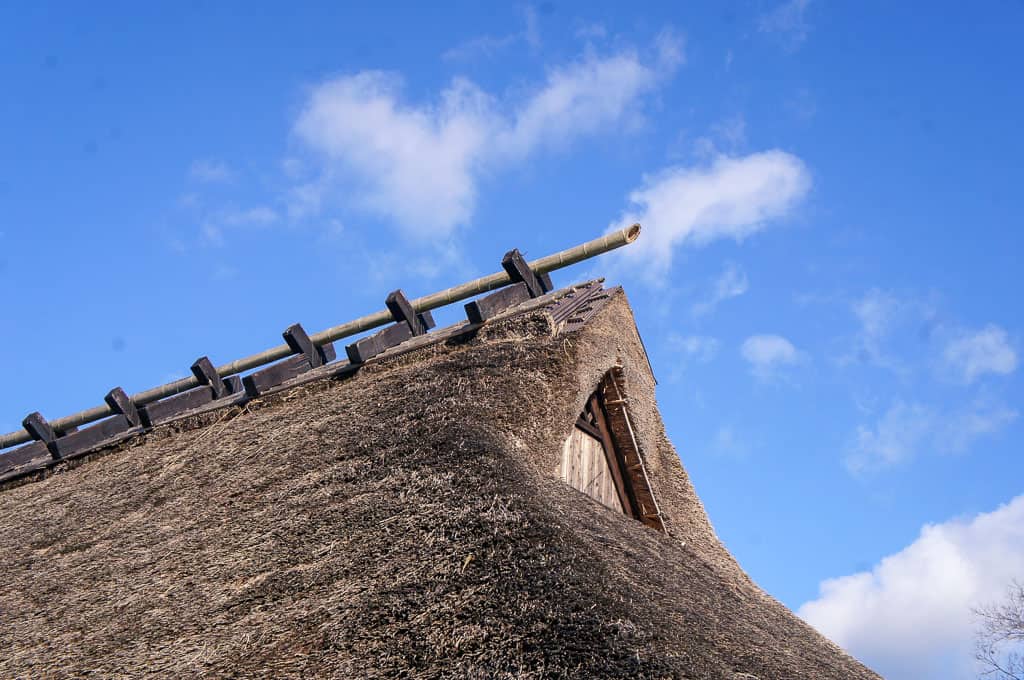 The Historical Post Town of Fukusumi
Before the evening ends, we head on a 20-minute drive east to our final destination of the historical Post Town of Fukusumi. Historically a resting spot for travellers on the Sasayama–Kyoto route during the Edo period, the town continues the practice to this day. Many of the newly renovated wooden houses are open for travellers looking for an overnight stay, and accommodations can vary from quaint and simple to high-priced and trendy. Walk through the Edo-atmospheric streets or explore the surrounding landscape by bike.
We stopped in at Green Cross Road at one of the renovated Machiya houses in Fukusumi. Owned and operated by professional cyclist, Daisuke Murakami, you can rent a bike, get your own bike tuned up, or sip a coffee made by Daisuke himself. If you're in the mood to explore the area further, Daisuke can suggest cycling paths catered to your interest and ability, or provide personal tours of Fukusumi. With the evening falling, it's a shame that we couldn't explore the surrounding landscape further on two wheels. It will have to wait until next time.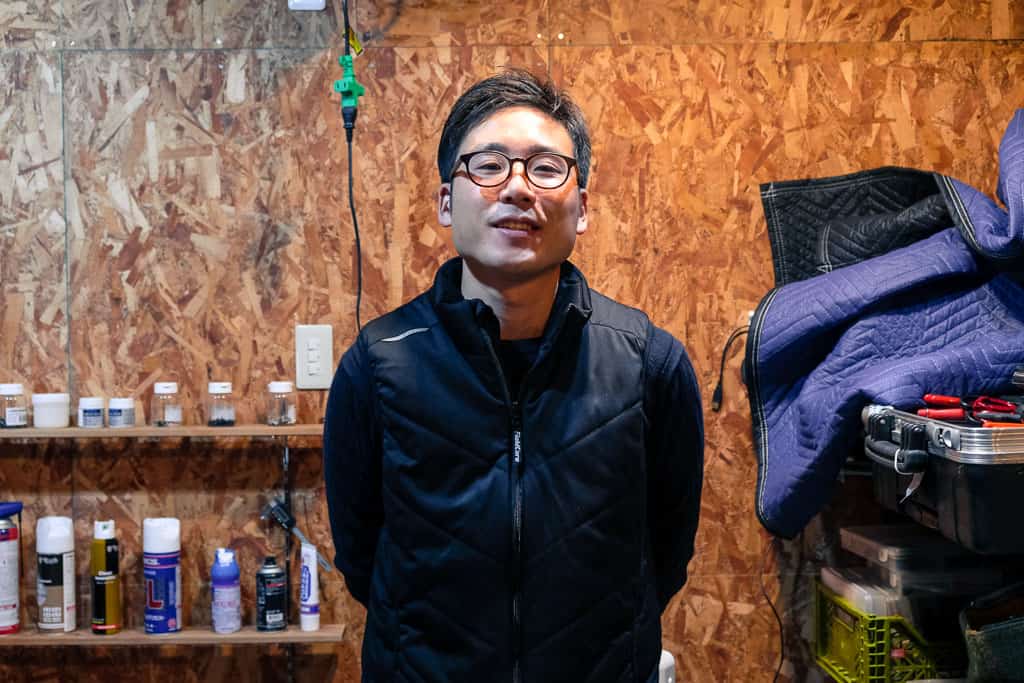 Before we leave (and in true Japanese hospitality), Daisuke dashes off down the street and returns with two bottles of Fukusumi's own craft beers from Zig Zag Brewery, which we gladly accept.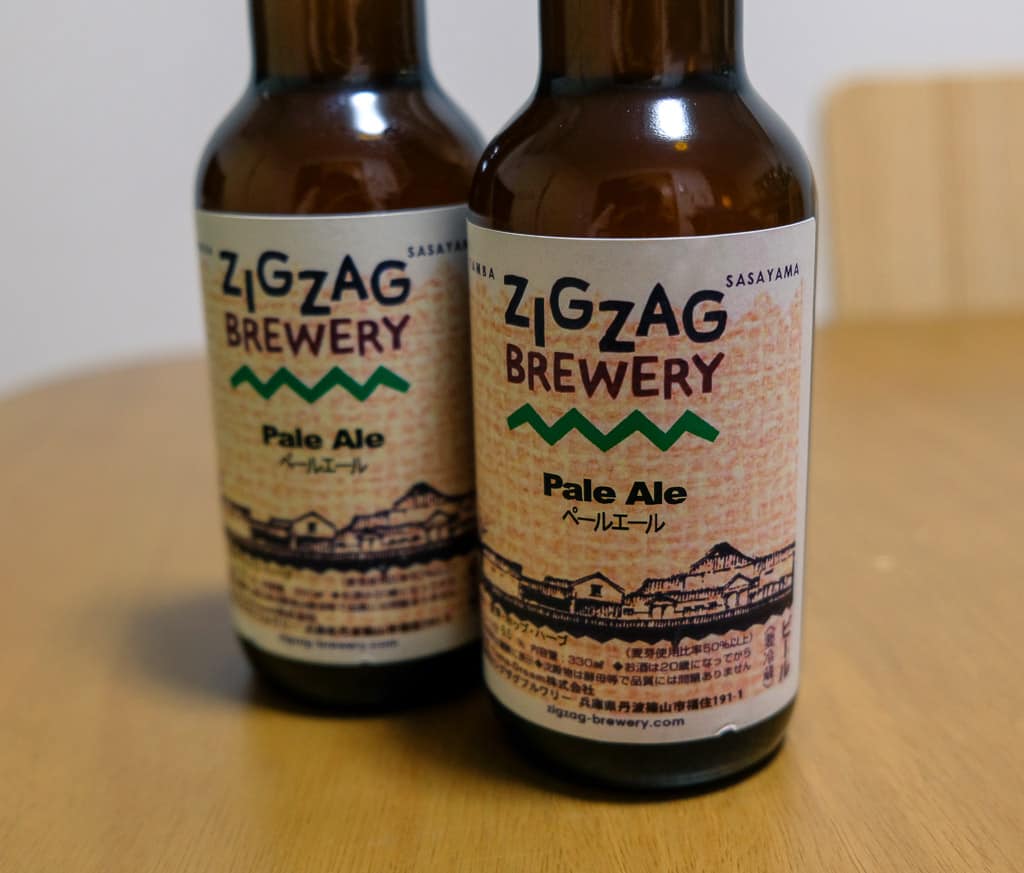 We round off our tour with a visit to Magnum Coffee and an old school cafeteria turned restaurant named Meshito,Tsukemonto,Panto .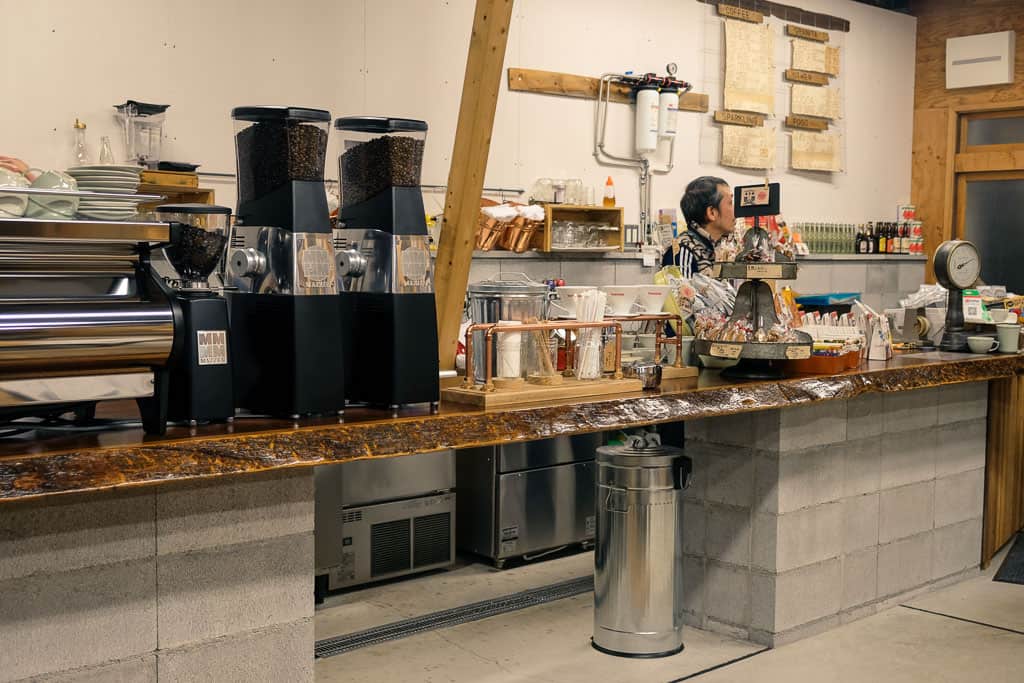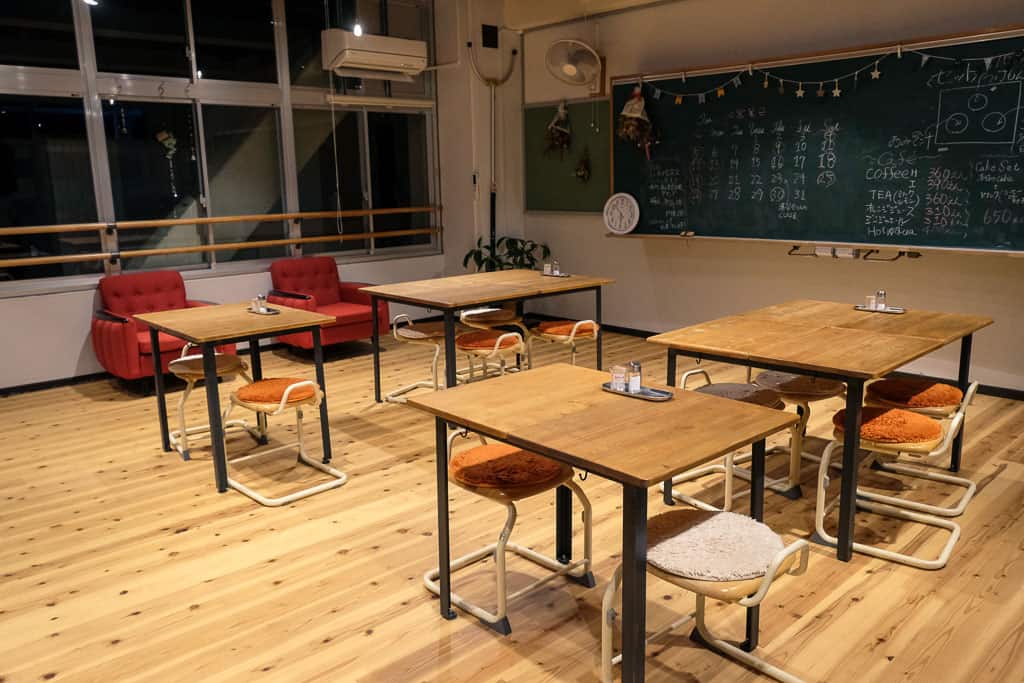 And it's with that, that we conclude our tour of the lovely castle town, Tamba Sasayama. Tonight, we'll be staying in Tamba Sasayama's Umetan FUJI, where our guide Michiko will show us the delights of staying in a traditional farmhouse. As we drive to our accommodations for the night, I regret we weren't able to stay for longer than an afternoon. The resounding sense of community and rejuvenation that young businesses bring with them charmed its way into my heart. With tourism giants Kyoto and Osaka close by, Tamba Sasayama is still a very worthy contender for that eclectic mix of tradition-meets-modern Japan you're looking for, without the hustle and bustle.
Getting to Tamba Sasayama
From Kyoto, take the train on the JR Tokaido Main Line to Amagasaki Station, before transfering to the JR Fukuchiyama Line (JR Takarazuka Line) to Sasayamaguchi Station. (approx. 1 hour and 40 minutes)
From Osaka, take the JR Fukuchiyama Line (JR Takarazuka Line) from Osaka Station and get off at Sasayamaguchi Station. Alternatively, take the JR Tozai Line from Kitashinchi Station, change to the JR Fukuchiyama Line (JR Takarazuka Line) at Amagasaki station and get off at Sasayamaguchi
Visit the Tamba Sasayama website for more info.
---
Exploring the Tamba Province
If you're in the area, Tachikui Pottery Village is a 25-minute drive south, where you can look through its 800-year-old history, try your hand at making your own pottery, or explore the pottery town that still makes Tamba ware. If traditional Japanese paper is more up your alley, the Kurotani Washi Cooperative is a 50-minute drive to Kyoto prefecture, where you'll see a river running through the 800-year-old traditional of washi making village.
Article sponsored by North Kansai Tourism Association.