A lot of tourists get surprised when they arrive in Japan and see how advanced the level of technology is in Japanese society. Although of course, some of them are more prepared and already expect it. Every traveler on the train or bus, can be found to be immersed in their cell phones, whether they are communicating with someone, scheduling their vacations, paying their bills, shopping, or many other activities that usually consume a lot of our time. People buy their metro or subway train tickets from machines full of buttons. It is also possible to use the commuter passes like SUICA to pay for cabs or purchases made at a convenience store (konbini).
(Source: Photo AC)
But without a shadow of a doubt, due to their abundance (more than five and a half million) and omnipresence in almost every corner of the country, the vending-machines are the stars of this robotized and automatic country. As language can be a real communication barrier, the existence and vast number of these machines help make the experience of many travelers easier and more comfortable while touring around Japan. So here, we will tell you how to use vending-machines, and offer some interesting information about them.
(Source: Dietsinreview)
First of all, it is interesting to list the number of different kinds of vending-machines that you can come across in the country, although most of them are generally related with food and drinks. On the gastronomy side, the most common machines sell ice creams, instant soup and hot foods such as hot dogs, croquettes, among other options. Beverage machines include products that covers a wide range of prices and varieties, including both alcoholic and nonalcoholic drinks; although sometimes when you buy beer, sake or other alcoholic items off the machines, you are required to swipe a card over a reader that confirms that you are an adult. You can get this card at certain places but it is not recommended if you are only staying for a few days or weeks.
(Source: Triplelights)
Beyond drinks such as sodas, juices and flavored teas, you can also find hot drinks, coffee being the most common among them, in different variants of sweetness, with or without cream or milk. You will notice that the cans of such hot drinks (which are displayed in front of the machine) are marked with a red light; this does not mean there is no more in stock, but that the beverage is kept hot for the consumer's convenience. At the more rural areas, a lot of local producers have designed their own vending-machines where they sell products such as rice, eggs, vegetables and even machines that peel your rice.
In some small casual, understaffed restaurants where they serve food such as ramen or other dishes that can be served quickly, you have to buy a meal ticket of what you want to eat from a vending-machine at the entrance of the establishment. Usually, there are photos on each one of the buttons that show you what kind of food you are ordering, so I would recommend you to use these options and not take a risk with the buttons that only have Japanese descriptions. This is so you do not make a mistake and pay more for food that you did not want to order.
(Source: Tastyislandhawaii)
On the street or at subway or train stations, just like at a few building halls and shopping malls, it is not rare to come across vending-machines that sell umbrellas, batteries, cigarettes, masks (used by the Japanese people when they get a cold), mobile phone SIM cards with a data plan for tourists, memory cards for your camera, plastic glasses, small toys (called gachapon) and even casual clothing (underwear, ties, shirts). In the entrances of some temples, although not always, you can find machines that sell lucky charms, flowers and small papers with predictions of the future.
These vending-machines are usually pretty easy to use. Firstly, you choose the product you are interested in; the display will show you the price. After that, you start inserting bills or coins, some machines will also let you use your bus or subway/train pass such as the SUICA to pay for your purchase. Finally, you take the product and leave happy with your purchase.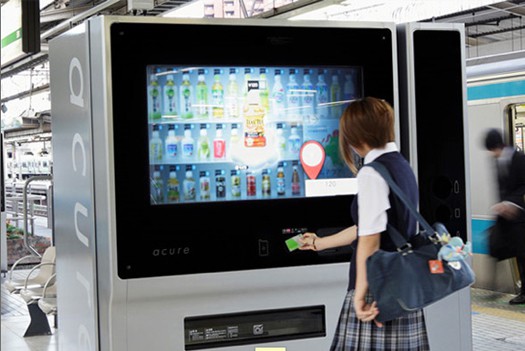 (Source: Skysfridayblog)
Here is something interesting to note. Everything in Japan is always and constantly evolving and getting better with the objective of improving customer service. That is why a software and facial recognition company implemented a certain software in these machines, and by using a camera located at the upper part of the machine, the software tries to recognize the gender and age of the person trying to buy a beverage. Thus, the vending-machine rearranges the digital display and offers a line of products that targets the specific age and gender demographic of the buyer. Another interesting detail is the fact that such machines work 24 hours per day and with their cooling or heating product systems, these machines consume a lot of energy. And that is why another company created the Eco vending machines, which use solar energy in order to keep working and include motion sensors to activate the display lights only when they detect movement such as people getting close to purchase a product.
With your bills, coins or your train passes/cards in hand, you are ready to purchase many different types of goods from these useful machines. Always remember to wait for the change, and enjoy your automatic purchases!