Sponsored by Nakanojo tourism association
Nakanojo is one of those mysterious, one of a kind places that not many people have really ever heard of. Couple this with it's thriving art scene and scatterings of creepy abandoned buildings, it's pretty much the most artistic and, dare I say it, hipster towns I've ever been to. If you're into creepy, abandoned places, slightly strange, unique people and beautiful scenery, then you're in for a treat. Nakanojo has all of these and more, not only encouraging a vivid art scene for people all around the world, but also being a creepy inspirational wonderland for creative minds. Come to Nakanojo a seriously beautifully eerie experience within nature.
JR Super Express Kusatsu no.1
Getting from Tokyo Ueno station to Nakanojo is the simple matter of boarding just a single train. Simply board the JR Express Kusatsu train(fully covered by JR Pass), leaving from one of the limited express tracks (13~17) at Ueno station and remain onboard until you reach Nakanojo station in just over 2 hours. It really is that simple.
This train is obviously not a shinkansen but it was complete with table trays and ample space for your luggage and feet. As with most trains, unfortunately I couldn't find any power sockets nearby but, unlike the Shinkansen, I could actually use my wifi almost the entire time. So, if you take one of those external charger packs with you, you should be well entertained for the whole journey.
You can buy a ticket from the ticket desk in Ueno station, just outside the JR gate entrance, or you can simply use your JR pass for the entirety of your journey. If you buy a ticket, you have the house to reserve a seat for a few hundred yen extra but I decided it wasn't necessary considering I was going on a weekday and the train was not likely to be crowded. In fact, the only people around me were either salary men or elderly people.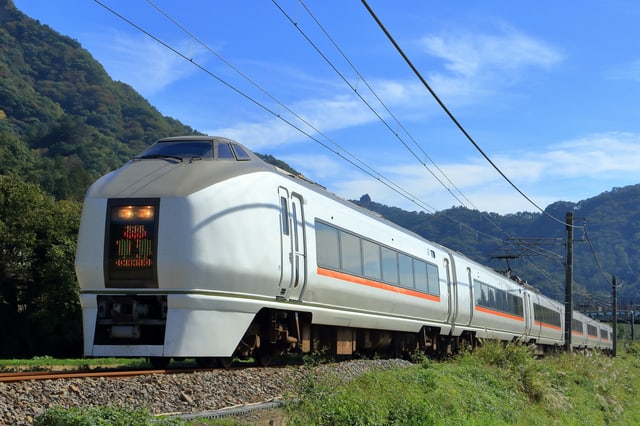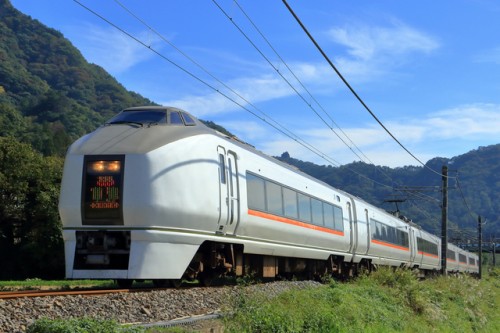 Ekiben
This is something that, despite travelling around Japan to various places, I had never heard of before. Sure, I'd seen a lot of shops around all the big stations and a few souvenir style shops near the Shinkansen boarding platforms, but I'd always just gone for familiarity; a sandwich and some chocolate from an ordinary convenience store. But, since discovering the Japanese traveling tradition of Ekiben, I've now realised I was missing out on something quite special.
An Ekiben quite literally translates as a train (駅) lunchbox (弁当) but it is far from just an ordinary lunchbox. Each area you visit in Japan will have their own regional style and flavours in their Ekiben, so you can always look forward to trying some specialist food on the go. They're not only convenient, but have also turned into a bit of a traveling tradition for Japanese people, and is something that makes their train journey more exciting. I can definitely agree with them on this, particularly considering how much I love food.
I bought my Ekiben from the other side of the JR gate in Ueno station. They had a broad selection of about 16 different bentos, each featuring a different styled box and wrapping, and generally ranging from around ¥900 to ¥1,200.
Nakanojo station and beyond!
Nakanojo station is pretty small and features a very small convenience store that actually shuts from 12:15-1:20 and 3:15-3:30pm due to the lack of trains passing through. There is a vending machine next to the shop though if you're desperate. The waiting room is warm and comfortable too and, for some reason, there is a surplus of staff hanging around, ready to give you any advice. Directly outside the station's only exit is a taxi rank and the bus stop bound for Shima Onsen.
The bus to Shima Onsen is called the kanetsu kotsu express bus. Simply alight the bus and take a ticket from the machine to your right. A one way ticket will cost ¥930 (or ¥470 for children). Simply pay when you get off the bus and be sure to have the correct change. You can get coins from the change machine not he bus next to the driver, but it will only accept ¥1,000 notes.
I didn't visit Shima Onsen straight away, instead opting to take a taxi to Lake Okushima, but I can tell you it is well worth that bus journey just to feast your eyes on the old village with a lot of character. Stroll around the place that became the inspiration for the famous Ghibli movie 'spirited away' (Sekizenkan), eat some of Nakanojo's famous soba in an authentic setting or take a dip in a free public onsen (though many will close at 3pm).
Alternatively, you can take a taxi like I did and go anywhere you like!
Lake Okushima – Inatsutsumi Sesenagi park
Lake Okushima is a little challenging to get to, but a place filled with beauty, wonderment, and water with the most vivid bluey green mix of colours, it looks like someone has photoshopped real life. Surprisingly, the colour is said to change depending on the weather or the time of day, from blue to a more emerald green hue. Considering it's just after the autumn season, where the trees are bare and the mountain sides are a little grey, the still bright glow of the lake was something of a small miracle to me. It burst through the dull greys of the scenery, shimmering with power and brilliance, creating the prefect contract to it's surrounding baron foliage. I can only imagine what it would look like in and amongst the contrasting oranges of autumn.
While Lake Okushima is not a naturally occurring lake, having been formed after the creation of the Shimagawa Dam in 1999, it is still one of Japan's most beautiful landscapes, complete with nearby hiking routes to really immerse yourself in the beauty of nature. The Lake features a recommended viewing spot from which you can also walk to a nearby bridge enabling you to cross form one side to the other. The middle of this bridge is perhaps the best place to take stunning photographs of the lake and the looming mountains encasing the atmosphere, though it can get a little breezy in the colder months.
The lake is a 25 minute car or taxi journey from Nakanojo station. Alternatively, you could take a bus to Shima Onsen and takes about 1 hour by walking from there, though perhaps renting a car may be the best option.
Getting to Nakanojo really is amazingly convenient. The place is so full of wonder and art that I'm genuinely surprised more people haven't heard of it or that it hasn't become one of the most popular art hubs of Japan. However, with events like the Nakanojo Biennale, attracting masses of artists from not only Japan, but all around the world, we can only hope that the area will grow into a thriving artsy and, dare I say it, hipster paradise.
| | |
| --- | --- |
| Name | Lake Okushima |
| Category | Lake |
| Address | Nakanojo Dam, Shima, Agatsuma District, Gunma Prefecture, Japan |
| Access | [map]Nakanojo Dam, Shima, Agatsuma District, Gunma Prefecture, Japan[/map] |
| Opening Hours | Anytime |
| Price Range | Bus: From Nakanojo station to Shima Onsen: ¥930 (children: ¥470) |
| Payment options | Cash |