Sponsored by Tourism Oita
Oita Prefecture in Kyushu Region is commonly known as the "onsen prefecture" of Japan with famous hot spring towns like Beppu and Yufuin. But did you know there are other natural delights nestled within this volcanic area? One of which is Harajiri Falls (Harajiri no Taki, 原尻の滝), a horseshoe shaped waterfall rated one of Japan's "top 100 waterfalls", which sits alongside the ancient Ninomiya Hachiman Shrine (二宮八幡社).
Between some heavy rain showers on a July afternoon, I explored both Harajiri Falls and Ninomiya Hachiman Shrine to discover some of the history and surroundings of this beautiful part of Kyushu…
Harajiri Falls aka "Oriental Niagra Falls"
The skies decided to open with torrential rain when I arrived at Harajiri Falls. Thankfully though, there is a rest area with two restaurants, toilet facilities and a shop only a few meters away. So I braced myself for a few minutes before running inside in search of a sturdy umbrella. After finding what seemed to be the sturdiest looking 350 yen umbrella, I prepared to face the torrential downpour that awaited me outside. To my surprise though, the rain had cleared up to review a pale blue sky and the natural wonder in front of me…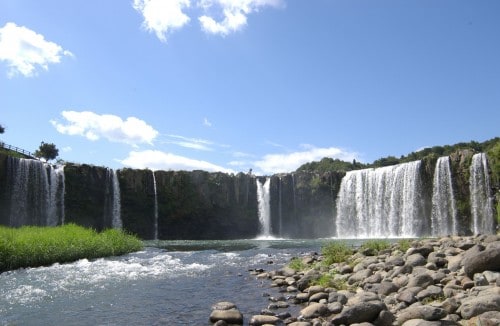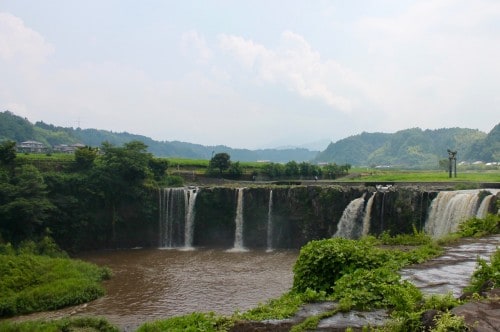 Actually, it seems to be a bit of mystery as to how this 120 meter x 20 meter phenomenon appeared. One theory is that it formed around 90,000 years ago after Mount Aso (in the neighbouring prefecture of Kumamoto) erupted. This is the theory I'm going with because it makes more sense than the alternative –  that it appeared out of nowhere! Either way, Harajiri stands out. It stands boldly in an archetypal Japanese landscape – a scattering of rice fields, and mountains. It's often called the Oritental Niagra Falls, because of it's horseshoe shape.
Behind the mouth of the waterfall is a tall stone torii gate. To the left of the torii, is a tarmaced road which leads up to Ninomiya Hachiman Shrine. You can reach Ninomiya Hachiman Shrine  by walking this way around the waterfall, or by heading over the wooden bridge which crosses over the waterfall. Either way, its possible to get a 360° view of your surroundings.
Ninomiya Hachiman Shrine
Ninomiya Hachiman Shrine was established in 1178 at the end of the Heian Era and the beginning of the Kamakura Era by well-known local samurai, Mr. Koreyoshi Ogata. Ogata-san supposedly chose the location for Ninomiya Hachiman shrine by shooting an arrow, and then building the shrine where it fell. He also used this method for two other shrines: Ichinomiya Hachiman Shrine and Sannomiya Hachiman Shrine.
Getting to Ninomiya Hachiman Shrine from Harajiri Falls is quick and easy. If you head towards the stone torii that sits behind the waterfall, all you need to do is follow the road through another torii gate, and then walk straight up the small hill for about five minutes. Most people that I saw wandering around Harajiri decided not to make the walk up towards the shrine, but it's worth the small trip!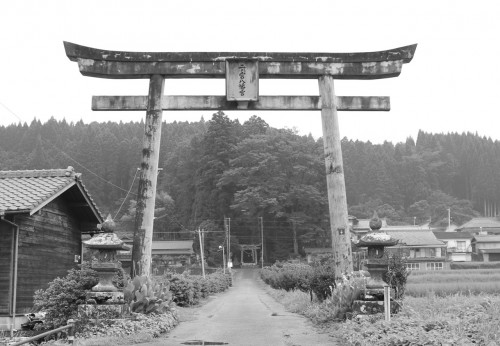 I'm not sure whether it was the moss-covered steps, the shrubs – which were still dripping with rainfall, or the emptiness of the place that made Ninomiya Shrine particularly eerie. But there was something enchanting about it.
The shrine has typical shinto elements, such as toro – traditional lanterns, torii – which mark the transition to a sacred space, and shimenawa – enclosing ropes used to protect the sacred area from evil spirits. The shrine itself is encompassed by towering trees at the entrance of a forest. At the entrance of the shrine's wooden building is a bell, used to attraction the attention of the kami (gods) for prayer.
Links/Information
Both the shrine and the waterfall are available to explore free of charge. For more information about Harajiri no Taki please visit the official website of Oita Prefecture.
The area next to Harajiri Falls is known as a "michi no eki" which means roadside station. You can search for michi no eki across Oita, or the rest of Japan on the website here.
Access
Due to the rural location of Harajiri falls and Ninomiya Hachiman shrine, they are most easily accessed by car.
Car: From Oita Airport drive south towards Taketa, via Kitsuki and Oita. Duration approx. 110 km and 1 hour 40 mins via the toll road. Toll fee approx 1400 yen.
From Oita, drive south towards Taketa via Route 10 and Route 57. Duration approx. 50 km and 60 minutes.
Train: From Oita, take the JR Hohi Line to Ogata. Duration approx. 65 min, cost 1100 yen. From there it's another 30-40 minutes to walk.
| | |
| --- | --- |
| Name | Harajiri Falls and Ninomiya Hachiman Shrine |
| Category | Waterfall and Shrine |
| Address | 936-1 Ogatamachi Harajiri, Bungo-ono City, Oita Prefecture |
| Access | [map]936-1 Ogatamachi Harajiri, Bungo-ono City, Oita Prefecture[/map] |
| Opening Hours | N/A |
| Price Range | N/A |
| Payment options | |