Sponsored by Cabinet Office, Government of Japan "The Cool Japan Public-Private Partnership Platform Project"
With a population of 10,000 inhabitants, Obuse is a small town in Japan. However, this does not prevent it from attracting many visitors who stop there for half a day, or even spend a night here on a trip to the prefecture of Nagano.
It must be said that the city has a lot of charm. Its old center is very beautiful, with very luxurious old houses.
The Hokusai Museum
Obuse was not always a small town. At the time of Edo, it was an important feudal estate that had taken advantage of its ideal location right on the trade routes to the central Japan.
Besides industrialists, the town attracted at that time famous artists, including one of the most famous ukiyo-e artists: Katsushika Hokusai. Residing in Edo (now Tokyo), he spent a lot of time in Obuse during the last years of his life. He came there for the first time in 1844, invited by a young local merchant with great commercial success. He made his custom studio in which he could work comfortably and calmly until the end of his life.
You can see this story at the beautiful Hokusai Museum, located in the heart of Obuse. It is home to many of the artist's works – with an emphasis on end-of-life paintings made in the city – and presents videos retracing his incredible career including his most famous works: the 360 views of Mount Fuji.
The Hokusai museum in Obuse is open every day from 9 am to 5 pm, except on 31 December and 1 January. It costs 800 yen to enter.
Close to snow monkeys
Obuse is very close to the popular destination among foreign tourists: snow monkeys onsens (hot springs). You have probably already seen the images of these monkeys soaking in onsen water in winter. Well, the Jigokudani park is only about ten kilometers away from Obuse!
A feast in Obuse
Another must-do in Obuse is checking out the fantastic 蔵部 "Club" restaurant, run by Mr.Tsugio Ichimura and his family. We had nine courses! All delicious. Each dish was inspired by traditional Japanese cuisine, but with a touch of very pronounced originality.
On the menu that evening, to name a few: cream tofu served with caviar and sea urchin; miso soup with salmon, Japanese potatoes and roots; sashimi salad; several kinds of tempura including an oyster, a lotus shoot and shrimp; crab served with sesame vinegar and mushrooms; beef stew with soy milk and ginger; grilled amberjack; chestnut rice; and dessert of kaki dipped in sake and served with a milk sauce. Ah, and of course, each dish was accompanied by a succulent sake.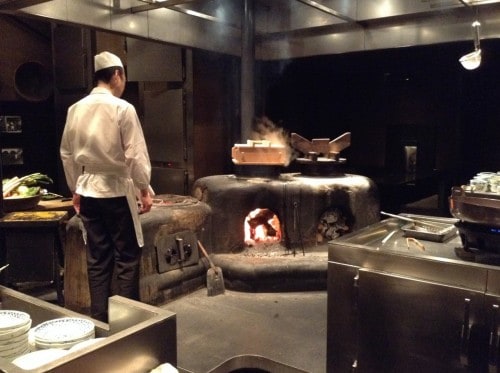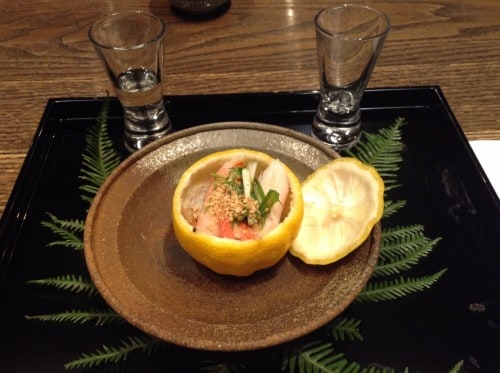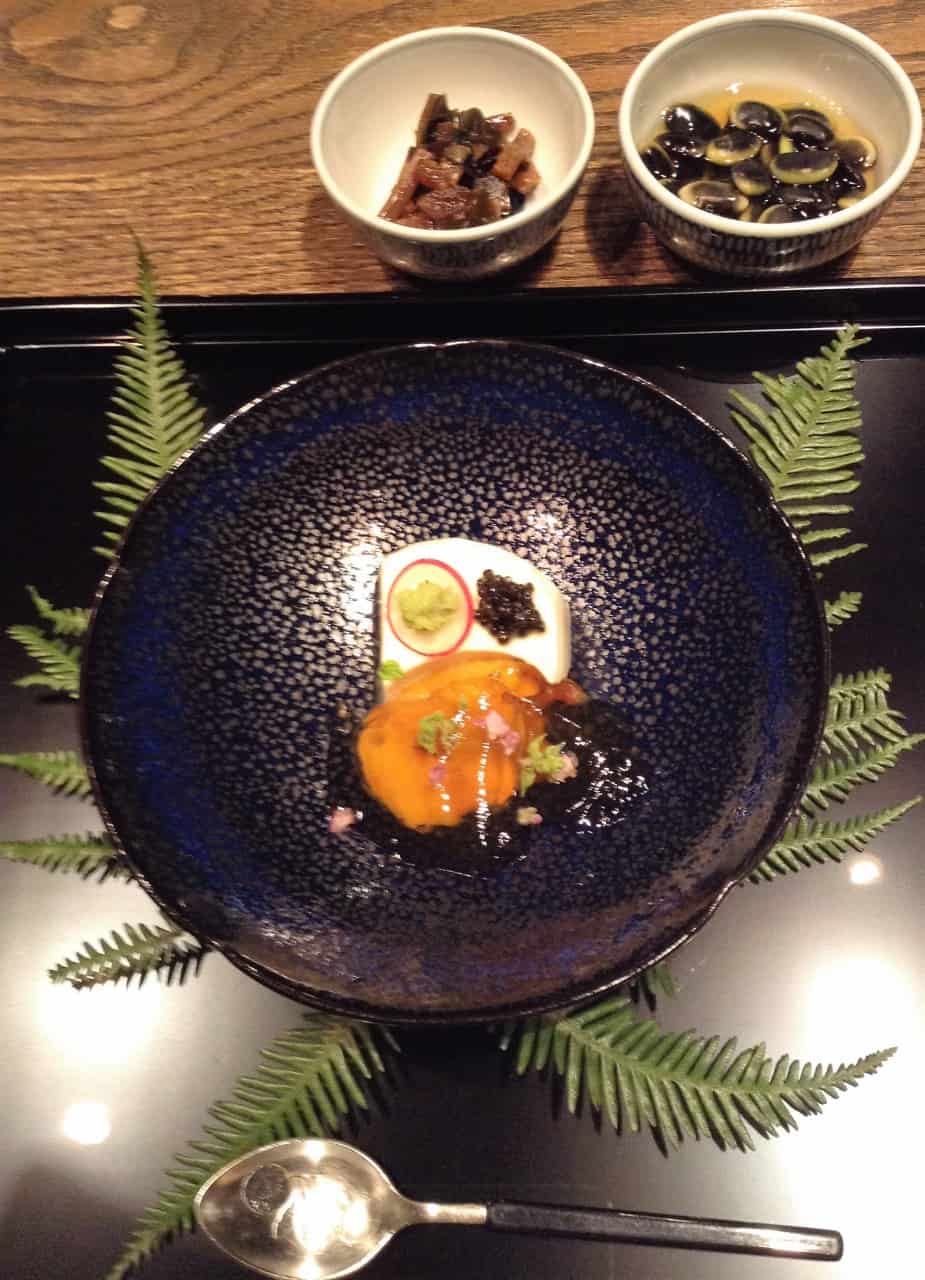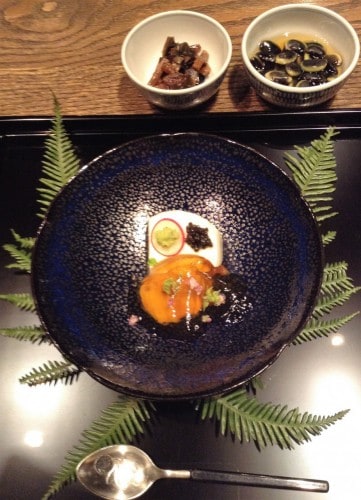 "Sake is always our core when we create a dish. We always think of a special menu that goes perfectly with this drink," explains the chef, Mr. Akiyo Kanbayashi (second from the left in the photo below) who really deserves to have his name mentioned here.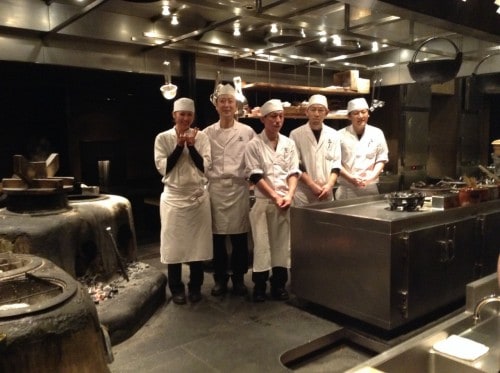 A winemaker in the land of sake
After enjoying ourselves in this restaurant, we went to a luxurious bar next door where we met Mr. Akihiko Soga, an amazing Japanese winemaker who studied in Bourgogne.
Under the name of «Domaine Sogga», he cultivates multiple grape varieties of white and red wines with passion and a certain success. We tasted one white and two glasses of red wines which were really excellent. After having so much sake, it was nice to change up the drink a bit!
"My ancestors started their business in 1867. They only made sake at the time. What changed everything was the Second World War. At that time, the government didn't allow us to sell sake. We had to find another business. And since there were grapes in the field…", said Mr. Akihiko Soga.
We are aware of their challenges as winemakers in this country. "My brand has a certain reputation in the region and a little in Japan, but I do not dream, I know very well that it will be difficult to export my wines one day," assures the producer.
It should be noted that he is by no means the only winemaker in Nagano prefecture. Nagano, with 33 producers, is the second of the country behind Yamanashi prefecture. Nagano also arrives second for the production of sake, behind Niigata this time.
Several choices of accommodation
For those wishing to spend the night, several choices are available to them and for all budgets. A hotel is located in the center of the city, just a few hundred meters from the prestigious and luxurious Masuichi Kyakuden Hotel. For our visit, we stayed in an intermediate level place, a very nice little inn just five minutes from the center of the village. It was called "Vent Vert", and it offered four beautiful rooms with a gorgeous view and a very good French restaurant. What a pleasure to wake up and smell the homemade bread and croissants!
Tsugio Ichimura has an impressive number of shops in the town. In addition to the "Club" restaurant and the Masuichi Kyakuden hotel mentioned above, he is also the owner of the Masuichi sake brewery (referred to in another article), the pastry shop of Obusedo (mainly chestnut bases) known throughout Japan, a bar, and two other restaurants!
He invited us to his house that is more than three centuries old and it is certainly one of the most beautiful Japanese houses I have ever seen.
Two hours from Tokyo
To get to Obuse, in addition to the bus tours or rental cars, it is possible to use the train. Go to Nagano station (the simplest is the shinkansen: an hour and a half from Tokyo). Then, take a local small train company, the Nagano Electric Railway, for 22 minutes (33 minutes if you take a bus) to Obuse.
Original article by : Aurélien Hubleur
Translated by: Rebecca Aptaker, Aika Ikeda
| | |
| --- | --- |
| Name | The Club (Masuichi Ichimura Sake Brewery) |
| Category | Restaurant |
| Address | 815 Obuse, Kamitakai-gun, Obuse-machi 381-0293 , Nagano Prefecture |
| Access | [map]815 Obuse, Kamitakai-gun, Obuse-machi 381-0293 , Nagano Prefecture[/map] |
| Opening Hours | 11:30 - 14:00, 17:30 - 21:00 |
| Price Range | - |
| Payment options | Credit Card |