Kyushu's northeastern Oita prefecture is a region rich with travel opportunities, from the retro bathing destination of Beppu to the deep nature of the adjacent Kunisaki peninsula.
Traveling further southward into neighboring Kumamoto prefecture is Aso-Kuju National Park, which is home to the active volcano of Mount Aso, along with stunning pastoral vistas and an array of outdoor adventures from hiking to cycling to paragliding.
A Private Onsen and Ryokan Experience at Sennomori
Tucked away in the park's verdant environs is Hanare no shuku sennomori, a small family-run establishment whose name translates as something close to "secluded accommodation of a thousand forests." The name is apt, with nature infused around every corner of its spacious grounds, which house two villas.
Our cottage was named kawasemi (kingfisher), and its numerous atmospheric touches included a round bathtub of hinoki (Japanese cypress), as well as a stone sauna crafted with slabs of limonite from the soil of the local Mount Aso caldera. We had arrived late at night amidst heavy rain, so we very much appreciated a long soak in the tub's warm waters, followed by a healing session in the adjacent sauna room, before heading to bed.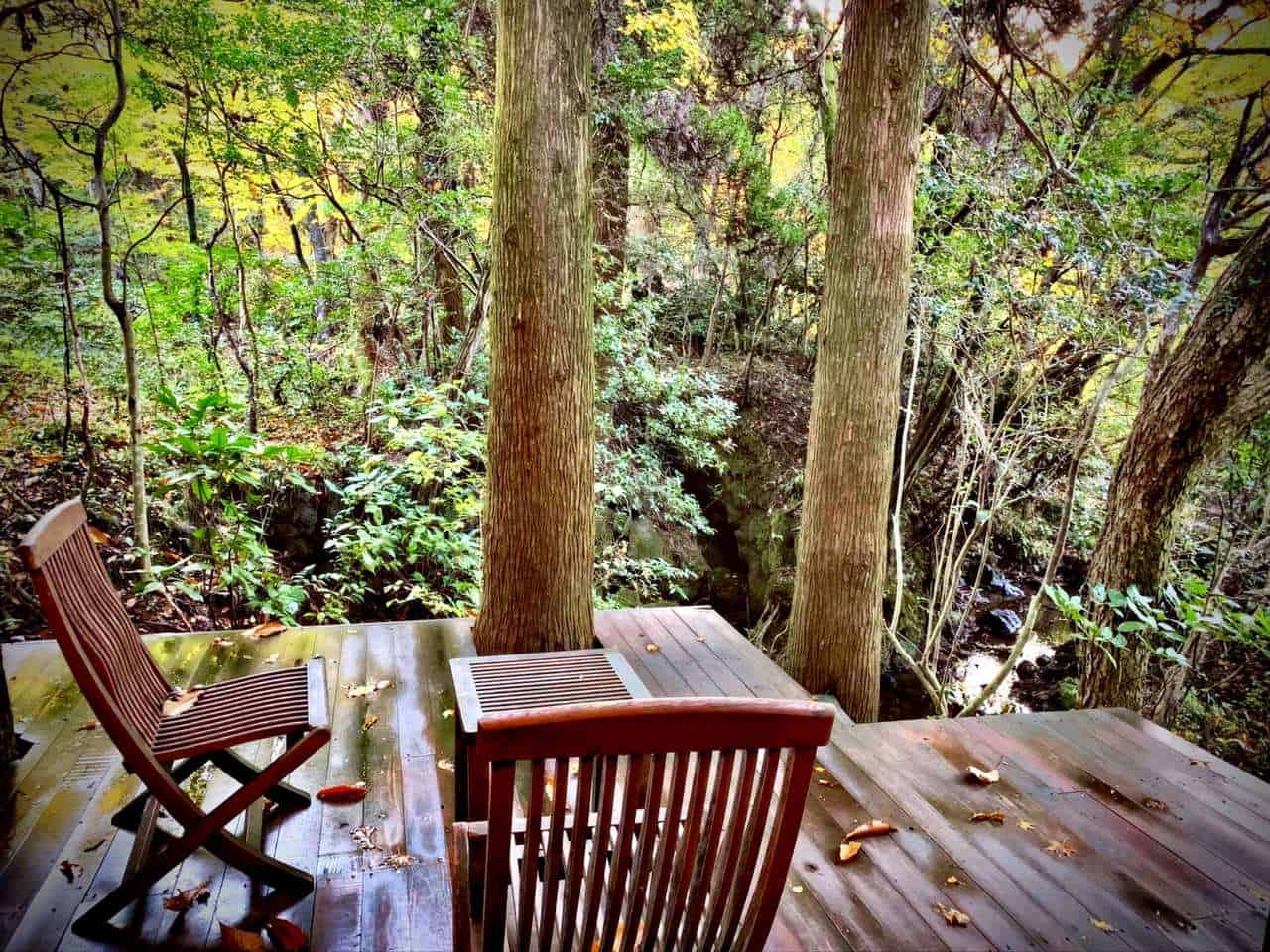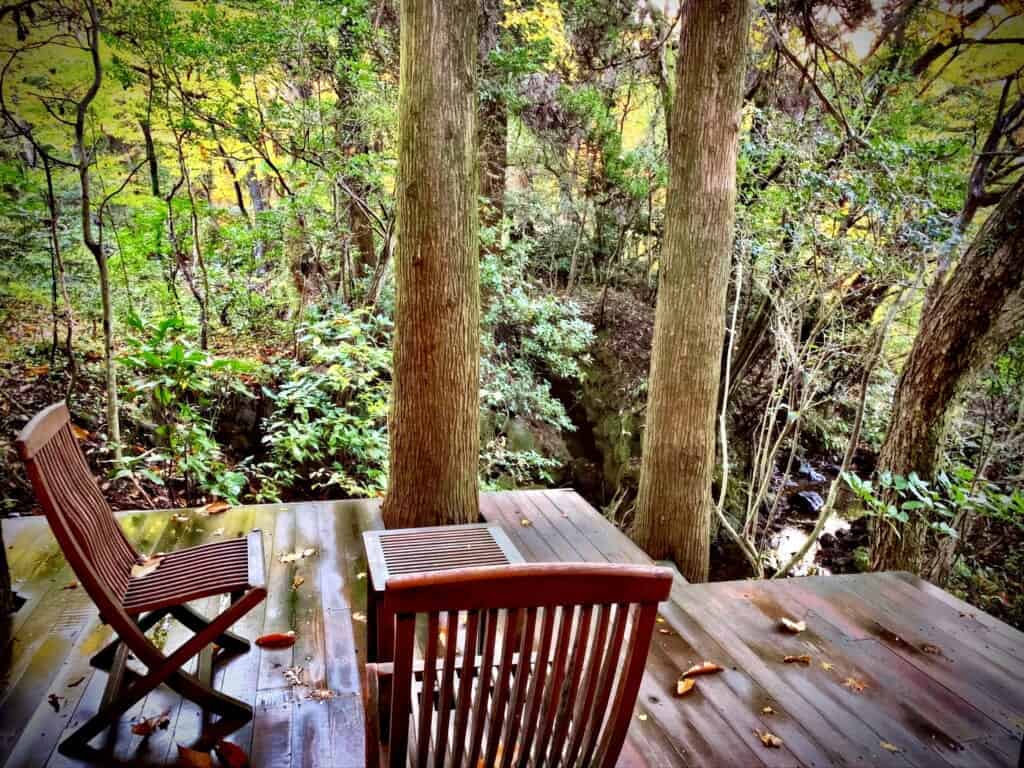 After enjoying our coffee the next morning on the villa of our wooden terrace, which featured a glorious view of the surrounding thicket, we met up with inn proprietor Toyohiro Kai. He told us that the surrounding woods are home to an abundance of creatures such as deer, monkeys, mountain rabbits, fireflies, and wild boars—the last of which come to bathe and feast for earthworms amidst a dwindling food supply.
"The nature here is absolutely raw," he said, "and that is how we intended it to be. It really is a powerful source of healing energy."
Kai explained that there are numerous ways to enjoy one's stay in the Mount Aso region, including helicopter rides over the volcano, and local horseback riding tours (including one for nighttime stargazing). He also told us about the opportunity to view a phenomenon known as unkai ("sea of clouds") atop the surrounding mountains, which he said resemble a sleeping Buddha when all five peaks are viewed in alignment.
Seasonal Japanese Cuisine with Kumamoto's Local Ingredients
Kai then led us to the inn's main hall, framed by a glorious view of the surrounding foliage, where sumptuous meals are served that feature seasonal cuisine and a close eye to presentation. Our breakfast was served on Arita pottery, and included various artistically-arranged dishes that began with a glass of thick and creamy yogurt from local Guernsey cows.
Afterward, Kai took us on a walk that meandered through the bosque-like surroundings down to the second cottage, known as fukuro (owl). It featured a similarly stylish layout as ours but was located right along the edge of the pond, where he said that egrets came to breed during summertime.
As we slowly made our way back to our room to prepare to leave, we saw sunlight filtering through the trees (a phenomenon known in Japanese as komorebi). It was a perfectly fitting end to our luxuriously relaxing stay at this unique slice of Mount Aso's natural surroundings, as well as its delightful local hospitality.
How to get to Sennomori
A rental car is the most flexible option to reach Sennomori. It takes approximately 1 hour and 50 minutes from Oita or 1 hour from Kumamoto via the expressway. Buses also run from Kumamoto's city hall bus stop (熊本市役所前), which will take you to Otsu Station (大津駅前), where you can transfer onto the JR Hoji train at Higo-Ozu Station to Ichinokawa Station. Sennomori is a five-minute walk from the station, and the entire trip takes 1 hour and 50 minutes.
Photos by Solveig Boergen