Kunisaki Peninsula (国東半島) is a beautiful rural area centred around Mount Futago in northern Oita Prefecture. Here, a 1300 history of Buddhism and Shintoism and mountain worship moulded Kunisaki Peninsula into an ancient training place for those seeking spiritual enlightenment. The combination of these beliefs have created a local culture, unique to the area, known as Rokugo Manzan. 
Throughout Kunisaki Peninsula, twisting roads, winding through walls-of-trees, lead to the various sacred sites of the area. Two of the largest, and most prominent temples here are Monjusen-ji Temple and Futago-ji Temple, which are within a 50 minute drive of one another. To commemorate the 1300 years of history of Rokugo Manzan I visited both of these temples, along with a hidden view point of Mount Futago, less than an hour's drive north of Monjusen-ji.
What is "Rokugo Manzan" Exactly?
Rokugo Manzen (六郷満山) translates to "Six Districts, Full of Mountains", which originates from the six areas that Kunisaki Peninsula was divided into many moons ago. The founder of  Rokugo Manzan was Ninmon Bosatsu, who founded 68 temples here. All of which are known as "Rokugo Manzan Temples". At Rokugo Manzan Temples, you will often find stone statues of deities, buddhas and various other holy figures.
Futago-ji Temple(両子寺)
As the name may suggest, Futago-ji Temple is located in the heart of Mount Futago! It was founded by Ninmon Bosatsu, almost exactly 1300 years ago –  in 718. In its history, it has served as the main temple for the Rokugo Manzan culture with its  three buildings: the Gomado Hall, the Inner Hall and the Great Hall. However, it is not possible to reach these buildings without first passing through one of the symbols of Futago-ji – the two Deva King statues (Nio) which guard the temple's entrance.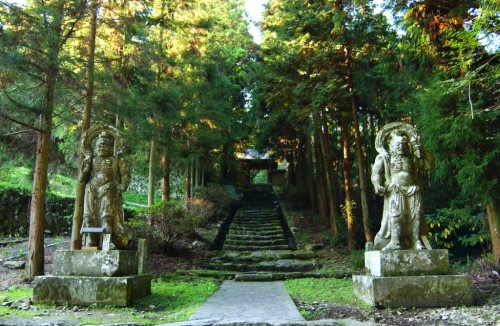 After passing through the Nio, and the admission area, the first building that you will encounter is the Gomado Hall, which is  immediately to your right. Within this building are various relics of Rokugo Manzan culture, including a statue of Ninmon Bosatsu himself.
Next is the Great Hall which is located just behind the Gomado Hall. In here is Amida Buddha, believed to be the deity of the "Pure Land". Walking back towards the Gomado Hall and then heading up hill on the right, you will find a river, various torii (gates), statues, toro (lanterns) and of course the signature red colour which is synonymous with Shintoism.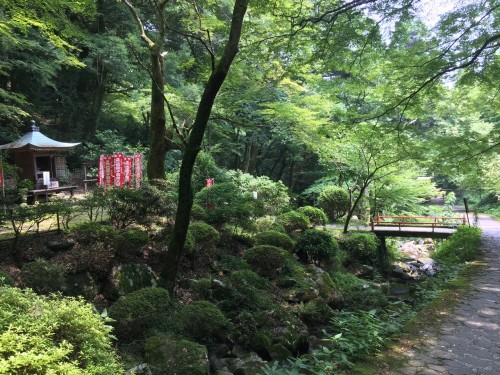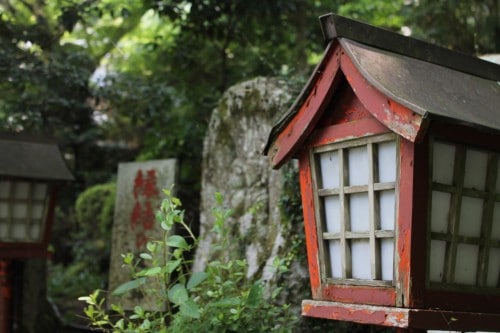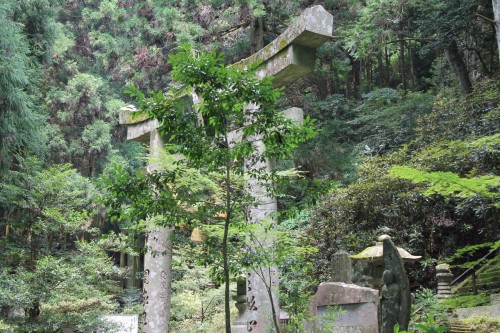 Continuing on the main path, under the stone torii and up the stairs is the Inner Hall. The mossy surrounding of the Inner Hall matches its ancient history perfectly! Within this building is a statue of the Goddess of Mercy.
Monjusen-ji Temple(文殊仙寺)
Monjusen-ji Temple is dedicated to the "Mother of Wisdom", Monju Bodhisattva. Its exact origins are not 100 percent certain, but the temple is believed to have been founded in 648. The temple building is accessed via two flights of stone stairs, and sits amongst the towering trees of an ancient forest.
At Monjusen-ji you are able to try Japanese calligraphy (costs 1,000 yen) by tracing 30-minutes worth of kanji (Japanese characters) to complete a heart sutra known as Hannya Shinkyo (般若心經). You can also try shojin ryori (buddhist cuisine) for 1,200 yen and enjoy shukubo (temple lodging) for 12,000 yen.
Despite not understanding most of the kanji (or being able to write it under normal circumstances particularly well!) I completed the heart sutra without too much difficulty! Even if you have never written Chinese or Japanese characters before, it's still easy to do. You just need to trace the kanji characters across the paper from top to bottom, right to left, and then sign and date it with your wish for the future.
Once you have finished the calligraphy, you will be invited to meditate with one of the Monks at the temple. Don't worry, this is a time to relax! All you need to do is release your thoughts by focusing on your breathing, whilst the mediation is recited.
After the meditation, you will leave your written heart sutra as an offering to the deities. In exchange, you will take aware the original paper that you traced-over, as well as a lucky charm (mine is shown below). For me, the whole experience took around 50 minutes and I found it to be extremely therapeutic. It was one of my last activities of the day, and it really helped to calm my mind and focus on the here-and-now!
View Point Mt. Fudou(不動山)
Last but not least is Mount Fudou View Point, this panoramic-spot is simply a 10 minute drive from the foot of the mountain, and another 10 minutes walk to the top. It is an easy way to gain birds-eye views of  Kunisaki Peninsula without too much sweat!
The parking area of the view point is accessed via a quiet uphill single-track road, and you don't need any special equipment reach the peak. At the walk-entrance, there are bamboo sticks to support you if you need, I would recommend taking one or two because they  give a bit of extra support!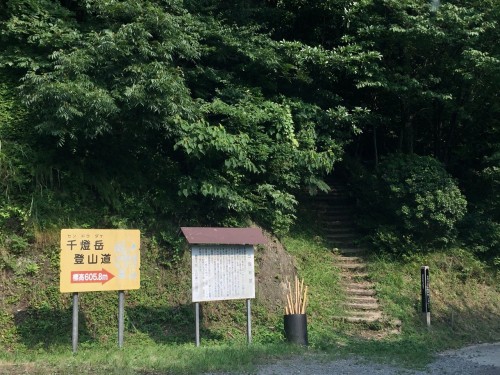 The ascent is quick and well-trodden – I saw a child doing it in flip-flops! But I would still air on-the-side of caution by recommending that you at least wear trainers for it! You'll reach the peak fairly quickly but make sure to take your time when you get there! Breathe-in the fresh air and enjoy the tranquility of this mountain view!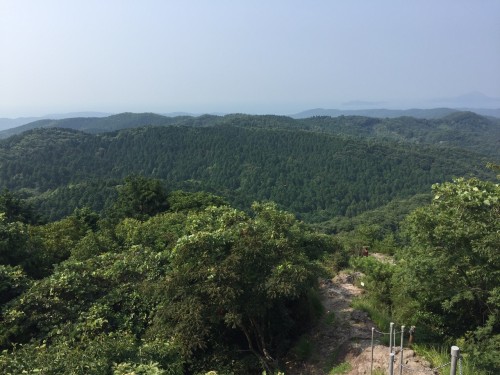 Links
Discover the history and highlights of the Kunisaki Peninsula by  contacting k-kunisaki@oct-net.ne.jp. To learn more about Monjusen Temple, visit the website or head to the temple's information page at Go! Kunisaki here. You can find more information about Futago-ji on the Go! Kunaski website here,
Access
Admission to Futago-ji costs 300 yen, and admission to Monjusen Temple is free.
Access to and from the areas within Kunisaki Peninsula is quite difficult by public transport! Taxi tours are available from Oita Airport but these cost in the region of 10,000 yen+. The cheapest and most convenient way to get around is with a rental car. Within the Oita area, rental cars from companies such as Budget Rent a Car start at around 5,000 yen per day for the smallest class. There is ample parking available at all locations within this article!
Sponsored by Tourism Oita