The man approached the 200-year-old Buddhist Temple from the street, waving to us as he passed beneath the stone gate. The temple Hosho-in, now informally known as Oteragoto, is one of the 88 locations included in the Goto Pilgrimage around Fukue Island. Curious visitors and pilgrims sometimes drop by to get the temple's goshuin stamp or say a quick prayer inside. We had just concluded our morning yoga and meditation inside the main hall, and Manami Onishi, the current owner of the property, was happy to welcome him in for a look around. Such is a typical morning at Oteragoto, the temple in Japan where I had just spent a restful night.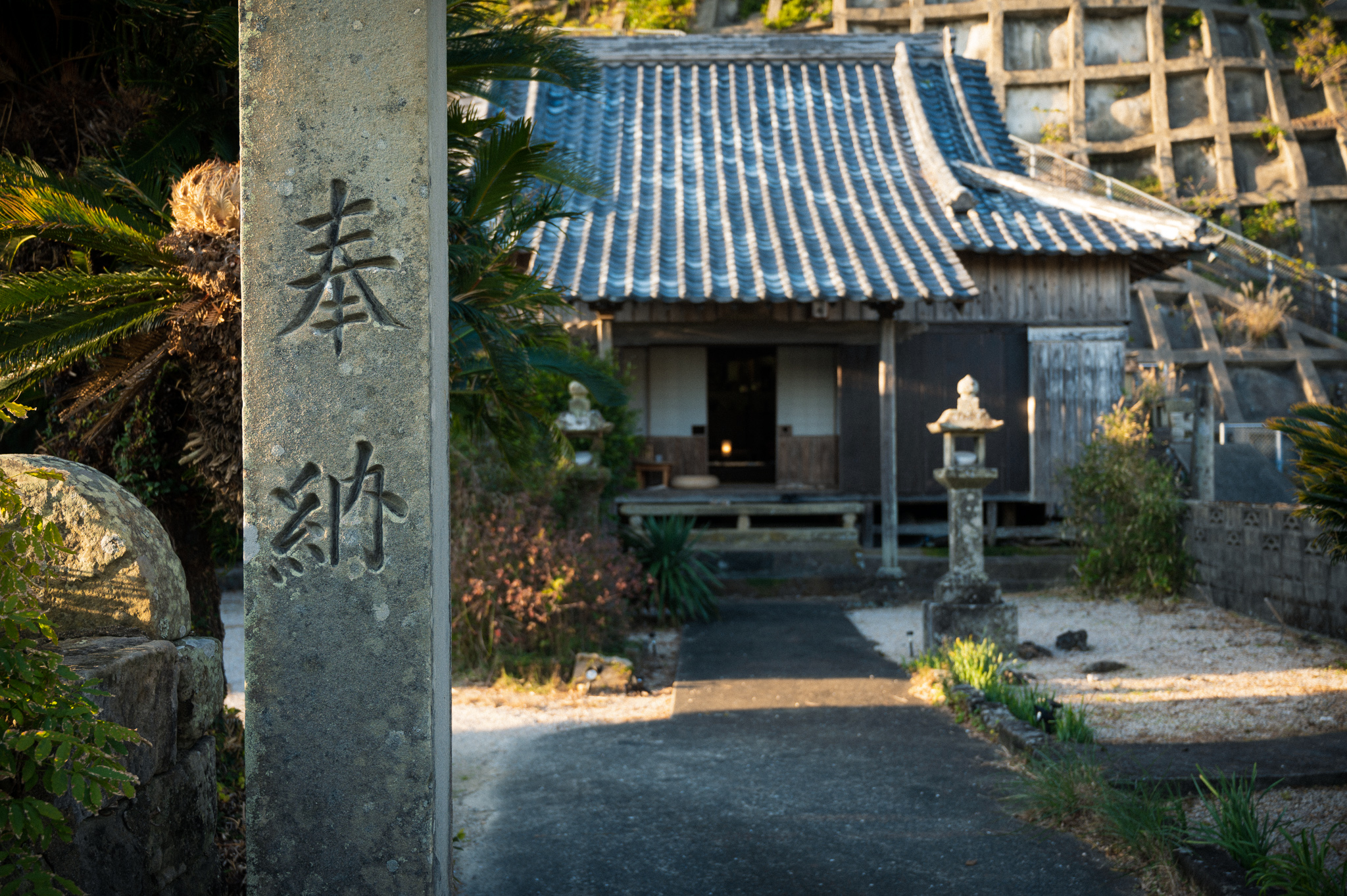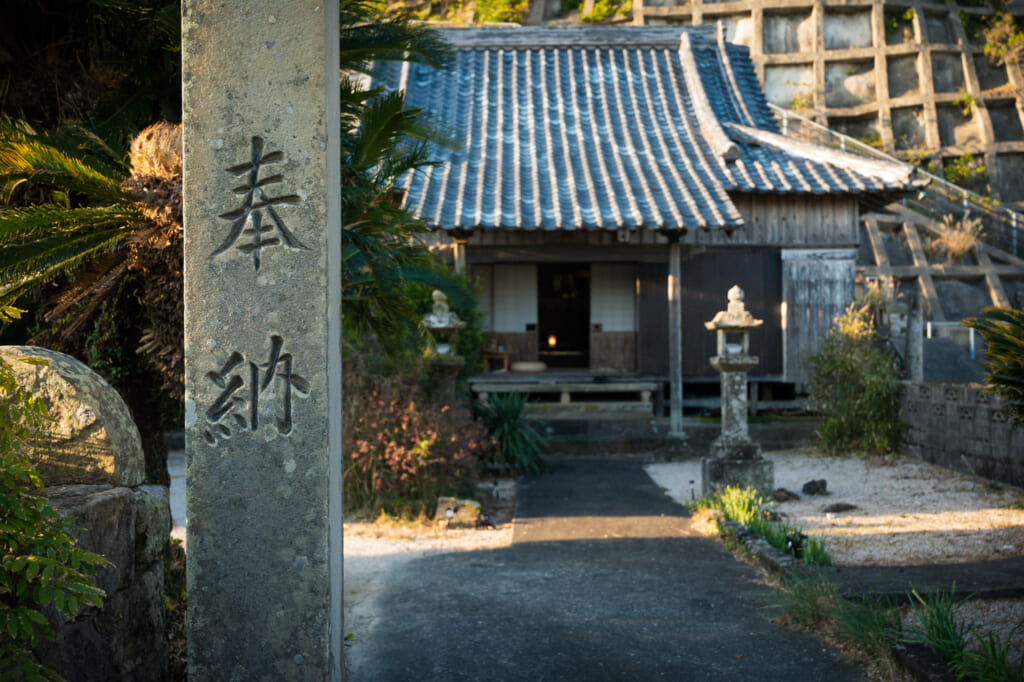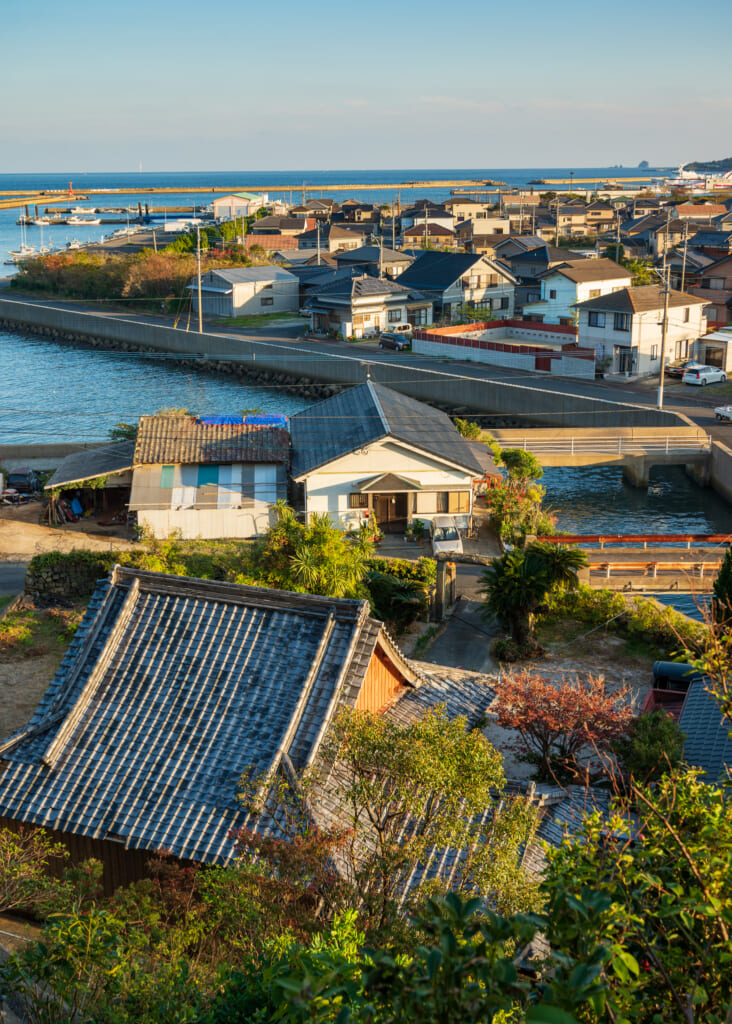 Preserving the Tradition and History of Oteragoto Temple
One would forgive you for being perplexed at how the youthful Manami-san came to be responsible for caring for a two-century-old temple in the Goto Islands. She grew up far away in Okayama Prefecture and did not live in Goto until 2018, when she took possession of the temple and adjacent house. The temple was formerly cared for by her grandfather, her mother's father, and when he passed, none of his children desired to take responsibility for its care. Manami-san came to Goto to be near her grandmother, and because of her experience in the tourism industry in Okayama, had a vague idea that she wanted to use the temple for the public good, both as a stop on the pilgrimage route and for the countless religious artifacts contained within the temple, the origins of which have long been forgotten.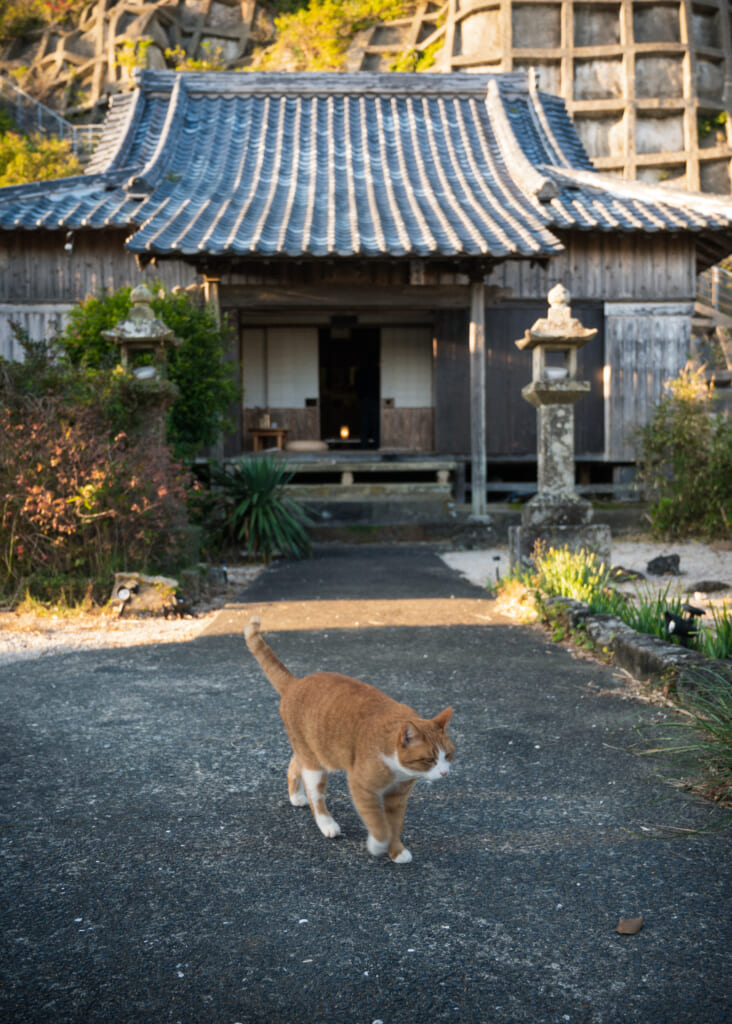 So in 2018, Manami-san quit her hospitality industry job in Okayama and moved to Goto to care for the temple. It was not a decision to be taken lightly; neither she nor any of her family members had in-depth knowledge about the temple's spiritual aspects nor Tendai Buddhism in general. Even her grandfather rarely practiced the rituals associated with the temple, and when he did, he was most often paid with rice and vegetables, not cash. His main work was that of an ordinary Japanese salaryman.
The reason for this loose connection to the spiritual practices of Buddhism is rooted deep in Oteragoto's past. The temple was said to have been built in 1816, specifically so one of Goto's feudal lords could worship Fudo-myoo, the Buddhist guardian revered by the Tendai sect. At the time, it was the only Tendai Buddhist temple in Goto and therefore did not have any ties to other temples on the island. Consequently, Oteragoto had neither the traditional responsibilities of Buddhist temples like funeral ceremonies or cemetery maintenance or the income derived from those responsibilities, so the temple priests always had to rely on other income sources to survive.
That history came with its pros and cons for Manami-san; on the positive side, she was not expected to be familiar with the temple's religious aspects to be responsible for it. But on the flip side, the temple had no source of income on its own, so Manami-san would be forced to come up with her own ideas to earn enough income to keep the temple open. And that's how the idea of a "temple-stay" accommodation was born at Oteragoto.
Due to lack of income, the temple's maintenance had been neglected for some time, and some urgent repairs to the building would be needed immediately. Manami-san realized that as a religious organization, she would not be able to receive government subsidies to help, even though the building was an important cultural property. But she knew government help was available for tourism-related renovations from her experience in the hospitality industry. One day, lamenting over her dilemma with a guesthouse-owner friend, they suggested, "Why not turn part of the temple into an accommodation?"
Private, Traditional Japanese Accommodation at Oteragoto Temple
I stayed in the renovated building that was the fruit of that conversation, an annex of the temple that now contains a large Japanese style room, a small kitchen, two bathrooms, and a luxurious bathing room. It accommodates up to three people with ease and feels much more like staying in a home than a hotel.
The renovations were completed in 2019, and Manami-san had her hand in everything, from design to decor. You will undoubtedly notice the blue-tiled bath is enormous, plenty large enough for two, a design feature she insisted upon for the enjoyment of her guests. Double sinks and double toilets are nearly unheard of in Japan for small group accommodations, but she provided them for convenience.
Everywhere, you'll find evidence of Manami-san's creative personality; even the bathroom doors have tiny translucent glass windows handmade by her. Drawing from her experience working on the art island of Naoshima, she wanted to create a space that felt unique and artistic to be inspiring to her guests. Handcrafted objects are the norm here, replacing everyday items made from plastic she could have procured cheaply from the 100-yen shop.
Unsurprisingly, the kitchen was fully stocked with a package of local Goto udon and dashi broth, Goto milk in the fridge, and even homemade items like pickled umeboshi plums and locally picked tea. The amenities surpassed the quality of those in luxury hotels I had stayed at and reflected Goto's local products, which include Tsubaki (camellia) oil lotions and soaps.
Though it was a cold evening in December, Manami-san had the room comfortably warm for me with the heater running when I arrived after dinner. One of Japan's best inventions for winter, a kotatsu (heated table with a blanket), was also available in the room, where I sat to work on my laptop for a while before enjoying the bath and heading off to bed. Speaking of beds, the futon at Oteragoto are fluffy and thick, so you won't pause for a moment to worry about the lack of a bed.
Morning Yoga and Meditation Inside a Japanese Temple
I set my alarm for 6:30 the following morning because, at 7:00, I would be participating in a morning yoga session inside the temple's main hall. Manami-san invites local yoga instructor Akiko Umezawa to use the temple for public and private yoga sessions regularly. This is part of her idea to make the temple accessible to Goto's local people by hosting events and activities that are interesting to locals and visitors. For me, it was an opportunity to get in some early morning stretching and meditation before starting my day exploring Goto.
Umezawa-san was kind to my lack of flexibility, tailoring our session to include activities that avoided any major discomfort. In fact, in my case, she included more exercises in relaxation, meditation, and focused breathing, which seemed to be fitting to our location inside the ancient Buddhist temple. As we practiced, the sunlight began to stream into the room through the open shoji screen doors, and I felt a sense of relaxation wash over me until…
Across the room, a cat suddenly burst through one of the rice paper-covered panels of the shoji, landing on the tatami mat floor with a small thud. He was one of Manami-san's three cats, apparently frustrated at not finding a way inside from the side of the temple, so he made his own way by clawing through one of the screens. After a pause of shock and surprise at his dramatic entrance, we all enjoyed a good laugh.
Indeed, Manami-san's cats are as much a part of the scenery as anything else in the temple. I wondered if she had trained them in omotenashi, the art of Japanese hospitality, as they always seemed to be nearby to greet me or check on what I was doing. If you love cats, they will certainly be a big part of your experience here. The cats aren't allowed in the accommodation area, but you'll find them wandering around the temple grounds and sometimes, unexpectedly, in the temple itself!
Sutra Copying Meditation in the Temple
After spending the day touring Goto city, I returned to Oteragoto for another meditation experience: sutra copying. This act of copying Buddhist scriptures by tracing the kanji (Chinese characters) with ink and brush is said to help people in their Buddhist journeys and, at the very least, be a relaxing and meditative form of mental exercise. For those who have trouble copying the kanji, Manami-san can also provide an illustration of Fudo-myoo to copy, which has a similar effect.
After copying the sutra or illustration, you can write down a wish on the paper, which can then be turned into a charm for you to take home or burned at the temple later, with your wish rising to the Buddhist gods in the smoke to be answered. Given the embarrassingly low level of skill in my sutra copying, I elected to have all evidence burned…er, have my wish sent to the heavens in the smoke.
A Unique Temple Stay Experience in Goto
Spending the night in a temple in Japan isn't an uncommon experience; Koya-san in Wakayama is a popular area for temple stay experiences that many overseas visitors are interested in. However, Oteragoto is unique because it is an accommodation experience in an entirely private temple and can be tailored to the desires of the individual or group staying there.
Moreover, Oteragoto is a unique place to stay because Manami-san chose to make it that way. From the focus on local handmade products to decorate it, to the quantity and quality of amenities she decided to include, to the relaxed atmosphere that encourages visitors to take their time, she created Oteragoto as an off-the-beaten-path accommodation for world-weary travelers to come and renew themselves.
Sponsored by Goto City