There's something so alluring and almost enigmatic about Iya Valley, tucked up in the northern mountains of Tokushima Prefecture. Whether it's the misty mornings, the mysterious vine bridges, the low hanging clouds that hover around the area's mountains, or the almost gravity-defying cliff faces that drop down into the roaring clear water rivers. One thing is for sure, Iya Valley is a place of untamed natural beauty of almost magical proportions. I'd visited the area just once almost two years ago, but coming back, I realized I hadn't even seen a tenth of what it had to offer. That's the magic of Iya Valley.
Okuiya Sightseeing Tour Monorail: Riding Deep into the Forest of Iya Valley
The first port of call for my visit to Iya Valley this time was Okuiya, deep in the valley, an area practically overrun by lush foliage and home to a quaint and unique sightseeing opportunity, the Okuiya Sightseeing Tour Monorail. Running at 4.6 kilometers through the lush, densely tree-populated forest of Okuiya, this monorail, populated by multi-coloured two-person rhino beetle shaped carriages, is the longest monorail of its kind in the world.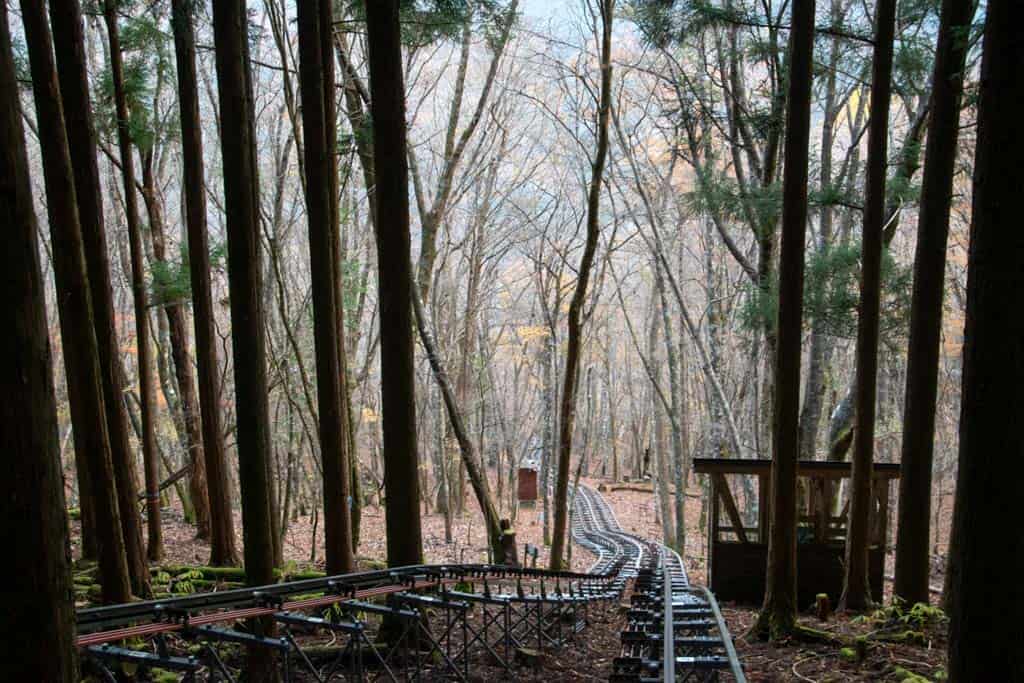 Clocking in at roughly one-hour-long round trip journey, the monorail offers plenty of time to take in the valley's incredible scenery while also allowing ample opportunity to spot local wildlife. The most common wild residents in this area are deer and the occasional tanuki (Japanese raccoon dogs).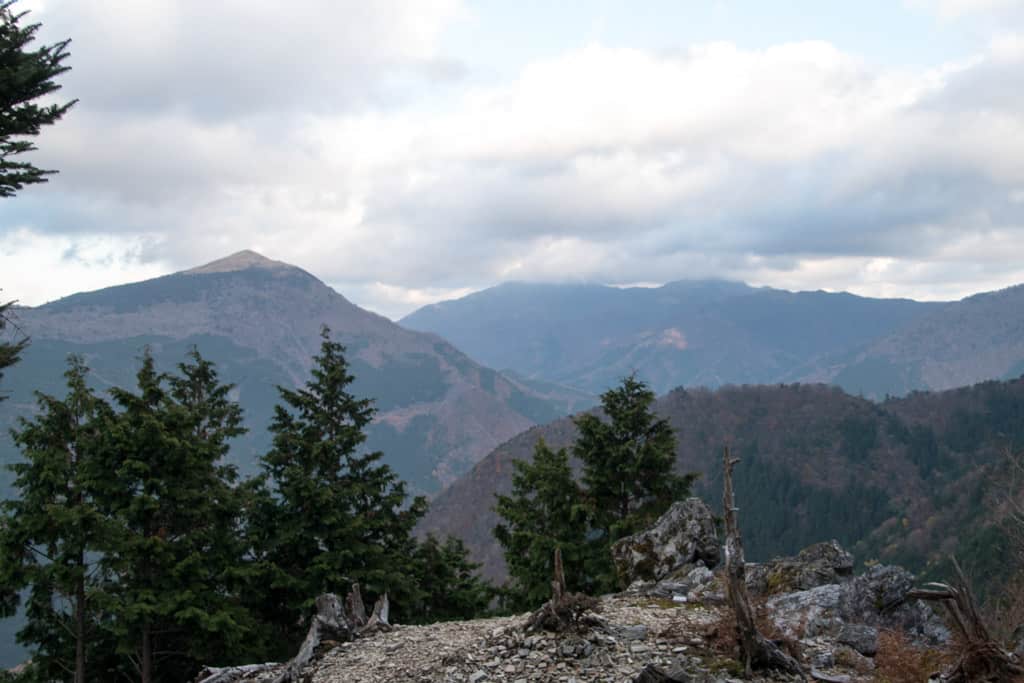 The monorail reaches its highest peak of 1,380 meters and climbs some slopes 40 degrees steep. At times, the steep inclines and declines got me wanting more of a high-speed roller coaster experience. However, this novel attraction is a fun, laidback way to explore the beauty of the area at a pace and depth you probably won't be able to find anywhere else.
Vine Suspension Bridges: Cross If You Dare
An icon of Iya Valley, and a necessity, the kazurabashi suspension bridges made of vine, are mysterious creations. So mysterious that the true origin of their creation is disputed. Some say they were once raised by Kobo Daishi, founder of the Shingon Sect of Japanese Buddhism, while others believe Heike refugees crafted them while in hiding following the Gempei War (1180-1185). Either way, I can promise you that they're impressive pieces of engineering, and crossing them does induce a certain adrenaline rush, with the gaps between their planks wide enough for your leg to fall through were you to make a misstep. And below the bridges? A bed of sharp rocks and roaring rapids.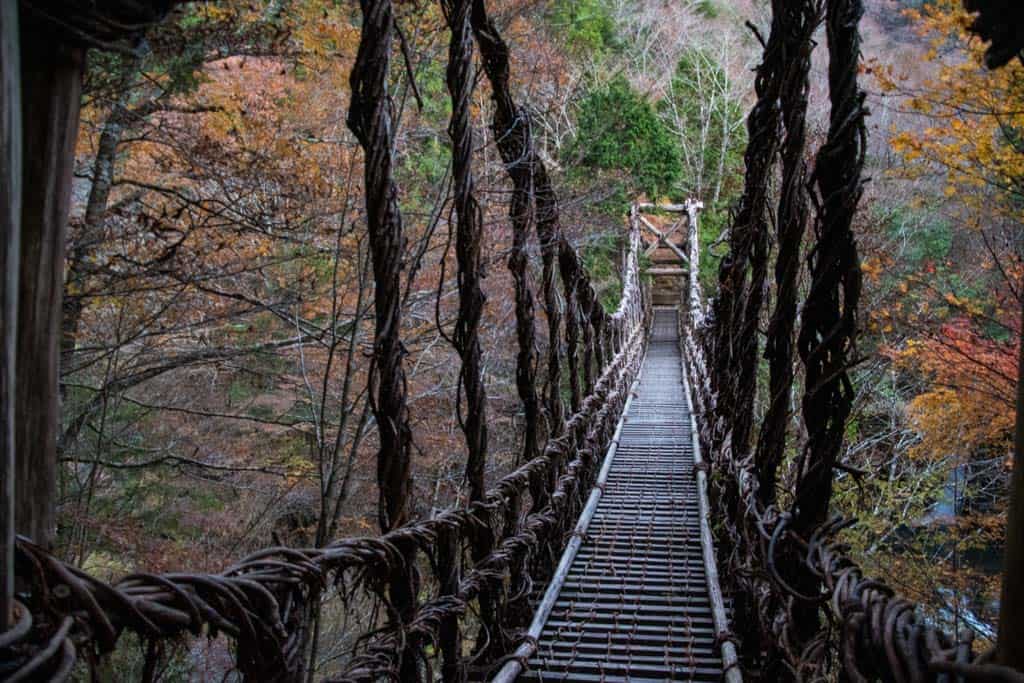 The bridges were used for daily life and were made from vines that grow plentiful around the area. Today, however, they also feature some reinforcement in the form of wire cables. There were 13 suspension bridges made of mountain vines dotted throughout the area, but on this visit, the ones on my 'must-see' list were Okuiya Niju Kazura Bashi, or in English, the "couples bridges." As the name suggests, there are two bridges, the Husband Bridge (Otto no Hashi), the larger of the two, which stretches an impressive 44 meters long, and the Wife Bridge (Tsuma no Hashi) runs at half the size, also nearby at 22 meters.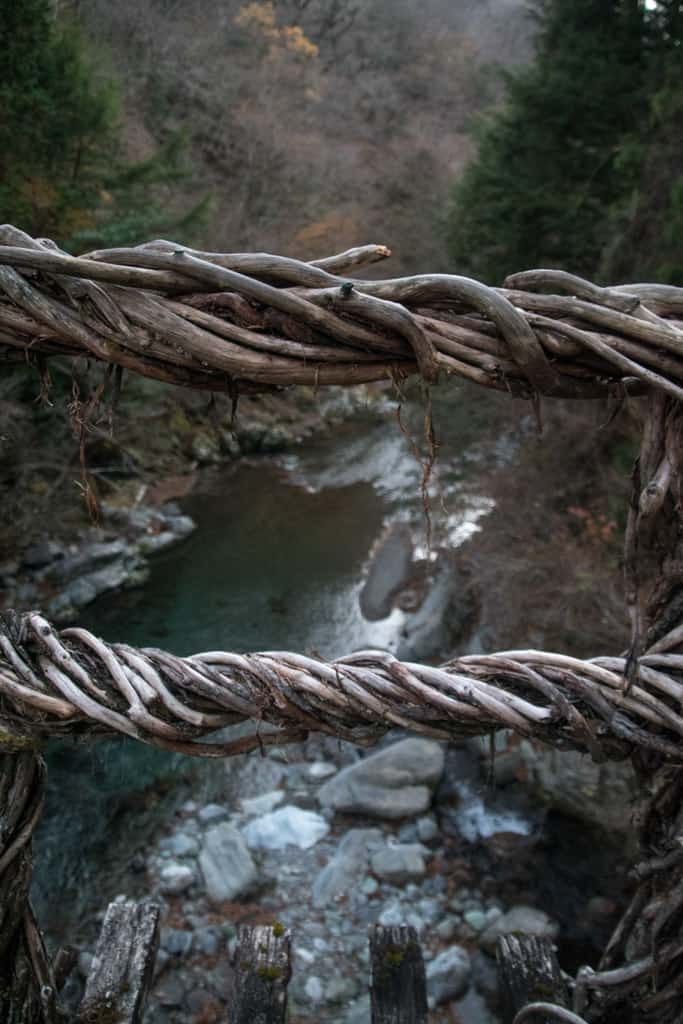 Though both are impressive, it's fair to say that a third, slightly newer and more novel bridge, the Wild Monkey Bridge, stole the limelight during my visit. More a suspended wooden cart than a bridge, this contraption —big enough for a human passenger — was once used to transport goods and people across the water, using a network of passenger-powered pulleys. Trust me; it's not for the faint of heart.
Oboke and Koboke Gorge: An Embodiment of Iya's Beauty
From one aquatic attraction to another, Oboke and Koboke Gorge were next on the itinerary and is the epitome of what makes this corner of Japan so spectacular. With its seasonally transforming foliage-covered, rugged cliff faces and roaring blue and white water rivers, Oboke and Koboke is the type of place that simultaneously enthrals you with its beauty and also overwhelms you with its size.
Historians believe this wild corner of Tokushima was created when water from the Yoshino river tore its way across Shikoku's mountains some 200 million years ago. Although it's unquestionably beautiful throughout the year, it's especially eye-catching in autumn when the leaves turn the hills into fiery shades of red and gold, and in spring when soft pink cherry blossoms are in full bloom.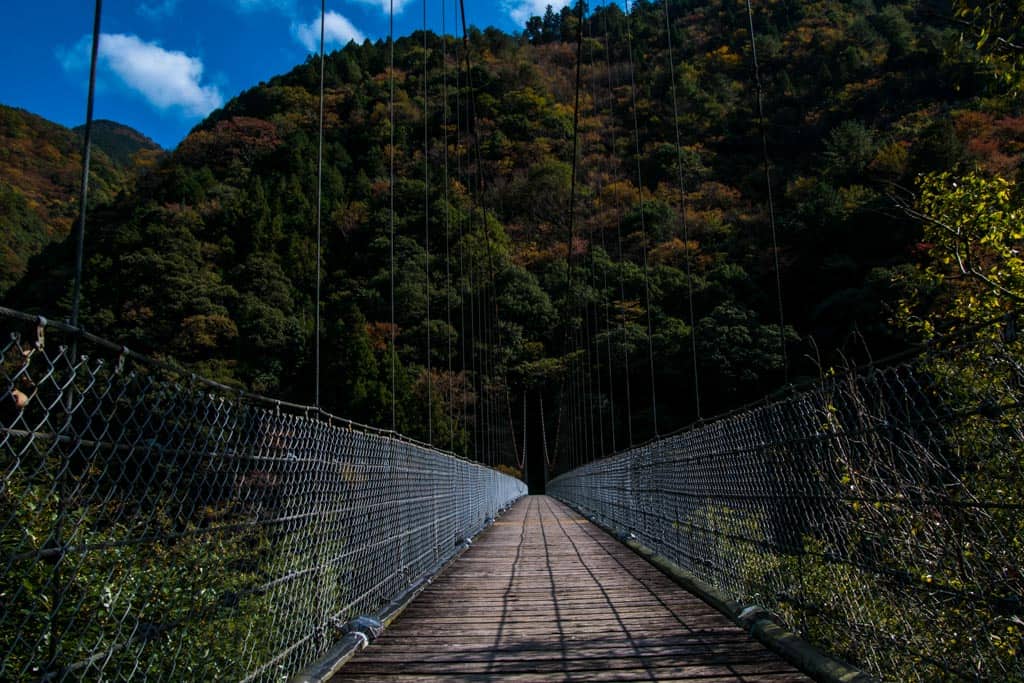 Home to thrill-seeking opportunities like water rafting to more peaceful options like hopping aboard a pleasure-boat sightseeing cruise, there are a variety of ways to enjoy the beauty of the Oboke and Koboke area. Trust me. If you want to see Iya Valley, you don't want to miss it.
Kakashi no Sato: The Village of Dolls
With a name that sounds like something out of a horror movie, Kakashi no Sato (or in English, the 'village of scarecrows') may not sound like a pleasant local attraction, but it is. Also known as Nagoro Village, it's a quaint rural town that has become a popular tourist destination thanks to its innovative locals and unique attractions.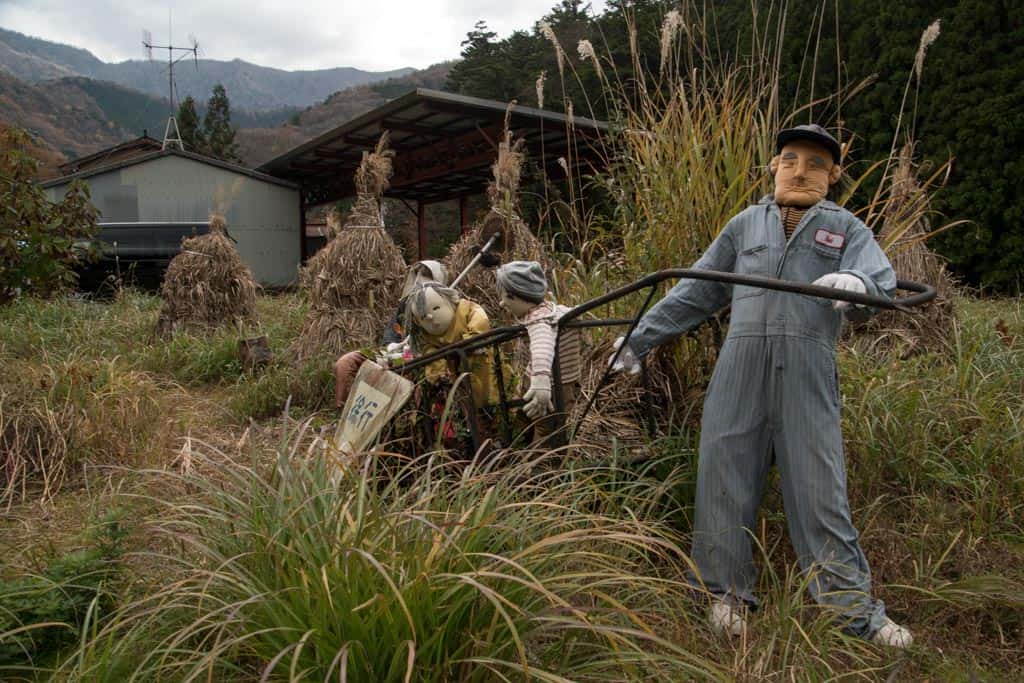 As the name suggests, it's a town populated by stuffed human dolls, which line the streets, frozen in social scenes, and out toiling in the fields, always ready to welcome passers-through. The town's doll-to-human population ratio is now more than 10:1, with 27 living residents and 300 dolls. Most of the dolls are still made by locals and some guests, and they're clothed by donations sent from across the country.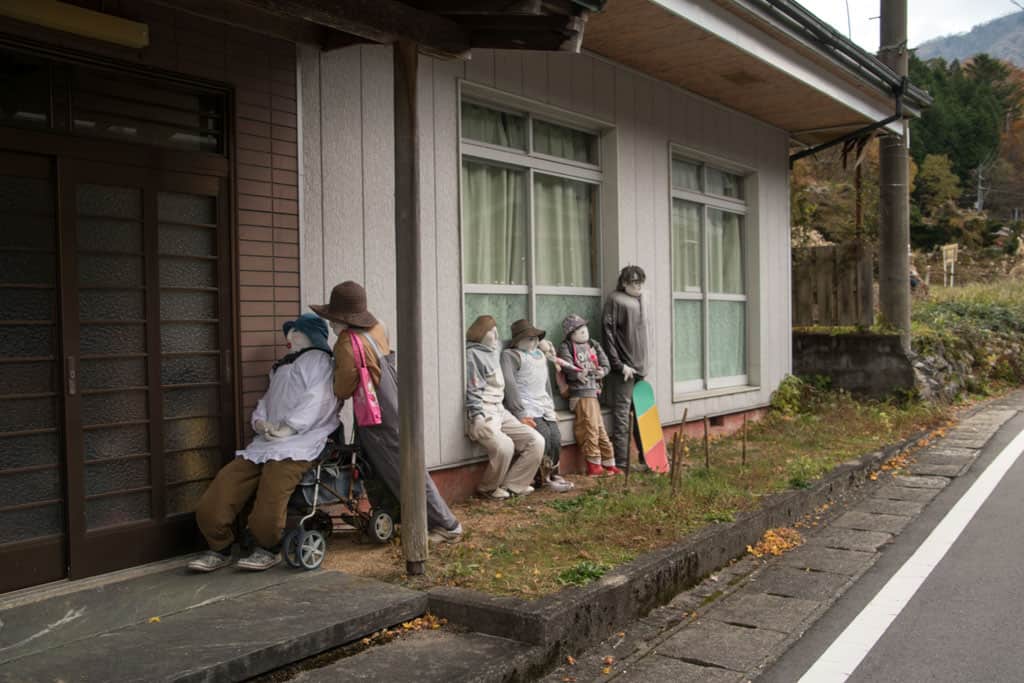 Originally, longtime resident Ayano Tsukimi started making the dolls as a response to the area's depopulation. It's a common issue in many pockets of Japan due to the ageing population and the common relation to major cities undertaken by younger generations. But somehow, what could have been a tragedy, has brought new attention to the area, showcasing the beauty of life in rural Tokushima.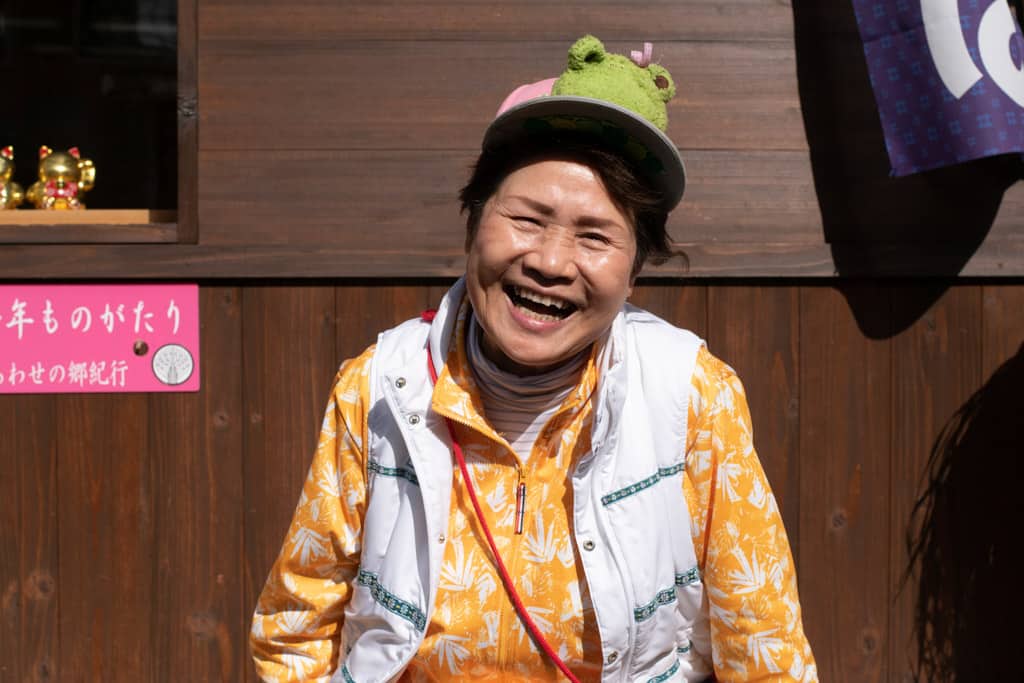 Togenkyo-Iya: A Tranquil Retreat in a Traditional Japanese House
My accommodation for the night couldn't have been more picturesque and perfect. Nestled deep in the hills of the Iya region is Togenkyo-Iya, a cluster of quaint thatched roof houses, renovated and reinvented in a way that both suits the modern-day and pays homage to the nation's domestic history.
One of the most significant houses in the collection, the Chiiori building, was produced in collaboration with American writer and Japanologist and long-term Japan resident Alex Kerr. This 300-year-old home has been tastefully and carefully renovated to combine the home's traditional ambiance, like the fully functioning irori stove, thatched roofing, and iconic exterior, with the comfort of modern-day independent living. With views of the rolling hillsides and low hanging clouds that come to visit in the morning, it's almost like living in a storybook.
Getting to Iya Valley
By train, Iya Valley is accessible via Awa-Ikeda and Oboke Stations along the train line between Okayama and Kochi. Awa-Ikeda is serviced by JR limited express trains to Takamatsu and Tokushima. By bus, there are several bus companies that run multiple direct highway buses per day between Osaka (Shin Osaka and Hankyu Umeda stations) and Awa-Ikeda Bus Terminal.
Okuiya Sightseeing Tour Monorail 奥祖谷観光周遊モノレール
Sugeoi 28, Higashi-Iya, Miyoshi City
Opening hours: 8:30 am – 5:00 pm (April to September, Last ride 4:00 pm), 8:30 am – 4:30 pm (October to November, Last ride 3:30 pm)
Website: https://miyoshi-tourism.jp/en/spot/okuiyakankoshuyumonorail/
Ok
uiya Niju Kazura Bashi 奥祖谷二重かずら橋
Sugeoi 620, Higashi-Iya, Miyoshi City
Opening hours: April – June 8:00 am – 5:00 pm, July – September 7:30 am – 6:00 pm, October – November 8:00 am – 5:00 pm
Website: https://miyoshi-tourism.jp/en/spot/okuiyanijukazurabashi/
Oboke & Koboke gorges 大歩危小歩危
Kamimyo~Shigezane, Yamashiro Cho, Miyoshi City
Website: https://miyoshi-tourism.jp/en/spot/oobokekyo-kobokekyo/
Tenku no Mura Kakashi no Sato 天空の村・かかしの里
192 Sugeoi, Higashi Iya, Miyoshi City
Website: https://miyoshi-tourism.jp/en/spot/kakashinosato/
Togenkyo-Iya 桃源郷祖谷の山里
Official Togenkyo Iya Website
142 Higashiiya, Ochiai, Miyoshi, Tokushima
Website: http://www.tougenkyo-iya.jp/index_en.html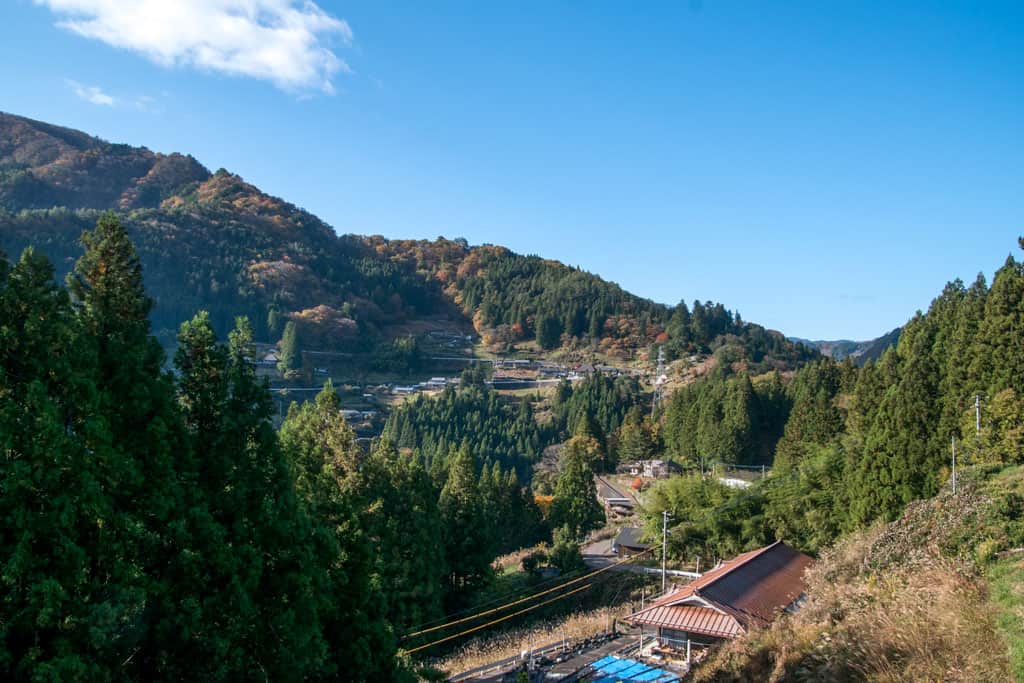 Stay up to date with the latest COVID-19 news in Japan on the JNTO advisory page, information on the multilingual hotline and medical access, or get the latest from their JNTO Official Twitter account @JapanSafeTravel.
If you're looking for a side of Japan that feels worlds away from the neon lights of the big cities, a place filled with tranquility where nature still rules over everyday life, and untamed, rugged beauty crafted by millions of years of evolution, then consider a visit to Iya Valley. This mountainous pocket of Shikoku isn't the easiest place to access, nor is it great at tooting its own horn, but it's those hidden delights that make traveling Japan so special, isn't it?
Sponsored byShikoku District Transport Bureau and Miyoshi City, Tokushima