Rolling hills, luscious greenery, and fresh air are just a few of the pleasures to be enjoyed at Aso Kuju National Park, a national park in Oita and Kumamoto prefectures spanning over 720m². I had the pleasure of exploring three of the most incredible spots here: Kuju Flower Park, Tadewara Marshland, and Kokonoe Yume Bridge — the highest suspension bridge in Japan. But before seeing some of the highlights of these incredible places, let's find out more about Aso Kuju National Park itself!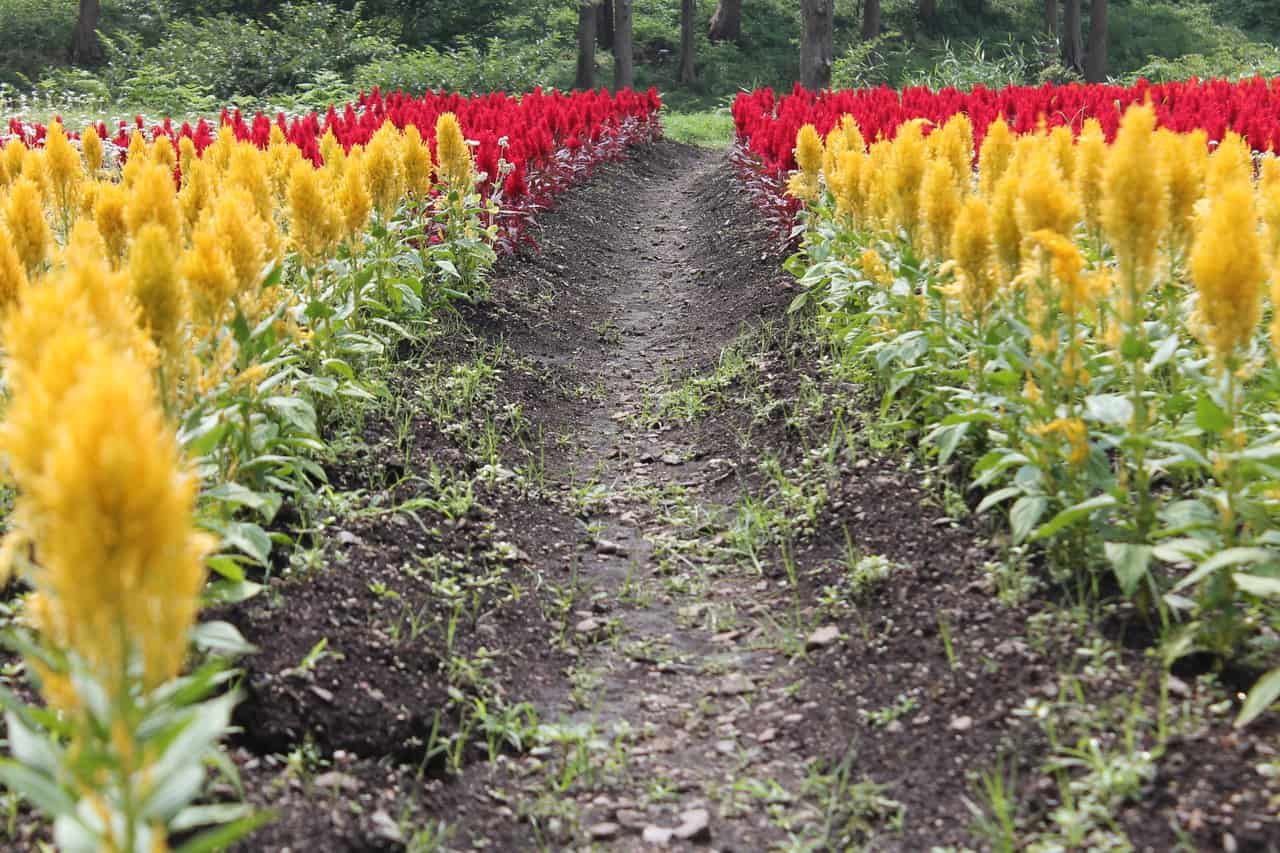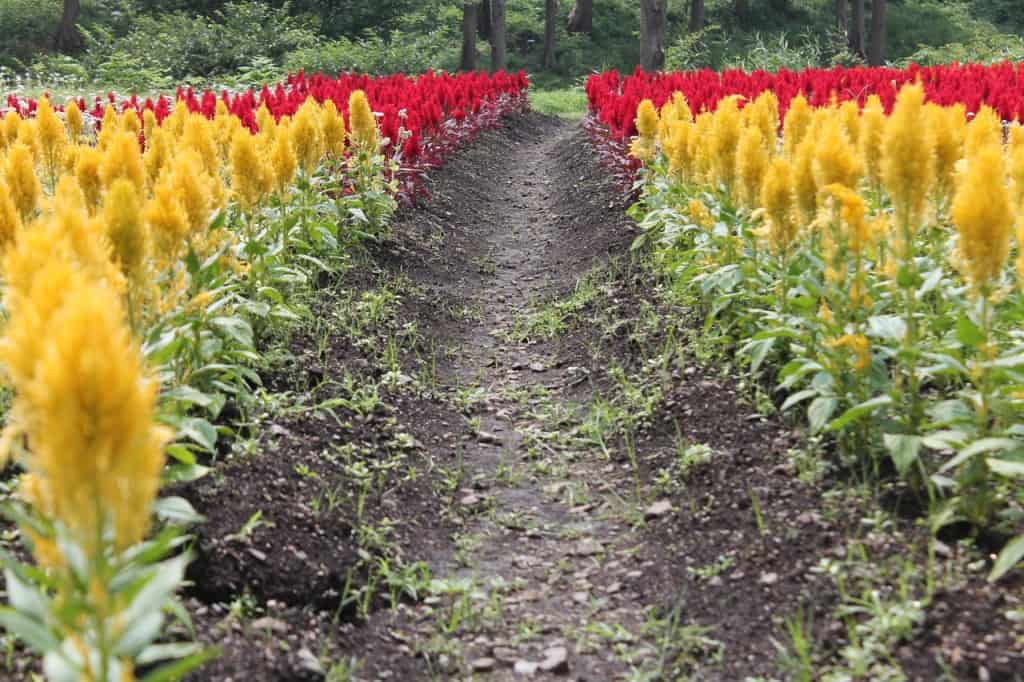 About Aso Kuju National Park in Kyushu
For as long as I can remember, the words "national park" have brought me instant joy. There's something about the prospect of huge trees fused with open space that revitalizes me. Luckily for me then, I was able to lap up a hefty portion of nature during my exploration of this Kyushu-based National Park. Which I have to say, blew me away.
Aso Kuju National Park was established in 1934, and its name is derived from its surroundings: Mount Aso, which is Japan's highest active volcano and the Kuju mountain range. One of the most popular ways to explore the park is by car, along the Yamanami Highway, the stretching hills and twisting roads offer spectacular views of the green abyss. Also along the way, are numerous lay-bys, allowing curious people to pull over and get a closer look at the scenery.
Wide Views of Nature along Yamanami Highway
Two of the places that I stopped for views were Kuju Kogen Tenbodai (久住高原展望台) and Makinoto-Toge (牧ノ戸峠). Kuju Kogen Tenbodai is a wide lay-by cordoned off with barriers, along a bend in the highway. Makinoto Toge, on the other hand, is an official stopping location, equipped with toilet and ice-cream facilities, as well as two different panoramic viewing options.
At Makinoto Toge, when you arrive at the car park, cross over the highway for a 5-minute ascent to a sheltered viewpoint. It was humid and around 30°C when I visited, so most people weren't silly enough to go for the steeper, longer option. However, I had already intended to climb to the higher lookout point so I went ahead anyway. The climb is relatively steep but it is completely paved, making it easily accessible. At the top, there is a sheltered seating area and a stone map to tell you which mountains you are looking at. Unfortunately, the visibility was slightly too low for me to see all of the mountains, but I got a good impression of the horizon nonetheless!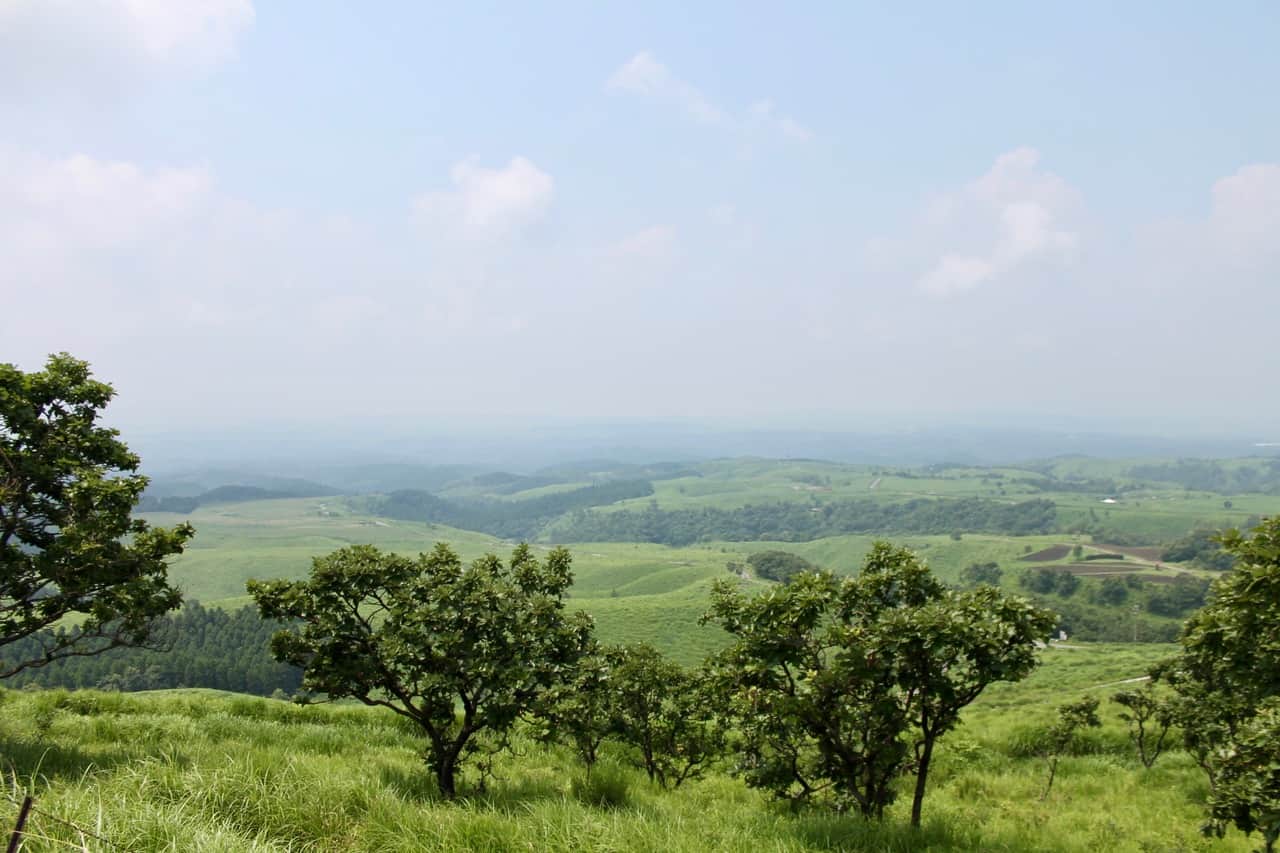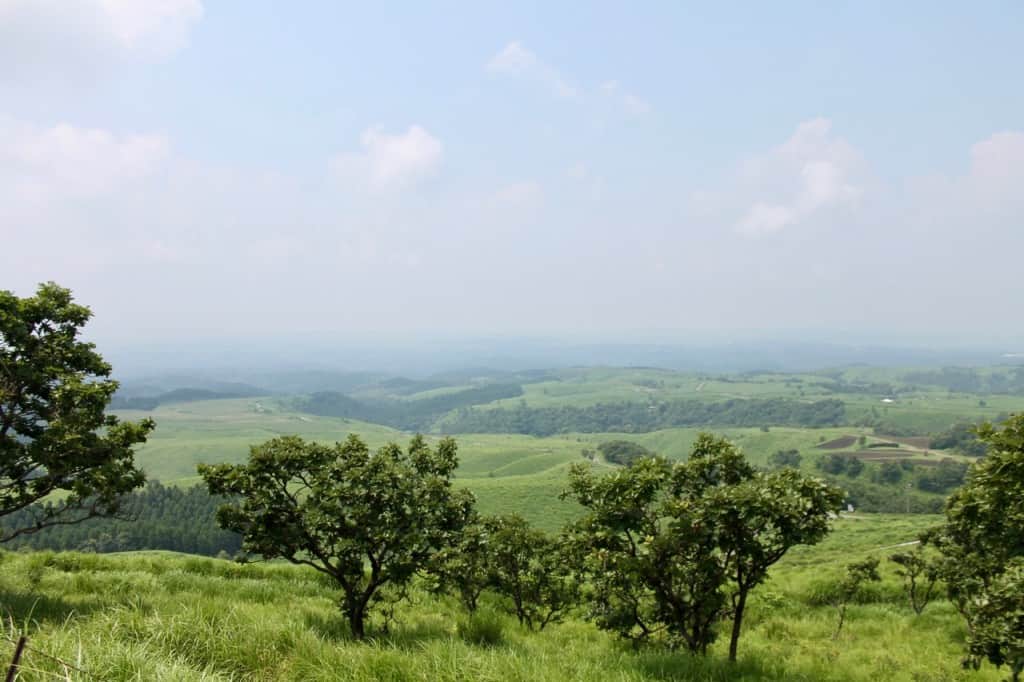 Kuju Hanakoen: The Dreamiest Flower Park
Kuju Hanakoen is a flower park, reminiscent of the most beautiful, vibrant dream. It is around 220,000m², and from spring through autumn around 500 different species of plant and 3 million plants bloom there. In my opinion, to say that it is a "must-see" would almost seem like an understatement!
The entrance fee is 1,300 yen, and you could easily spend all day sniffing and eating your way around it. Because in addition to the millions of flowers, there is also an outdoor café, tearoom, healthy BBQ restaurant, gelato store, dry fruits store, and more!
The park is divided into different sections with the cutest names: Healing Forest, Colourful Hill, and Hill of the Soft Breeze which is some of my favorites! The cuteness level of Hanakoen goes one stage further though, by playing the most relaxing xylophone music everywhere.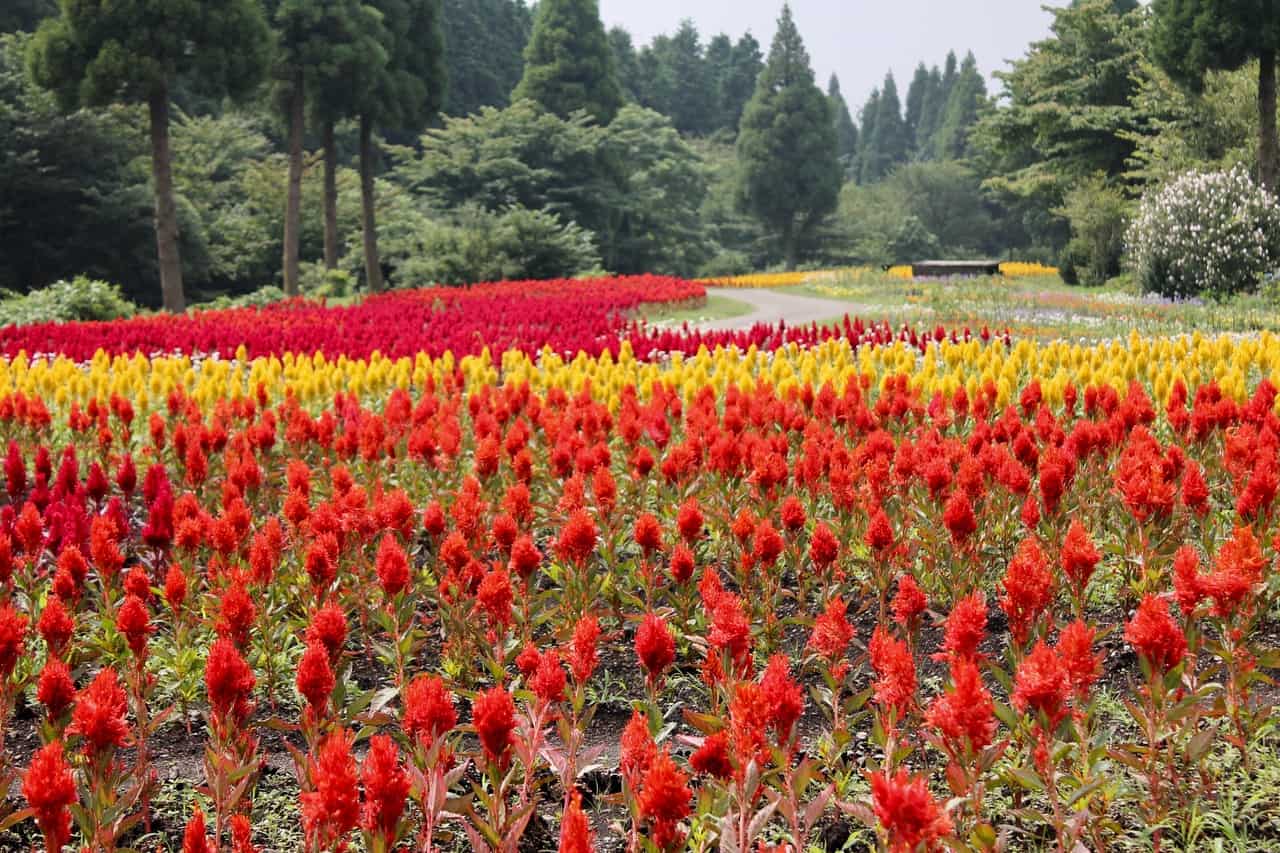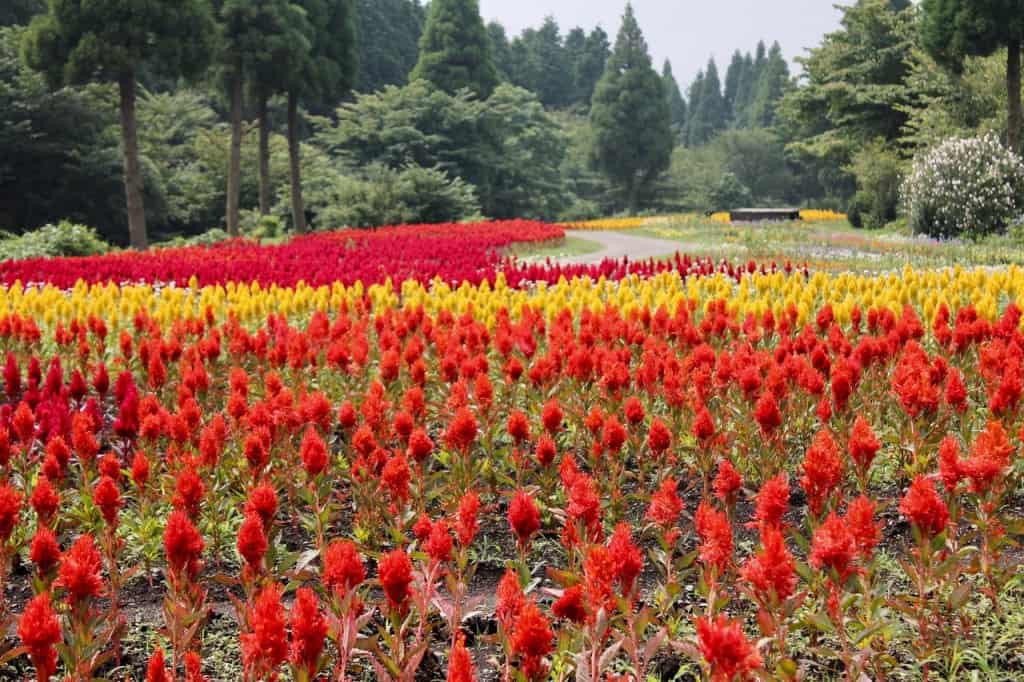 If you have ever seen the famous Ghibli film "Spirited Away", you may recall a scene with the main character, Chihiro, shuffling sideways through two walls of beautifully animated flowers. Well, that is what this Kuju Hanakoen reminded me of – but better.
Some of the single species areas include Lavender Fields (early-June to mid-July), Poppy Fields (late-April to late-May), and Sunflower Garden (late-July to early-August). I was quite disappointed to have missed the end of the Lavender bloom. If there is a certain species you'd like to see, be sure to correspond your visit with the flowering schedule!
Unfortunately, as with all dreams, I had to leave the park eventually. But thankfully, the next stop did not disappoint!
Tadewara Marshland: A Blissful Walk
My next stop was the Tadewara Marshland which is accessible through the Chojabaru Visitor Centre. The Tadewara Marsh is based on the northwest side of the Kuju Mountain Range and was categorized as a wetland of international importance under the Ramsar Convention in 2005. A great thing about this marshland is that it's free, flat, and the routes are mainly along boardwalks, making it accessible for most people. There are three main courses A, B, and C:
A: Stunning views. 800m/approx. 20 minutes. Wheelchair accessible
B: Seasonal plants and flowers. 1500m/approx. 40 minutes.
C: Grasslands and forests. 2500m/approx. 60 minutes.
I walked route B during the summer; I was able to see seasonal flowers such as the Japanese Water Iris, Daylily, and Balloon Thistle.
Kokonoe Yume Grand Suspension Bridge
My final stop was Kokonoe Yume Suspension Bridge. This grand bridge lingers above the forest at 777 meters high and 390 meters long. If you're not too scared of heights, for 500 yen you can walk across the bridge. The walk takes around 30 minutes – depending upon how many selfies you take!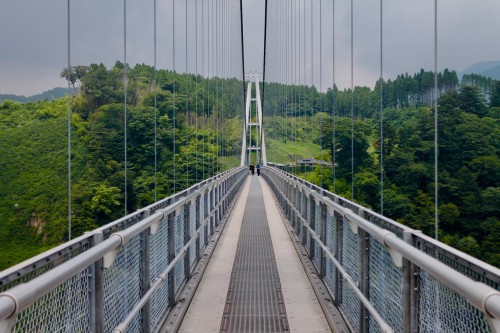 Links and Additional Information
Full information about Aso Kuju National Park can be found on the Ministry of Environment website. Alternatively, you can use:
Access
The National Park is around an 80-100 minutes drive from Oita Airport or a 70-90 minute drive from Oita. A full map of the park can be found on the website here. For details on accessing various parts around Aso Kuju National Park via public transport, visit the Ministry of Environment website. http://www.env.go.jp/en/nature/nps/park/aso/access/index.html
Sponsored by Tourism Oita