Japan is a popular destination for skiing and snowboarding with around 600 ski resorts across the country, many of which are covered in deep, powdery snow each winter. Known for being light and dry due to the cold winds from Siberia, it picks up moisture as it travels over the Sea of Japan before covering the Japanese archipelago in a bright, white blanket. The city of Nagano, located in central Japan, is surrounded by mountain ranges and is the main gateway to the Japanese Alps.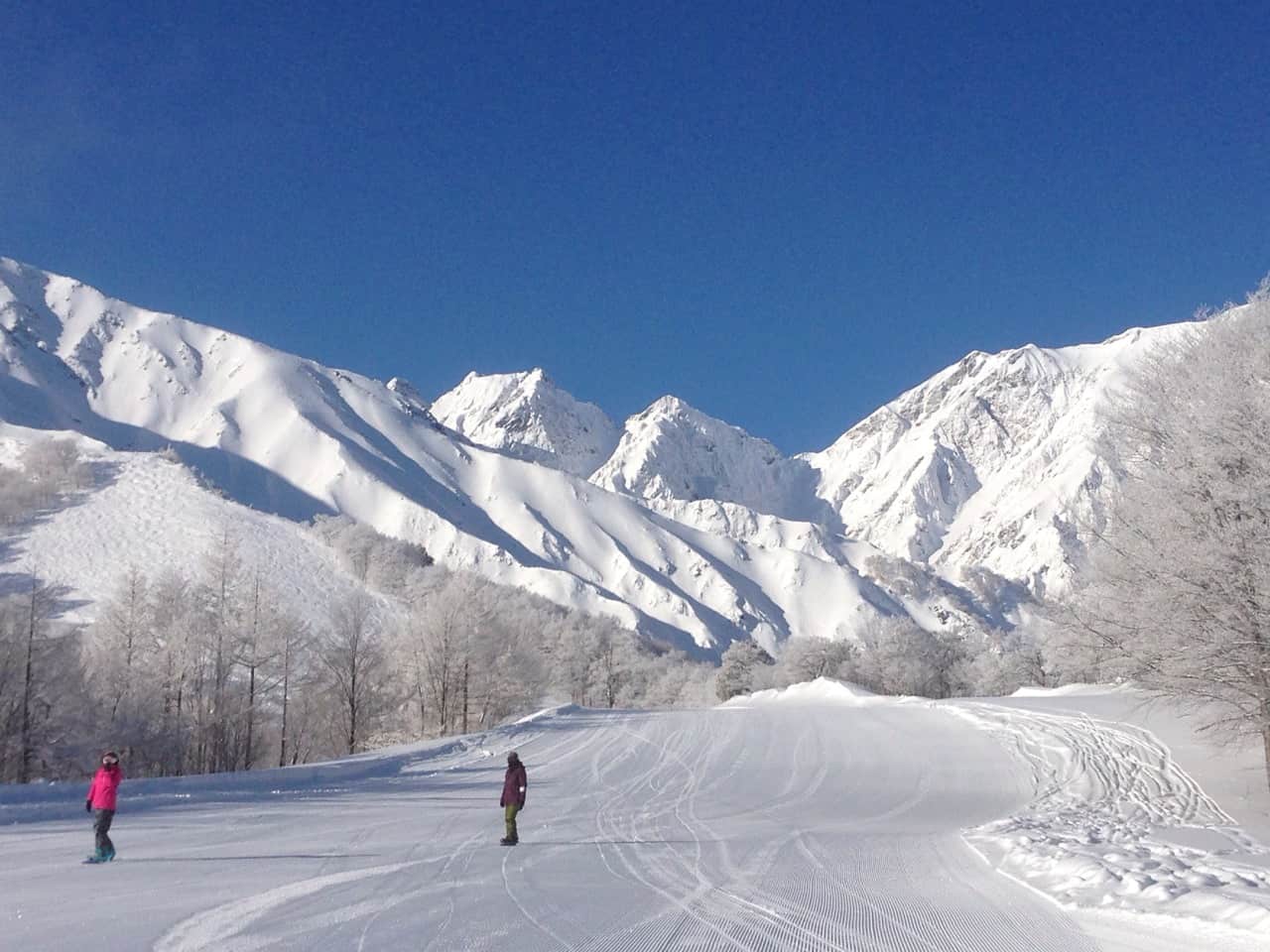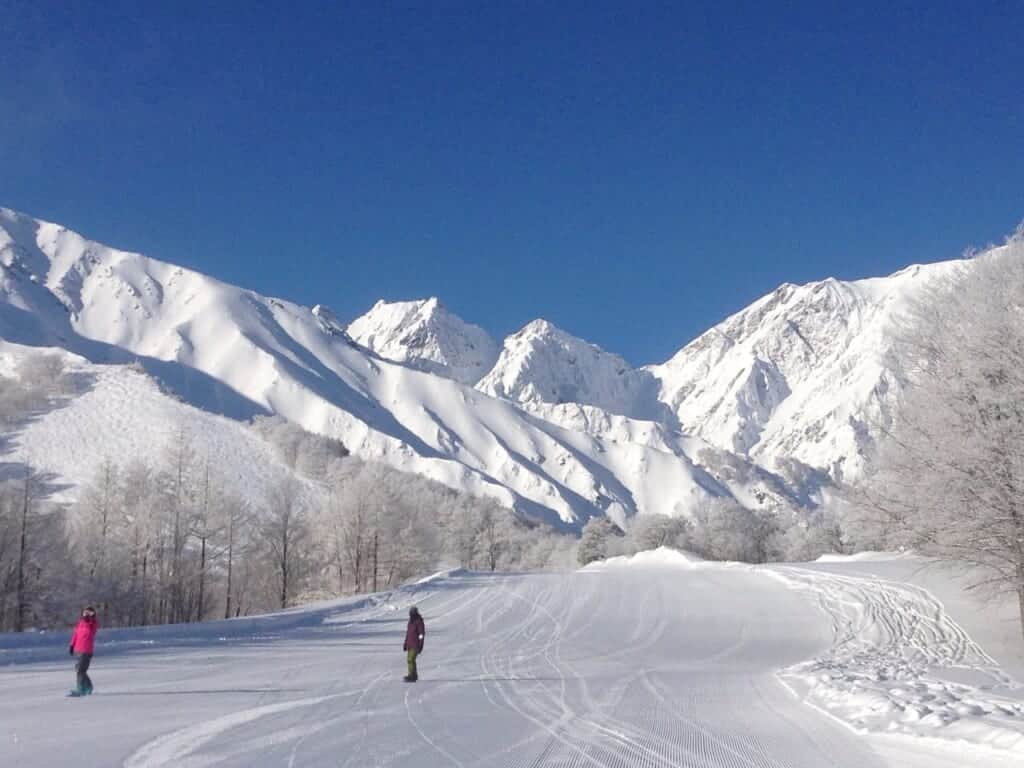 Ski in Nagano, Host City of the 1998 Winter Olympics in Japan
In February 1998, Nagano hosted the Winter Olympic Games and welcomed athletes from over 70 countries. The games brought improvements to infrastructure that are still enjoyed today, such as the opening of the Hokuriku Shinkansen, the high-speed bullet train connecting Tokyo to Kanazawa via Nagano in just 2 hours 30 minutes.
Nagano, as the capital city of Nagano Prefecture, is the highest prefectural capital in Japan at just over 370 meters above sea level, and receives up to 240 centimeters of snow each ski season in some places. So it's no surprise that the region provides some excellent ski and snowboard conditions at world-class resorts.
Select your Slope at Hakuba Happo-One Ski Resort in Nagano
The quaint village of Hakuba is home to Happo-One Ski Resort, a host venue in the 1998 Olympics and one of Japan's premier ski resorts. Happo-One (pronounced 'o-ne') is one of 9 resorts in the area and, even though many are not interconnected, the Happo Valley admission ticket allows visitors to fully enjoy all the resorts of this winter wonderland.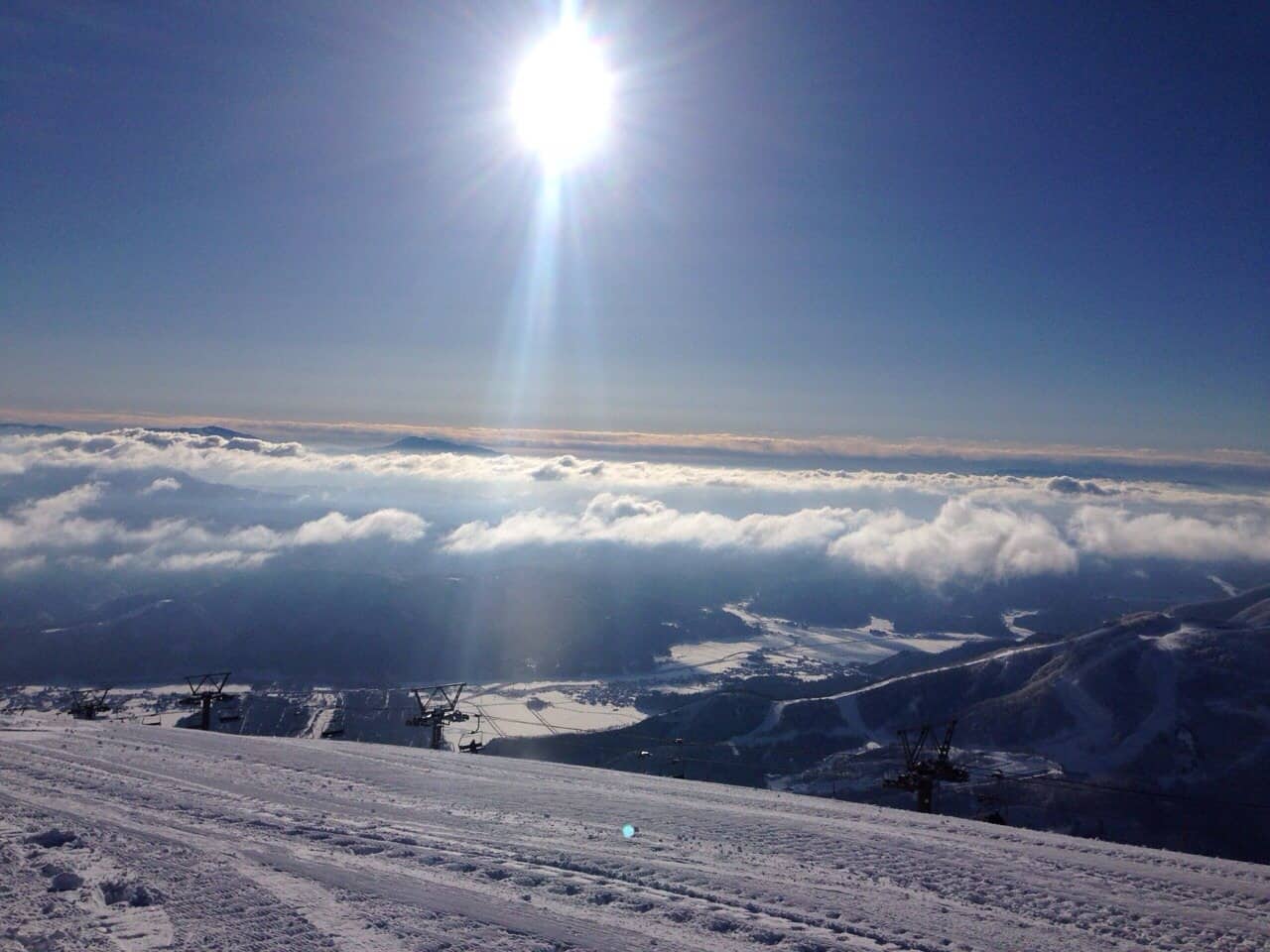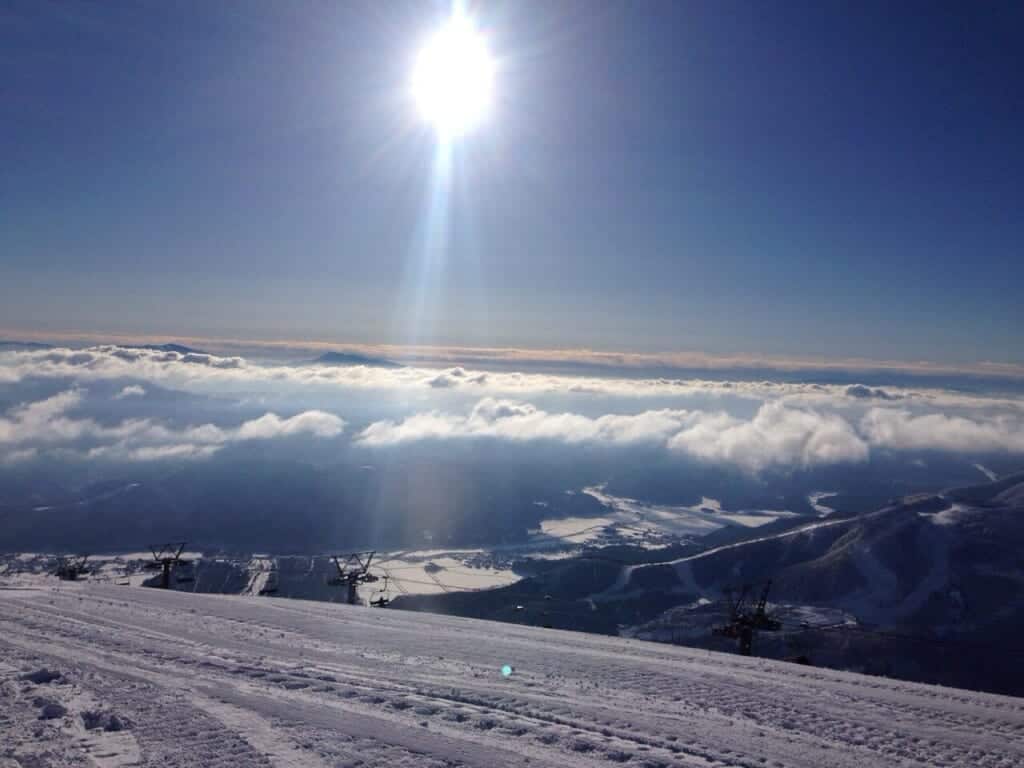 Happo-One spans 220 hectares and offers 16 courses for various levels of ability. A network of 22 lifts shuttles skiers around the resort amid the backdrop of the breathtaking mountain ranges of Myoko, Togakushi, Asama and Yatsugatake. A journey to the highest point at 1,831 meters is worth the stunning views alone! There really is a slope to suit every ability level, so take your time to choose the one that's right for you.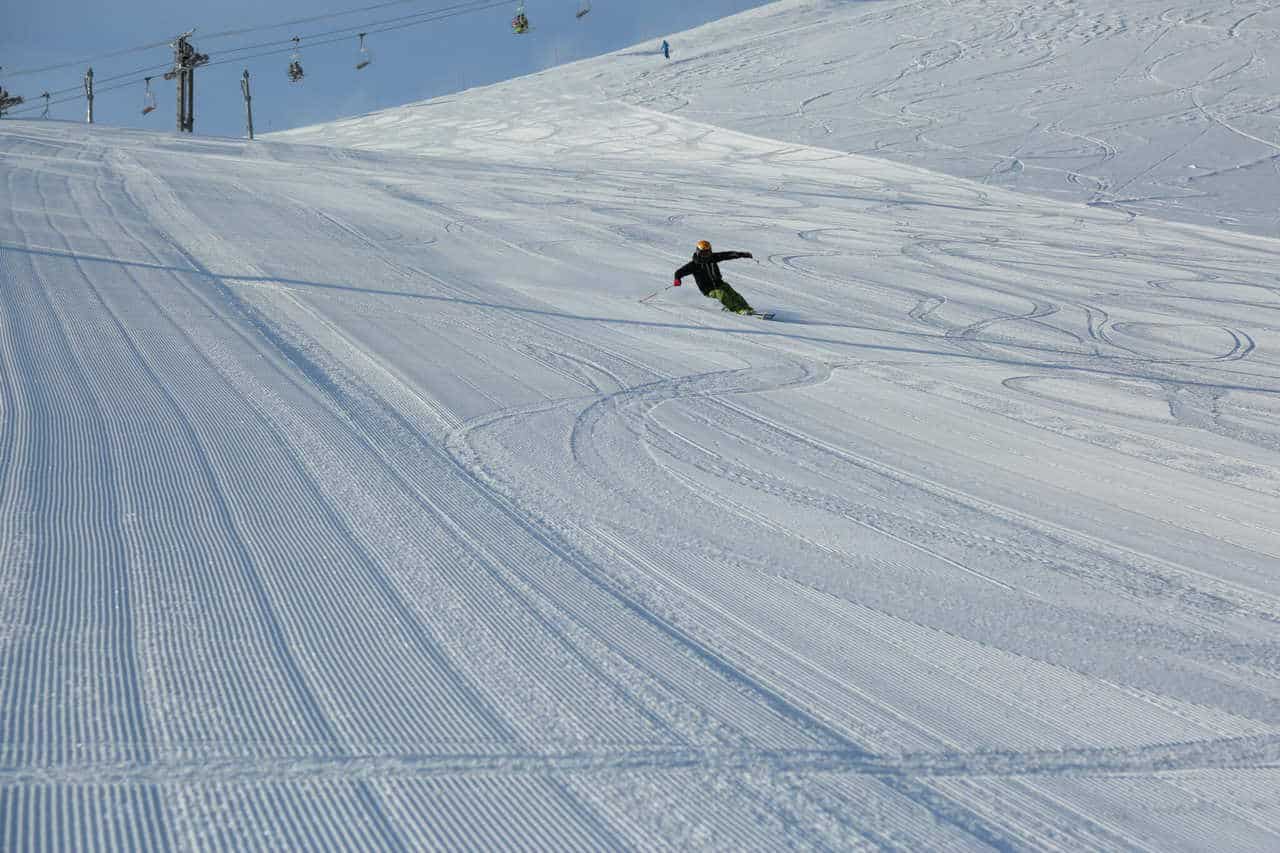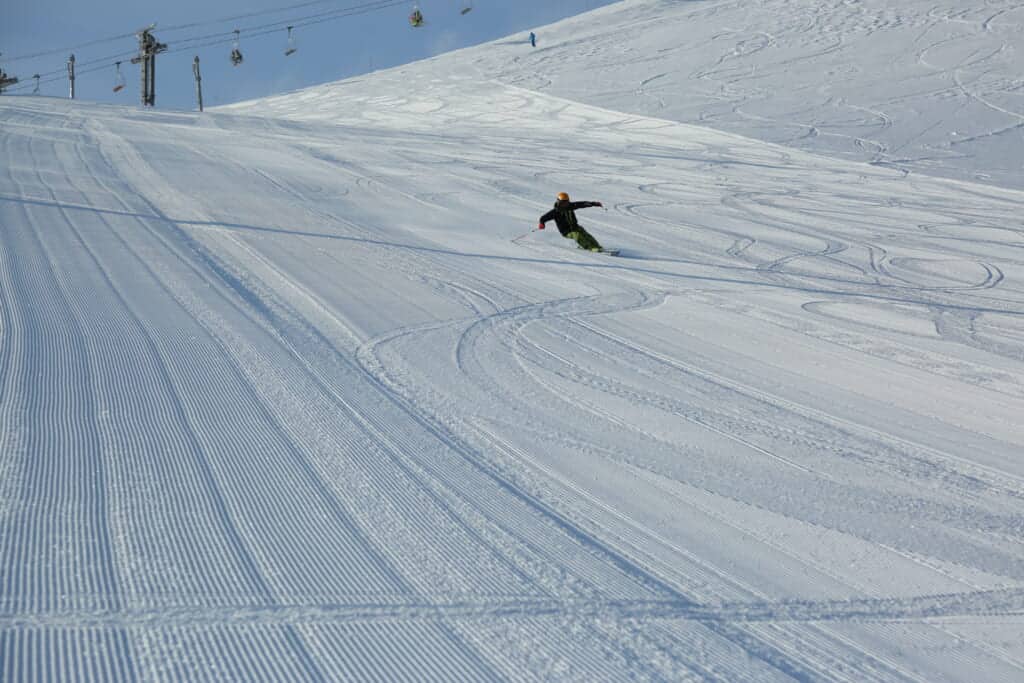 Shirakaba Slope: A Safe Place for Beginners
This slope, located at the base of the mountain, has 3 courses that run down side-by-side at a maximum decline of 20 degrees. It's the perfect place to develop your skills if you're new to skiing. The wide plains of groomed, powdery snow still offer magnificent views over the mountains, while assistance is nearby if you need it.
Nakiyama Slope: Practice Your Twists and Turns
This slope is used for certifications, as it offers a challenging maximum gradient of 35 degrees, while also being suitable for more confident beginners. The 560-meter course features an inner wall that's perfect for snowboarders to practice twists and turns, and the higher altitude rewards skiers with panoramic views over the village of Hakuba.
Skyline Course: For an Extra Long Challenge
At 8,000 meters, this is the longest course and features several inclines and declines along the route. It takes you through light woodland, where the snow is ungroomed in some areas for an extra challenge. The maximum decline is 32 degrees, but there is also a drop-out point before the most challenging part of the course, making it accessible to any confident skier.
Olympic Courses 1 and 2: Come for the Gradient, Stay for the Jump
Course 1 was used as the men's downhill course in the Winter Olympics of 1998, with a maximum decline of 35 degrees and a length of just under 3,000 meters. Advanced skiers will enjoy the stunning scenery and feel the adrenaline rush of the various twists and turns on this historic course. Course 2 features the 'Tatekko' jump, which was used for the ski jumping event in the 1998 Games and is the current training slope for the Japanese team.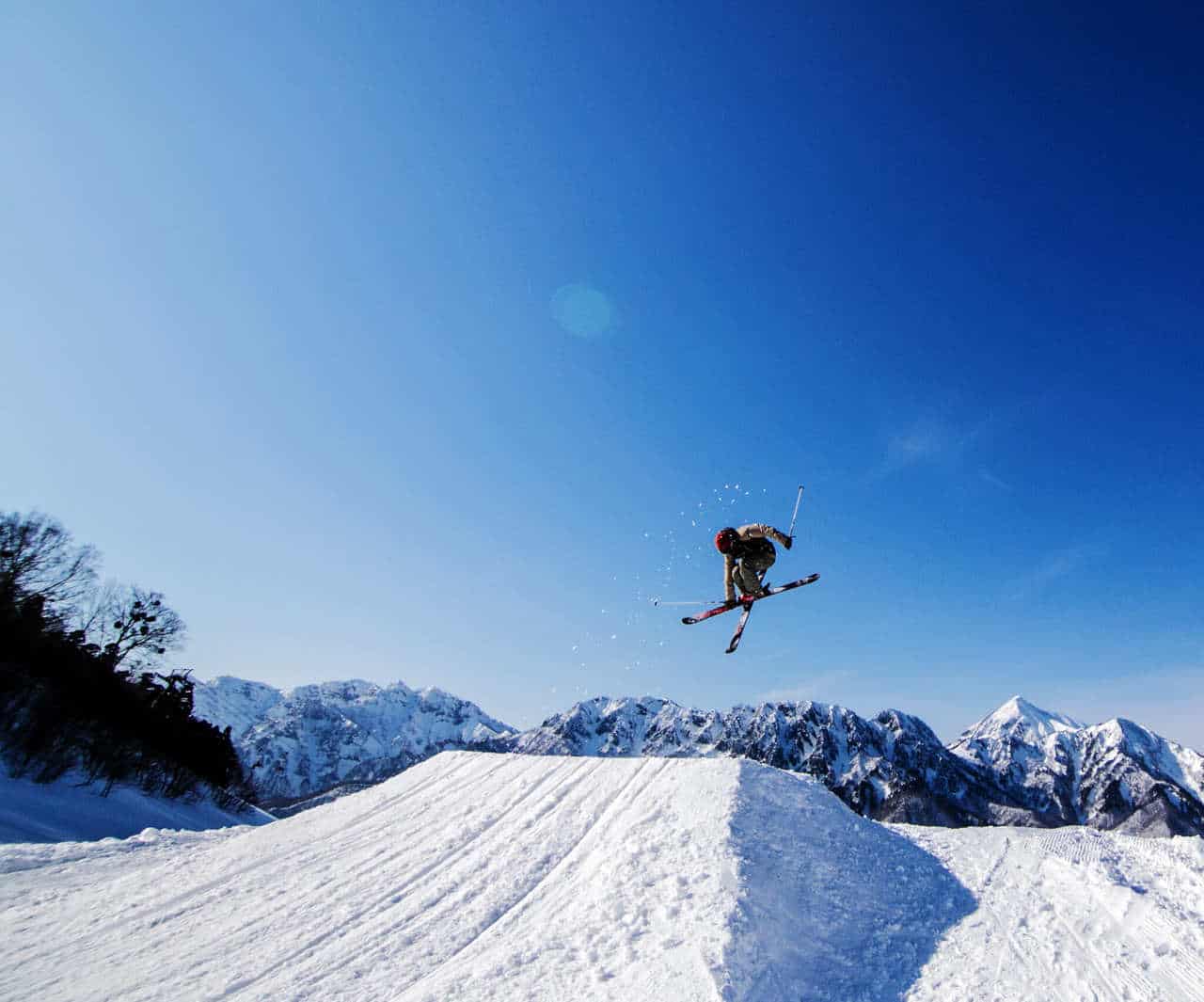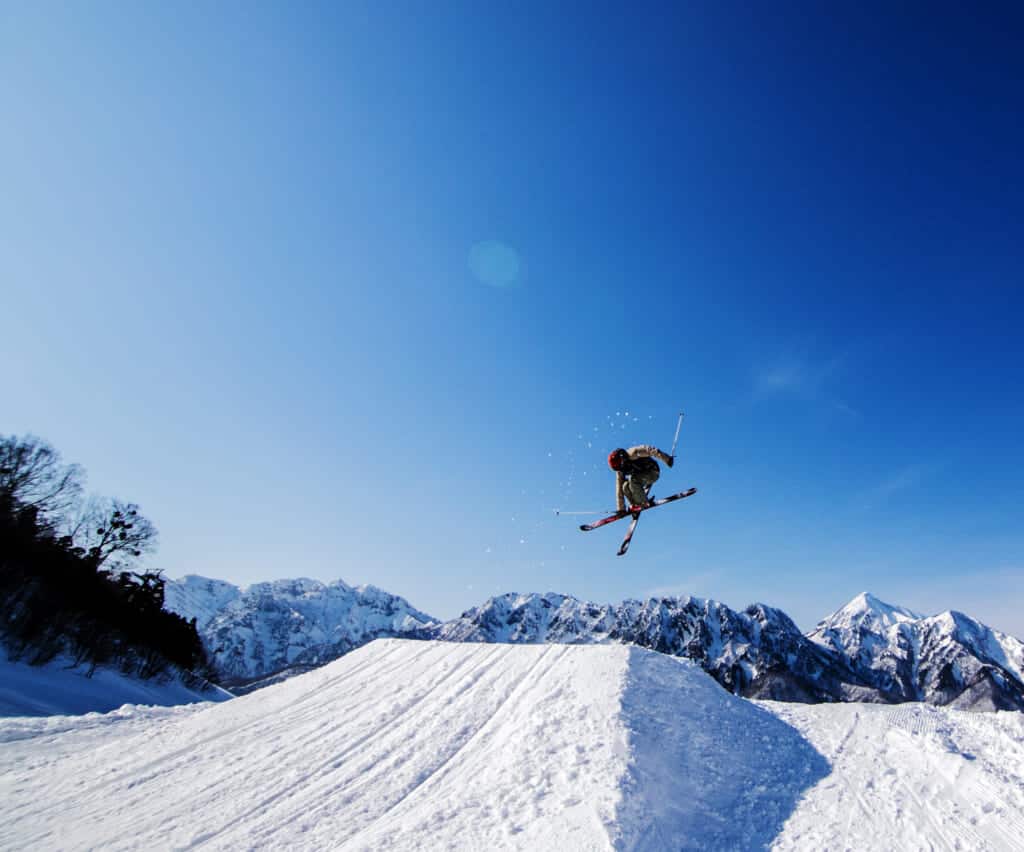 How Much Does it Cost to Ski in Hakuba in Nagano?
Hakuba Happo-One Resort offers various pricing options. Regular 1-day admission is ¥5,500 for adults and ¥3,200 for children; 2-day admission is respectively ¥9,950 and ¥5,700. Discounts are available for those aged over 60 years, as well as for tickets purchased online.
The Hakuba Valley admission ticket is good value if you are planning to visit several local ski resorts, and includes free bus transfers between them. It costs ¥6,600 (adult) and ¥3,800 (child) for 1 day or ¥43,400 (adult) and ¥24,300 (child) for 7 days. This price includes a convenient lift pass, which works electronically at the entrance of each resort.
Learn to Ski or Snowboard in the Olympic City of Nagano, Japan
Evergreen International Ski School has operated since 2000 and provides private and group classes in English to adults and children of all abilities. The school also offers daycare facilities where parents can leave their children while they take classes. The Hakuba Happo-One Ski and Snowboard school offers similar courses in Japanese.
Nakiyama Snowland is a snow-themed play center where the whole family can perfect their balancing and turning. The center is open from mid-December until the end of March and offers a half-day 'Nakiyama Debut Ticket' for ¥1,000 (child) and ¥2,000 (adult). It's the ideal place to have fun and learn skiing techniques before hitting the larger slopes!
But taking a ski trip isn't just about the slopes—there are many dining options and ways to rejuvenate after a long day. Around the base of Happo-One Ski Resort, various centers offer a variety of foods, from traditional Japanese ramen to international favorites such as pizza and pasta.
How to Get to Hakuba Village Ski Resorts in Nagano
To Hakuba Village:
From Tokyo: Take the Hokuriku Shinkansen from Tokyo Station to Nagano (1 hour 40 minutes), then transfer to a limited-express Alpico bus to Hakuba (1 hour).
From Kanazawa: Take the Hokuriku Shinkansen to Nagano (1 hour 25 minutes), then transfer to a limited-express Alpico bus to Hakuba (1 hour).
From Osaka: Take the Tokaido Shinkansen from Shin-Osaka Station to Nagoya (50 minutes), transfer to the Shinano Limited Express to Matsumoto (2 hours), then finally to the JR Line to Hakuba (1 hour 50 minutes).
Bus: During the peak ski season from December to March, Alpico bus operates direct services to Hakuba from the major cities of Osaka, Kyoto and Tokyo (including from both Haneda and Narita airports). There is also a service from Hakuba to Shigakogen if you're going to the Jigokudani Snow Monkey Park.
From Hakuba to Happo-One Ski Resort:
All buses arrive and depart at the Hakuba Happo Bus Terminal. From there you can take the circular shuttle bus to all the ski areas. The circular journey takes around 40 minutes. Happo Valley ticket holders can ride the bus for free, but if you are just visiting an individual resort, it costs ¥510 (adult) and ¥260 (child) per trip. The bus terminal is also an excellent place to buy lift passes or merchandise and make other reservations.
Ski the Quieter Slopes in Nagano's Togakushi Snow Park
Just one hour away from Nagano, the smaller Togakushi Snow Park offers 19 courses for all abilities and 7 ski lifts to transport you around. All the basic amenities, such as equipment rental and dining options, are available at the base of the mountain.
There is also a children's park and ski/snowboard school where you can learn before heading to the slopes, although lessons are currently not available in English. This resort, while closer to Nagano at just 24 kilometers away, can be a bit quieter than Happo-One, so it's an appealing alternative for those who still want to experience the beautiful scenery and powdery snow at a smaller resort.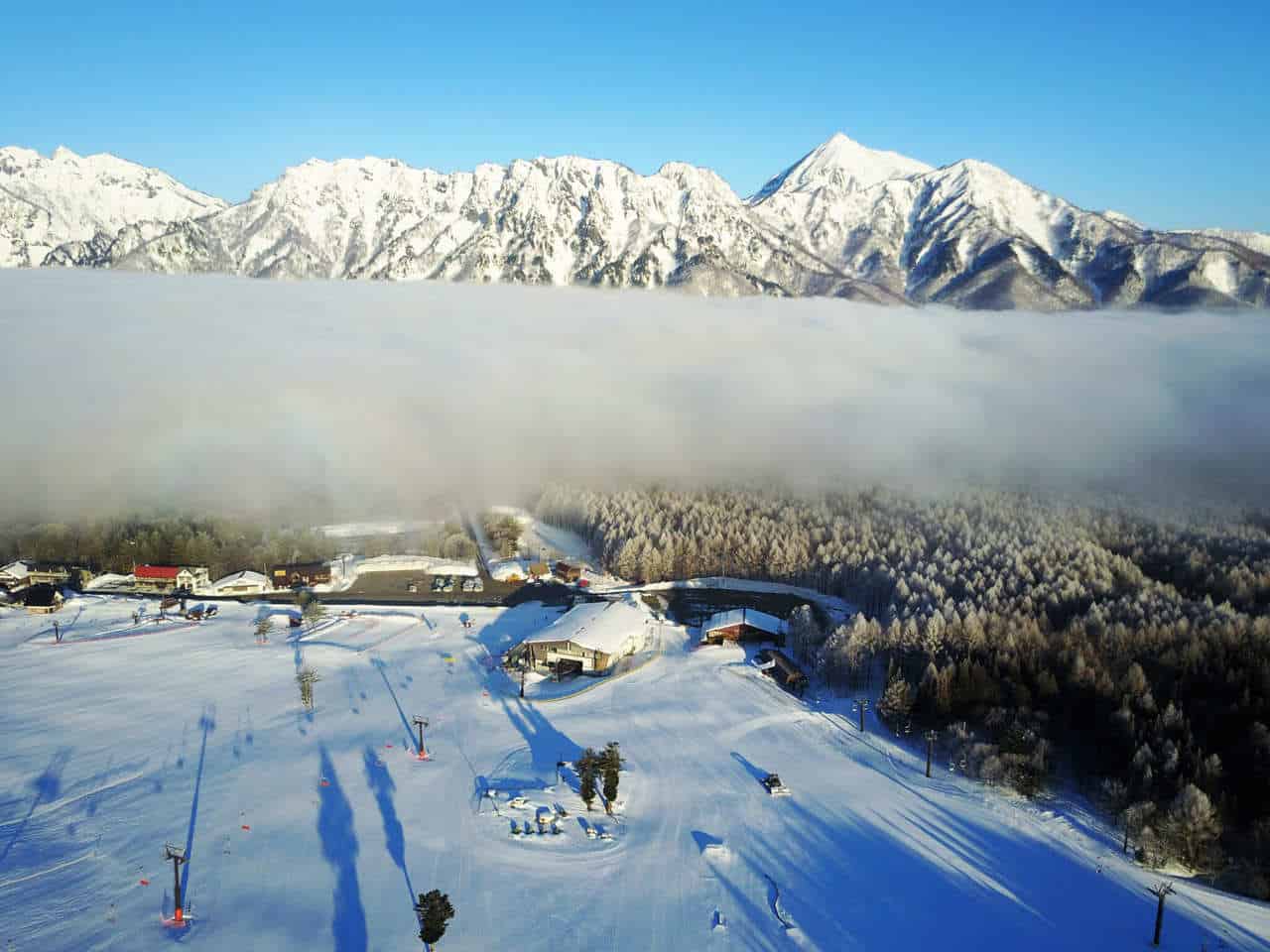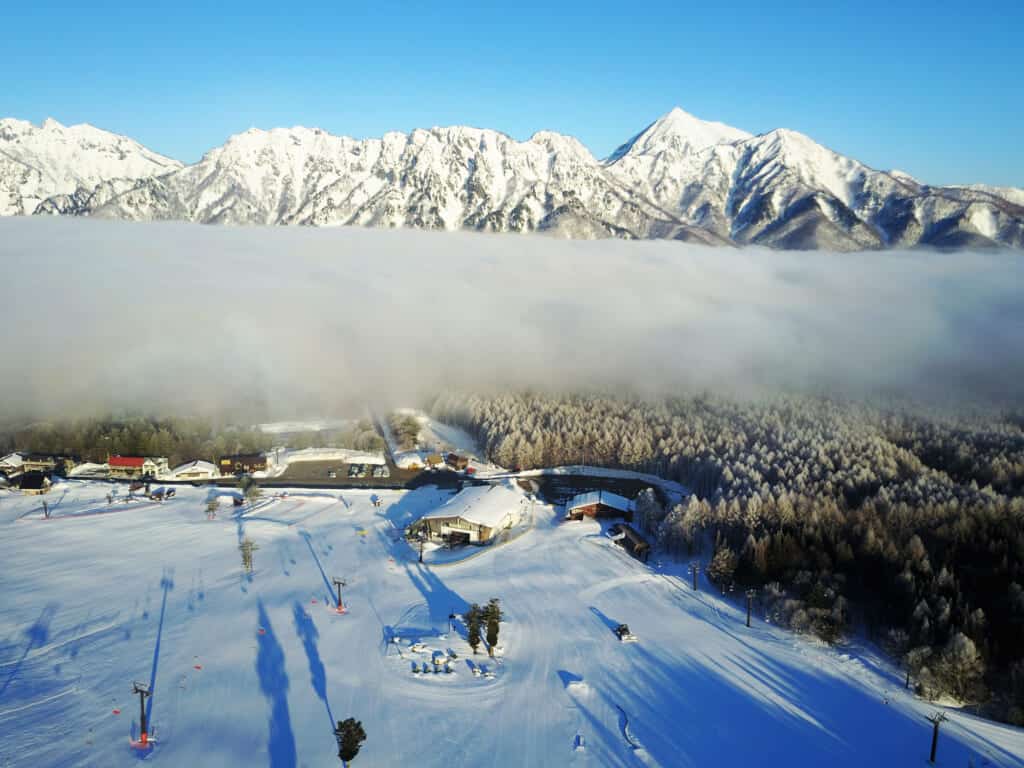 Togakushi Snow Park is also situated at a lower altitude, so it generally receives slightly less snow than Happo-One, but at just over 7 meters a season, there's still plenty to enjoy skiing and snowboarding. While you're in the area, you can also visit the prominent Togakushi Shrine complex.
Admission for 1 day, including lift pass, is ¥4,500 (adult) and ¥2,500 (child). Full ski or snowboard sets can be rented for ¥4,700 per day.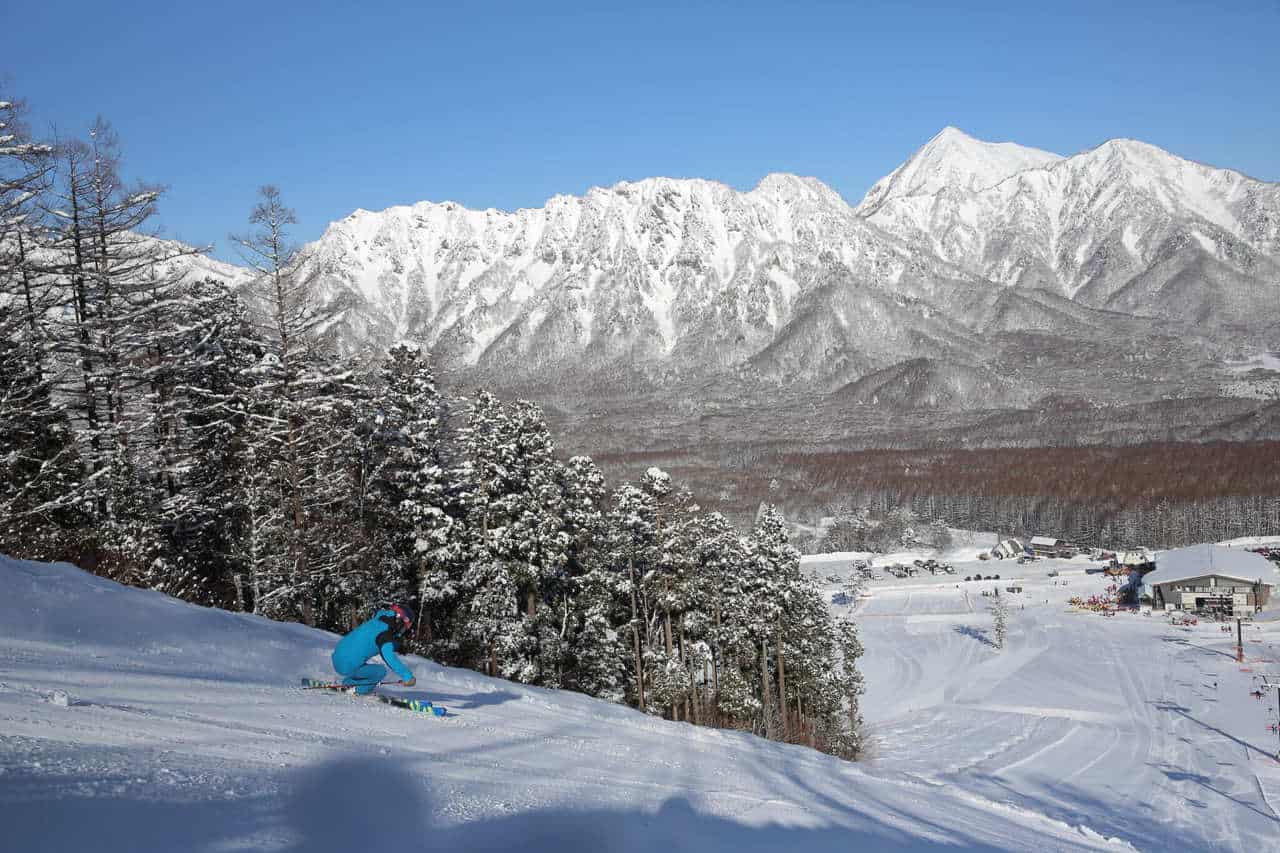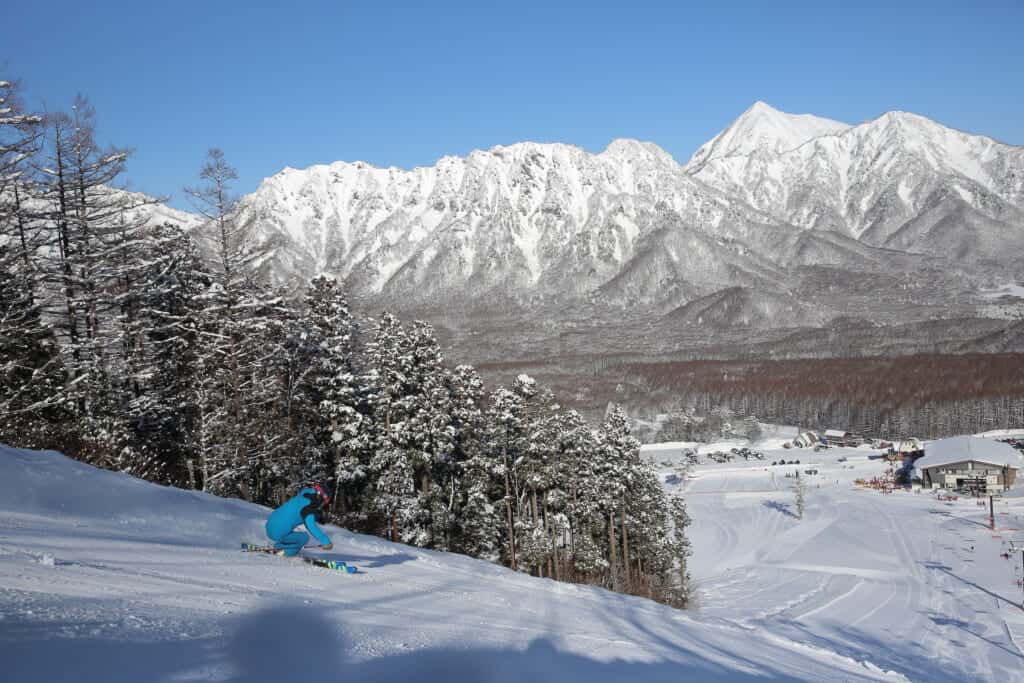 How to Get to Togakushi Snow Park in Nagano
From Tokyo/Osaka/Kyoto/Nagoya/Kanazawa: Travel to Nagano, then transfer to Alpico express bus number 70 to Togakushi Snow Park (1 hour 20 minutes/ ¥1,500).
Nagano is renowned for being Japan's primary ski destination. It is easily accessible from several cities across the country thanks to the shinkansen bullet train, and the local slopes cater to every level of ability, including beginners who want to learn to ski or snowboard. To ski Nagano is not only to enjoy the magnificent scenery and excellent quality snow, but to feel like an Olympic athlete powering toward the finish line. On the way home, you will feel as though you have won a gold medal!
Sponsored by Hokuriku-Shin'etsu District Transport Bureau, Nagano City & Kanazawa City.