Nagano (長野) in central Japan is surrounded by stunning mountain ranges where the mighty Chikuma River joins the Sai. It is Japan's highest prefectural capital and an important hub for trade and tourism. The city is just 1 hour 40 minutes from Tokyo on the Horuriku Shinkansen (北陸新幹線) bullet train, which opened in 1997 ahead of the 1998 Winter Olympic Games.
The region is known for its hot springs (温泉, onsen), where photographs of "snow monkeys" bathing at Jigokudani onsen, around a 2-hour journey from central Nagano, are among the most endearing images of Japan. It's also just an hour away from the historical samurai city of Kanazawa on the coast.
Many visitors come to the prefecture to enjoy its world-class ski slopes, but there is much more to experience in this part of Japan. Nagano is connected to its heritage and home to several prominent Buddhist temples and Shinto shrines. It's also an area with a rich culinary scene and a large number of independent sake breweries. You can easily combine a ski trip with a visit to the city, so let's take a look at what to see and do in Nagano.
Discover Art and the Key to Paradise in Joyama Park
In the heart of the city, just a 15-minute ride on Alpico bus 11 from JR Nagano Station, lies Joyama Park (城山公園)—the perfect place to begin your adventure.
See an Artist's Portrait of Nagano's Natural Beauty at Higashiyama Kaii Gallery
Start with a stroll around Higashiyama Kaii Gallery (東山魁夷館), which features over 900 works by the Japanese artist Kaii Higashiyama (1908-1999). Beginning his career after studying Fine Art at Tokyo University, he fell in love with the scenery and dramatic seasonal changes of Nagano Prefecture, where he spent long summer days gazing out at the landscape and capturing its beauty. As his works are particularly inspired by Nagano's many lakes, mountains and flowers, the gallery in Joyama Park was built in 1990 to commemorate this talented artist.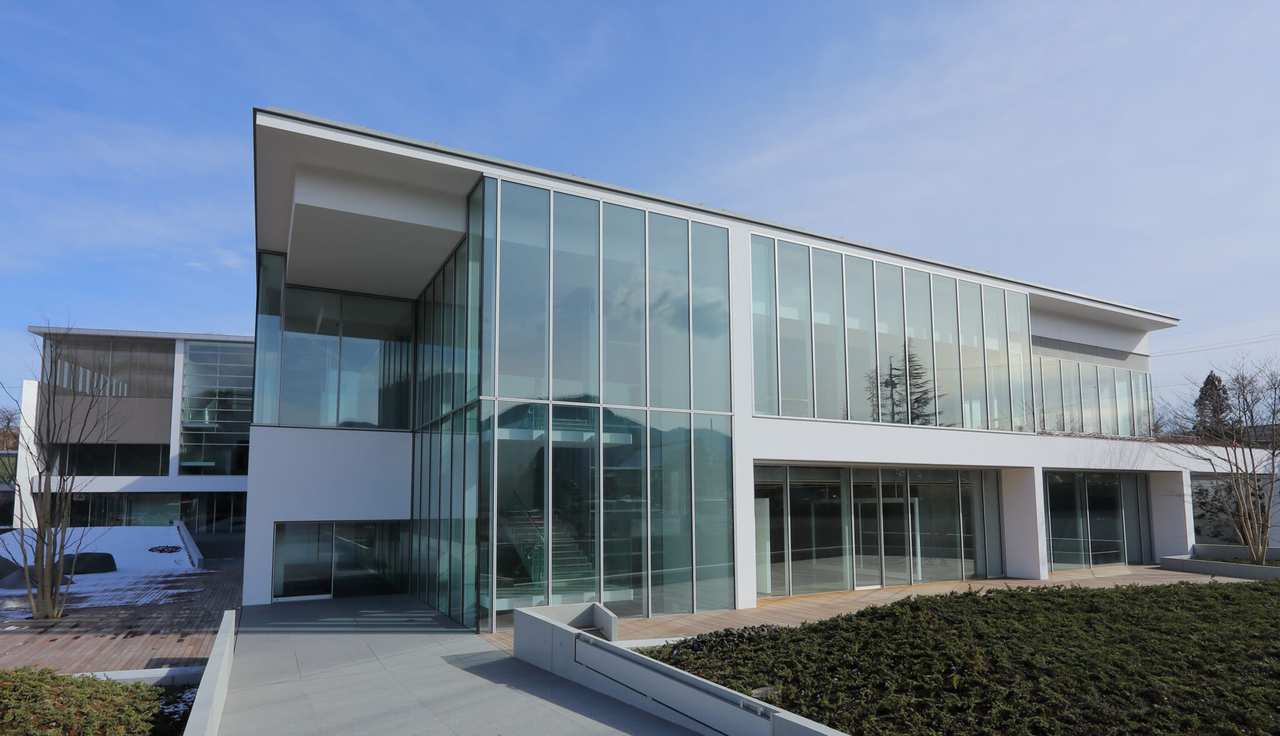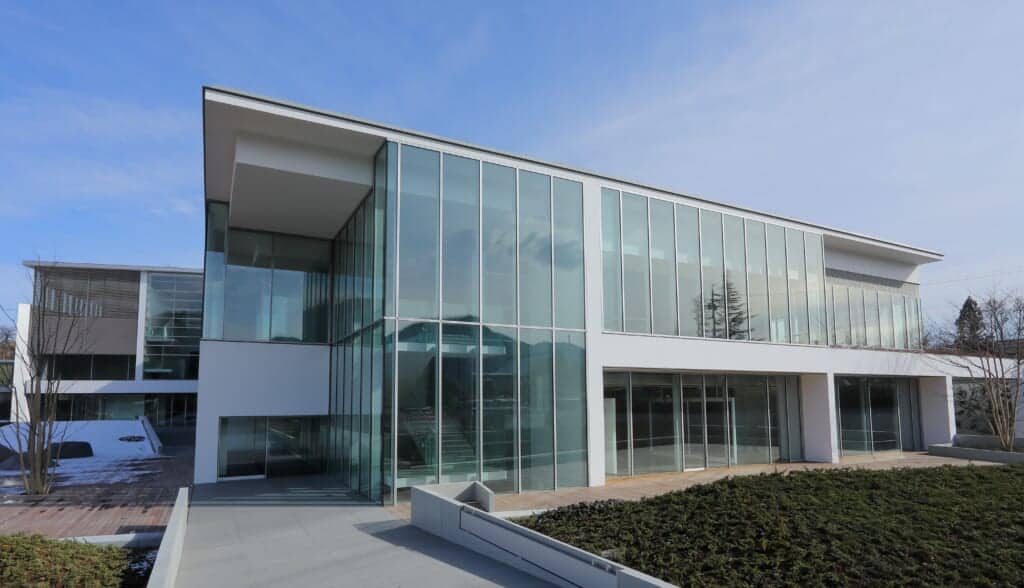 The nearest stop on Alpico bus 11 is Zenkoji-kita, and from there it's about a 5-minute walk to Higashiyama Kaii Gallery. The gallery is closed on Wednesdays, and admission is ¥500 (¥300 for university students and free for high school students and younger children).
Feel Your Way through the Darkness in Zenkoji Temple
Located opposite the Higashiyama Kaii Gallery, Zenkoji (善光寺) Temple is one of the most important Buddhist sites in Japan and has been designated as a national treasure.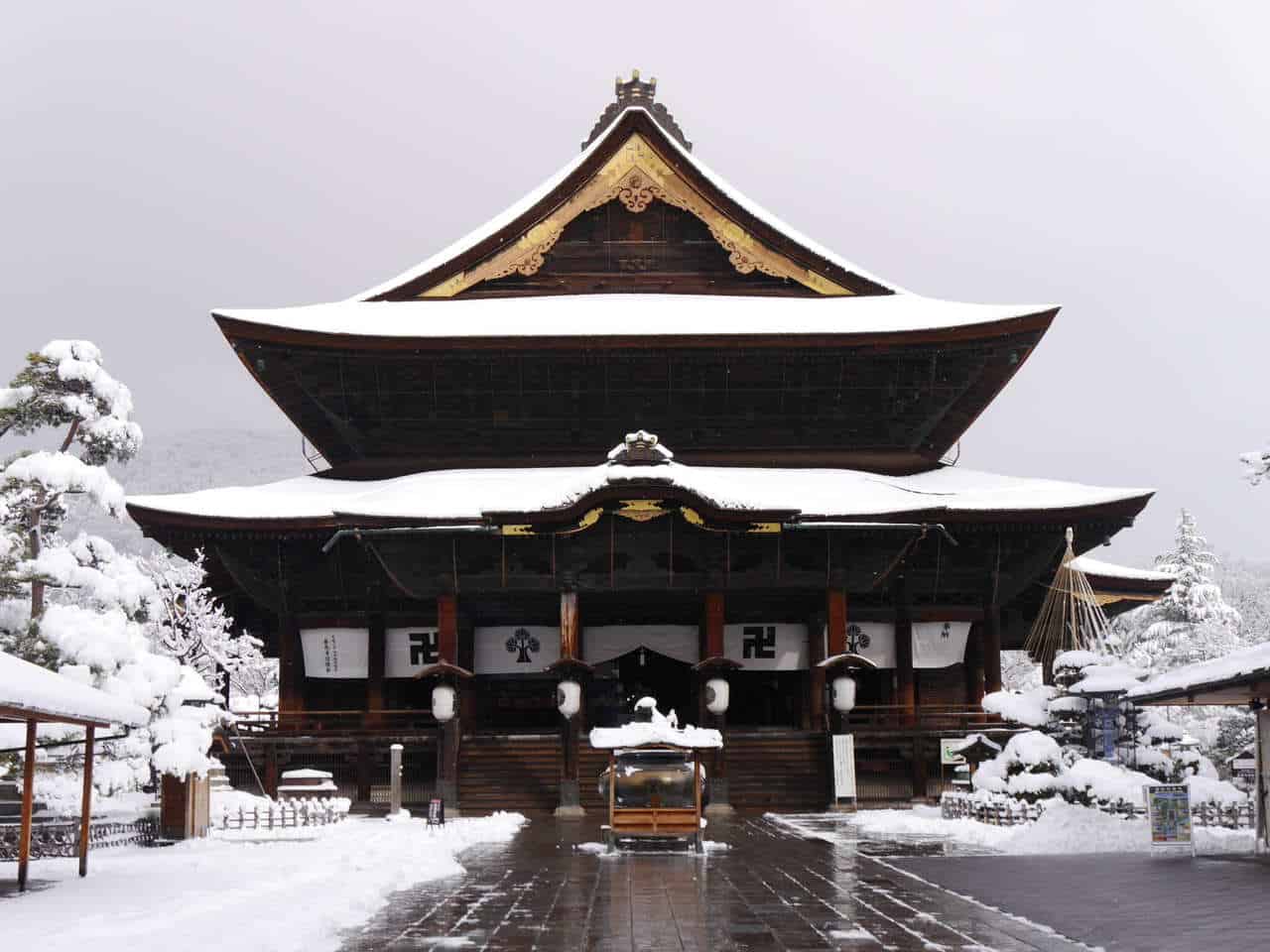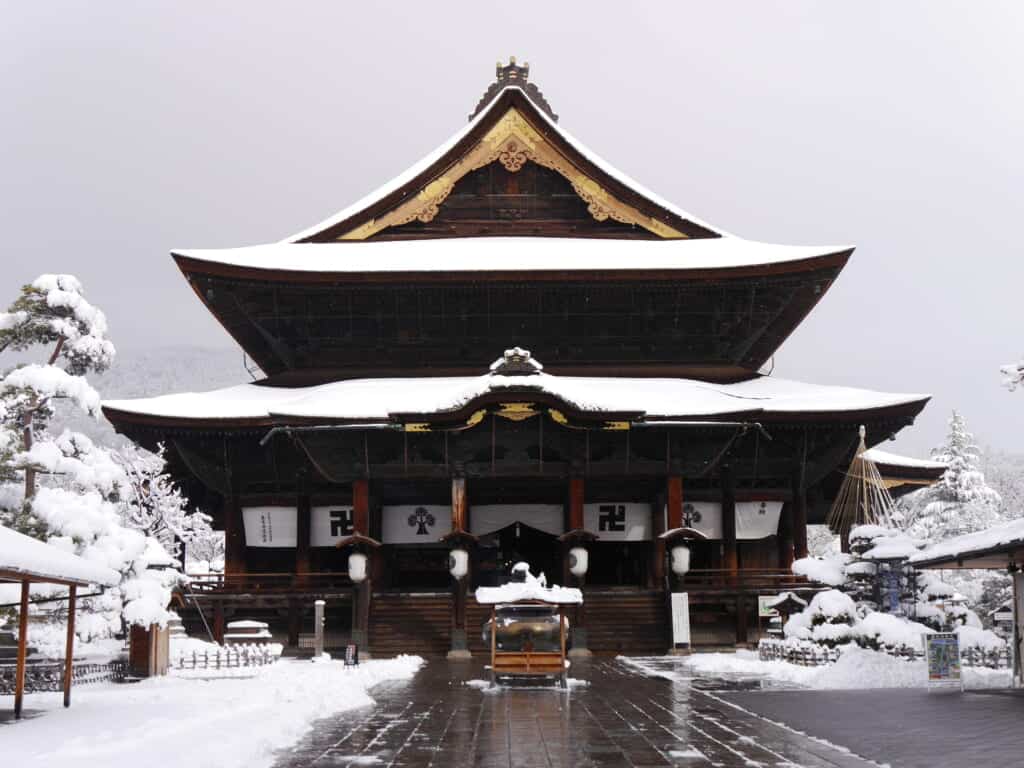 In the 6th century, a statue of Buddha arrived in Japan from India. However, it was not well received at the time, as Buddhism was strongly rejected and a cause for conflict. According to legend, the statue was discarded in a river in Osaka, picked up by a passing samurai and brought back to his home in current-day Nagano. The statue was enshrined in 654 BC and is thought to be one of the first images of Buddha in Japan. It was decided that the statue would be hidden, and a replica was made to show important visitors of Zenkoji temple. Today, the replica can only be viewed by the public once every 7 years, during the Gokaicho (御開帳) festival. The next festival is scheduled to take place between April 3 and May 29, 2022, but there is still a lot to visit at Zenkoji at other times.
As you approach the entrance, you will be greeted by the towering Niōmon gate with its two guardian king statues on either side to protect against the enemies of Buddhism. Straw sandals hanging on the railings in front of the statue symbolize the pilgrims who have made the journey. It's customary for visitors to cleanse their hands and mouths at the water fountain (手水舎, temizuya) before entering the temple. After passing through the next Sanmon gate, you can marvel at the beauty of Zenkoji standing right before you. For a small entrance fee of ¥500, you can enter the temple and explore a dark passage to find the so-called key to paradise. The idea is that you feel your own way through the darkness to find the key suspended on one of the walls by yourself. As you walk through the temple, listen for the beautiful sound of the large bell that is rung daily, which echoes throughout the grounds.
Zenkoji can be accessed by Nagano Line on the Nagano Electric Railway from JR Nagano Station to Zenkoji-shita station; the temple is a 13-minute walk from there.
Explore the Pilgrimage Site of Togakushi Shrine
At the base of Mount Togakushi in Myōko-Togakushi Renzen National Park, Togakushi Shrine (戸隠神社, Togakushi-jinja) is steeped in legend. Amaterasu, goddess of the sun in Japanese mythology, had hidden in a cave in Kyushu and plunged the world into darkness, but was intrigued when the other gods staged an elaborate dance at the cave's entrance. As she peeked out from a large rock, one of the other gods tore the boulder away and threw it into the air. The rock landed in Togakushi, where today the upper shrine commemorates light once again spreading across the land.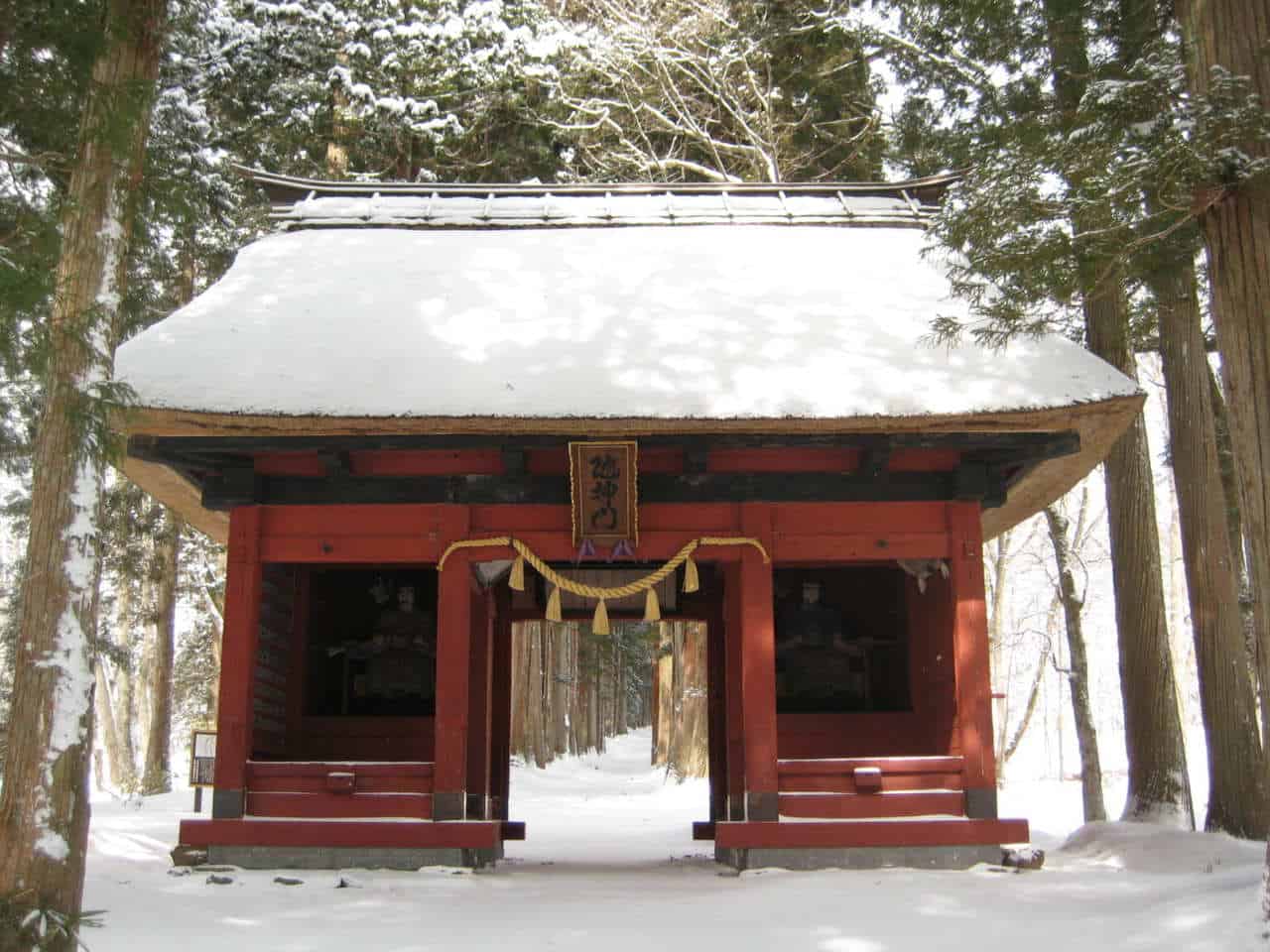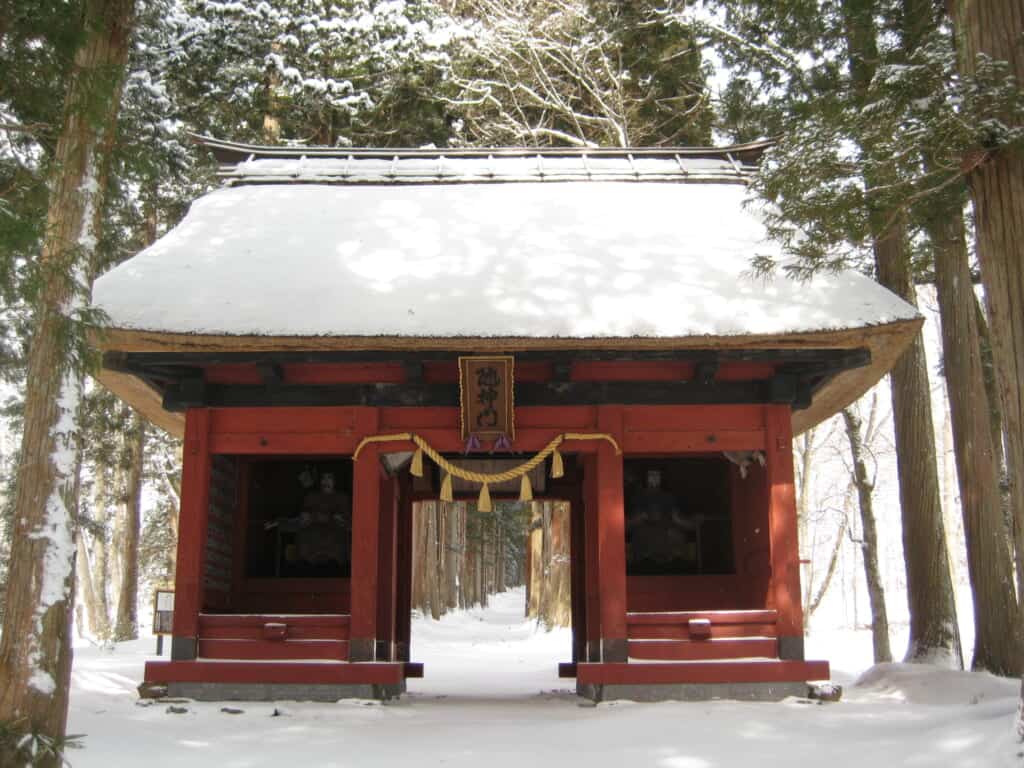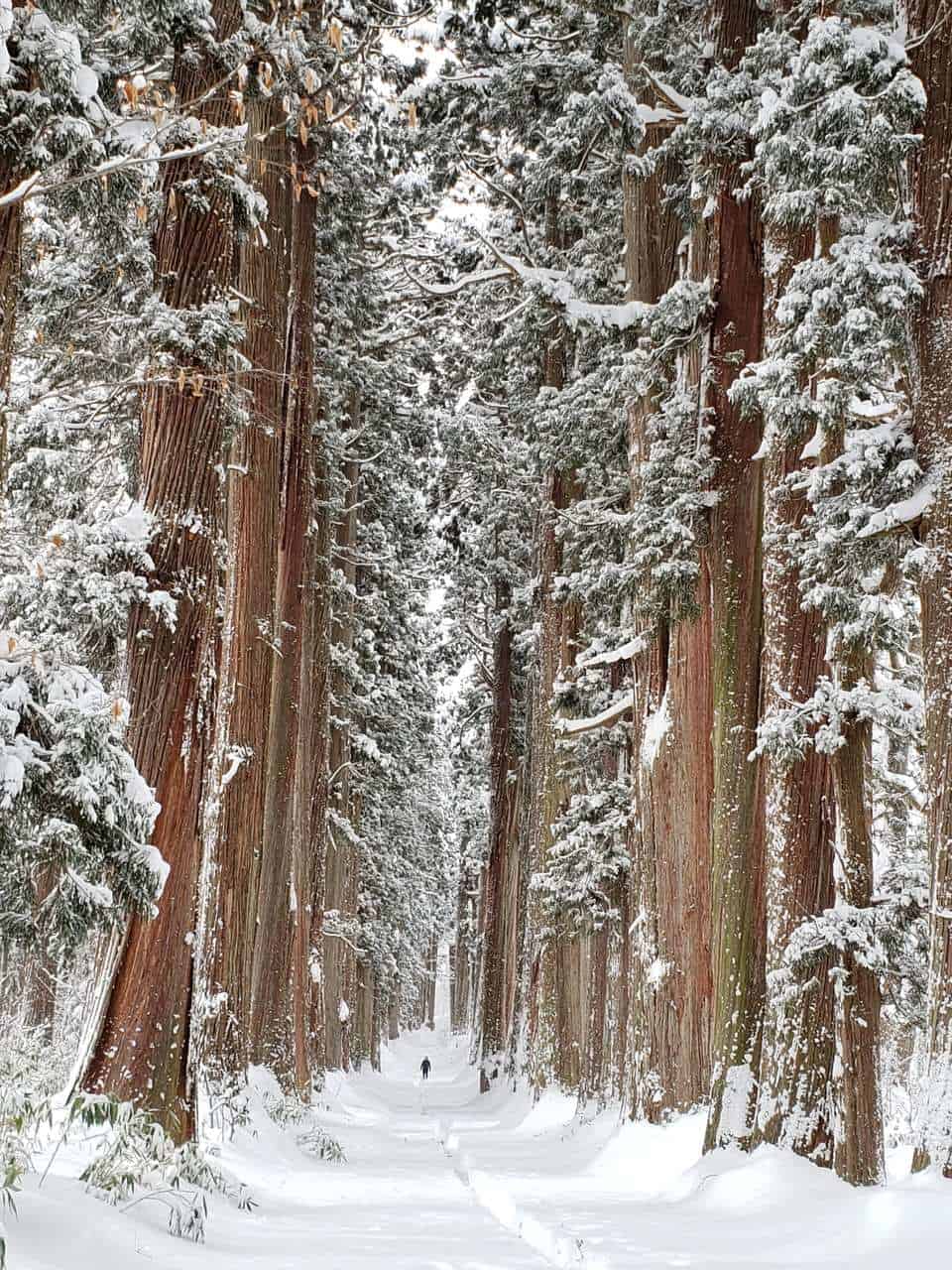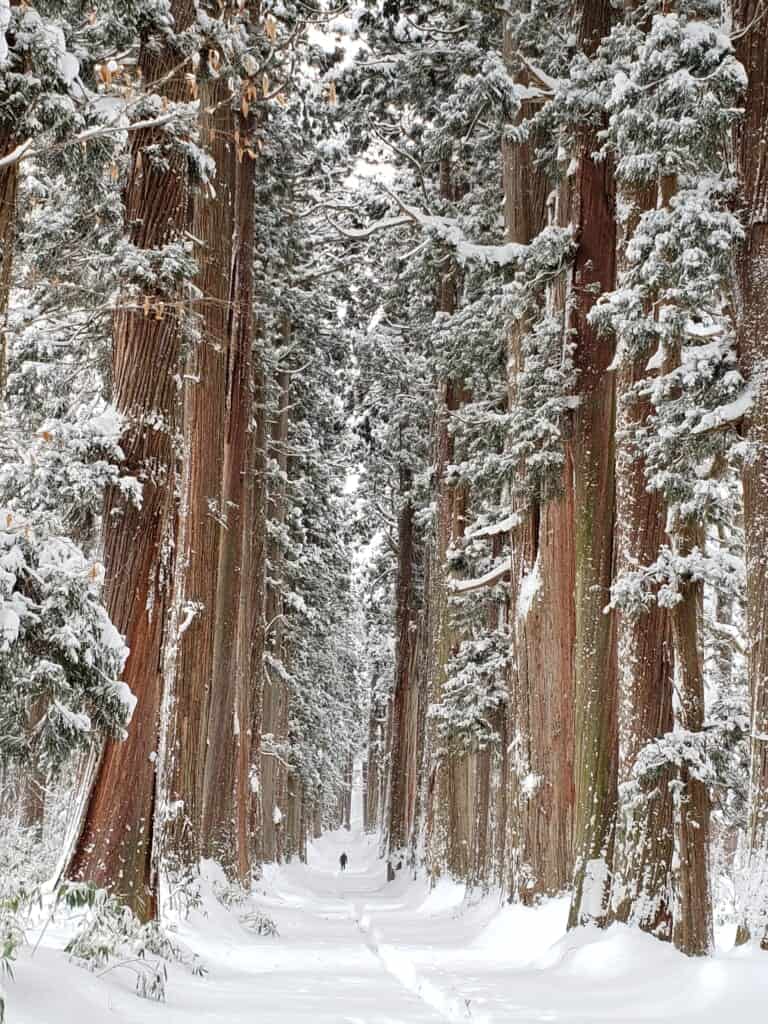 The complex comprises a total of 5 shrines, which are divided into the lower, middle and upper shrine areas. For the past 2,000 years, the upper shrine has been a pilgrimage site. As it is often covered in thick snow during the winter months, the most devoted visitors come equipped with snowshoes. The paths are lined with more than 300 Japanese cedar trees, some as ancient as 800 years old. Approaching the entrance to each shrine, you can feel the power of nature and become engrossed in the sounds and smells of the forest around you. The shrines are approximately 2 kilometers apart, and the entire trail to the upper shrine takes around 2.5 hours to complete.
In the middle shrine area, the information center provides a visitor's map of the complex. Kagamiike Pond affords stunning views of Mount Togakushi, reflected onto the water on a clear day, and Kamitsuge Onsen is the perfect place to relax in the hot spring waters after a vigorous hike.
The entrance to the shrine is about a 1-hour bus ride from Nagano. From JR Nagano station, take Alpico bus 70 or 71 from platform 7 to Togakushi (around ¥1,500). Different stops correspond to the various shrine areas. To start from the lower shrine area, get off at Togakushi-Hokosha (戸隠宝光社).
Sample Nagano Sake and Specialties at Shinshu Nagaya Sakaba
As night falls in Nagano, why not find a cozy izakaya (居酒屋) to sample some fresh delicacies and interact with locals?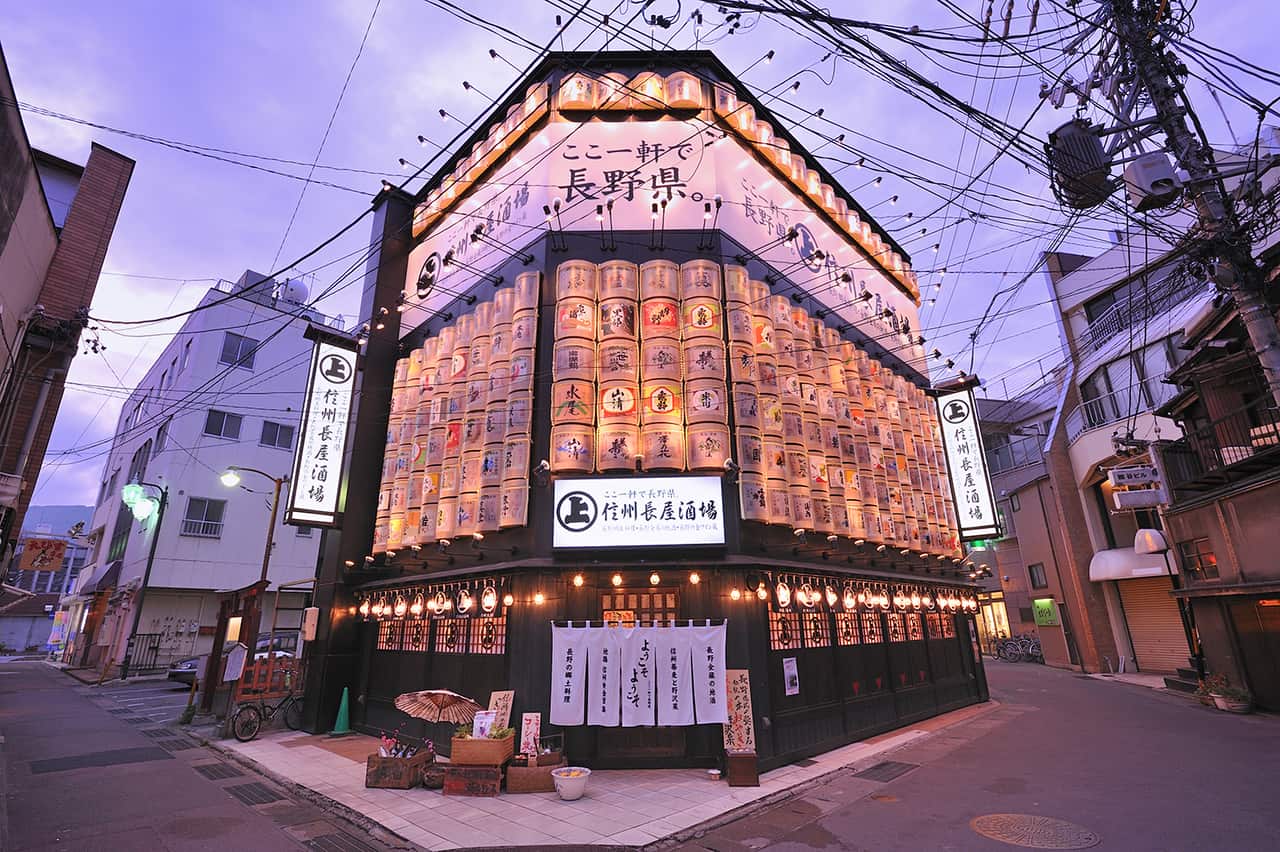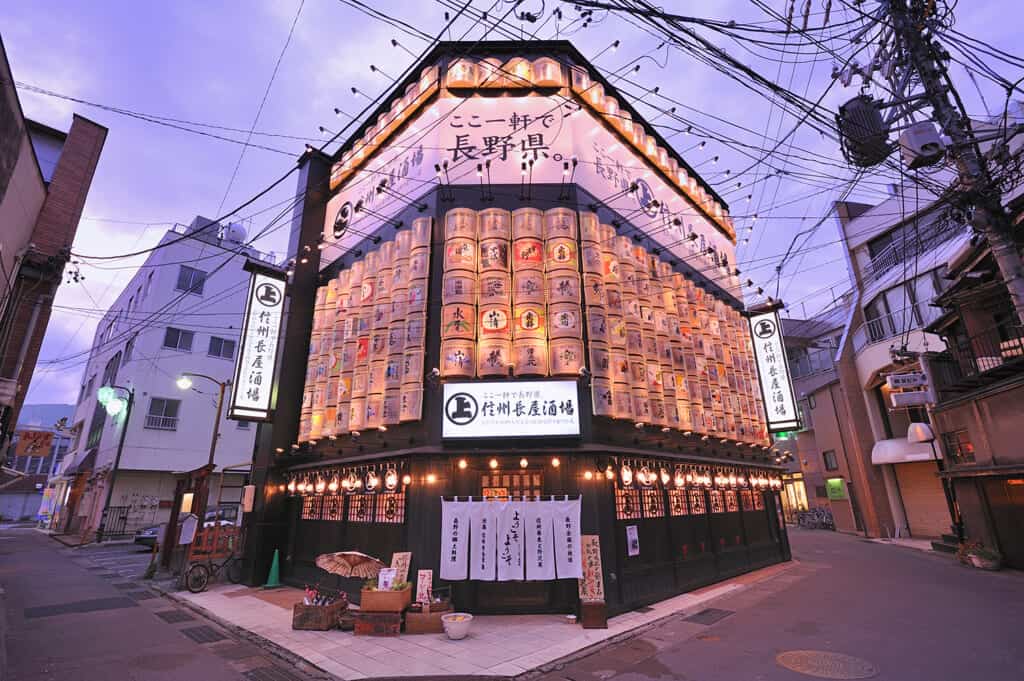 Just a short walk from JR Nagano Station, Shinshu Nagaya Sakaba (信州長屋酒場) will no doubt satisfy your craving for regional sake and Japanese food. The outside is adorned with walls of illuminated sake barrels, above the entrance to a dark wooden interior. Inside, they offer an English menu, and you can choose between taking a seat at the counter, in the open-plan dining room with tatami flooring, or even in a private room.
In izakaya, people usually order several smaller dishes so that they can sample different types of food. One recommendation is oyaki, a kind of fried dumpling made from buckwheat or wheat flour, filled with a sweet or savory filling. Local nozawana-zuke (a type of Japanese leafed vegetable) can be enjoyed pickled and served in individual dishes to separate their distinct flavours. Thin cuts of marbled deer sashimi (shika-zashi in Japanese) melt in your mouth, even if you are not accustomed to eating raw meat. Soba noodles, popular throughout Japan thanks partly to their excellent health benefits, can be enjoyed both hot and cold and form the ideal accompaniment to a meal in an izakaya.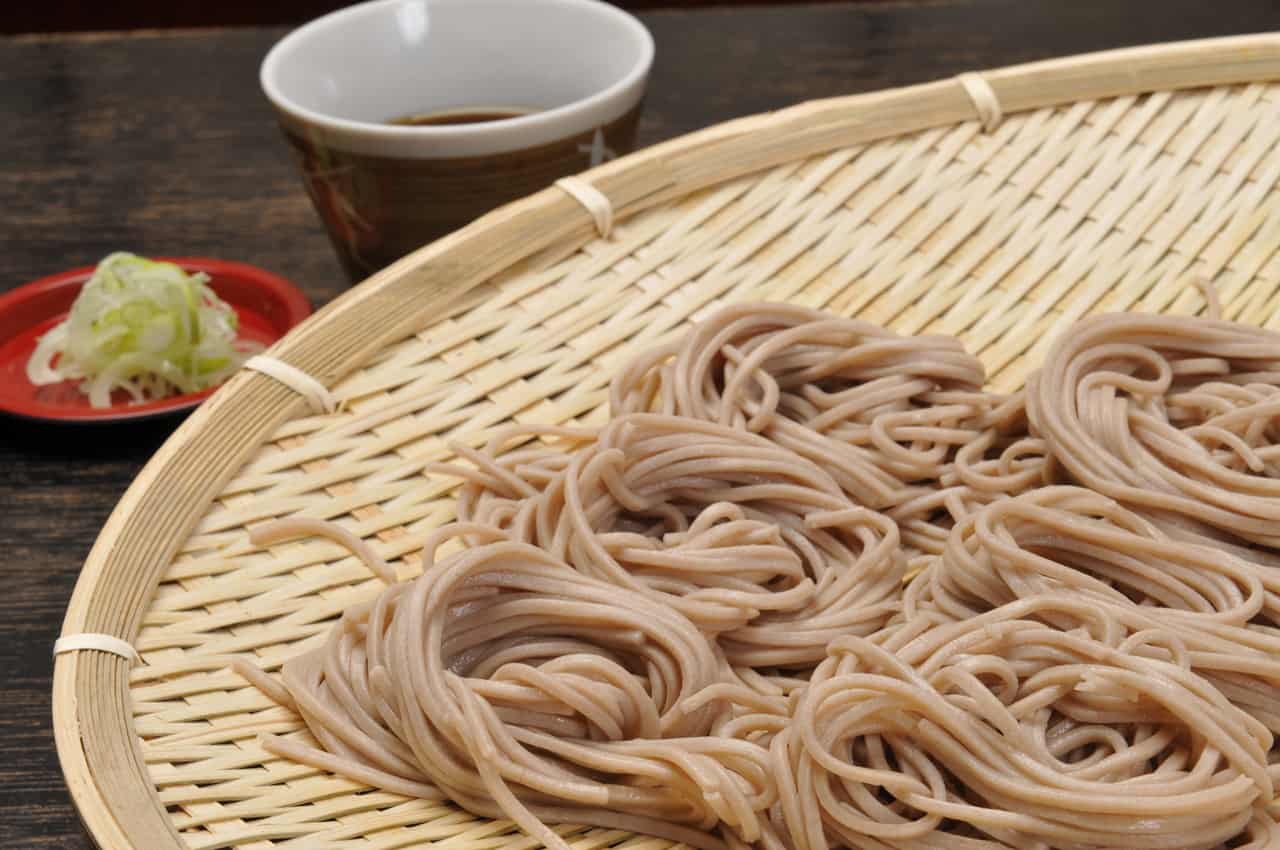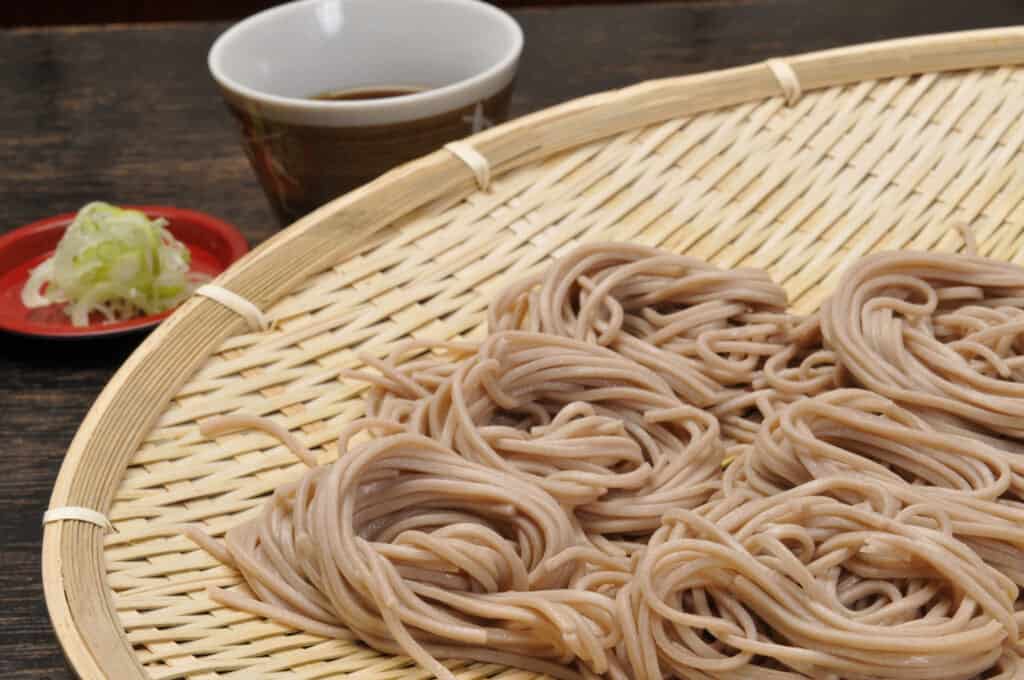 Nagano Prefecture has a staggering number of independent sake breweries, and Shinshu Nagaya Sakaba stocks 72 different types of sake for guests to enjoy. It costs around ¥790 for a small carafe, so feel free to sample several different ones before deciding which you prefer!
Nagano is the perfect base for a skiing trip and the ideal spot to both hit the slopes and explore the region's fascinating heritage. Here, appreciation of nature is clear to see and reflected in everything from shrines nestled among ancient forests to mouth-watering local cuisine. Nagano leads the trend and will leave you wanting to visit time and time again.
Sponsored by Hokuriku-Shin'etsu District Transport Bureau, Nagano City & Kanazawa City.