Sponsored by Higashisonogi Town.
As you drive along the narrow countryside roads of Higashisonogi, among the terraced tea fields with the great blue sea visible in the distance, you cannot help but fall in love with this place. The breathtaking landscapes and delicious local green tea are important elements of this feeling but there is still a touch of magic to the mix: the local people who welcome you with open arms. Curious to try a homestay experience in the Japanese countryside? Well Higashisonogi might just be the place for you…
Green Tea Homestay, a local green tourism initiative
Close to the large cities of Nagasaki and Fukuoka, Higashisonogi isn't just any countryside town. It is actually the largest producer of green tea in Nagasaki Prefecture, a region known for growing tea for more than 500 years. A region where expertise in growing and producing tea has been passed down from one generation to the next for centuries. But recently, a few locals decided it was time to share this valuable knowledge with the rest of the country and the world!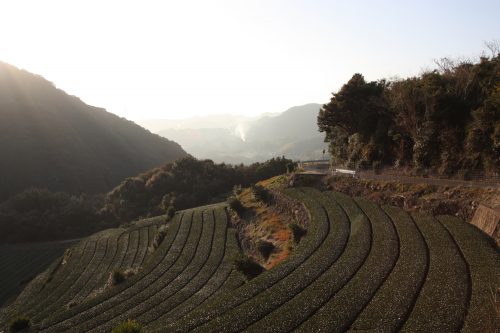 In 2015, the Higashisonogi Green Tea Tourism Association was founded to connect the local rural communities to urban travelers who are curious to learn more about green tea. From picking tea leaves to learning how to prepare the best green tea, the association's initiatives to promote green tea tourism are varied and exciting. But likely the most memorable of them all is the possibility to spend the night at a local farmers' house.
Since January 2016, three families open their doors to visitors who want to spend the night with them and discover the daily life of a tea farmer: the Nakayamas, the Oyamas and the Obas. All three families have beautiful traditional Japanese homes nestled among tea plantations, with a futon ready for you.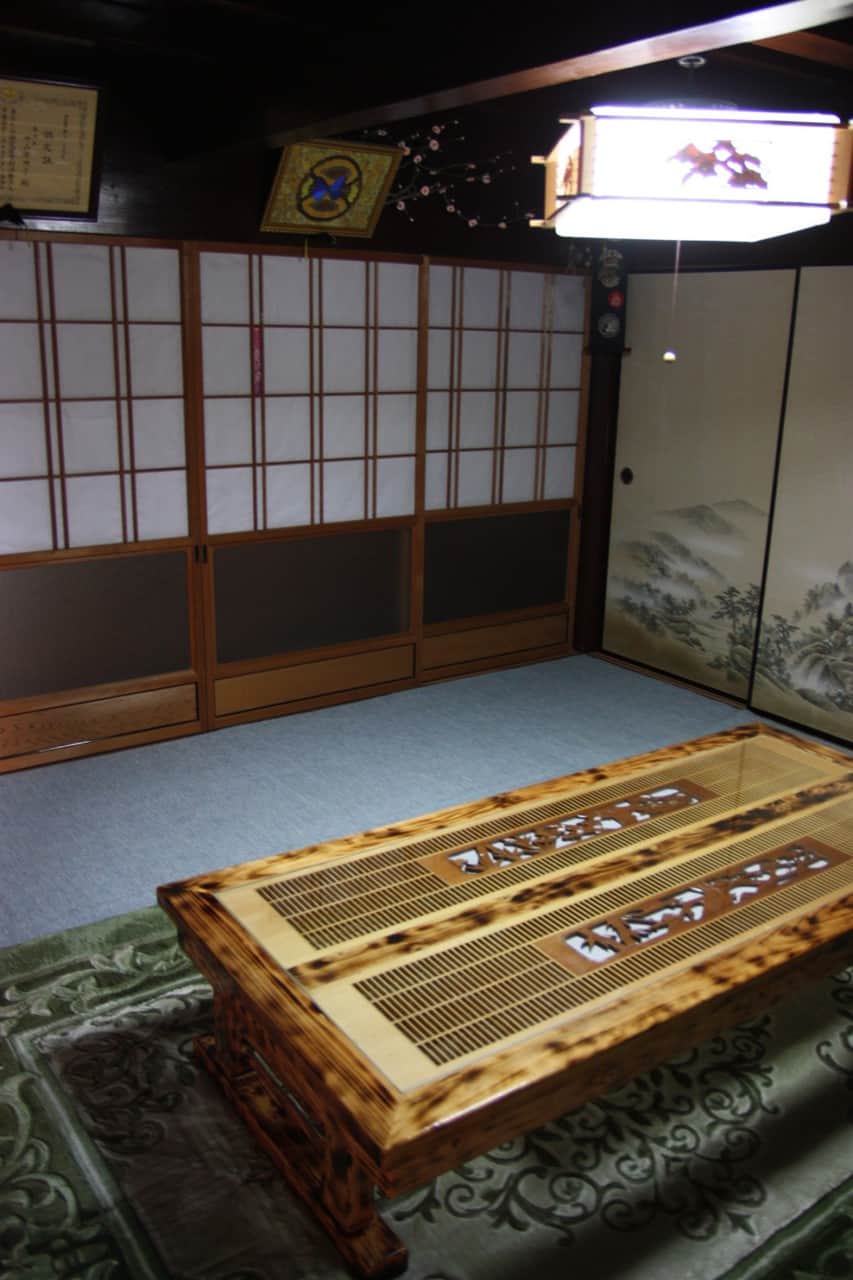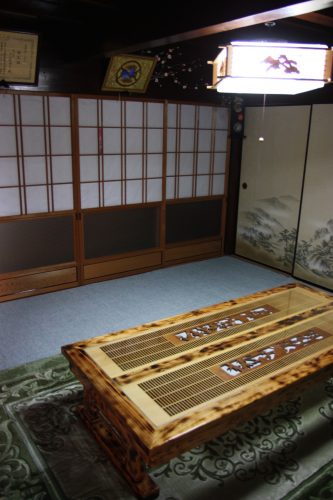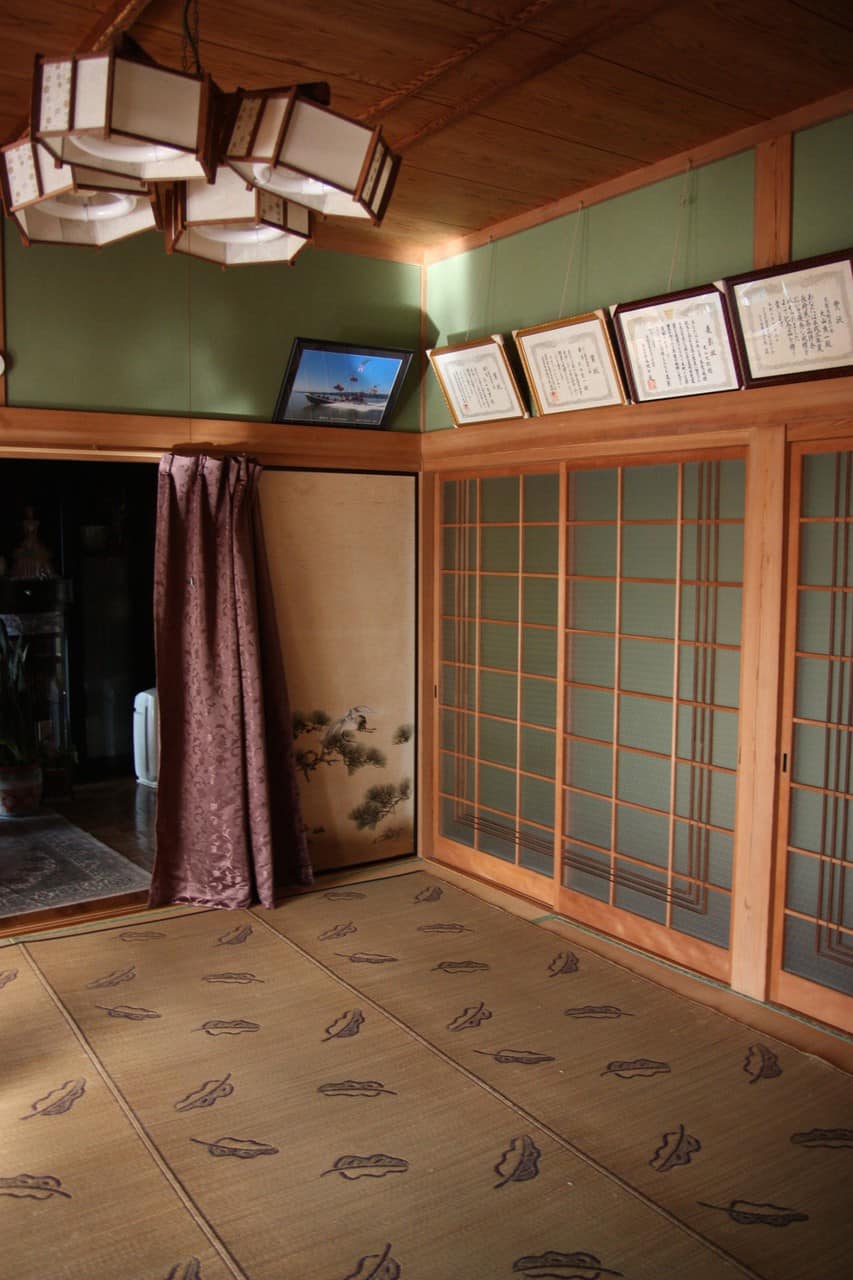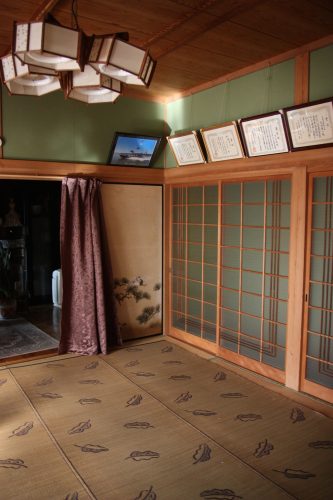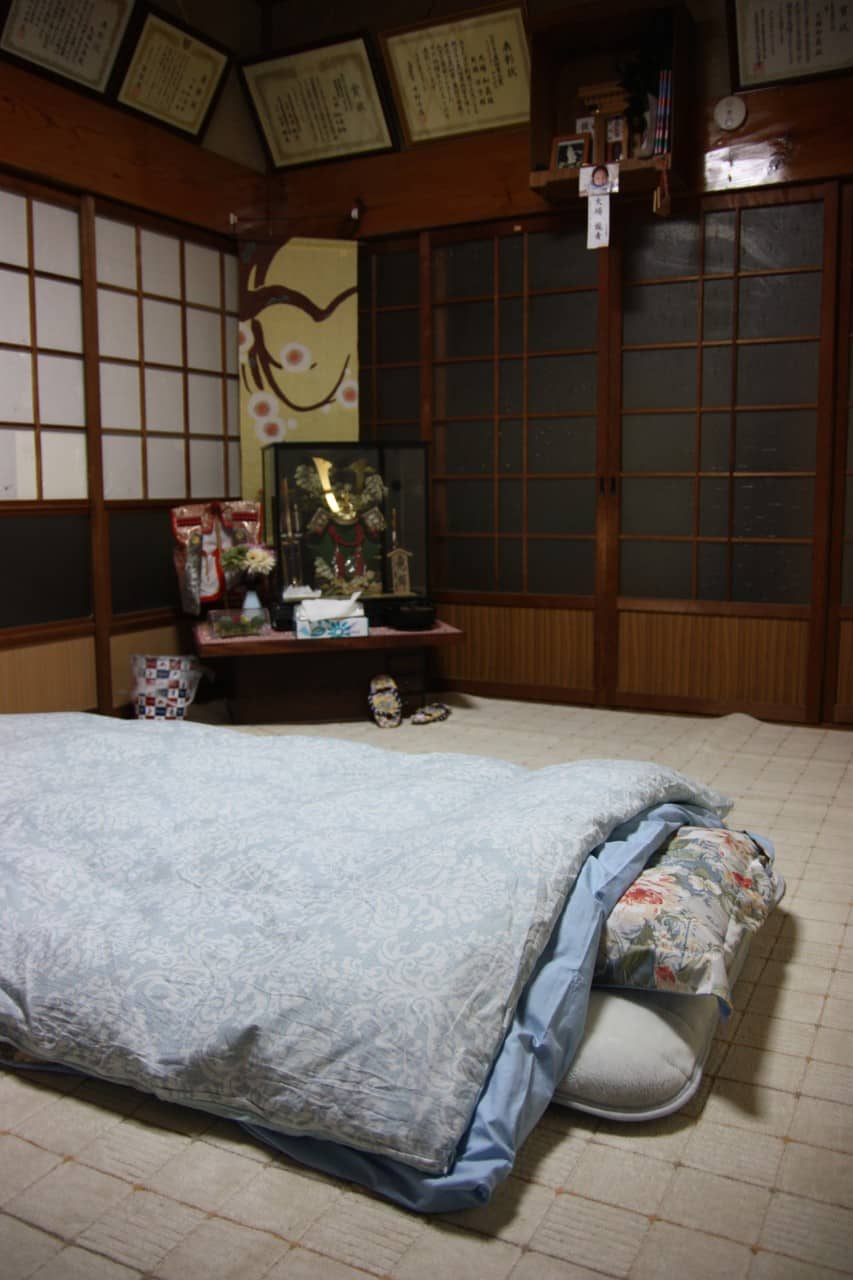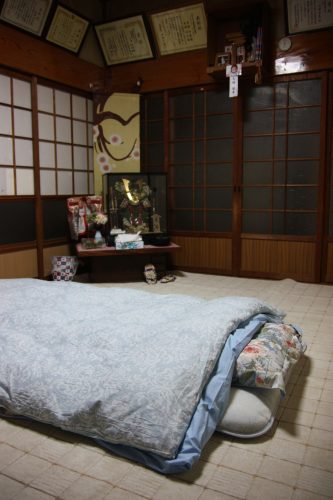 Staying at the Oba's
Although I met all three families, I got to spend the night at Kazuyoshi and Yoko Oba's house. Arriving just as the sun was setting on their beautiful home and vegetable garden, I was welcomed with a smile and, of course, a cup of delicious green tea.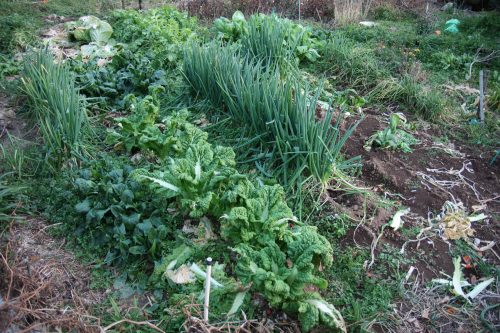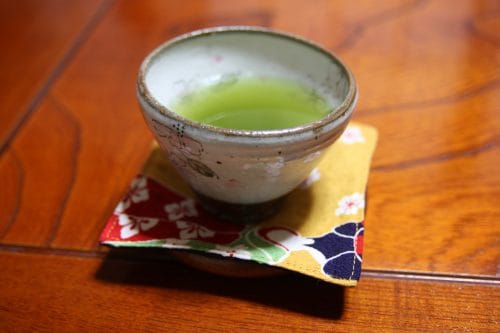 Even though Kazuyoshi was just coming home from a long day of work, he took the time to sit down with me and have a chat, while his wife Yoko was preparing the tea. He quickly shared with me the Wifi password so we could both use our translation app to better communicate.
A few minutes later, I heard the sound of tiny feet walking around the room, followed soon after by a giggle or two. Kazuyoshi told me that four generations of his family were living in this house and that I had just heard his granddaughters (the cutest little girls)!
As I was given a tour of the house (or at least of the rooms I would need to use), I discovered a beautiful traditional home, with sliding shoji doors covered in rice paper, and noren (Japanese curtains) with cute patterns to separate the different spaces of the house.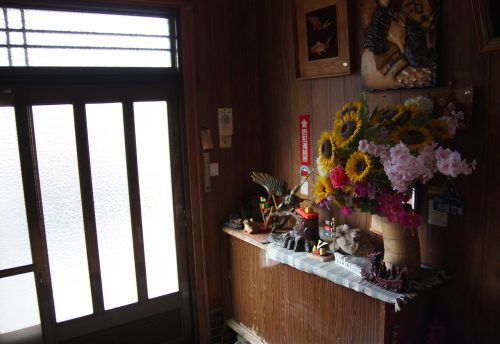 I was given a pair of slippers to walk around and a bit of time to rest before dinner.
Before I was called to dinner, the delicious smells coming from the kitchen had already reached my room. As I sat down with Kazuyoshi, Yoko, their son Shingo, his wife Akiko and their two daughters, ready to share a wonderful homemade meal, I didn't feel like a tourist at all but truly like a guest of the family.
Yoko had prepared a multitude of delicious meals for us to share: tempura of veggies from the garden, omelet sushi, karaage (fried chicken), white miso soup…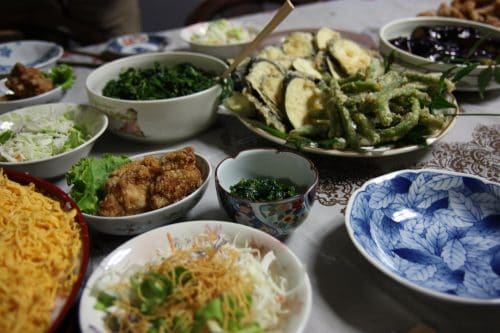 And of course plenty of tea to slowly sip while enjoying a nice conversation. Although tea was the main topic of discussion, I also learned that Shingo was growing tomatoes and planning on making tomato wine in the near future. You can actually visit his plantations and pick some tomatoes with him during your stay (or even if you are not staying with the Oba's).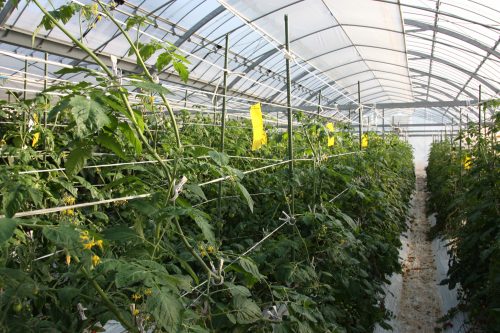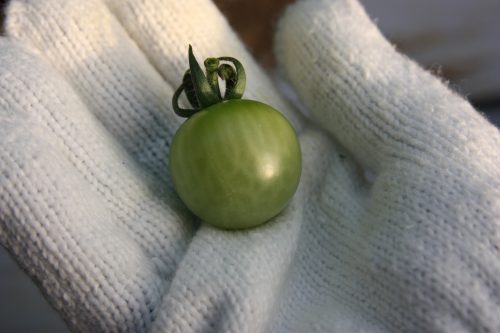 After helping Yoko to make my bed, I slid under the blanket and drifted off to sleep with a full belly and heart. Just like in my own family, I heard the household getting ready for the night: the television in the distance, doors being opened and closed, lights being turned off one by one.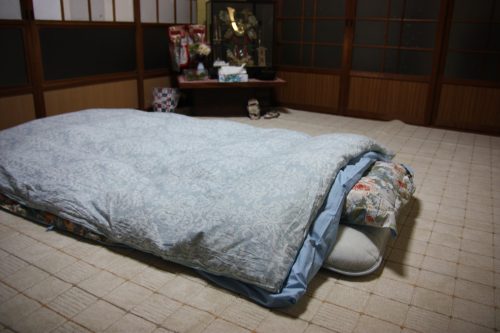 After a good night sleep, I would wake up to another one of Yoko's tasty homemade meal: tamago (Japanese omelet), rice, vegetables, fish… and a cup of green tea!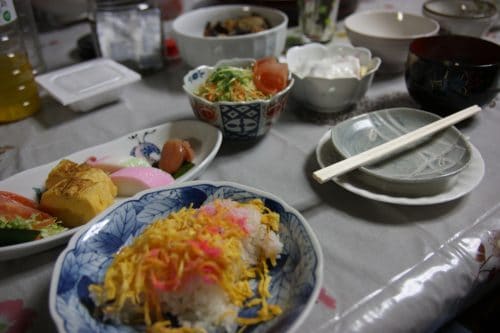 That morning I also got to meet the grandparents, who were finishing their breakfast as the kids were waking up.
A full house, filled with family stories and cups of green tea that I was very lucky to be a part of even just for one night. When it came time for me to be on my way and wave goodbye to this lovely family, I already knew I wanted to come back one day…
Practical information
To get more information on homestays in Higashisonogi and booking inquiries, please check the following website. One night is 7,500 yen per person, including dinner and breakfast.
If you are also interested in picking tomatoes at Shingo Oba's plantation, feel free to make a reservation through the same website.
Higashisonogi might feel like deep rural Japan and yet it is very easily accessible. It will only take 2h30 by train or 1h30 by car to get there from Fukuoka, 30min by train or 1h by car from Sasebo, and 1h by train or 40min by car from Nagasaki. With Nagasaki airport being only 20min away by car, you can easily travel there with a domestic flight (frequent direct flights from Tokyo in just 1h30). Please note however that you will need a rental car to get around the area and explore it fully (available at Nagasaki airport for example).