Sponsored by Nakanojo tourism association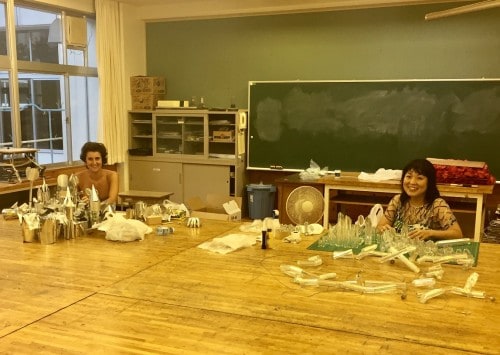 Margherita Marchioni (Left) with Kazue Taguchi (Right)
Starting on September 9th, the town of Nakanojo, Gunma will begin their 6th Biennale. This art festival, which is held in the rural Gunma town every other year, combines eager young artists and fascinating locales to produce art that is utterly unique.  As each event has gotten a better and better reception, Nakanojo has gotten a reputation as an "arty" sort of place. The town is giving their all to try and make this next Biennale the best one yet.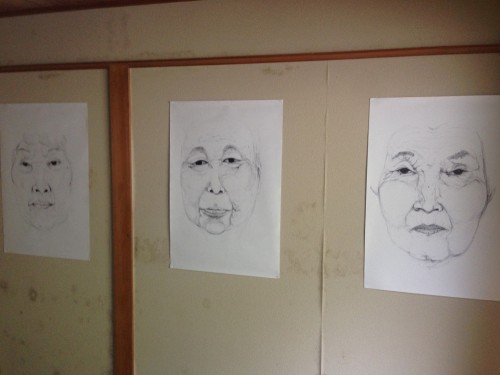 This year, there will be approximately 160 artists from all over the world coming to show their craft in Nakanojo. The artists have chosen from one of five general locations spread out among over 400 km that make up the area. In many cases these gallery locations are a crucial point of the art itself; for they are a part of the history of the town: old hotels, factories, and schools. Visiting these areas is like a trip through time, and the way that they are repurposed is absolutely amazing to behold. Let me give you a preview of what the upcoming Nakanojo Biennale has to offer.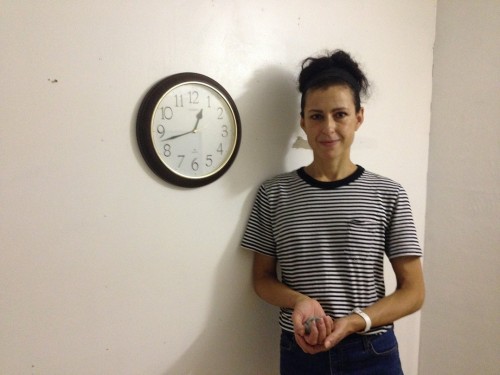 Dominique Baron-Bonarjee
Art and Onsen
By far one of the most vibrant areas of Nakanojo is its hot springs town along the Shima River. Besides its picturesque mountains and the vibrant blue waters, there are also many busy shops full of tourists. I visited the old Nakaya Ryokan Hotel but was unable to check in, since this ryokan is no longer in business. The guest rooms are now populated by faces drawn by accomplished visual and performance artist Dominque Baron Bonarjee, whose works have been shown in galleries in London, Berlin, and Tokyo. These faces are the residents of the town, some of whom live on this very street. They are the muses of her newest piece, "Curves of the Hours," whose main concern is time. "Being in Shima, you get the feeling that there's no beginning and no end," she says. Even the speed at which people move out here, literally and figuratively, is different than a fast-paced city like Tokyo. Baron-Bonarjee shows me a clock she was given hanging on the wall. Since she has begun her work, the clock has repeatedly gone out of time.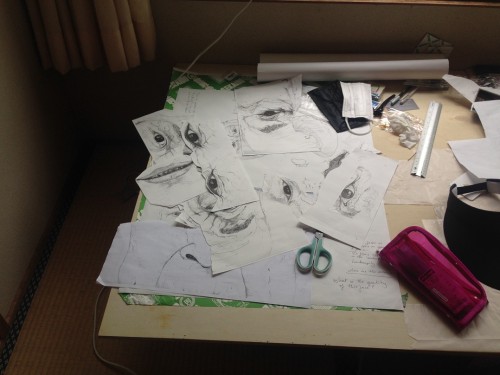 Another source of inspiration is her own workspace, an old guest room with a tatami floor that offers with a great view of the Shima River. "I felt a presence in this building as soon as I got here," she says. Though old, it is still beautiful in a timeless sort of way. "In my work," she explains, "you must work with the space." In addition to this space, Baron-Bonarjee will be performing opening weekend at the Hirozakari Sake Brewery in downtown Nakanojo, do check it out!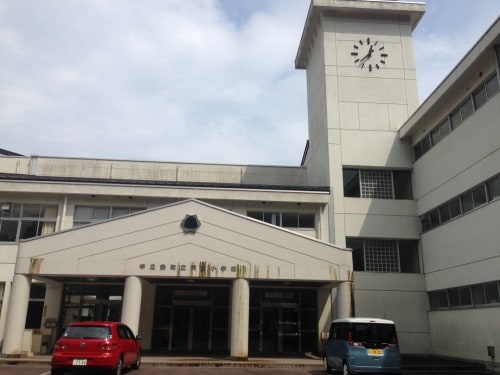 Sawada Elementary School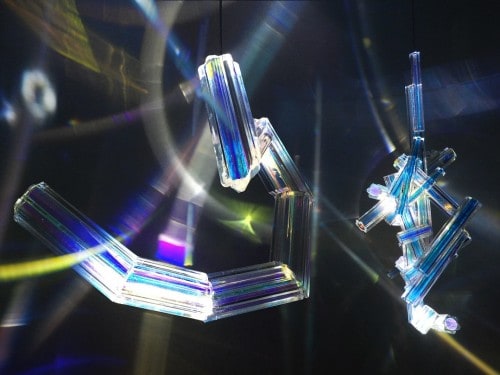 Art Class is Back in Session!
Later on, I visited Sawada Elementary School in the Sawatari district. The school, which closed in 2014, is now a haven for multiple artists. In the old art room is Kazue Taguchi, an artist from Ibaraki, who specializes in glass sculpture. "It feels like class could start up again tomorrow," Taguchi says, looking around the room. It is a great workspace, much larger than the New York studios she's used to. Here, there are many pieces of glass spread out along a long work table. One by one, she is installing them, as well as the appropriate lighting. Since being inspired at a young age by light shining through the glass windows of Notre Dame Cathedral, Taguchi has sought to replicate this aesthetic in her own work. She also relishes the chance to be in a town like Nakanojo. "This is my first time living in a place where I can go to an onsen every day," she says, showing me pictures of herself and other artists on outings, enjoying the scenery and picking fresh vegetables.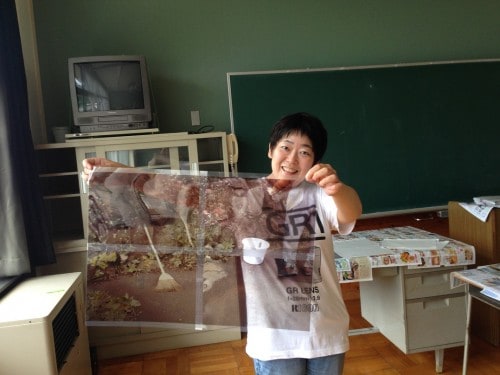 Naho Hanawa
Nakanojo definitely has a certain aura conducive to artistic works. In an abandoned homeroom class, photographer Naho Hanawa is taking interval photos of the area outside the school. There isn't anything really interesting going on in this quiet, remote schoolyard, but that's kind of the point. Hanawa's photographs don't seek to capture anything especially flashy or full of action, rather, she is looking for something deeper. Many of Hanawa's photographs portray subconscious memories. In this sense, it seems like she's picked the perfect place. "A school is a place everyone has been to," she says. For her, Nakanojo is not unlike her own hometown. Upon taking the pictures, Hanawa puts them together, in a way that makes the now 3D collages into tangible memory. In this way, she is re-creating a pleasant nostalgia, invoking memories that may not easily come to mind. This is true both for those who experienced school in Japan, and international travelers, who she hopes can find some parallels in their own memories and experiences. Other artists specializing in the abstract have also sought this location, such as Tomoko Watanabe. Her wooden sculptures focus on color in a dynamic landscape, and driving through the rural mountain scenery around the school provides the inspirations for her often abstract art. Watanabe is a veteran of Biennale, as this is her 3rd time joining the event, and she remarked enthusiastically on how it has grown each year.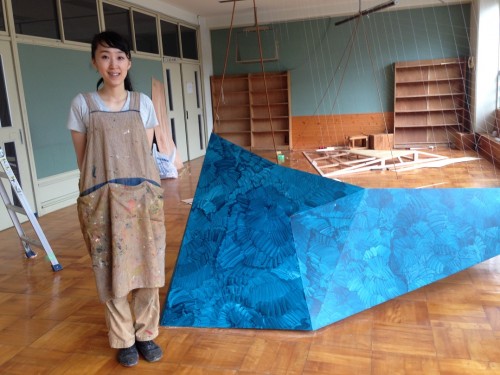 Tomoko Watanabe
In another empty classroom artist Margherita Marchioni is sitting on the floor cutting cans. With these cans she's collected from Nakanojo residents, she is building an entire aluminum city. As opposed to the wide-openness of Nakanojo, this city shows the compacting of space. "It's a collective work, because garbage is a trace of people's lives." With the objects that people use in their lives, Marchioni is designing a living space, one that is somewhat chaotic, and can be understood in many ways. When she is not working feverishly on her own city, Marchioni has been sampling the best of Japanese rural cuisine; the artist has been thoroughly enjoying going to ramen shops, as well as cooking with freshly-picked Japanese herbs and spices.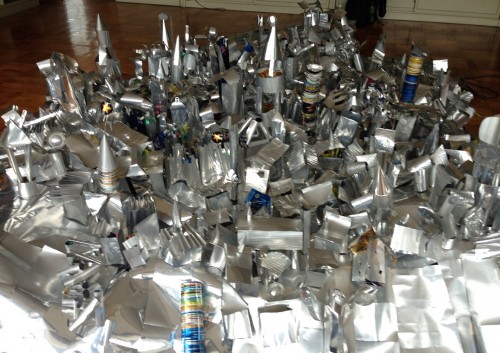 Join in on the Fun!
On September 9th, Biennale will begin, and continue on for one month. Artists will be holding exhibitions at 5 different areas around town: Shima, Kuni, Sawatari, Isemachi (downtown Nakanojo), and Isama. For a map of the galleries, check out the official site HERE.The town itself is about 3 hours from Tokyo, and can be conveniently reached by Shinkansen to Takasaki, or by a limited express train that you can take directly to Nakanojo. This is one time where this onsen town truly shines, so why not join in the fun? Stay tuned for more information about interesting things to do in Nakanojo.