Sponsored by Murakami City
Though Murakami is a small, somewhat remote city, the area becomes much busier in the summertime as a result of its proximity to the beach! Without needing a plane ticket to travel the distance to Okinawa, you can experience summer fun in a more intimate setting, without crowds and tourist traps.
Summer Fun in Murakami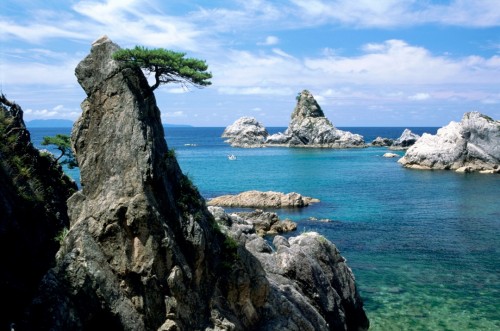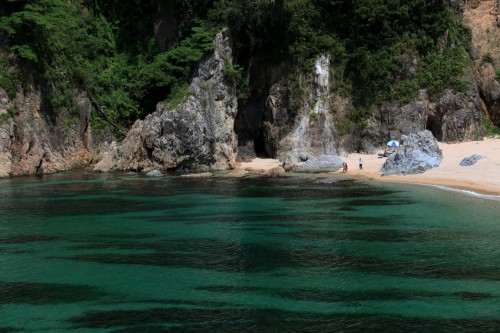 The "beach" of Murakami is not one specific area, but rather a sprawling line of smaller beaches along the coast, with beautiful caves, mountains, and rock formations on all sides, not to mention, the sea. The water itself is beautiful and clear. There isn't much in the way of "beach activities," prepared for you, however, so it's important to bring these things when you travel. Luckily, fishing goods stores are plentiful, and boat rentals and cruises are also available in certain locations. Unfortunately for me, a recent typhoon meant intermittent rain throughout much of my beach expedition, but I attempted to make the best of it. It was worthwhile, in the end, to see a different part of Japan I had never been much exposed to.
From downtown Murakami, take a twenty minute ride to Kuwagawa station for convenient access to many of the beaches. Across from the station is a handy map showing where the beaches are, but for those who don't know Japanese, just follow the water! Starting from Kuwagawa beach, you can choose from a variety of smaller beaches in the general area. These beaches are known for having a great view of Awashima Island, easily accessible by ferry from nearby Iwafune. It is an interesting tourist spot with a long history. Others come to fish, and families frequent the barbecue facilities. Unfortunately, I learned about this not from enjoying some BBQ on the beach, but from some of the leftover trash. As a general rule, be sure to take back anything you bring along. Showers and bathrooms are available nearby, as well as restaurants, cafes and guest houses.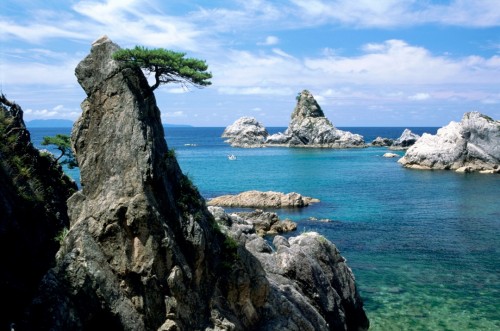 Following the path through Kuwagawa beach, you will soon come to Sasagawa beach. This 200 meter long beach is much rockier, with its trademark "Meganewa rocks" that are in the shape of eyeglasses. There is a conveniently located observatory for you to view these magnificent rocks at your leisure. Even with the typhoon, people couldn't wait to get back into the water; as soon as the skies cleared the families returned to play in the sea. The beach is, as I mentioned, accessible by train, but for those who don't want to wait for the infrequent "oneman cars," there were a few parking lots in the area, all with good beach access. If you end up missing your train, please go to the Michi no Eki service station by Kuwagawa station. It is three floors, and a convenient place to get a bite to eat, or buy toys and local gifts. There is also a tourist information center so you can plan your next destination as you wait.
Want to Get Away?
The last, and best of the beaches was Goishi. Located right nearby my hotel in Sanpoku (which I discussed earlier), Goishi felt like it was the largest, due to the remoteness of the area; it almost felt like a private beach. Goishi is named as such because the smooth stones on the beach look like the stones used in the board game called "Igo." I could see for myself these precious smooth stones and little else, this beach was thankfully very clean. The waves had gotten stronger after another night of typhoon level wind and rain, and the resulting calm was absolutely beautiful to behold. There seemed to be a few shacks nearby that may have had some snacks when open, but more than any other place I've described, you really do need to bring your own entertainment here. For me, that was simply to relax, watch the clean water and the gulls overhead, while sipping on a canned coffee and eating some chocolate. Turn your phone off, take out your earbuds, and enjoy the seaside!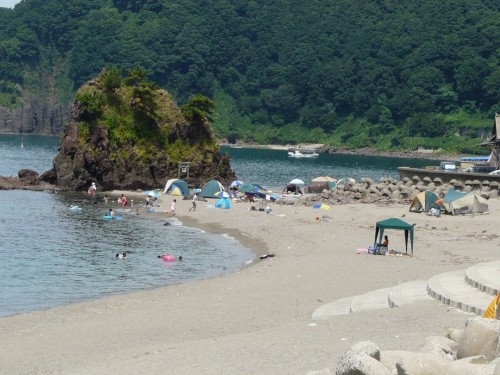 One more note for travelers trying to go straight to the beach: many of the smaller stations on the Uetsu line around Murakami are unmanned, meaning that if you touched your IC card (ie: Suica or PASMO) at Niigata station, you may have no way to "check out." You can solve this problem by speaking to a conductor on the train, to either use your IC card or to buy a paper ticket. When coming from one of these small stations, please use a vending machine to buy a paper ticket beforehand. It may be helpful to look up the kanji characters of where you want to go, since everything will probably be written in Japanese. Good luck, and enjoy the beach!