As the world begins its slow return to relative normalcy, you may be one of many ready to scratch that irrepressible itch to travel. Still, the situation requires some caution, including finding destinations with opportunities to travel safely: spacious accommodations, outdoor activities, and great weather to enjoy them both. Hamamatsu City sits between Tokyo and Kyoto along the Tokaido Shinkansen Line, 90 and 60 minutes from each, respectively, on the bullet train. Hamamatsu checks all of the boxes for travel in the post-COVID world and is the perfect getaway for couples and families ready to recharge after a long period of stress and worries.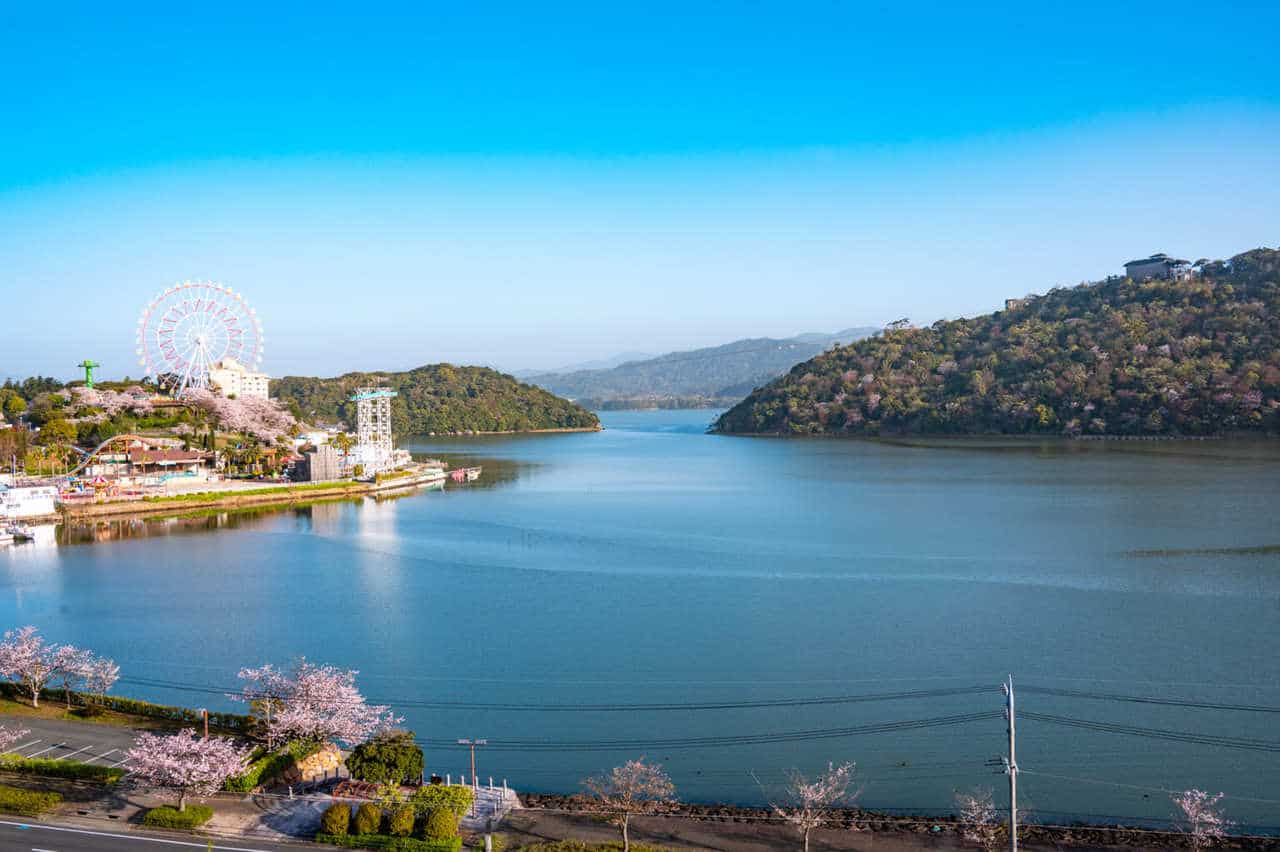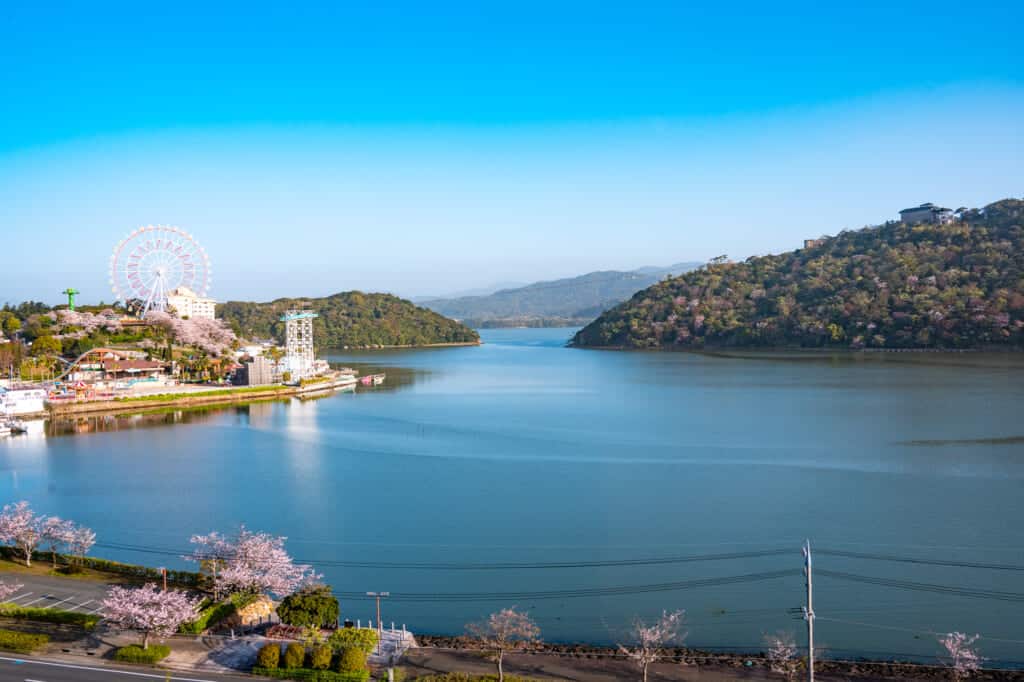 Spacious Luxury, Shizuoka Tea, and Traditional Japanese Cuisine at Hoshino Resorts KAI Enshu
Sitting on the eastern shore of Shizuoka Prefecture's Lake Hamana, Hoshino Resorts KAI Enshu was the perfect location for my family and me to call home base as we enjoyed exploring Hamamatsu City. We were welcomed warmly by two of KAI Enshu's staff members and given a tour of the premises. Shizuoka is famous as one of Japan's tea-producing regions, accounting for 40% of the national tea production. Tea is very much ingrained in the resort's theme, from the matcha green accents of the uniforms to the onsite tea garden where visitors can take a stroll or sit and relax. Shimpei Takeno, the resident Japanese tea instructor, led us in a short tea experience, explaining how to enjoy green tea and allowing us to sample a few of the varietals available at the resort. At the back of the communal travel library, a "tea cellar" is open with about a dozen types of sencha green tea, roasted tea, Japanese black tea, and other tea leaves from Shizuoka to sample (or take back to your room to brew). Those using the beautiful onsite onsen hot springs bath are encouraged to hydrate with three types of tea, one for pre-bath, in-bath, and post-bath, respectively.
Our room at KAI Enshu was a hybrid Japanese-Western style, with western beds and a large tatami mat floor where the staff laid out a thick, comfortable futon for our daughter to sleep. Sliding open the shoji screens over the windows, we were treated to a view of Lake Hamana with pink puffs of cherry blossoms exploding in the trees along its shores. While the room was equipped with a comfortable shower, it would be a shame to miss out on one of the features that make a luxury resort in Japan wonderful: the onsen baths. Four gender-segregated onsen are available at KAI Enshu, each with one indoor and one outdoor bath. Depending on whether it is morning or evening, the pairs are switched, so you have the opportunity to try them all. The Hana-no-yu indoor bath is steeped with tea leaves, giving the water the wonderful aroma of tea and providing extra nutrients to soften your skin.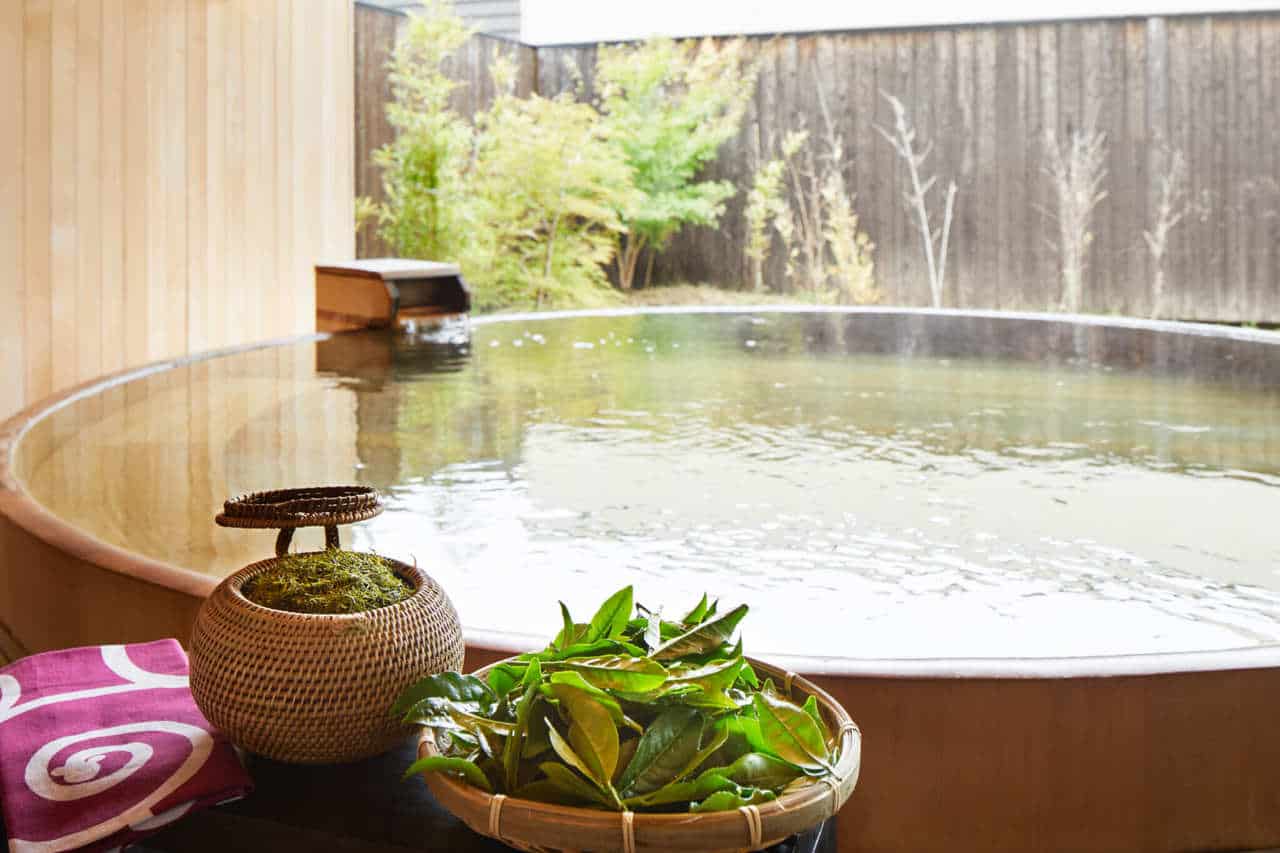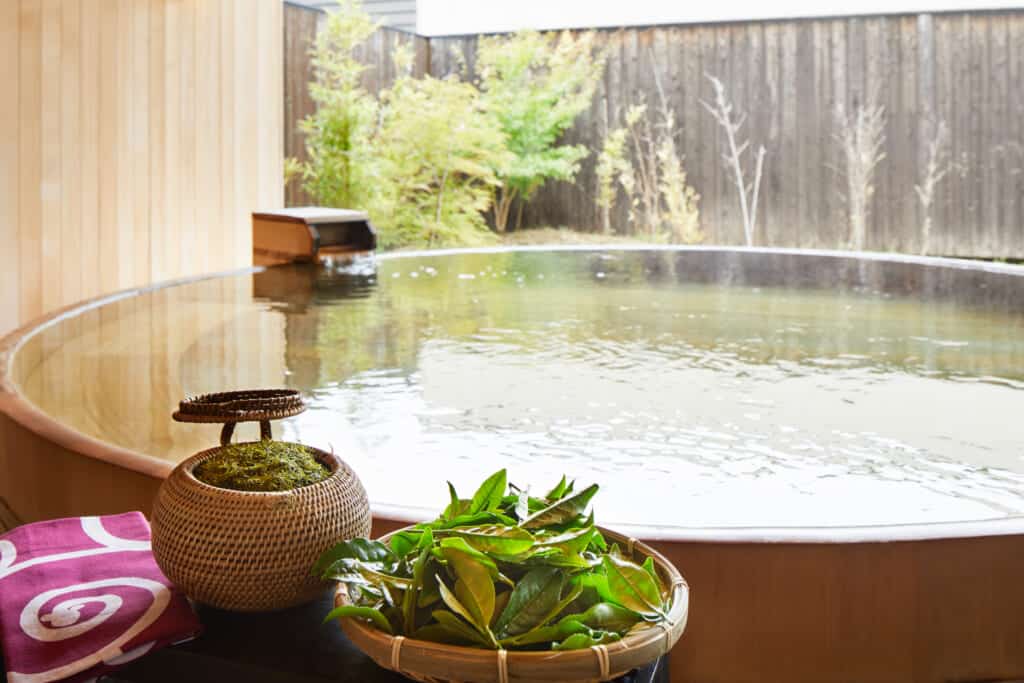 We enjoyed the special menu for dinner, which included specialties like unagi (freshwater eel) served in three different dishes, and fugu (blowfish) served both as sashimi and deep-fried. The presentation was impeccable, and each course was proceeded by a detailed description given by a patient staff member. They served my favorite dish near the end, a generous serving of grilled unagi over a bed of rice. By that time, I was much too full to enjoy it, so the staff graciously packed it up to take back to our room and eat it later.
Cycling Along the Shores of Lake Hamana
The next morning, after another beautifully prepared breakfast, we took a short trip to the local bicycle rental center along the shore of Lake Hamana. A cycling trail roughly following the lake's perimeter is about 67 kilometers long and takes an estimated six and a half hours to complete. However, plan to spend more time to enjoy breaks for taking photos and refreshing yourself at one of the many rest stops along the route. The route is almost entirely flat, so the basic mamachari-type bicycles you can rent from several public and private bicycle rental stations around the lake are adequate for a comfortable, if not speedy, ride around the lake.
We didn't have the time to dedicate to a complete circuit around the lake, so we chose to cycle to the Hamanako Garden Park and back. This sprawling public park is amazingly free to enter, and although we were a few days early for the official Spring opening, they had already prepared many of the park's gorgeous displays of flowers. Of particular interest was an area called the Flower Museum, which was built for the Hamanako Flower Expo held in 2004 and was designed to resemble the garden that Monet created in Giverny. The garden was overflowing with an assortment of flowers, with entire sections organized by complementary colors. Even as visitors admired the floral arrangements, the staff was hard at work adding to them.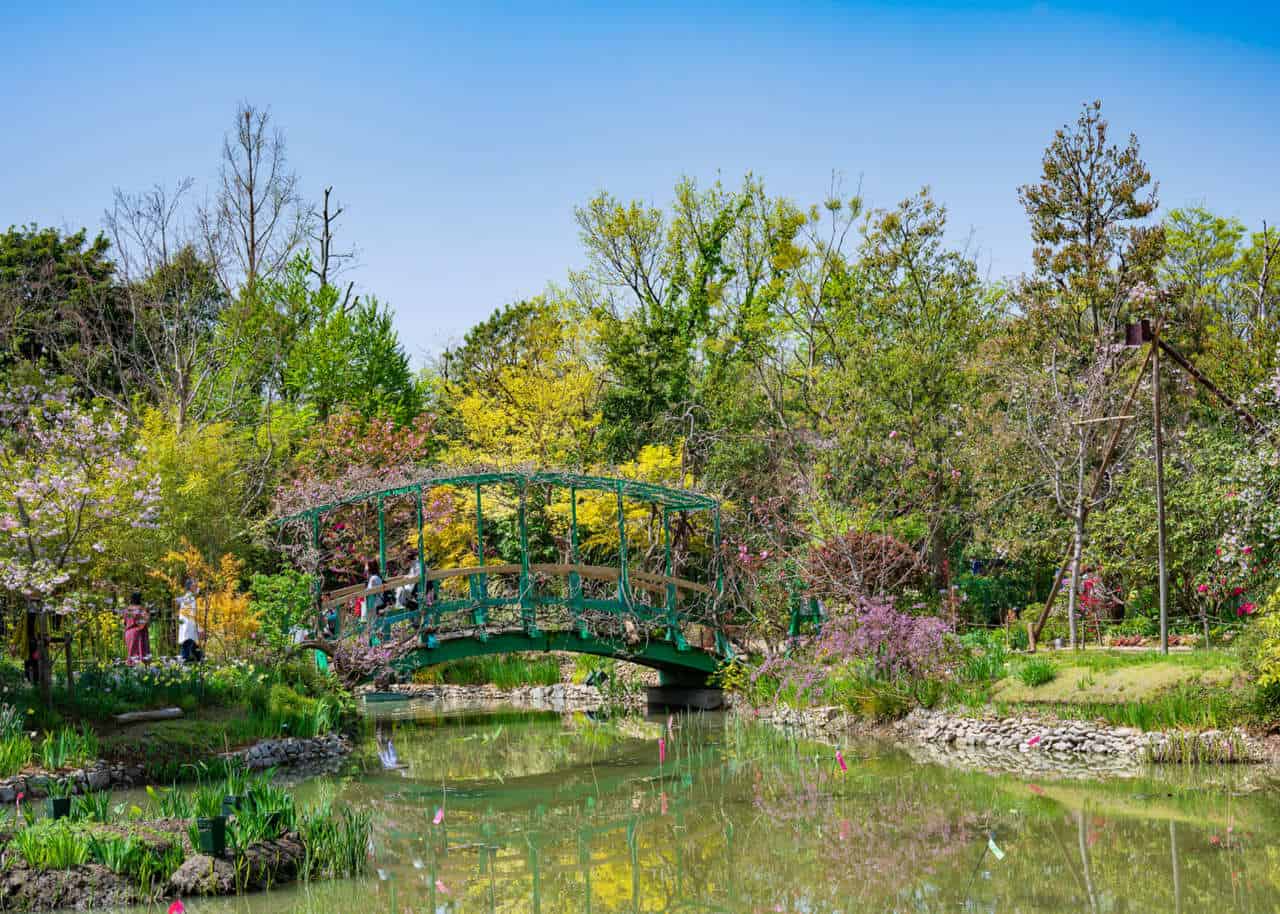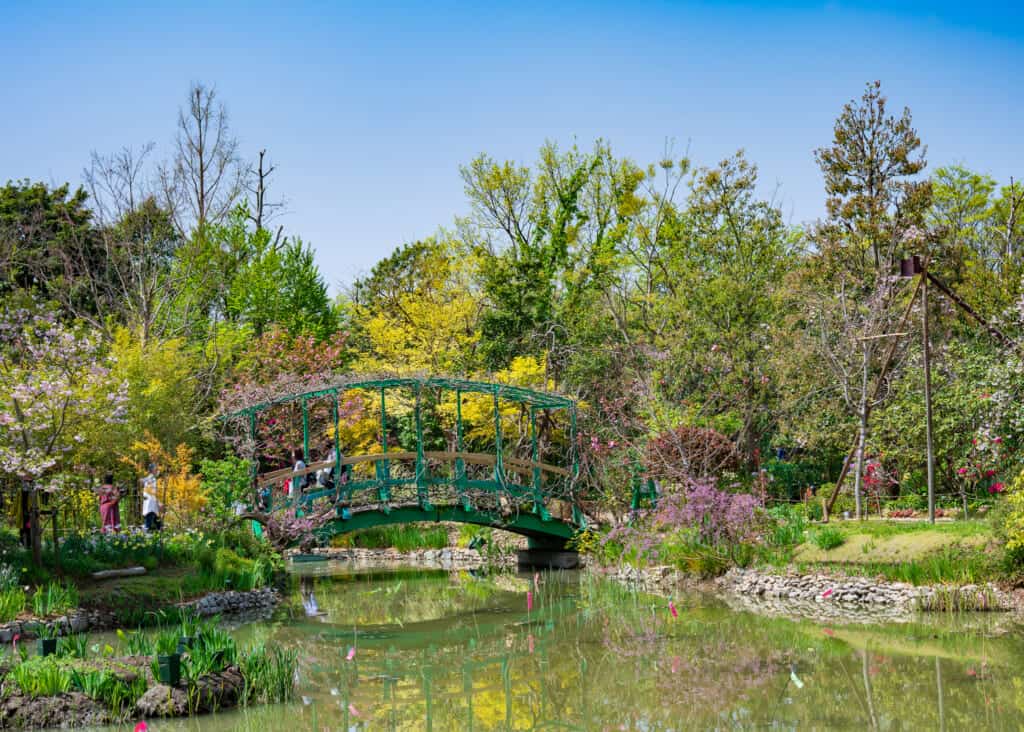 Stunning Colors of Hamamatsu Flower Park
Continuing the flower theme, we visited another beautiful garden park, Hamamatsu Flower Park, which is also along the lakeshore, walking distance from KAI Enshu. This massive park is served by adorable little trains that run along the paths if you tire of walking. My wife particularly enjoyed the colorful flower beds planted along the park's circular path, often stopping to take closeups of the gorgeous flora in full bloom.
The park is designed to be enjoyed year-round, with seasonal flowers on display through the appropriate seasons, from plum trees blossoming in February to the iconic cherry blossoms of March and April to lush curtains of purple wisteria in late Spring. Even in December, the park is made beautiful with seasonal Christmas displays and incredible illuminations.
We appreciated the park's spaciousness, a low-stress environment where we didn't need to worry about social distancing. With the cherry blossoms in full bloom in the background, we took our time appreciating the beauty and craftsmanship put into the park's design, and it turned out to be one of the highlights of our family trip.
Hamamatsu's Famous Unagi Restaurants
Lake Hamana has provided fresh water to farm unagi eel for over 100 years in Japan and remains one of the largest producers of unagi in Japan. It should be no surprise that Hamamatsu is home to many of the best unagi restaurants in Japan as there dozens of restaurants around the vicinity of the lake alone.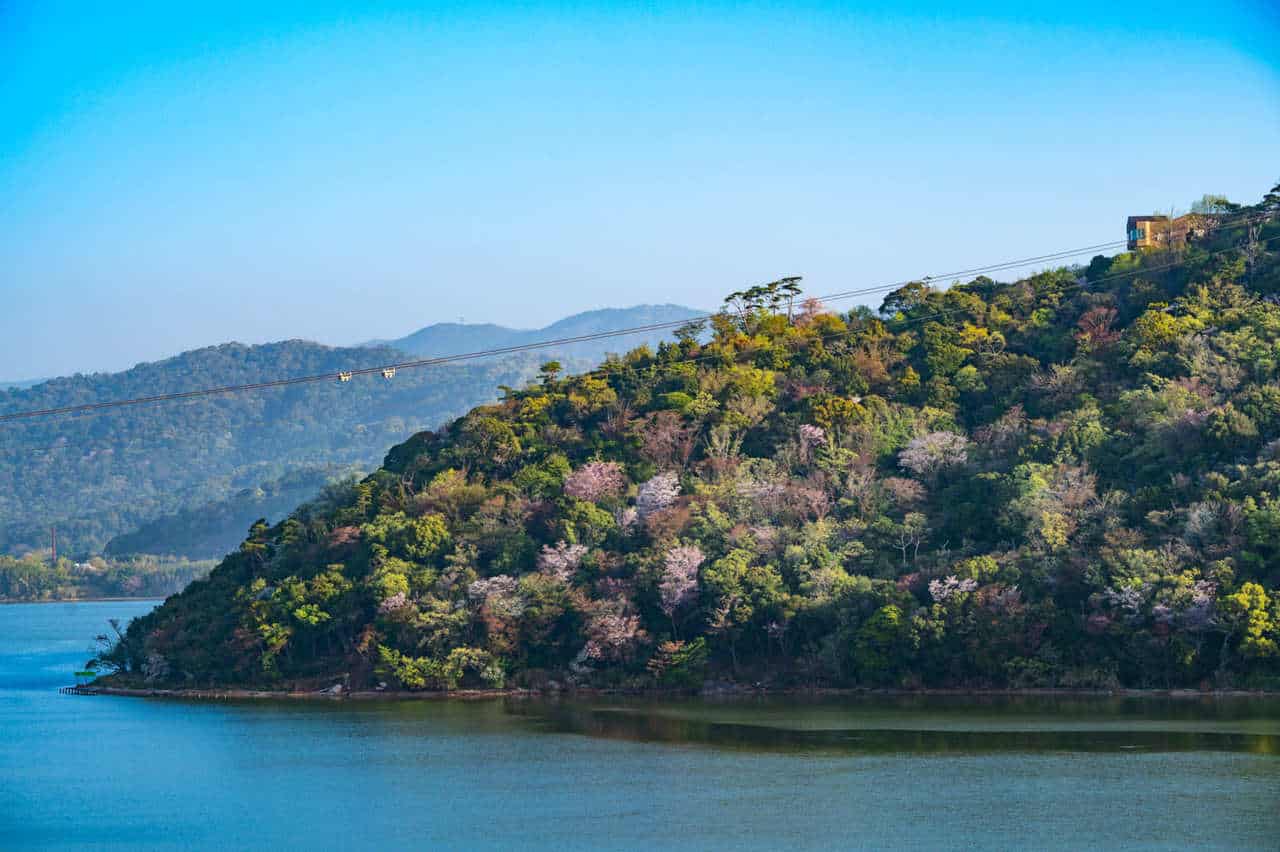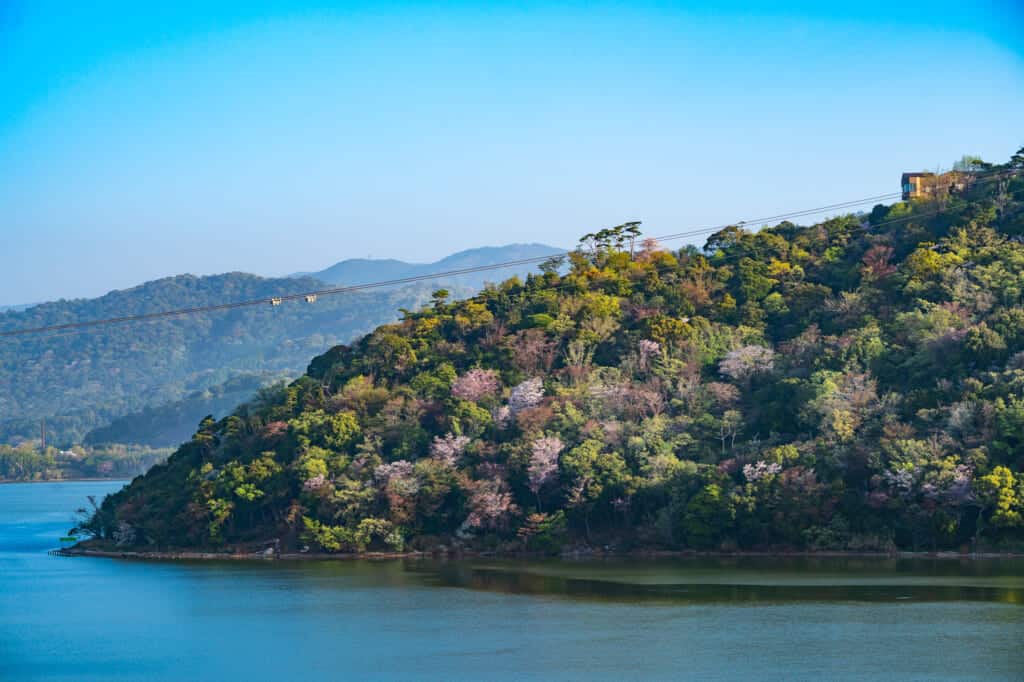 Kanzanjien is one of these restaurants, sitting literally on the lake's edge just below Kanzan-ji Temple. We had our fill of delicious unagi the night before at KAI Enshu, so we opted instead for some of Kanzanjien's other dishes, including deep-fried ebi (shrimp), sakana (fish), and karaage (boneless fried chicken). Sitting on the restaurant's patio, we enjoyed the fresh air blowing off the lake and the lovely Spring weather and views.
The street leading up to Kanzanjien is lined with venerable unagi restaurants, so if you are craving this local delicacy, you are sure to find a restaurant in which you can enjoy it nearby.
Master Craftsmanship of Ryotan-ji Temple
A short drive north of the lake is Ryotan-ji Temple, the temple of the Ii clan who have worshipped there for an incredible 40 generations. The Ii family claims several prominent members, including a vassal of Tokugawa Ieyasu, the first Tokugawa Shogun, and the chief minister who helped lead the opening of Japan to the world at the close of the Edo era. Because of its ties to the prominent Ii family, the temple's construction is of exceptional quality. As we toured the temple, the floorboards sang with the "uguisubari" nightingale creaking that visitors to Nijo Castle in Kyoto might recognize as a form of an ancient burglar alarm. The craftsman who is said to have created it was Jingoro Hidari, who is also believed to be responsible for a regal carving of a dragon in the main temple. After touring the temple buildings, we enjoyed a stroll around the beautiful garden in front of the temple's main hall.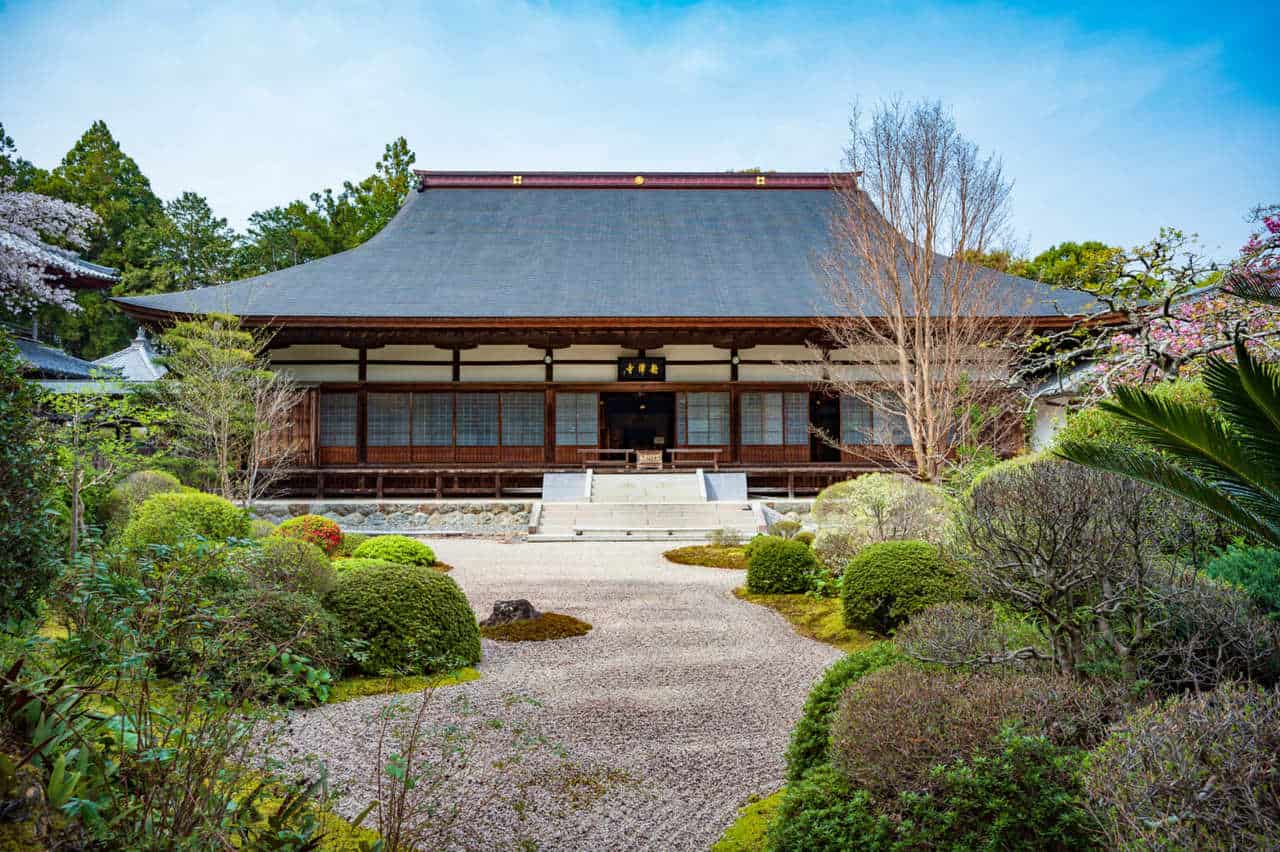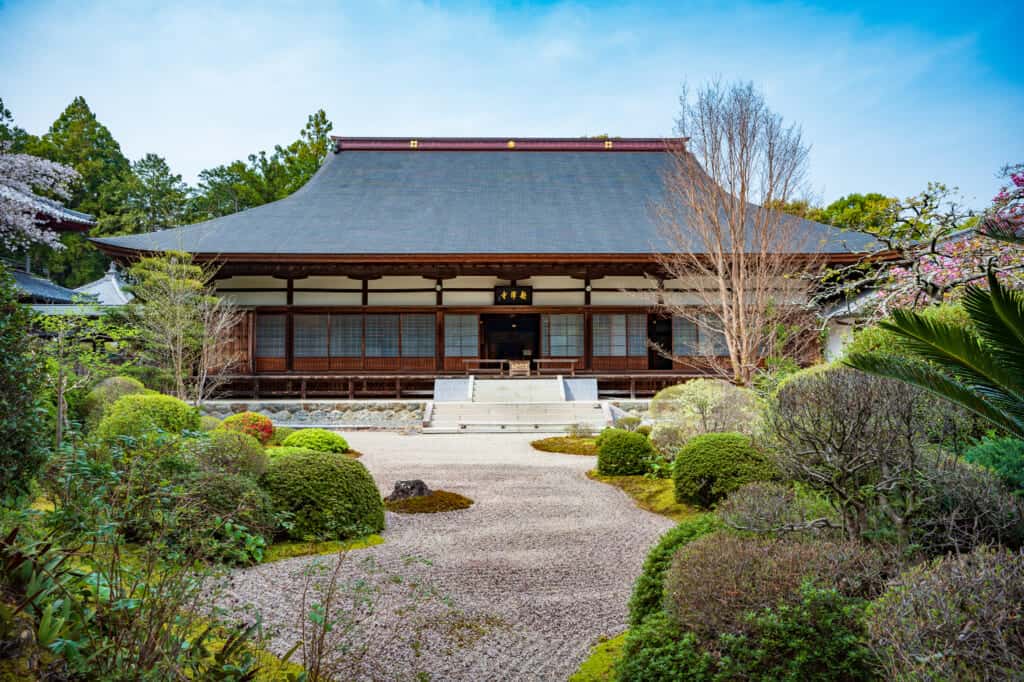 Behind the temple, a rock garden designed by Enshu Kobori was created for the enjoyment of the Lord of Ii himself. The rocks used in the garden are arranged in a way to represent elements of a temple abstractly and were explicitly selected because their shapes were attractive from any of the possible viewing angles from the buildings. However, the central viewing point is just outside the doorway of the shoin room, and indeed, the view from that point appeared perfectly balanced. The garden is so impressive, has been designated as a National Site of Scenic Beauty. A visit to Ryotan-ji Temple won't take a lot of time out of your day and is a reminder of the skill and attention to detail possessed by Edo-era craftsmen of Japan.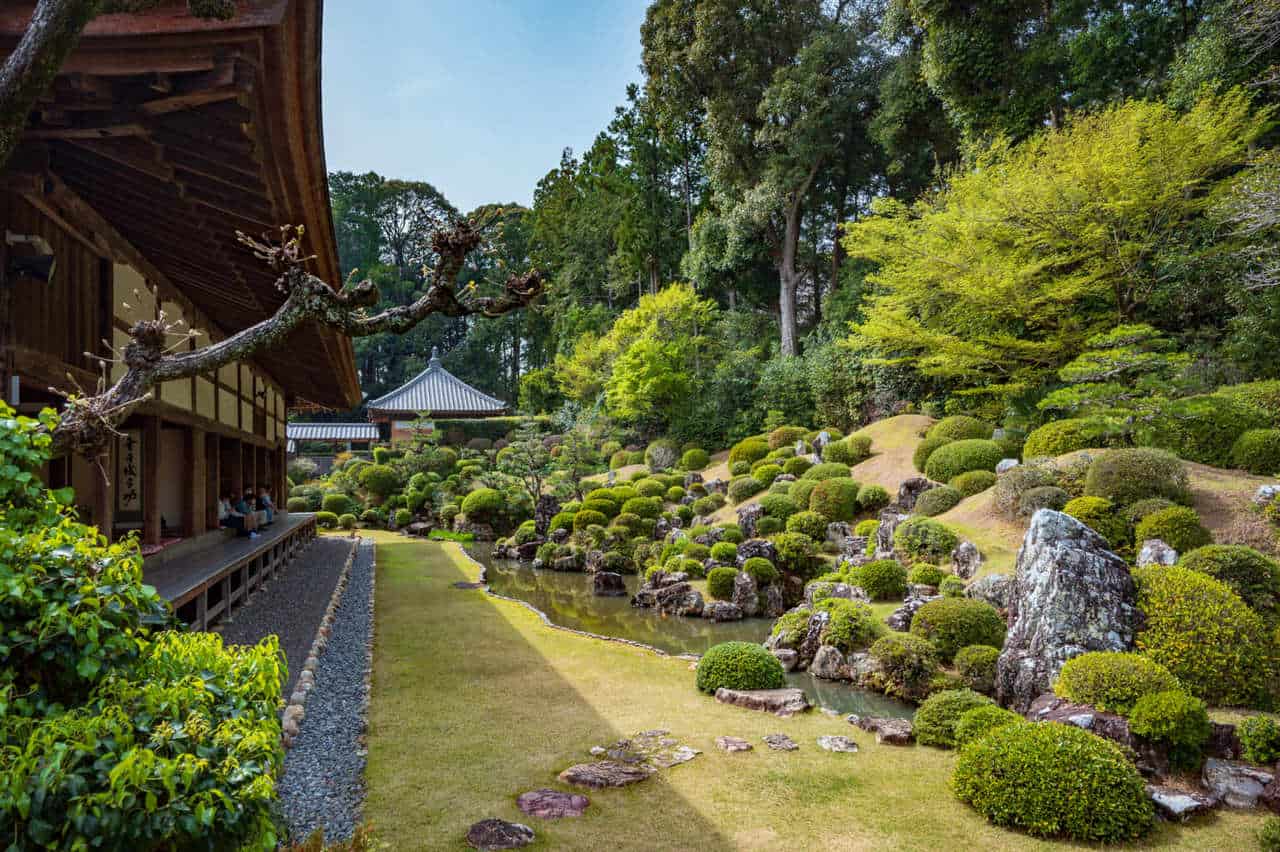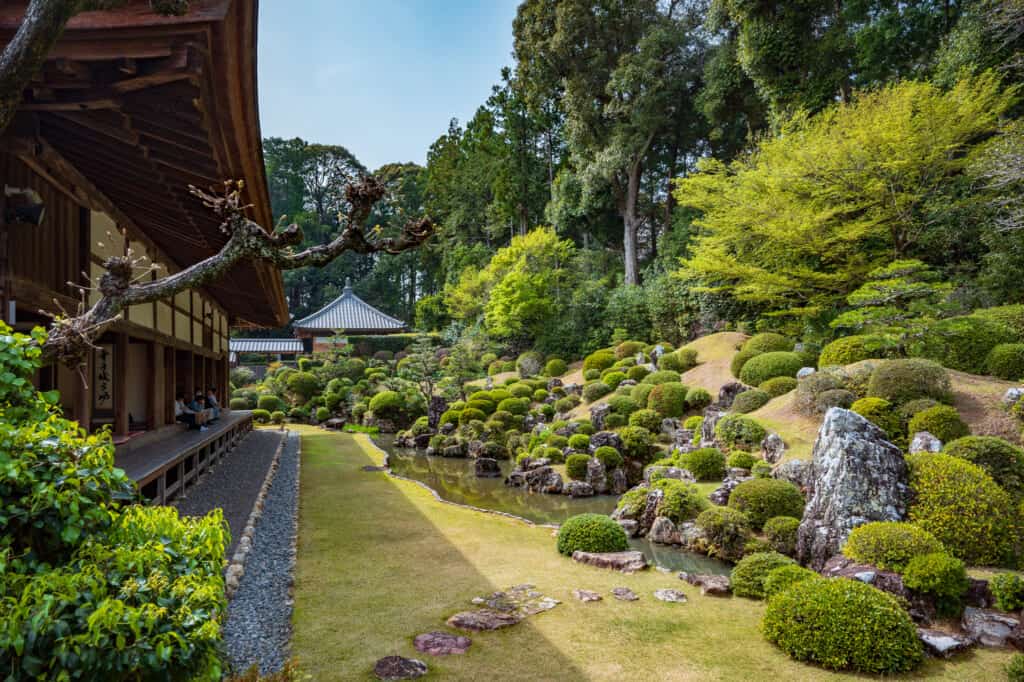 Appreciating Japanese History at Hamamatsu Castle and Shointei
If Ryotan-ji Temple has whet your appetite for Japan's samurai history, venture into the heart of Hamamatsu for a visit to Hamamatsu Castle. Although a reconstruction of the original, this castle has the distinction of once being home to Tokugawa Ieyasu before he rose to power as Shogun. The third and uppermost floor of the keep features an outdoor viewing deck with a 360-degree view of the surrounding park. During our visit, the 400 cherry trees in the park were in full bloom, attracting many of the city residents for hanami picnics under their shade (and creating quite a queue to enter the parking lot).
The castle isn't large, but it is a beautiful and recent reconstruction with a lot of important Japanese history attached to it. The Nozura-zumi stone walls are unusual, constructed by stacking natural stones rather than chiseled blocks, still as strong as when it was built over 400 years earlier.
After enjoying a stroll around the castle and park, Shointei is a traditional Japanese teahouse within walking distance. Nearly hidden by a grove of trees, Shointei is a peaceful respite to gather your energy or reflect on the events of the day. The building is a public space which local groups practicing tea ceremony or other traditional Japanese arts can rent for events. I strolled through the zen garden in the peaceful silence of the late afternoon and was served matcha tea and a Japanese wagashi sweet by the friendly staff.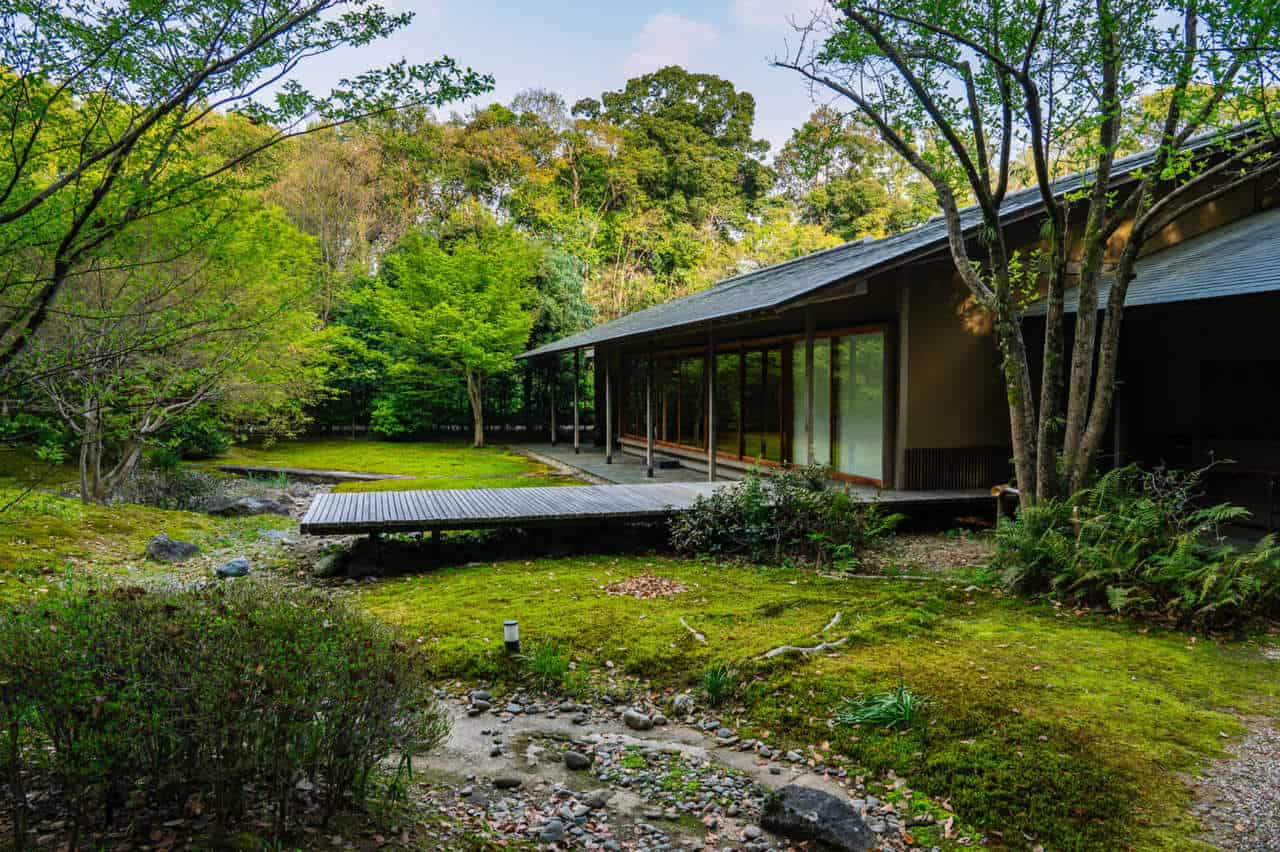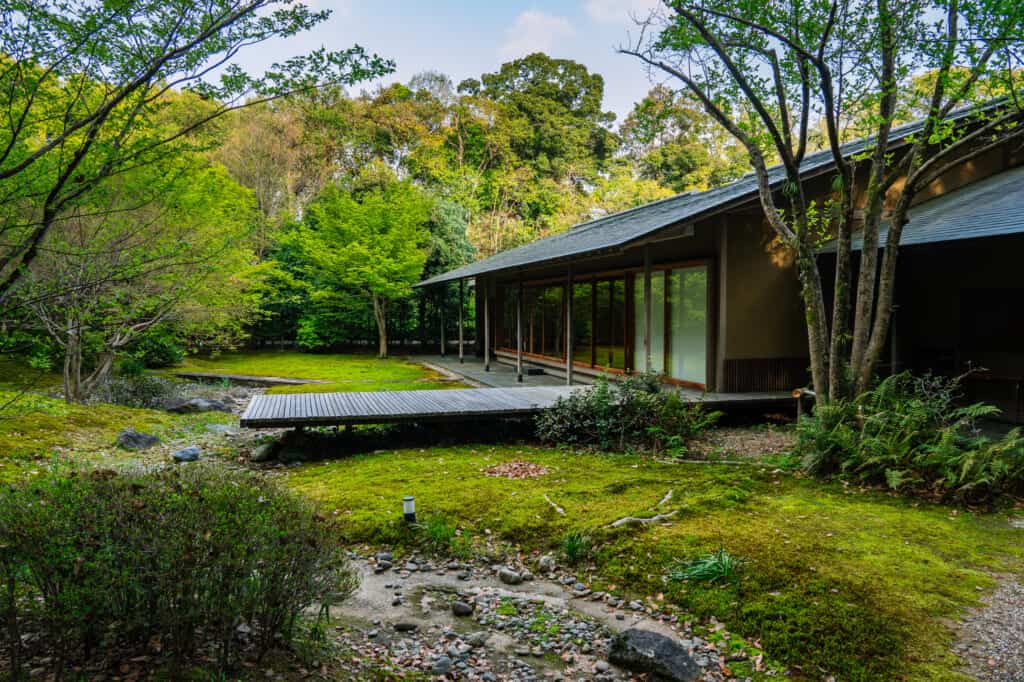 Tea and sweets are served to those visiting on a drop-in basis for 400 yen, with the tea rotating through a selection of matcha (powdered green tea) and sencha (leaf green tea) in various styles. Visitors can also try practicing tea ceremonies in a casual environment. The traditional tea ceremony can be intimidating to newcomers, with hosts and guests dressed in beautiful kimono and participants sitting in the difficult seiza position on the tatami floor for long periods. Here at Shointei, guests can sit in chairs and come dressed in whatever style clothes they wish, and a gentle teacher will give a short demonstration on the art of tea ceremony. Participating in this uniquely Japanese experience is an opportunity to create another special memory for your family during your trip to Japan.
The Music and Innovation of Yamaha
And now for something completely different. The Yamaha Corporation is one of Japan's most respected companies, and it all started here in Hamamatsu in 1887 when Torakusu Yamaha, a medical equipment repairman, was called to a local elementary school to fix their broken reed organ. Yamaha had an engineer's heart and mind and became so fascinated with the musical instrument from the West, that he ended up learning how to build them. He even went so far as to study musical theory to learn how to make them sound better. After achieving significant success in reed organ production, the company began to produce other instruments and finally designed an upright piano in 1900. Yamaha went on to innovate a broad range of instruments, including the ubiquitous DX7 synthesizer, which for those of us who grew up in the 1980s can be thankful for whenever we put the theme from "Top Gun" on constant replay on Spotify.
The Yamaha Innovation Road is best described as an interactive museum contained in the headquarters of Yamaha Corporation in Hamamatsu. A visit to the museum is practically a no-brainer for musicians. A vast collection of Yamaha instruments, including concert pianos and top-end guitars, are not only on display, but most can be played. For a budding pianist to be able to sit at the keys of a concert piano and hear the richness of the tones might spark a love for music that will never come to an end. I had not played the guitar in years, but picking up a beautiful Yamaha acoustic guitar, the strings felt as soft as butter under my fingers as the chord patterns flowed back into my memory. For those who want to let it rip on an electric guitar or bass, Yamaha Innovation Road even has a soundproof room you can use to do just that. Yamaha has a variety of "silent" instruments, electric/acoustic hybrids that are also available to try. Visitors with a wide array of musical talent and interests could easily spend a day here.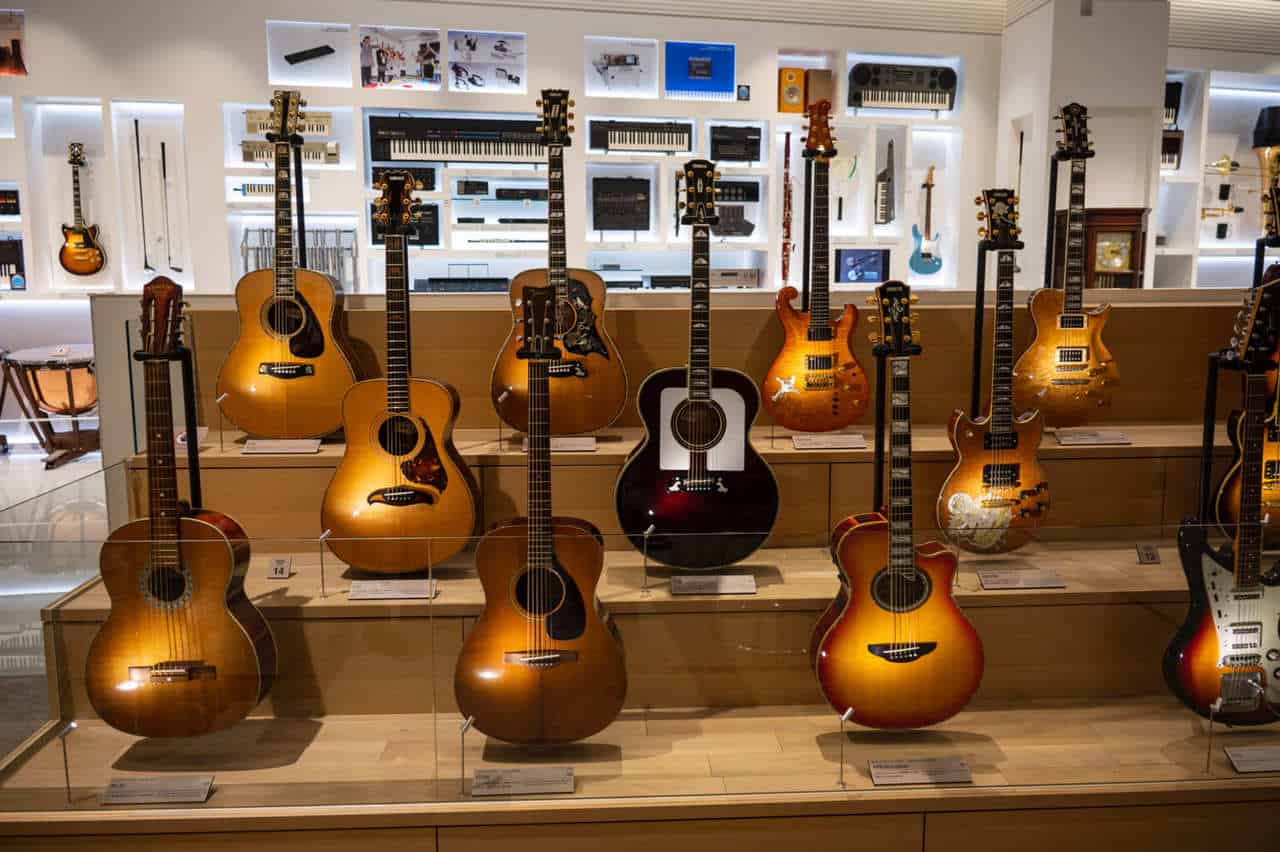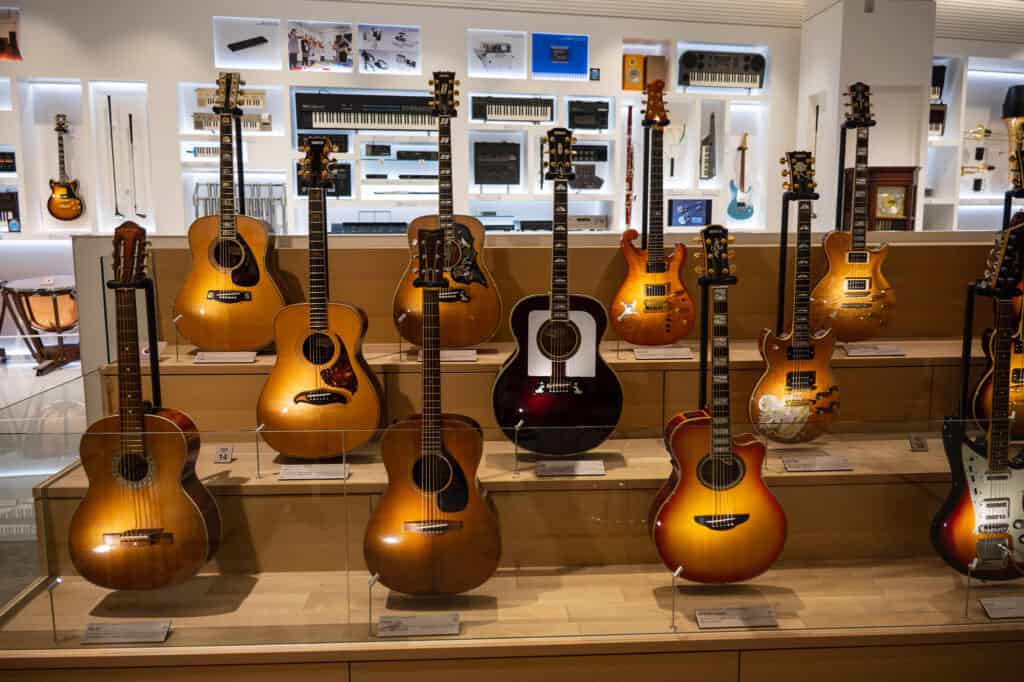 Apart from the instruments, a visit to Yamaha Innovation Road is a reminder of how the company has innovated into other product lines over its history. Many people know the name Yamaha motorcycles, but few realize that the motorcycle business was started by Yamaha to use war-era production machinery after WW2 and was spun off as its own business in 1955. The company also produces sporting goods, sound recording, playback and mixing equipment, and even semiconductors. It seems the spirit of founder Torakusu Yamaha still drives the company's passion for trying new things and not fear failure.
A reservation is required to visit Yamaha Innovation Road, but it is a simple process that can be done with a simple phone call in English the day before your visit. In the museum, audio guides in several languages, including English, are available for visitors to use.
My family thoroughly enjoyed our visit to Hamamatsu, from my wife's enjoyment of the flower gardens to my daughter's appreciation of the tea culture to my stomach's appreciation of Hamamatsu's local cuisine. We spent another day exploring Hamamatsu city's mountains with their peaceful respite in nature and ancient shrines and temples. Families visiting Japan would appreciate a stay in Hamamatsu as an alternative to the standard destinations of Tokyo and Kyoto, seeing a side of Japan that is off-the-beaten-path. For those using the Japan Rail Pass on your trip, a stopover in Hamamatsu between Tokyo and Kyoto literally costs you nothing, so why not see for yourself what this attractive city has to offer?
Sponsored by Hamamatsu City