If a spacious botanical garden or a tunnel of pink cherry blossoms conjures up images of warmer months in Japan, add another spectacle to your list for winter. At Nabana no Sato (なばなの里), you'll witness over 26,000 square meters of the garden lit up to become one of Japan's largest illumination festivals. Over 5.8 million LEDs turn the spacious fields of the Nabana no Sato park into a spectacular outdoor lights show, transforming a chilly winter night into dreamy images of mountains, rivers, oceans, and flower fields in every colour you could imagine.
Though the garden hosts various events throughout the year, including flower festivals in the spring, firefly watching in the summer, and maple leaves viewings in autumn, the winter illumination is by far the biggest and most popular attraction (especially with domestic travellers). Each year, the illumination changes its theme, meaning annual visitors can return to a fresh new winter illumination display. It's also an easy 30-minute drive or hour ride on public transit from neighbouring Nagoya city, making Nabana no Sato a popular destination for young couples and families with children who come to witness the vast scale of this spectacular illuminations show. If Japan's winter illuminations are on your list of must-sees, then the attractions of Nabana no Sato will surely inspire a visit.
What is Nabana no Sato?
Nabana no Sato is located in Kuwana City and is one of Mie Prefecture's better-known tourist destinations due to their year-round flower festivals. Visitors to the 43,000 square meter park will be graced with colourful displays of flowers across its spacious open fields, including the plum and cherry trees in early spring, tulips fields in late March to late April, and the cosmos, dahlia, and roses gardens in early autumn. With the inclusion of the winter illuminations, the seasonal beauty at Nabana no Sato can be appreciated from day to night, yet another reason for its popularity. While Nabana no Sato is beautiful throughout the year, visitors shouldn't defer their visit because it's raining or snowing, especially during the winter illuminations, as LEDs reflected in the wet pavement or snowy pathways can make for an especially beautiful illumination experience.
What to See at the Nabana no Sato Winter Illuminations
Each year, the theme of the illumination show changes, meaning that no two years are the same. This year's 2020-2021 central theme is "Legend of Big Tree," where a massive dome of LEDs pulsates in an ever-changing field of colours. The 200-meter-long "tunnel of light" is an icon of Nabana no Sato, with over 1.2 million flower-shaped light bulbs strung across the length of the tunnel. The shorter, but no less captivating, 100-meter tunnel of Kawazu Sakura light tunnel mimics Japan's cherry blossom seasons with glittering pink light bulbs.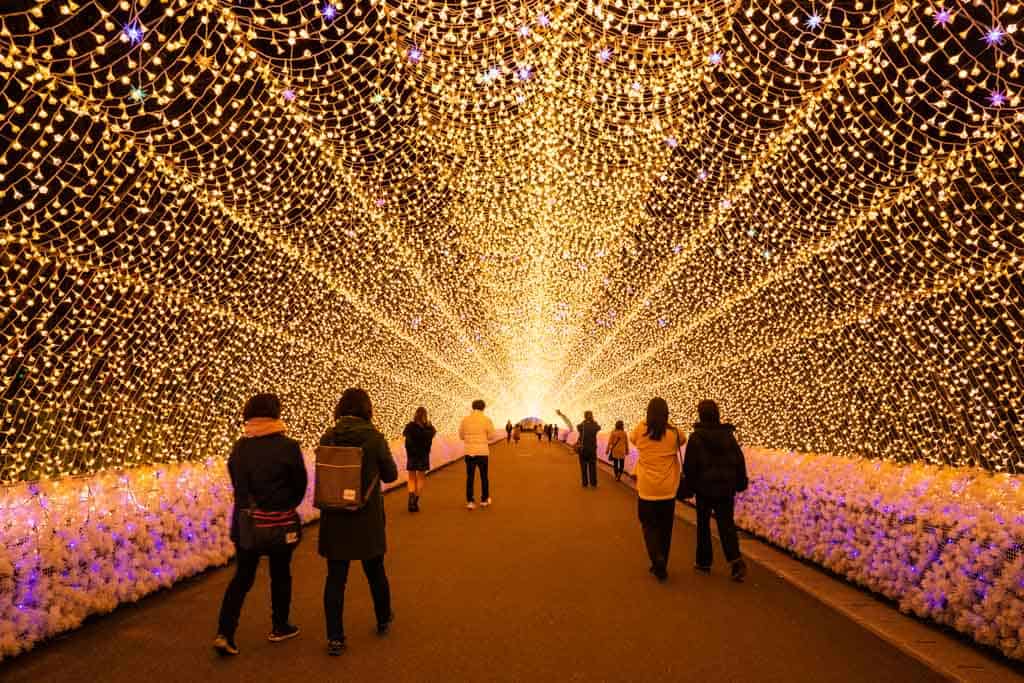 Hikari no Taiga, or the "Great River of Lights," is the largest on-water illumination in Japan at five-meters wide and 120-meters long. This "river" weaves across on the surface of the park's central pond towards a small chapel, continually shifting in light and colour along with a timed musical soundtrack.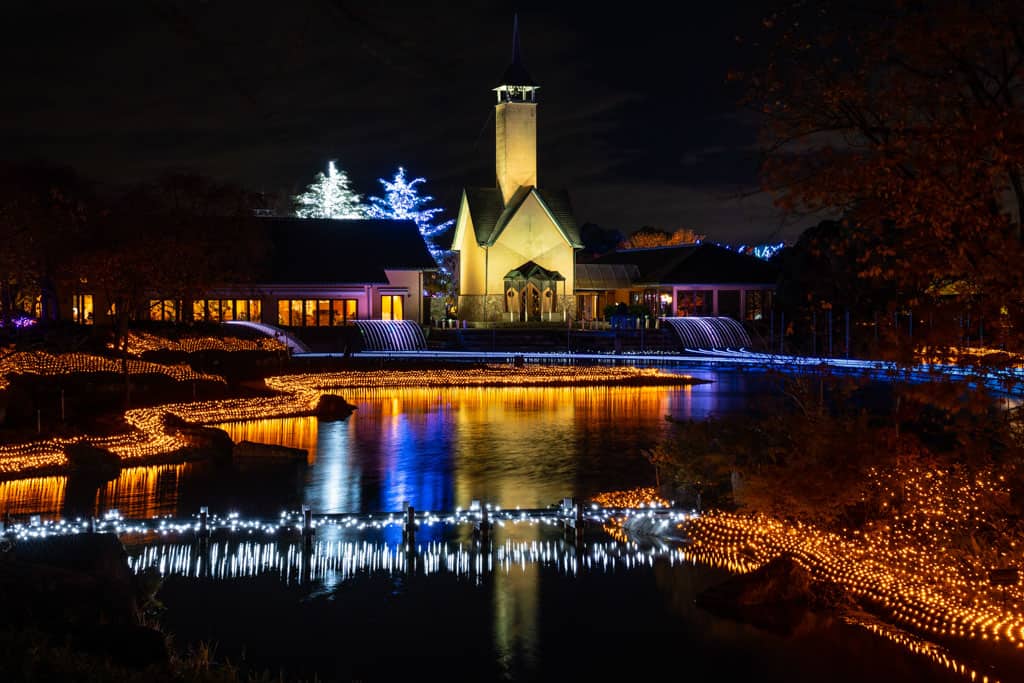 If you are lucky enough to visit during the peak of autumn foliage, you'll get to see Momiji maple trees lit up and mirrored on the nearby pond within the gardens.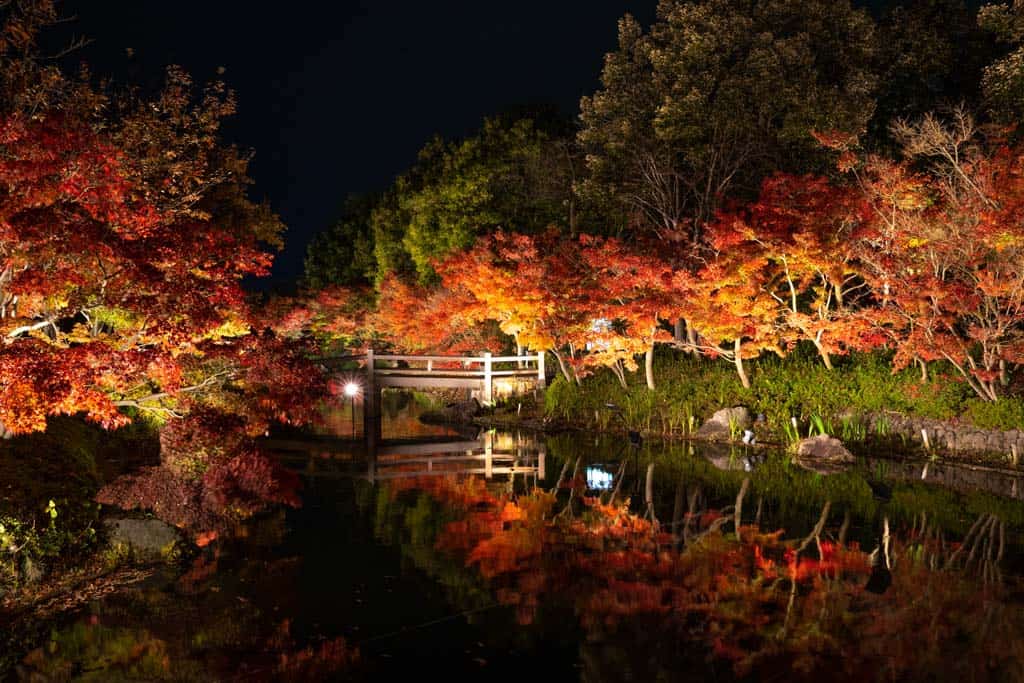 While the illuminations are the biggest draw of Nabana no Sato, visitors can also enjoy open-air hot spring foot baths or dine at several restaurants serving a global array of cuisine, including Italian, Chinese, and Japanese food. The Nagashima Beer Garden serves German-style beer so you can kick back and enjoy the local flavours of Nabana no Sato while sampling their menu. If you're a lover of onsen hot springs, the Sato no Yu day spa will give you a chance to luxuriate in a natural hot spring after your walk through the spacious gardens. For an abbreviated hot spring soak, dip your feet in the Nabana no Sato Foot Spa to replenish your energy before you explore the rest of the gardens.
Overnight Stay at Castle Plaza Hotel in Nagoya
If you're visiting Nagoya, Castle Plaza Hotel is a five-minute walk from Nagoya Station, making it a convenient base to get to Nabana no Sato and surrounding areas via public transport. After a night of illumination viewing at Nabana no Sato, return to your hotel for dinner in one of the hotel's nine restaurants, ranging from traditional Japanese to French cuisine, to accommodate any guests' tastes and needs. Spend the night in the Plaza's western or Japanese-style accommodations before starting fresh the next morning with a breakfast in one of their three restaurants that feature traditional Japanese cuisine, casual Western buffet, and Asia-style food selections.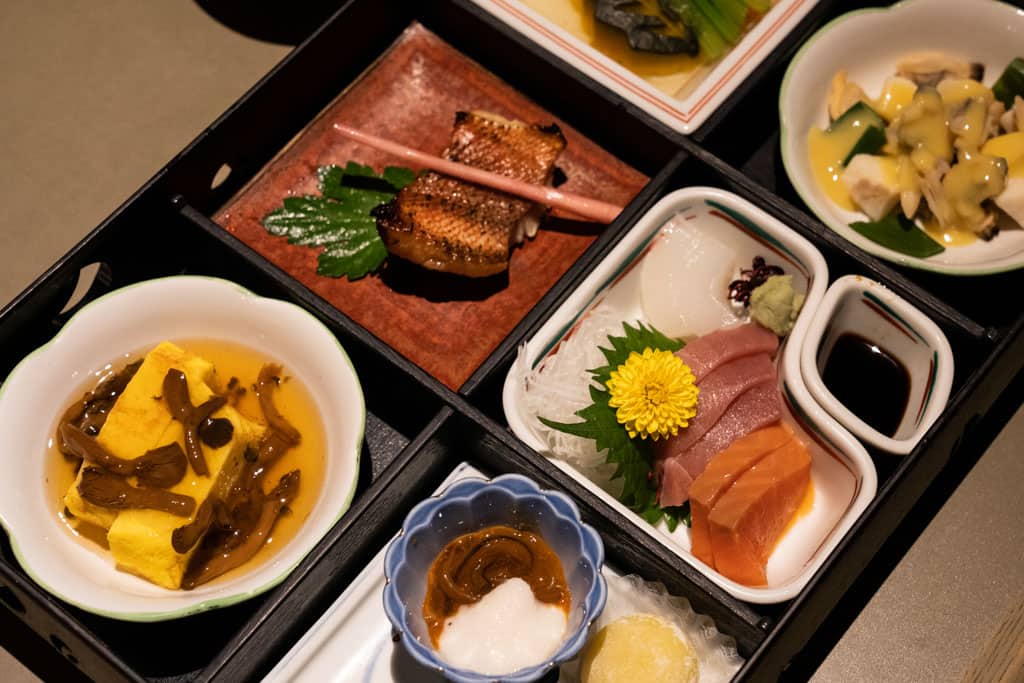 What Else To Do in the Nagoya Area
If you're looking for more off-the-beaten-track destinations in the surrounding area, there's a plenitude of opportunities to try a taste of authentic Nagoya outside the major centers. Cycling and hiking enthusiasts will love a trek through the sacred pilgrimage route of Kumano Kodo Trail for a spiritual and rejuvenating awakening of mind and body. If you're a lover of sake, Tenryo Sake Brewery is a tangible cultural asset that offers sake tastings in their historic sake brewery opened in 1680. For a glimpse into the traditional Japanese way of life, a farm stay at Taiki Town has all the makings of a relaxing retreat away from the city and into a life of healthy cooking, kimono-wearing, and vegetable harvesting. Or, play hermit among waterfalls and mountains of Osugidani Valley for a genuinely social-distanced trip away from the crowds.
How to Access Nabana no Sato
This breathtaking illumination spectacle is easily accessible by public transit from neighbouring Nagoya city. From Nagoya, take a direct bus at Meitetsu Bus Center for a 30-minute ride to Nabana no Sato or a JR or Kintetsu train to Kuwana Station, then catch the direct bus to Nabana no Sato. If you're travelling during the peak illumination season, get off at Nagashima or Kintetsu-Nagashima station and catch the shuttle bus to Nabana no Sato available during this time. From Osaka, take an hour shinkansen train on the Tokaido-Sanyo Line from Shin-Osaka to Nagoya station. From Tokyo, catch the Nozomi, Hikari or Kodama shinkansen on the JR Tokaido Line, ranging from 100 minutes to three-hour train rides. If you have a Japan Rail Pass, you can ride on the Hikari and Kodama class trains, but not the Nozomi class train.
Nabana no Sato Hours and Fees
Entry to the park is 2,300 yen, including a 1,000 yen coupon you can spend at the restaurants or gift shops. Admission is free if you have a prior restaurant reservation.
The 2020-2021 Nabana no Sato hours runs from October 24, 2020, to May 31, 2021. Business hours vary from 10:00 am to 9:00 pm (or 10:00 pm depending on the day), with illumination times changing depending on the time of the month. Visit the Nagashima Onsen website for full details on hours.
While Nabana no Sato has magnificent floral sceneries throughout the year, winter is a sensational time to witness the illuminations season's breathtaking spectacle of colours.
Photographs and coverage by Ben Beech.
Sponsored by CHUBU DISTRICT TRANSPORT BUREAU and Central Japan International Airport Promotion Council