With its stunning natural environment of mountains, trails, volcanoes, cliffs, and other geographic structures, Japan is full of wonder for hiking lovers. If you are one of them, we recommend adding any destination for hiking in Japan to your next itinerary.
Fukushima prefecture, located in the Tohoku area, is one of the best spots for hiking in Japan. With a considerable number of trails, spectacular seasonal landscapes from its vivid red autumn leaves to summer's fresh greenery, this largely unknown prefecture has a lot to offer for western tourists. Discover a hidden side of Japan while enjoying a variety of vegetation, including alpine or marshy plants and landscapes. Here are our top hiking trails in Fukushima.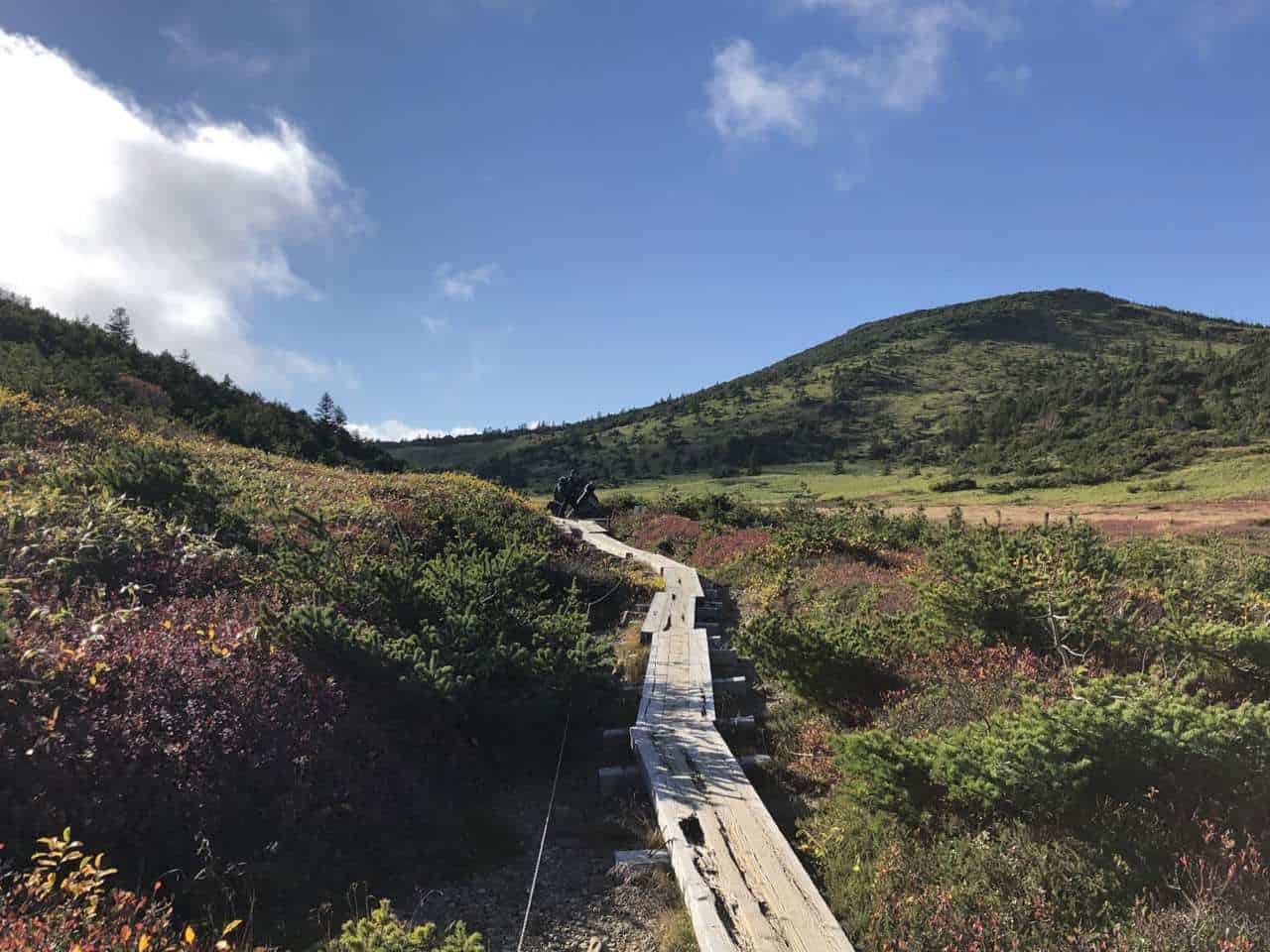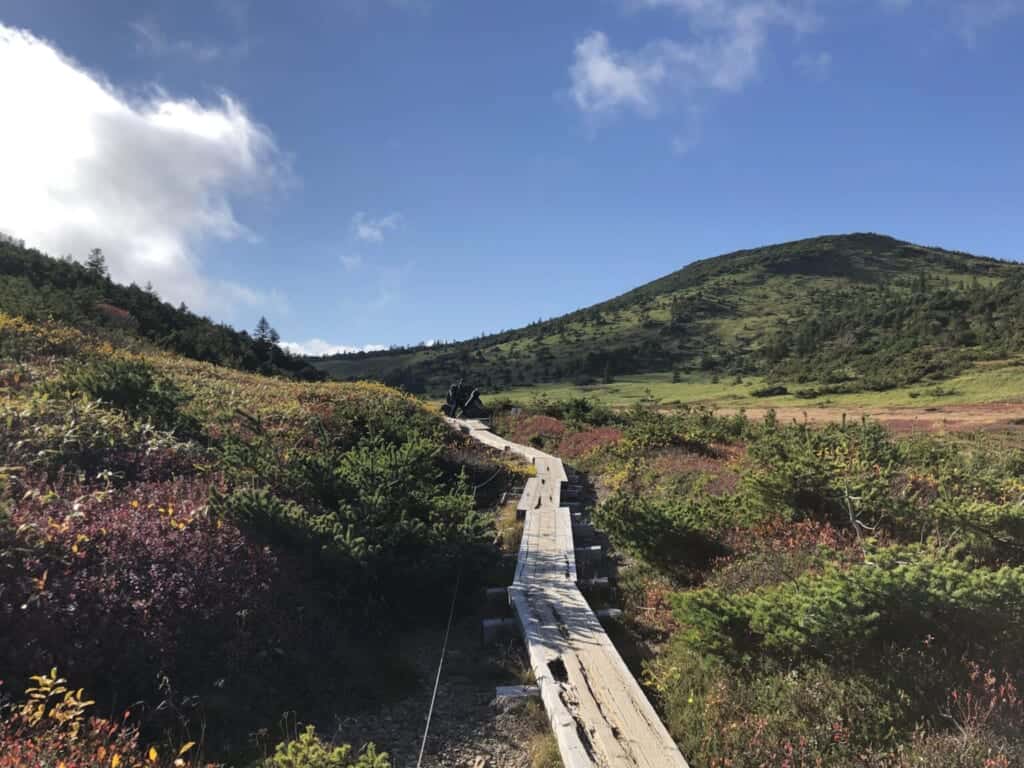 Hiking in Japan: Urabandai
The mountain range of Urabandai is part of the large Bandai-Asahi National Park, covering several mountain ranges in Fukushima prefecture, Niigata prefecture, and Yamagata prefecture. Urabandai area is located in the northern area of Fukushima and has excellent hiking routes.
Mount Bandai (磐梯山), one of Japan's 100 most famous mountains, collapsed due to an eruption in 1888. Rocks fell and mud landslides from the volcano collapsed the nearby rivers, creating three big lakes (Hibara (檜原湖), Onogawa, and Akimoto), and more than 30 smaller ponds and marshes.
Thanks to the local activism, a magnificent forest was created in a place where, before, there was not a single tree. In this area, there are different routes and interesting points for those people who love nature.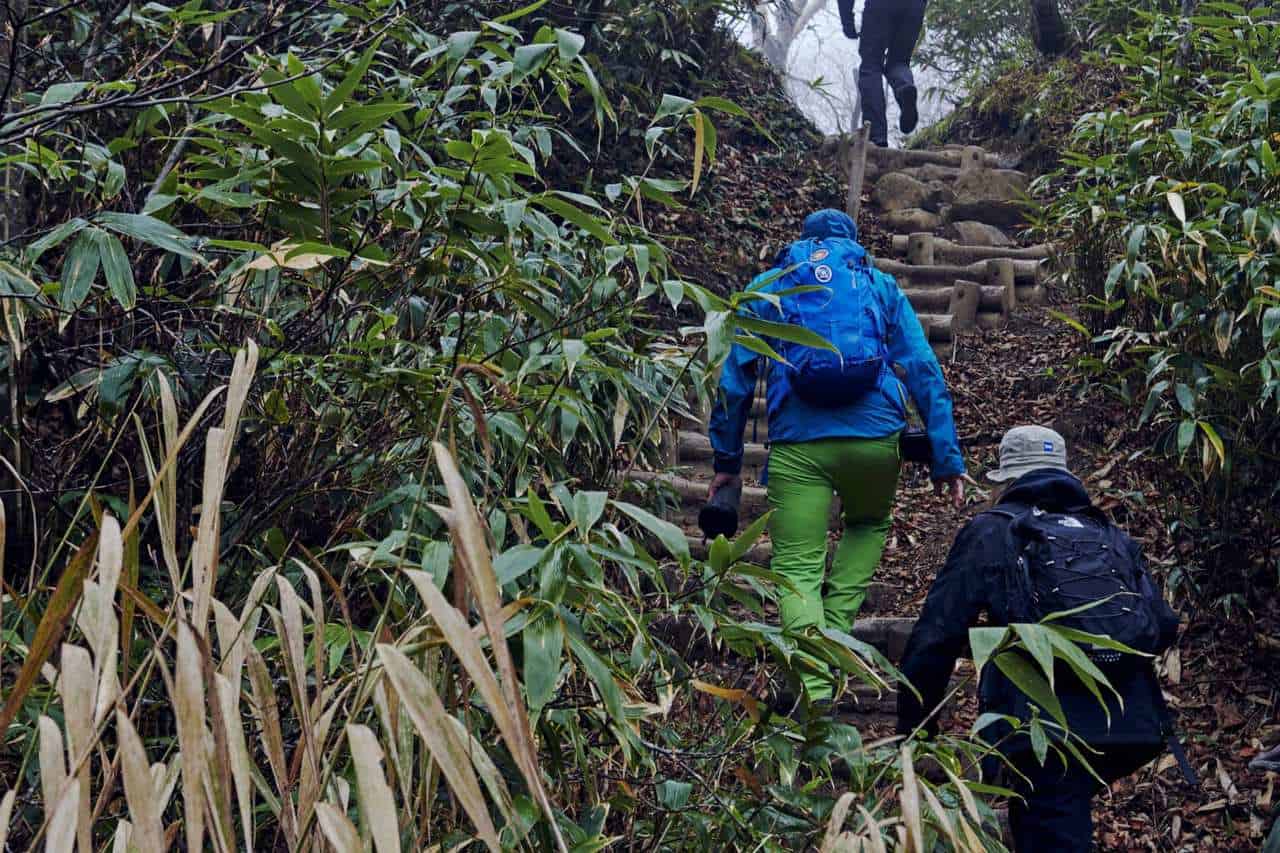 Goshikinuma Ponds
The route through the ponds and swamps created during the last eruption is perfect for beginners. On this short, 4 km itinerary, you will discover the many Goshikinuma ponds (五色沼湖沼群), which change their color depending on the weather and the angle. The complete route takes about 90 minutes.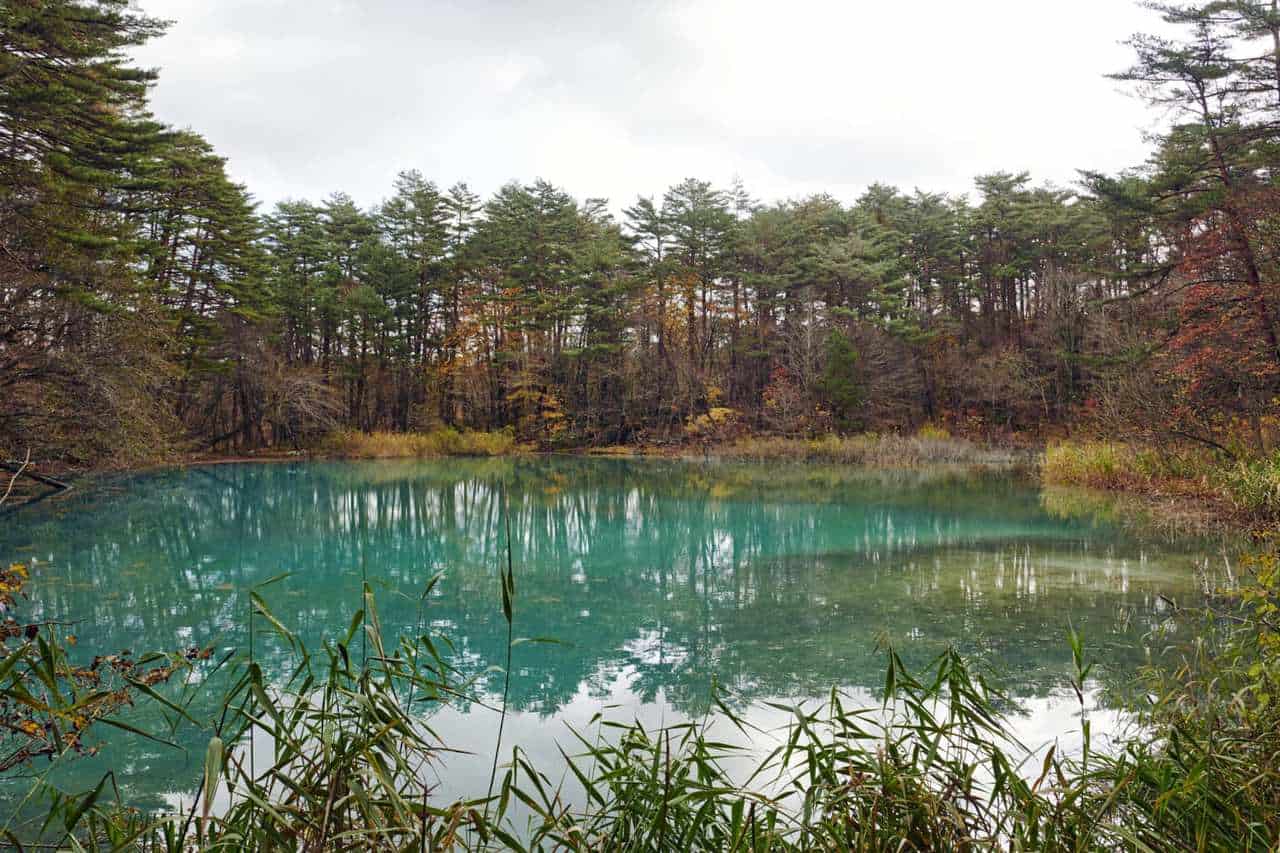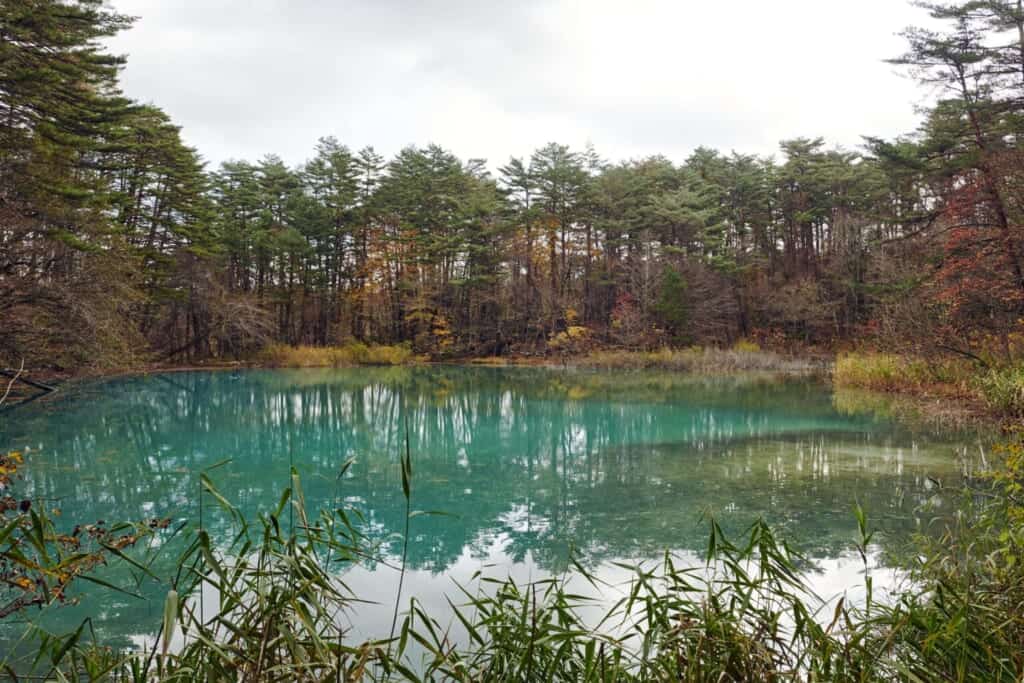 Mount Bandai
There are several hiking trails around this mount. The shortest one is about 4 hours and a half round trip. The itinerary in this mountain at 1816 meters above sea level is recommended for people with an intermediate or advanced level. In some areas, there are volcanic gases, so you can enjoy this rough landscape. The best part? The view of Urabandai from the top of the mountain is breathtaking!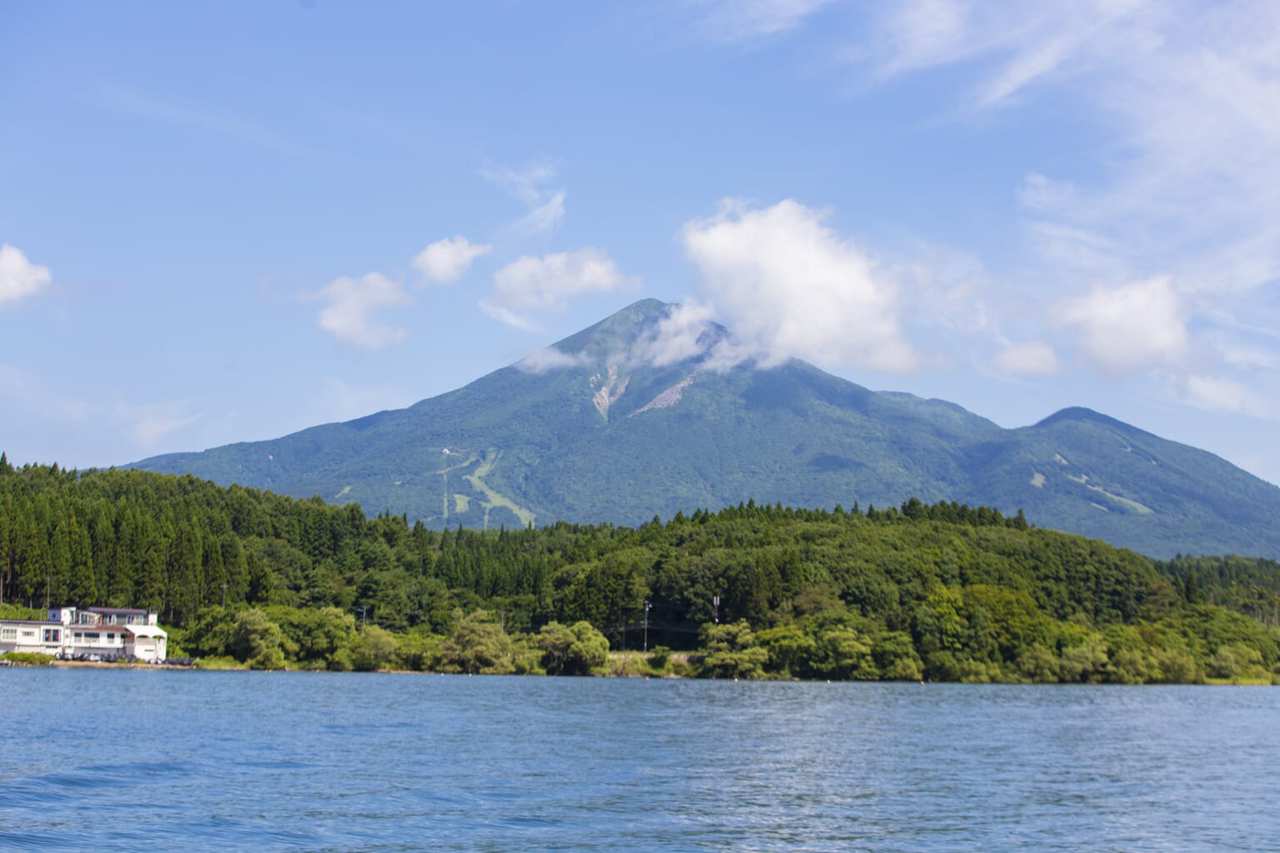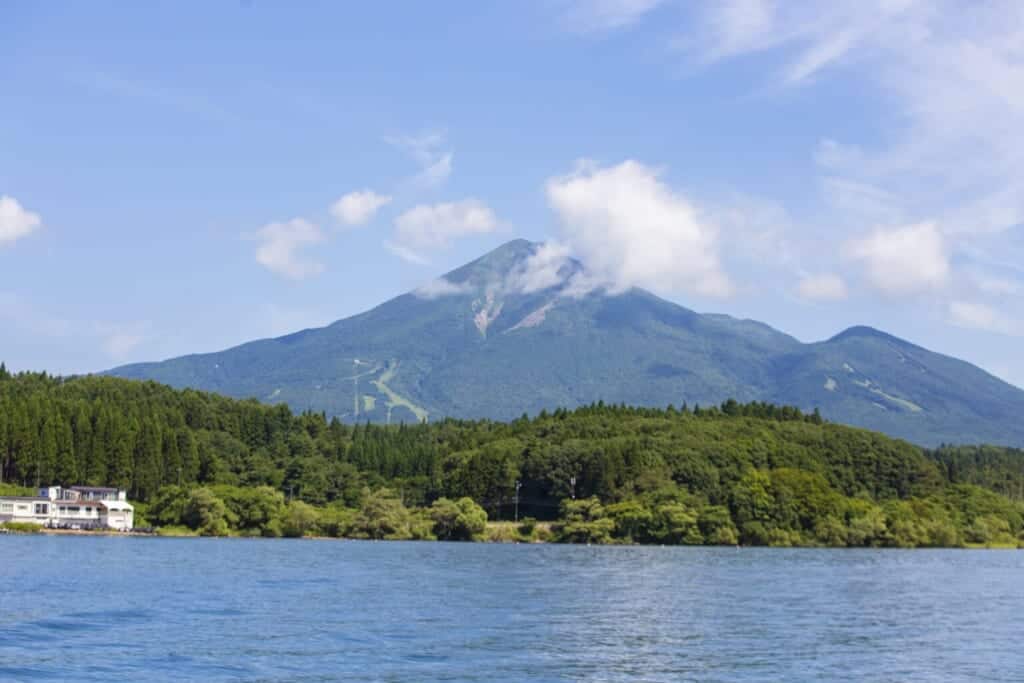 Mount Issaikyo in Jododaira
This route is slightly easier and shorter than the previous one, and it takes 2 and a half hours from the Jododaira Tourism Center, up to the peak and back. So, it is a good idea for beginners and intermediates hikers to climb Mount Issaikyo. If the weather is good, you can spot Lake Goshikinuma, known as the "Witch's Eye." Don't forget that there are volcanic gases in this area, as this volcano is still active. If you have also interest to cycle in Japan, check out our article where we explain a cycling route in Fukushima.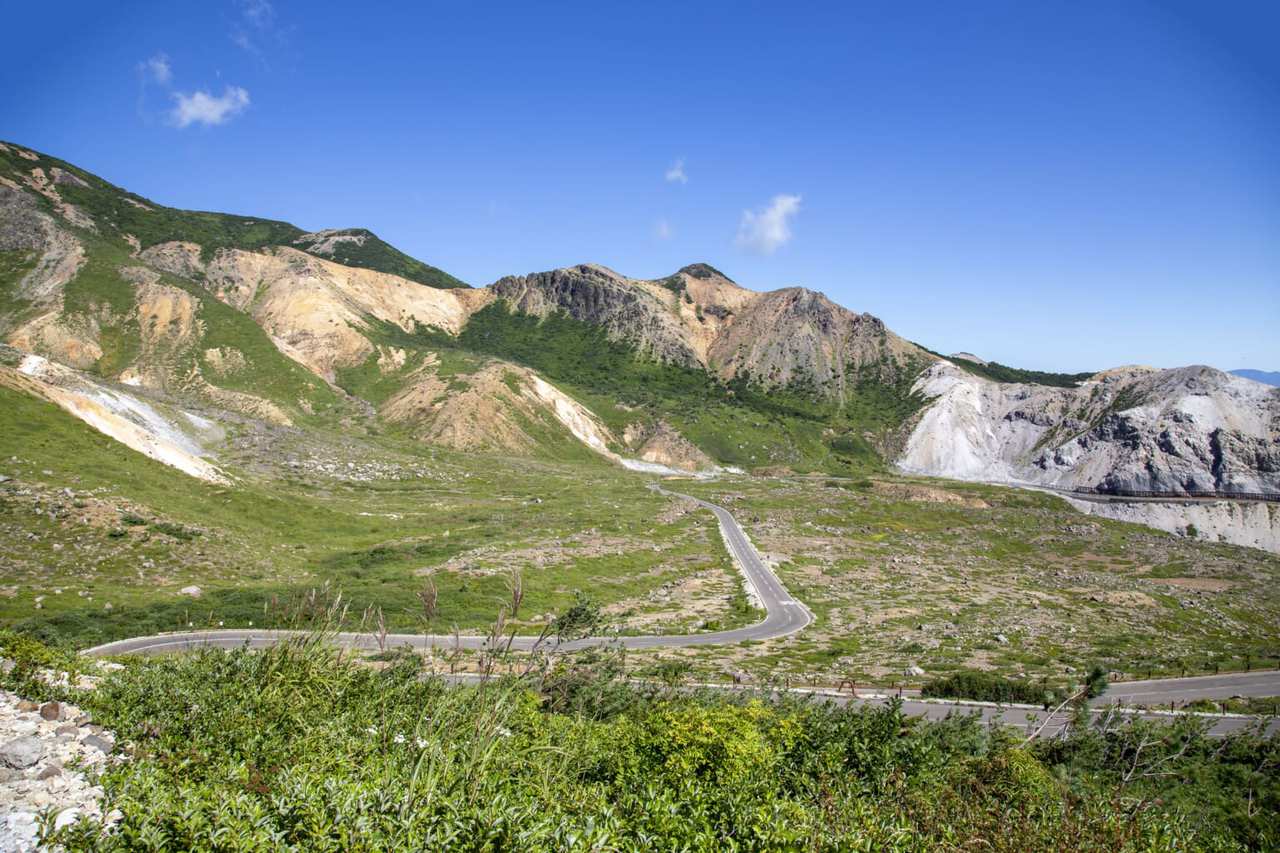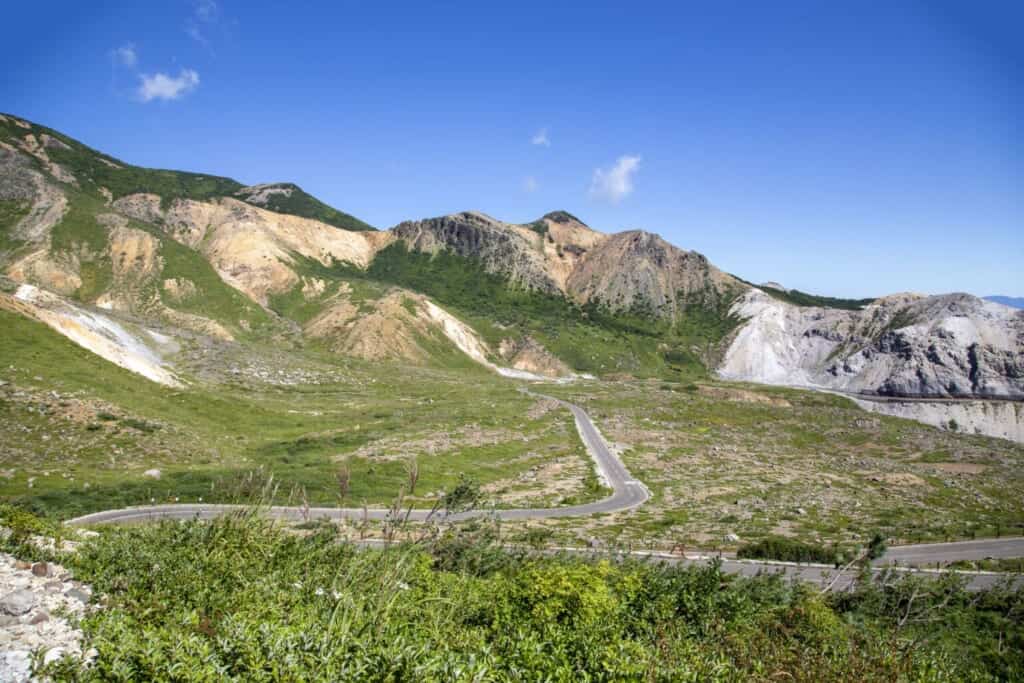 Mount Adatara
After using a cable car, it will take you 4 hours round trip to climb Mount Adatara. This beginner/ intermediate route has a wonderful autumn scenario and from the viewpoint, near the cable car station, you will be able to admire the colored alpine tree landscape. There is also Kurogane-Goya, a mountain lodge located near the summit, where you can stay and enjoy the hot springs.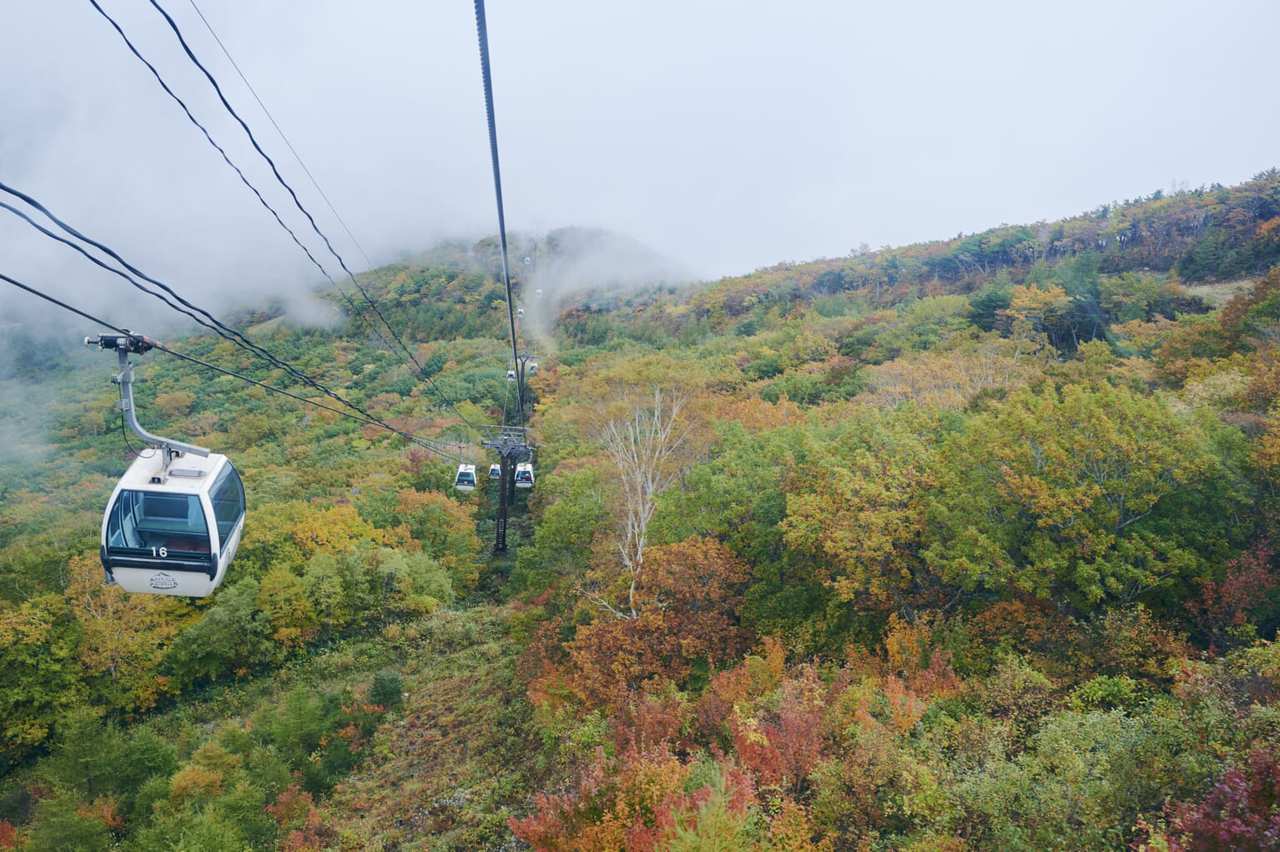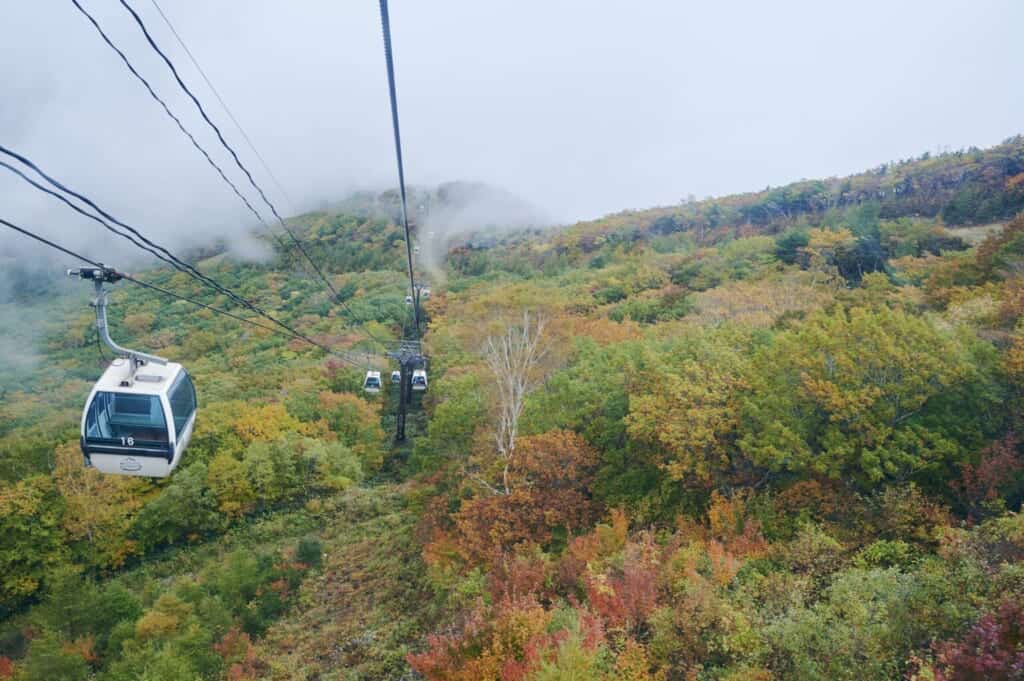 Hiking in Japan: Oze National Park
This mountainous region, located in the southern area of Fukushima, stretches across Fukushima, Niigata, and Gunma prefectures.  Formerly, it was part of the Aizu-Tanuma road, and it was used as a commercial route during the Edo Period. At the beginning of the 20th century, there were plans to construct a hydroelectric dam. After construction began in the 1940s, the project had to be canceled in 1966 due to citizen-led environmental protection activities.
As a result of these pioneering environmental protection measures, the onsen towns and mountain huts have been preserved today, and the area is now popular among hikers as one of Japan's most unexplored hiking regions.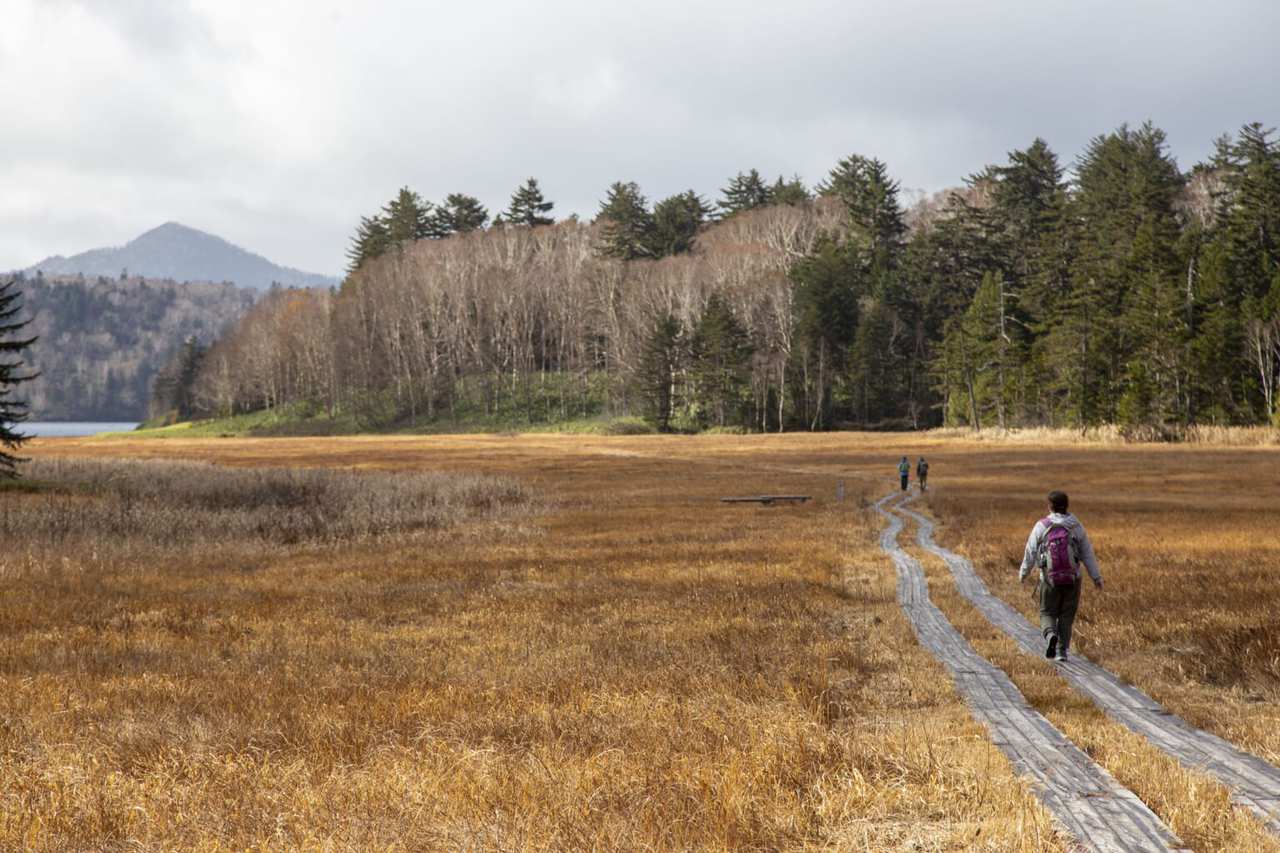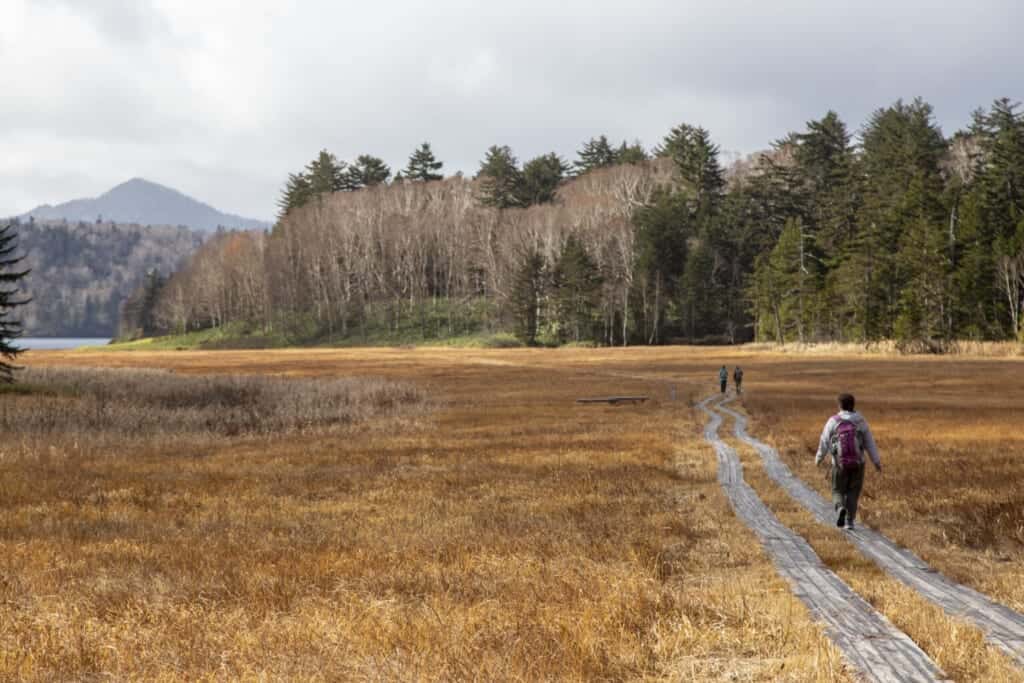 How to Get to Fukushima
Fukushima prefecture is located about 300 km far from Tokyo, and you can reach Fukushima city with the Tokaido Shinkansen in an hour and a half.
To get to Urabandai, you can travel by bus or train from Fukushima City, Kitakata, or Aizuwakamatsu, depending on which route and place you want to visit. For example, you can take the JR Ban-Etsusai Line and get off at Inawashiro Station to visit Mt. Bandai or Goshikinuma Ponds. To go to Mount Adatara, you can take the JR Tohoku Line and get off at Nihommatsu station. From there, you can take a bus to get closer or go on foot. Another option that will save you time is to travel by private car, so you can drive to a parking lot and start the route from that point.
How to get to Oze National Park
To get to Oze National Park, you don't need to go to Fukushima City, as there are previous stops closer to the park, such as Jomo Kogen Station or Numata Station. From there, the fastest option is to rent a private vehicle.
Fukushima Prefecture offers a huge amount of hiking routes. Enjoy your trip to Japan by visiting important natural places and learning about the Japanese culture while doing your favorite activity.
Article sponsored by and photographs courtesy of Fukushima Prefecture