Winter is a great time to visit Japan. You can have fun doing different winter sports, fill your stomach with mouth-watering winter foods, warm yourself up in soothing hot springs, and enjoy a unique winter scenery with Japan's legendary powder snow.
The northern part of Japan is especially blessed with abundant snowfall every winter, and the Bandai-Asahi National Park (磐梯朝日国立公園) in the Tohoku region is one of the best places to discover magical winter landscapes. It is Japan's second-largest national park on land, covering a vast area from the Dewa Sanzan mountains in the north to Lake Inawashiro and Mt. Bandai in the south.
Inawashiro Ski Resort: Skiing the Slopes of Mt. Bandai
I began my trip with a visit to Inawashiro Ski Resort (猪苗代スキー場), located on the slopes of Mt. Bandai in Fukushima Prefecture, and can be reached from Inawashiro Station via a free shuttle bus.
I learned to ski in the European alps when I was a teenager, but the mountains are quite far from where I lived, so it wasn't before moving to Japan that I began skiing more regularly. Luckily, most of the 18 ski courses of Inawashiro Ski Resort's two expansive areas are tailored towards beginners to intermediates, like me, but also advanced skiers and snowboarders will enjoy themselves. There are also two snow park areas with ramps and rails for those looking for a place to do jumps and tricks.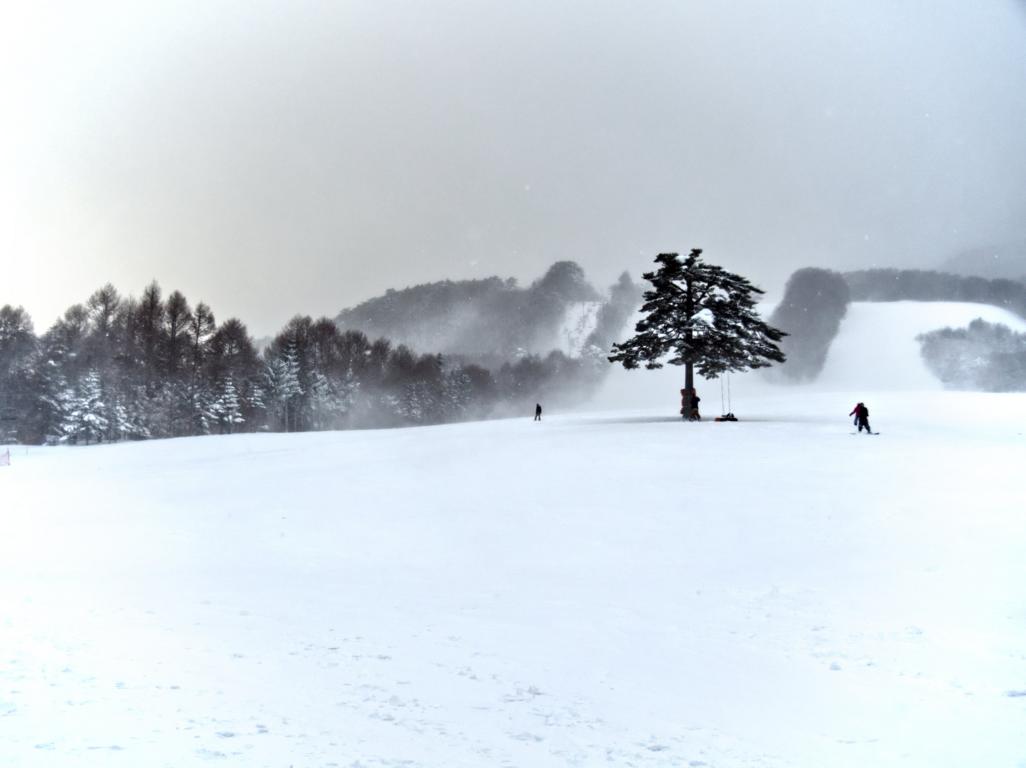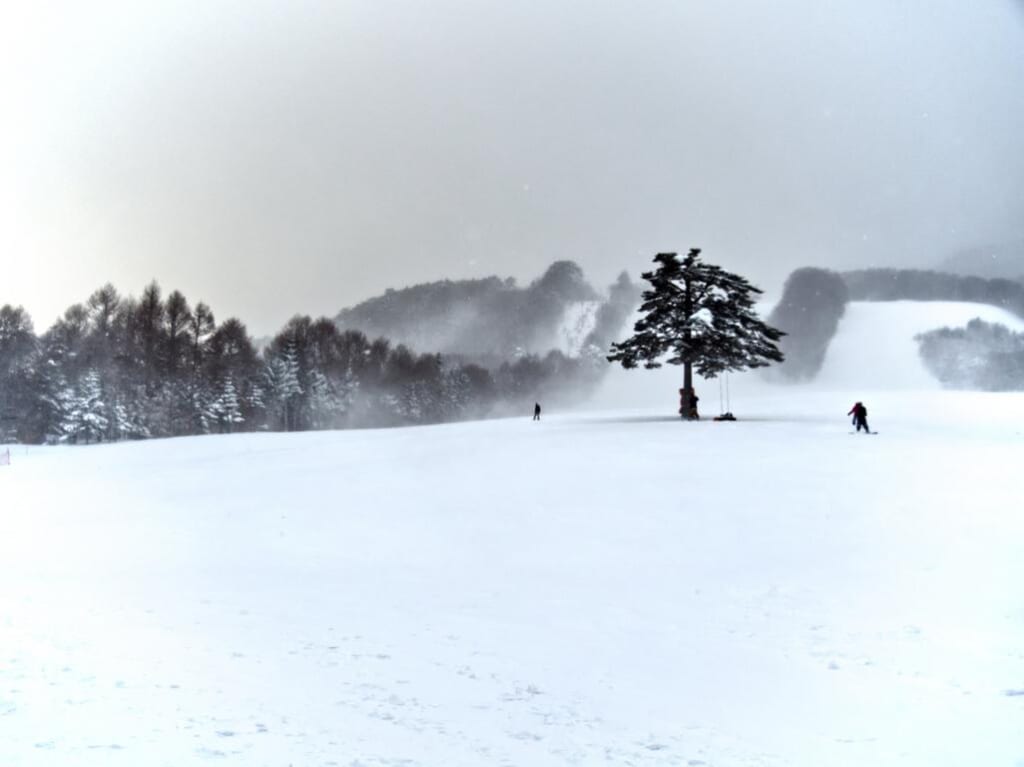 I arrived around lunchtime, so I headed straight to the restaurant in the Center House, where you can choose from a range of hearty comfort foods, such as ramen noodles, Japanese curry, and deep-fried chicken. After lunch, I went to the next building to rent skis and snowboards. I didn't bring my equipment because I didn't want to carry it around during the entire trip, but you can rent everything you need here, even ski wear and goggles.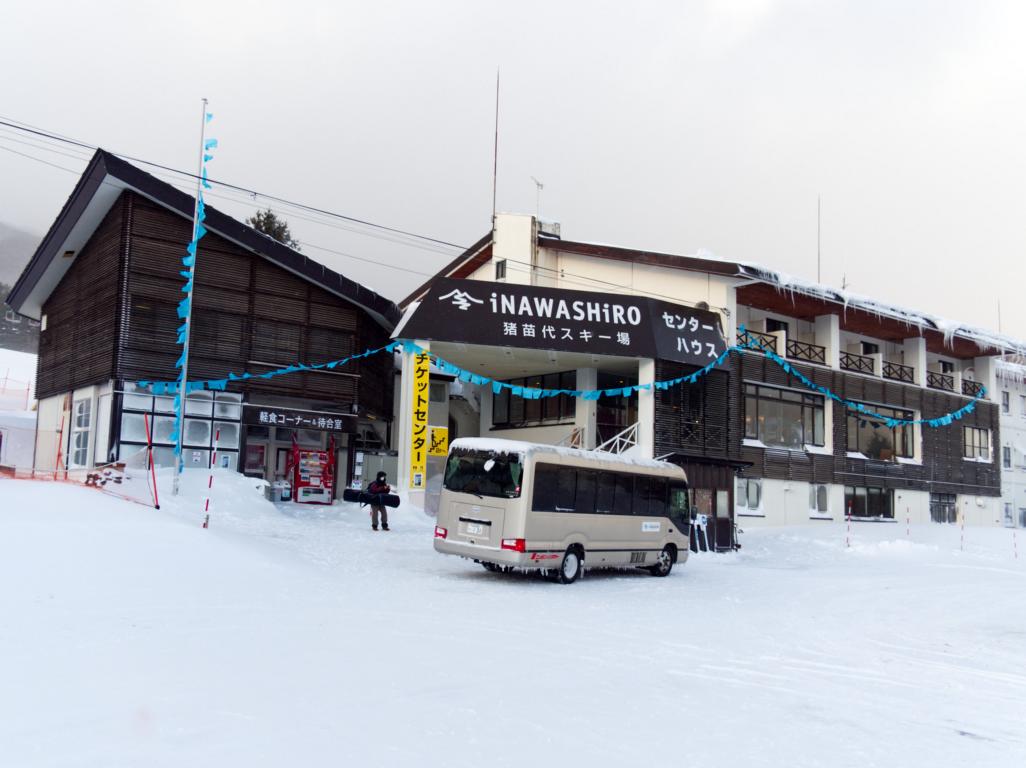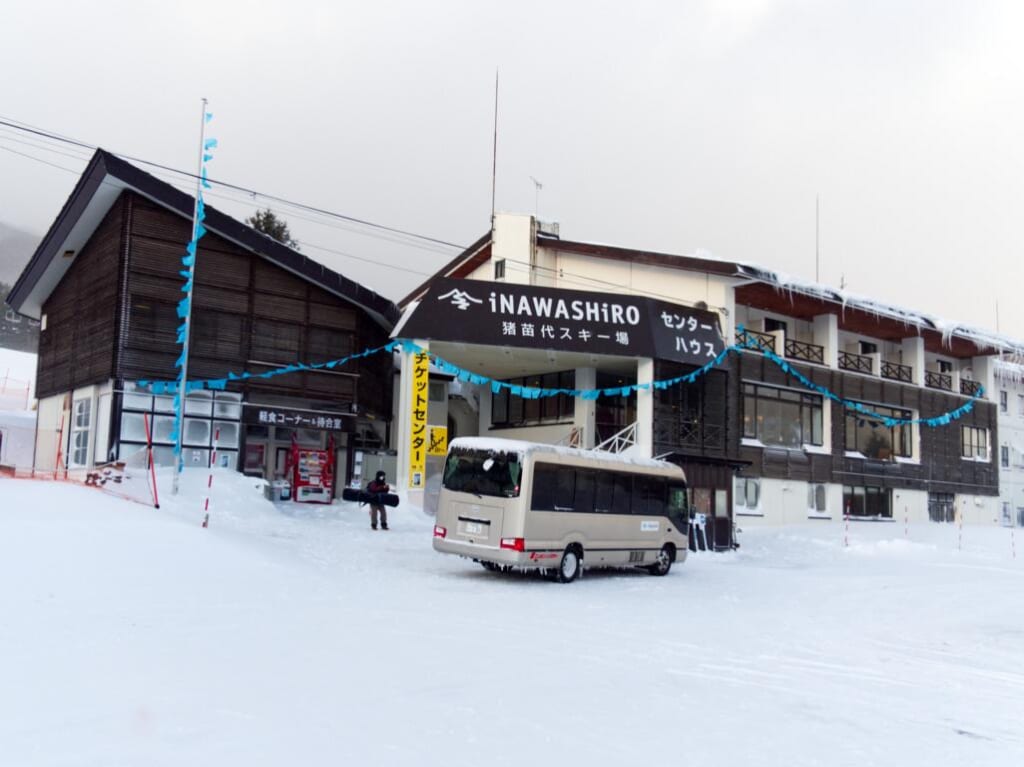 Because I visited on a weekday, there were not so many other skiers and snowboarders around, which was great because I didn't have to wait in line for the chairlift that took me up the mountain.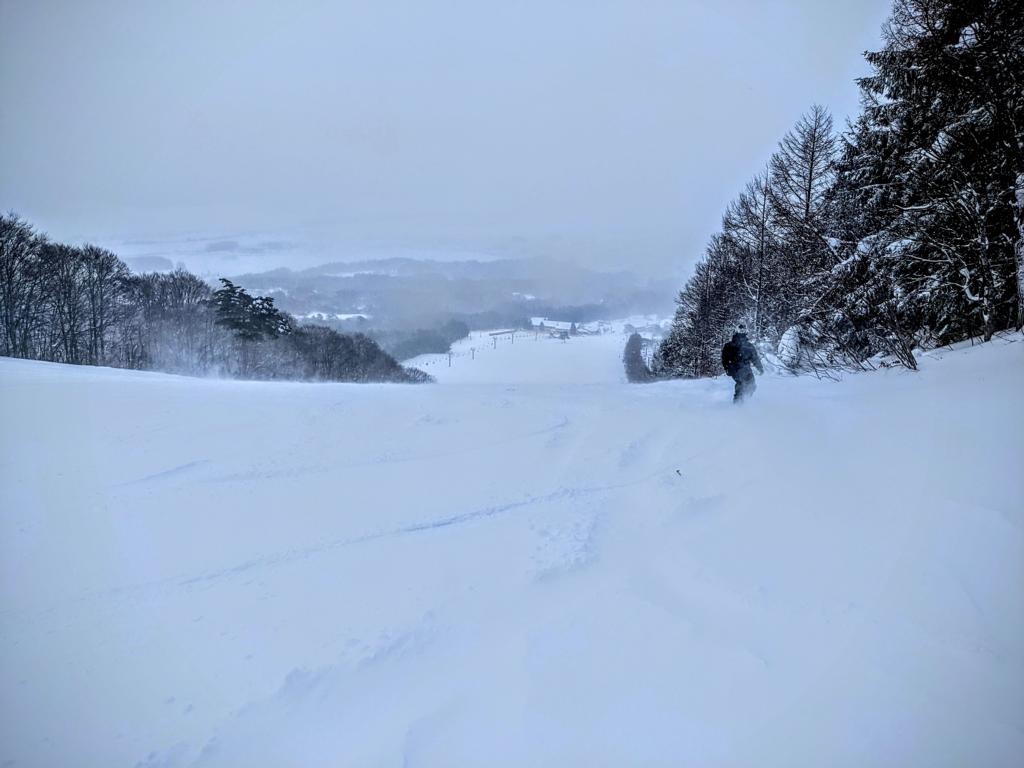 On a sunny day, you have terrific views of Lake Inawashiro from here. By the time I started skiing, it was snowing quite a bit, so the scenery was not the best. However, this didn't bother me because the ski run was covered with a perfectly beautiful layer of fresh snow. Before coming to Inawashiro, I had only skied at crowded ski resorts in Japan, so it was the first time in my life that I had the opportunity to ski on an untouched layer of powdery snow. It felt just amazing to plow through the light, fluffy pow.
Staying at Urabandai Lake Resort
From Inawashiro Ski Resort, I took a taxi to my accommodation at the Urabandai Lake Resort (裏磐梯レイクリゾート) for the night, but there is also a free shuttle available from Inawashiro Station. The hotel is located at the shores of Lake Hibara, surrounded by beautiful natural scenery.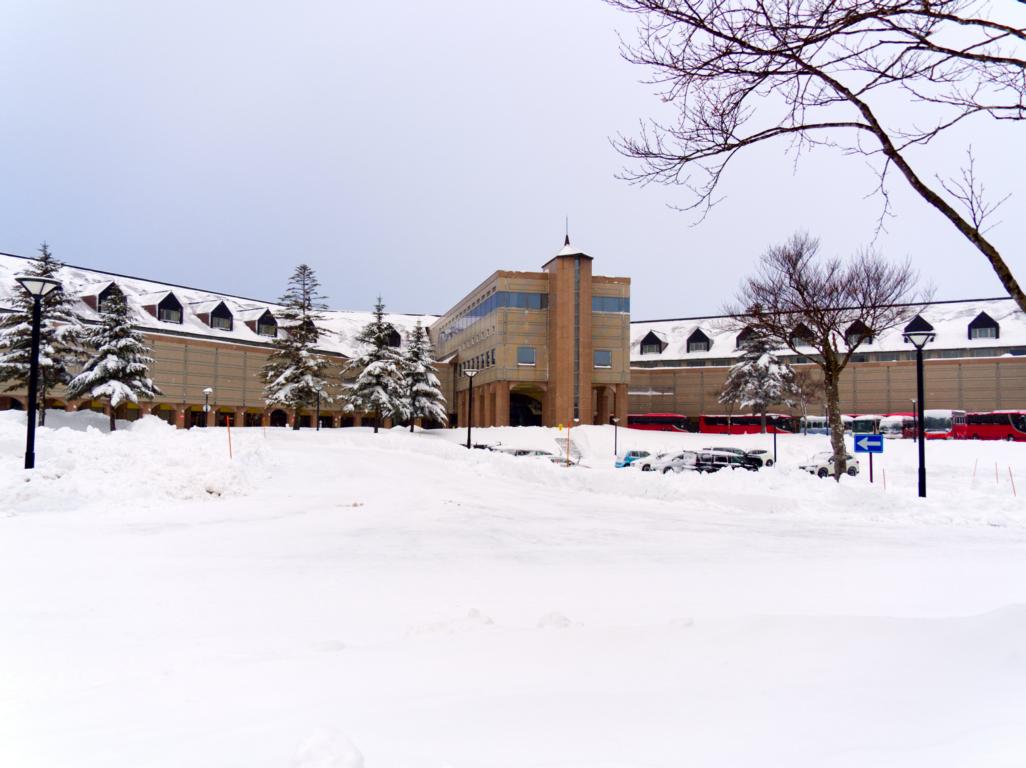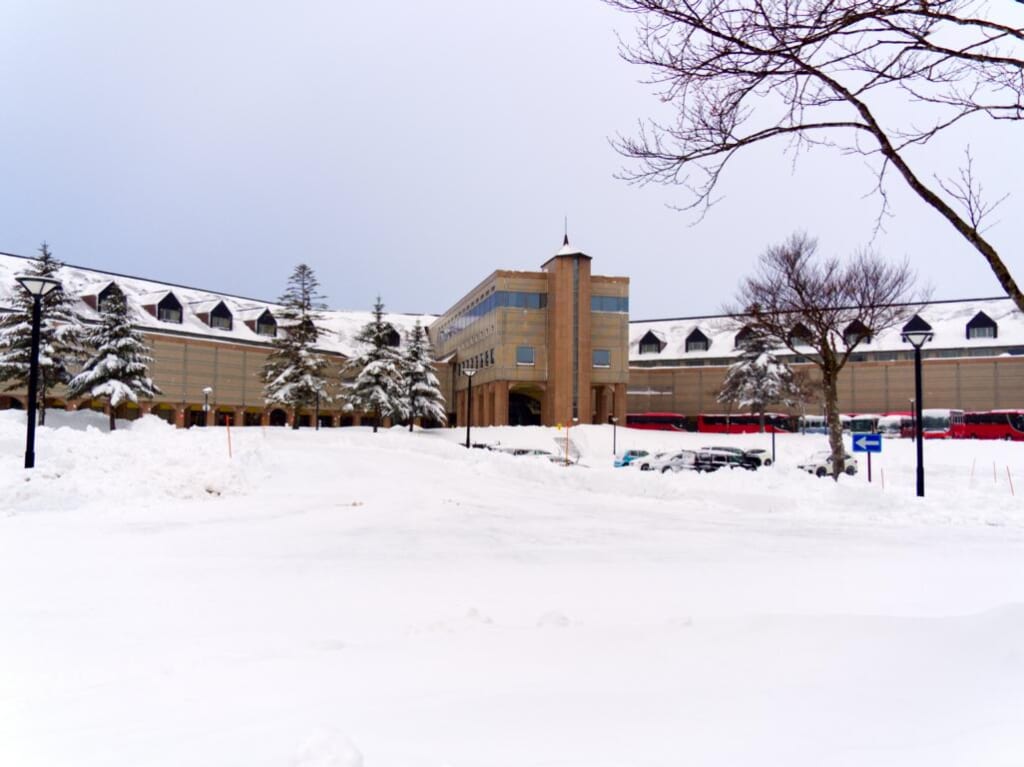 The multi-course kaiseki dinner at the hotel's own Japanese restaurant was as much a feast for the eyes as it was for the taste buds. The menu changes every season, highlighting seasonal ingredients. It also includes local specialties, such as the hearty Aizu kozuyu soup made from dried scallop stock and many different vegetables.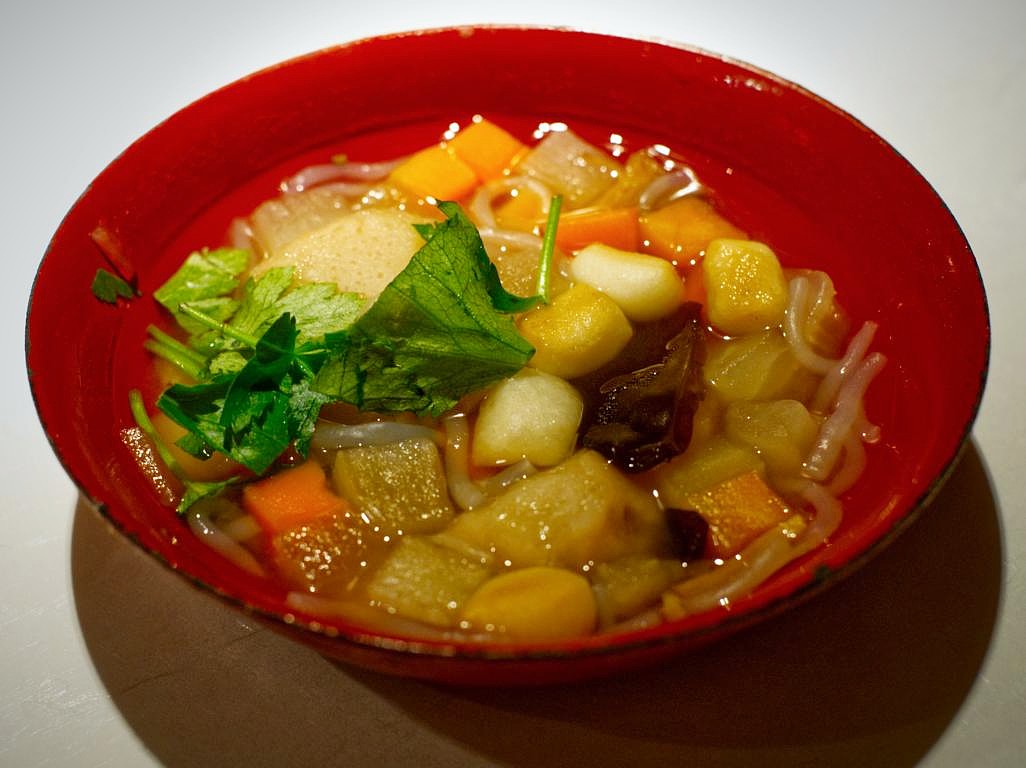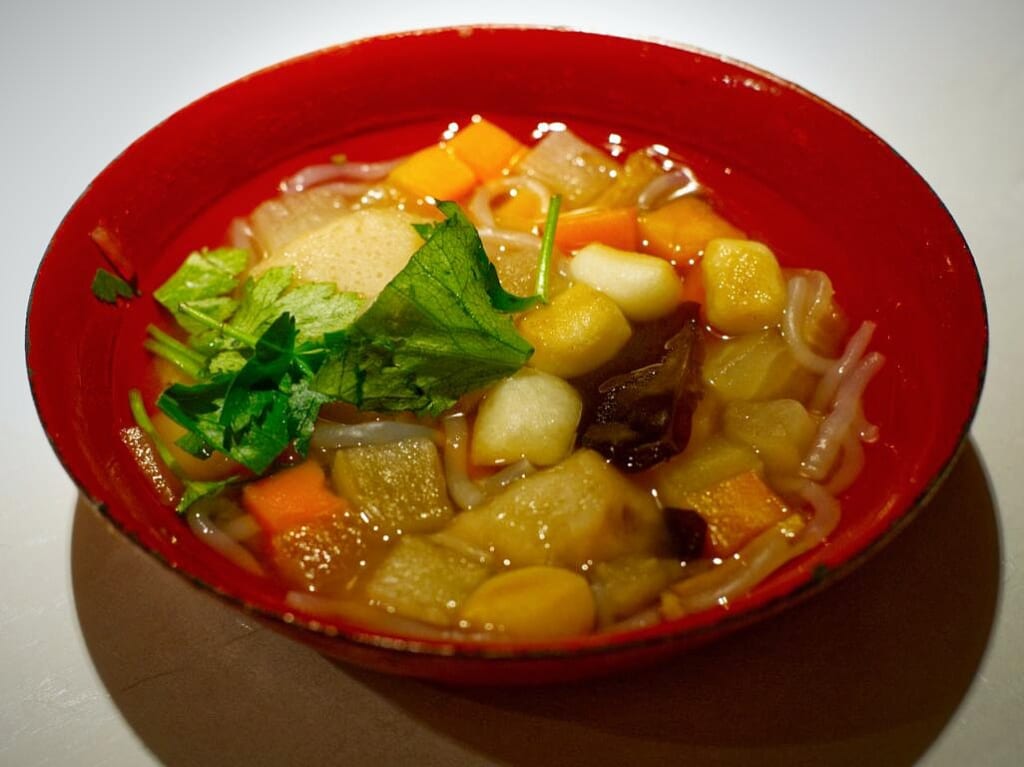 Since Fukushima is also famous for its high-quality sake, I recommend ordering a nomikurabe set that allows you to sample three different local sake.
The perfect way to end a day of skiing is a relaxing bath in one of the hotel's hot spring baths. I'd highly recommend you check out the rotenburo outdoor bath, which provides stunning views of Lake Hibara.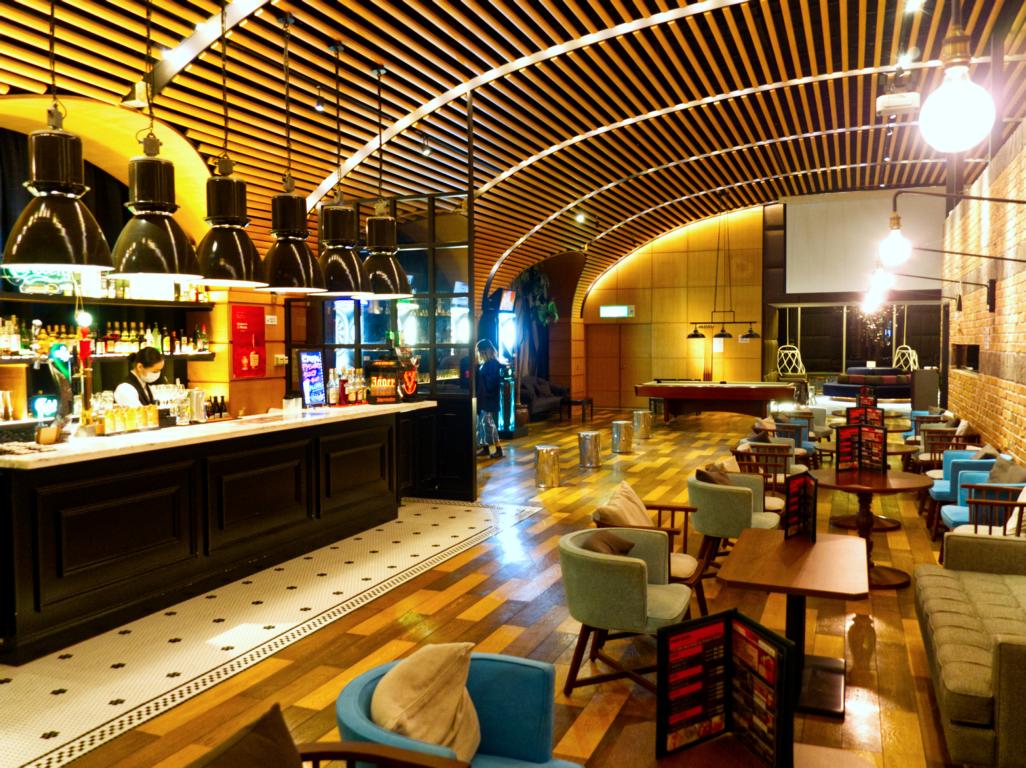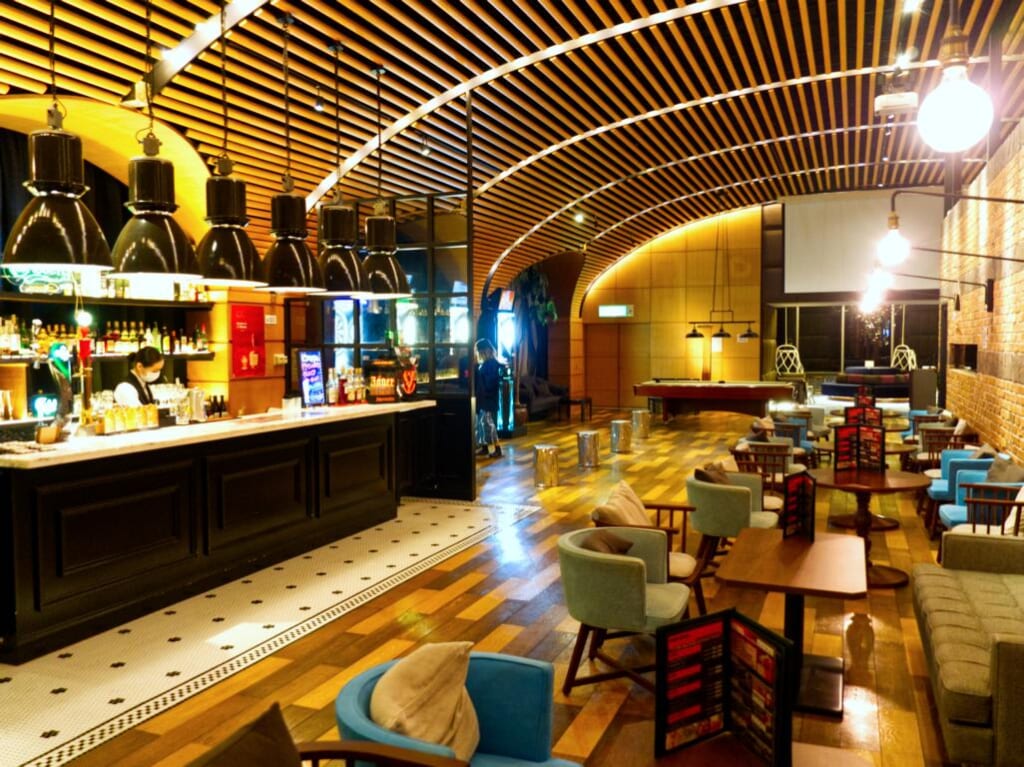 Those who are still not ready to go to bed can enjoy a drink in the hotel's bar, where you can also play darts, billiard, table tennis, or take a few swings in the golf simulator!
Exploring Goshikinuma Ponds with Snowshoes
The following day I meet Watanabe-san, my guide for the snowshoe tour to Goshikinuma Ponds (五色沼), just a few minutes' walk away from Urabandai Lake Resort. It was the first time I walked in snowshoes, but unlike skiing, you don't need to master any complex technique to use them so everyone can enjoy a snowshoe tour.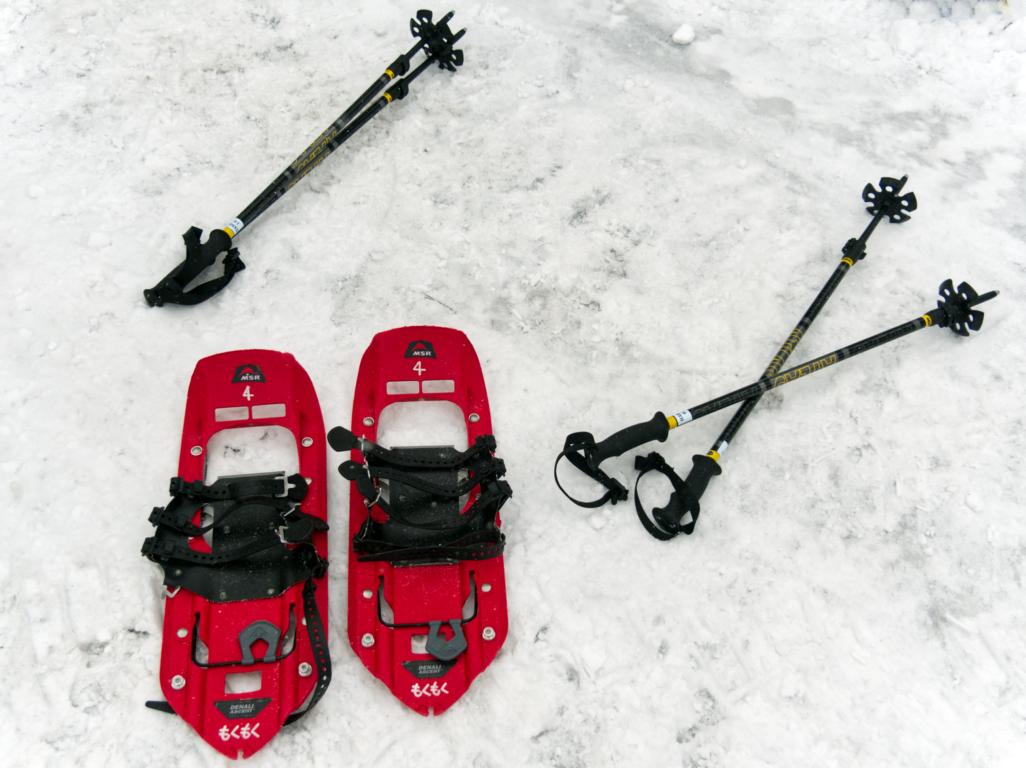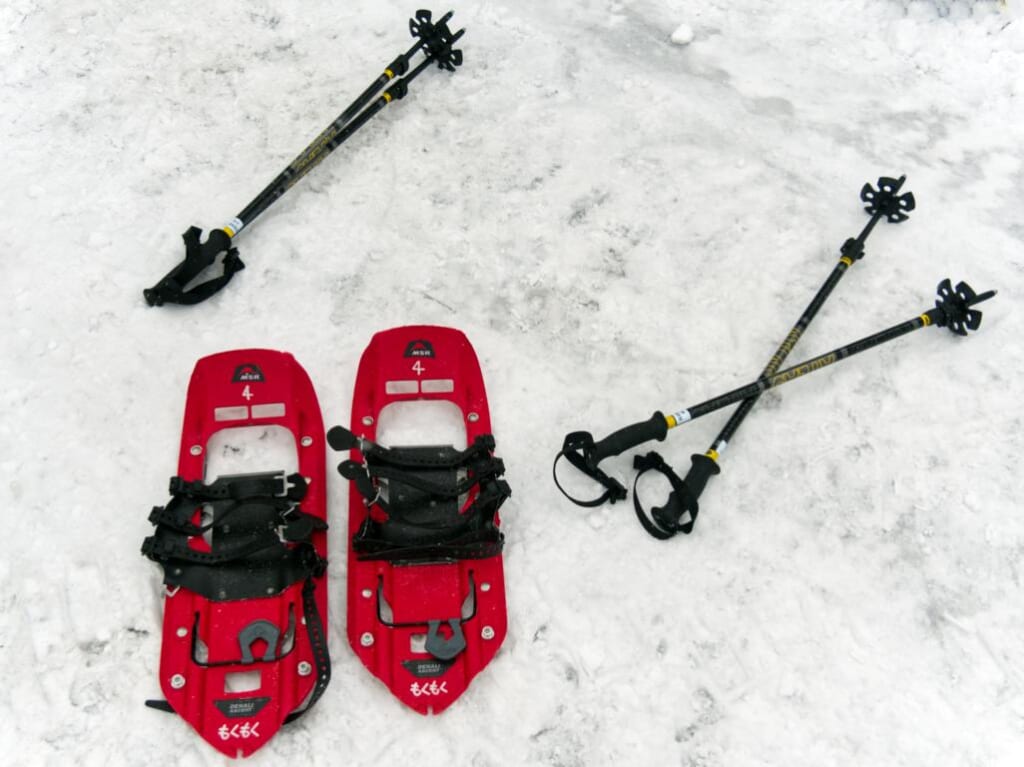 Goshikinuma Ponds is the name of a group of natural ponds. The name loosely translates as "five coloured swamps" because each pond has its own unique colour, ranging from reddish-green to cobalt blue. These ponds were created by an eruption of Mt. Bandai in 1888. The eruption was so powerful that it completely changed the landscape around the mountain and imparted underground mineral deposits that gave each pond a unique colour. The area's rich beauty has even received a star rating in the Michelin Green Guide of 2016.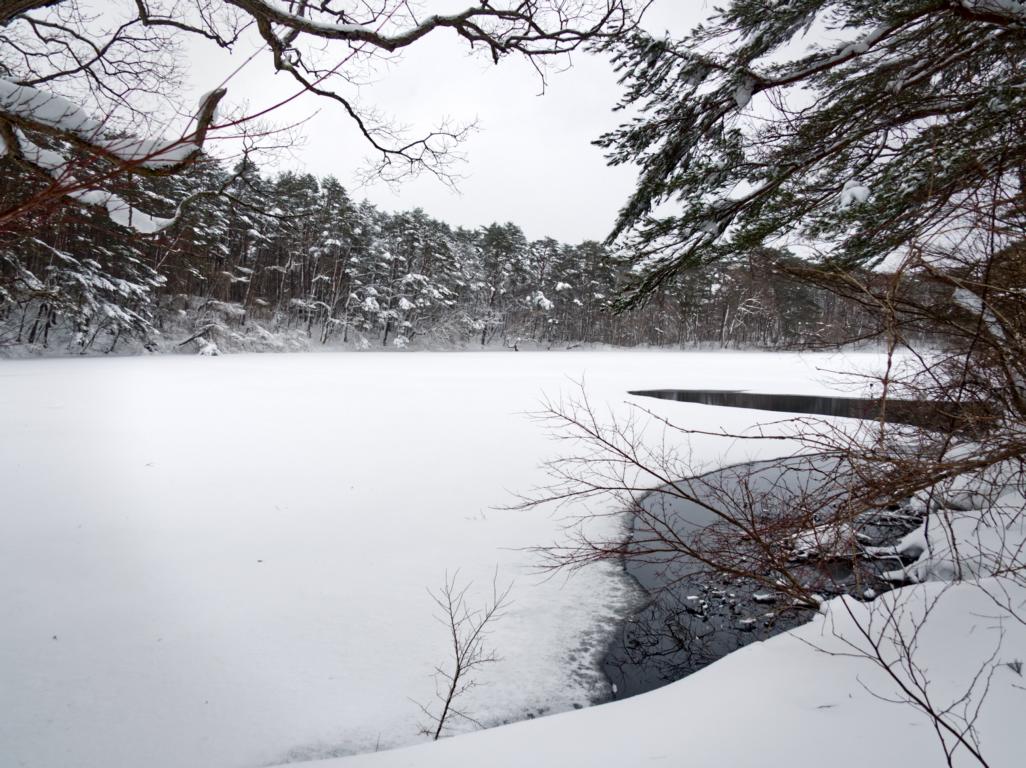 As we hiked through the peaceful forest, with no signs of any other human beings around, it felt as if we would be several days' march away from any civilization, although we were just a few minutes' walk away from the hotel. Watanabe-san showed me the footprints of some animals in the snow, and a tree with claw marks that a black bear had left there.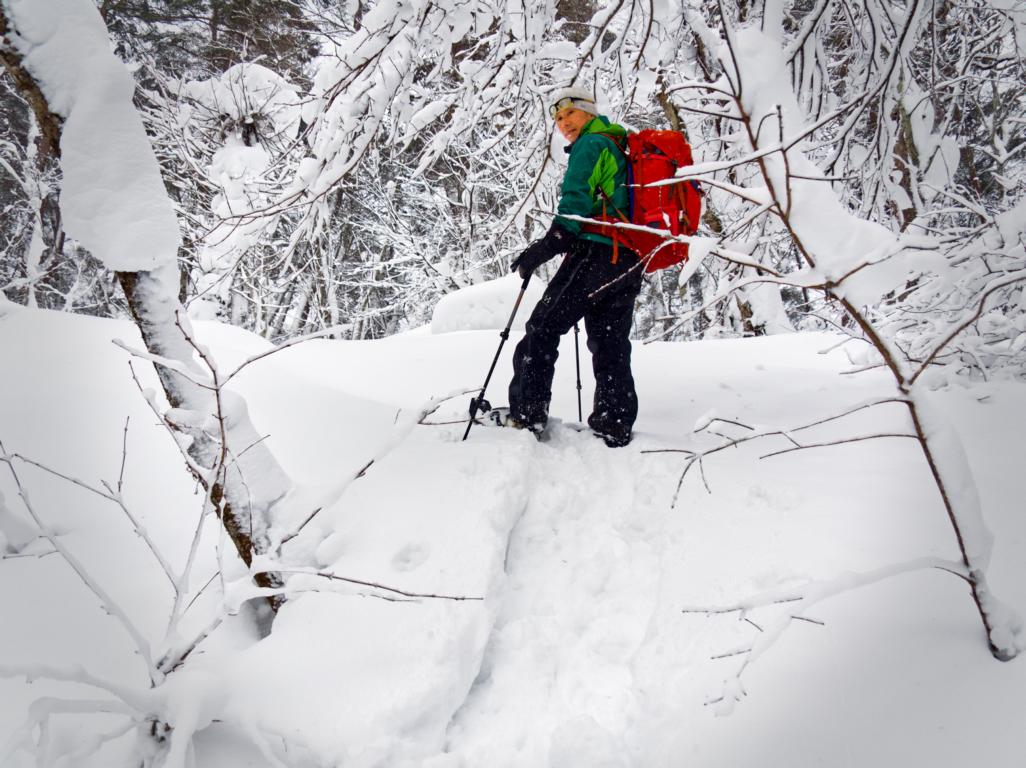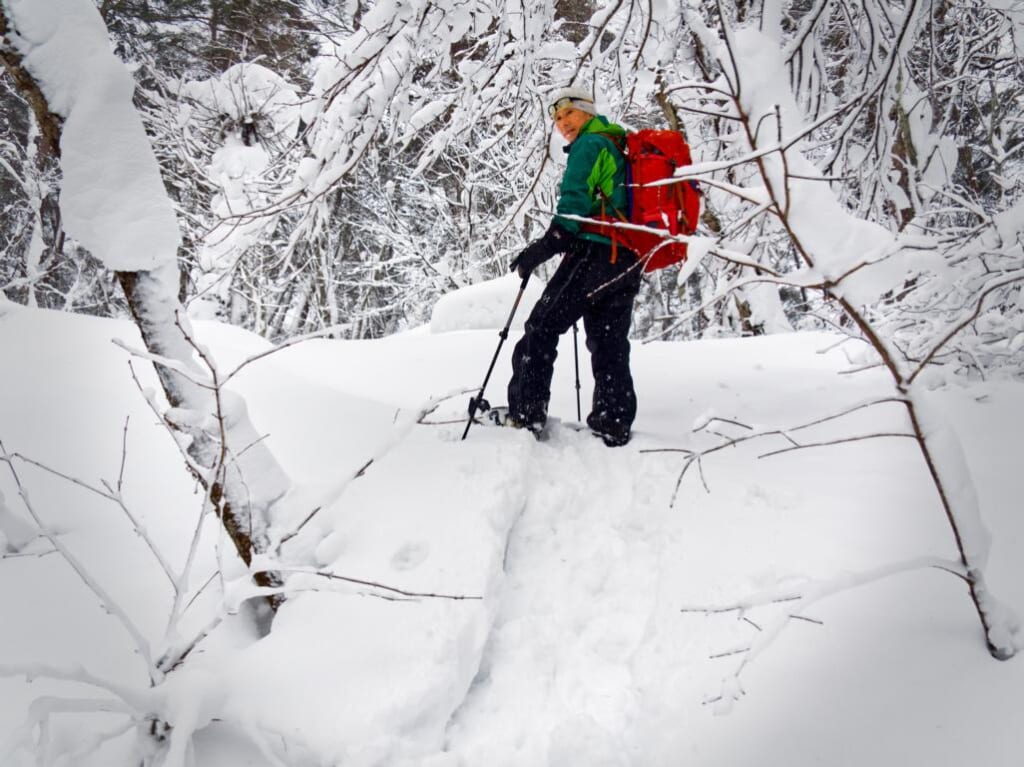 My absolute highlight on this tour was the Aonuma (青沼), a pond with such a beautiful blue colour that it looked almost unreal. The bright blue in the middle of the surrounding snow's pure white was mesmerizing and made it seem like a scene straight from a fairytale.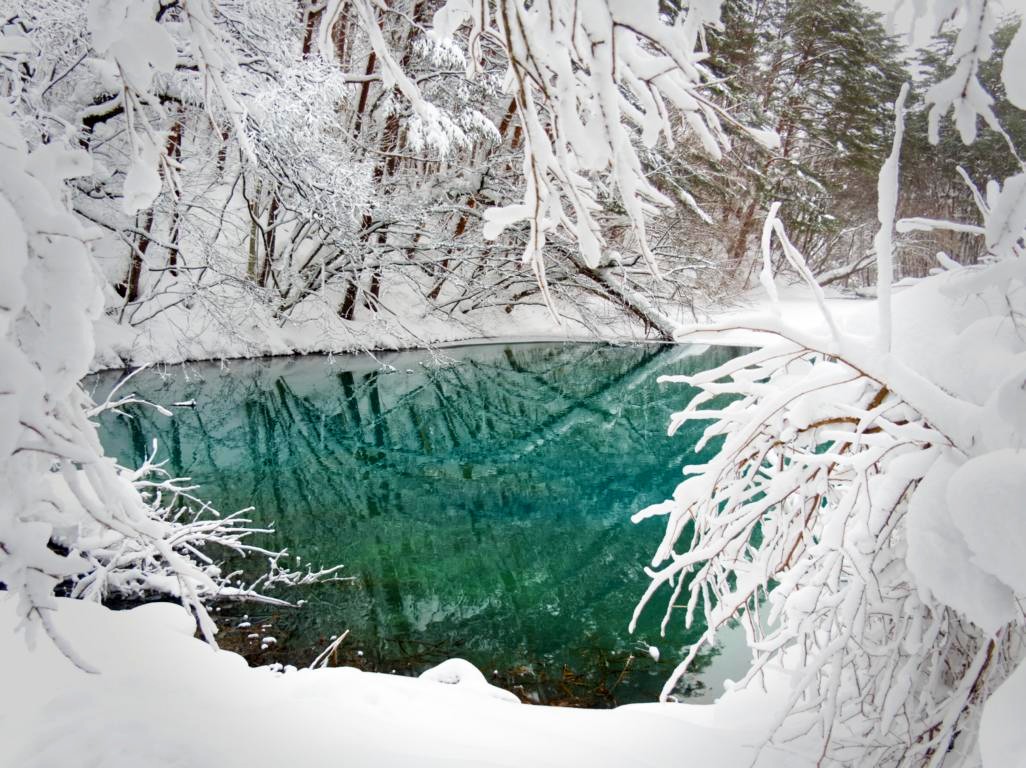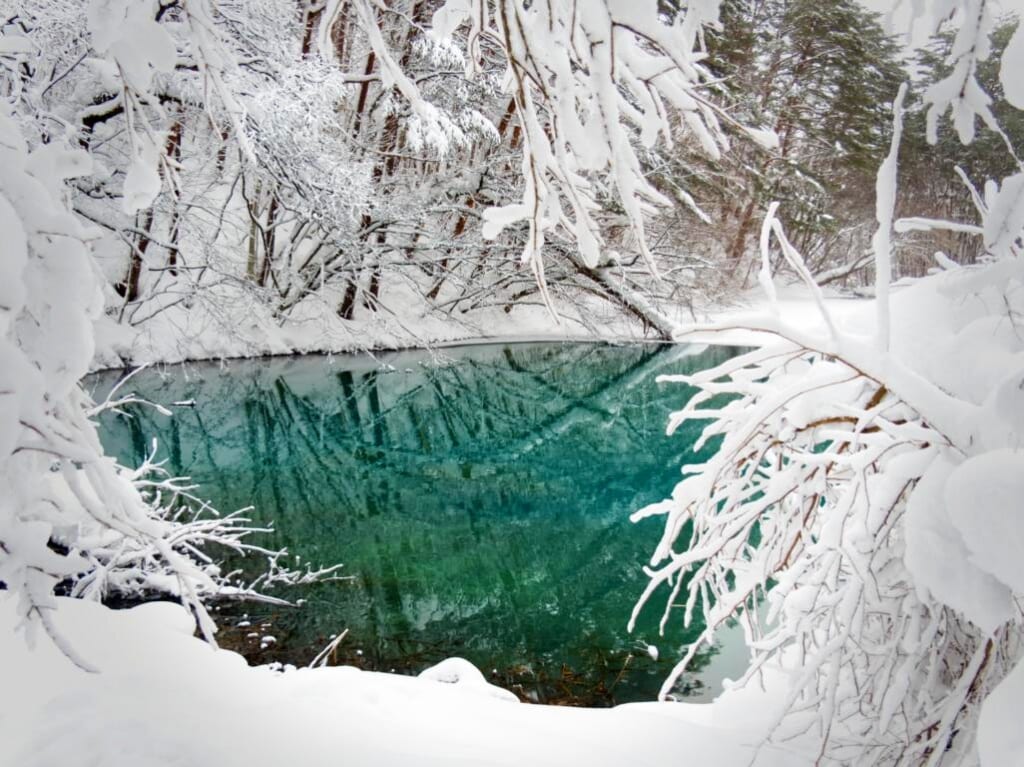 Entering a Spiritual Realm of Dewa Sanzan
The following day, I visited Mt. Haguro (羽黒山), one of the three mountains of Dewa Sanzan (出羽三山) in Yamagata Prefecture. For many centuries these mountains have been training grounds of the Yamabushi (山伏), adherents of Shugendo (修験道), an ascetic folk-religious practice that is based on mountain worship and draws heavily from Shinto beliefs and elements of esoteric Buddhism. On each of the three mountains is a Shinto shrine, in which kami, Shinto gods, are worshipped. A pilgrimage to all three mountains is seen as a transforming experience, with each mountain representing another stage of this process. Mt. Haguro represents the current life, while Mt. Gassan (月山) represents the afterlife and Mt. Yudono (湯殿山) represents rebirth.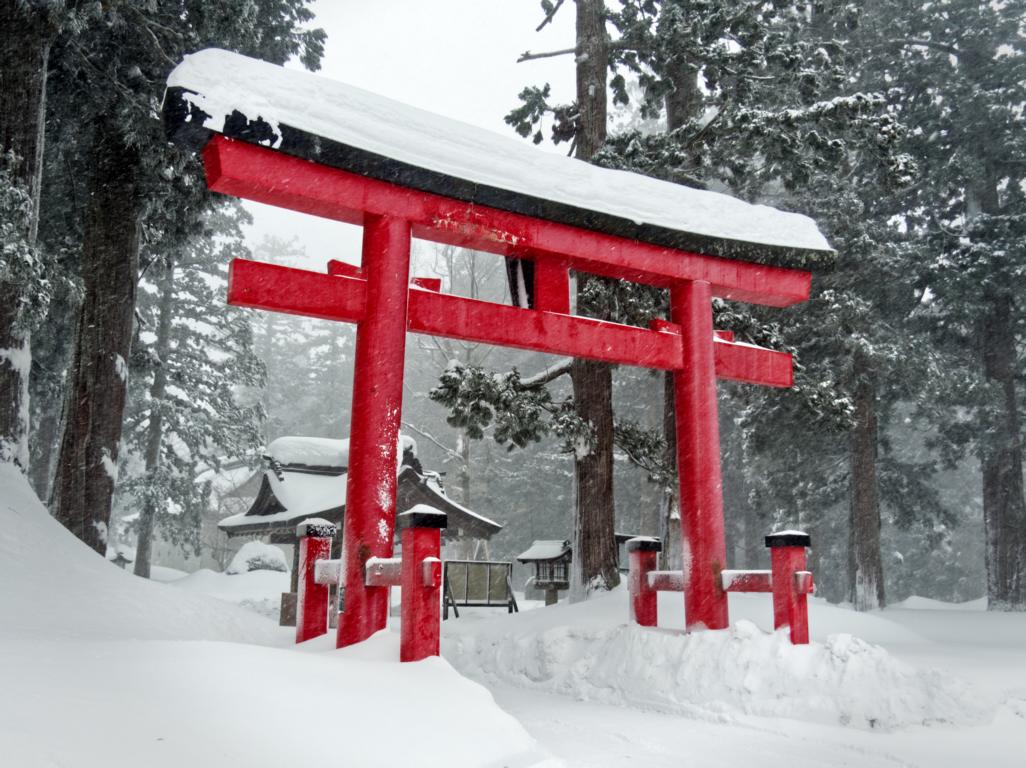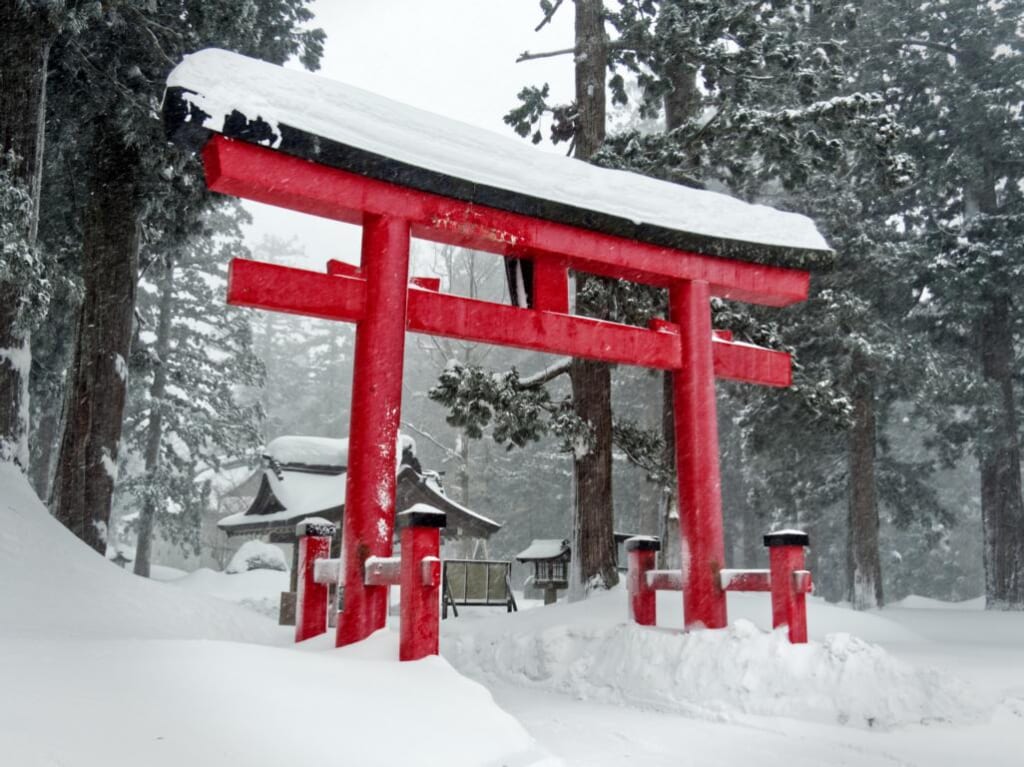 Mt. Haguro is the most easily accessible of the three mountains and functions as the entry point to Dewa Sanzan. In winter, it is the only one of three that visitors can visit due to the heavy snowfall in the region. Therefore, the Gassan Visitor Center is also located on Mt. Haguro. Here, you can get more information about the mountains or warm yourself up with a hot coffee next to a pellet stove. You can also rent snowshoes, but since I already did that the previous day, I went old-school and tried out the kanjiki, a form of traditional Japanese snowshoes.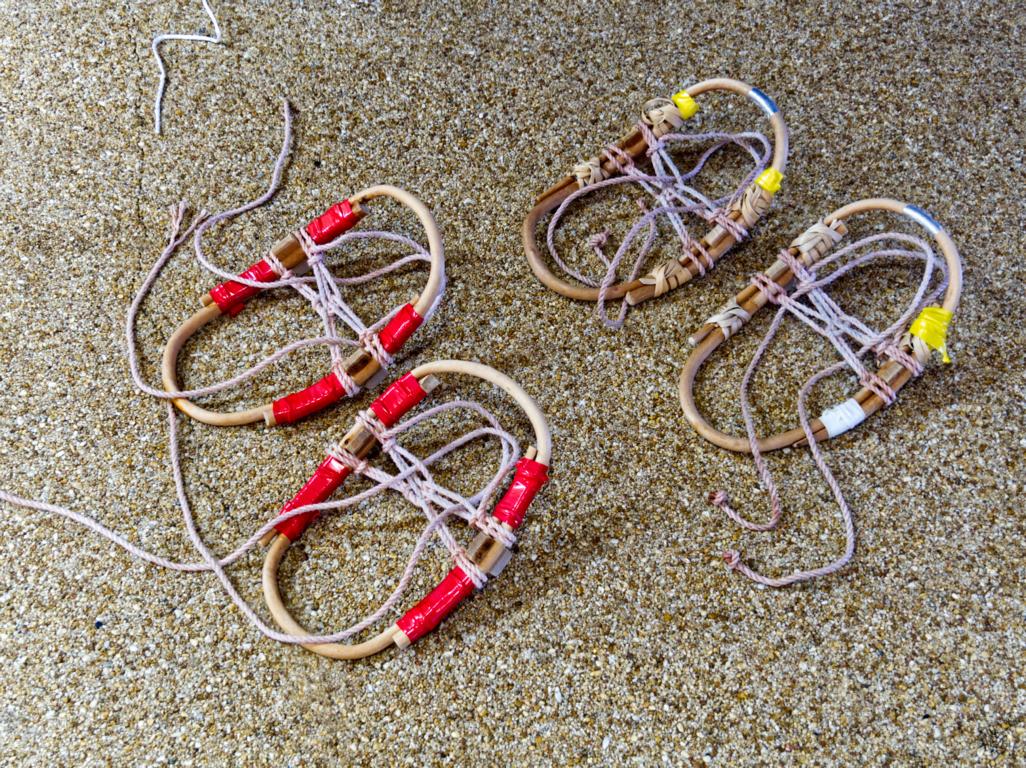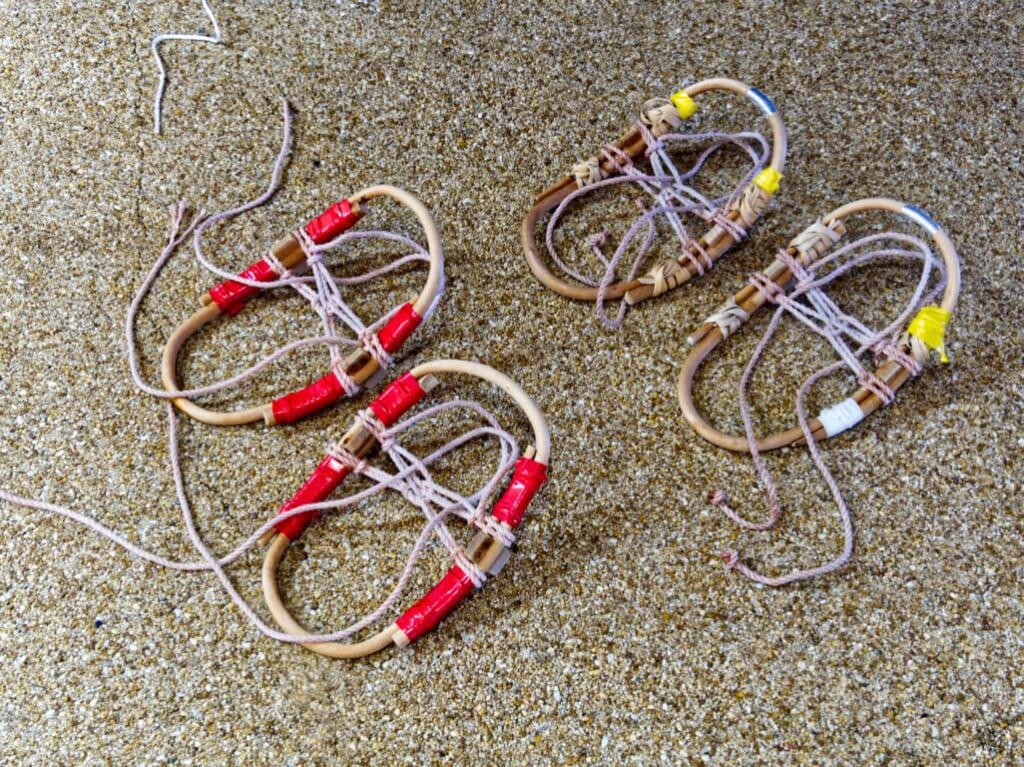 Walking outside, I realized that you sink much deeper than with the modern snowshoes, and it is more challenging to walk. So I wouldn't recommend walking long distances with the kanjiki, but it was definitely a fun experience and made me appreciate the convenience of modern advancements.
Hagurosan Sando (羽黒山参道) is the name of the path that leads from the foot of the mountain to the main shrine at its top. 2,446 stone steps lead up the roughly two-kilometre-long path lined by huge cedar trees, most of which are three hundred to five hundred years old.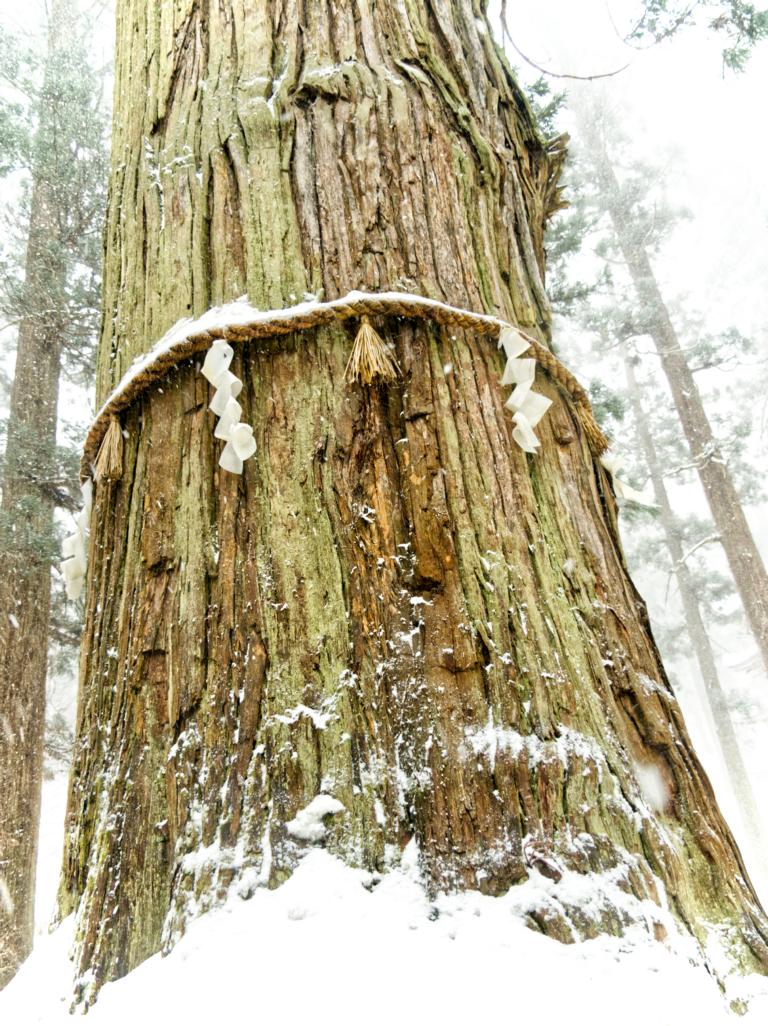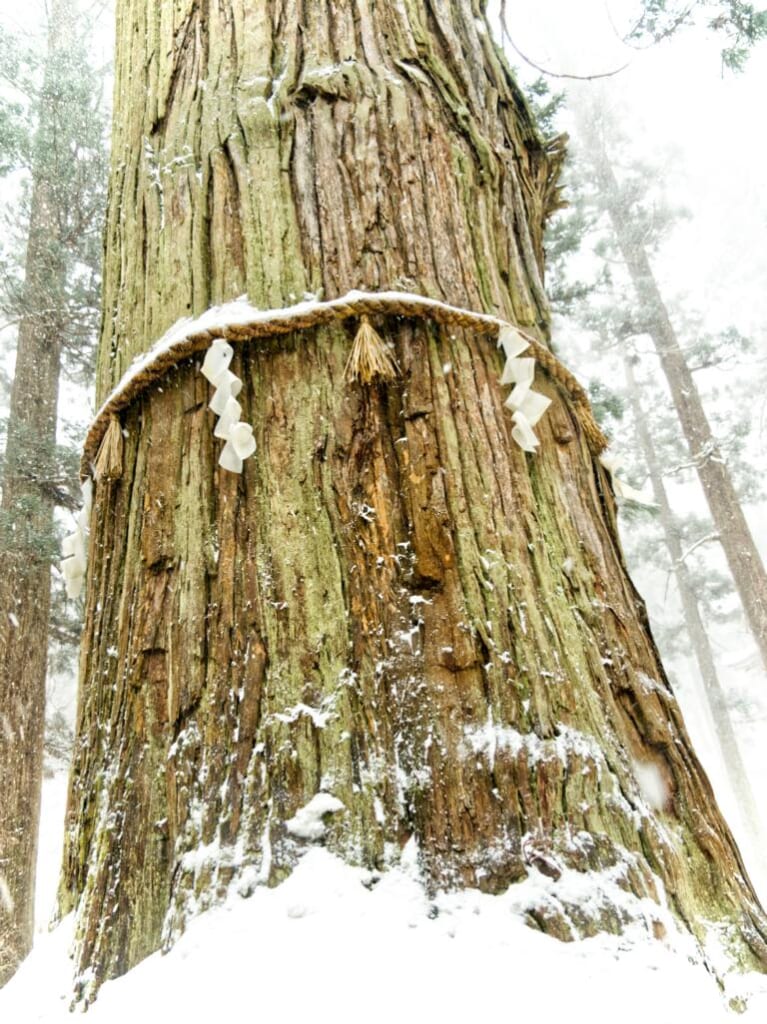 The fiery red Zuishimon Gate (随神門) marks the entrance to the path. The gate once housed two Buddhist guardian deities, but during anti-Buddhist sentiments during the end of the 19th century, it was rededicated as a Shinto gate.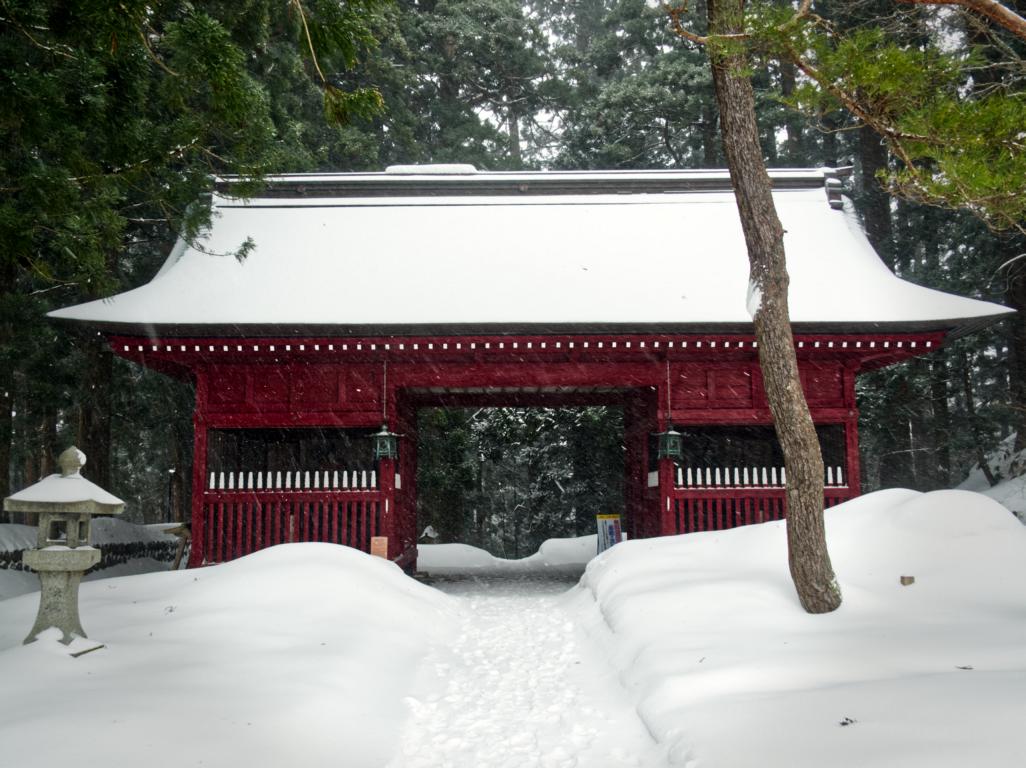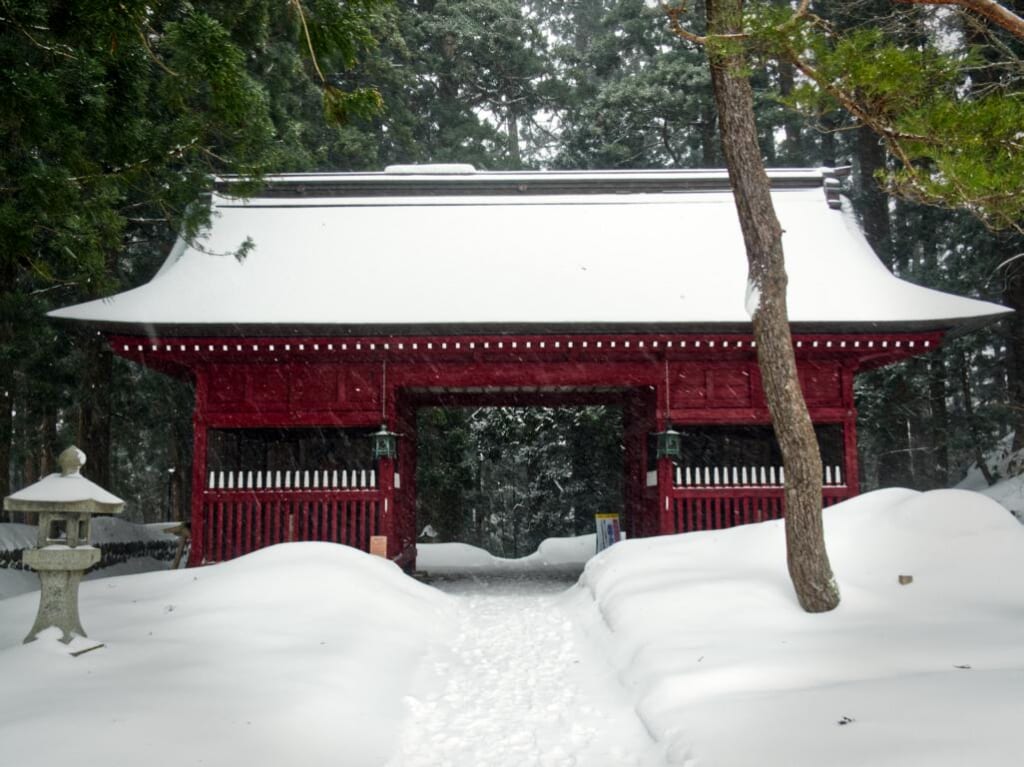 Because of the deep snow, I had rented rubber boots and hiking sticks at the nearby Ideha Bunka Museum (いでは文化記念館). And I was thrilled that I did so. There was a small path other people had previously walked through before me, though a careless step off the snow-beaten path had me immediately sink knee-deep into the snow, glad to be protected with my proper hiking gear.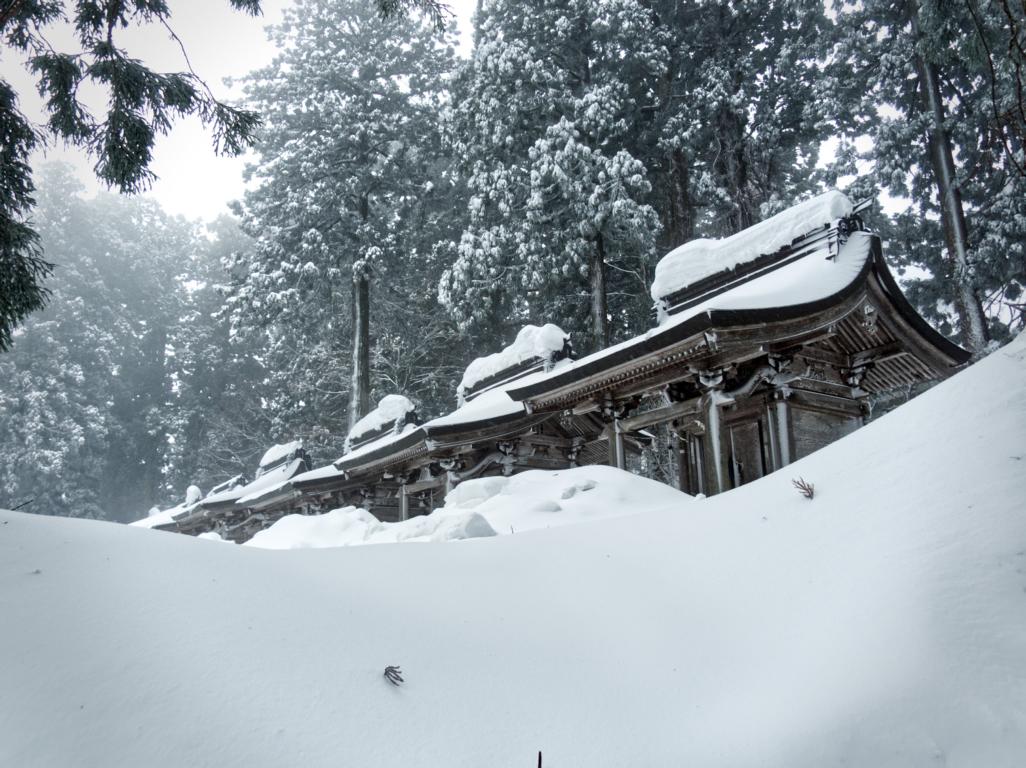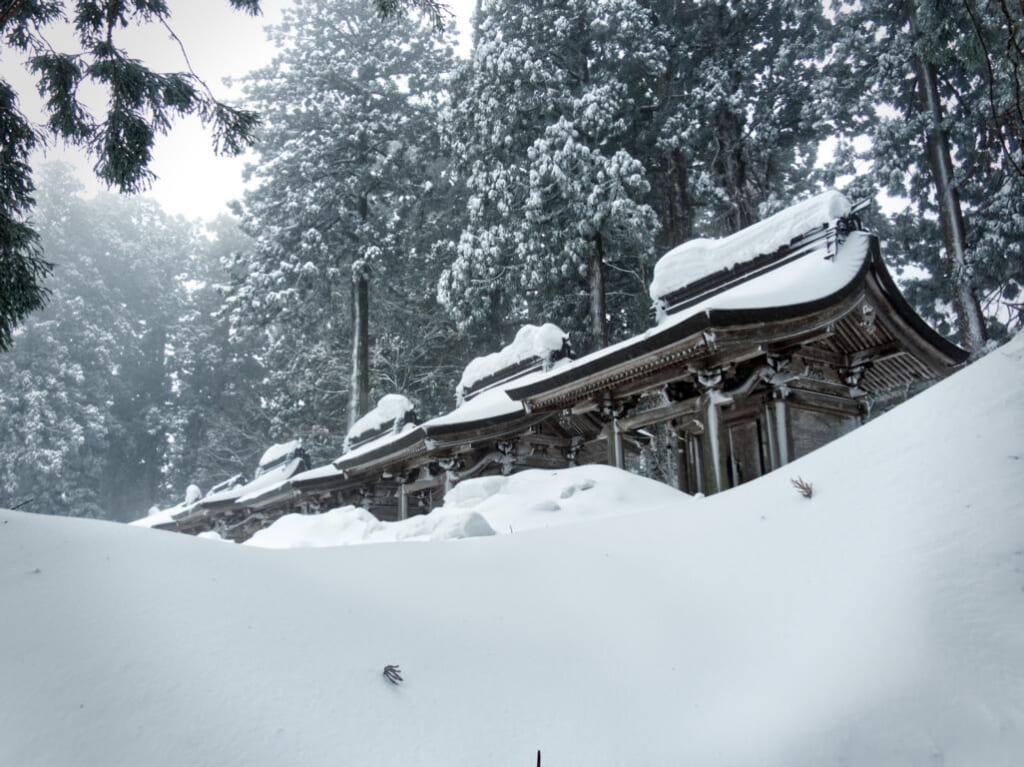 I passed several smaller shrine buildings, and after a few minutes, I arrived at another remaining Buddhist structure — a five-storied pagoda. This graceful wooden structure was first built in the tenth century when there were several temples on Mt. Haguro. When I stood in front of the pagoda, hearing only the chirping of birds and the noise of a waterfall in the distance, the snow seemed to fall in slow motion, and I felt like I was in a different world.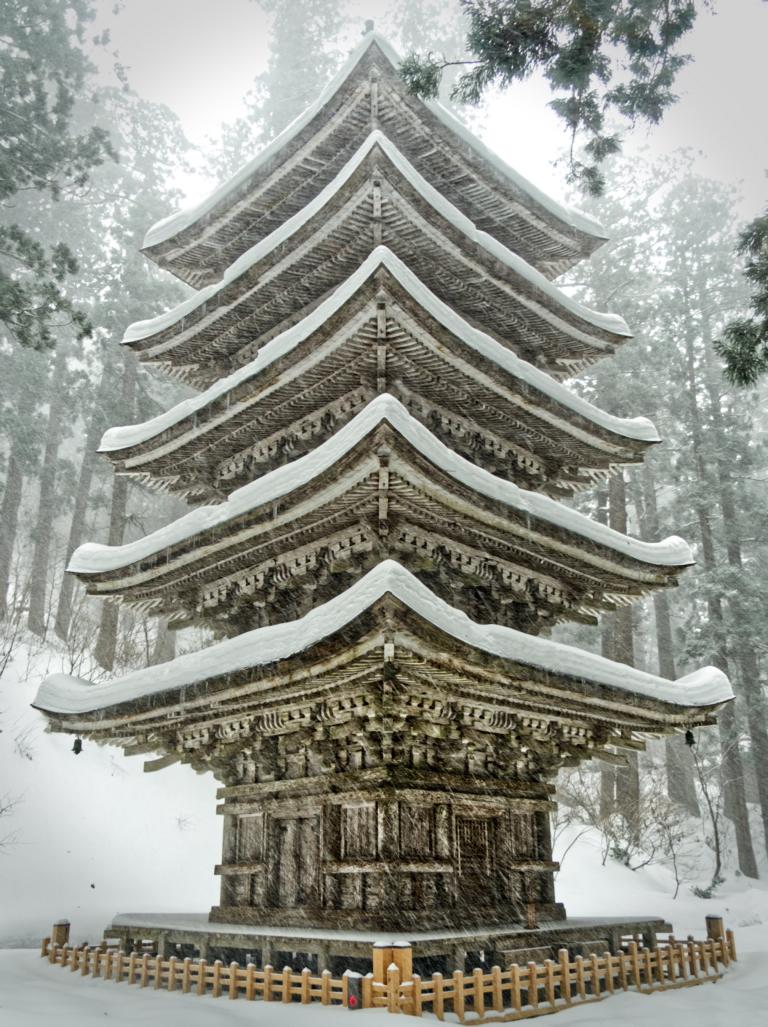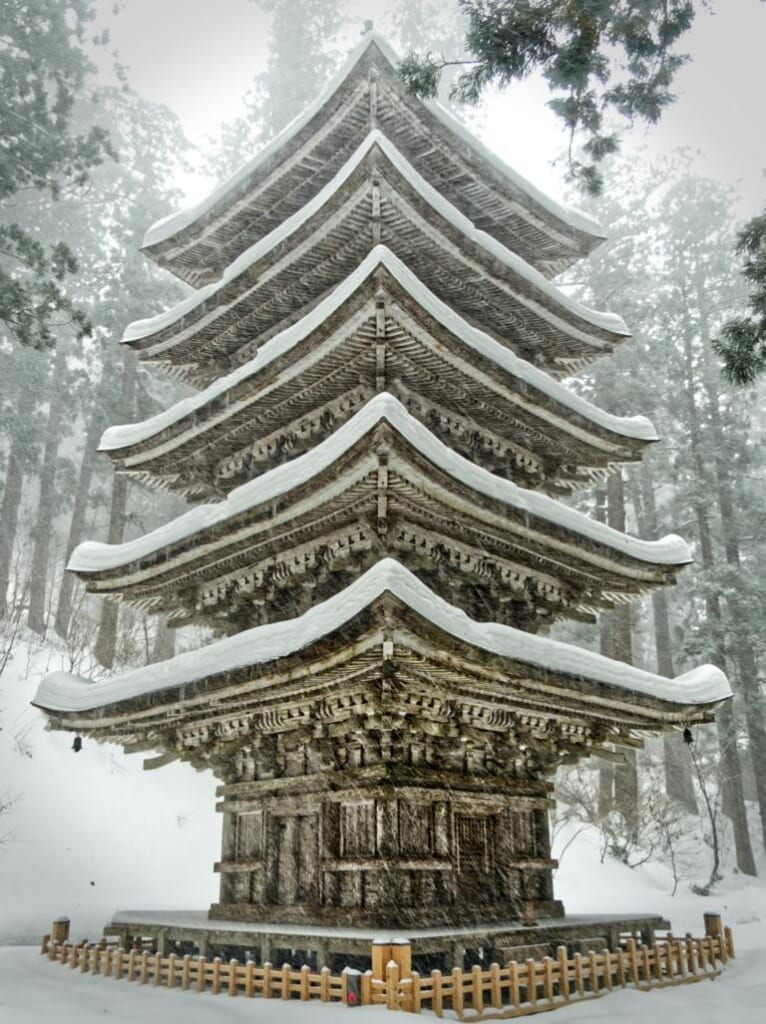 At the end of the path stands Sanjin Gosaiden (三神合祭殿), the main building of Mt. Haguro's shrine. Since the other mountains are difficult to reach in winter or for those who cannot hike, the gods of all three shrines can be worshipped here. Its massive thatched roof is 2.1 metres thick, making it the thickest in all of Japan.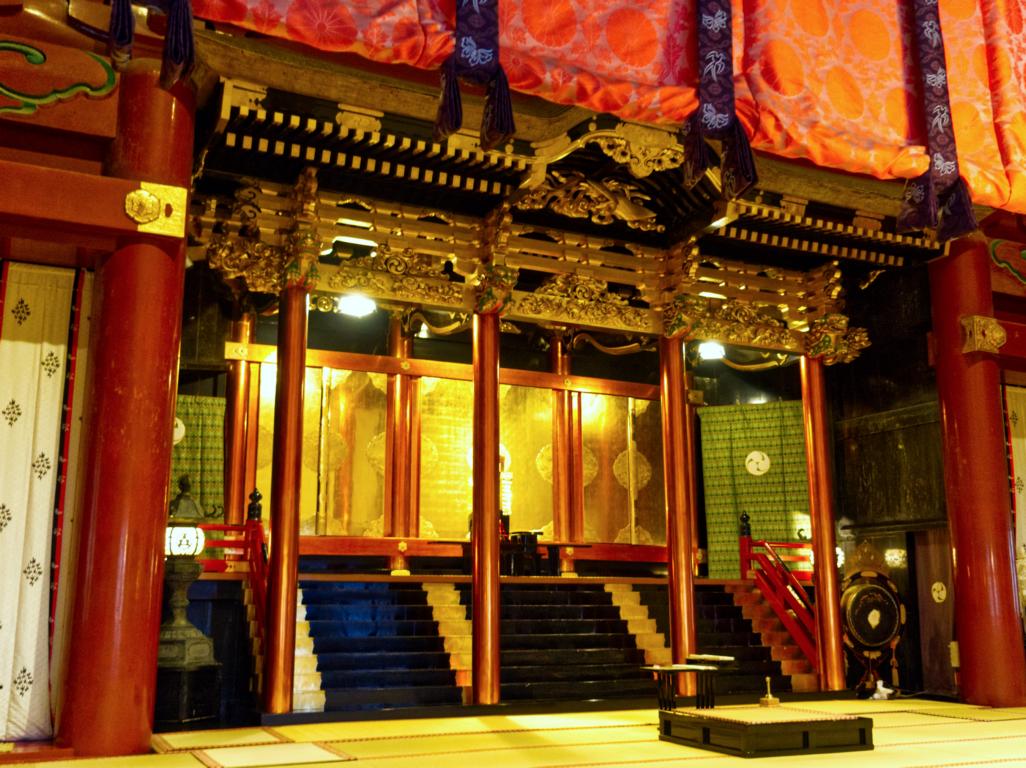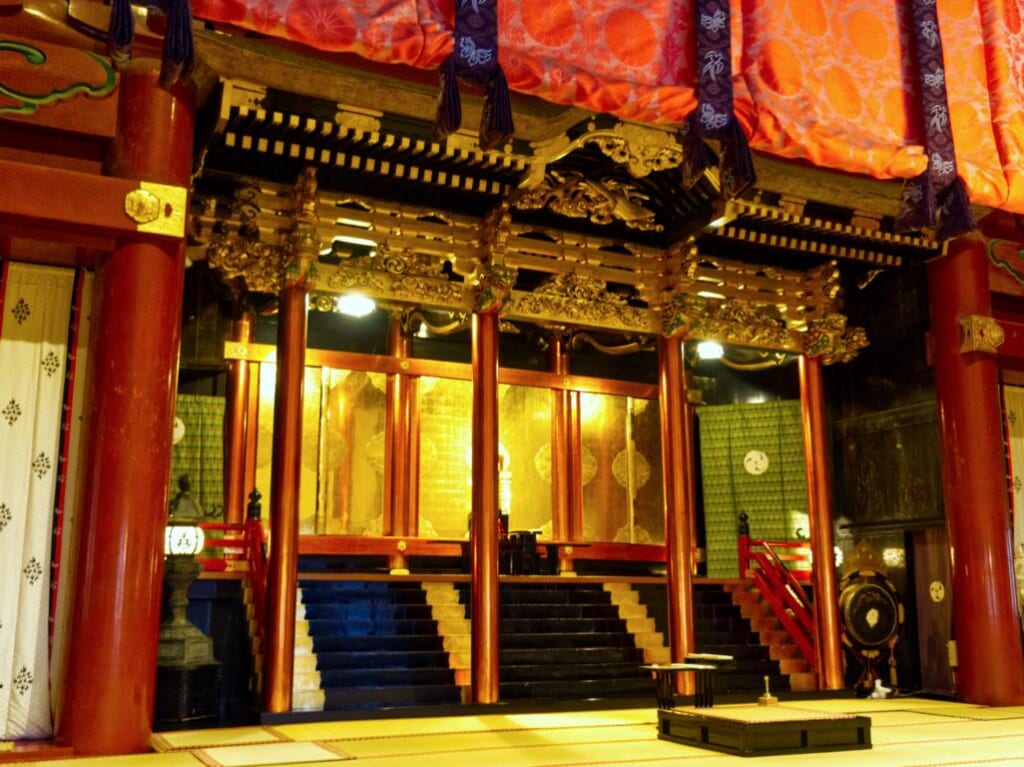 As I entered, I could hear drums and the prayers of one of the priests. Apparently, an elderly couple had come to the shrine to receive a blessing from the gods.
Japanese Shojin Ryori Buddhist Lunch at Saikan
If you come in summer and want to stay longer to visit all three mountains, you can stay for a night at Saikan (斎館), a traditional lodging directly connected to the Sanjin Gosaiden. I was not planning to stay here, but you can also have a fantastic shojin ryori (精進料理) lunch at Saikan. Shojin ryori is a vegetarian cuisine that has roots in Buddhist monk diets in East Asia. This traditional Buddhist cuisine reflects the monk's meatless diets and lack of certain plants with strong flavours since it was believed these could overstimulate their senses, making it difficult to meditate. Shojin ryori developed as a meal that was served to the guests of temples.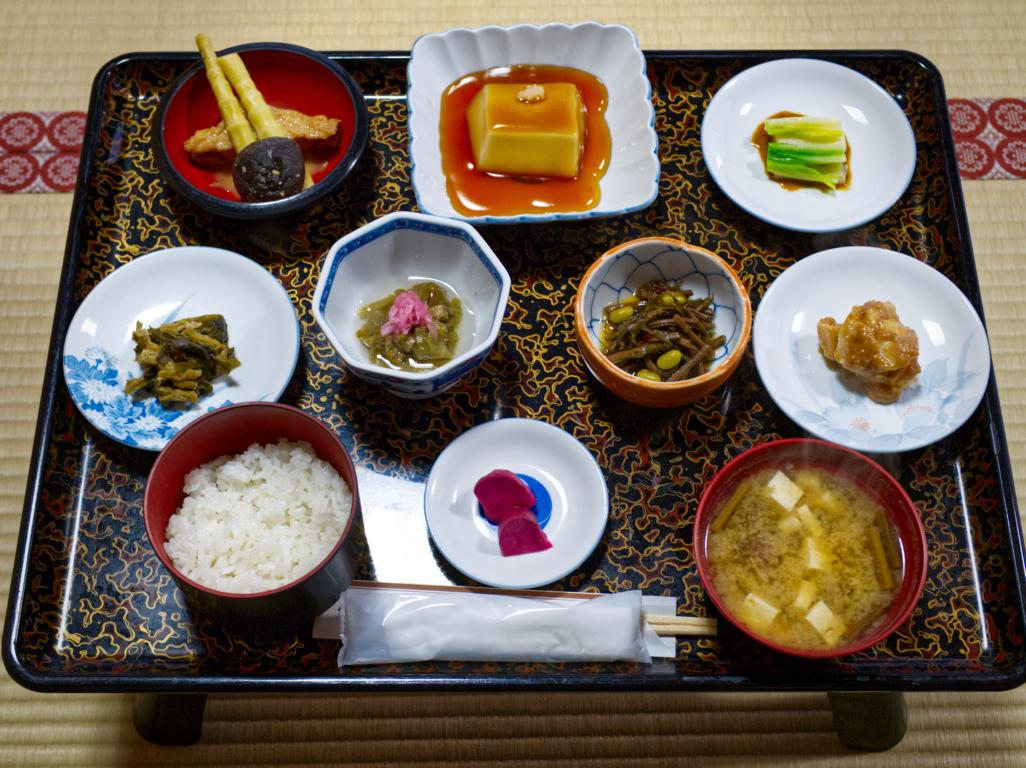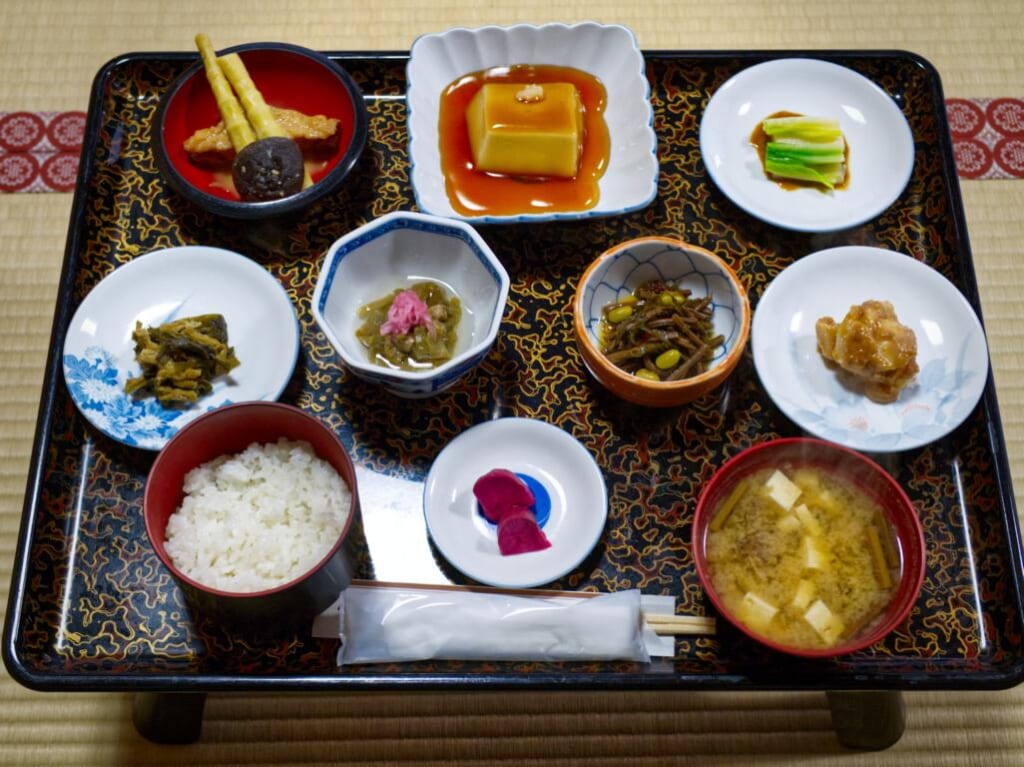 The Shojin Ryori of Dewa Sanzan is unique, as it is based on the food that the Yamabushi eat during their ascetic training, so it usually includes many mountain vegetables and other ingredients that the Yamabushi could find in the area. Also, through the influence of Shinto thought, an awareness of receiving the blessings and the life force of the mountains through the food is emphasized. The Shojin Ryori of Dewa Sanzan is very healthy, but most importantly, it is also very delicious.
How to Get Around Bandai-Asahi National Park
From Tokyo, you can take the Tohoku Shinkansen to Koriyama Station. From here, take the Ban-Etsusai Line to Inawashiro Station. There are free shuttle buses available to Inawashiro Ski Resort and Urabandai Lake resort.
To get to Mt. Haguro, take the Joetsu Shinkansen to Niigata Station, and from here, the Inaho Limited Express to Tsuruoka Station. From Tsuruoka Station, you can take a Shonai Kotsu bus to the "Zuishinmon" bus stop.
If you want to avoid crowds, love winter landscapes and want to experience some fun snow activities, a visit to Asahi-Bandai National Park in winter is fantastic. For me, this trip was a perfect mix of outdoor activities and exploring Japan's rich spiritual heritage.
Sponsored by the Ministry of Environment Japan