Less than 3 hours from Tokyo, the sleek red Akita Shinkansen zips by snow-covered forests and frozen valleys of Semboku City (仙北市). Japan's deepest Lake, Tazawako, remains unfrozen, with its calming cobalt blue contrasting with the thick snow surrounding it. In defiance of north Japan's bitter cold are the heart-warming people of Akita, who welcomed me with open arms. In addition to the usual you'd expect from winter tourism in Japan, such as onsen, snow activities, and hot regional cuisine is the highlight: a Paper Balloon Festival that lights up the night sky.
Over the course of 3 days, I've had the chance to get to know Tazawako and Kakunodate areas intimately.
Shin-Tamagawa Hot Spring in Akita: Snow Tractor Rides, Snowshoeing, Hot Springs, and More
After arriving at the snow-covered Tazawako Station (田沢湖駅), we took a bus up north into the mountains past Lake Tazawa and eventually arrived at Shin-Tamagawa Hot Spring resort. The snow on both sides of the road was already over two meters high, and as we turned the corner into the resort lobby, we were greeted with two large kamakura snow huts and a row of character snowmen statues. It's a tradition at this resort each year to build kamakura and snowmen while the snow is still powdery and fluffy. Then, at night they'll light up the kamakura, and you can spot them from the restaurant on the second floor.
We head out for our first adventure in the snow on the snow tractor for some snowshoeing in the beech forest. There are two different snow tractors at this resort, one with large windows to enjoy the snowy views on all sides fully. We drove through the snow-covered roads at a slow 14km/hr and eventually arrived at a forested area where we'd explore on snowshoes. The trek through the forest was short as the snow was now hefty. Shin-Tamagawa Hot Spring resort's guide was very knowledgeable and showed us some mountain grape plants and Japanese flying squirrel nests. Finally, we rewarded our snowshoeing efforts with some hot apple juice prepared by our guide before returning to the resort.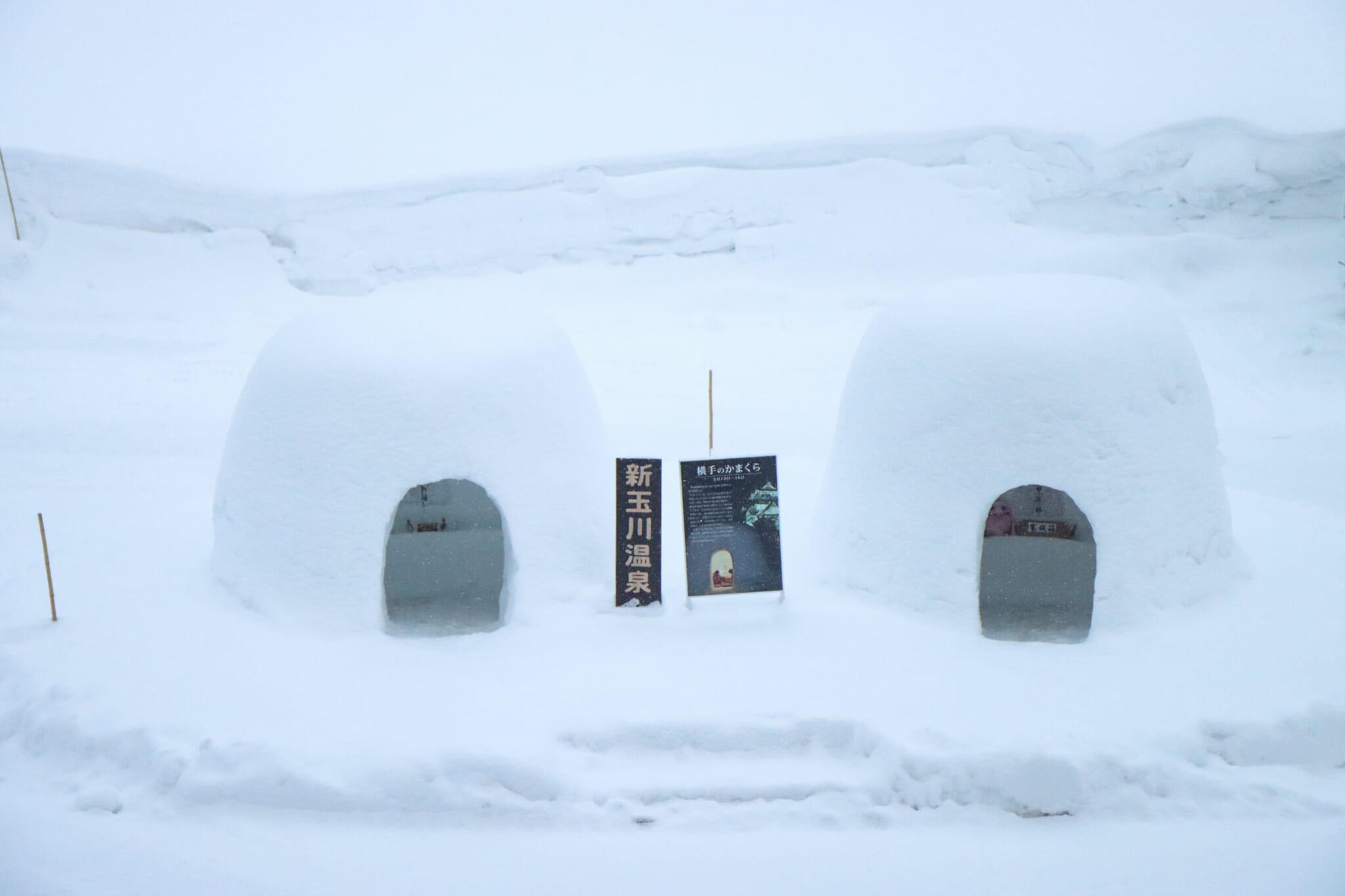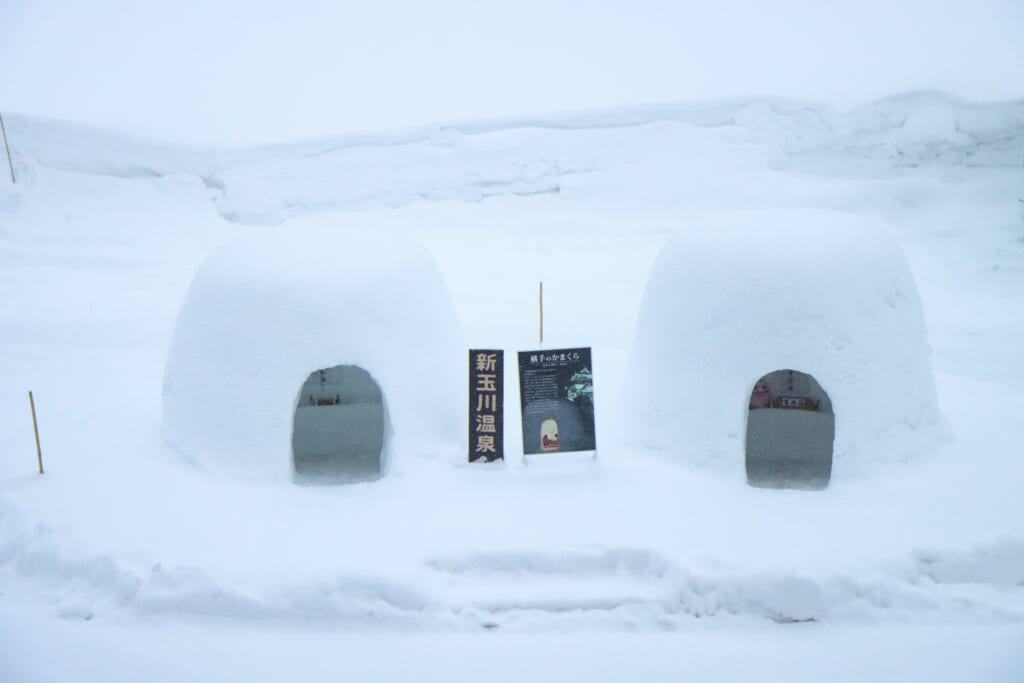 One thing that Shin-Tamagawa Hot Spring prides itself on is its health-conscious menu for its buffet meal. It's a well-balanced mix of winter vegetables, seafood, and delicious cuts of meat from the region. They also serve Akita prefecture's winter specialty – Kiritanpo, a long cylinder-shaped rice cake, in a hot pot form.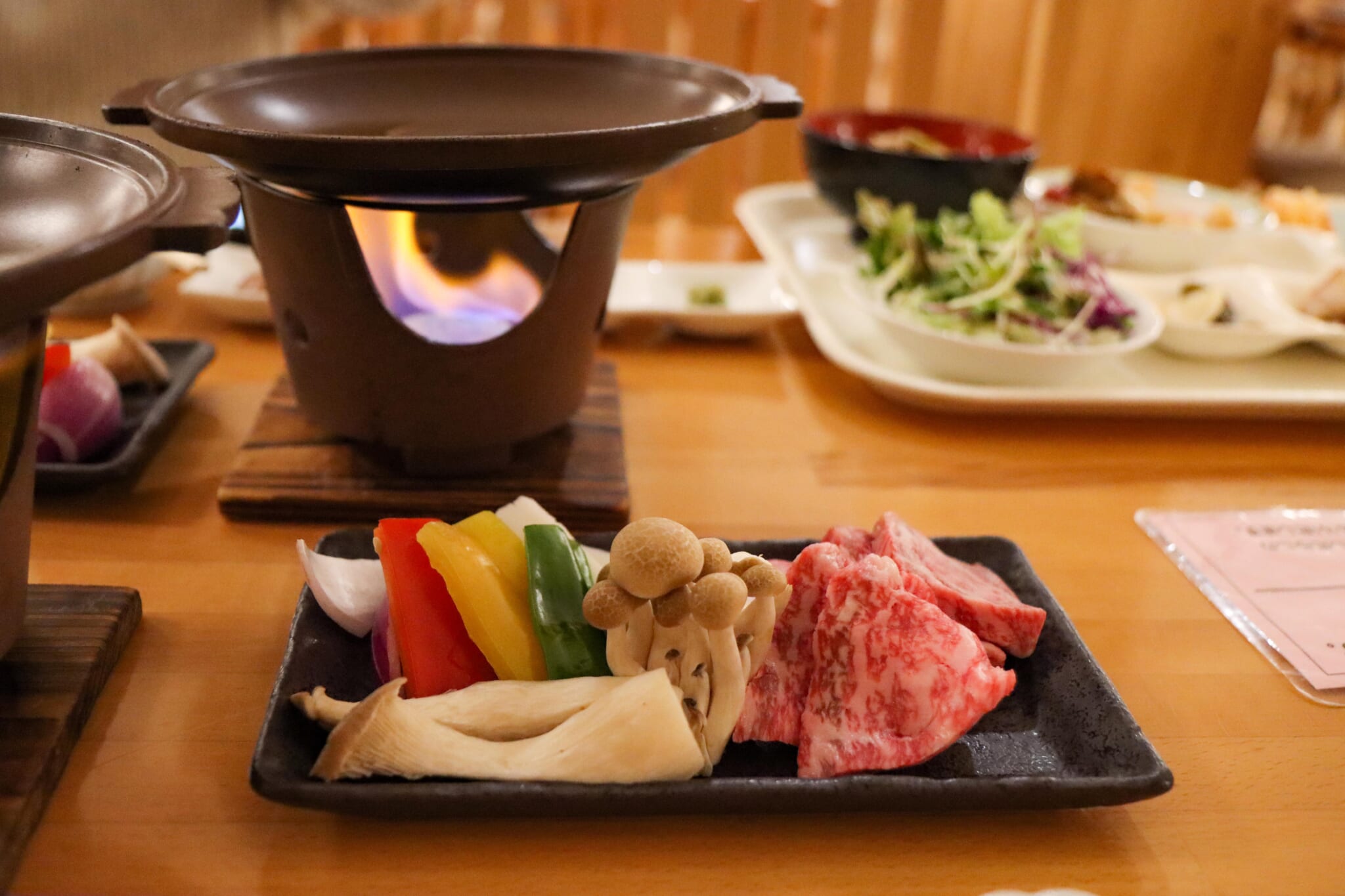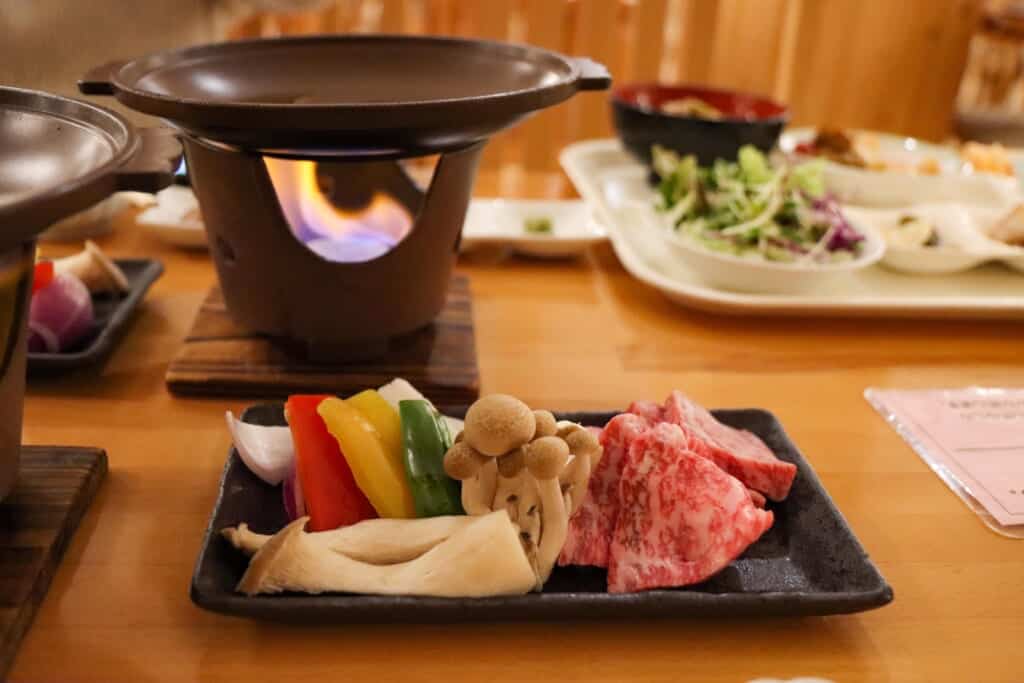 Many of the guests staying at Shin-Tamagawa Hot Spring are here for the health benefits offered by the hot springs. The water is at a high temperature of 98 °C and has the most elevated acidity in Japan, with a pH of 1.2. The high temperature is an excellent heat source for their hot stone bath. The water runs directly beneath a row of stone beds where visitors can lie on top. It relieves back pain, relaxes your muscles, and is so relaxing that many often fall asleep while enjoying the stone bath. The water temperature in the onsen bath area is slightly lowered for a comfortable soak. As the acidic concentration in water is very high, the pools are divided into 100% hot spring source and 50% hot spring source, allowing you to acclimatize to the water gradually. There's also an outdoor bath where you can observe the snow scenery while staying warm in the hot bath.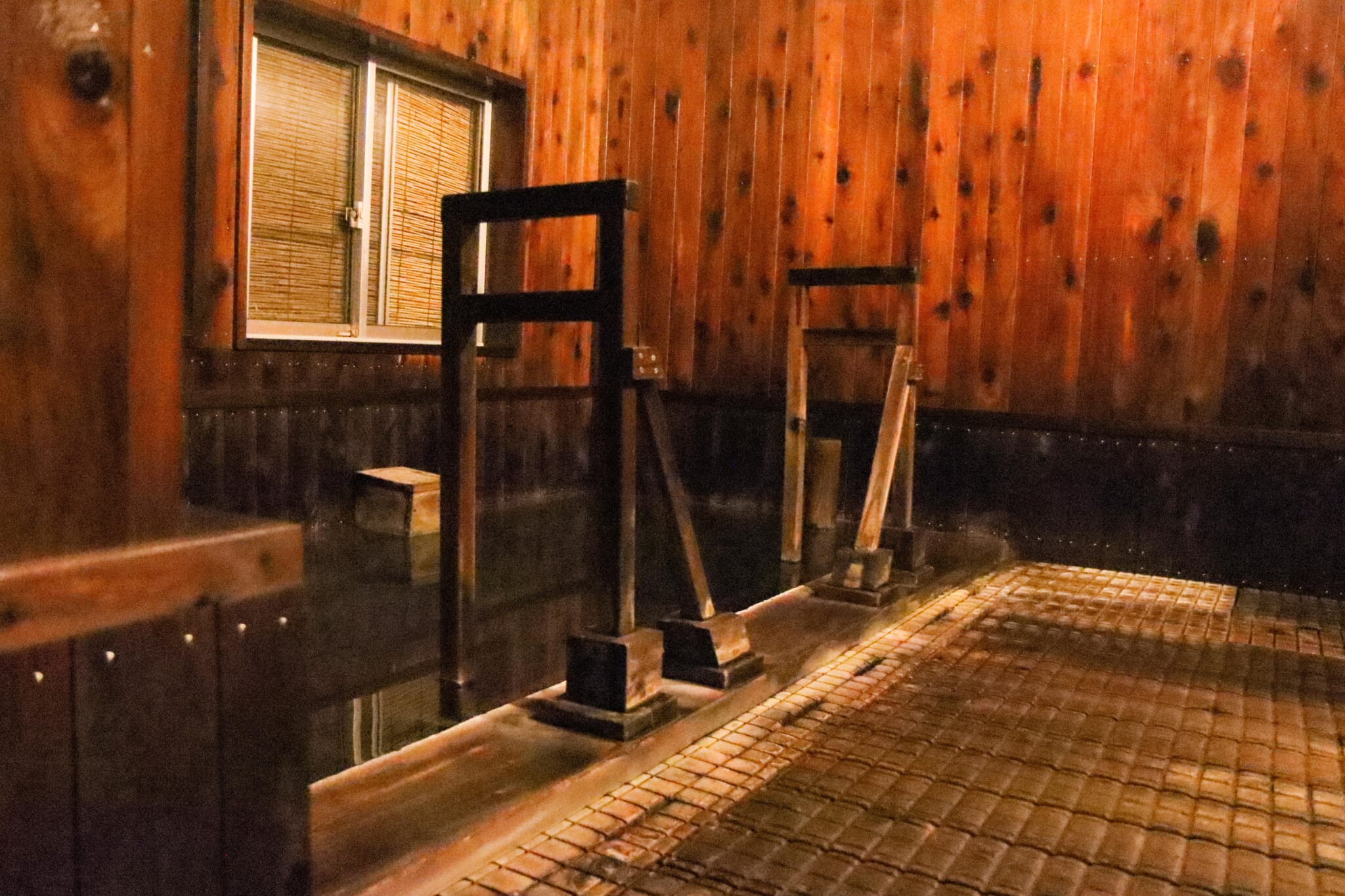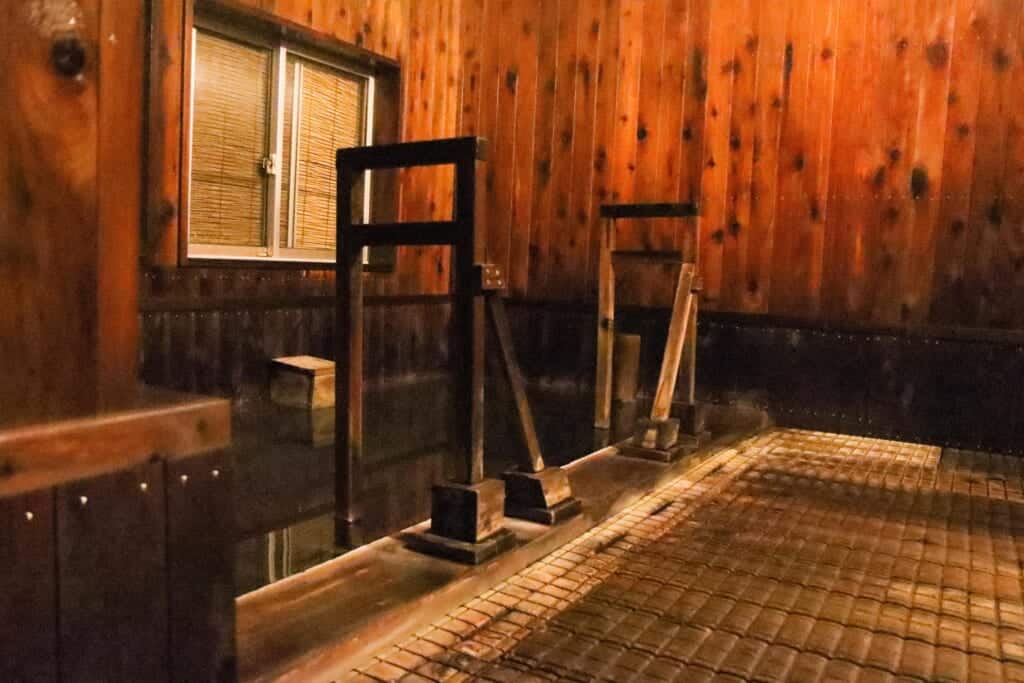 I wasn't ready to leave after just one night at Shin-Tamagawa Hot Spring. However, there was still more waiting for me to discover, so we continued to another famous onsen – Nyuto Onsen.
Read more: Tazawako: The Best Place to Enjoy Japanese Powder Snow That Is Still A Secret
Mountain Yam Hot Pot: Trying Tazawako's Specialty in Nyuto Onsen
Nyuto Onsen is considered one of the top hot springs in Japan and attracts many international visitors all year round. The representing location is Tsuruno Yu, with its row of straw huts leading up to an open area with women, men, and mixed baths. This time we visited a hidden inn called Yama no Yado near Tsuruno Yu. You can also enjoy private hot springs; more importantly, they are famous for their Yama no Imo Nabe (mountain yam hot pot). This specialty dish in the Tazawako area is made from grated yam made into a dumpling shape, then put into a pot with green onions, mushrooms, and meat.
After entering Yama no Yado, we wandered down the long hallways to find individual rooms equipped with irori, a Japanese-style sunken hearth. We sat around the irori as the manager prepared the sizzling hot pot and brought the grilled fish. It was wonderfully filling, especially after a day of exploring the snowy outdoors, and a perfect meal to have while looking at the scenery outside.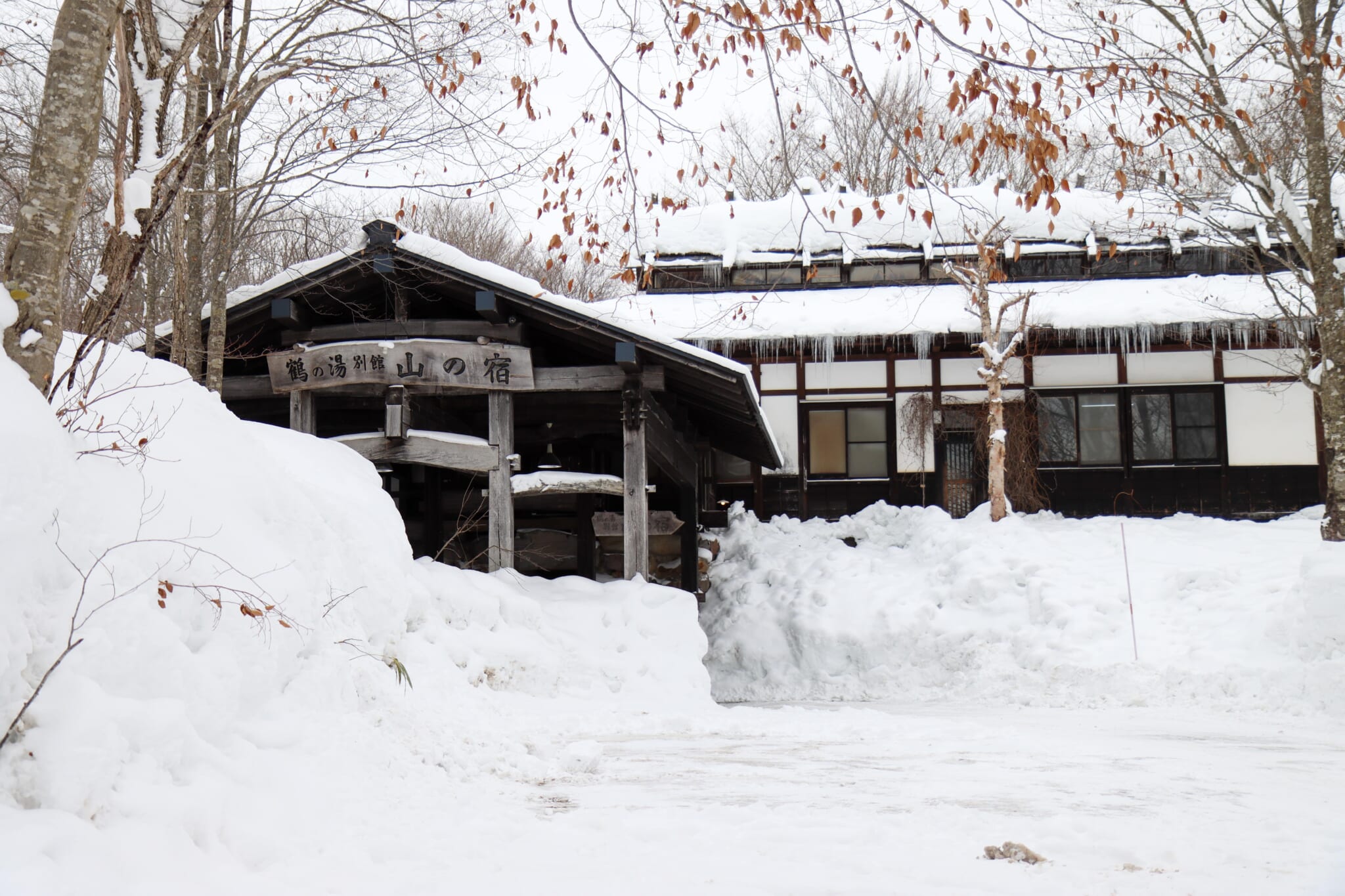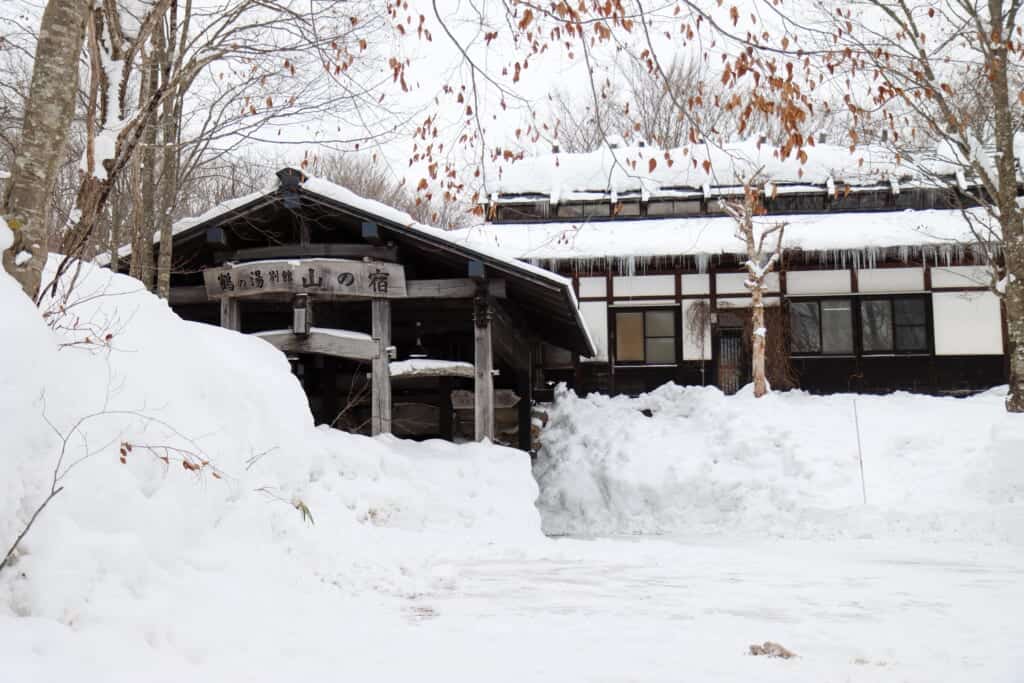 Kamihinokinai Paper Balloon Festival: The Lunar Year Tradition of Balloons and Fireworks
Each year on February 10th, the community of Kamihinokinai gets together for this historical tradition of launching several paper balloons into the sky. It has been handed down for generations to mark the Lunar New Year and to wish for a bountiful harvest, safety, and good health. The balloons are from 3 to 10 meters high, and it takes about two months of preparation to complete the intricate paintings on the balloons.
To get to Kamihinokinai, I first took the Shinkansen from Tazawako to Kakunodate Station. After exiting the Shinkansen station, turn right immediately to find the entrance to the Akita Nairiku Railway. This railway will take you north through the beautiful forests of inner Akita to Kamihinokinai in about 30 minutes. The entire cabin of the train was Akita inu themed, with the walls covered with cute dog photos and the seat cushions covered in dog prints.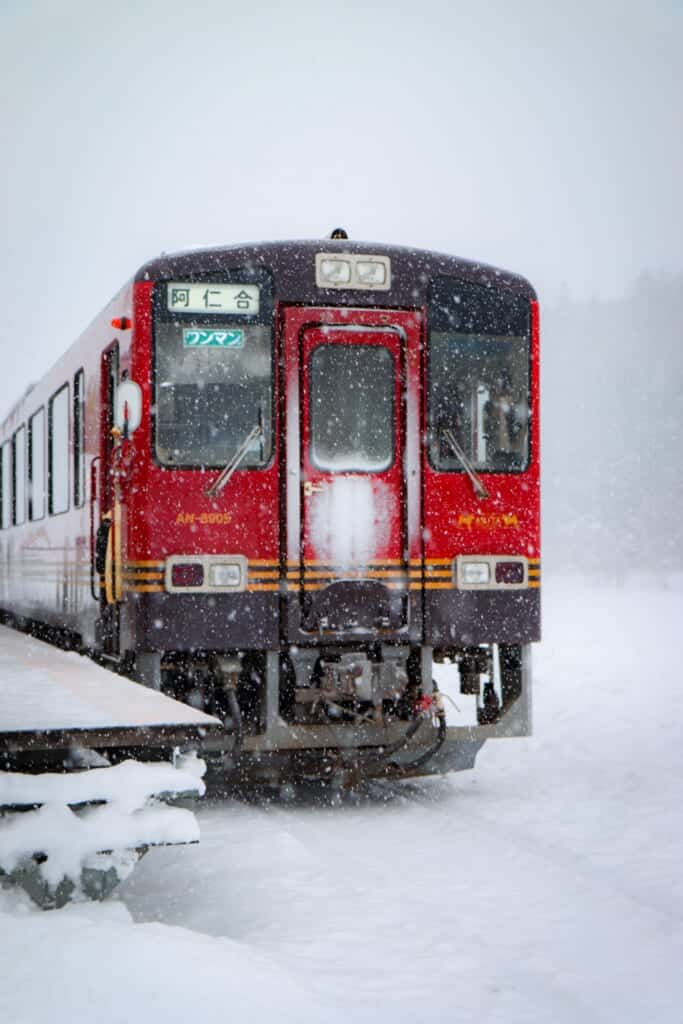 I could immediately smell firewood burning once I got off at Kamihinokinai, prepared by station staff to welcome and warm arriving visitors. A short walk and we were at the Paper Balloon Museum, alongside rows of tents where food vendors gathered, and all the preparation for the launch of the balloons was being done.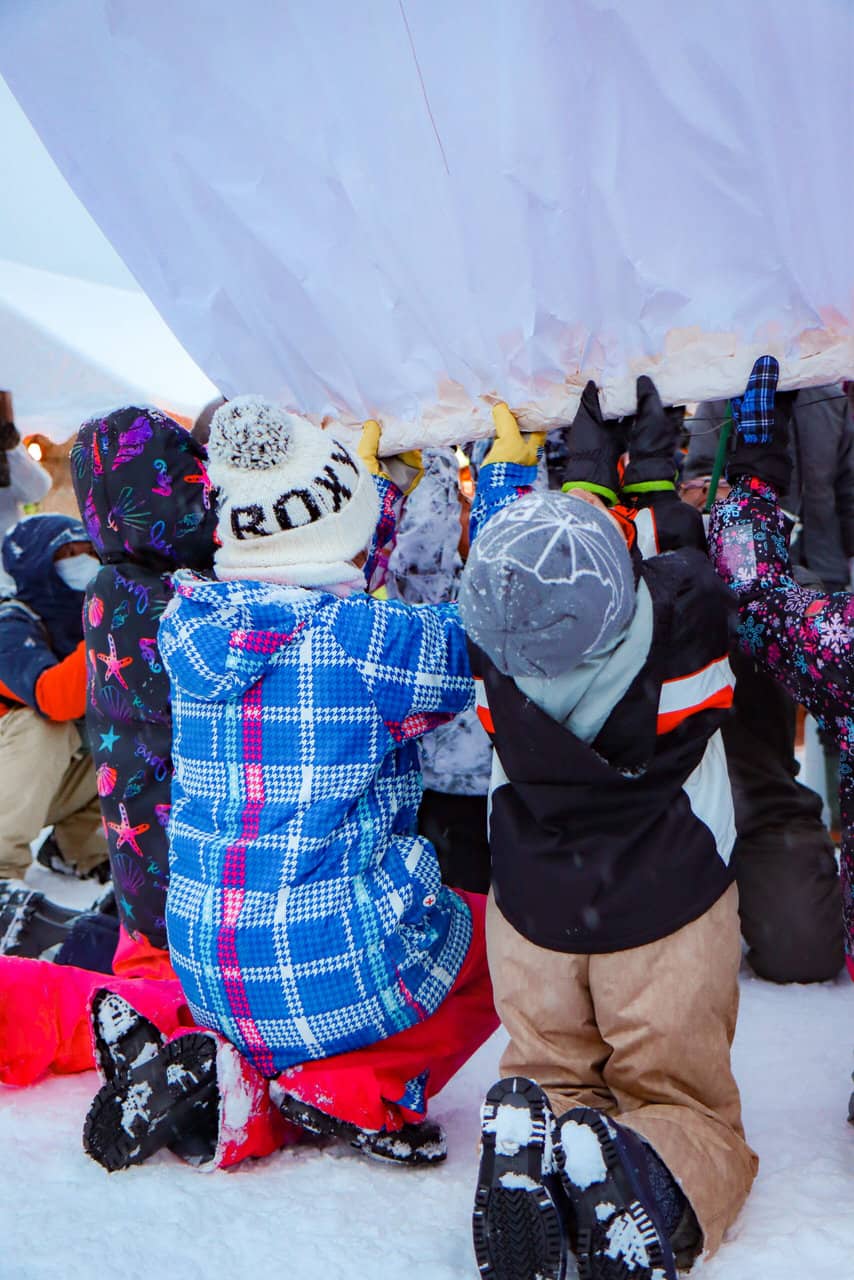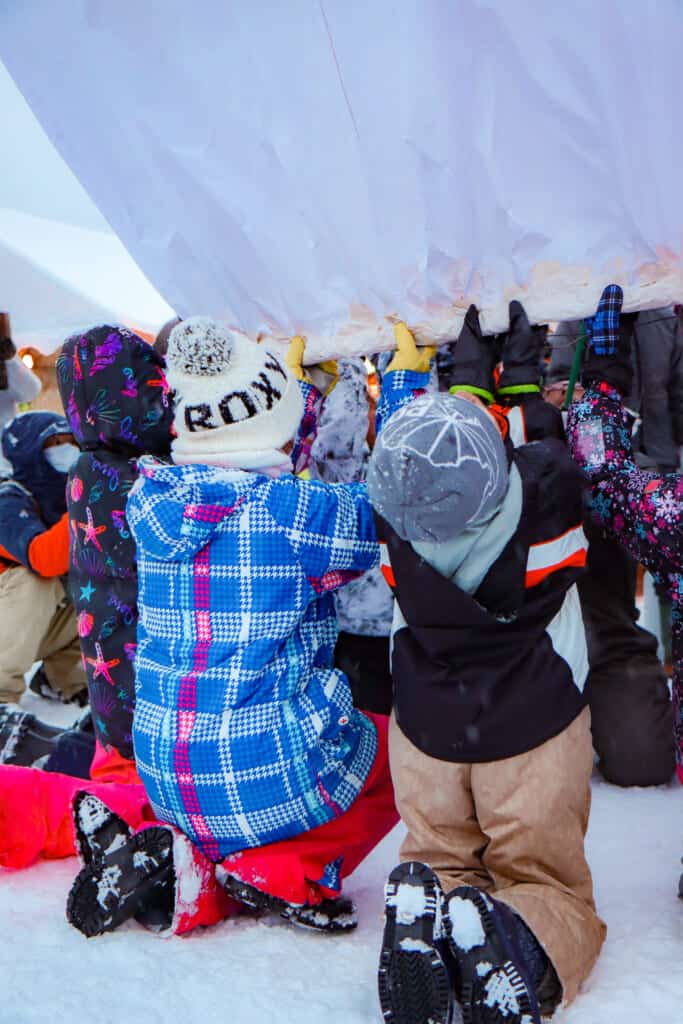 Though most of the balloons were pre-made by residents, visitors can participate in two ways: visitors could write their wishes on a giant 10-meter tall balloon or small individual balloons. One of the most touching sceneries at this event was the paper balloons launched by the local children, grouped by community centers and school classes. With the help of adults, these young kids, some as little as four years old, launched their colorful balloons into the sky while jumping up and down. After nightfall, the largest balloons, covered with elaborate paintings of samurai, geisha, and even the Akita Nairiku railway, were sent to the sky, accompanied by beautiful fireworks. It was an event that I'll never forget, one that warmed my heart on a snowy winter day.
Overnight at Farm Stay Iori: Life in A Traditional Japanese House, Homemade Damakonabe & Akita Dogs
Farm stays are a great way to experience authentic living in a traditional Japanese house. It lets you really get to know the place and the people you visit. Essentially, you are being welcomed into the community and the legacy and being a part of keeping the heritage alive.
Farm Stay Iori is just north of Kakunodate's samurai district, run by a cheerful woman called Chieko-San. She cared so much about ensuring her guests felt comfortable and at home. It was almost as if I'd gained another grandma when I stepped into her home. The house for guests has a large kitchen and dining area, a living room, and a tatami bedroom. There's lots of tea and coffee to choose from, and also a little bookshelf full of books about farm life. The decor in the house was well thought out, from crafts to tiny moss bonsai plants, making the stay more welcoming as it feels like a regular house rather than standard hotel lodging. Chieko-San also prepared many blankets and jackets to use in case I got cold. Her hospitality can be felt in every corner of the house.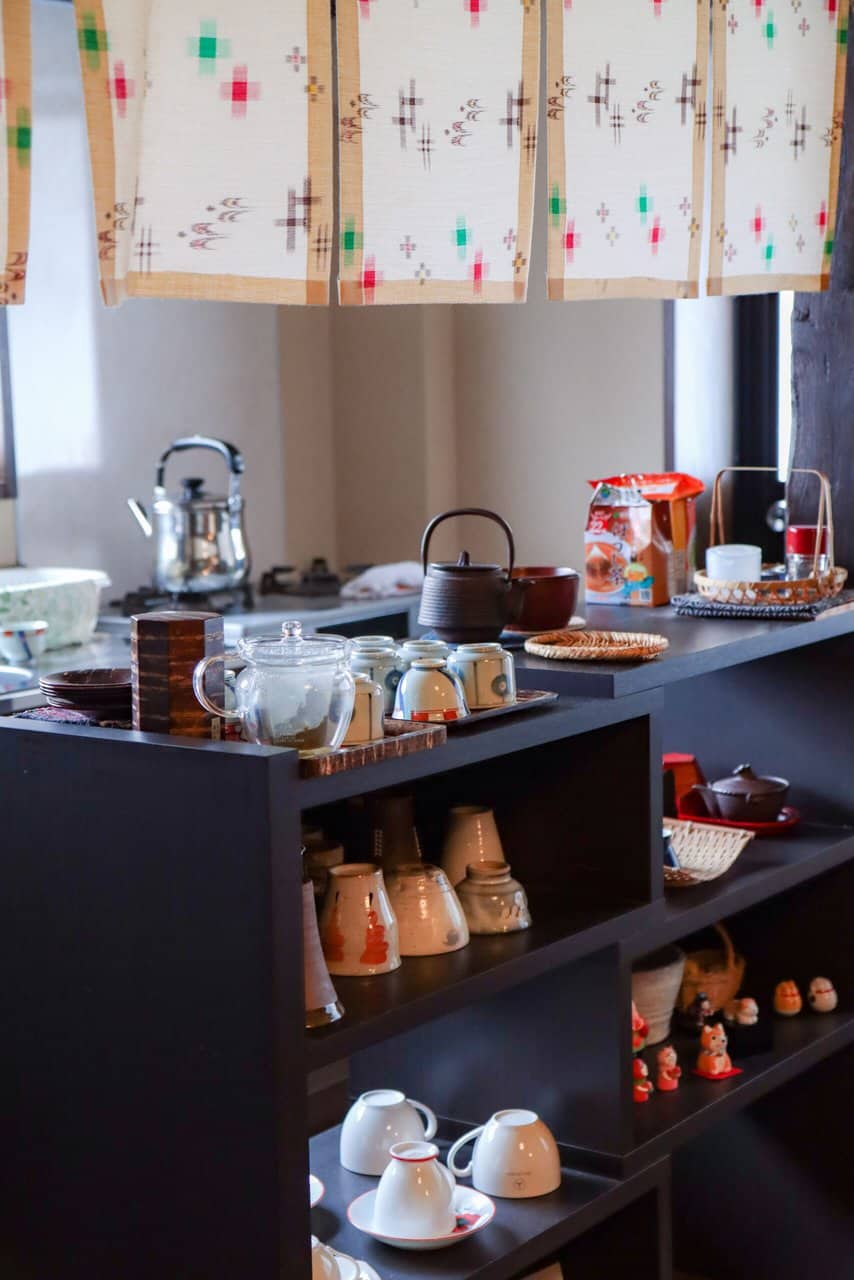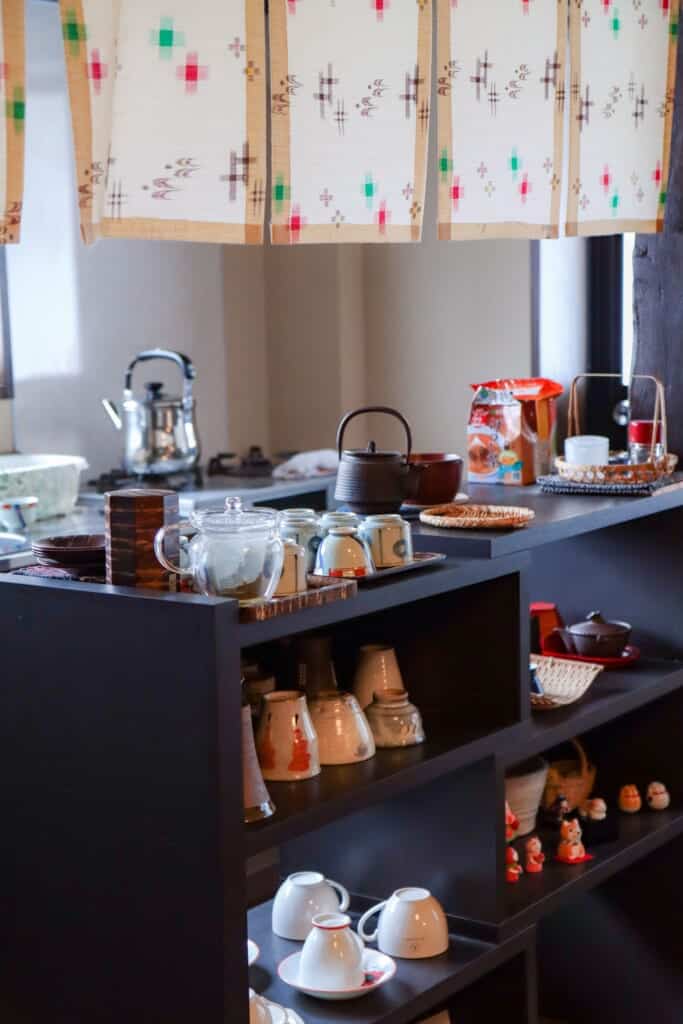 I started the day in the morning with a delicious homemade breakfast by Chieko-San. It was a balanced and healthy breakfast that is as good if not better than ryokan-style food. The rice and vegetable came from this very farm which is right beside the house. After breakfast, I finally had time to greet the resident Akita Inu dog named Komachi. Chieko-San handed me some treats, so Komachi was eager to demonstrate sitting down and jumping up to catch the treat.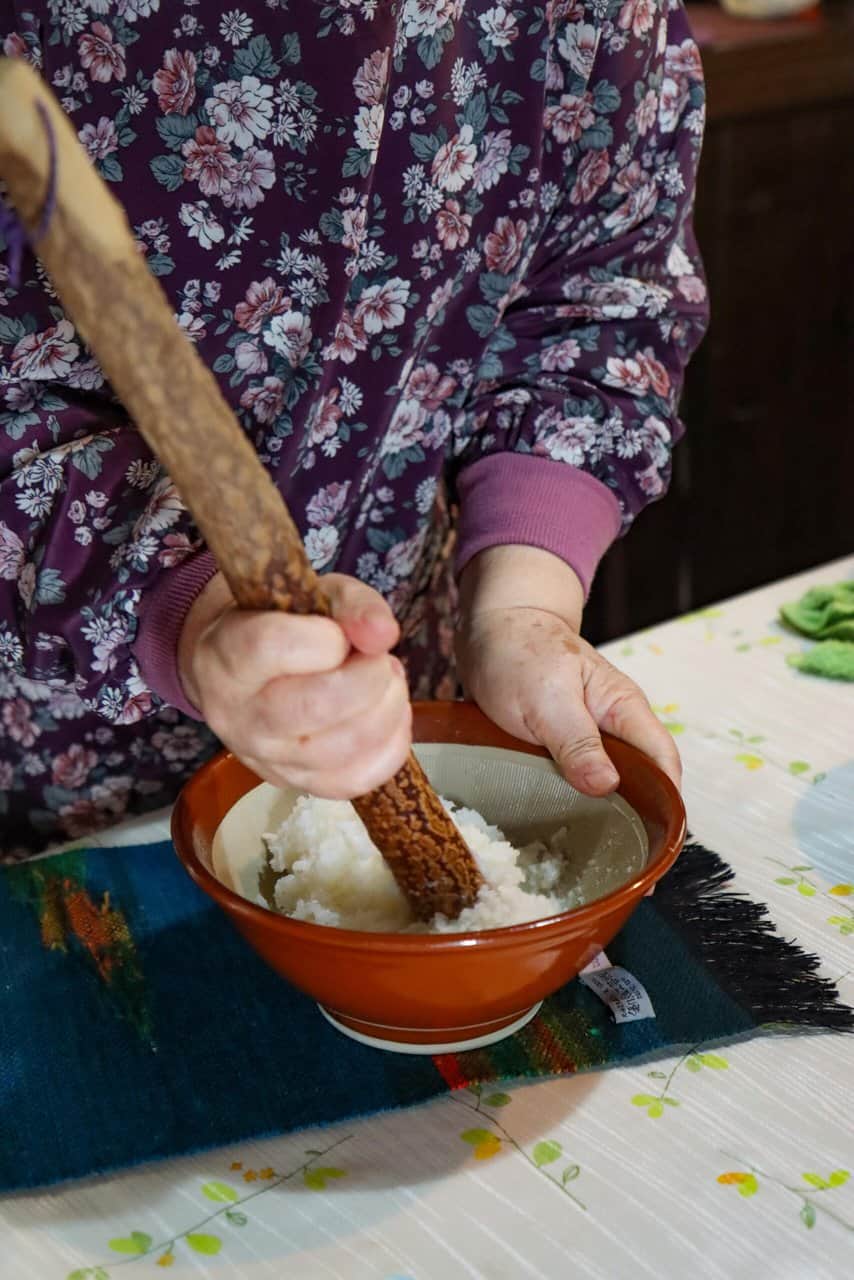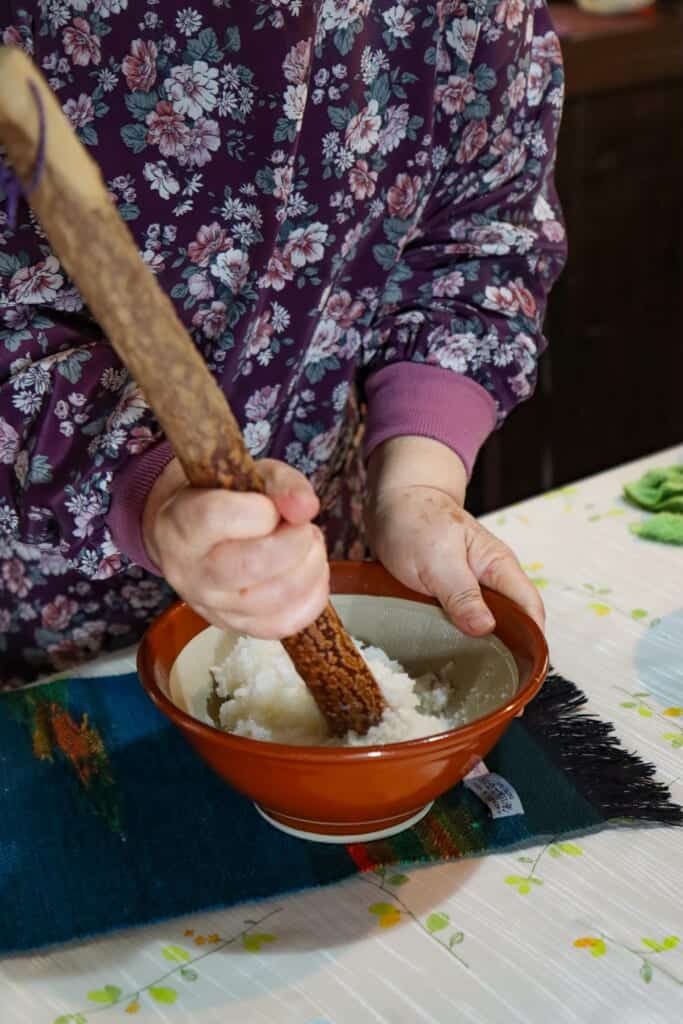 The highlight of my stay was making Damako nabe together with Chieko-San. In Akita, there is a custom called Niwa-arai. It is when rice is cooked and mashed to make rice dumplings. These rice dumplings are then grilled on a pan then added into a hot pot along with chicken and vegetables to make Damako nabe. Learning to make a traditional dish from a local is an essential part of the farm stay. I was reluctant to bid Chieko-San goodbye, and this farm stay experience will always be a piece of memory that I look back on fondly.
Read more: The Farm To Table Cuisine of Akita's Semboku City
Kimono in Kakunodate: Rent a Kimono in Akita's Samurai District
When visiting a historical area such as Kakunodate's samurai district, it is only appropriate to dress in the traditional attire of Japan – kimono. Inside the Tomachi Historical Museum Tatetsu, you'll find rental kimono shop Kimonotabi Shanari which provides a kimono renting experience in Kakunodate. You can pick from about 40 kimonos, and the experienced instructor will help you pair a stunning obi belt and accessories to go with it. Wearing a kimono is essentially stepping back in time together with the scenery; it's also a great way to make memories as you can snap lots of beautiful photos with the Kakunodate's picturesque scenery.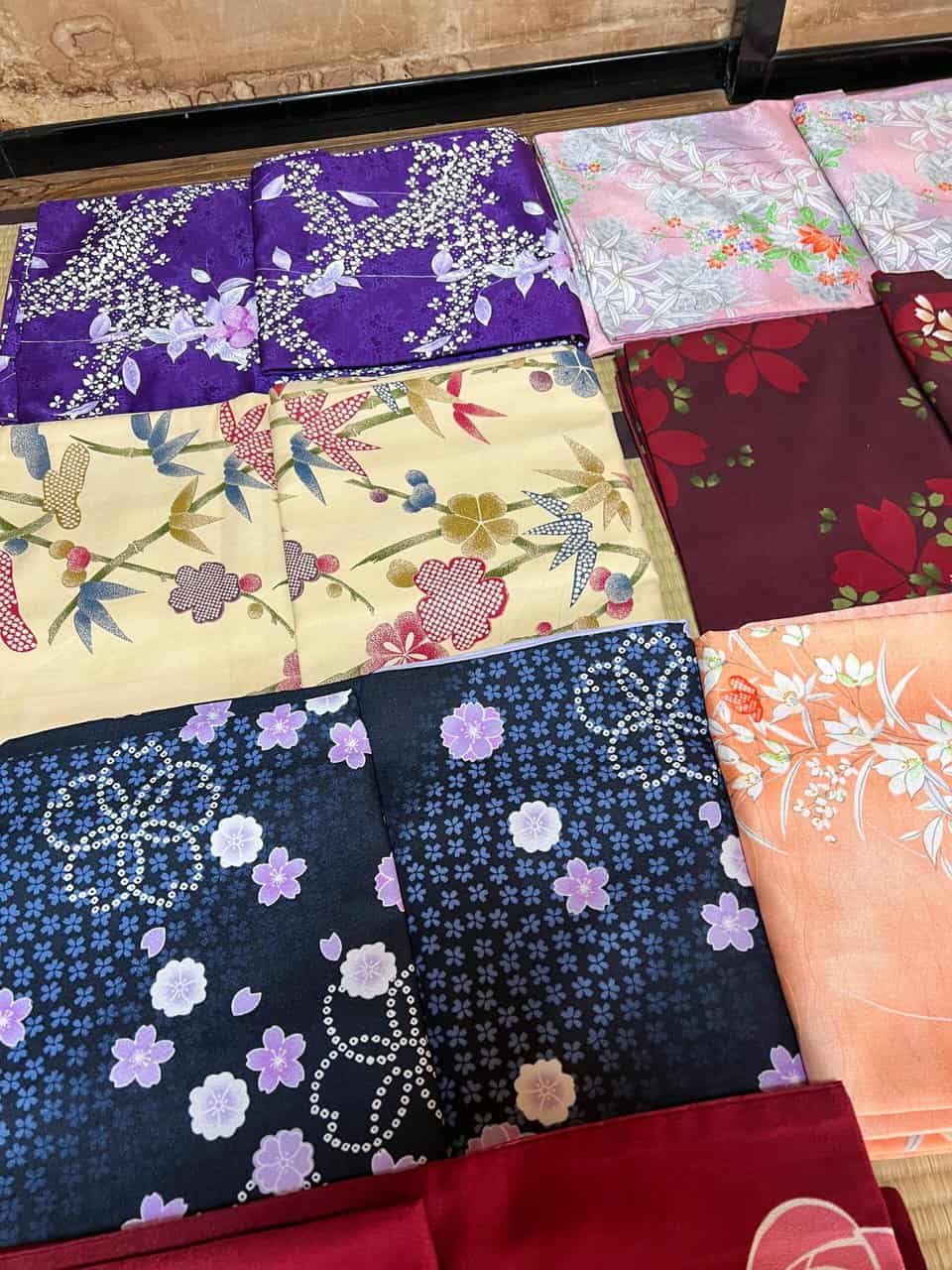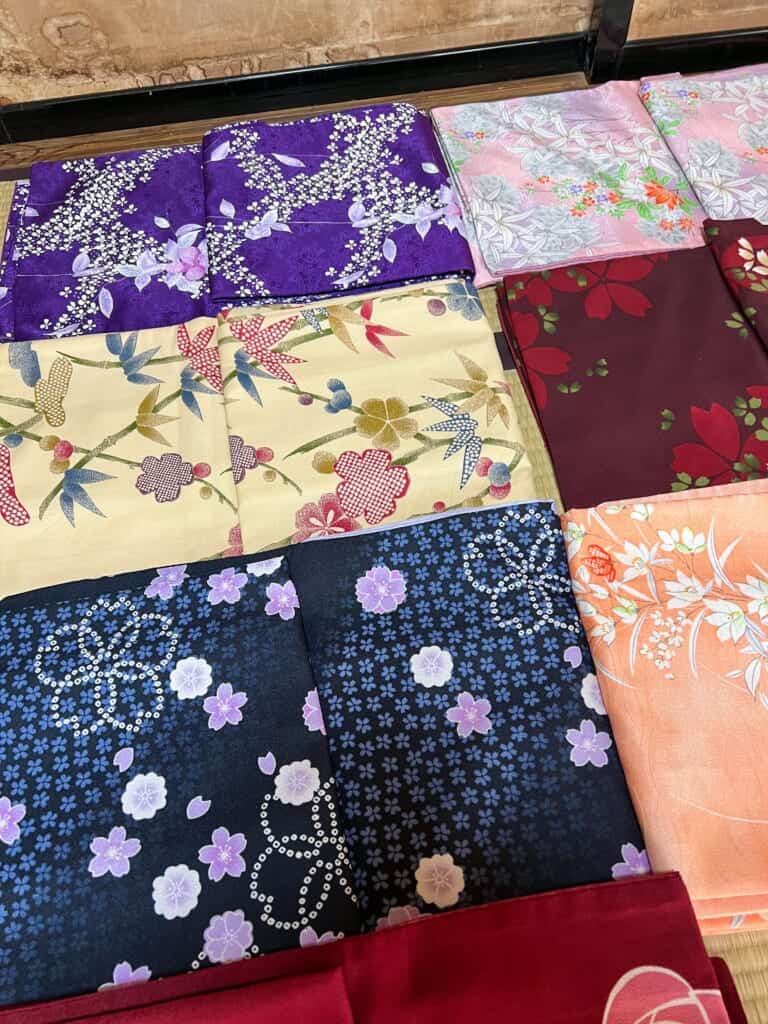 Restaurant Kitagura: Sip Coffee Inside the historical Samurai House
Within the samurai district of Kakunodate, there are several key estates that are open to the public to visit, and Nishinomiya is one of them. Restaurant Kitagura within the estate was built around 1919. It was originally one of the storehouses and was transformed into a restaurant serving local rice and vegetables. The attached sun room is a beautiful spot to enjoy tea, coffee, or hot chocolate while you gaze into the garden. It is enchanting on a sunny winter day as the snow glistens outside through the large glass windows.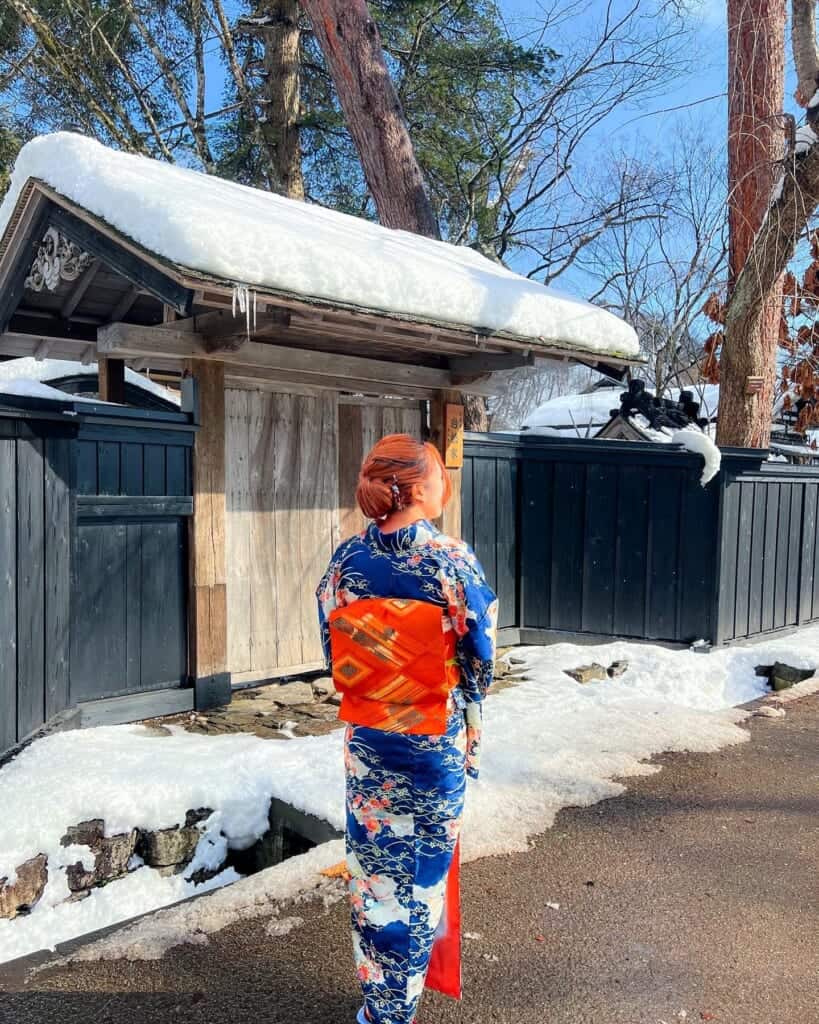 Right next to Kitagura restaurant is a store and display area. When I went in February, it had a Hina Matsuri Girls Day display on both floors. The second floor had items handmade by locals, demonstrating how vital the community is here. There are also a lot of lovely items in the shop on the first floor, which reflect traditional Japanese craftsmanship and artistic designs.
Kakunodate Tourist Information Center
Last but not least, I'd like to introduce the often-overlooked Kakunodate Tourist Information Center. After exiting the JR Kakunodate station, the tourist Information center is in front on the right-hand side near the taxi stand. You'll find the usual pamphlets about tourist spots in the area. But you can also borrow a tablet to research places to visit. Free snow boot rental during winter is also available for children. You can leave your luggage here, which is helpful if you're taking a day trip to see the samurai district. My personal favorite was the food preference sheet. It's a piece of paper in English and Japanese to help you convey your dietary needs and requirements to restaurants.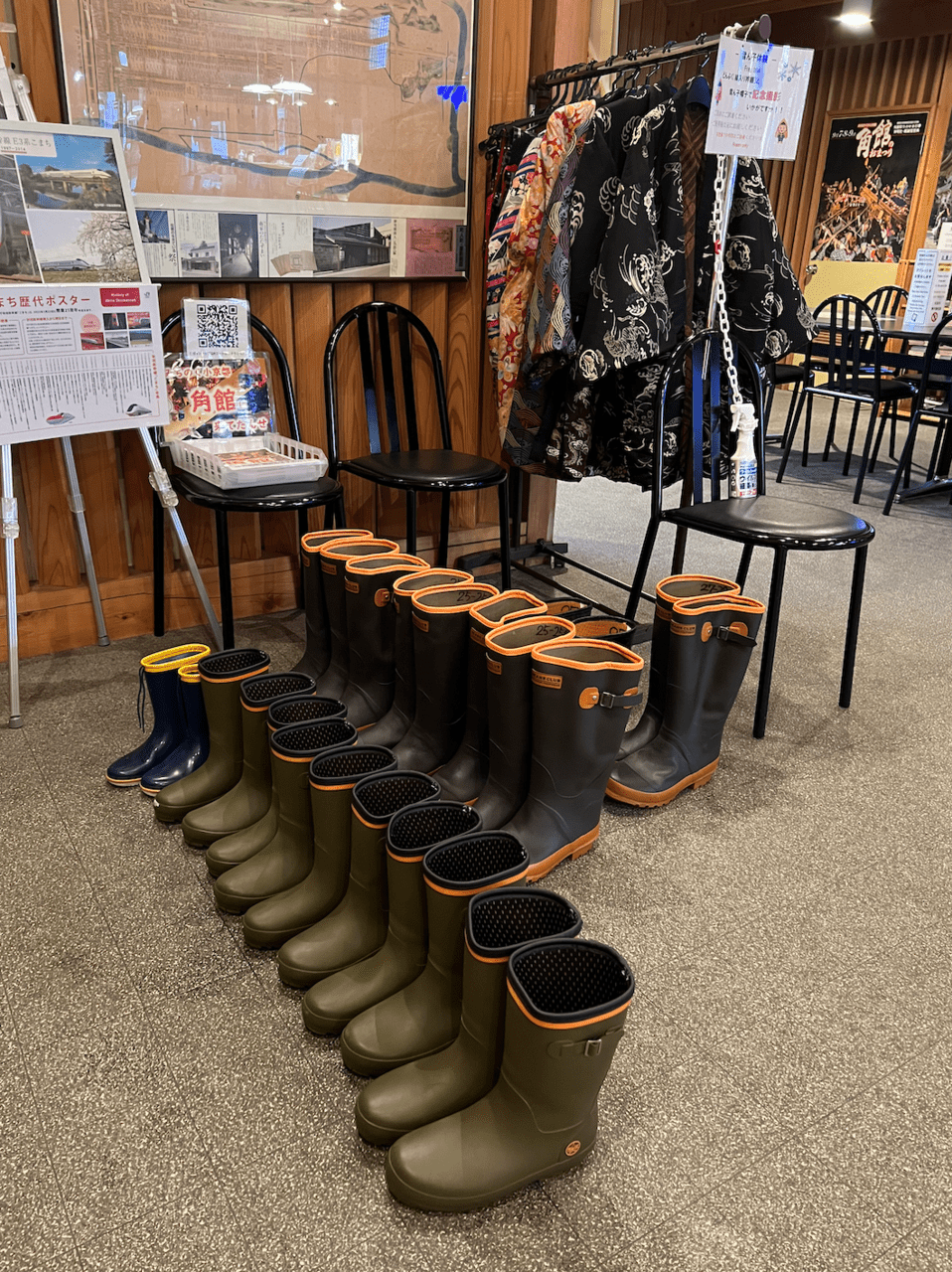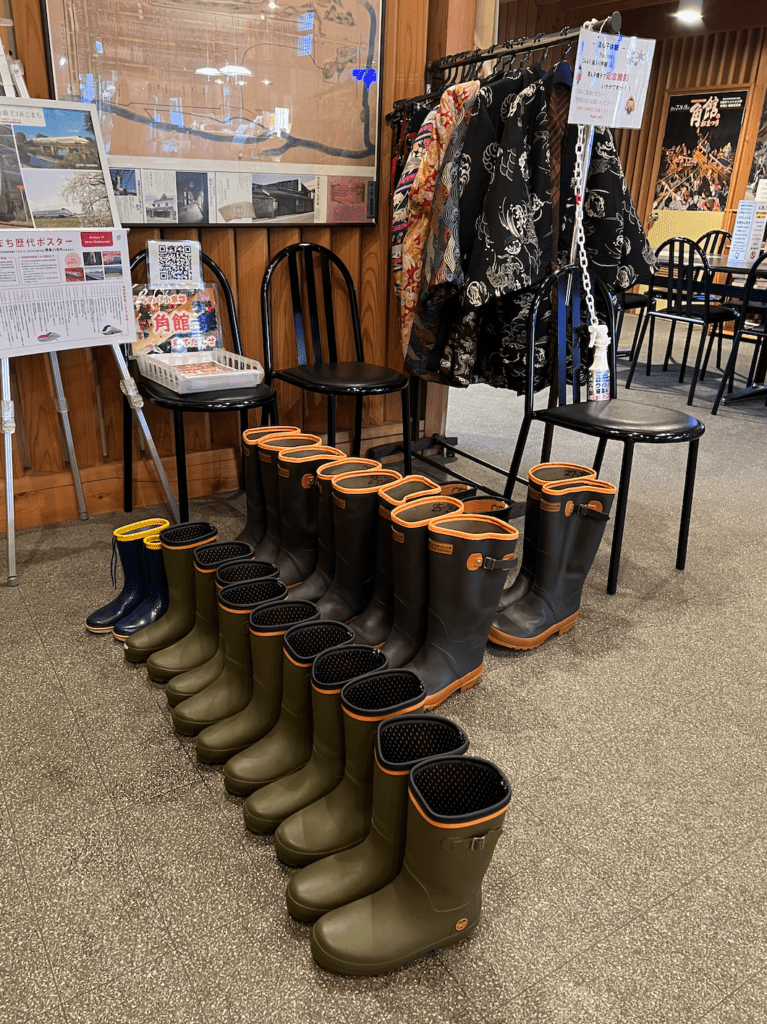 How to Get to Semboku City, Akita
You can take the Akita Shinkansen from Tokyo Station to Tazawako and Kakunodate Station, which takes about three hours. You can consider getting the JR Tohoku pass to get the most out of your time and money.
All in all, Semboku City never fails to capture my heart. It is my third time visiting, and each time leaves me wanting to explore more of this city in Akita Prefecture. From its paper balloon festival, romantic hot springs, farm stay, and soul-filling hearty food, the energy and community of Semboku City is one that I feel stays true to its culture, history, with stunning nature to boot.
Sponsored by: Semboku City