Sponsored by Semboku City
This past year, a second ramen shop in Tokyo earned a Michelin star in the latest ratings. Ramen, one of the simplest of Japanese foods, is garnering the highest acclaim of global food critics. Meanwhile, in the less accessed corners of the country, regular Japanese people are creating simple, yet incredibly delicious home cooked meals daily from ingredients often found in their own yards. They are the uncelebrated, unacclaimed folks whose cooking brings joy to the visitors who are fortunate (or savvy) enough to stay in their homes or farms.
Lodge Yodel – Omotenashi Service and Oishii Food
My continuing exploration of Japanese cuisine brought me to Lodge Yodel, an unassuming inn located in Semboku city, Akita Prefecture. It is walking distance from the slopes of Tazawako Ski Resort and its wide array of outdoor activities, both in winter and warmer seasons. For three and a half years, a mother and daughter team, Yukiko and Sayaka Takahashi, has hosted visitors to this beautiful region of Northern Japan, offering simple and spacious accommodations, their own version of Japanese omotenashi (hospitality), and of course, amazing home cooked food, Akita style.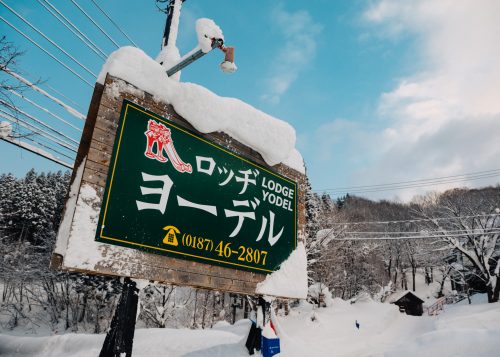 Rooms at Lodge Yodel are typical ryokan style, with a low table, small TV and tatami mat floors to lay out your futon to sleep on. Restrooms and baths are gender segregated communal, and the baths use the local onsen hot spring water which is the perfect temperature in the winter. For those who prefer to not share a bath with strangers, it is quite easy to get a bath to yourself as they are open 24 hours. Dining and socializing happen in the main room which has dining tables and an area to relax, complete with an ever-burning wood stove that keeps the room cozy warm.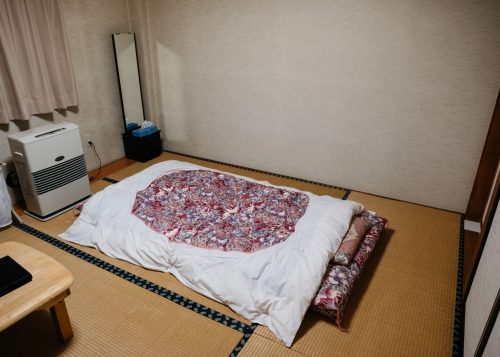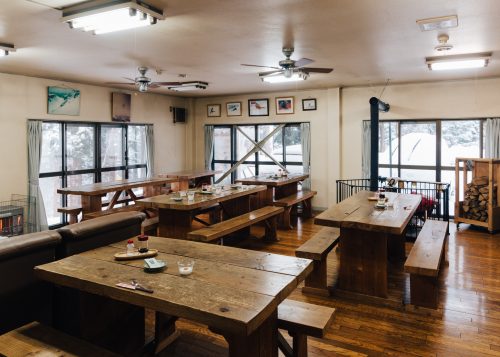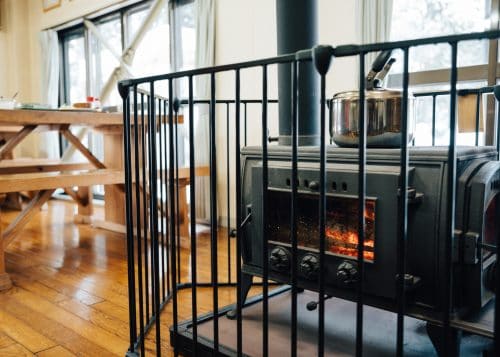 The daughter, Sayaka, grew up Akita in a neighboring village to Tazawako, worked in Tokyo for a time, but felt the call to return to her home prefecture. Her English skills have been honed on years of hosting foreign guests at Lodge Yodel, where many non-Japanese speaking tourists feel comfortable staying. Over dinner, I shared a bottle of crisp nama-zake with a group of New Zealanders who, though not keen on me sharing the wonders of Semboku with the English speaking world, admitted they loved the mix of the local Japanese culture and the world-class ski conditions of Akita Prefecture. After dinner, Sayaka helped one of the guests arrange to retrieve a piece of luggage that was accidentally left on a train, even offering a ride to the local station in the morning. Omotenashi.
Dinner at Lodge Yodel is a feast, and this time, it was a feast I got to participate in making, at least making appetizers. Sayaka invited me into the kitchen to make kiritanpo, a specialty of Akita made with slightly crushed steamed rice roasted over a fire. There are different ways to enjoy kiritanpo, but I chose the style in which it is glazed with a sweet miso sauce.
Making Kiritanpo at Lodge Yodel
The first step, Sayaka explained, is to crush the rice using pestle and mortar. It doesn't need to be crushed as finely as mochi (nor does it use the special mochi rice). A ball is formed from the crushed rice, then it is gently worked over a wooden stick and rolled out with damp hands to thin and lengthen it.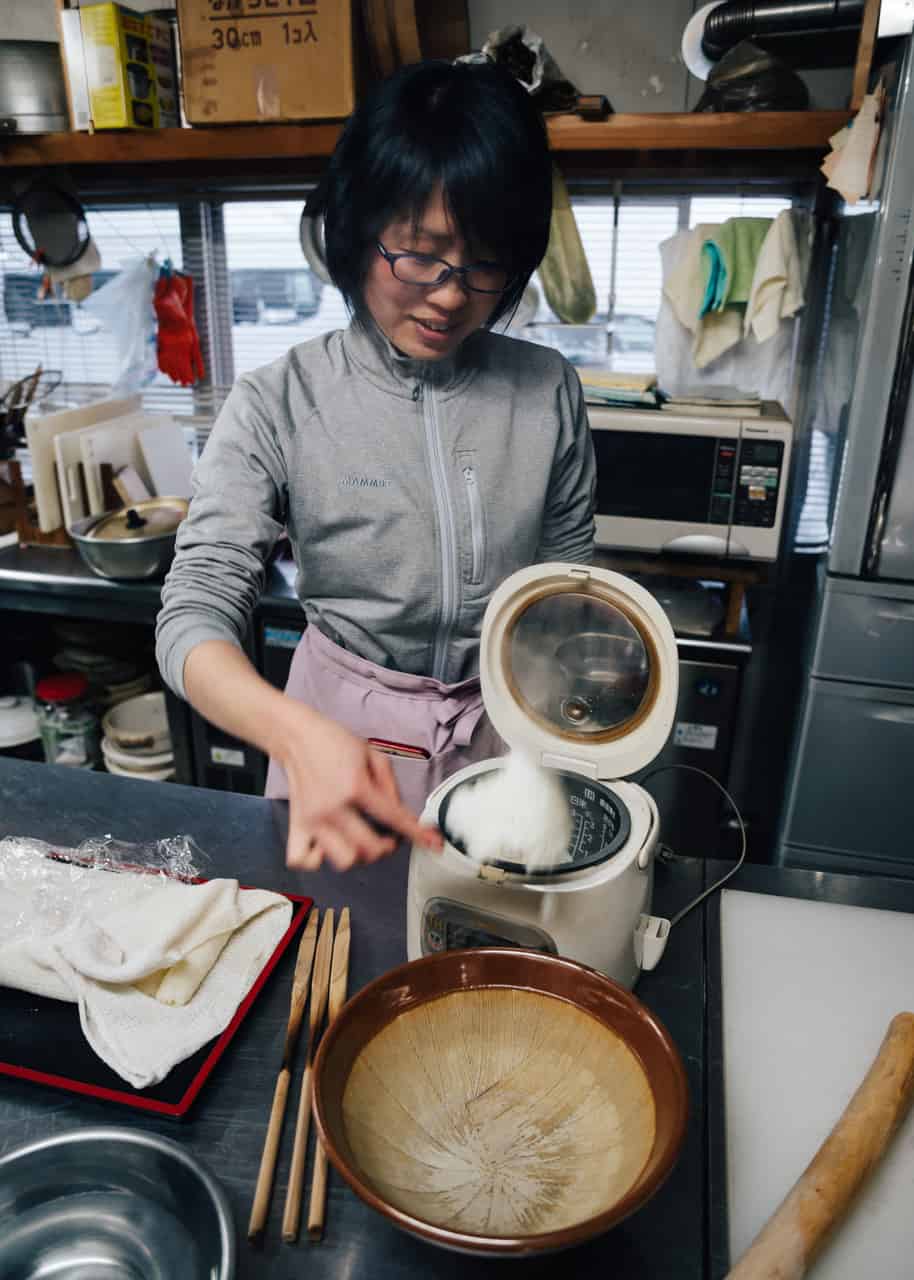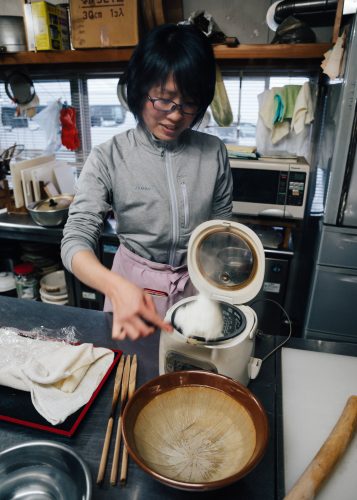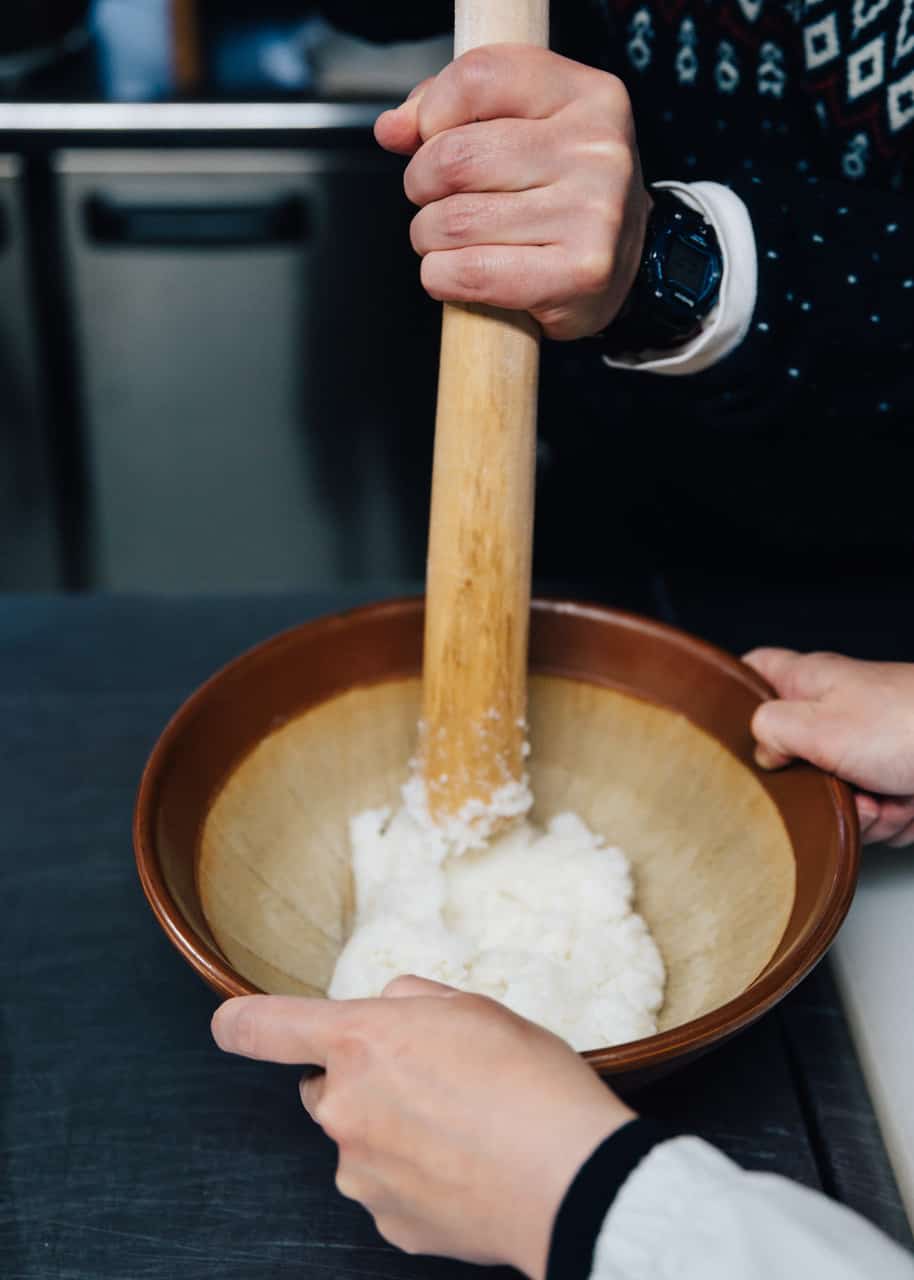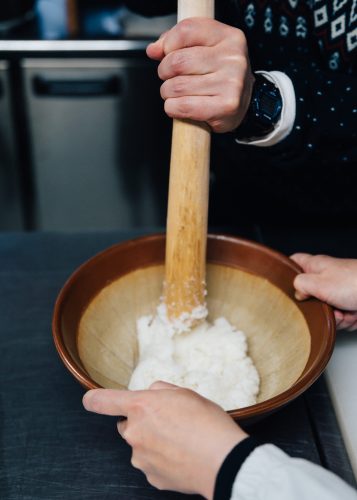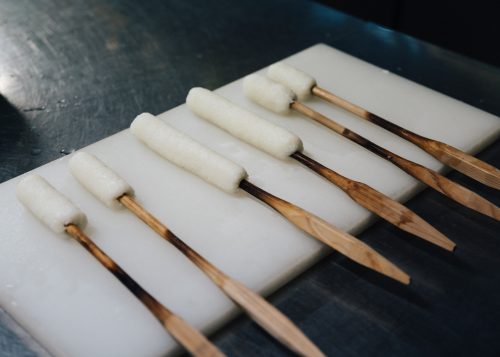 Two larger ones would become part of my meal later while the four smaller ones would be made into appetizers. After sitting to dry for a few minutes (to reduce sticking), the kiritanpo were placed on foil over a grill and occasionally rotated to give them an evenly roasted surface. After being partially roasted, we basted on a glaze made with a light miso and mirin (sweet cooking sake) and returned them to the grill to caramelize the sugars in the glaze.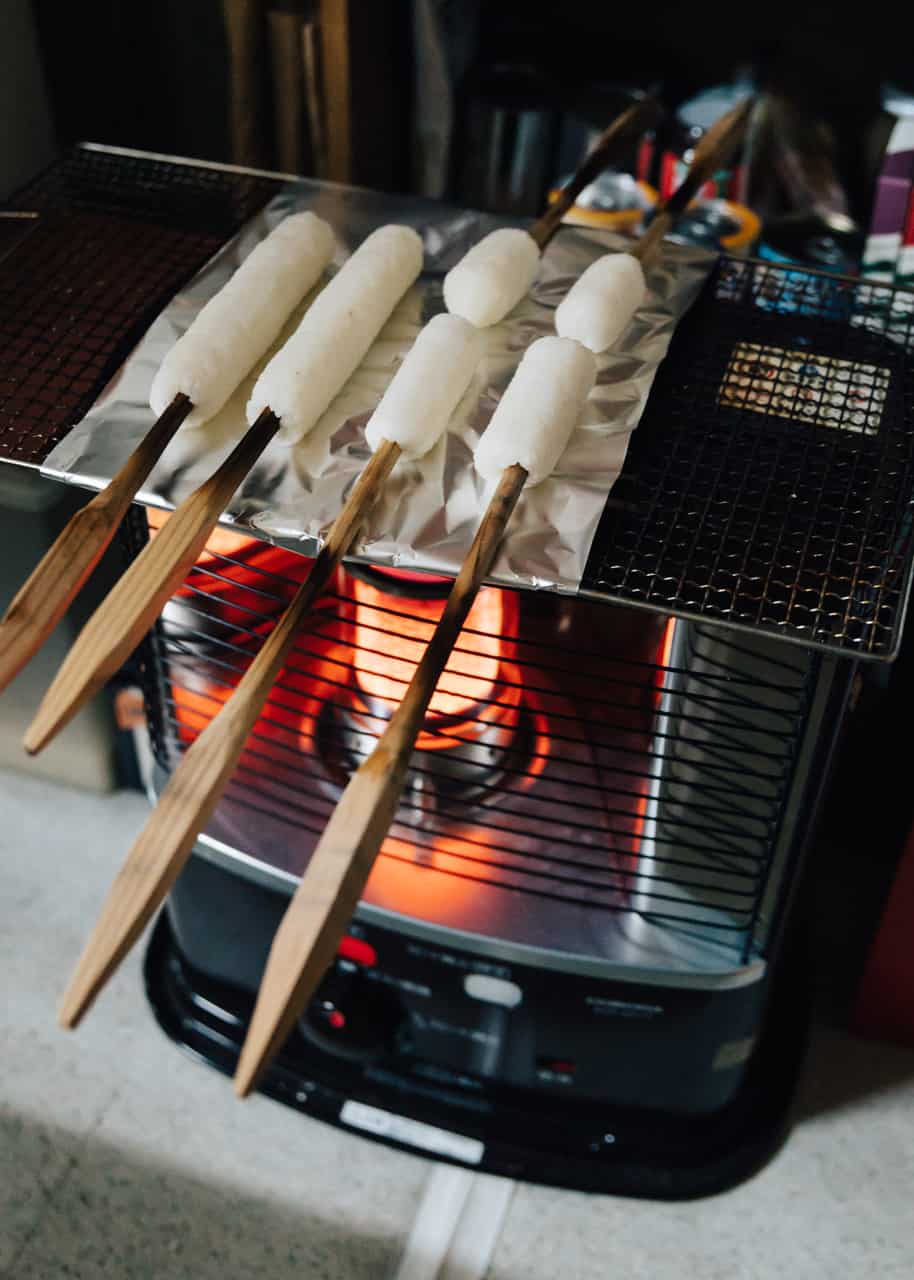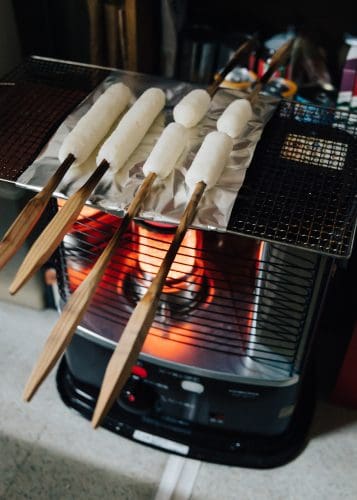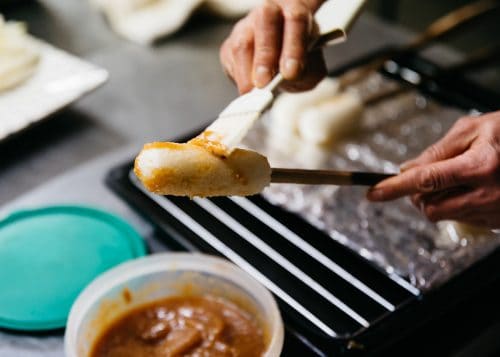 The result? A hot snack, both sweet and savory, with the unmistakable taste of roasted rice, which I shared with my grateful companions and our gracious host, Sayaka.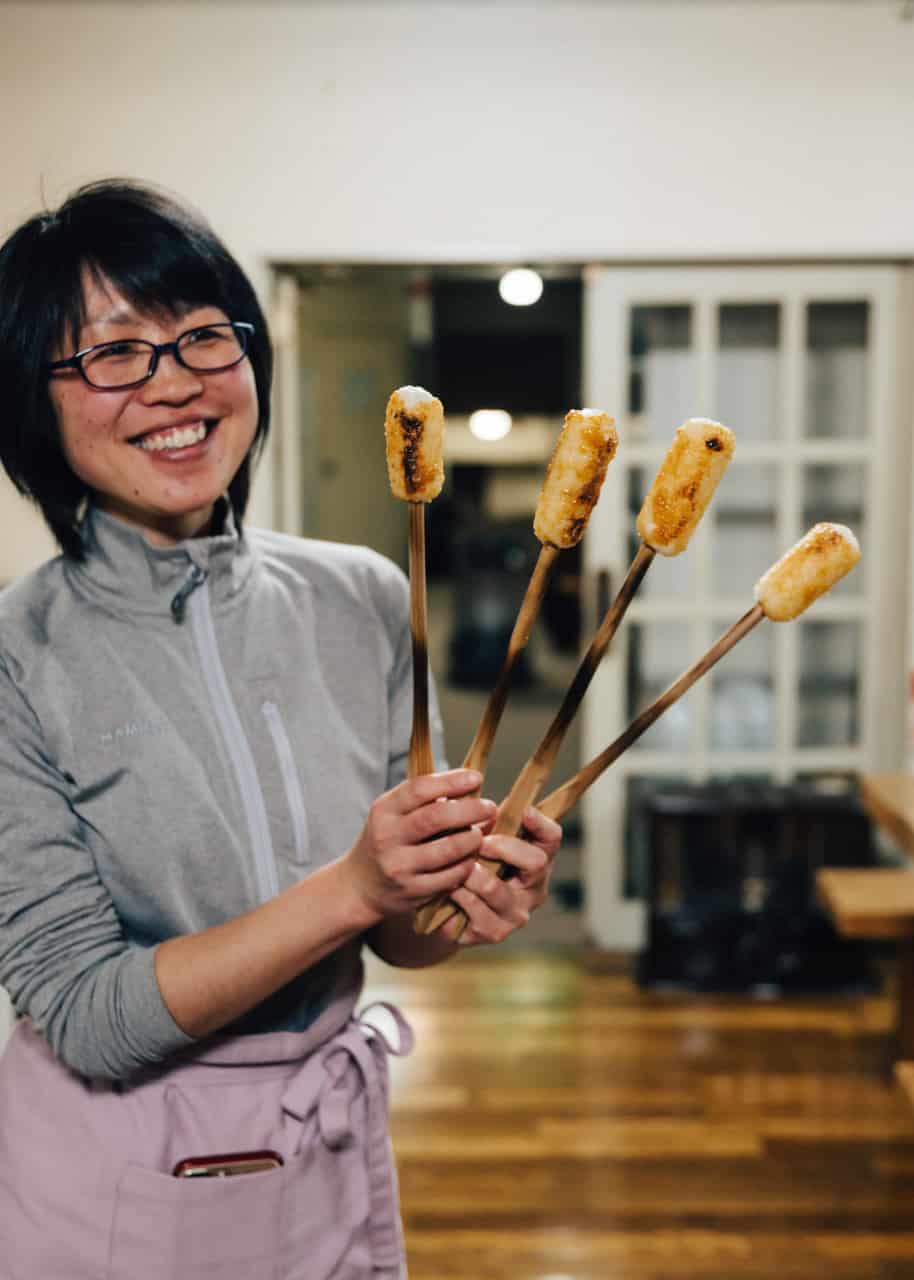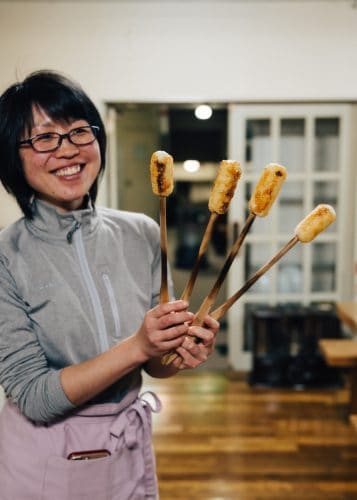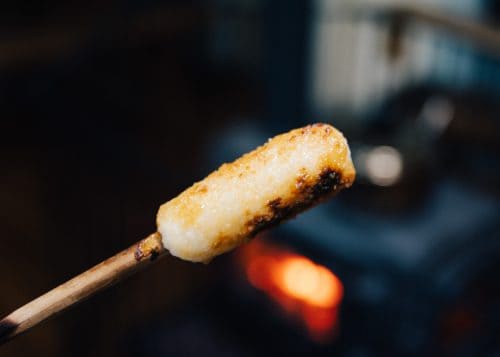 There is a small 1,000 yen fee for the kiritanpo making experience, but well worth it when you get to savor this local Akita specialty made with your own hands.
Kiritanpo Nabe
You may recall that two of the larger kiritanpo I made would become part of my dinner later. Dinner at Lodge Yodel that night was Kiritanpo Nabe, a hot pot made with local vegetables, chicken, and of course the kiritanpo, simmered in a dashi stock. Each group of guests shared a larger pot or two while myself and another lone traveler each had an individual smaller pots.
Vegetables used in the nabe were grown on a local farm by Yukiko. Seri, a type of parsley, along with gobo (burdock root), maitake mushrooms, negi (Japanese green onion) were all fresh and aromatic. Konnyaku noodles, made from konjac potato, is also available to add to the pot, along with the kiritanpo I made earlier.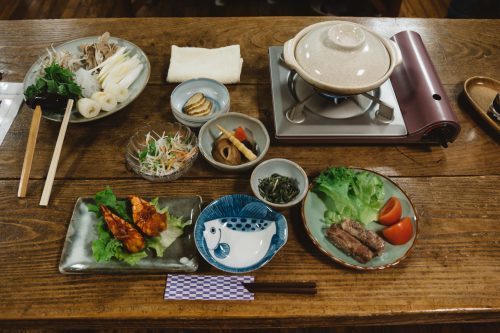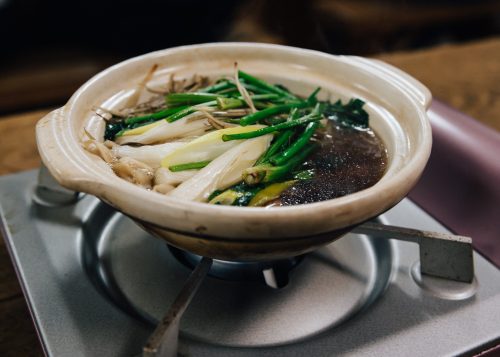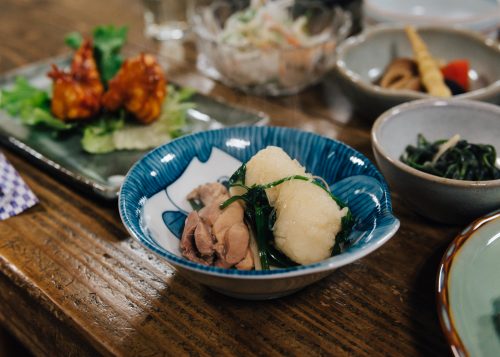 Other dishes included a plate of iburi-gakko (made by Yukiko with the family recipe), the Akita twist on tsukemono, the ubiquitous pickled vegetables of Japan. In the winter in Akita, vegetables are smoked by the fires of the irori hearth before being pickled, giving them a unique flavor that those who appreciate smoked foods can really appreciate. I appreciated iburi-gakko so much that I purchased some at the train station on the way home.
Yukiko was also busy in the kitchen preparing prawns in a sweet chili sauce, which we ate shell and all. It felt more Southeast Asian than Northwest Japan, but it gave an unexpected dimension to an already exquisite meal.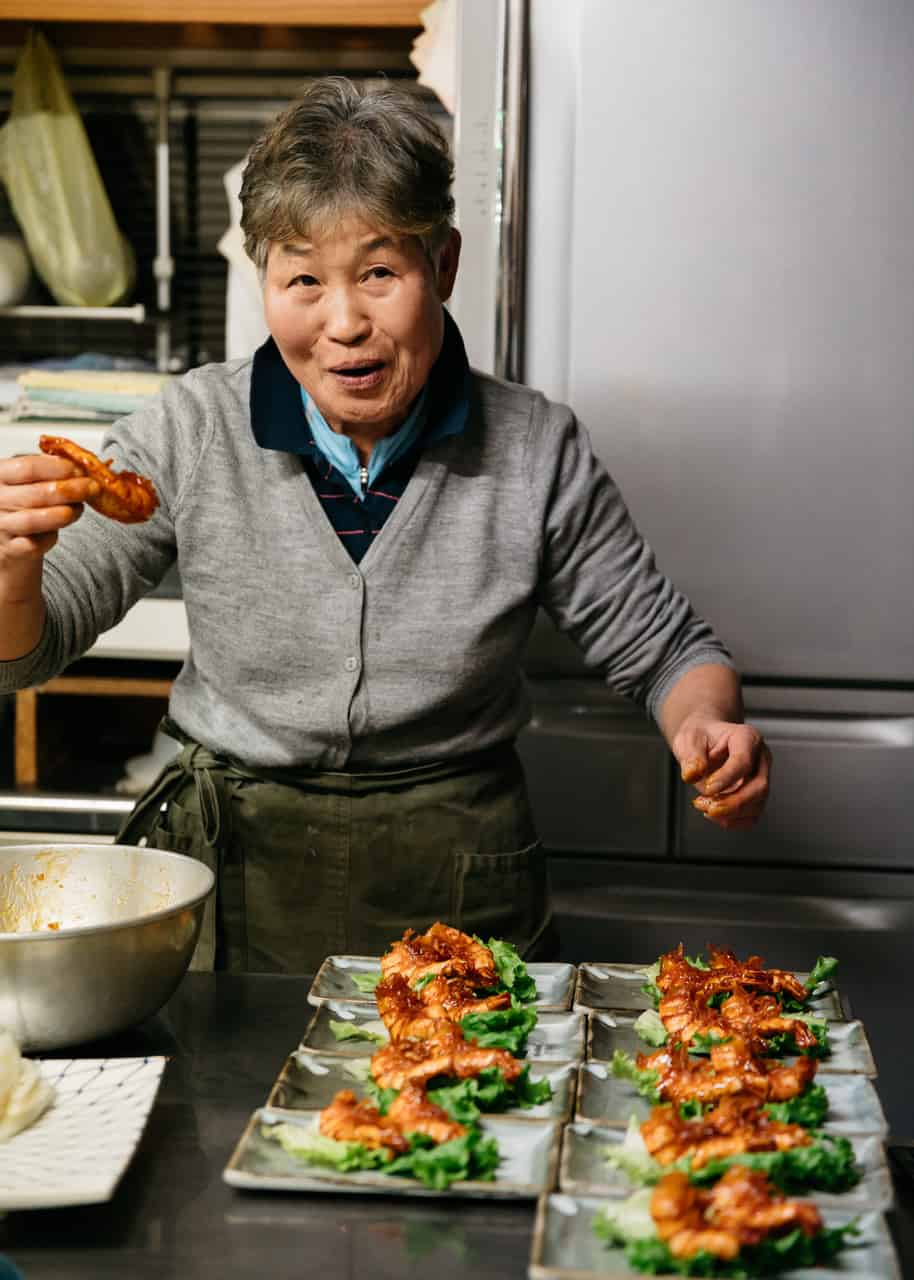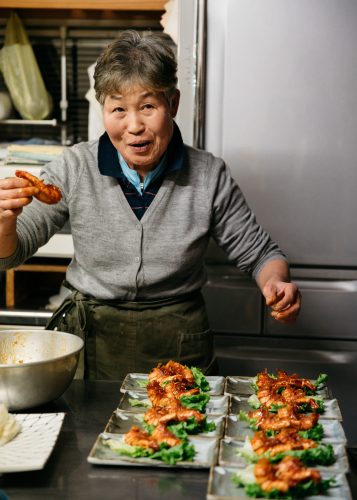 Rounding out the feast was a bowl of winter vegetables simmered in dashi and shoyu, a daikon salad, and a wonderful pair of pork wrapped apples, another delightful marriage of different flavors. The "first experience" food for me was mizunokobu, a mountain vegetable which was served seasoned mildly with ginger.
Rice served at Lodge Yodel is not only the high quality Akitakomachi varietal Akita is famous for, it is also produced by Sayaka's brother, making this meal a true family effort.
Breakfast at Lodge Yodel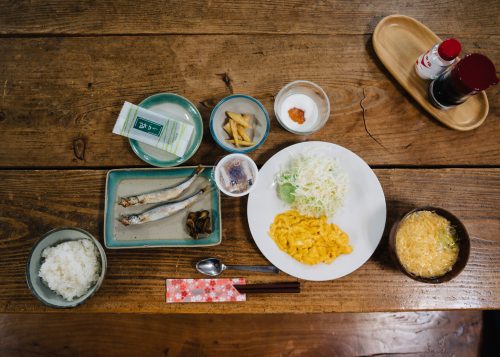 A Japanese breakfast tends to be fairly standard fare: a fish, an egg, a salad, rice and a bowl of miso soup along with Japanese staples natto and nori. Yukiko changes things up a bit with a thick hearty egg soup along with scrambled eggs on the plate. The fish was shishamo, a smelt which is eaten whole and usually includes roe. Not for the squeamish, but delicious with a hot bowl of rice. The delightful discovery was the takenoko, young bamboo shoots, smeared in the same sweet miso paste I had with my kiritanpo the evening before. More please!
Iori Farm-Inn Experience
Lodges are not the only way to enjoy a home cooked meal in Semboku. Several farms host visitors, foreign and domestic, for the experience of living and working on a farm. Granted, the amount of work you would do is a pittance of what an Akita farmer must do on a daily basis, but it gives you an idea of farm life and lets you work up an appetite for a big farm style meal.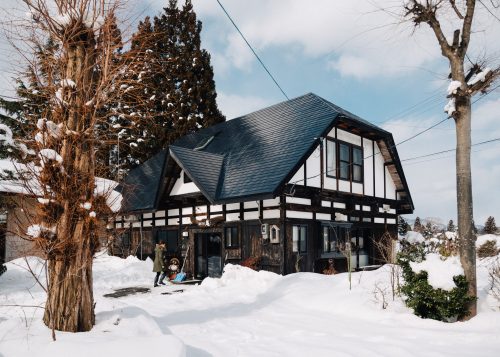 We stopped by Iori after a morning of sightseeing around Kakunodate, the nearby samurai town. Apparently sightseeing doesn't work up quite the appetite as, say, planting rice all morning, so the lunch provided for us at the farmhouse seemed enormous.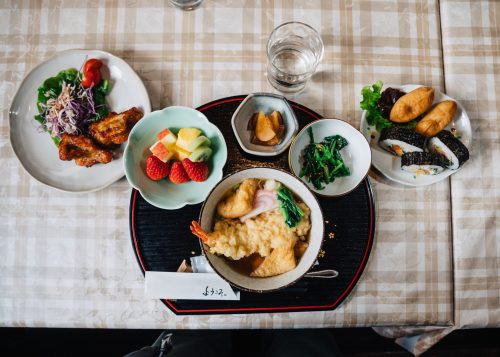 Compounding the issue of too much food was that everything was absolutely delicious, so there was nothing that could possibly be skipped to make room for something else. I ended up packing away some makizushi and inarizushi in plastic wrap to eat as a snack on the Shinkansen ride home.
The opening dish was the above mentioned makizushi, made with fresh salmon, mock crab, grilled egg, cucumber and lettuce. Both these and the inarizushi with their sweet, fried tofu jackets were stuffed with flavorful Akita rice seasoned with rice vinegar.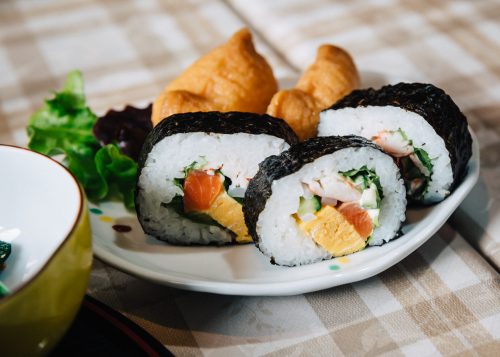 Next was a plate with a small salad and two grilled chicken wings. The main course was the tempura inaniwa udon, a style of udon made only in Akita.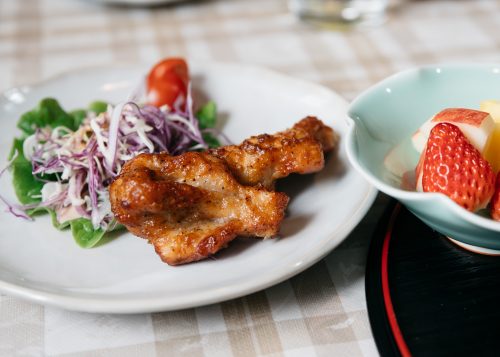 With a plate of seasoned seri (parsley), iburi-gakko and large plate of fresh fruit, this was a serious lunch, and everything was made for us from scratch by Chieko-san, who runs the inn. No wonder people are willing to come to Akita to work on a farm, with food this good waiting for them.
If you want to get away from the city but don't want to work on the farm, Iori can also be rented as an accommodation for up to 4 people. Though there is a full kitchen here, you will undoubtedly want Chieko-san to make your meals to experience her homestyle cooking. There is a large tatami style room for sleeping and a separate room to eat and relax in.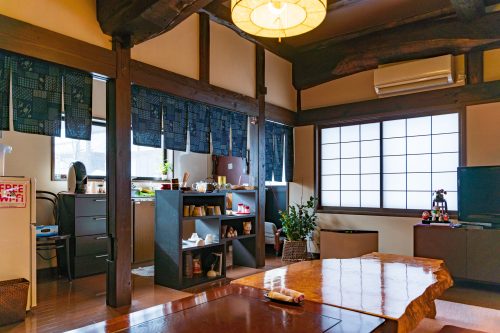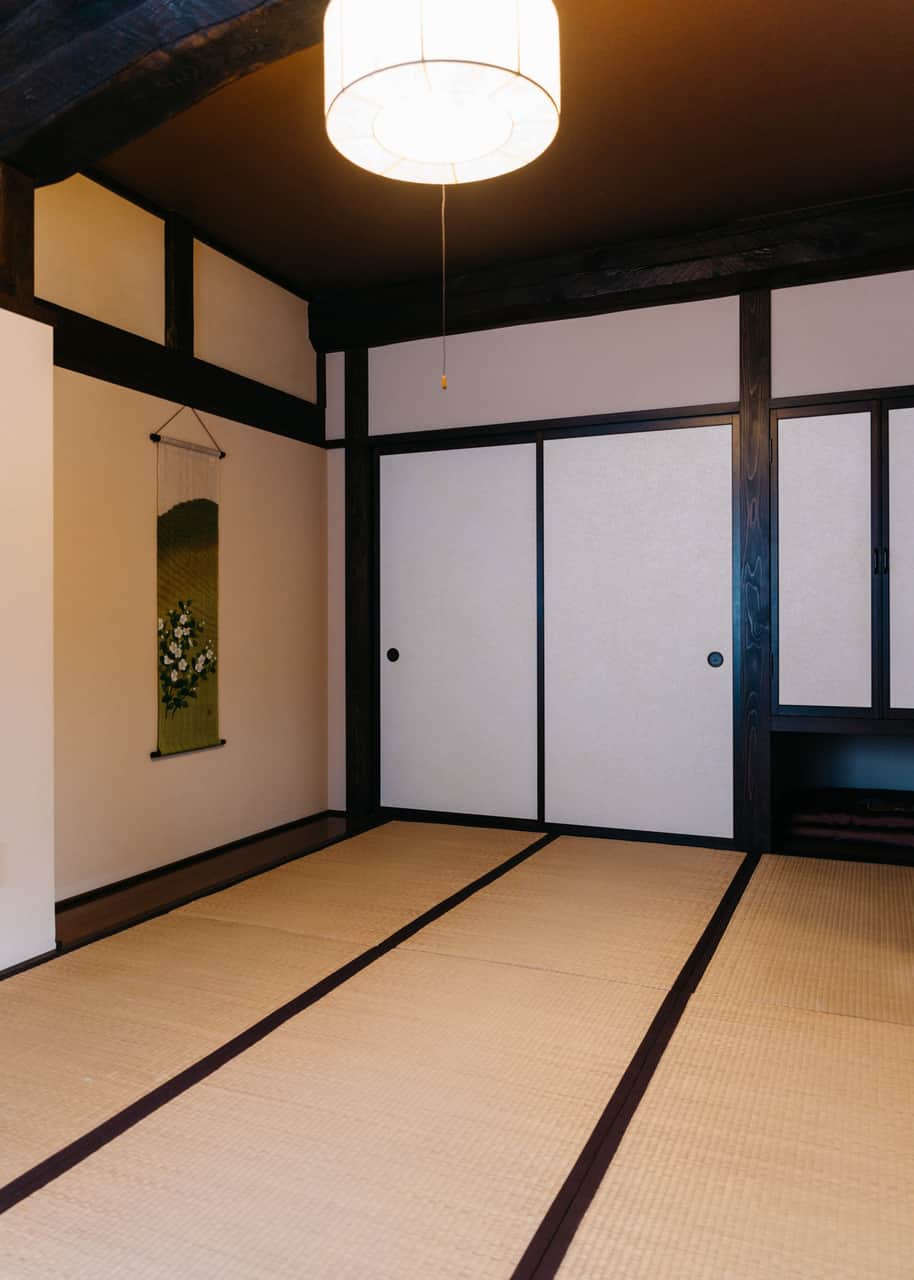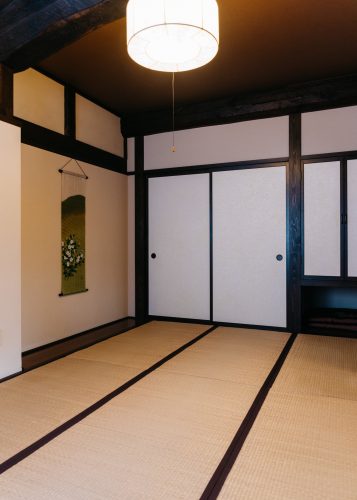 The climate and terrain of Akita make the people of this prefecture hardy and healthy, but the clean fresh air and water provides the basis for the food that keep them this way. The Michelin stars may be awarded to chefs in the big cities like Tokyo, but the chefs in their home kitchens in Akita are stars in themselves.
Getting To Semboku, Akita
Lodge Yodel is located near Tazawako Station on the Akita Shinkansen line.  The Iori farm stay is closer to Kakunodate Station, the next station up from Tazawako. A mere 3 hours from Tokyo on the speedy bullet train, a trip to beautiful Akita Prefecture is not only convenient, but if you already purchased a JR Rail Pass, it is also free.