Sakurajima (桜島), the enigmatic and commanding volcanic landmark over Kyushu's Kagoshima (鹿児島) cityscape, certainly stands out as one of the region's most famous sights. However, venture a little off-the-beaten-path into Kagoshima's eastern peninsula, and you'll find no shortage of spiritually-charged natural sceneries, from a "power spot" cave, a sunset torii gate and open ocean views from Kagoshima's most southernly tip. So, starting with Sakurajima, here are some other spectacular natural sceneries you can experience in Kagoshima:
What to See and Do Around Sakurajima, Kagoshima's Iconic Volcano
As you enter Kagoshima City, one of the first sights you will see will likely be the emblematic Sakurajima. This is one of Japan's most active volcanoes, stretching across the middle of Kagoshima Bay as the city's most prominent geographical landmark. It's also an easy 7-minute walk or around 5-minute drive from Kagoshima Station to the Kagoshima Ferry Terminal, where the passenger and car-carrying ferries run every 15 to 20 minutes (in the daytime), 24 hours a day, swiftly ferrying locals and visitors across a quick 15-minute ride.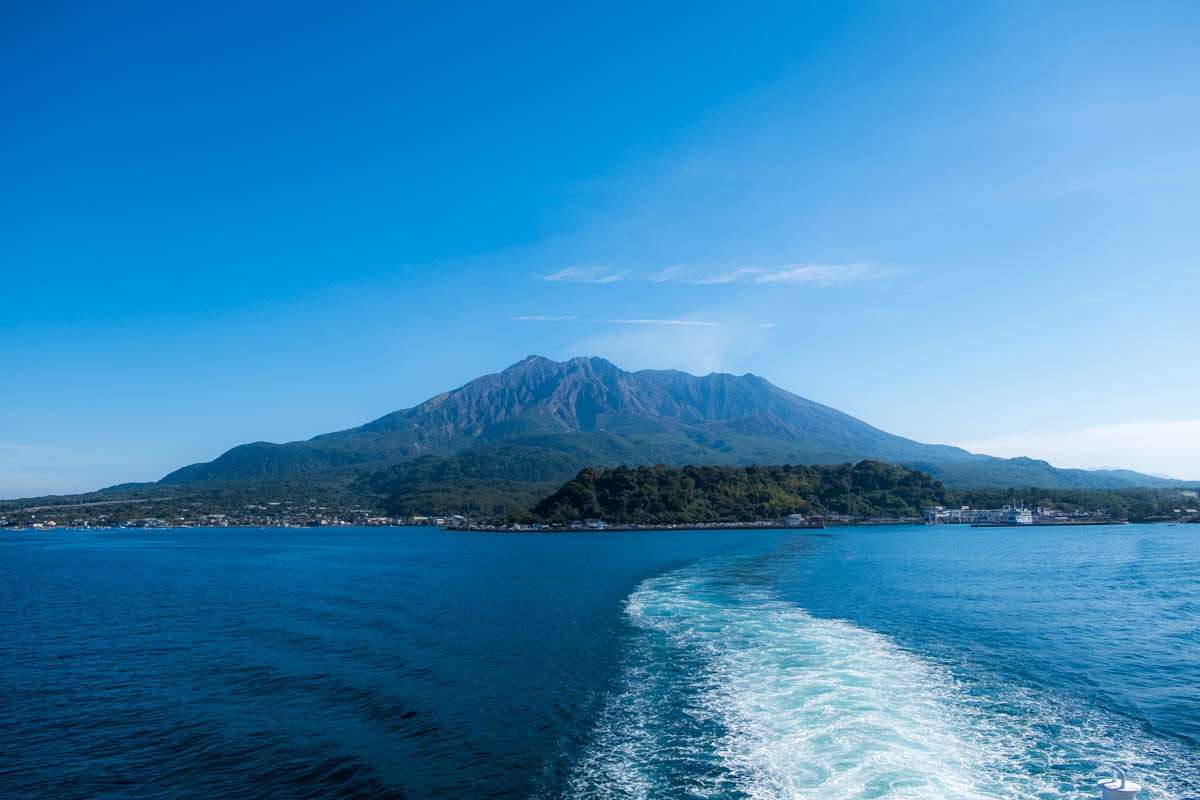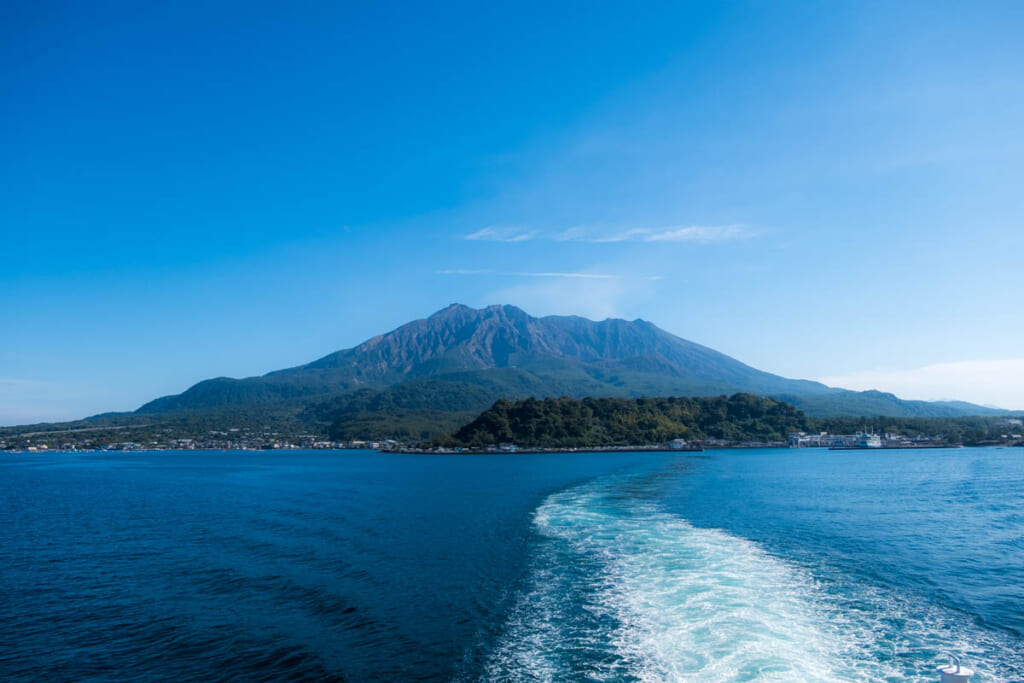 At Sakurajima Port, you can stop at the cafe or restaurants there for a bite to eat and rent bikes to cycle to some of the port's nearby destinations, such as the Sakurajima Visitor Center, the Sakurajima Nature Dinosaur Park, Lava Nagisa Park Footbath, one of Japan's longest footbaths, and the 1,300-year-old Tsukiyomi Shrine (月讀神社).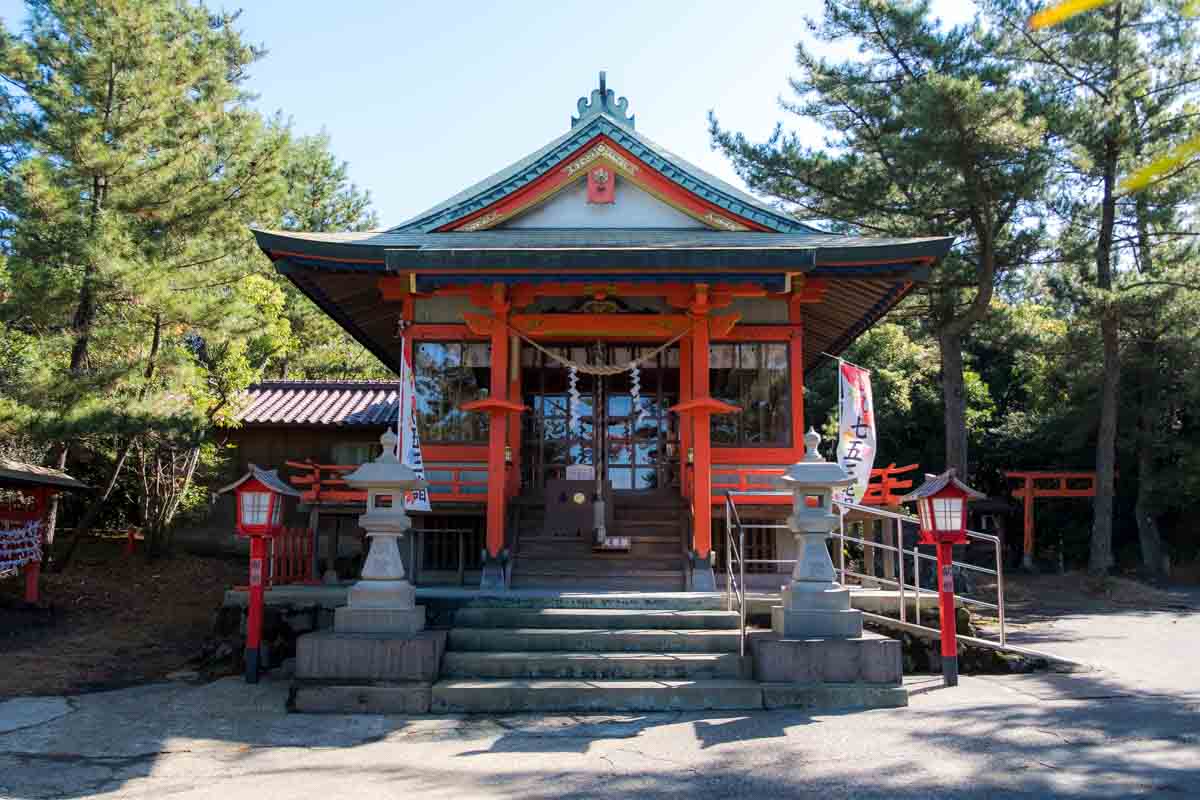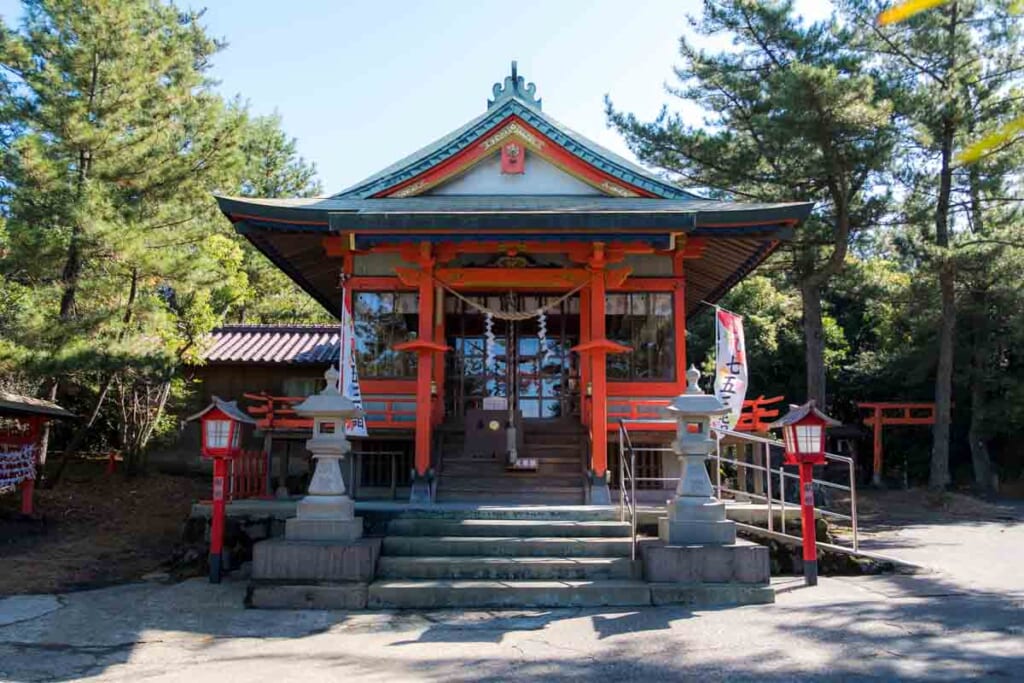 Yunohira Observatory, the Best Views of Sakurajima
Once you've made it to Sakurajima, Yunohira Observatory (湯之平展望所) is a must-visit to appreciate the full scale of these impressive volcanic formations up close. The observatory is the highest point you can access in Sakurajima, with a wrap-around deck that faces the volcano on one side and Kagoshima Bay on the other. Here, you'll get a closer look at its three peaks — Kita-dake (northern peak), Naka-dake (central peak), and Minami-dake (southern peak), the latter of which still emits smoke regularly from its active volcanic mouth.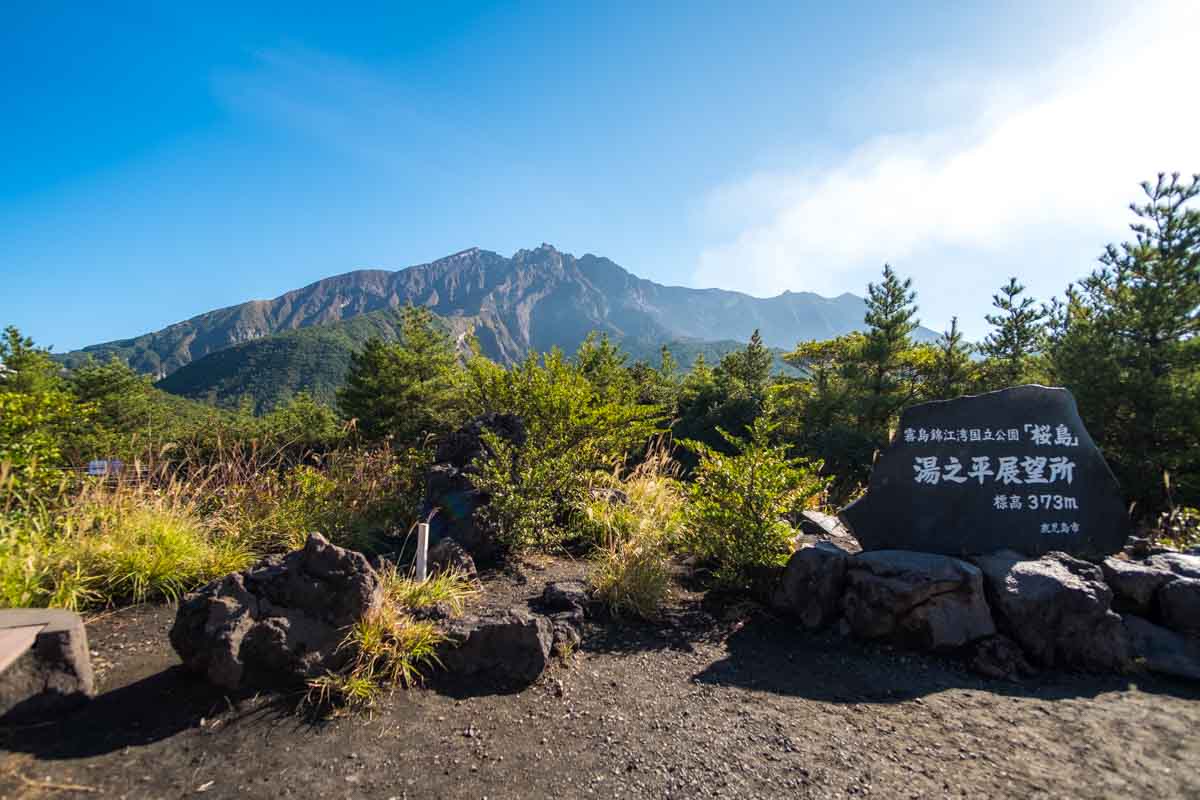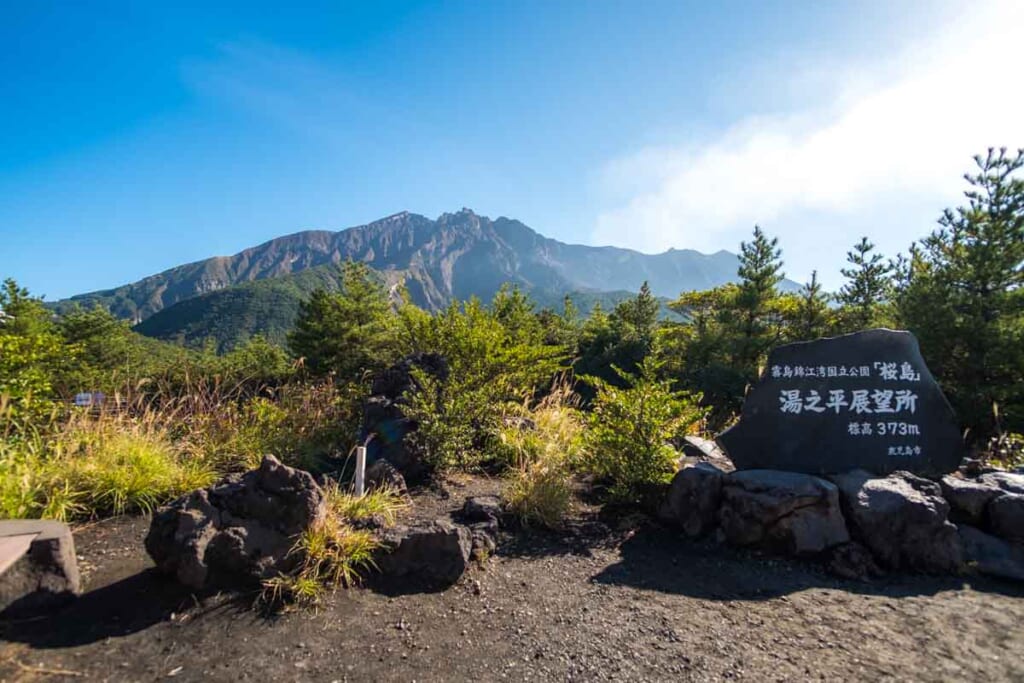 If you happen to be marveling at Sakurajima's sheer size, its current volcanic stature is a result of eruptions that merged two volcanoes into one geological formation. Only one of the original volcanos is active, with minor eruptions occurring multiple times a day. However, most won't warrant safety concerns for visitors or Sakurajima's residents, offering an exciting close look at a volcano in action.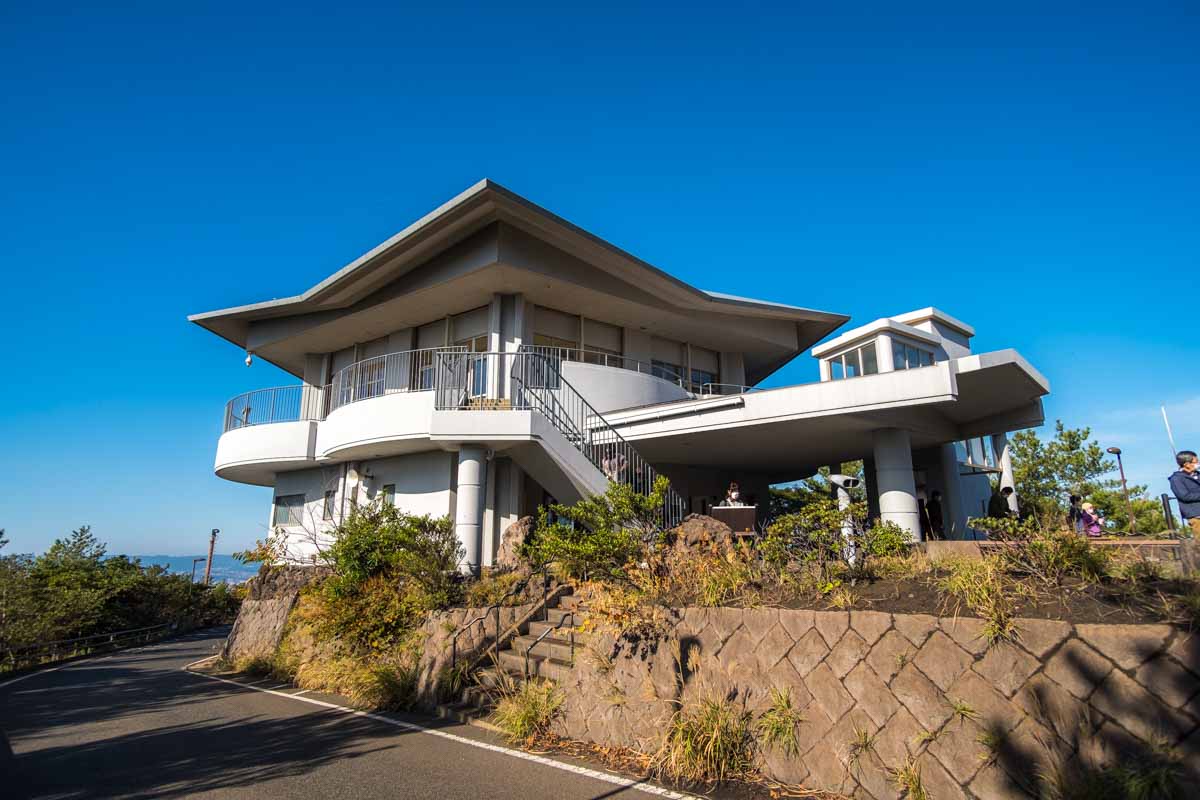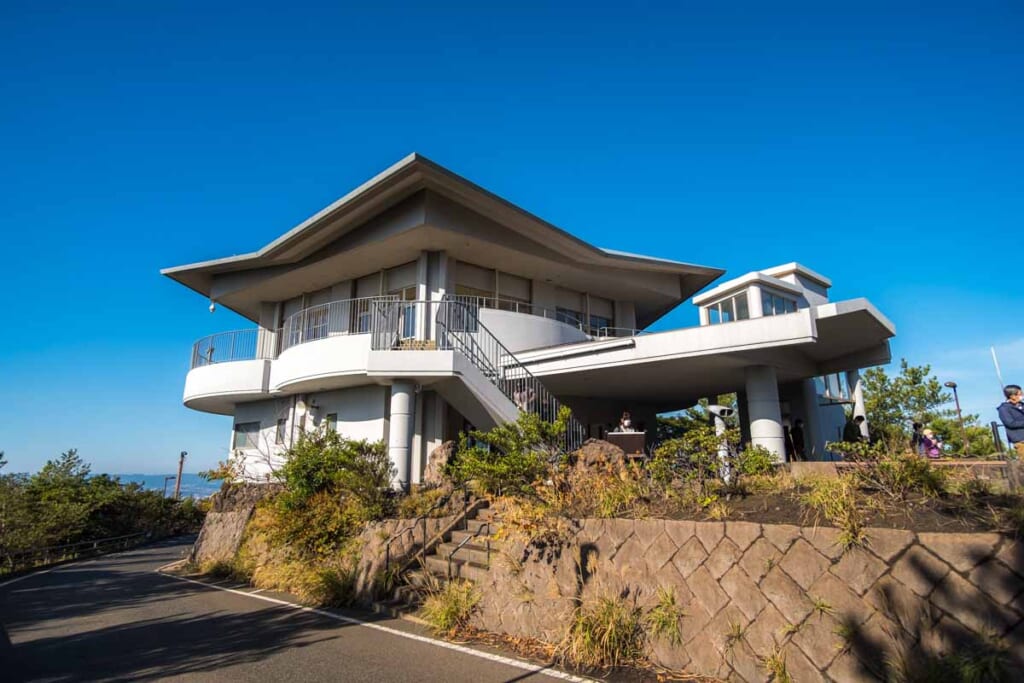 There is a shuttle bus to the observatory from Sakurajima Port (approx. 40 minutes). However, a car will get you to the observatory within 15 minutes and offer you more flexibility to explore the rest of Sakurajima and Kagoshima's eastern peninsula.
Kurokami Burying Torii Gate
For a slice of Sakurajima history, head to the eastern side of the island to the Kurokami Burying Torii Gate (黒神埋没鳥居). This half-buried torii gate is just one of the sobering reminders of the devastating 1914 Taisho eruption — Japan's largest volcanic eruption of the twentieth century — that covered the surrounding area with ash, pumice, and other debris.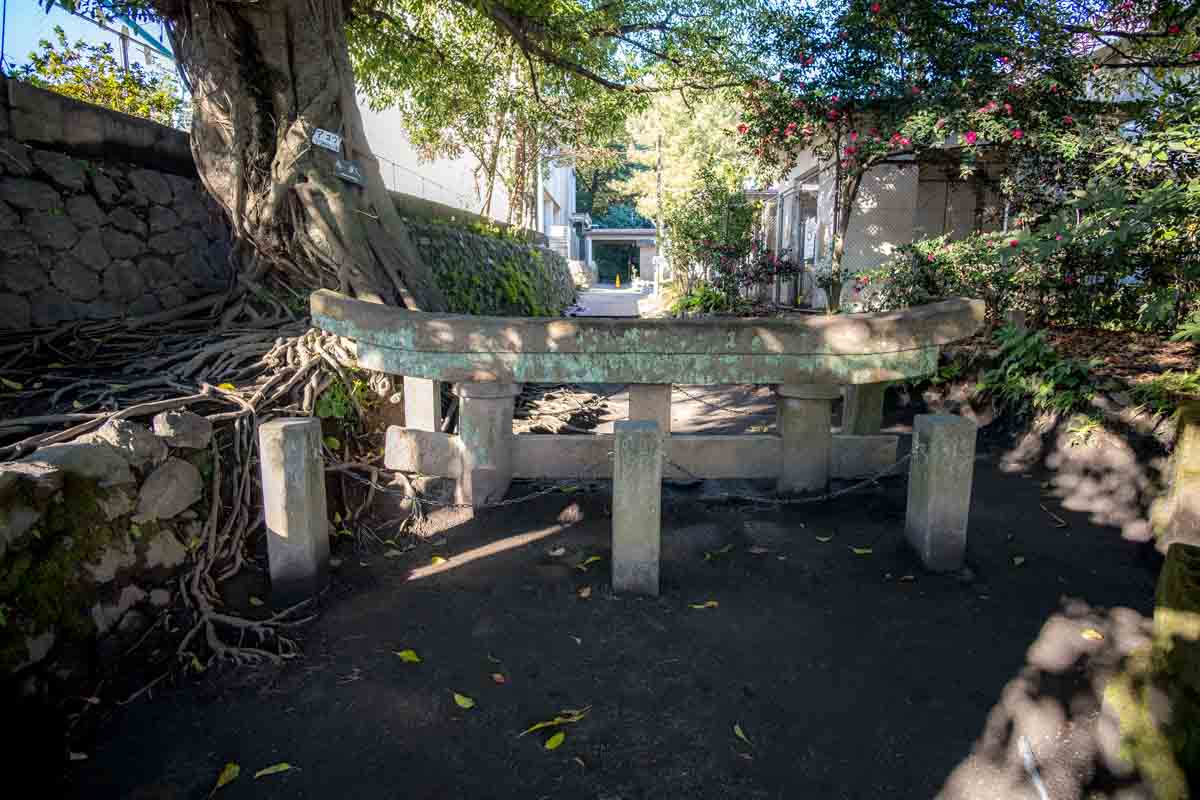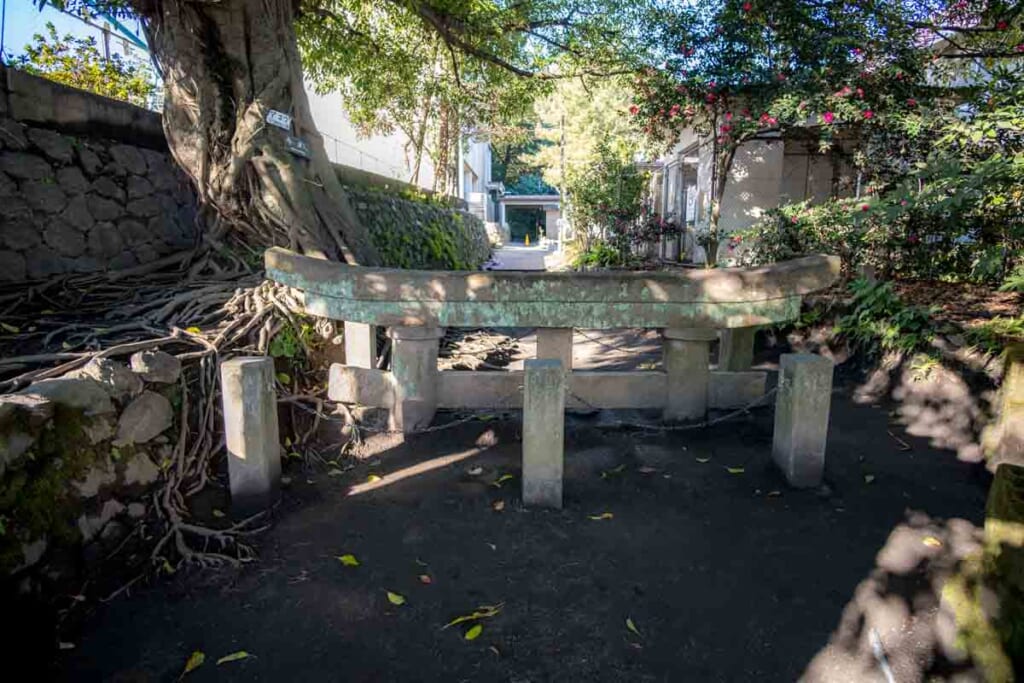 Yet, while Kurokami Shrine was lost, the old banyan tree beside the half-buried torii gate miraculously survived the eruption. Today, this natural monument and tree sit solemnly near a junior high school — a reminder that even in the face of natural disaster, there is always room for regrowth and harmony with nature.
Cape Sata Observatory Park, the Southern Most Tip of Mainland Kyushu
At the southern tip of the Osumi Peninsula is Cape Sata Observatory Park (佐多岬公園), about a two-hour drive from Sakurajima. This southern tip of Kagoshima is the most south you can get on the Japanese mainlands before ferrying over to the Ghibli-esque Yakushima Islands (屋久島). Nearly 70% of the 360-degree views from the observatory are oceanic, with attractive views of Kagoshima Bay, the conical mountain of Kaimondake, and the Cape Sata Lighthouse, Japan's oldest lighthouse that is perched on the edge of a narrow cliffside. If you're lucky, sunny days will give clear views of the distant green islands of Yakushima, which inspired the backdrop of Ghibli's classic film, Princess Mononoke, with its centuries-old cedar forests and crystal clear streams.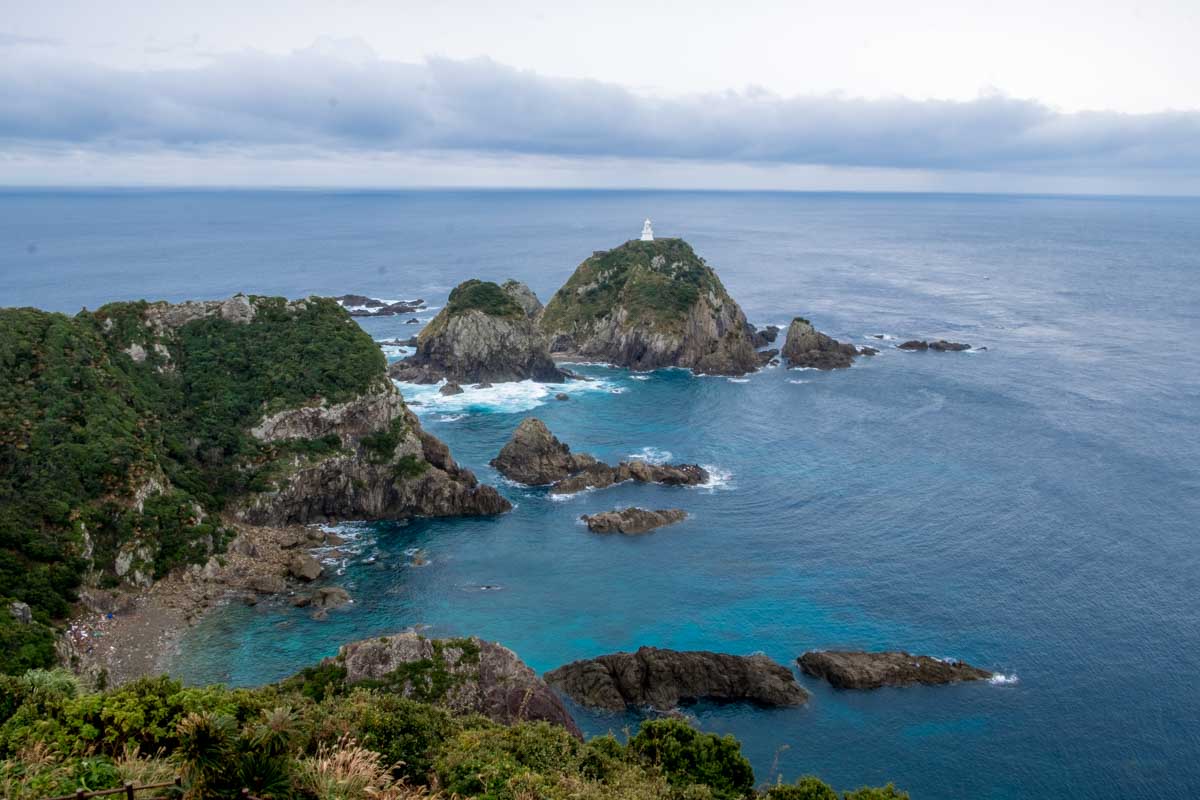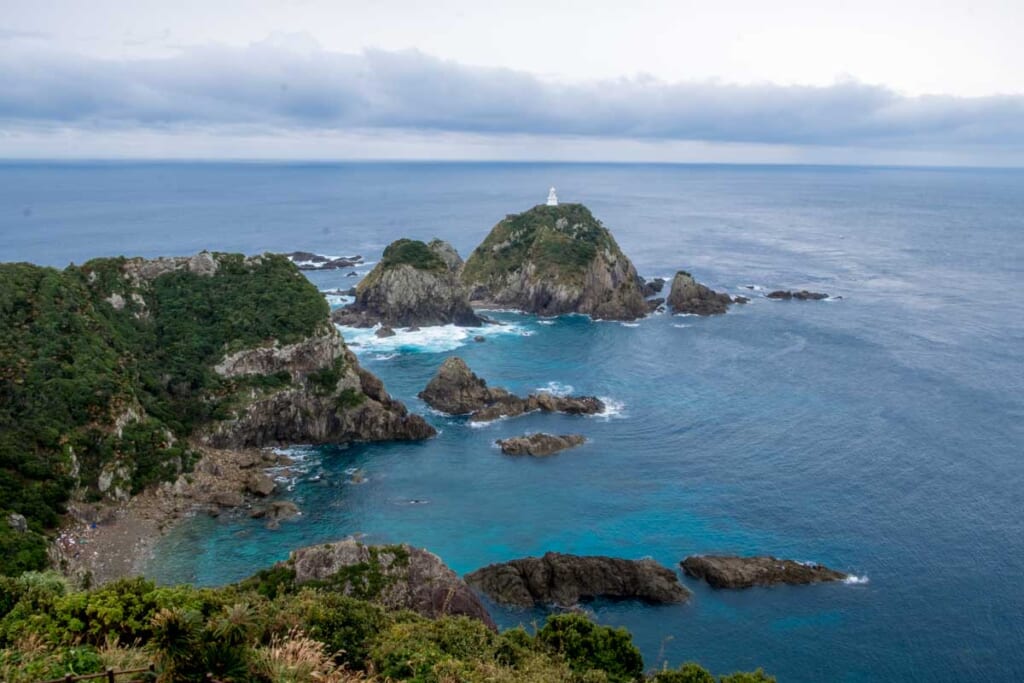 The peninsula is also home to several rare cape insect and plant species, including the gray-faced buzzard, the orange-tipped Pieridae butterfly, and various tropical flowers, such as shell ginger, sacred garlic pear, Japanese cobra lilies, and night-scented lilies.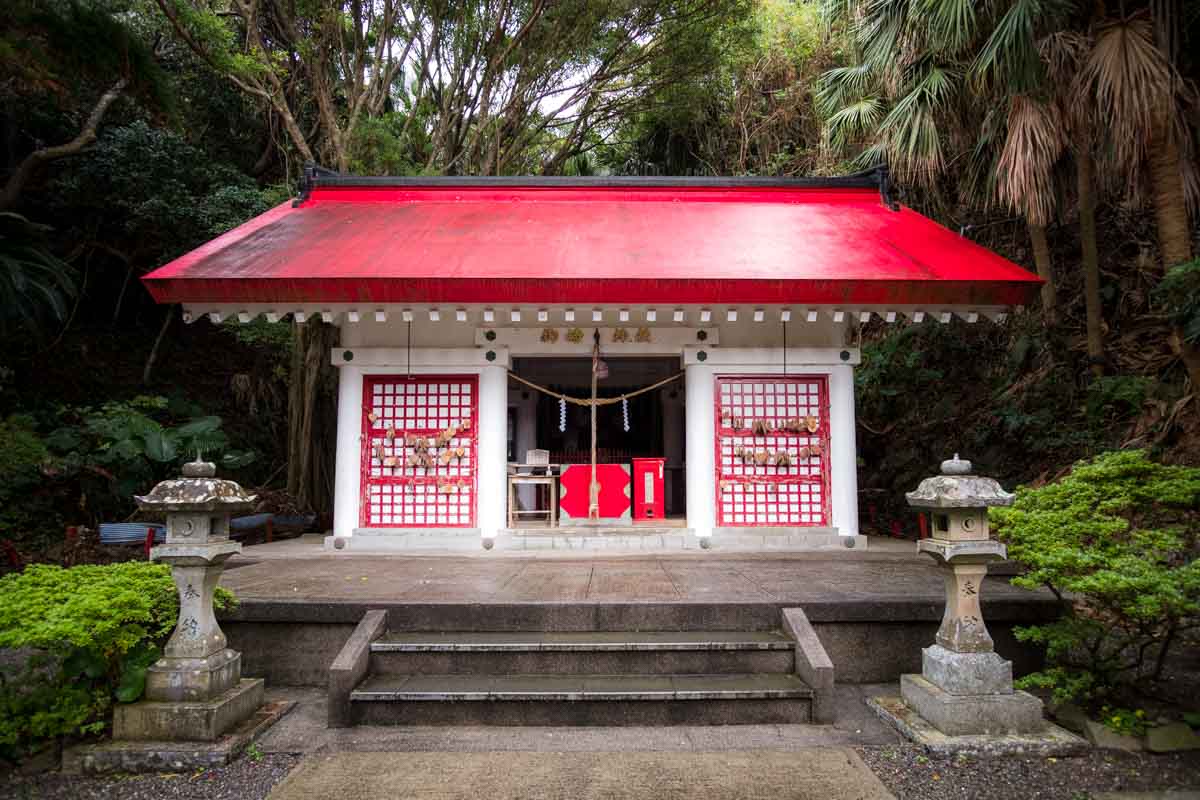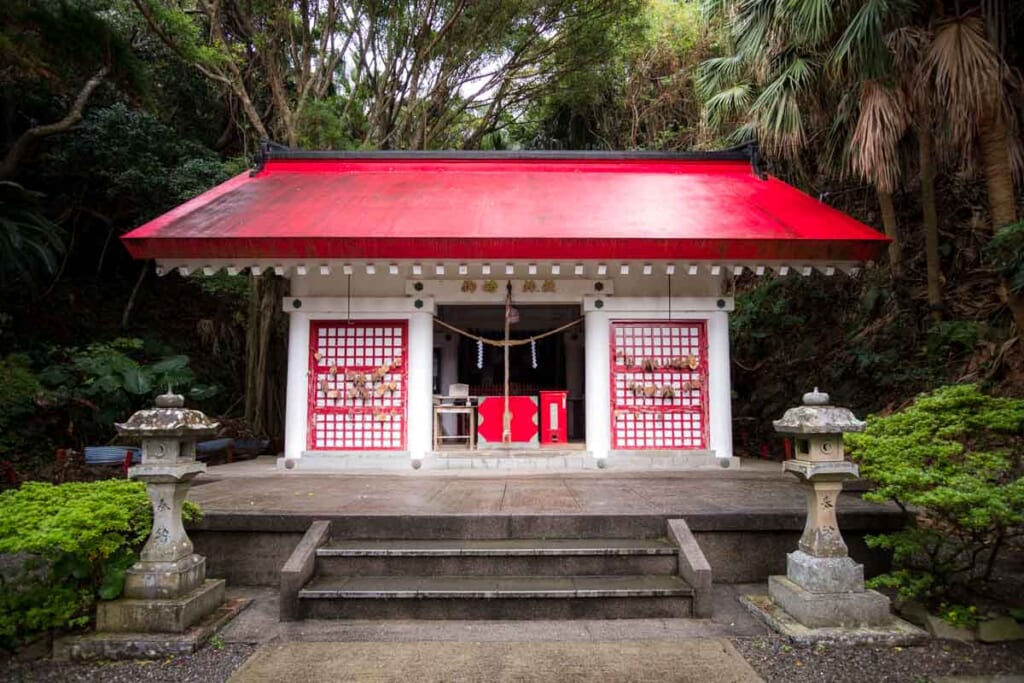 Couples can visit Misaki Shrine, located in the observatory park, where you and your partner can tie wooden hearts with your names to the shrine wall to honor and pray for good luck to the god of marriage enshrined here. As you follow the path down the shrine, you'll find another impressive banyan tree, sending drooping arms over a torii gate with its new branches.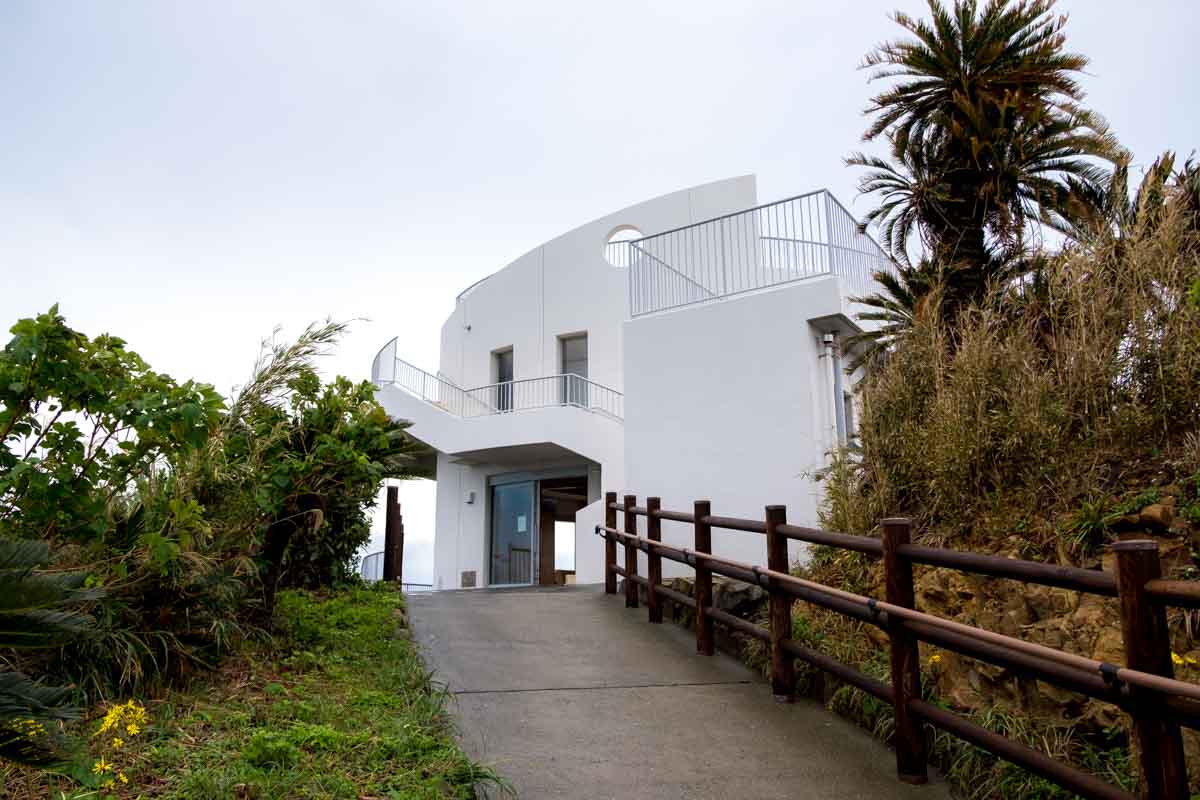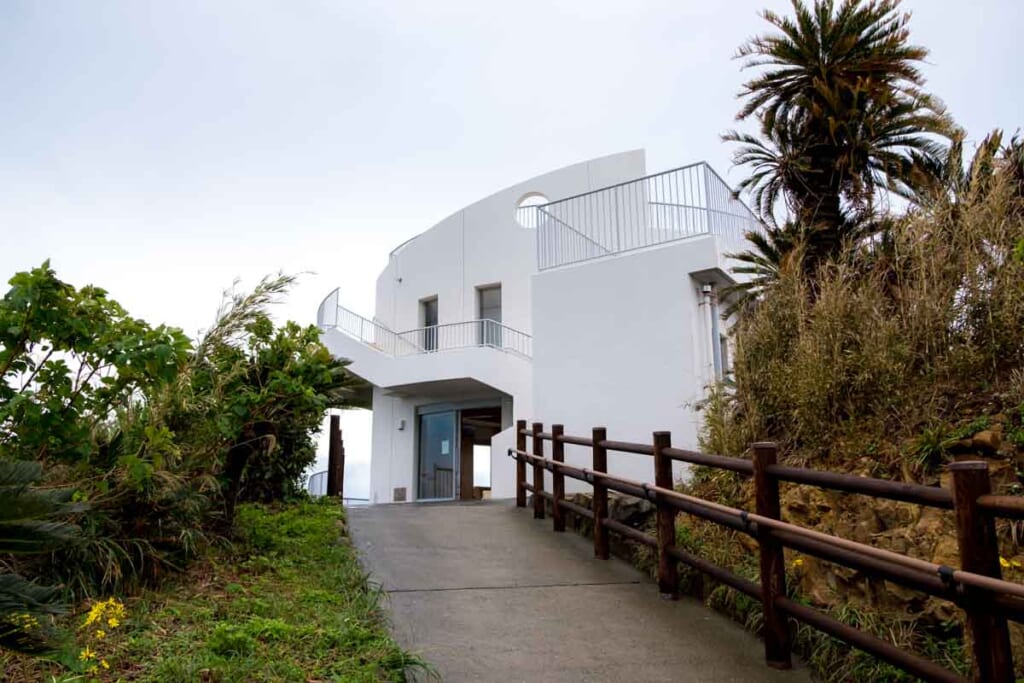 The observatory and Misaki Shrine are wheelchair accessible, though wheelchair users may require additional assistance for the ramp, sitting at an 80° angle, to the observatory.
Sunset Viewing at Sugawara Shrine
For some epic sunset scenery, Sugawara Shrine (菅原神社) in Kanoya City is a serene sunset viewing spot in Kagoshima that might have been more crowded if it wasn't for its secluded location along Kagoshima's eastern peninsula. Here, you can find a quiet seat on the sandbar and watch as the sun sinks between an opening of trees and over the shrine's main torii gate entrance. After the sun dips below the gate, visitors head to the island's edge, where the sunset continues its sunny descent behind Kagoshima's western peninsula.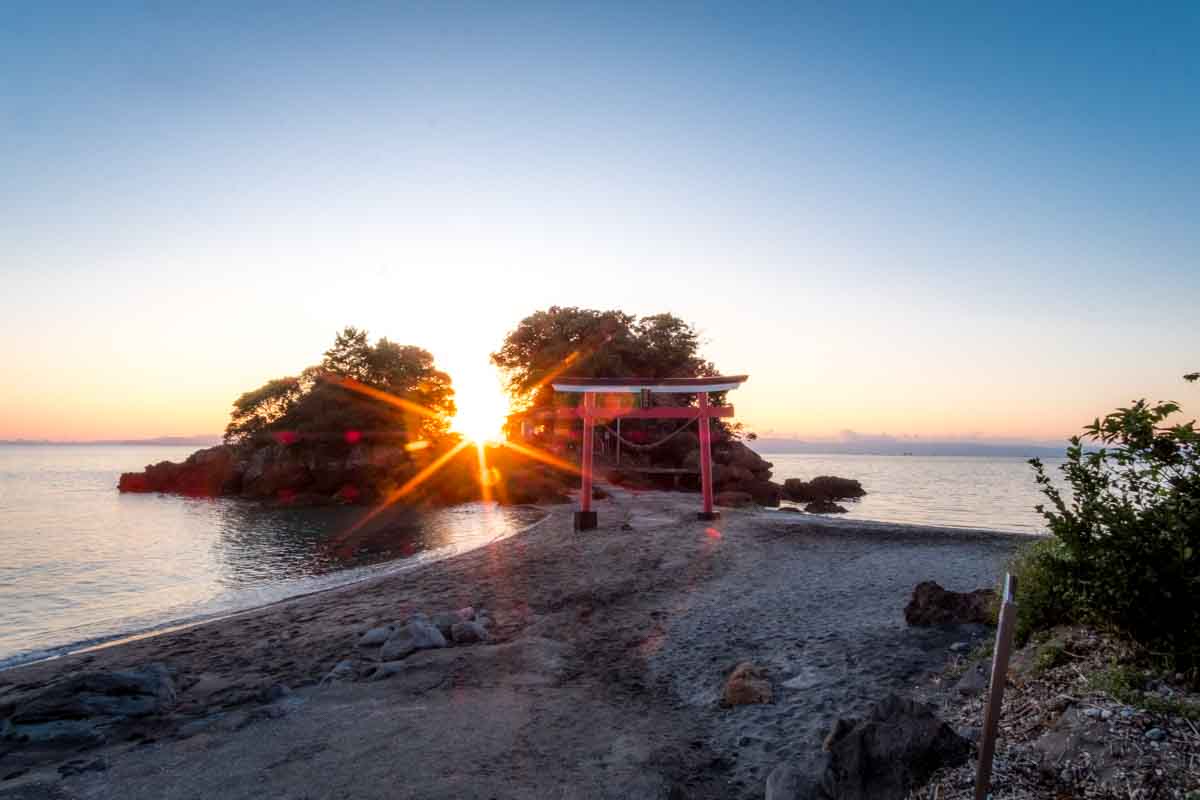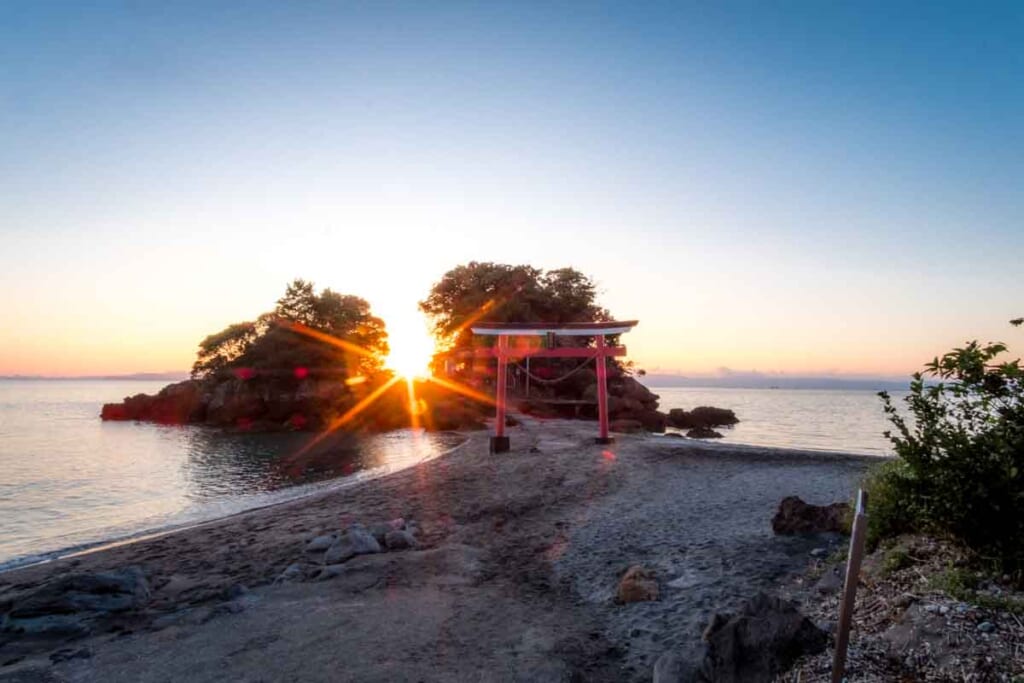 The historic Sugawara Shrine stands on top of the island, and is believed to have been founded during the Tenmon period (1532-1554). Sugawara Michizane, the god of learning, is enshrined here, increasing your likelihood of stumbling upon visiting students praying for success in entrance examinations in late January and February.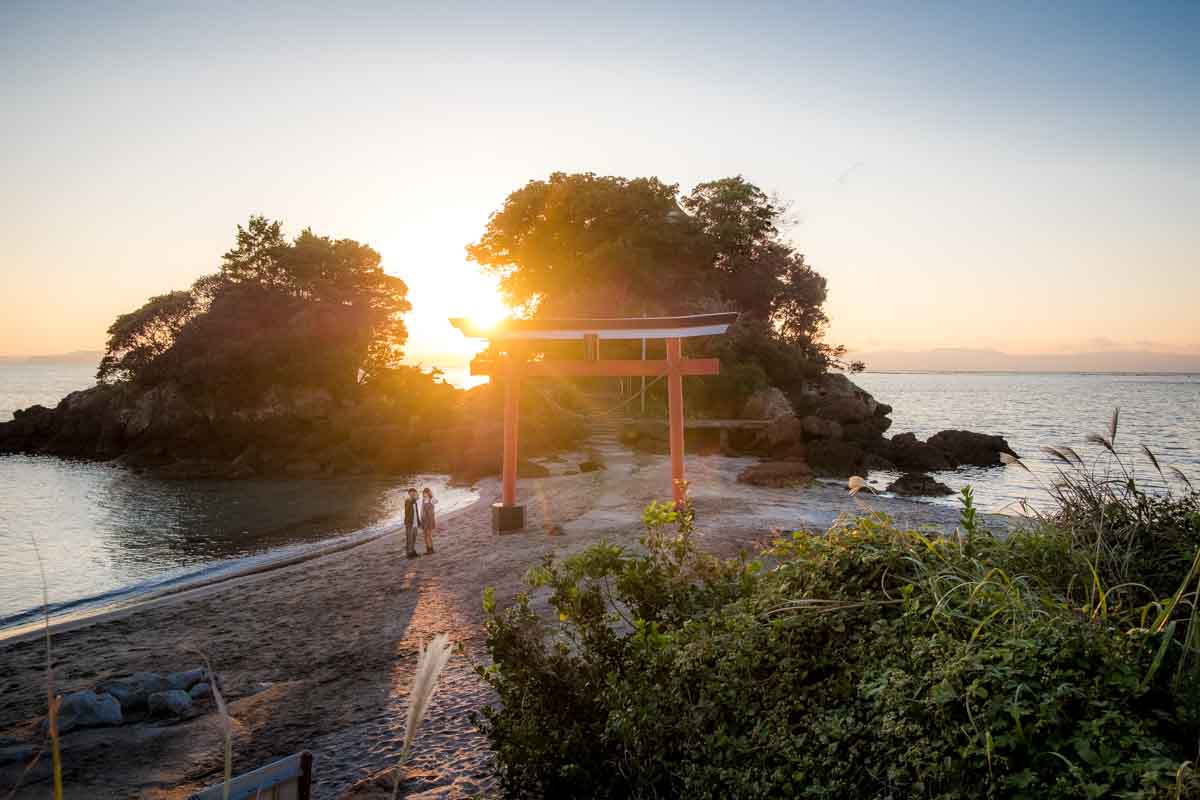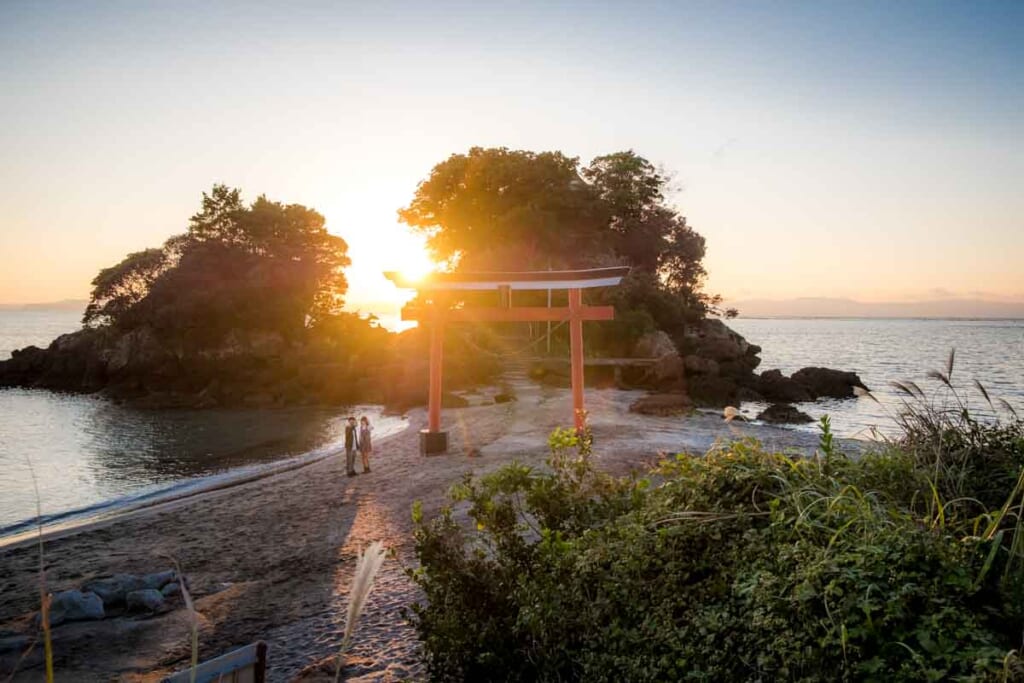 Double Torii Gates & Waterfalls at Suwa Shrine and Kamikawa Otaki Falls Park
For yet another romantic shrine destination for couples, Suwa Shrine's (諏訪神社) unique parallel torii gates are an unusual site for most shrines in Japan. Many loved ones enter the shrine using the left torii gate and exit from the right, believing it will bring the pair good luck in love.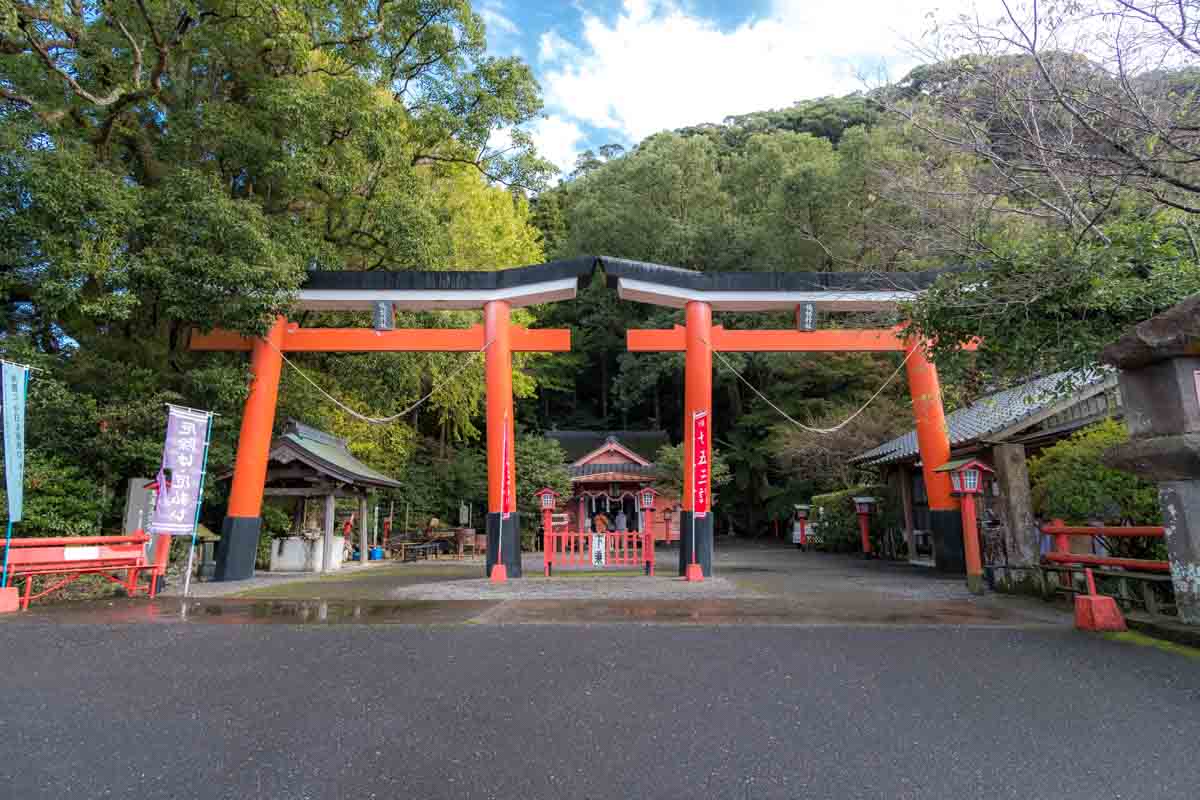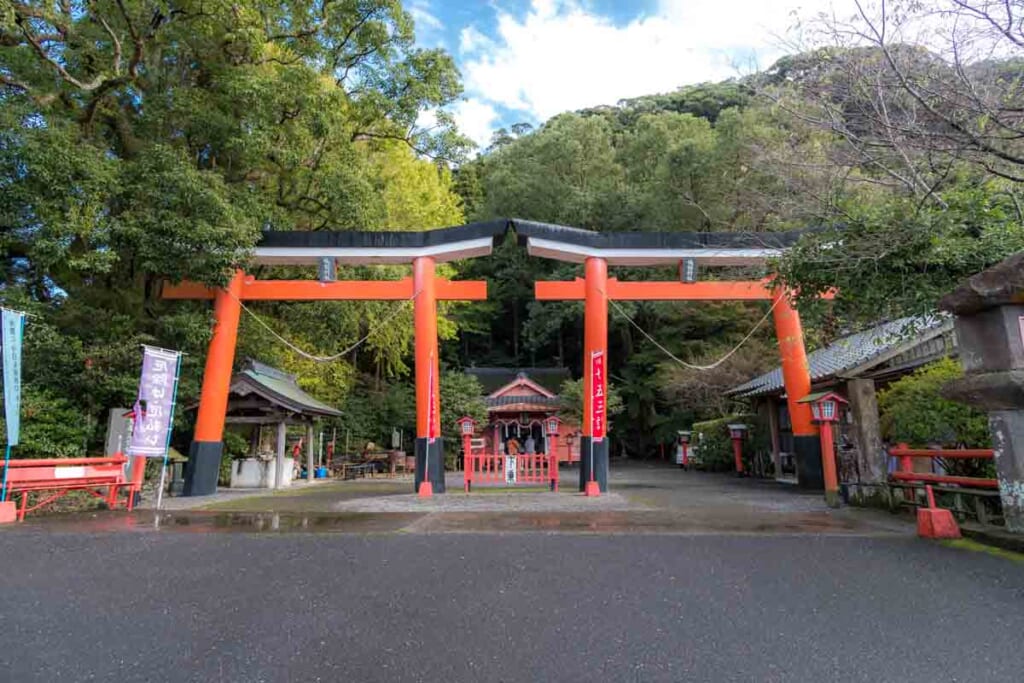 Only a seven minute's drive away is Kamikawa Otaki Falls Park (神川大滝公園), home to the 30-meter-wide Kamikawa Otaki Falls and smaller Kotaki Falls. While there are two platforms to view the larger and more impressive Kamikawa Otaki Falls, one of the park's best views is from above: The 130-meter-long aerial Kamikawa Otaki Falls Park Suspension Bridge (神川大滝公園 小吊橋), where you will peer down at the waterfall from over 68 meters in the air.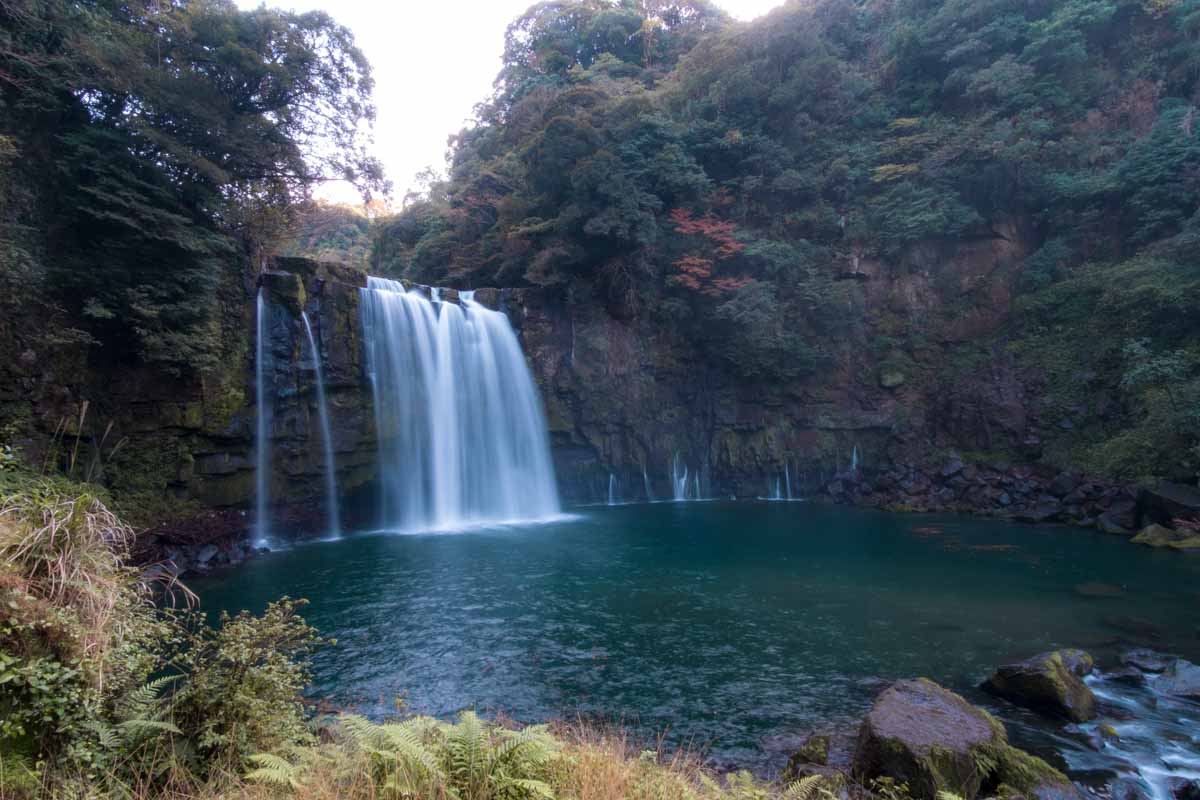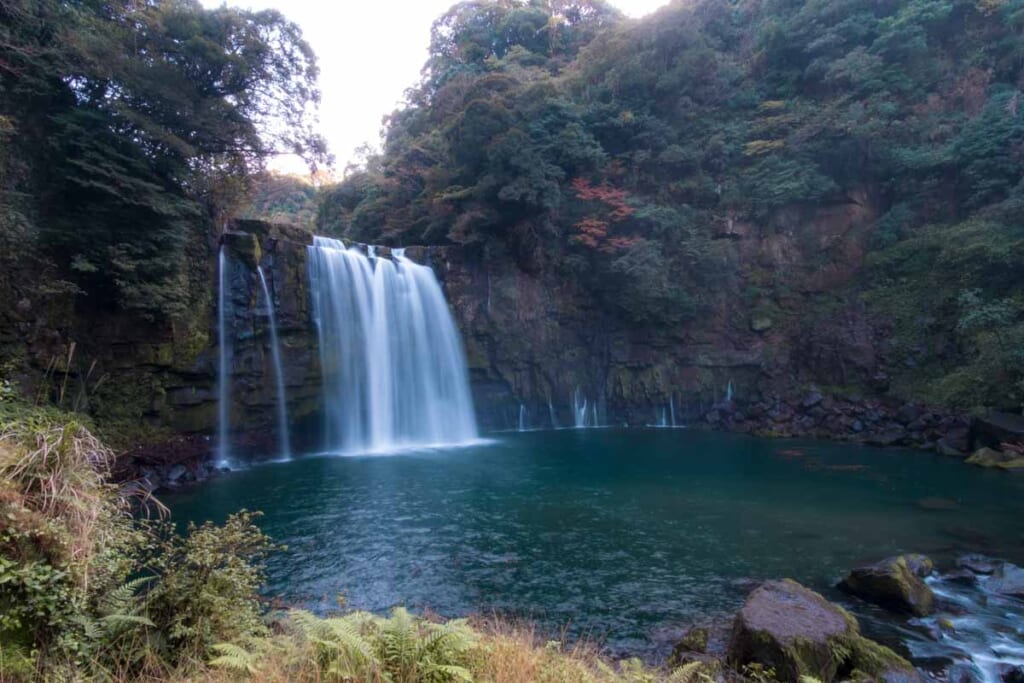 Stay Overnight at Kominka no Yado Tarumizu
If you're looking for a quiet place to stop for the night in Tarumizu City (垂水市), Kominka no Yado Tarumizu (古民家の宿たるみず) is an affordable Japanese-style lodging that offers excellent dinner set options that highlight the area's finest local ingredients. Run by a husband and wife team, this part Japanese inn, part restaurant, is housed in a renovated car repair shop that's been converted into a minpaku (民泊), a traditional-style private residence lodge.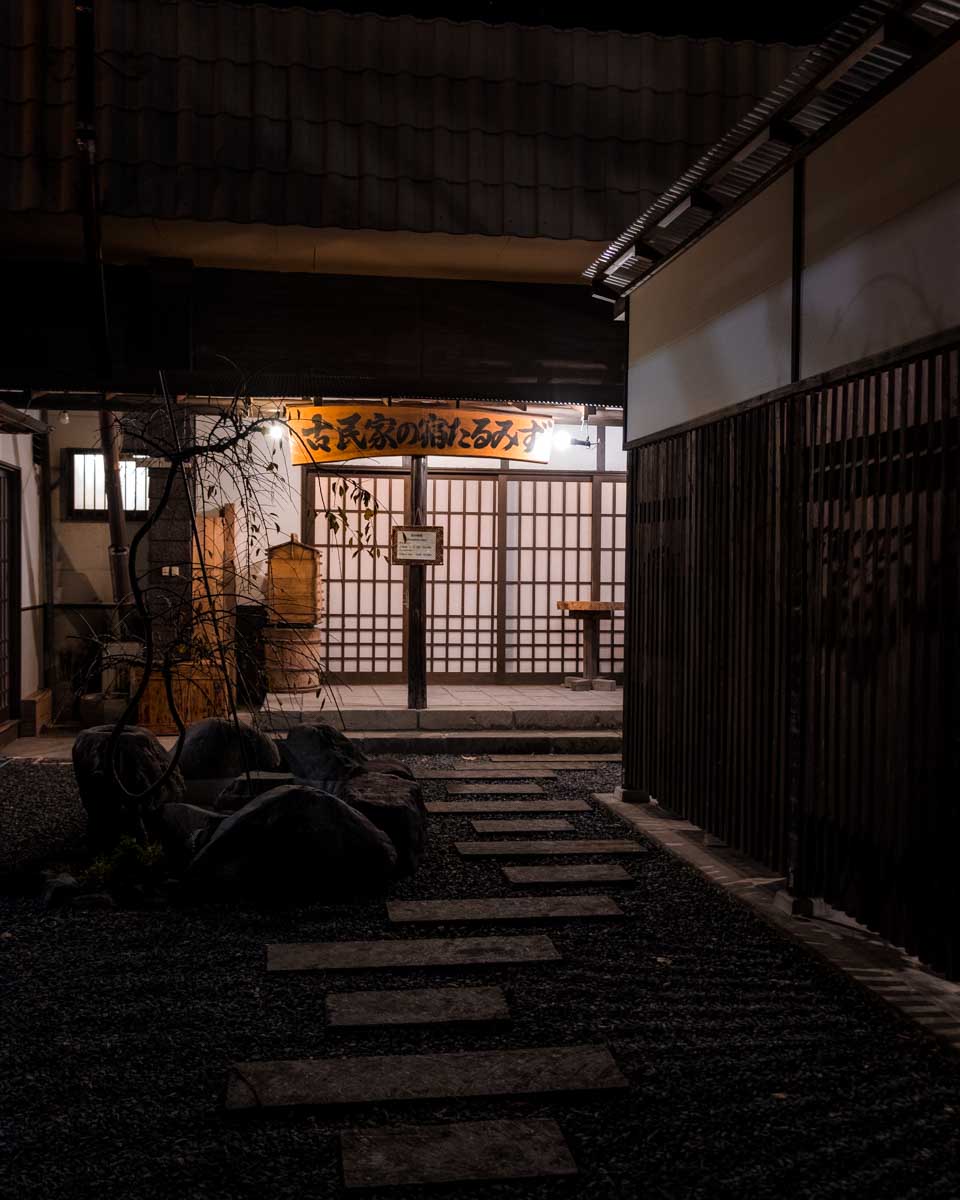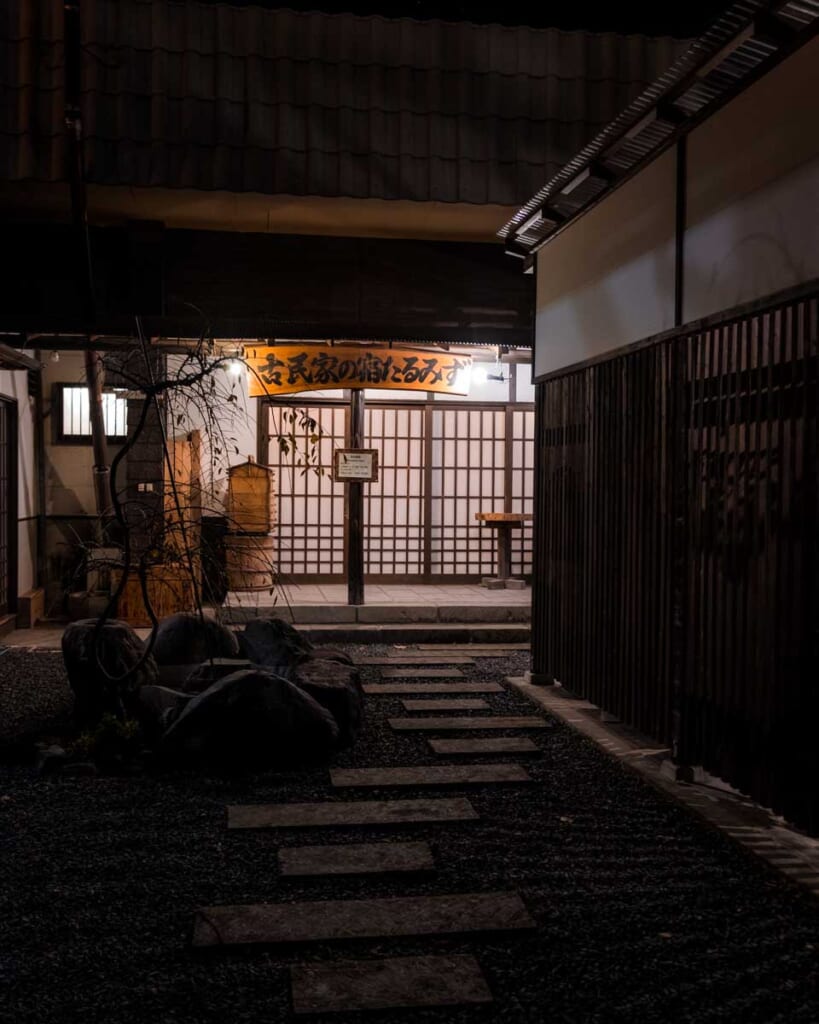 The seasonal and local ingredients from the Tarumizu area change throughout the year, switching to the body and soul-warming course meals during the cooler months. Depending on what month you visit, you might get a course meal of shabu shabu hotpot with thinly sliced Tarumizu beef and vegetables in lightly seasoned soup, a dish of marinated fish jaw, deep-fried rice paper rolls stuffed with fish, amberjack sashimi, a hot bowl of white rice that's been planted, harvested, and cooked in a traditional old iron pot, and a sweet Kagoshima getanha (げたんは) using brown sugar from the remote Tanegashima Island for dessert.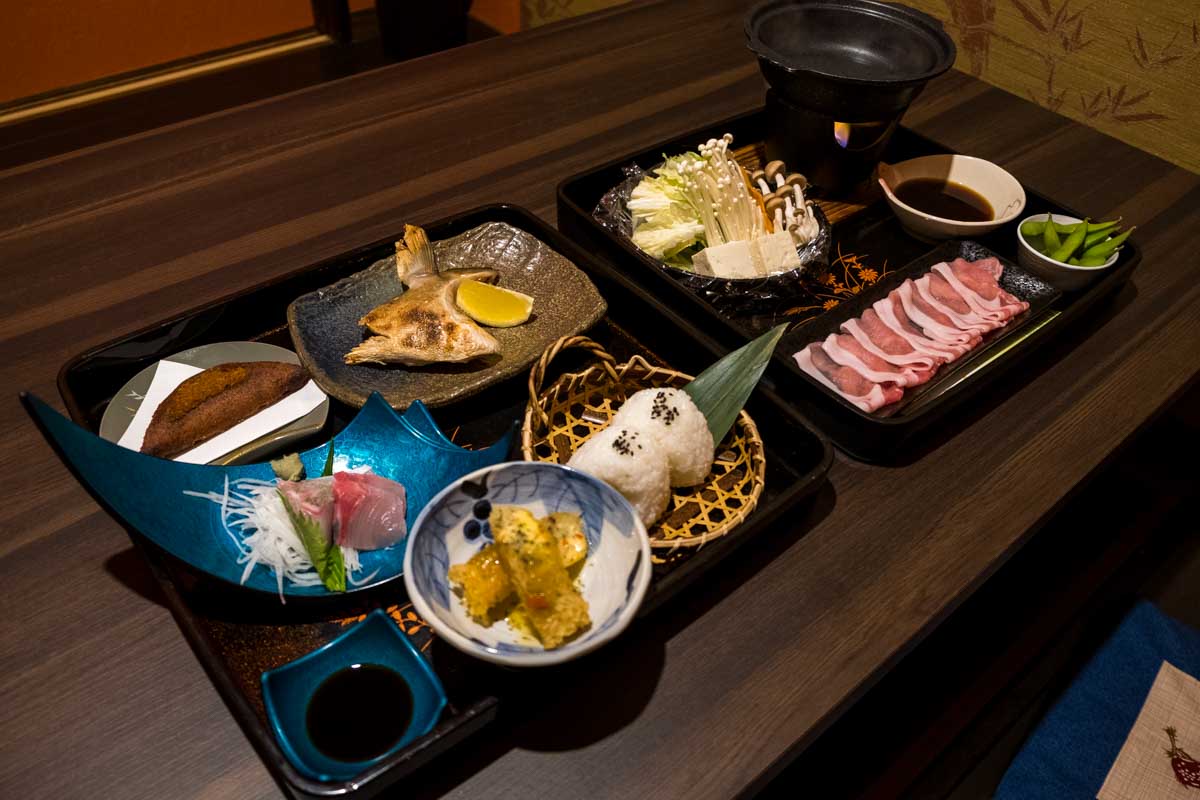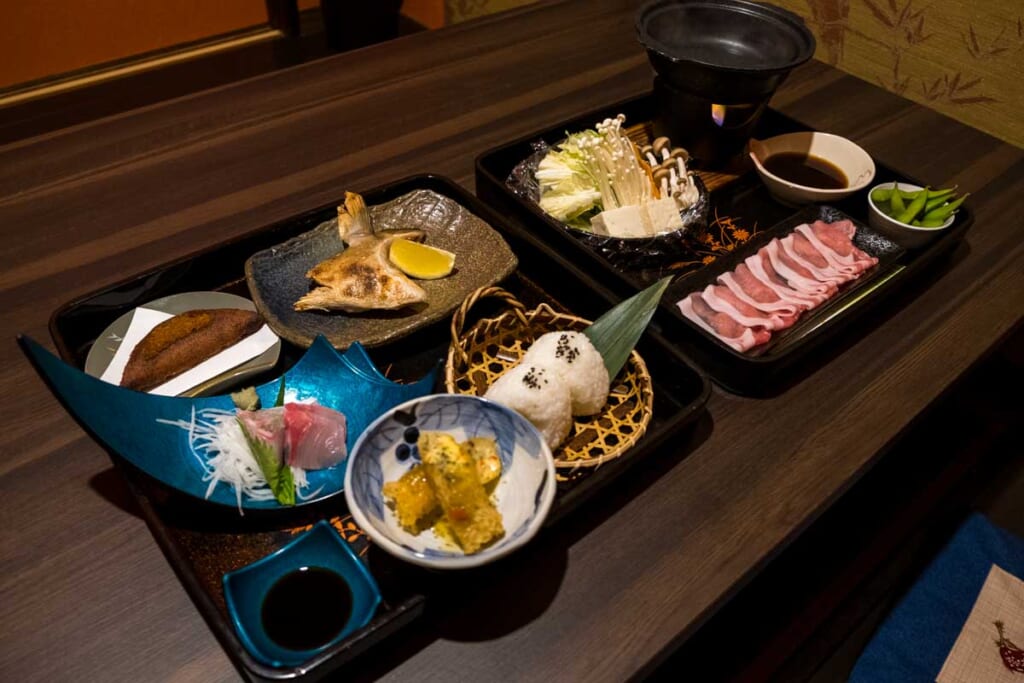 For single travelers, the four single-person rooms (four tatami-mats large, to be exact) are just big enough for the essentials — a futon bed, TV, fold-down dining table, and chair, while groups and families can opt for the larger family-style room. In the evening, make a reservation for the goemonburo "cauldron" bath, a cylindrical metal bath heated over a wooded stove. During the cold season, the wood-heated bath will surely ease all that winter chill from your bones during your evening soak.
Kominka no Yado Tarumizu is still close to Tarumizu's main road, so you can get a quick start to your travels the following day, making this a good option for single travelers looking for accommodation offering a rustic appeal and beautifully prepared meal experiences you just won't get in any typical business hotel.
Nature Power Spot at Mizonokuchi Cave
One of Kagoshima's many natural "power spots" is Mizonokuchi Cave (溝ノ口洞穴). Located in mountainous Soo City (曽於市), this 14.6-meter-wide cave results from thousands of years of erosion by spring water from the nearby Kirishima Mountains.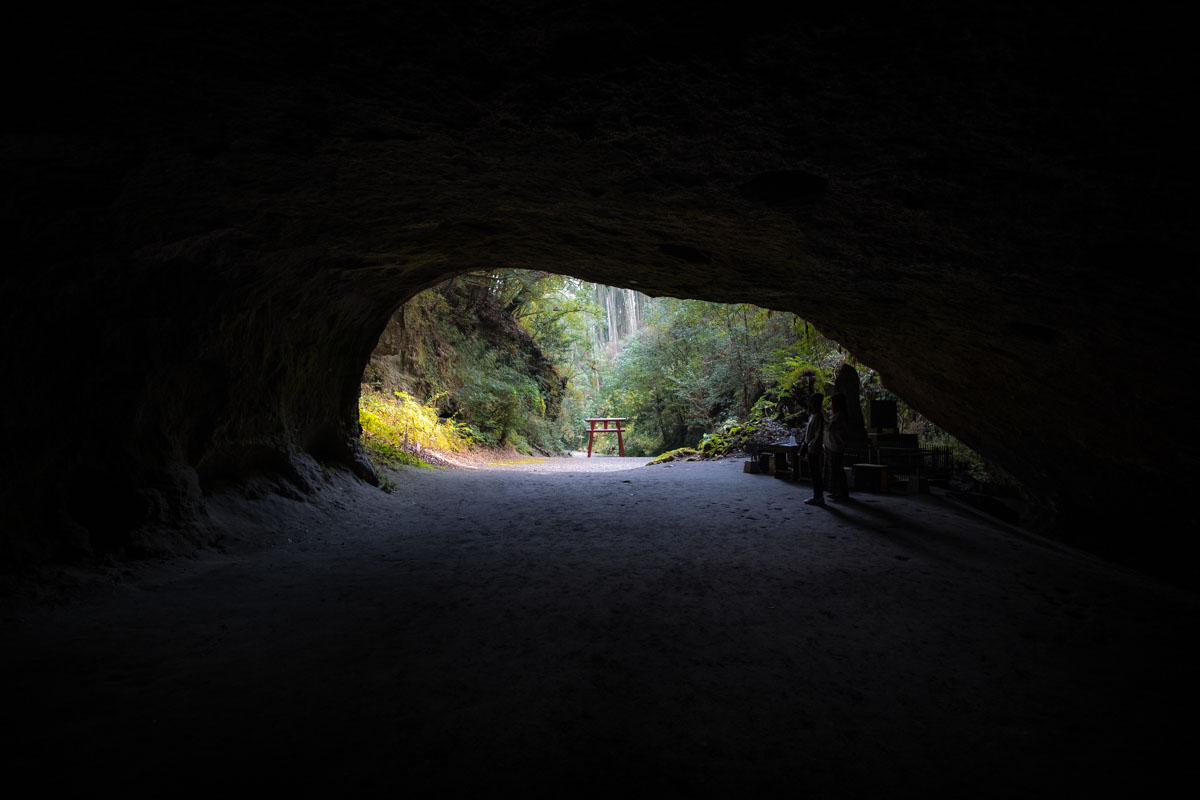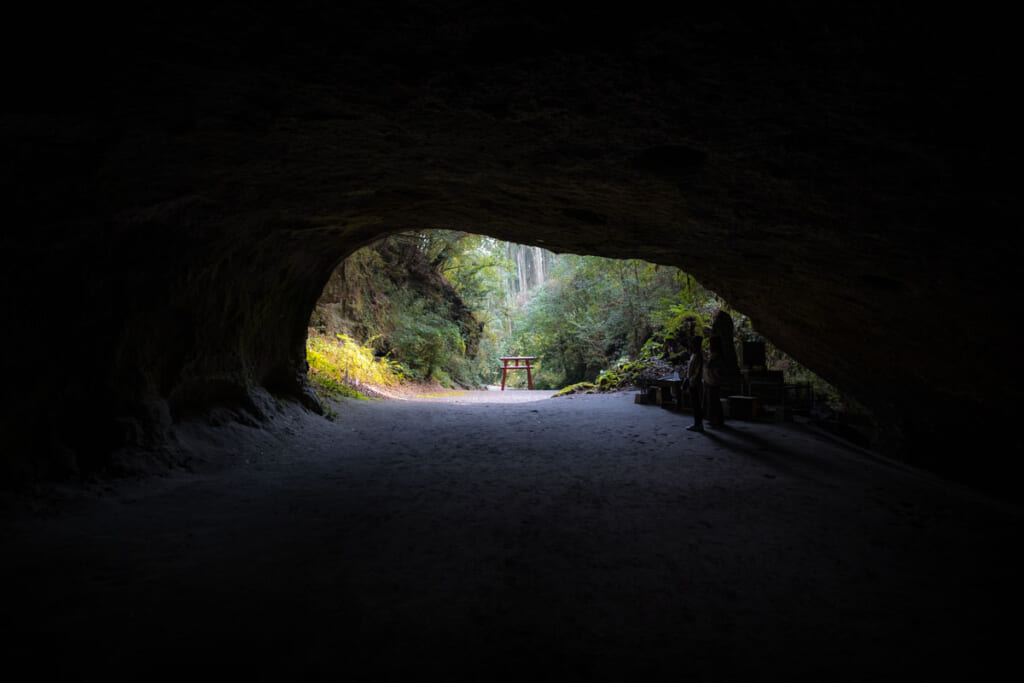 In 1964, an expedition team confirmed the cave's depth at nearly 224 meters deep, which you can discover for yourself using complimentary flashlights at the cave entrance. Once you're in the cave, you'll get your best pictures, with your friend's and family's silhouettes backed against the cave mouth that also frames the torii gate at the entrance.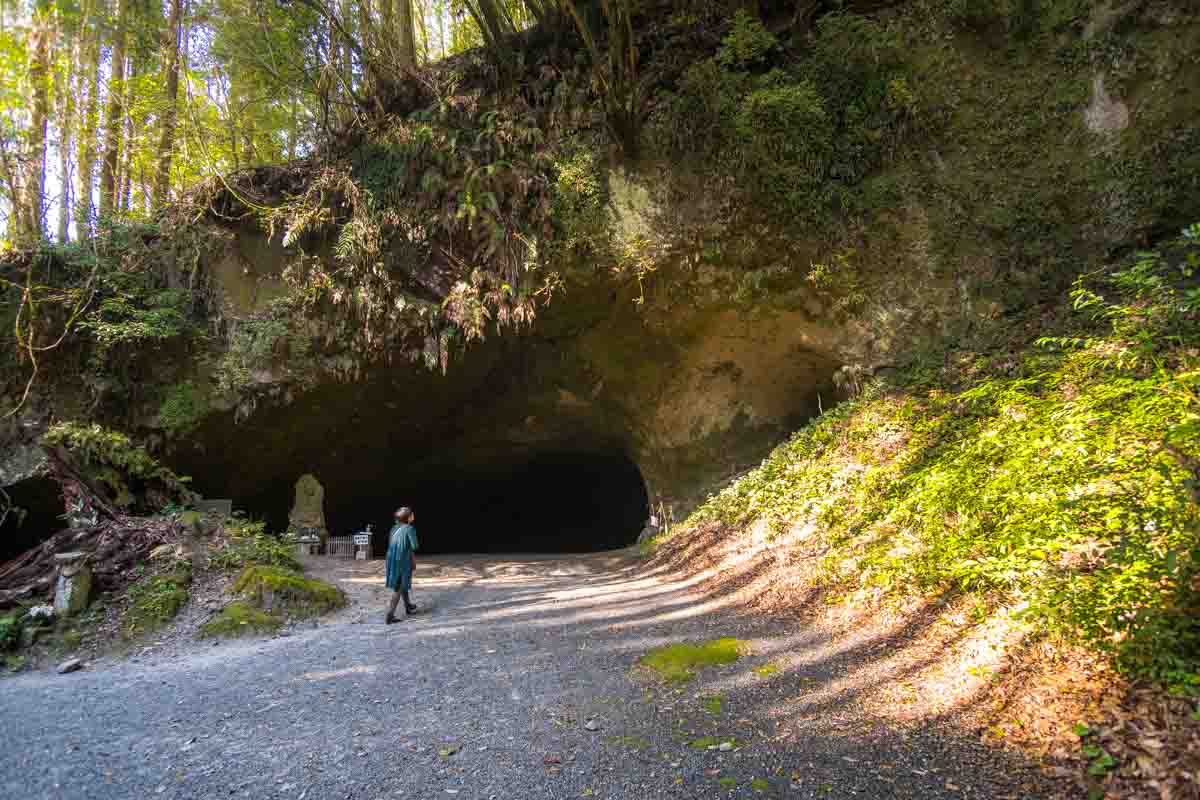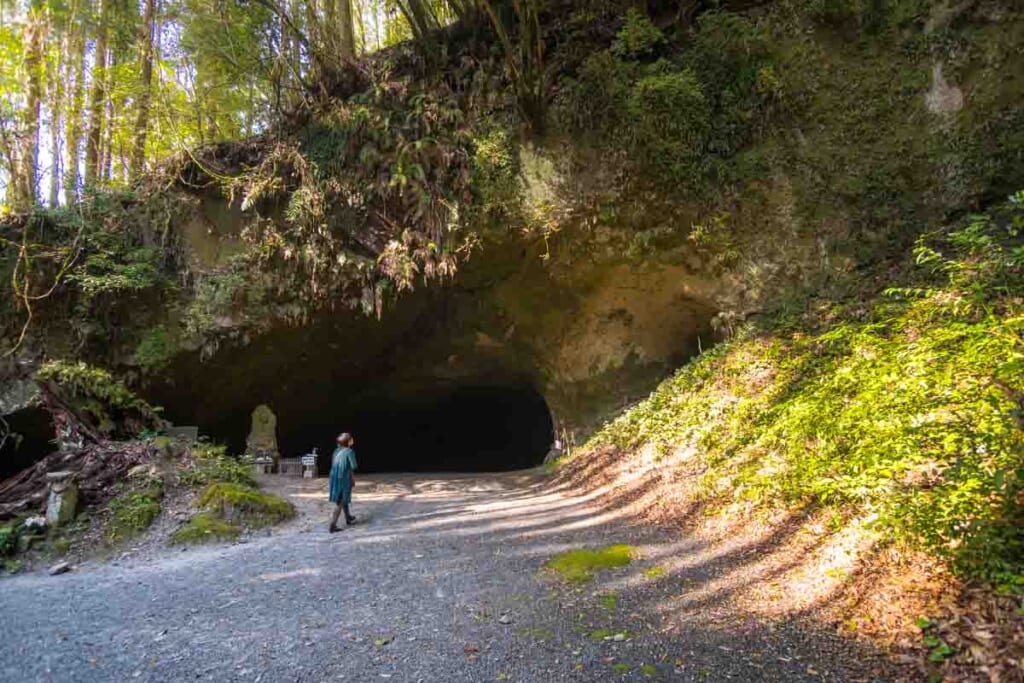 As if it couldn't get any more beautiful, catch the timing just right, and the surrounding trees diffuse sunlight into silver streams into the cave mouth for some of the most picturesque, spiritual photos you can get of the cave. Whether it's the cave's impressive form, mysterious spiritual aura, or the filtered sunlight, it's no stretch to see how Mizonokuchi Cave became the area's first nationally designated cultural property.
Feudal and Residential Roads at Shibushi Samurai Street
Kagoshima's fame is also rooted in its feudal history. For nearly 300 years, the Satsuma Domain ruled as one of the most powerful feudal clans during the Edo period (1603 – 1867) and one of the influential parties that triggered the Meiji Restoration and the proceeding dismantling of the feudal system during the Meiji era (1868 – 1912). Today, many of the feudal townships and streets are preserved in different pockets throughout Kagoshima, including Shibushi Samurai Street (志布志武家屋敷群) in Shibushi City (志布志市).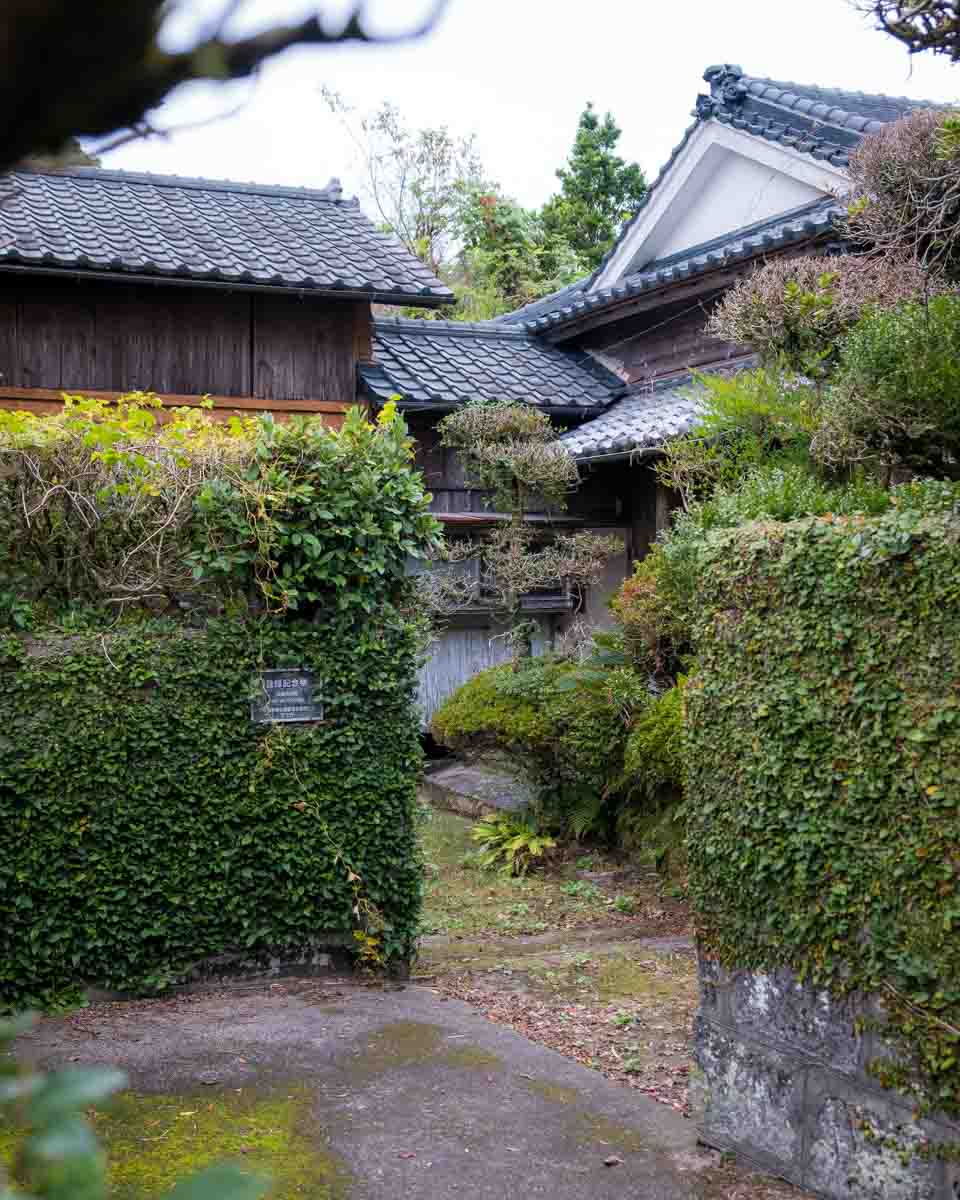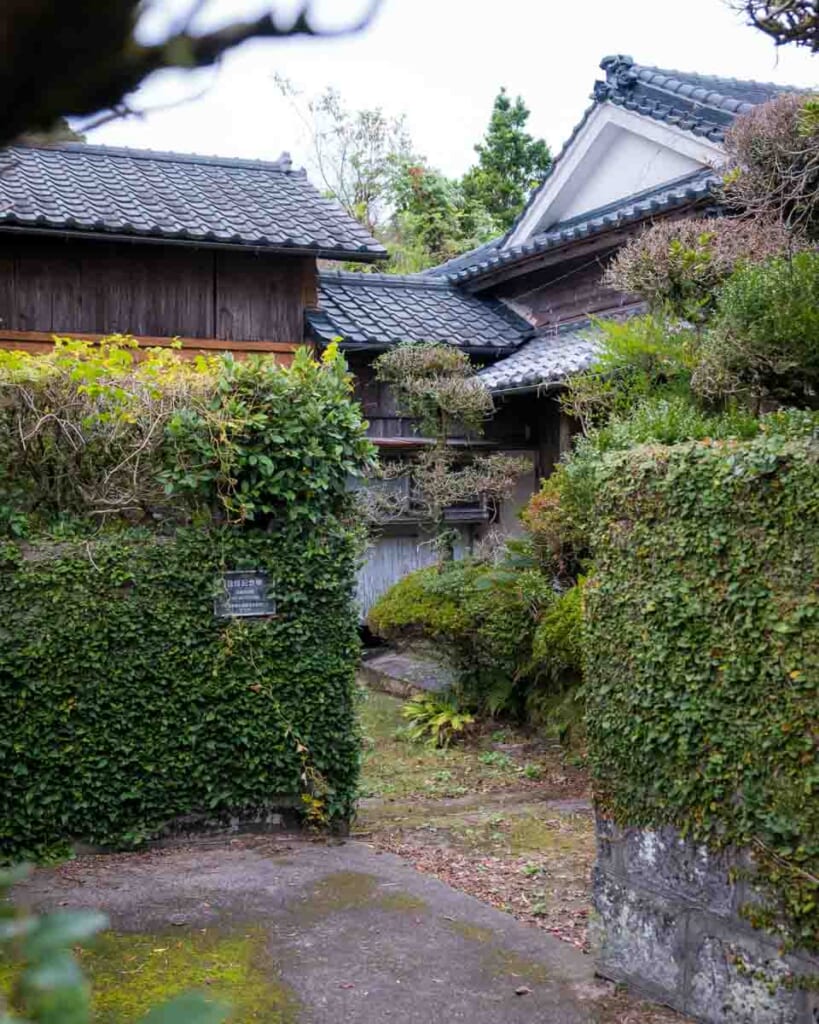 The samurai residences are concentrated along two main roads that branch off from the Shibushi Elementary School. Unlike Kagoshima's famous Chiran Samurai District, Shibushi Samurai Street is a closer glimpse into what happens when locals take residence among the old samurai residences and streets. Half historically preserved site, half residential neighborhood, the locals turned this former samurai district into a living neighborhood of empty samurai homes, some renovated with modern attachments, or replaced entirely with a modern building. The original wooden gates, stone walls, and flat-rock walkways tie the community together, each leading to either the old samurai homes, converted homes, or new residences.
Amamizu Family Traditional Garden: Shibushi's Best-Preserved Samurai Residence
Amamizu Family Traditional Garden (天水氏庭園) is one of the best-preserved samurai residences at Shibushi. This feudal-era house still has its original glass windows that pucker slightly with air within their wooden frames. The Japanese garden is built on eroded sea stones on a large piece of natural bedrock, a characteristic style of this region, with ground plants and ferns as the green undergrowth.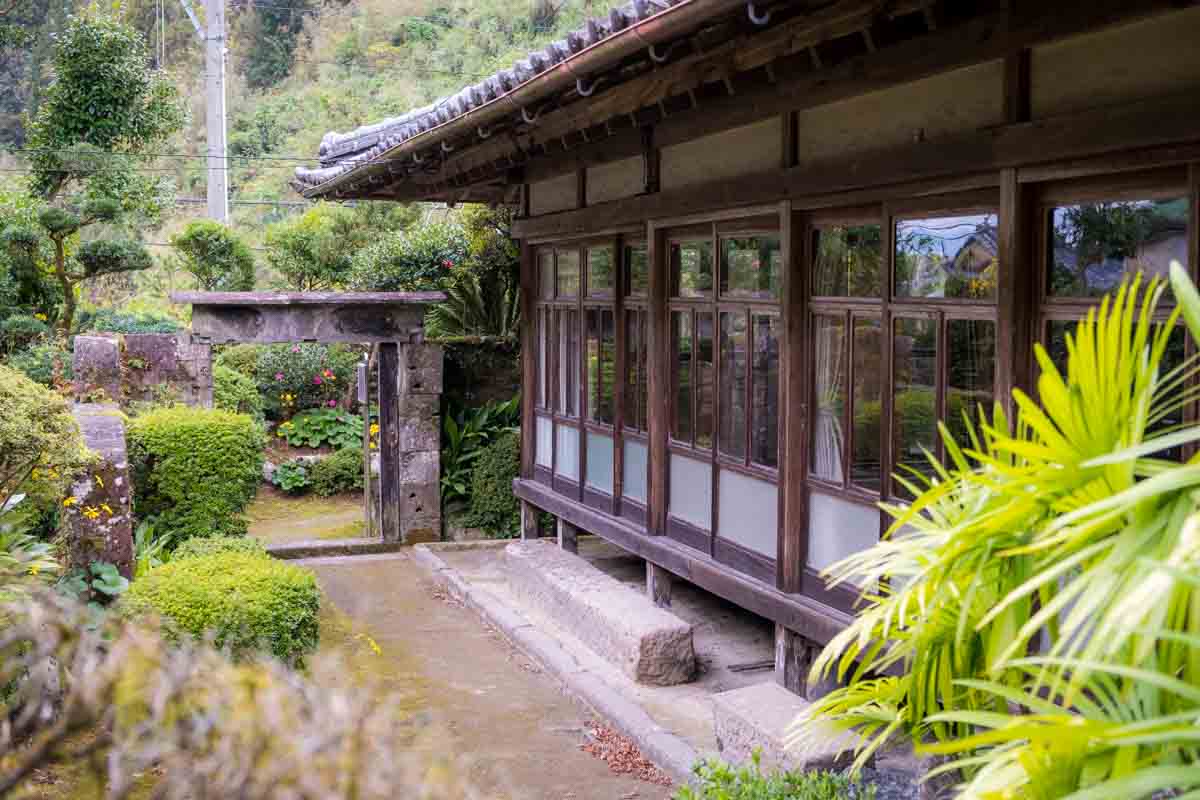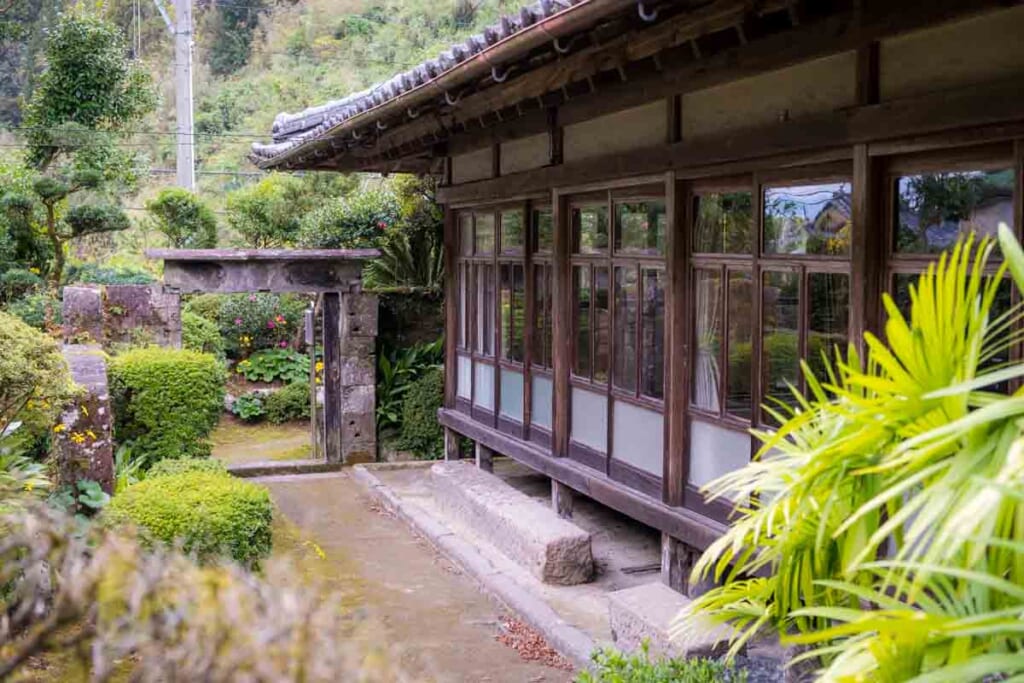 Autumn Leaves at Homanji Temple
Across the river is Homanji Temple (宝満寺). One of the most beautiful times to visit is in autumn when the temple's ginkgo and maple trees shower the complex grounds with gold and red leaves. Next to the temple is a garden area with moss-covered arched bridges, one of which is a brick bridge, with paths leading up to the small torii gate and small stone statues. Here, you can take a brief, contemplative moment while overlooking the small pond.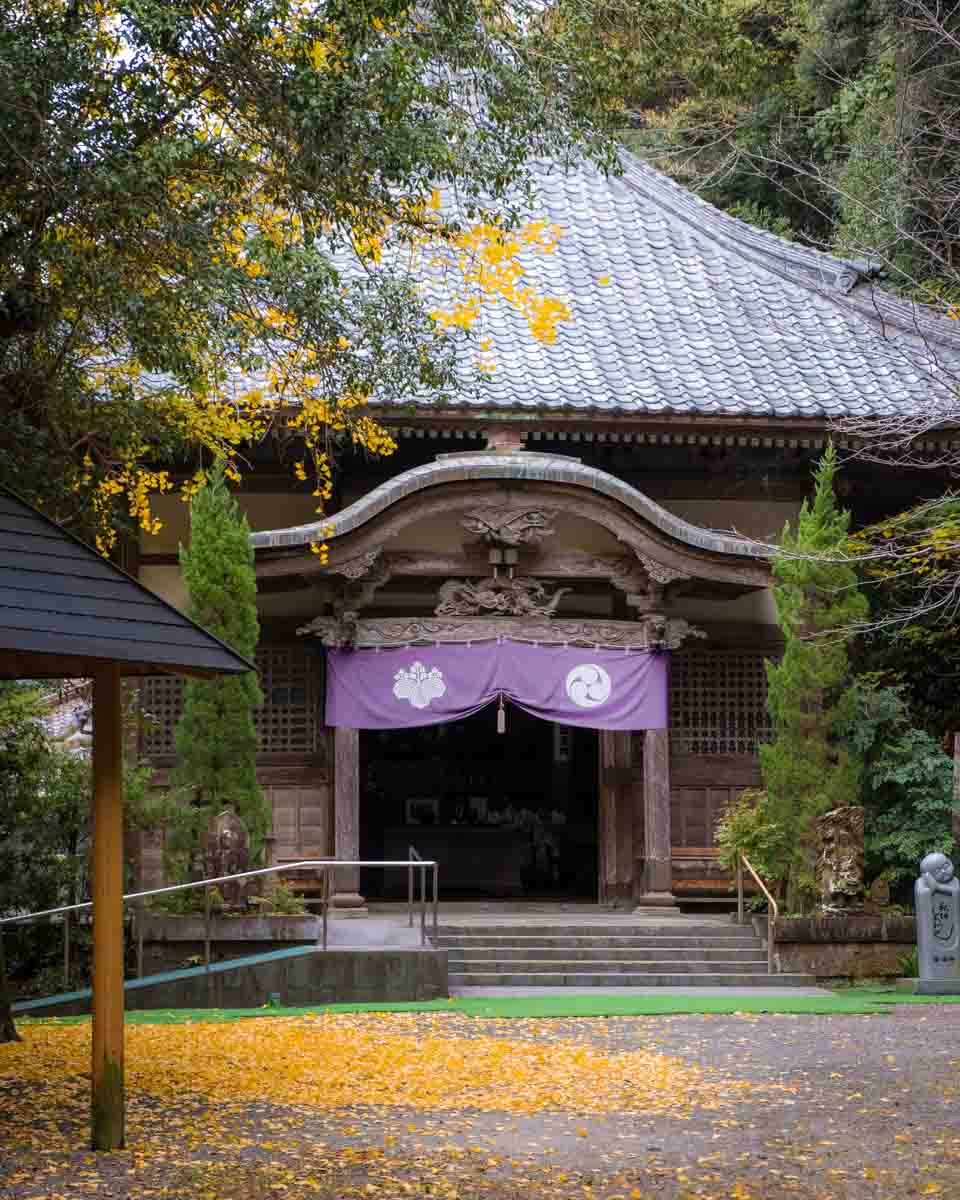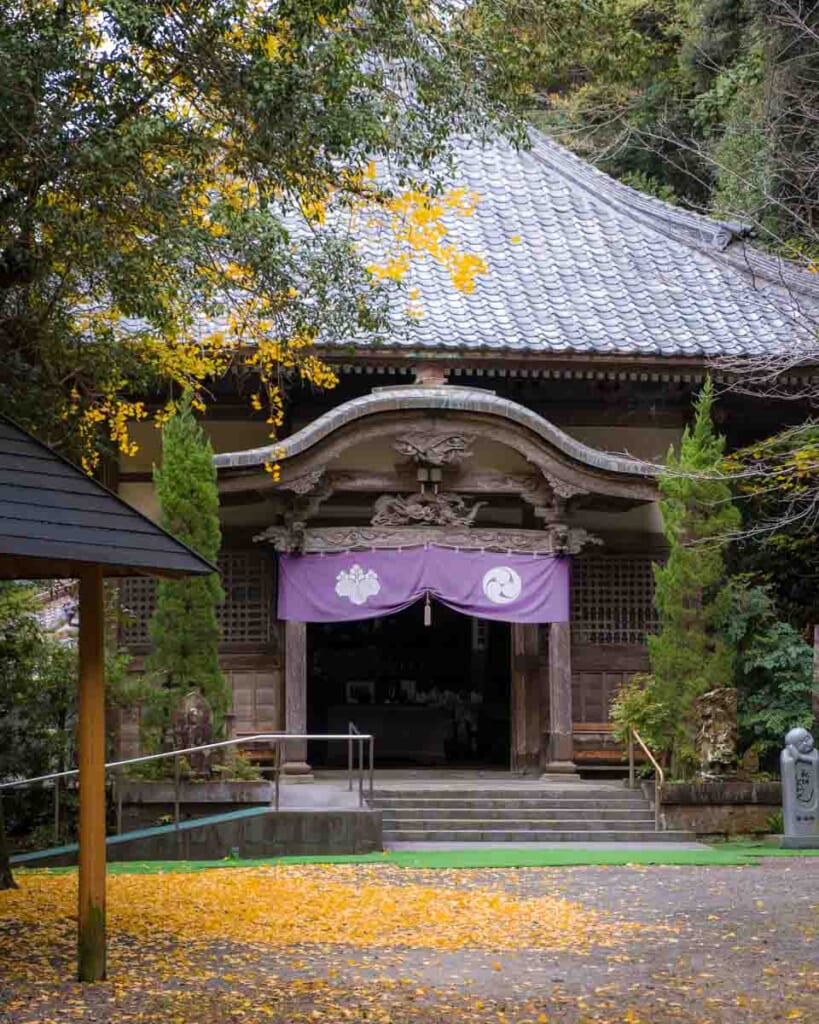 Shibushi Castle Ruins
While none of the original structures remain, the Shibushi Castle Ruins (志布志城跡) are a short 10-minute trail up wooden stairways to the central castle plateau where the castle once stood. In its place, a series of trees planted with uniform spacing stand in place of the original castle, almost like a living substitute for the once-castle structure perched within these woods.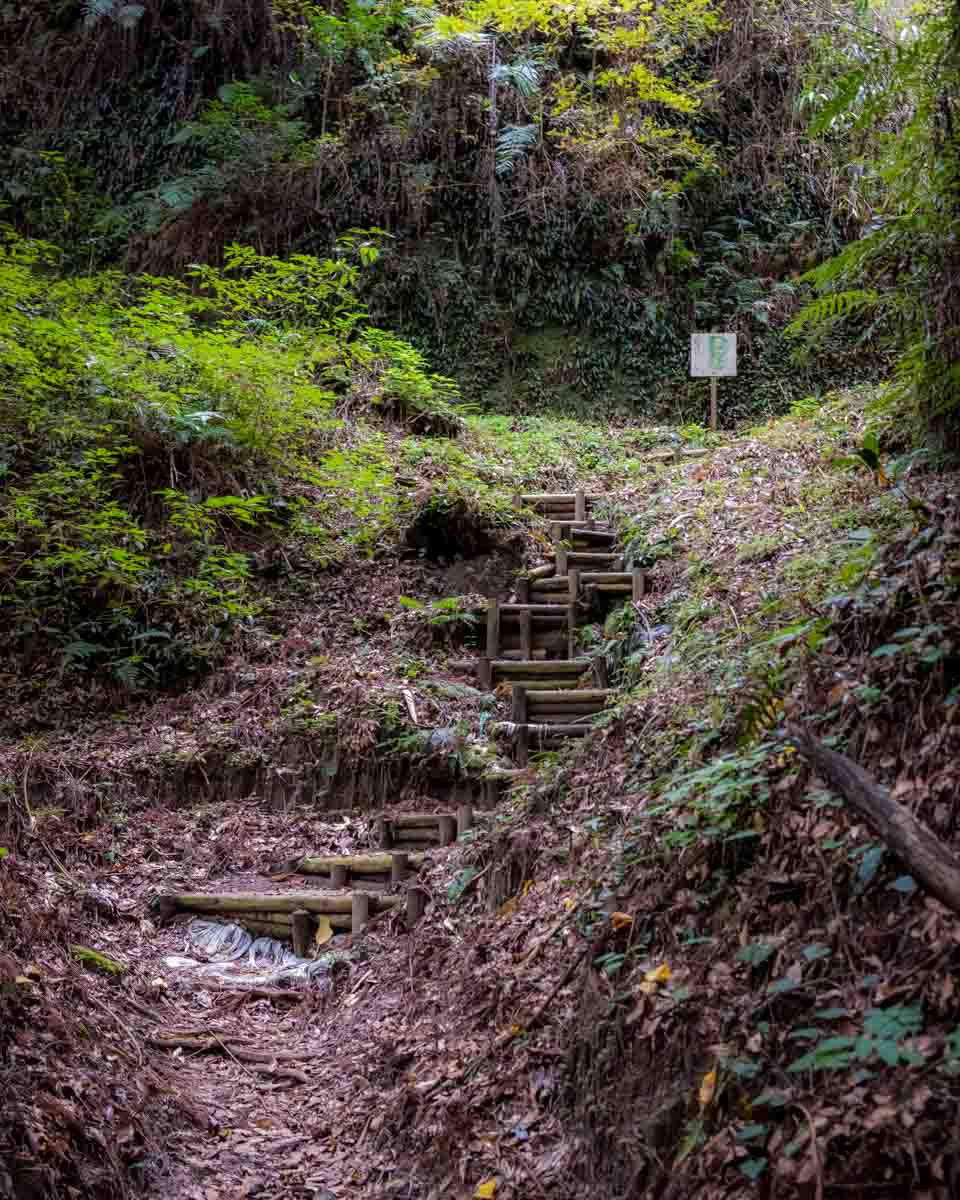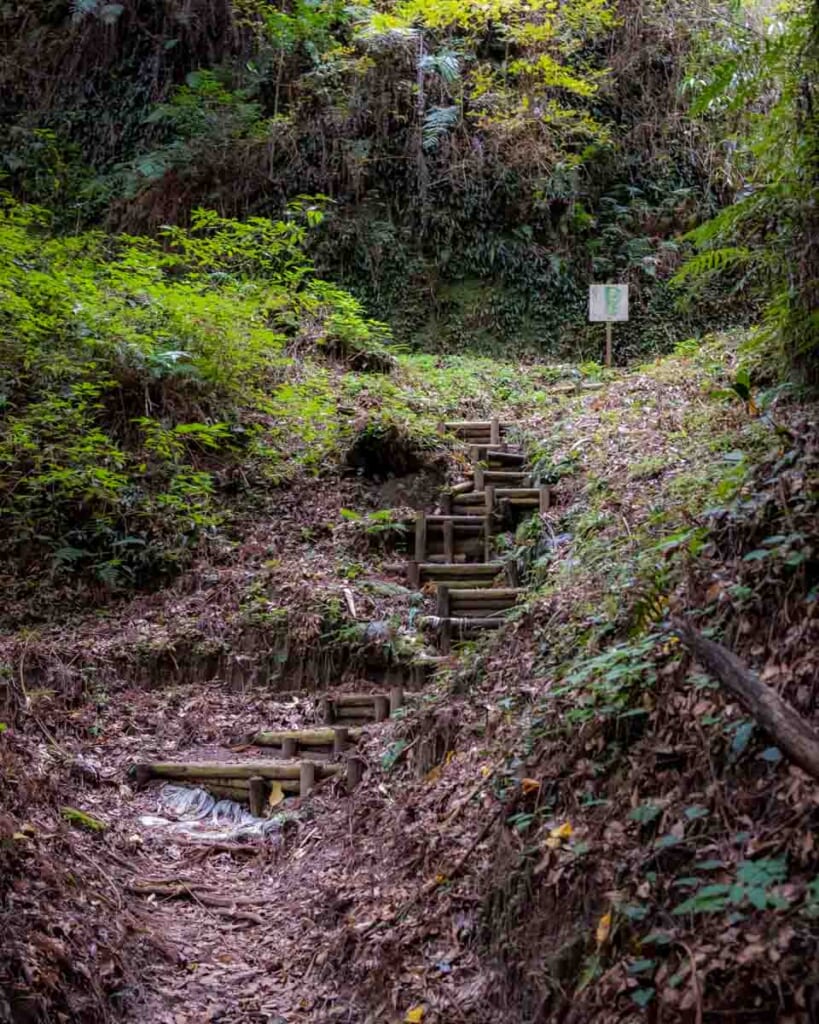 How to Access Kagoshima
From Fukuoka's Hakata Station, take the Kyushu Shinkansen to Kagoshima Station (1 hr 40 min). Most of Kagoshima's city center is accessible via its city-run trams and loop buses. However, if you're planning on visiting the destinations listed in this article, you'll find a car will be your best bet to reach Kagoshima's outlying, though no less impressive, spectacular sceneries and destinations. There are several car rental services near Kagoshima Station.
Travelers to Kagoshima should certainly add Sakurajima to their Kagoshima itinerary but explore beyond the city limits, and you'll find more than just a smoking volcano to warrant multiple trips to this region's subtropical, spiritually charged sceneries. For more things to see and do in Kagoshima, consider a visit to the spiritual mountain plains of Mount Kirishima, spend a weekend submerged in hot black sand and hot springs at Ibusuki Seaside Onsen Resort, or view the winter migration of Japanese cranes at Izumi, Kagoshima's best birding destination. Happy exploring in Kagoshima!
Sponsored by: Kagoshima Prefectural Visitors Bureau