Sponsored by Murakami City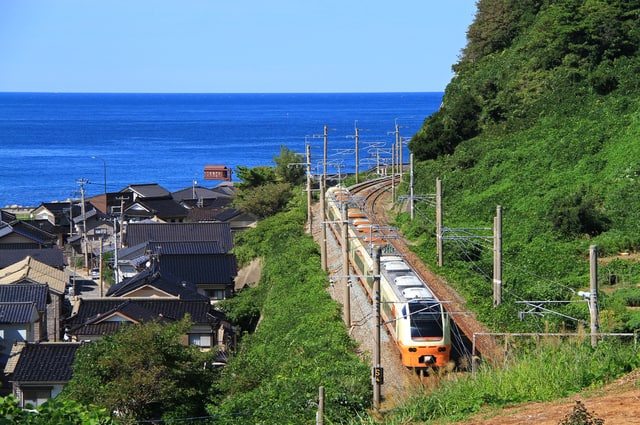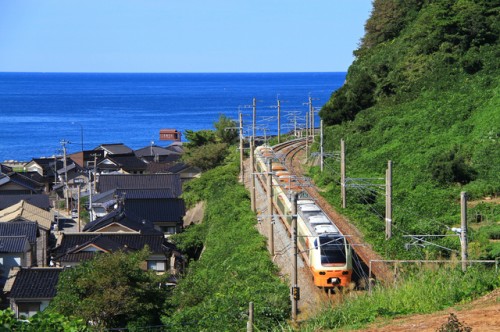 The "Sea of Japan" is an inland sea separating Japan from Russia and China. This area is very popular with Japanese tourists in summer, primarily for two reasons: fishing and beaches! When one thinks of the beach in Japan, places like Okinawa tend to come to mind. However, for travelers on a budget, you can enjoy some beautiful remote beaches without paying for a plane ticket! Those of you who like fish- whether that be catching or eating, will also find plenty to like about this part of the country.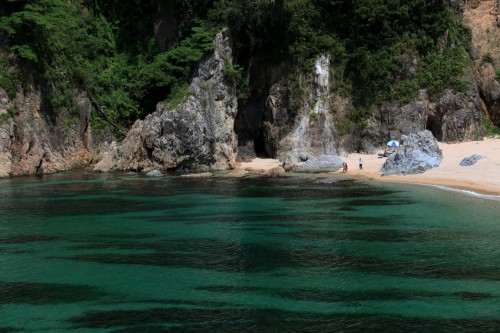 Journey to Niigata, Japan
This summer I visited Murakami City, a small city in the northernmost part of Niigata prefecture. It is a lively area, full of small shops and restaurants. Buildings, old and new, stand side by side along the glistening Miomote River. However, to see some of the natural charms of the area, it is necessary to go a little further north, all the way out to the sea. Sanpoku, as this area was called, was once a separate town before being absorbed into Murakami about 10 years ago. The two places could not be more different, and are nearly 45 minutes apart by train. It's in Sanpoku where I spent most of my time. My experience, in a nutshell, was thus: if you want to really get away from it all and enjoy nature in a remote setting, you've come to the right place! What Murakami may lack in certain conveniences, it makes up for in a myriad of other ways.
Thanks for All the Fish!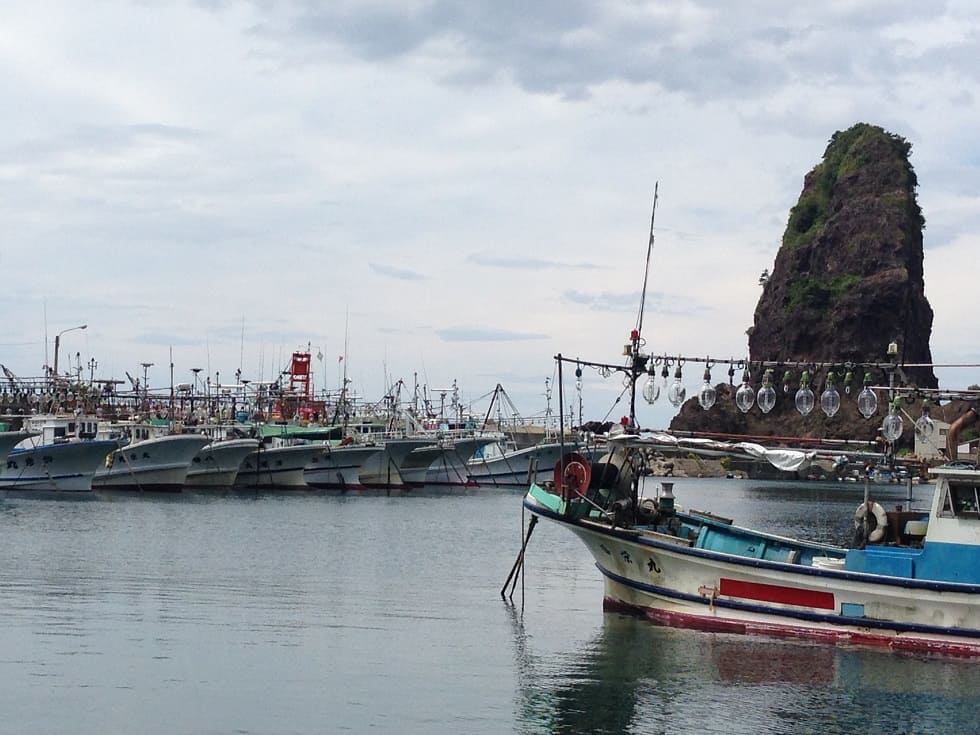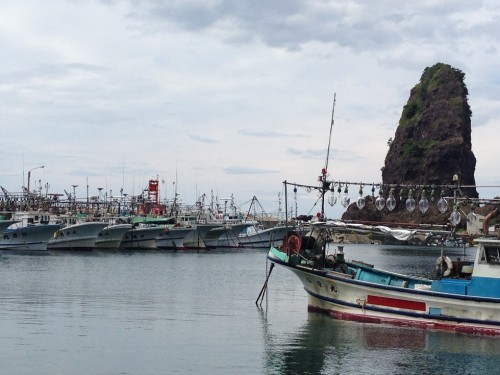 In the Sanpoku part of Murakami you will find the Neya Port. The port is the heart of this town, where the fish that supply the people with food and income are caught. At the port were dozens and dozens of boats; the water was calm and crystal clear. The mountains and cliffs around me were a brilliant green. On the pier was a shop selling fresh catches, for those who didn't want to venture out themselves.
As good as the fish looked, I had made other plans; together with some members of the town hall, I had a reservation at a local restaurant called Nagi no Terasu Naka. The restaurant is in a homey setting, with tables arranged in a dining room with a view of the back porch and the ocean beyond. From here you can make out the shape of nearby Awashima Island: truly a breathtaking scene. This restaurant has Japanese-style set meals, with a unique twist.
The meal consisted of multiple courses of a combination of fish and vegetable dishes, all extremely fresh. First, came a garden salad with some barley tea, followed by the main course. Fresh fish abound here, including sea bream with a ginger sauce, and squid with teriyaki sauce, as well as fried mackerel. They tasted very balanced and refreshing. The squid, in particular, wasn't the least bit rubbery or fishy, and the sauces enhanced the natural aromas and flavors rather than smother them. The curious rectangular loaf in front of the plate was called a "Komiyaki," and it was a combination of egg tofu, and carrot. Other veggie dishes included some simmered tofu with mushrooms, some spinach, pickled cucumber, and coffee-flavored Hanamame beans. Another fascinating delicacy was Tokoroten, a noodle dish made of seaweed, served with a dab of mustard. It almost reminded me of a simplified Hiyashi chuka, and tasted very light and refreshing. All of this was served with a surimi dango soup and a refillable bowl of rice. I really appreciated the variety of food on display and, even better, many of the ingredients were grown right outside in the back patio garden! Afterwards, we got dessert: Japanese-style carrot cake and coffee.
Back to School?
Later that day, I checked into my hotel for the night, Hachiman Onsen. The building is a stone's throw from Gatsuki station, but I wasn't actually certain I was at the right place at first. That's because Hachiman is located inside a Junior High School! Of course, the school itself closed years ago, but a lot of the same facilities, even down to the artwork in the halls, was kept much the same. My room, on the second floor, was constructed from what was an 8th grade classroom. From my room, one can see a beautiful view of the mountains and the sea.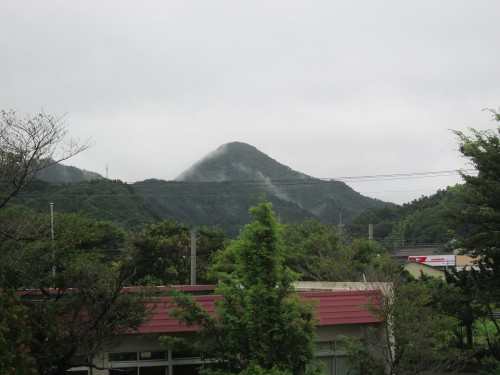 Hachiman Onsen is a valuable experience for students and budget travelers. The price, at approximately 3,500 yen a night, is absolutely unbeatable. Though the hallways were a bit stuffy and old, the rooms themselves were big and clean. Hachiman is also a great place for making connections with other travelers, as it emphasizes a communal stay. If you wish you can cook in the group kitchen, and eat in in a big eating area. There is also a playroom that's perfect for families. The other travelers were exceedingly friendly, and it was common for travelers to talk about their plans with each other and hotel staff and ask for advice.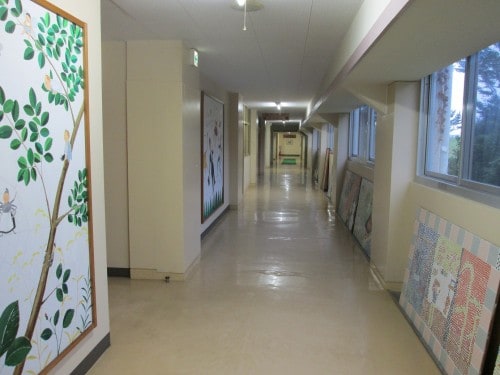 Like all onsen, however, there are certain points of etiquette to observe. First off, since all bathing facilities are communal, from toilets to sinks to showers, it is imperative to clean up after oneself. Hachiman, like many country schools, has both western style toilets as well as the squat type, so it's something to make note of if you're not used to it. It's not luxury, but staying at Hachiman is a singular experience. For those with an open mind and at least a bare minimum of Japanese, it comes highly recommended.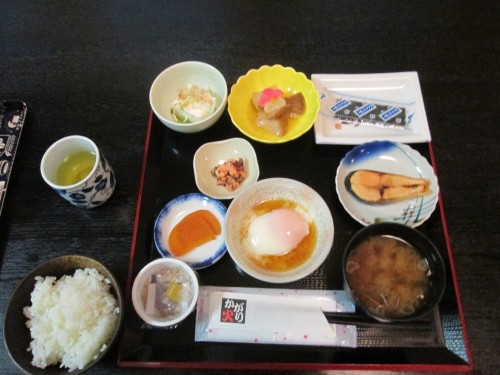 That night I decided to check out the dining facilities. Hachiman features traditional Japanese fare, including set meals, as well as certain a la carte items. I ordered some Ankake Yakisoba noodles. While filling and inexpensive, I did notice that my noodles were noticeably burnt. Breakfast, however, was much more pleasant. I am a huge fan of Japanese hotel breakfasts, and Hachiman did not disappoint. It features soup and rice (also refillable) as well as certain items, like egg, nattou, salmon, and dried seaweed, which can be eaten with the rice or separately. One thing to note, is that since I made a reservation, my breakfast was already at my table when I arrived. Be sure to wake up on time!
After breakfast, I checked out of the hotel and continued my tour of Murakami. Despite its rural setting, there is surprisingly a lot of interesting natural cultural curiosities on display in the area. Murakami, as I was told, is a place where Umi no Seikatsu (Seaside Lifestyle) and Yama no Seikatsu (Mountain Lifestyle) combine into one. For sure, I have never seen another town quite like it; check our other articles about Murakami for more information! For information on other hotels in the area, look at our previous articles (here, here, and here)!
Please note that due to the remoteness of the region, it is recommended that you rent a bike. Hachiman Onsen rents bikes to their customers, and travelers can also arrange to get a bike at Murakami station. Please go to the Tourism Office across the street, where the staff can speak some English.