A 3 Day Journey on The Hokkaido Shinkansen
Have you ever taken a trip on the Shinkansen in Japan? It is said that the speed and stability of the Shinkansen, which Japanese people usually use for travel and business, make it one of the best passenger trains in the world. On this trip, I took a ride on the Hokkaido Shinkansen, which opened in March 2016. The line connects Shin-Aomori Station in Aomori Prefecture and Shin-Hakodate Hokuto Station in Hokkaido running through the world's longest undersea tunnel on the way. By March 2030, the line is scheduled to be extended as far as Sapporo, the central city of Hokkaido.
Many visitors to Japan head to the cities of Tokyo, Osaka, and Kyoto on the so-called Golden Route but miss out on the stunning natural beauty and unique culture of Hokkaido. On this trip, I took the Shinkansen to enjoy Akita Prefecture, Aomori Prefecture, and southern Hokkaido in winter. I experienced everything from playing with cute Akita inu in Odate to learning how to balance a 10-meter pole on my hand in Akita, to panoramic views of historic Hakodate, marveling at ancient Jomon settlements in Aomori and enjoying winter activities in this snowy wilderness in Onuma Quasi National Park in southern Hokkaido. By the end of my journey, I had completely fallen in love with this part of Japan and gained an understanding of what makes Akita, Aomori, and Hokkaido so special.
Day 1 – Exploring Akita and the Oga Peninsula Before Eating Kiritanpo Nabe in Odate
Day 1 Part 2 – Staying in Odate and Learning about Akita Inu Dogs
Day 2 – Exploring the Jomon Culture in Aomori Before Travelling to Hakodate on the Hokkaido Shinkansen (this article)
Day 2 Part 2 – Goryokaku in Hakodate and Spending the Night in Yunokawa Onsen
Day 3 – Enjoy seafood in Shikabe and winter activities in Onuma Quasi National Park
The Ou Line is a piece of Japanese railway heritage. At over 100 years old, it stretches for almost 500km from Fukushima Prefecture to Aomori in northern Honshu. Modernisation over the years has improved the comfort and the carriages are spacious with reserved seating.
A Train Through Snowy Aomori
We took the train from Odate to Shin-Aomori on a bright snowy day, a journey of approximately an hour and a half. The train passed through many small stations along the way with the scenery transitioning from snow-covered forests to frozen rice paddy fields and bare apple orchards. Train travel in Japan is a real pleasure as you can see local life from the comfort of your seat. On the outskirts of Hirosaki, a group of young school children, dressed in padded thermal suits, frantically waved at our train as they played in the snow. Vibrant red tori gates stood out against the brilliant white snow and animal tracks could be seen disappearing into the woodland.
The train journey was an opportunity to enjoy a delicious chicken tori meshi bento lunchbox which we had purchased before leaving Odate. The lunchboxes became popular after the Second World War when elaborate ingredients were often hard to come by. Therefore, people made lunchboxes to take to work with whatever was available and some turned it into a successful business, supplying Odate's commuters.
Odate is famous for Akita's brand-name chicken, "Hinai Jidori" and the tori meshi bento include tender pieces of chicken, pickled vegetables, egg rice, simmered shitake mushrooms, and are seasoned with soy sauce and burdock root. Having traveled extensively by train in Japan, buying a lunchbox from a station vendor is part of the experience. They are always full of colour and flavour and use high-quality ingredients. The lunchbox from Odate lived up to our expectations and it was easy to see why it was so popular with commuters.
We soon arrived at Shin-Aomori Station with its maze of shops selling local produce and the city's colourful Nebuta paper masks adorning the walls. It was actually my second visit to Aomori as I passed through many years ago on a summer vacation. I had heard about the city's famous paper mask festival (Nebuta Matsuri) and wanted to visit the museum. Therefore, with a few hours to spare, I took a taxi to the museum. When I visited on this trip, I was pleased to discover that there is now a bus which takes visitors around the various attractions from Shin-Aomori station. Even though taxis are often convenient, buses allow me to plan my day because Japan's public transport system is incredibly reliable.
The Nebutan-Go bus takes a circular route around the city's main attractions and riders can either purchase a day ticket or pay for each journey separately. It's a comfortable form of transport and has timetables in several languages, including English. We took the bus from Shin-Aomori Station to the last stop which was the Sannai-Maruyama Historical Site, a journey of about 19 minutes. The bus stopped directly in front of the entrance to the site where we met our English-speaking guide.
Sannai-Maruyama Jomon Settlement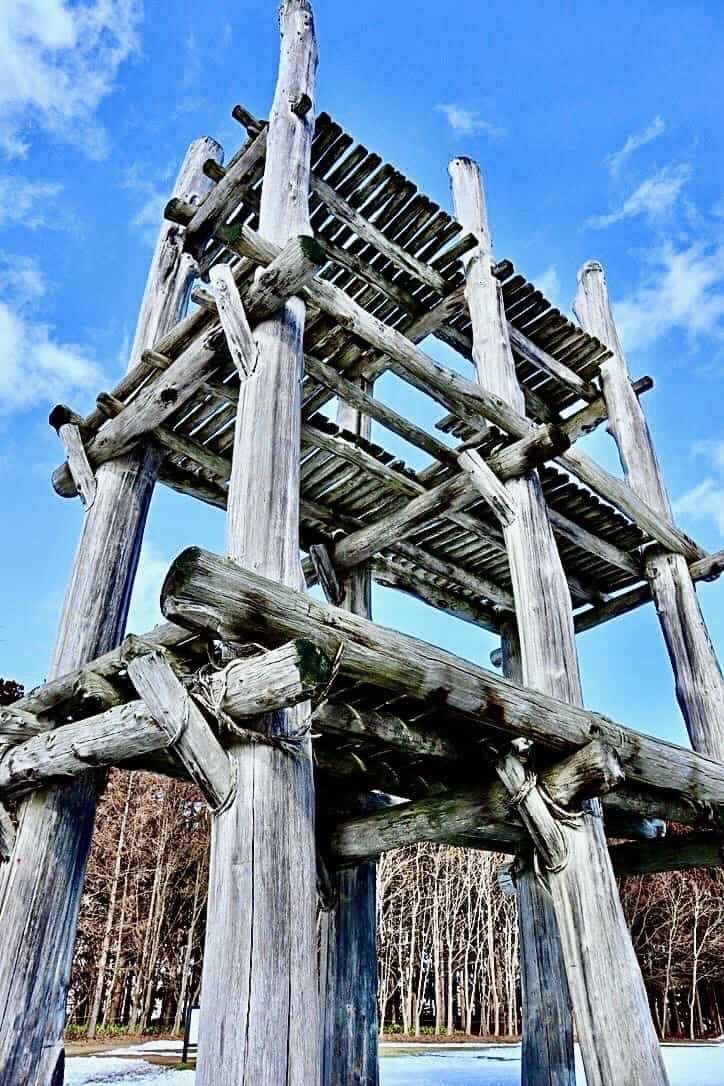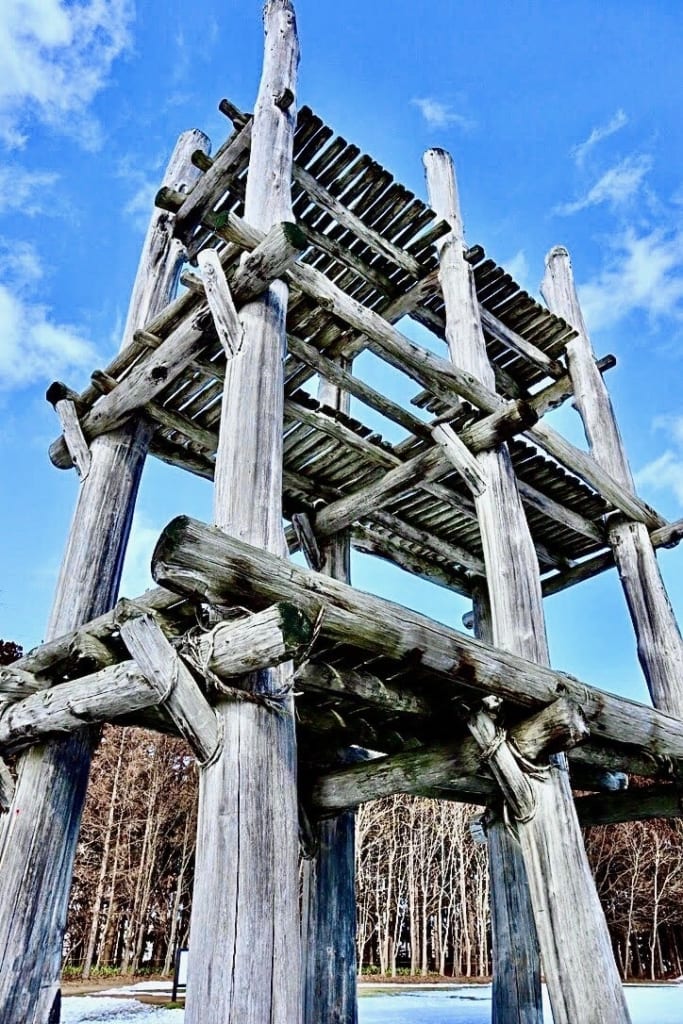 The Jomon period is the era of Japan's history that lasted from 13,000 BC to 300 BC. In order to preserve these valuable historical sites for the world, Hokkaido and the three northern Tohoku prefectures are aiming to register some sites as a UNESCO World Heritage Sites in 2021 as " Jomon Prehistoric Sites in Northern Japan."
One of the most famous ruins of the Jomon period, the Sannai-Maruyama site is considered to be one of the largest and best-preserved ancient settlements in northern Japan, earning it recognition as a site of special historical importance in 2000. In 2003, 1,958 artifacts from this site were designated as Important Cultural Properties. Much has been learned about the evolution of society from studies of Jomon settlements in this part of the world. From excavated artifacts, researchers have concluded that the Jomon period was a time of transition when local people went from living a hunter-gather lifestyle, characterised by a nomadic lifestyle, to an agricultural one, settling in communities and remaining in one place. This is reflected in some of the 500 pit dwellings that were discovered at Sannai-Maruyama site, many of which show evidence of paved floors and separate areas for entertaining. The ruins cover an area of about 38 hectares, and within the ruins, there is a museum, large and small pit dwellings, and large pillar-supported buildings that look like a village from those times. Visitors are able to walk around the replica constructions and get a sense of what Jomon era life was like, as well as see excavation work. Some of the constructions are very large while others are much smaller.
The site is an ongoing workplace, housing desks and storage facilities for the excavated items, many of which are listed as important cultural property in Japan and are unique. Several items in the exhibition area are made of bone, such as jewellery, which suggests that Jomon people took pride in their appearance. During our visit, we saw school groups taking part in workshops and visitors could try on traditional clothing which made the experience very immersive. The modern layout makes the site appealing, especially to children. When we visited, much of the site was covered in heavy snow and many children were building snowmen and enjoying hot snacks outdoors.
Following our visit, we returned to Shin-Aomori station to continue our journey. We then boarded Hokkaido Shinkansen and headed for Shin-Hakodate Hokuto Station through the world's longest undersea tunnel.
Hokkaido Shinkansen: A New Way to Reach Hokkaido
There are two types of cars running on the Hokkaido Shinkansen: the H5 series (H stands for Hokkaido) and the E5 series (E stands for East). The color of the stripe running down the side of the train is one of the differences; the stripe is purple in the H5 system and pink in the E5 system. I got on the pink striped E5 system this time.
Hokkaido Shinkansen offers three classes of travel: Gran Class (akin to first class with a spacious layout, reading lights, and greater seat recline options), Green Car (improved comfort such as reading light and a different design of seat) and Ordinary Class (practical design with two seats on one side and three on the opposite side of the carriage). Whichever class you travel in, a journey on the Shinkansen is smooth and incredibly comfortable. The bathrooms on the train are spacious and many are fully accessible for wheelchair users. There are multilingual announcements in the carriage which demonstrates that the service has considered the needs of non-Japanese speakers.
The Hokkaido Shinkansen runs through the Seikan Tunnel, which runs under the ocean floor between Shin Aomori and Shin Hakodate Hokuto stations. This 53.85 km tunnel connects Honshu and Hokkaido, making it one of the longest undersea tunnel in the world. It takes less than an hour to get from Shin-Aomori Station to New Hakodate Hokuto Station and you can feel the high quality of the Japanese Shinkansen with its spacious and comfortable interior, low vibration and low noise. I was surprised to find 4G connectivity during the ride to Hakodate Hokuto Station, although I thought there would be no signal at the bottom of the ocean where the Hokkaido Shinkansen runs.
Suddenly, we emerged into the bright Hokkaido sunshine in a cloud of fine, white snow after only 30 minutes in the tunnel. After emerging from the tunnel and passing Kikonai station 10 minutes later, we arrived just a short time later at the modern Shin-Hakodate-Hokuto Station. The station is situated a short distance from Hakodate station, the centre of the city and where visitors will find onward connections to other parts of Hokkaido.
The Hakodate Liner makes the journey between Shin-Hakodate-Hokuto Station and Hakodate station in as little as 15 minutes and there are several departures throughout the day. The service offers a smooth and convenient way to reach Hakodate and is fully accessible for wheelchair users.
Our ticket was valid on the Hakodate Liner so we did not need to purchase a separate ticket and the train was waiting at the platform when we arrived. The journey passed through the Hokkaido countryside and had a charm that was quintessentially Japanese with small, self-contained dwellings dotted across the countryside. It was in a comfortable commuter train with plenty of room for luggage and was adorned in the bright colours of the Hokkaido region.
We finally arrived at Hakodate station, in the centre of the city. It's a historic port city and known in Japan for its night view of Mount Hakodate and its cuisine, especially seafood. It felt great to be in Hokkaido and we were excited to discover more about this region, which would begin with eating some of the freshest seafood we've ever had.
Access
To get to Shin-Aomori from Odate: It takes about an hour and 30 minutes on the JR Ou Honsen Line.
To get to Shin-Aomori from Tokyo: It takes about 3 hours and 20 minutes on the Tohoku Shinkansen.
To get to Sannai-Maruyama Historical Site: It takes about 15 minutes from Shin-Aomori Station by shuttle bus "Nebutan-go".
Photo by Jonathan Reeve and Mark Webster
Sponsored by the Hokkaido Government.