'Konnichiwa!" called the students enthusiastically, receiving my breathless replies with encouraging good humour. I was pedalling past each other on the quiet island roads of Iwagi on the Seto Inland Sea, and my adventures on the Shimanami Kaido were just beginning.
I'm not, by any stretch of things, a cyclist. Popping to the shops on my faithful mama-chari (the ubiquitous basket-fitted city-bikes of Tokyo) is about as far as it goes. Still, I now found myself crossing islands, weaving along country roads and traversing some of the world's longest bridges. I was part daunted, part excited, and wholly certain that whatever happened, it would be a great island-hopping adventure through Ehime.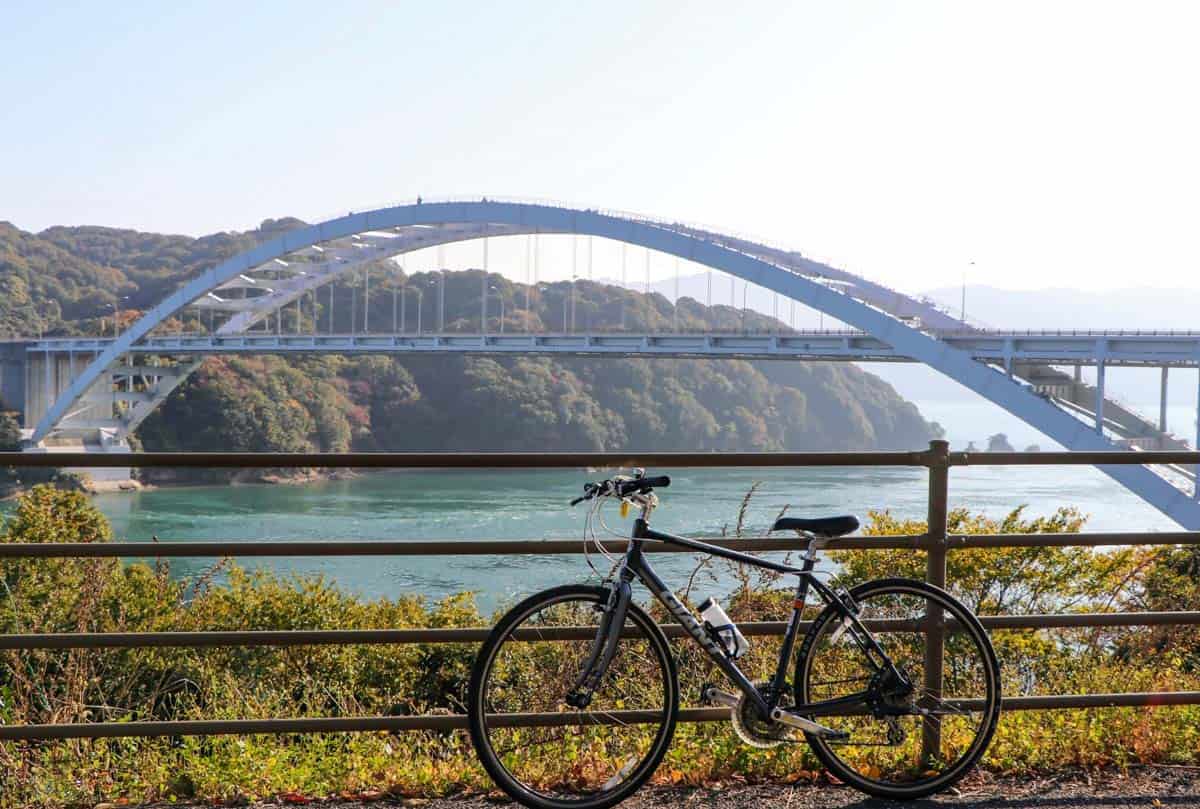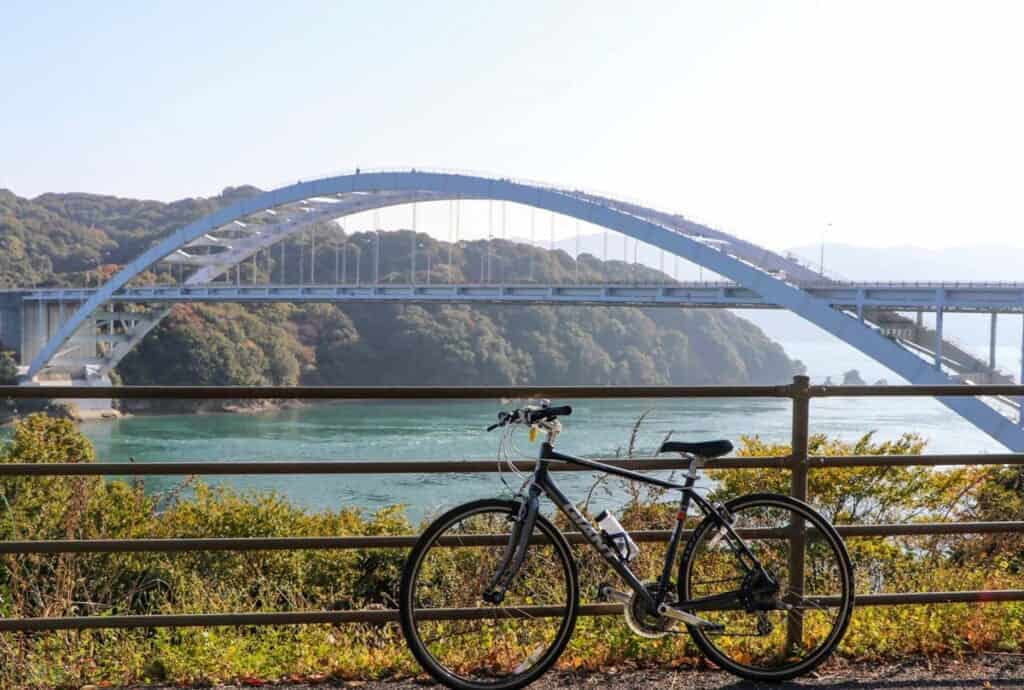 The Shimanami Kaido is an expressway connecting the mainland of Japan with the nearby island of Shikoku, traversing six of the nine Geiyo Islands (the Setouchi area) that lie between. Surrounded by the Seto Inland Sea, this road offers up stunning views and a tour of rural island life. The aerial cycling route is specially designed with clear markings, separate pathways and sloped inclines, and even though it is slightly longer at 70 km, it can be completed in a day by medium-level cyclists. Bike rental systems offer surprising flexibility, meaning you need nothing more than snacks, waterproofs (just in case) and a good wanderlust to follow the guiding blue road markings.
Getting Started: Selecting Your Bike/New Best Friend
At the edge of the Kurushima Kaikyo Bridge, the Imabari Central Cycling Terminal Sunrise Itoyama was the start of my adventure. Here, you can choose from hundreds of bikes, including mama-chari, hybrid-bikes, and electric-assist bikes, as well as tandems. There are multiple terminals dotted around the islands, with varying selections and hours.
After I selected a trusty hybrid-bike, a guide helped me adapt the seat and give it a test run before I snapped a few shots in front of the landmark sign. Finally confident enough, I headed off, looping along the aerial pass and heading towards the striking Kurushima Suspension Bridge to begin my trip.
Imabari Central Cycling Terminal Sunrise Itoyama
Location: 2-8-1, Sunaba-cho, Imabari-shi, Ehime 794-0001
Phone: +81 898-41-3196
Hours: (Front Desk) 7:00 am – 9:00 pm, (Bicycle rental business hours) 8:00 am – 8:00 pm.
Cost:
Adult: 1,100 yen per day for city bikes and hybrid bikes; 1,300 yen for tandems; 1,600 yen for electric-assist bikes (lasts for six hours).
Additional 1,100 yen deposit refunded when bikes are returned to the same rental centre.
Children: 300 yen with 500 yen deposit.

Reservations can be made, but are not mandatory (although at peak times they are recommended for limited bikes like electric-assist or tandem).
The Shimanami Kaido Cycle Route
The Shimanami Kaido is a well signposted and marked route, with many sections entirely separate from the main roads. You can follow the painted blue line easily, with some diversions if you want to explore. Depending on your time, consider some of the 'Island Explorer' options, which offer some extra sightseeing such as Oyamazumi Shrine on Omishima Island.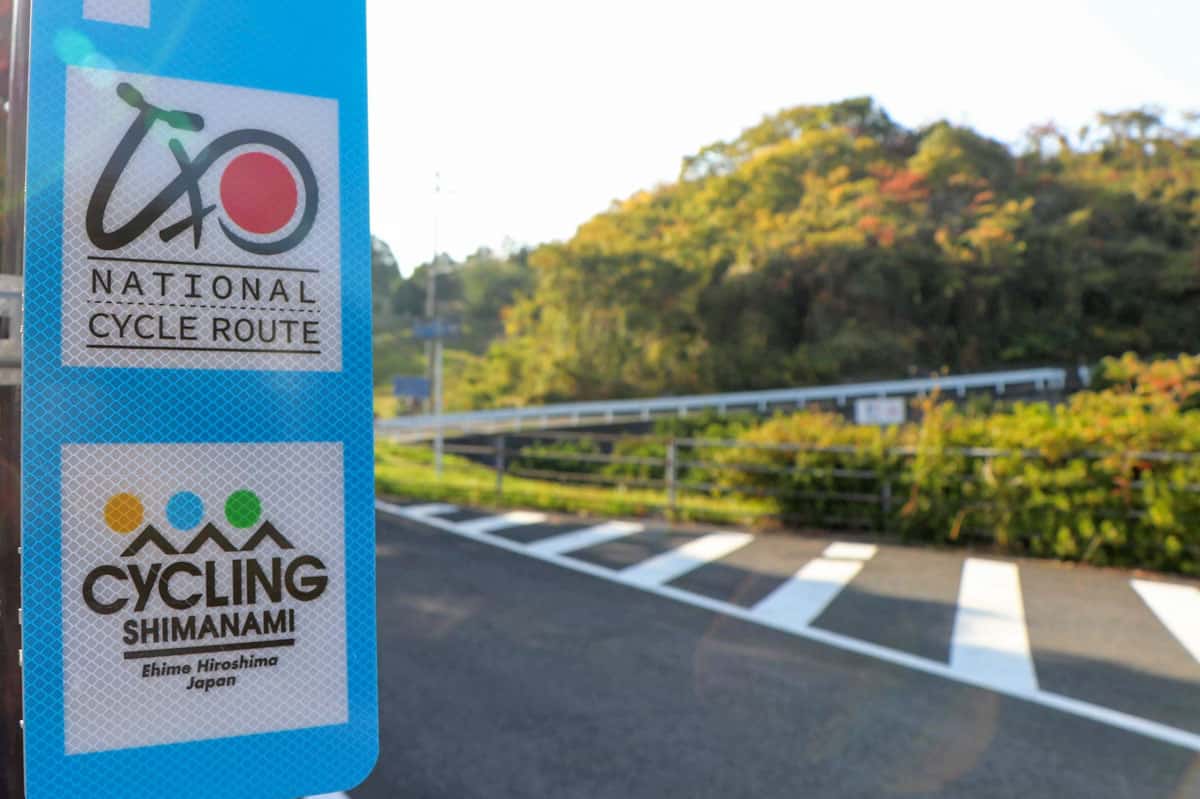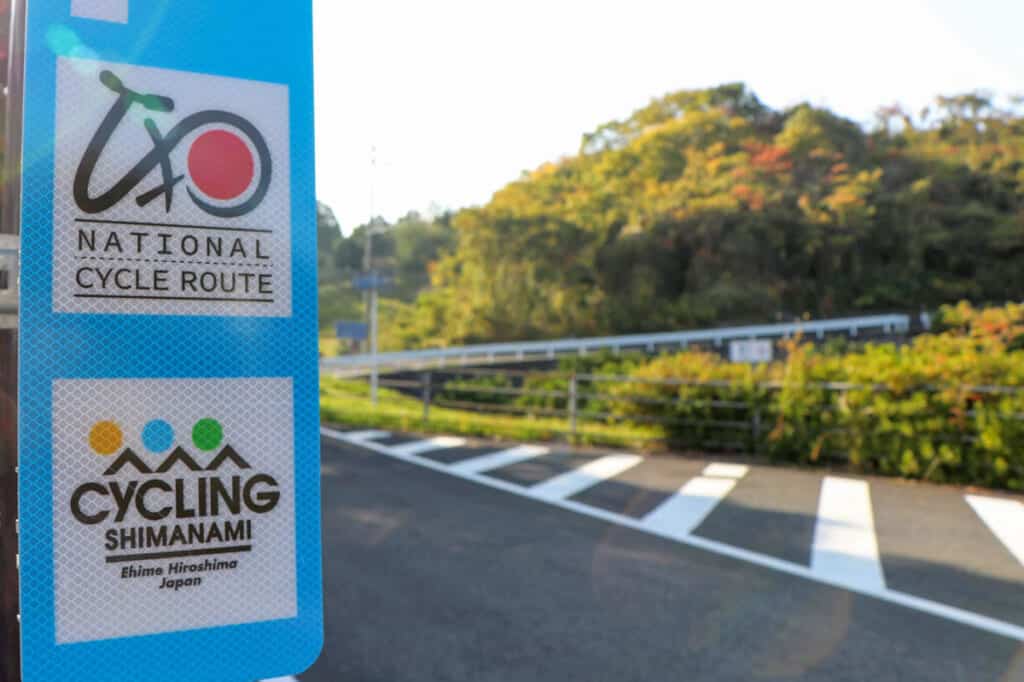 While cycling the entire route in a single day is possible, to waste the meandering paths and unusual trails of these islands would be a mistake. As I avoid the cliche of enjoying journeys over destinations, the cycle path is an opportunity to explore the islands, rather than racing across them. With this in mind and only three days to spare, I devised a plan that would take me to the places with fruit picking, local meals and unusual museums along the way.
Day One: Pirates, Strawberries and Bridges on Oshima Island
Slightly unsteadily and with my trusty map in my pocket, my journey started with not only a somewhat breathless ascent to the mouth of the bridge but the truly breathtaking views it offered. As I looked out across the water, islands appeared in the distance, with whirlpools appearing below and boats winding across the sea. Cycling across what was the world's first triple suspension bridge, Kurushima Kaikyo Bridge (来島海峡大橋), it was the perfect way to cross into a day of adventure.
Oshima Island, my first stop off, presented me with a surprising slice of the island's history: the medieval pirates of the Seto Inland Sea. At the Murakami Kaizoku Museum, the common reputation of pirates as lawless radicals is replaced with that of a samurai-like band of clans, protecting the islands and controlling the seas. After a hearty lunch at the nearby Noshima Ferry Terminal that felt well deserved, I set off once again, this time heading to the east coast of Omishima Island.
Murakami Kaizoku Museum, Oshima Island
Location: 1285, Miyakubo, Miyakubo-cho, Imabari city, Ehime 794-2203
Phone: +81 897-74-1065
Hours: 9 am – 5 pm, closed Mondays or the following day if Monday is a holiday.
Entry: Adults: 310 yen, Students: 160 yen, those under 18: free
Crossing another bridge, I was on the largest island Omishima, with stunning autumnal hues clashing perfectly with the blues of the ocean. The coastal path was a picturesque ride with farms and smallholdings to one side and tranquil water to the other. Within what felt like no time at all, I reached the traditional building of Shimanami-no-Chisana-ie — a farmstay in the coastal town of Kamiuracho on Omishima Island. As well as being a strawberry farm, it is the home of Mrs. Inoue and her family, who welcomed me in with tea, delicious strawberry sherbet, and stories. Setting my bag down in my tatami-floored room, I felt right at home, and we soon set off to pick strawberries at their family farm. Telling me about her family and travels to the UK as we went, time flowed seamlessly and we later headed to a local restaurant for dinner and an early night that was as deliciously welcome as the homegrown fruit.
Shimanami-no-Chisana-Ie Farmstay and Strawberry Picking, Omishima Island
Location: 379, Amazaki, Kamiura-cho, Imabari city, Ehime 794-1403
Phone: +81 897-87-4005
Accommodation Fee: 8,000 yen per person, per night, including breakfast and strawberry picking. Strawberry Picking Experience available separately, reservations required.
Experience Fee: Adults: 1,500 yen (April – June) 1,800 yen (Jan – March) 40-minutes of all-you-can-eat. Open from 10:00 am – 11:30 am and 1.30 pm – 4.30 pm between January 2nd to early June.
Day Two: Museums, Shrines and Sunset Yoga
After a fantastic breakfast with its fair share of strawberries, I set off once again to explore the island and its striking architecture museum. Dedicated to renowned architect Toyo Ito, it showcases his works as well as the local scenery through its unusual design.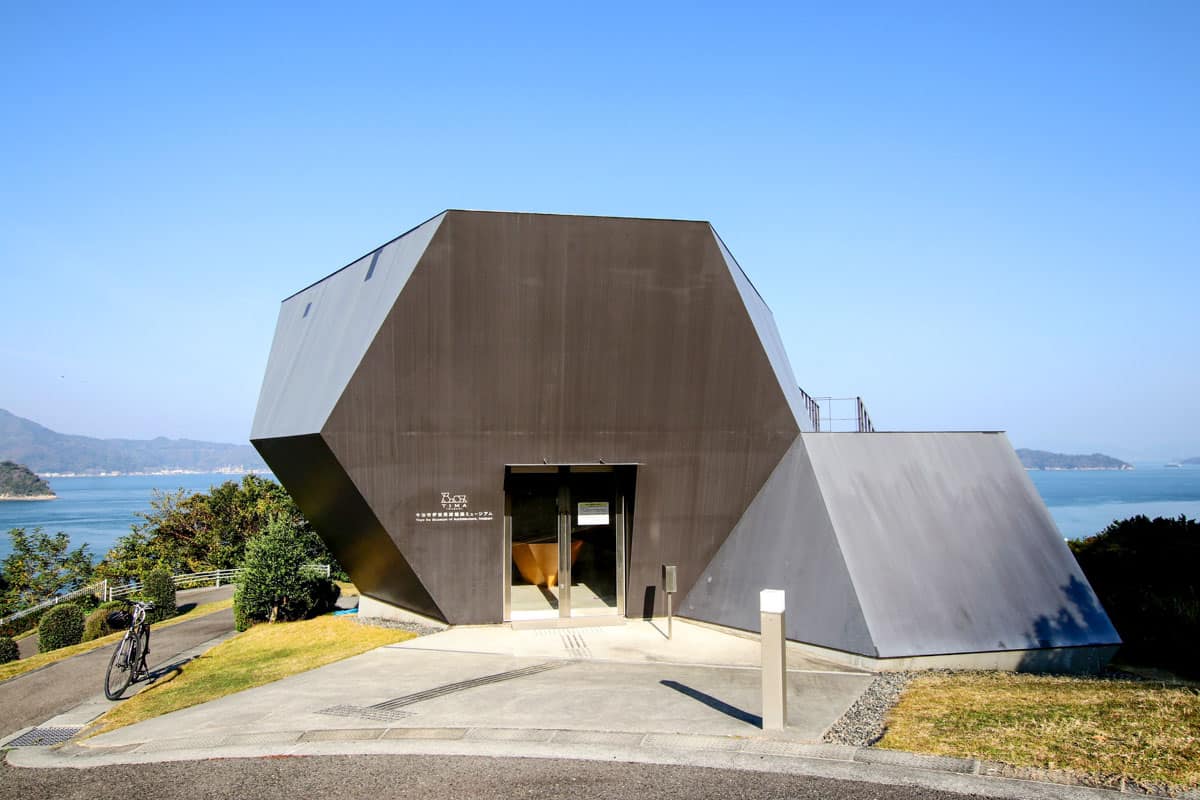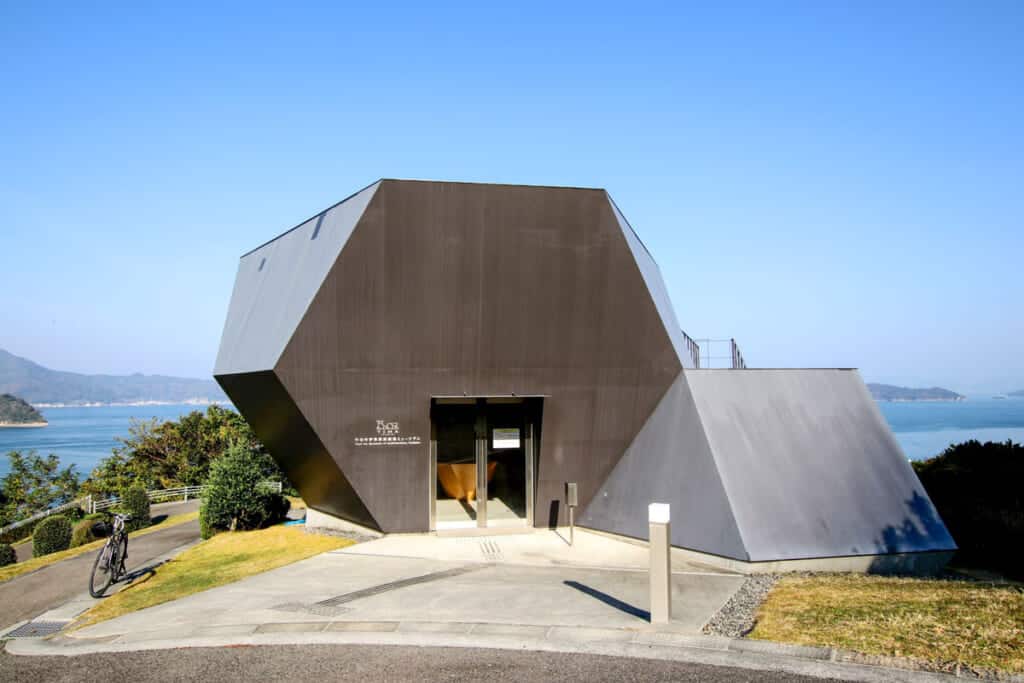 En route to the bridge-side park for my next island-hop, I visit the unique twisted trees of Oyamazumi Shrine. As I stepped beneath the trunks to reach the inner shrine, the island's history feels inescapably strong. Pedalling back to the east coast, I grab lunch and a view of the famous Tatara Bridge to Ikuchi Island, treating myself to a bottle of local mikan-juice and a special Shimanami-Kaido printed dorayaki — a traditional Japanese sweet with red bean paste.
Oyamazumi Shrine, Omishima Island
Location: 3327, Miyaura, Omishima-cho, Imabari city, Ehime 794-1304
Phone: +81 241-45-2323
Hours: 5pm (gate closing)
Entry: free (Shrine grounds) 1,000 yen for adults (museum)
*The museum is currently closed due to the covid-19, but it will reopen on January 1st, 2021.
I catch my first ferry of the trip from Sunoe port on Ikuchi to the much-smaller Iwagi Island. While not part of the main route, the detour offers a taste of an even quieter rural life. A ride costs just 300 yen, but if you write your name and country on the ticket, your bicycle will be free of charge under the program called "Shimanami Cycling Free."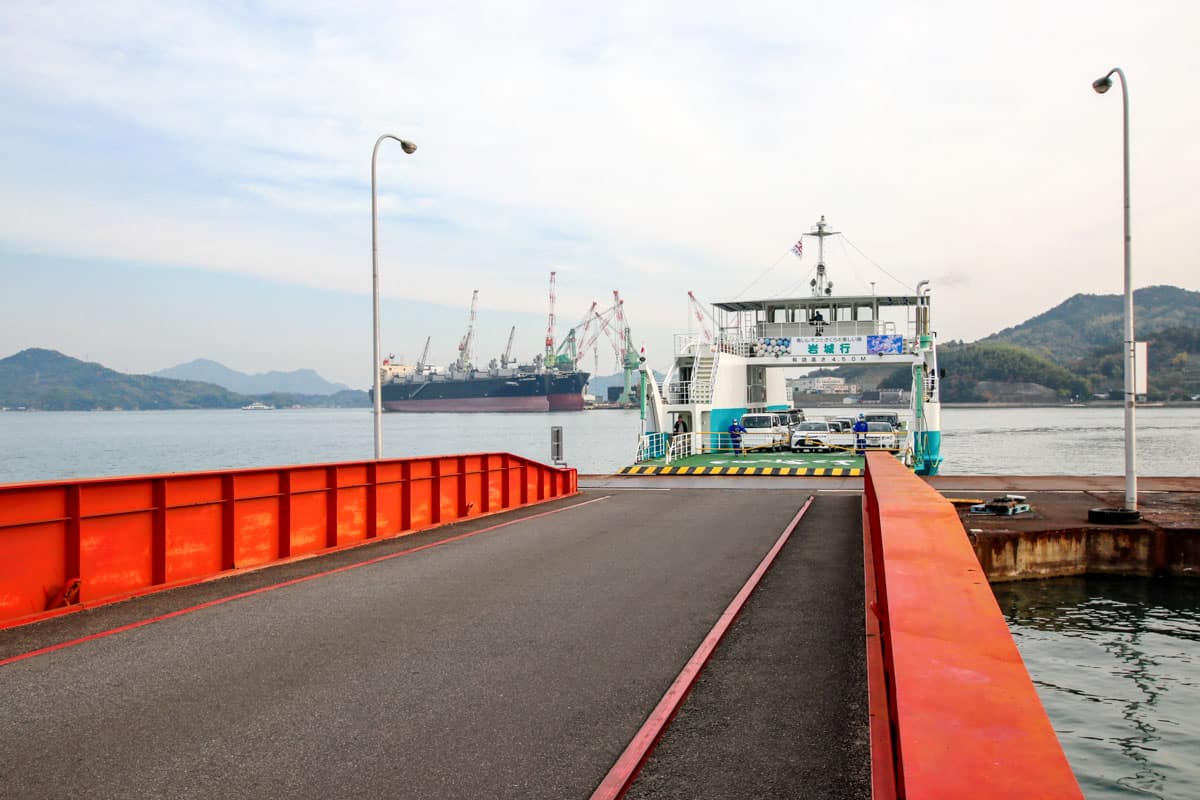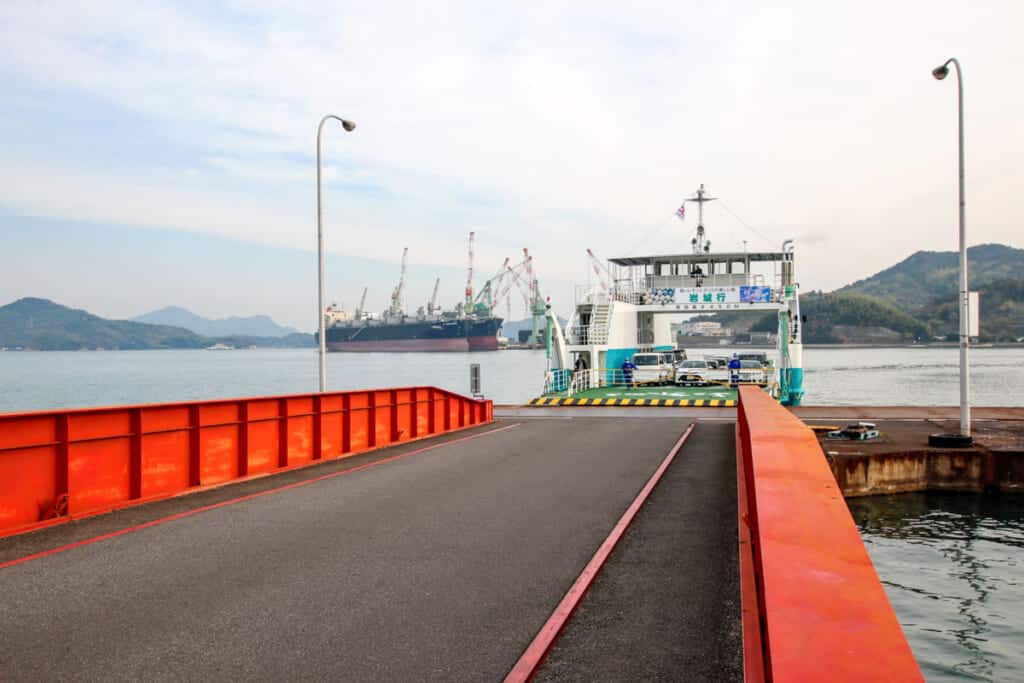 Cycling across the small island I am greeted with the homeward-bound school-children and their friendly calls — motivating me to keep going on a surprisingly steep hill. I arrive just in time for a sunset yoga session beside West Beach (西部海水浴場) on the south-west coast — perfect for relieving the cycling-based aches from the body. Set against the stunning pink skies and calm waters, I'm guided by the wonderful teacher Sumire who ends the session with a warming mug of hot lemonade.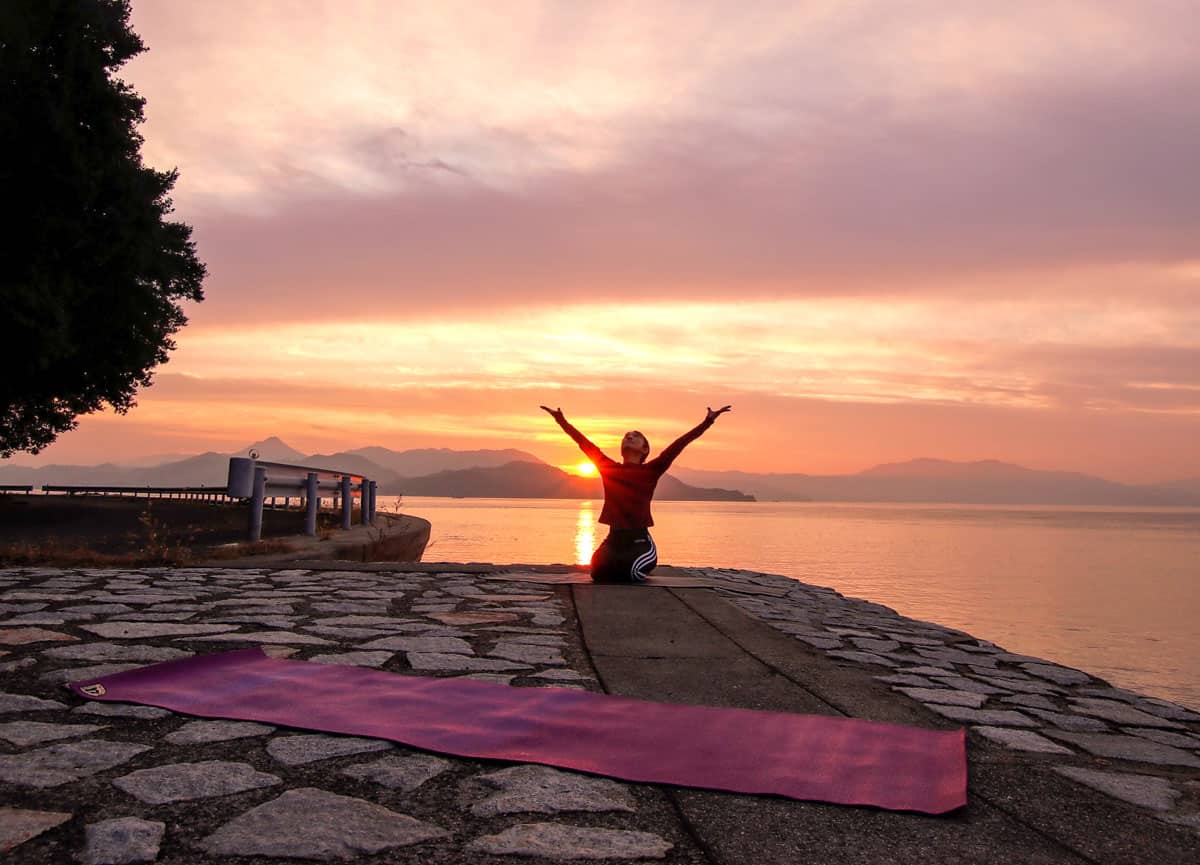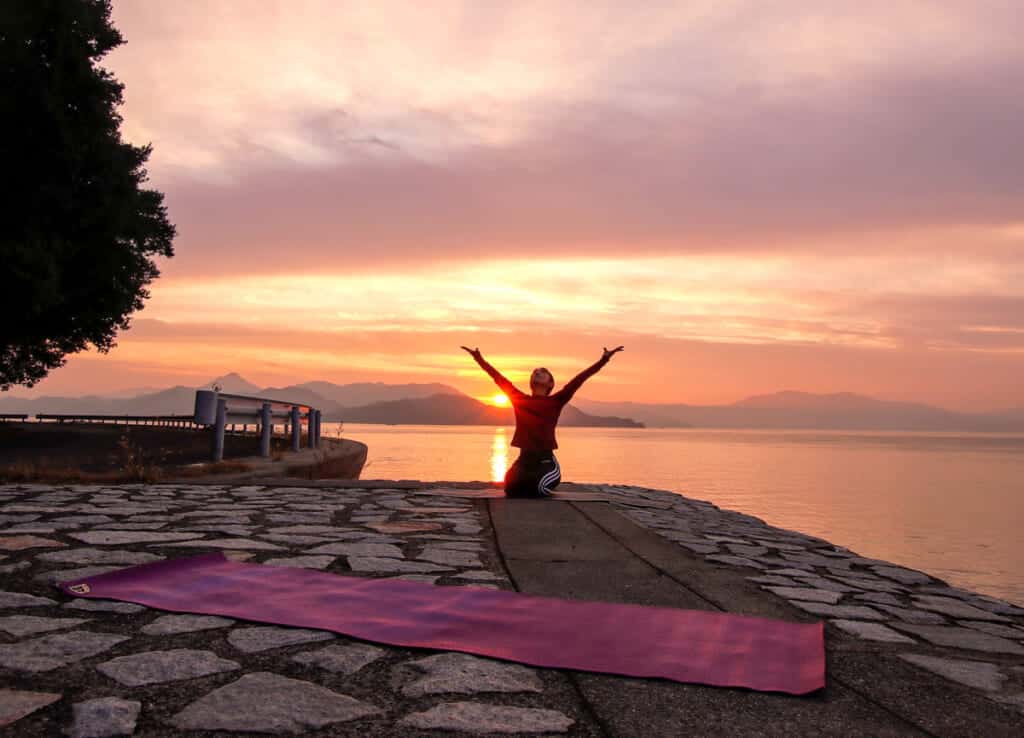 Day Three: Salt and Lemons
Keen to explore another island, I leave my bike behind and catch the passenger-only ferry to Yuge-jima, passing through a cluster of neighbouring islands along the way. On Yuge, I learn about the traditions of salt making from a local family, seeing the centuries-old process that transform the seawater into their high-quality salt using time, patience and generations of combined knowledge. Lunch at their restaurant — the Shimade Cafe — is a joy, and their different salts make a great souvenir from my visit. After hopping back on the ferry with my round ticket back to Iwagi Island, I headed to the nearby Okano Farm.
As we collect lemons while chickens peck the leaves around my feet, I chat with the Okanos and learn about the best techniques. Selecting the sizes, cutting the right way, and delicately putting them in the basket and I'm soon a pro — a little slow, but still. Though I wish I could stay for the day, I take my leave with a bag full of lemons and some extra mikan for the road. For the final stint, I make my way by boat from the Okogi port (小漕港) to Sunoe (洲江港) and cycle up to Setoda — taking in my final views of the ocean.
Lemon Picking at Okano Farm, Iwagi Island
Location: 4832, Iwagi, Kamijima-cho, Ochi-gun, Ehime 794-2410
Phone: +81 897-75-2488
Cost: 1,500 yen per person.
Available from October to May (depending on the harvest conditions), reservations required five days in advance (0897-75-2488). Gloves and tools are provided, so you don't need to bring anything.
Reaching the final port, Setoda port (瀬戸田港), I board and watch as my bike is carefully stacked with a dozen more. Heading to the last point of Onomichi, the journey has felt relaxing and long but has also ended far too soon. Determined to return, I enjoy a freshly-picked mikan as the islands pass by, ready to return my bike, but not quite ready for the hustle and bustle of mainland Japan quite yet.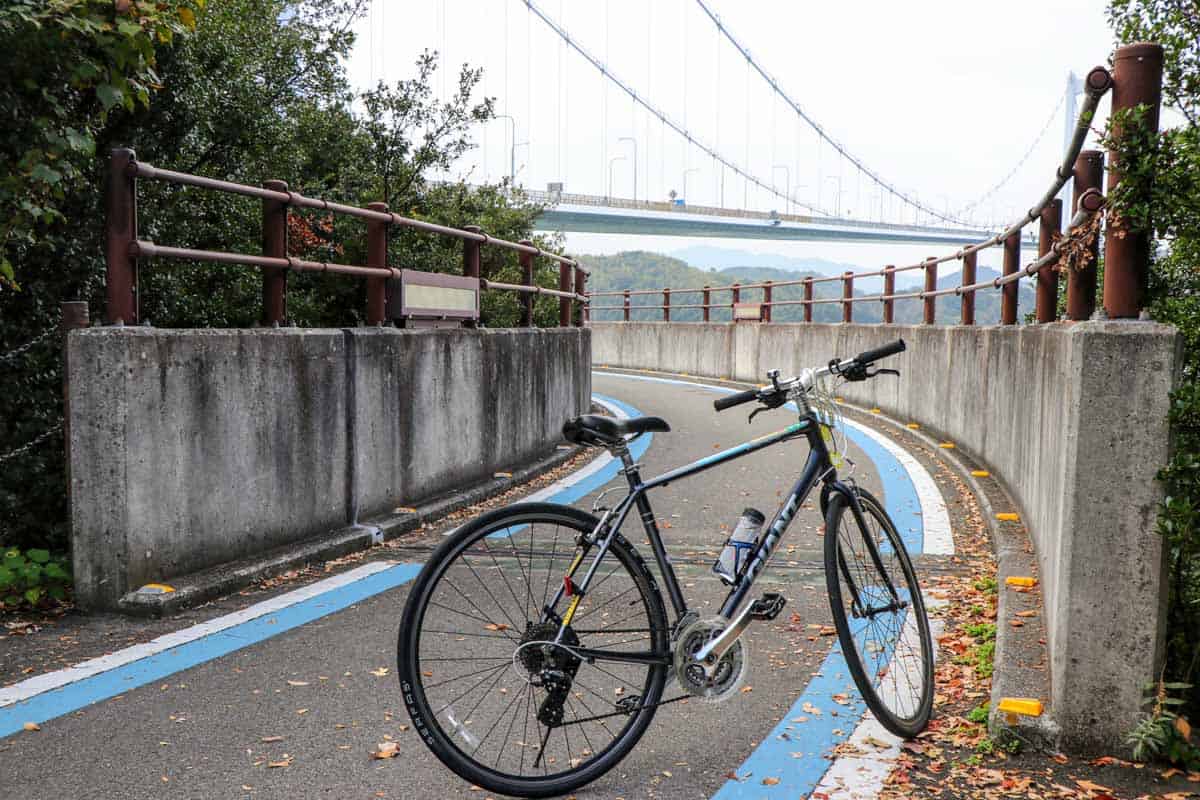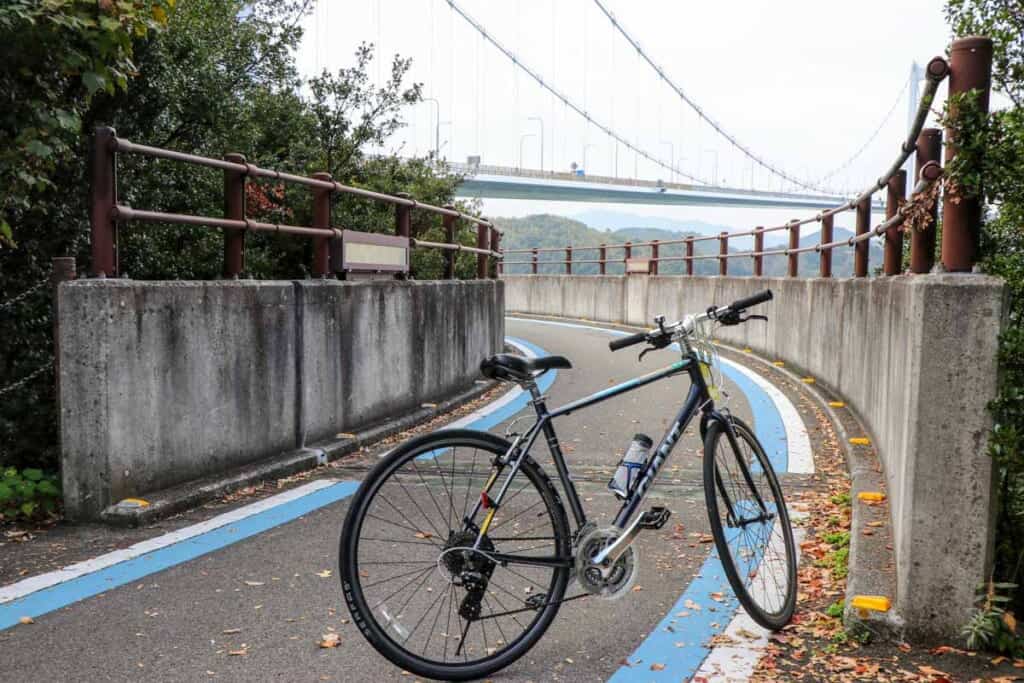 Shimanami Kaido Accommodation
There are a variety of accommodation options on the islands, from traditional minshuku to contemporary bike hostels. A homestay such as at the Inoue's is a fantastic way to meet the locals, while hostels will get you introduced to the best cycling tips and others on the same journey as you.
Shimanami Kaido Ferries
The islands are connected by a network of short-distance ferries, most of which require no reservations for foot or bike passengers.
How to Get to Sunrise Itoyama in Imabari
For those travelling by public transport, the cycling center can be reached by taking the 'Ohama via Koura' bus route from Imabari Station. It is a 20-minute journey but there are limited services, so please check at the station in advance. Imabari Station is a 40-minute express train ride from Matsuyama Station (1,500 yen) or an 80-minute regular train ride (970 yen), If you are arriving at Matsuyama airport, catch the airport bus to Matsuyama JR Station (15 minutes, 630 yen) and take the express or local train from there. For more information, please visit the Shimanami Japan website. For those who rent bicycles, a shuttle service from JR Hashihama Station to Sunrise Itoyama is also available on weekends and holidays, departing at 8:25 and 9:00 a.m. Make a reservation by 6:00 p.m. the day before.
Sponsored by Setouchi Shimanami Kaido Activation executive committee