With chickens clucking around my feet, I spot a perfect lemon up in the branches. Stretching, I snip with shears and carefully place my first fruit in the basket. I'm picking lemons on a small island in the Seto Inland Sea, trading recipes and stories of studying in the UK with my hosts — it's a pretty perfect Tuesday afternoon. Local life here is slower, sunnier, and kinder than the city I've left, and I already wish I didn't have to leave. While I had planned on cycling the famous Shimanami Kaido route for its views, I hadn't expected to meet such amazing people along the way.
Cycling this specially-designed, 70km route across the islands can be done in a day, but in my opinion, the longer it takes, the better. Getting lost amongst the islands and discovering what makes them special is far better than a record-fast finish time — and these islands have so much to offer. Picking strawberries and feeding goats on one island before stretching out cycle-weary legs in a sunset yoga session on another, I slowed down and took the time to enjoy each experience, meeting the locals that make up the small but wonderful communities of rural Japan.
Day One: Omishima Island's Strawberry Farm Stay
After cycling across the Kurushima Kaikyo Bridge (来島海峡大橋), the world's first triple suspension bridge, from the Imabari bicycle rental terminal, I had begun my island-hopping tour on Oshima island then would be spending the night on neighbouring Omishima Island. Omishima is the largest of the Geiyo Islands, made up of fields, hills, forests, and a small population of residents. After a day of cycling, I arrived to find my accommodation of Shimanami no Chisana ie Farmstay, a striking traditional Japanese home, and my host was the wonderful Mrs Inoue. Quick to usher me in, within no time at all, I was seated with tea and a strawberry sherbert — a hint of what was to come. The family have their own strawberry farm, she explained, as we chatted over the delicious dessert. Having once travelled to the UK, a stay in a welcoming Bed and Breakfast inspired her to open her home to guests. Those lucky enough to stay would be treated to strawberry picking as well as a farm-stay with the family.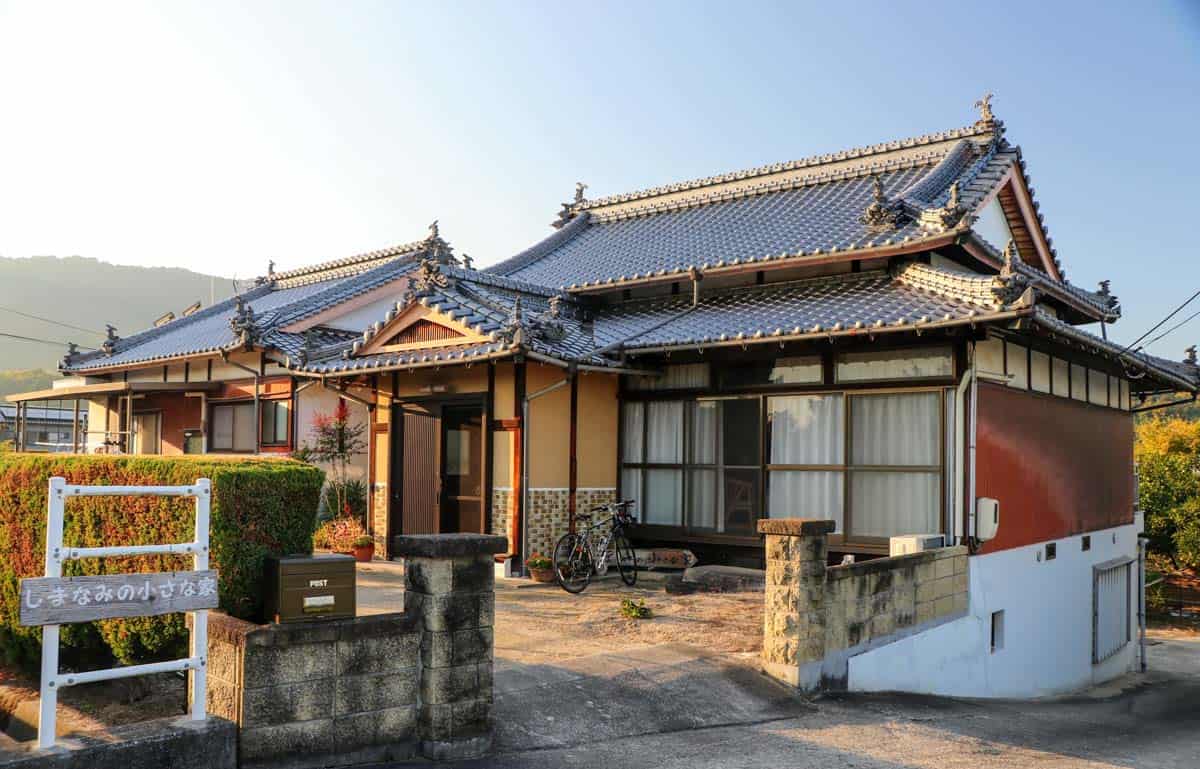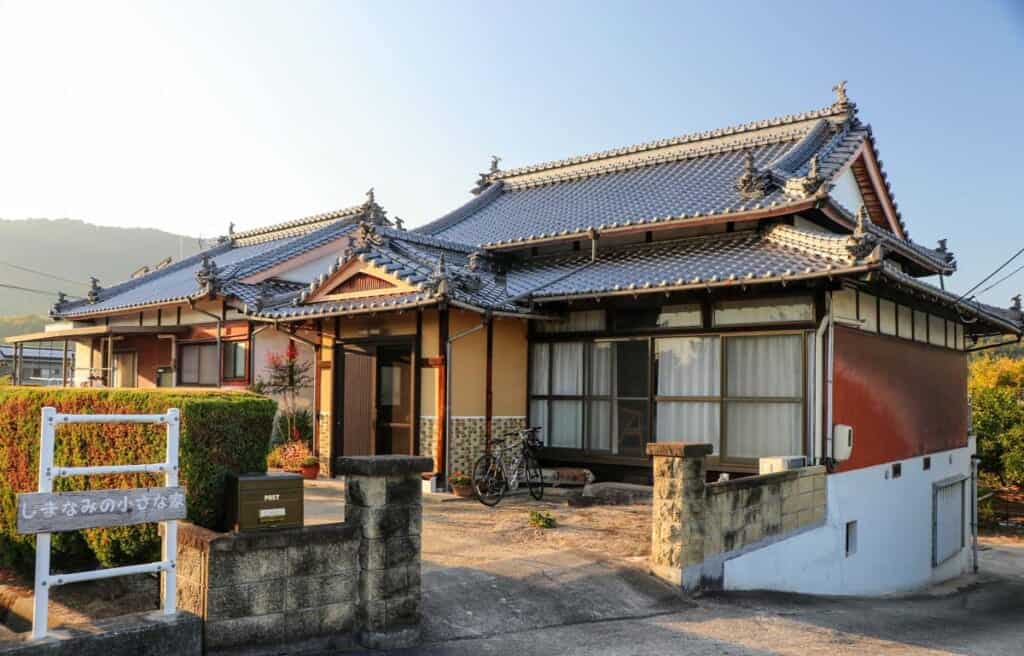 Wandering through the rows of ripe strawberries, Mrs Inoue taught me how to pick and eat them (top first — I didn't know!) — and eat I did. Assuring me the colder weather makes them sweeter, Mrs Inoue explained that in Japan, strawberries are a winter treat, while in the UK we commonly think of them as a summer staple. Having finally reached my fill, we headed out to pick vegetables from the small-holding for breakfast the next day, meeting her husband along the way. Feeding the goats, Kiki (named after the family cat) and Ichigo (meaning strawberry in Japanese) was the final task before setting off for dinner, which was a filling course of locally-caught octopus.
Shimanami-no-Chisana-ie Farmstay
Location: 379, Amazaki Kamiura-cho, Imabari city, Ehime 794-1403
Phone: +81 898-87-4005
Cost: 8,000 yen per person, per night, including breakfast and strawberry picking experience.
Strawberry Picking Experience available separately, reservations required. Adults: 1500 yen (April – June) 1800 (Jan – March) 40-minutes all-you-can-eat. Open from 10 am – 11:30 am and 1:30 pm – 4:30 pm between January 2nd and early June.
Day Two: Onwards to Iwagi Island's Lemons and Yoga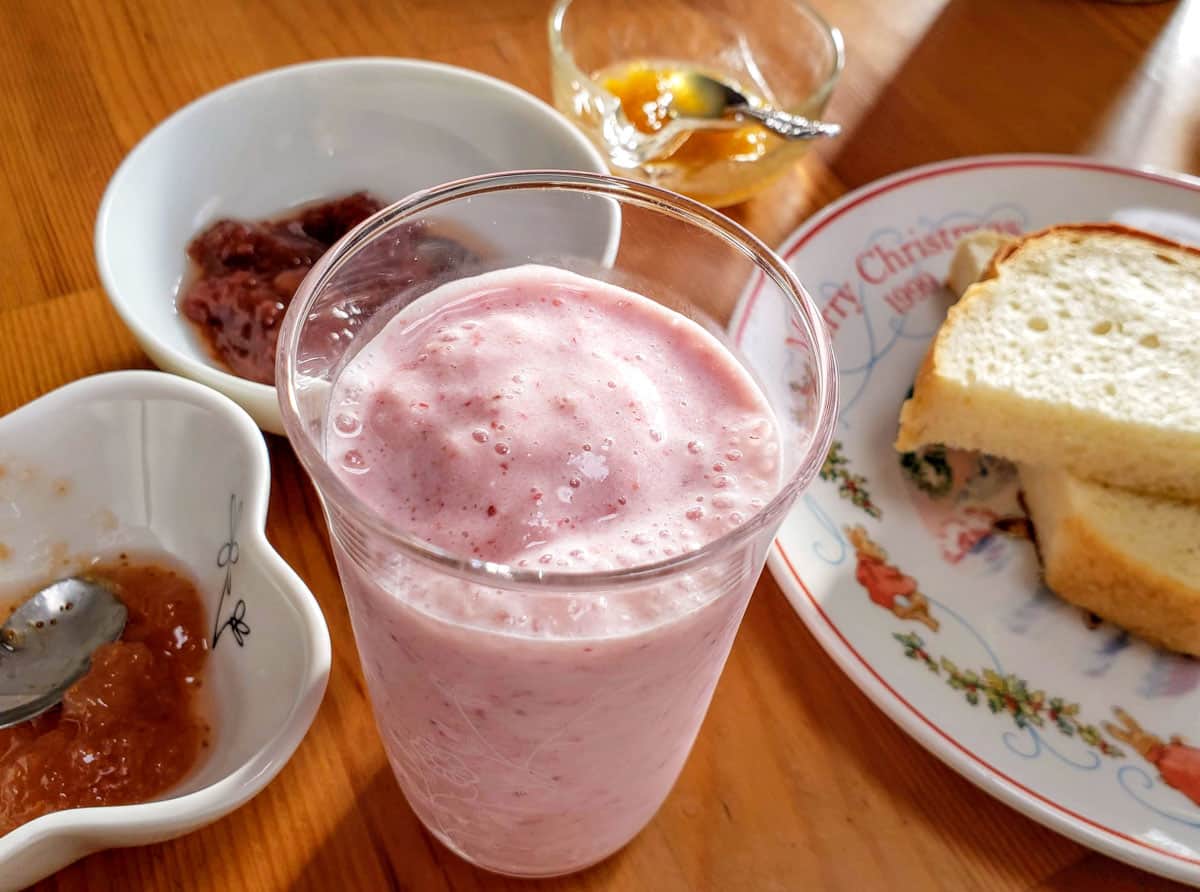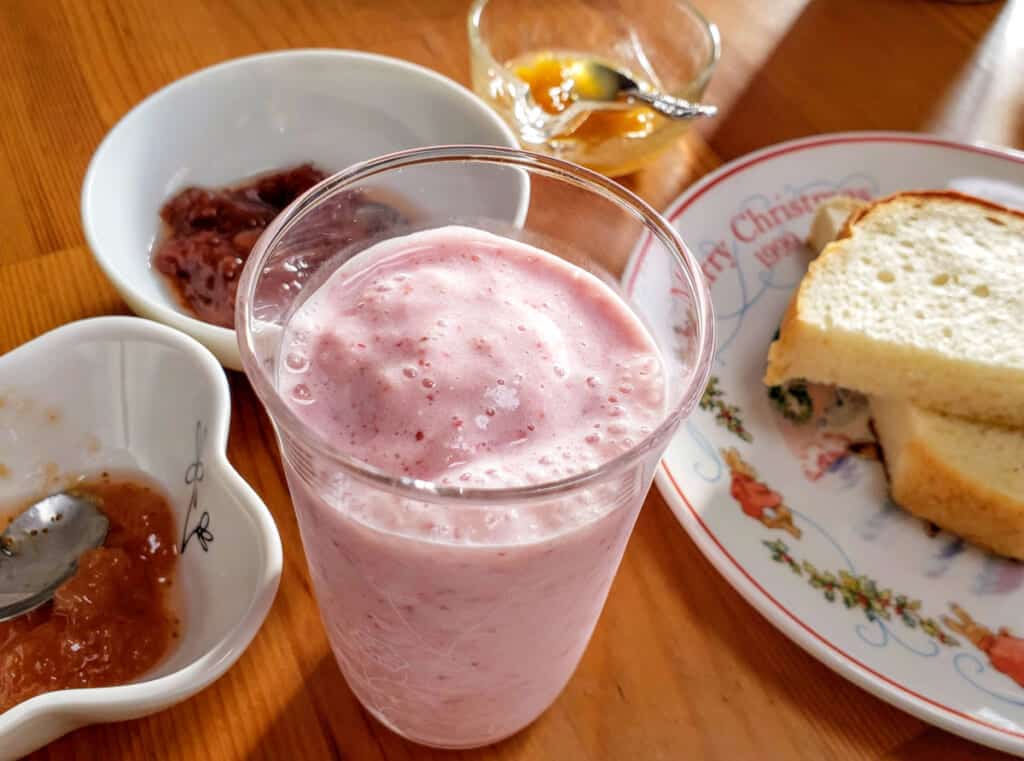 Awoken to the sounds of goats, I was presented with an incredible breakfast of vegetable soup, strawberry smoothie, mountains of toast with homemade jams, and an Inoue-family-favourite — the strawberry sandwich. I was stuffed, and reluctant to leave — the stay had felt like a visit with family. After snapping a selfie with Mrs Inoue and plenty of goodbyes, I set out to visit Oyamazumi Shrine before heading for the next island.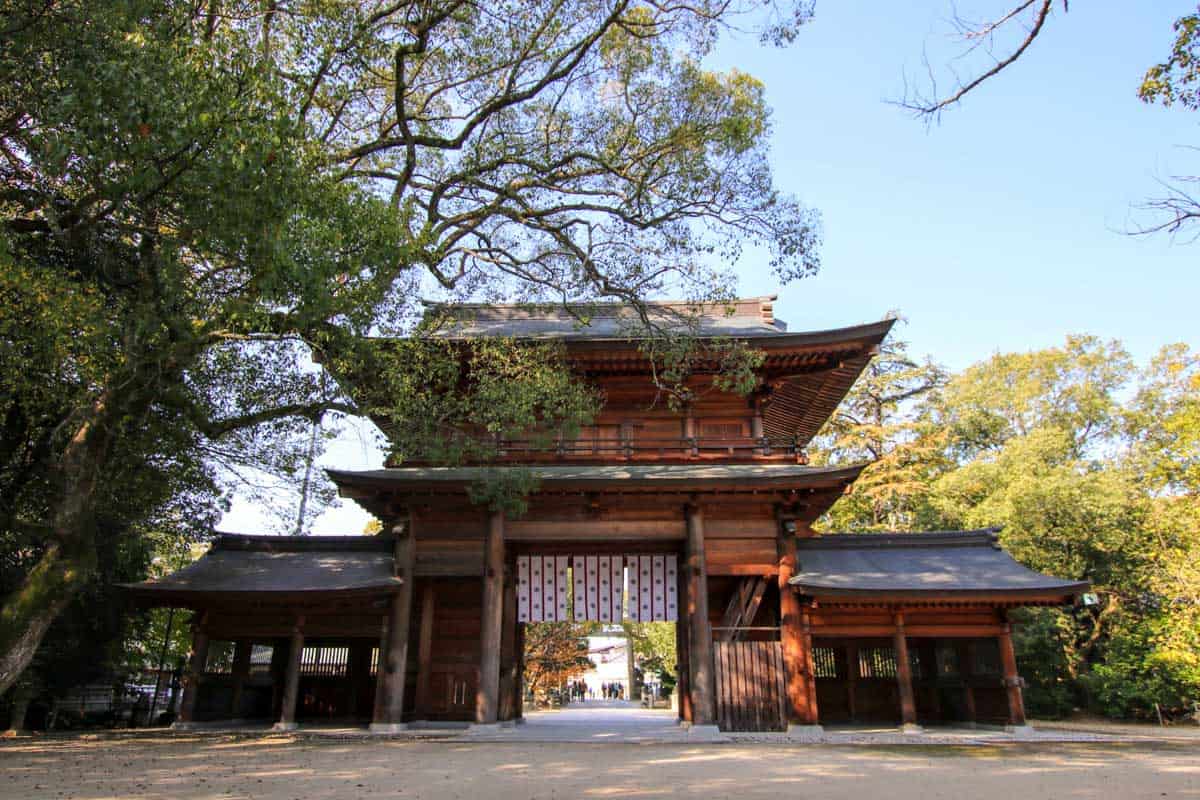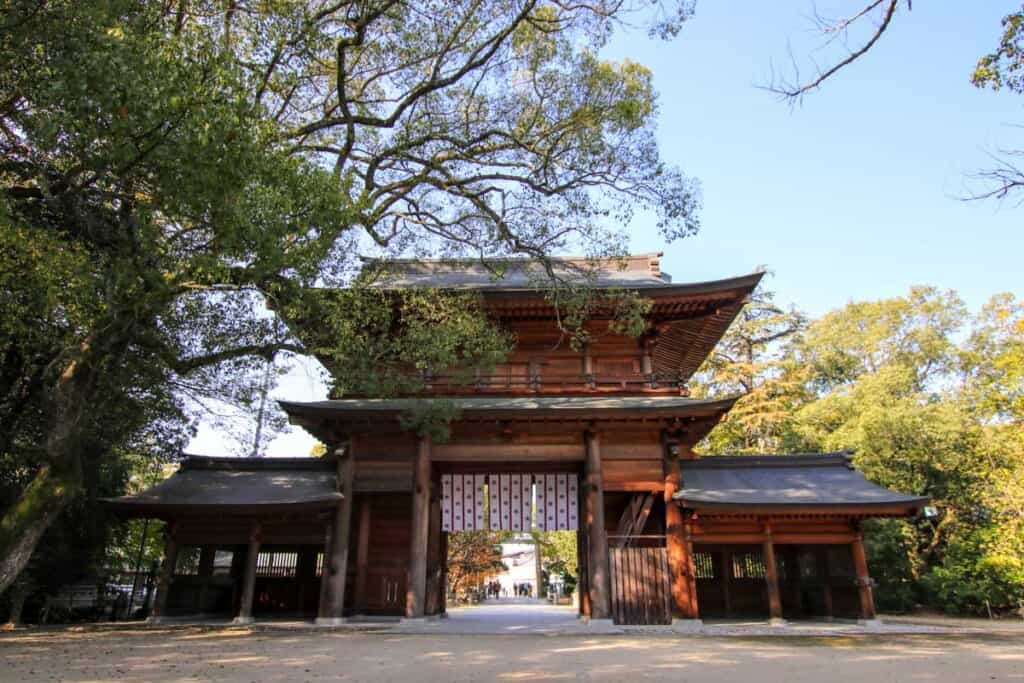 Eventually approaching the well-known Tatara bridge, which connects Omishima and Ikuchi Islands, I spot an unlikely caravan perched before an astounding view. Stopping for a freshly-made Setouchi lemonade, I chat with the young owner, Nanami, who had just returned from collecting extra lemons. A haven with a view across the islands, she explains that with her husband Toda, they run another similar cafe spot beside the famously picturesque Shimonada Station in Ehime prefecture. The stylish setting is a beautiful highlight for the natural views, and seeing a younger generation flourish with independent businesses alongside farmers and traditional restaurants is inspiring.
I tore myself away from the view and the conversation, heading off across the bridge and into a waiting taxi. Having lingered a little long over my coffee, I was unlikely to make my scheduled ferry. My kindly driver secured the bike in the boot and passed me a couple of fresh mikan (a kind of Japanese tangerine), encouraging me to eat it as we drove through orchards heavy with the ripening fruit. Passing me extra as he directed me to the boat, we said farewell, and he called to take care and enjoy the fruit. While cycling can be a solitary experience, it still felt like I was being guided from one friendly local to the next.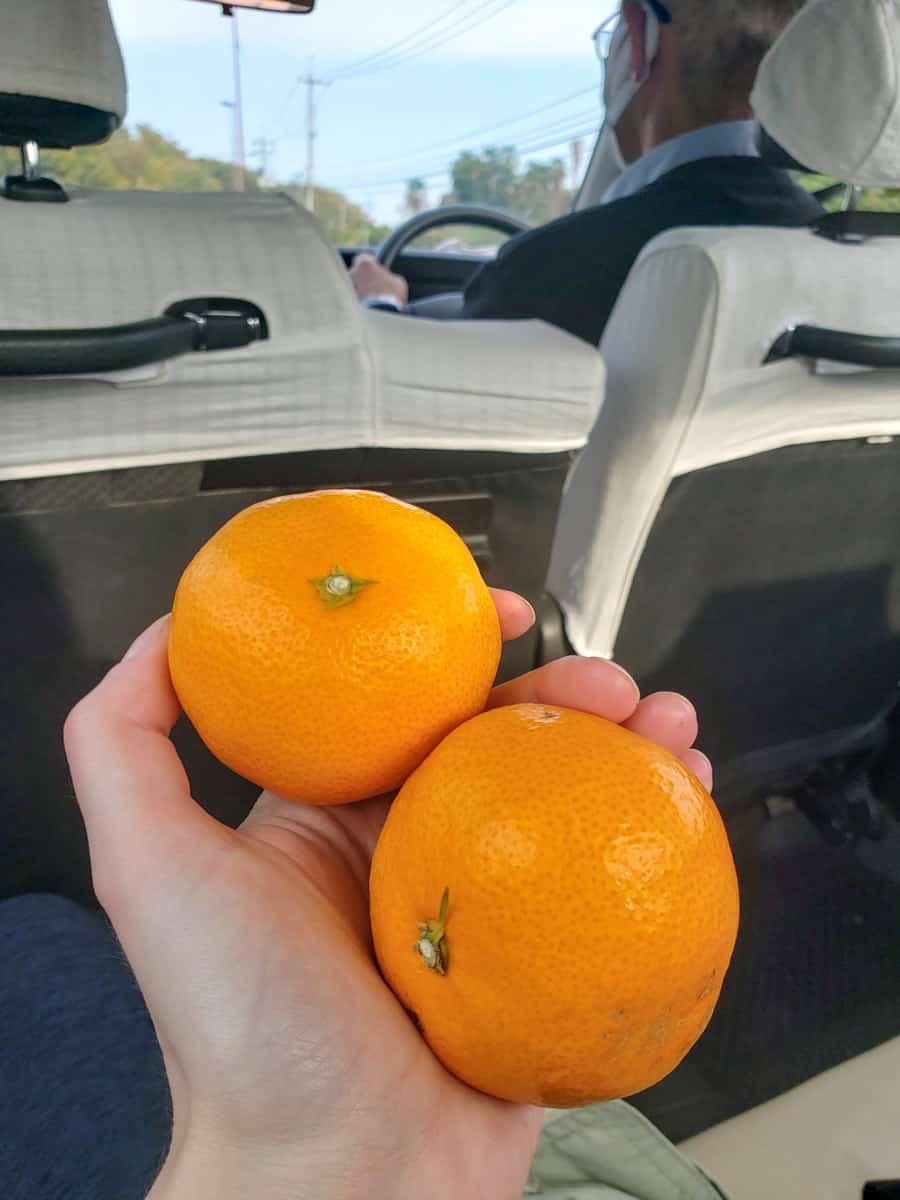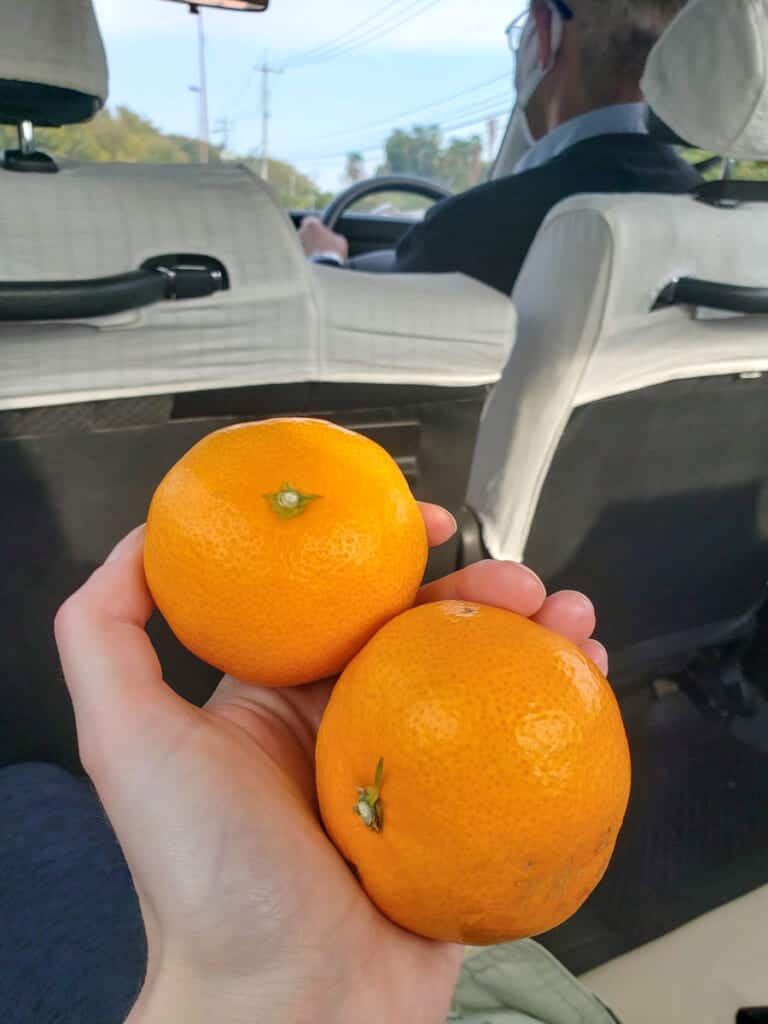 Landing on Iwagi, I cycled across the small island, greeted by dozens of young local students along the way. Each was calling out a friendly 'Konnichiwa' as they spotted me, I realised it was home time for them, and headed on, keen not to be late for my next activity.
Stood beside the beach, with a yoga-mat rolled up under each arm, my teacher Sumire greeted me as I cycled over the hill. The sun was setting slowly behind her, and our yoga session was designed as a perfect wind-down after a day of cycling. Having moved to the island fifteen years ago, she had become accustomed to the slower pace of island life and had trained in yoga, which she gives a local twist. Embracing the flexibility of the art, she offers family, group and couples classes, as well as refresh or relax options. The highlight, however, are the local poses of her own design — from the 'hashi' (bridge) pose to the lemon flower pose — inspired by island life.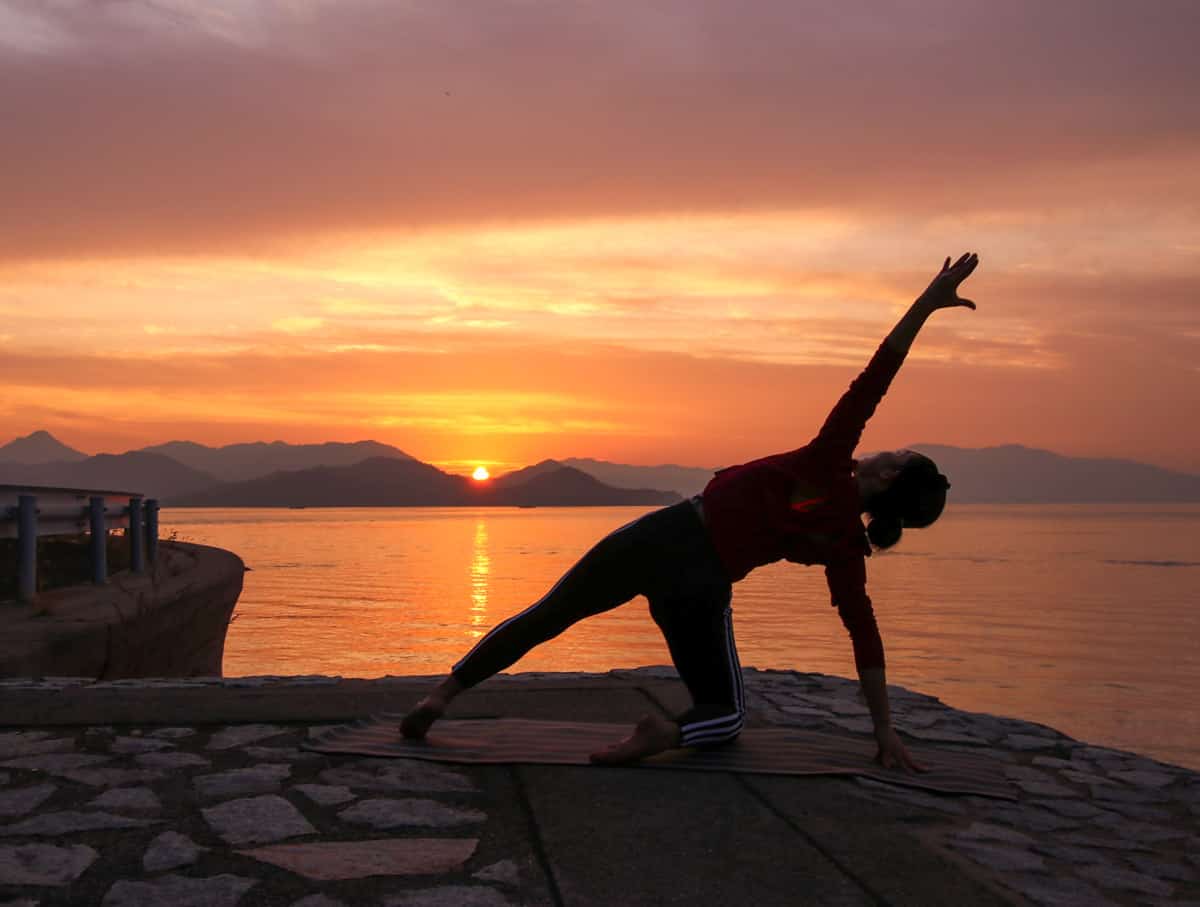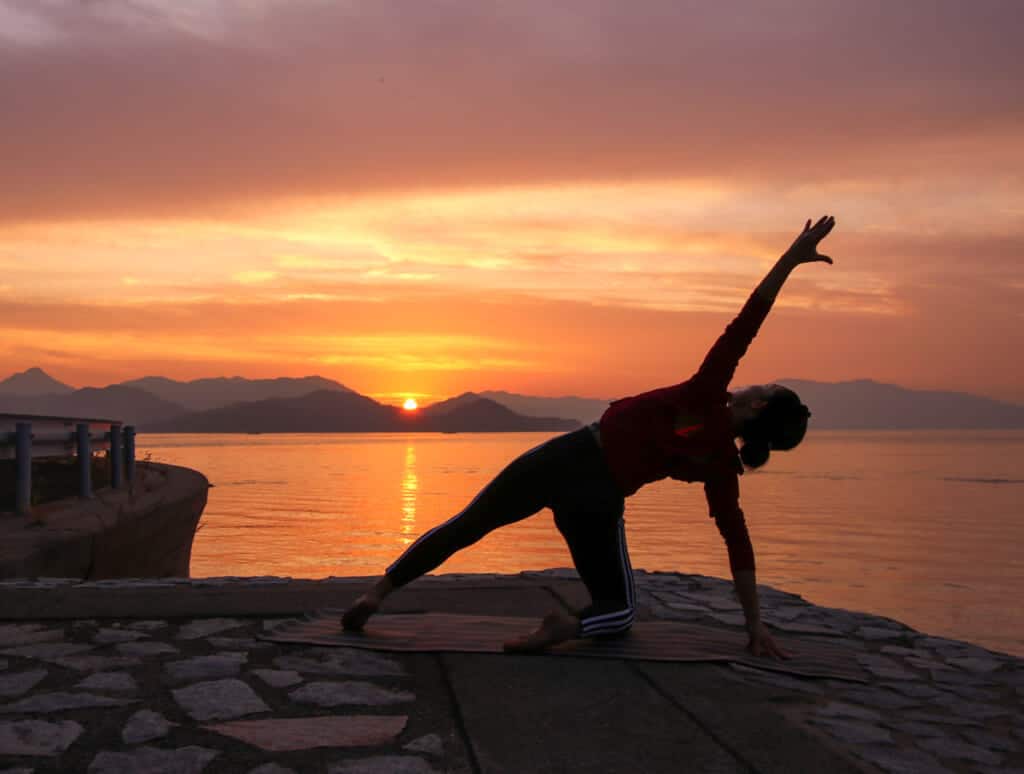 Admittedly entirely inflexible, I did my best, with Sumire's encouragement, to recreate her poses. As I admired the sunset, the sound of the waves, and the scent of the lemon oil on our wrists, the combination was as relaxing as I could imagine, with long stretches allowing my body to relax along with my mind. As the sky darkened and the class came to an end, we chatted over warmed lemonade — discussing the pros and cons of island life and the simple pleasures it undeniably brings.
Iwagi Island: Lemon Picking at Okano Farm
My final experience on the islands was learning the art of lemon-picking in the hillside farm of the Okanos. Now run by the delightful third-generation farmers Hideaki and Kai, the Okano Farm has been cultivating lemons for decades. The island of Iwagi is known as Green Lemon island. Unlike the European lemons visitors may be used to, Hideaki explains, these lemons are green even when ripe. He shows me how to select the best lemons and how to cut them before placing each one in a basket with care. Really, it's difficult to feel rushed in a place as relaxing as this. I prepare to set off home and am presented with a bag of my lemons — as well as plenty of mikan for the journey.
The incredible scenery, famous cycle-path and delicious food are all highpoints of my trip to the Shimanami-kaido, but when friends ask, it's the people I tell stories about. I make lemon curd for friends with my lemons and show photos of my strawberry stay, all paired with stories and tales of the people I met on my travels. From long evenings in family homes to short taxi rides and even a shared moment on passing bikes — there was nothing but a warm welcome from the island residents, and I cannot wait to return.
Lemon Picking at Okano Farm, Iwagi Island
Location: 4832, Iwagi, Kamijima-cho, Ochi-gun, Ehime 794-2410
Phone: +81 897-75-2488
Cost: 1,500 yen per person.
Available from October to May (depending on the harvest conditions), reservations required five days in advance.
Gloves and tools are provided, so you don't need to bring anything.
Shimanami Kaido Ferries
The islands are connected by a network of short-distance ferries, most of which require no reservations for foot or bike passengers. Please visit the VISIT SHIMANAMI website or Kamijima Town website for more information.
Cycling the Shimanami Kaido
The Shimanami Kaido is a popular cycling route that connects the mainland with Shikoku. The 70km cycle route is clearly signposted and uses a mix of main roads and dedicated paths to offer incredible views as it crosses the islands. There are bike rental terminals at either end of the course and 13 drop-off spots along the way, connected with bus routes. You can rent city bikes, hybrid bikes, tandems, or electric-assist bikes between 1,100 a day and 1,600 per day for adults, while children bikes cost 300 yen per day.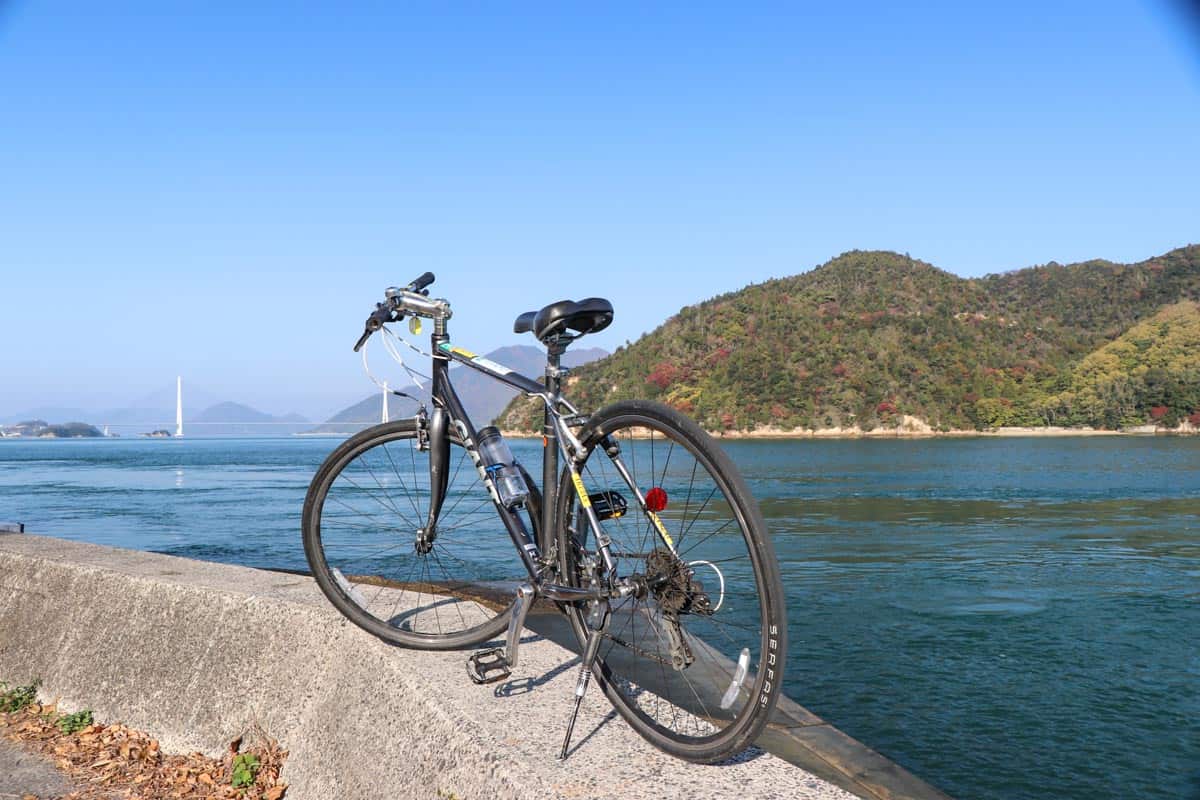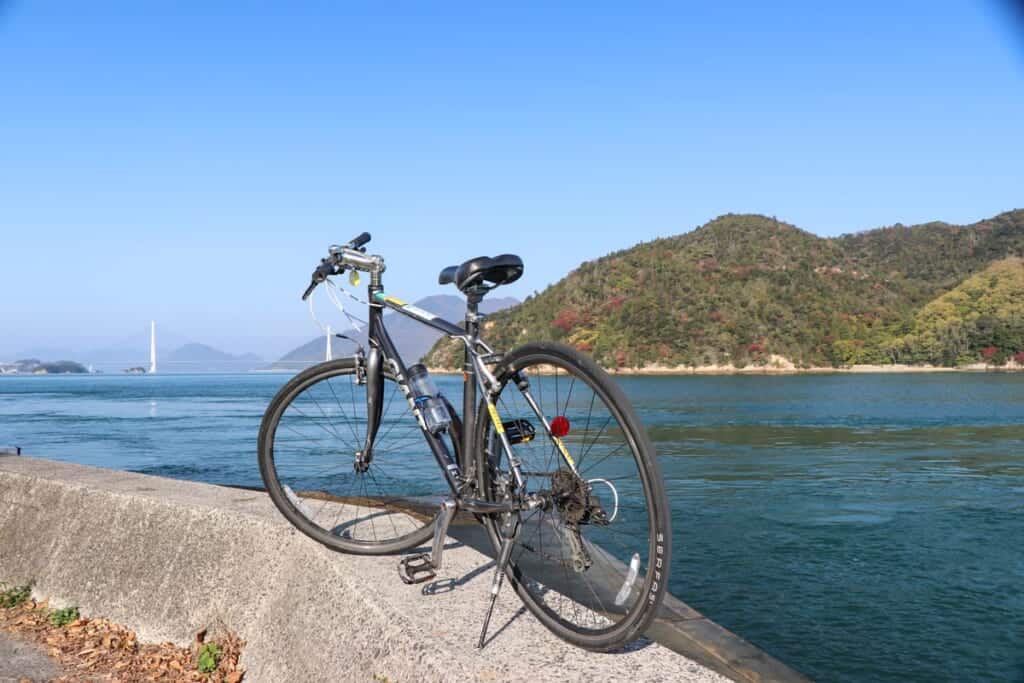 Location: 2-8-1, Sunaba-cho, Imabari city, Ehime 794-0001
Phone: +81 898-41-3196
Hours: 8am – 8pm
Cost: from 1,100 per day for adults, extra for tandems or electric bikes with an additional 1,100 yen deposit which is refunded if bikes are returned to the same rental center. Children's bikes are 300 yen per day with a 500yen deposit.
Location: 5-11, Nishigosho-cho, Onomichi city, Hiroshima 722-0037
Phone: +81 848-22-5332
Hours: 7am – 7pm (March – Nov), 8am – 6pm (Dec – Feb)
Cost: from 1,100 per day for adults, extra for tandems or electric bikes with an additional 1,100 yen deposit which is refunded if bikes are returned to the same rental center. Children's bikes are 300 yen per day with a 500 yen deposit.
Sponsored by Setouchi Shimanami Kaido Activation executive committee