Japan's connection with great food runs deep, and there are sensory delights here for everyone. From vegans to avid "carnivores", everyone loves eating fresh, local produce, and I was lucky enough to sample some of Oita's tasty cuisine by staying at Farm Stay Ofuji (農家民宿 小藤), in the world agricultural heritage site of Tashibunoshou. 
Tashibunoshou is a rural area in Bungotakada City (Oita Prefecture) with a 1200 year history. One of the best ways to see the landscape is to head up to Tashibunoshou View Point (田染荘ビューポイント), for a birds eye view. So before I made my way to the Farmer's Inn, that was exactly what I did!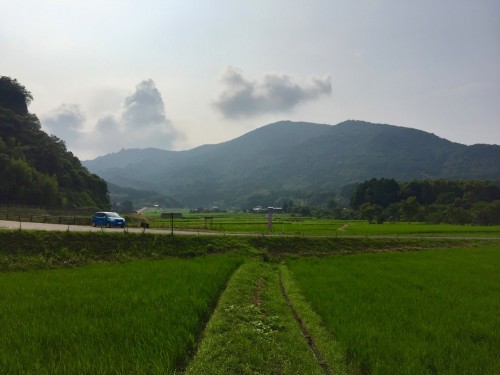 Tashibunoshou View Point(田染荘ビューポイント)
Access to the Tashibunoshou Viewpoint is easy if you know what to look for – or you can read Japanese! Otherwise, it remains quite concealed. The walk to the top only takes around 15 minutes and the entrance is indicated by the signs for 夕日観音 (Yuuhi Kannon). If you follow these signs from the main road, you'll end up here:
At first, the area appeared to be closed-off, but on closer inspection I saw a gate to the right of the signs. The walk to the top is fairly easy because the path is well-trodden, so you can almost run! In fact, I pretty much did just that, because I wanted to avoid the bugs that seemed to be congregating there!
There is a fork in the path on the way up, just keep following the signs for Yuuhi Kannon (keep right) and you will finally see the wonderful view of Tashibunoshou! So, now that we're at the top, what else should we know about this place?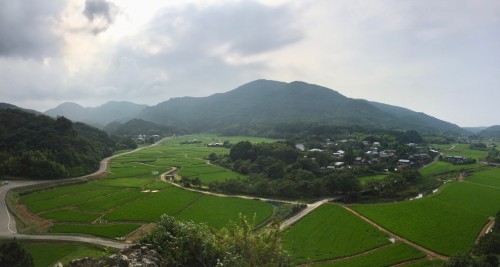 1200 Years of History at Tashibunoshou, Oita
Tashibunoshou is registered as a UNESCO future heritage site, and is also an important cultural landscape for Japan. It was developed as part of the shoen manor (medieval Japan) which is strongly connected to Usa Hachimangu shrine.
Emperor Ojin was the 15th emperor of Japan, and he was ennobled as Hachiman-shin (god of military power) between the 3rd and 4th centuries. He is believed to be enshrined within the various Hachiman Shrines across Japan, of which the Usa Hachiman Shrine in Oita was one of the first – dating back to the 8th century.
Currently, Oita's main economy is agriculture. It is the leading producer of kabosu (a citrus fruit) and also dried shiitake mushrooms. Although I didn't eat either of these at Farm Stay Ofuji, there were many other things that I enjoyed instead!
Farm Stay Ofuji's Food and Local Produce
One of the benefits of staying on a farm is that you can experience fresh, local food. What's better about Farm Stay Ofuji, is that the host is also an excellent cook! I was able to experience fresh vegetables in my dinner and breakfast.
The food is in keeping with the style of this traditional inn. For dinner, you can help yourself to some Japanese favourites such as kakiage , tempura, pickled vegetables, tomatoes, miso soup and sticky rice, topped off with some ume-shu (plum wine).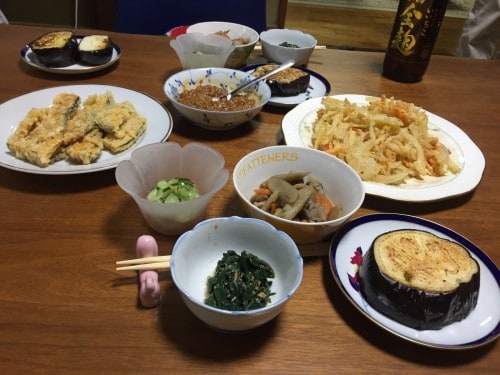 Unfortunately I was too hungry to take a picture of the breakfast, but it was also traditional – egg, salmon and rice. The breakfast and dinner times are fairly flexible, so if you need to eat at a certain time, you just have to ask!
Hospitality and Facilities at Farm Stay Ofuji
The inn is traditional and simple in its style. It is a place to go to rest and recuperate – not for work, or partying! The guest rooms are large; lined with tatami and separated with shoji (sliding doors). Within my room there was just a futon, an air conditioning unit and a lamp – which was very traditional!
There are male and female toilets, as well as a large shared bathroom with a huge bath and wash area. Dinner and breakfast are served in the communal area which also has a TV and various cute ornaments, including many kokeshi (Japanese dolls)!
The farm is peaceful and secluded. It sits at the top of a hill, surrounded by trees and very little else. A short walk of the premises showed me just how immersed in nature we really were!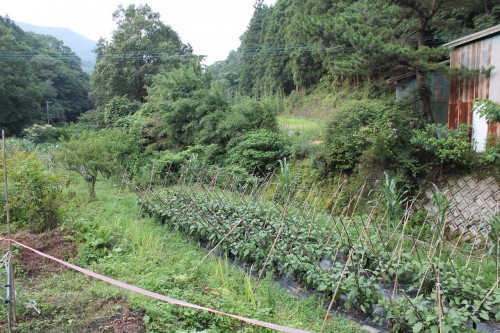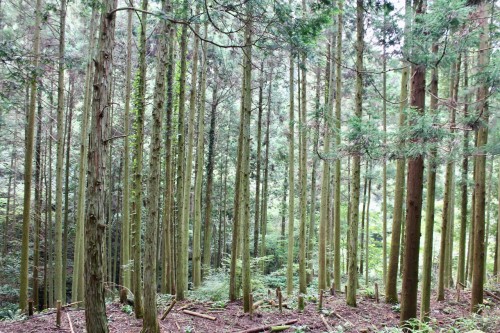 Overall, I look back on my time at Farm Stay Ofuji with great fondness… My hosts were extremely kind and helpful. After a long, tiring day, my host ran me a bath. And by the end of the day, I was laying out on the floor next to the dining area, feeling like one of the family. I hope I can go back one day!
Enquiries and Useful Information
One night's stay at Farm Stay Ofuji costs around 7,000 yen, with breakfast and dinner included. For reservations, there is no online booking page just yet, so please call:+81 0978-26-2428. If you are not confident to communicate with them in Japanese – no problem! Just contact Tourism Oita: Email / tourism@we-love-oita.or.jp.
Farm Stay Ofuji is well-equipped with linen and toiletries but I would recommend bringing insect repellant. Within rural areas such as Oita, there are many mosquitoes during the humid months.
The webpage for the local area can be found here. Although the content is in Japanese, Google Translate does a good job at translating it!
Access
The road leading up to this 100 year old house is along a single track at the edge of the hill, so be careful! Once you arrive, you can park on the driveway to the left.
From Oita Airport, drive west along route 34. Duration: approx. 60 minutes. Distance: approx. 30 km.
Sponsored by Tourism Oita