Sponsored by Sado Island
Sado, or Sado-ga-shima, an island off the coast of Niigata, is mainly occupied by mountain massif and nature and is a destination that is well worth discovering. While it is possible to explore the main parts of the island on a day trip, spending the night there offers a unique opportunity to discover Sado from a different perspective. I had the chance to spend a night in the southwest region of Sado Island in the village of Shukunegi, in a traditional Japanese inn surrounded by nature.
The unique hospitality of ryokans
In Japan, traditional inns are called ryokan. They are places where both Japanese people and foreign tourists come to unwind and spend more than a night. It is common to go there as early as the afternoon to enjoy the hospitality and quietness of these inns, most of which come equipped with a hot spring bath. Guests usually wander around wearing a light kimono, called yukata, as well as slippers provided by the inn in order to enjoy the dinner and evening comfortably. It is a must try experience during a trip to Japan!
After a full day of exploration on Sado Island, I arrived at my ryokan, the Hananoki Inn, at dusk. With dim lights and peaceful sounds made by insects, there was no doubt that I was fully immersed in nature! After entering the beautiful wooden exterior, I was welcomed by friendly staff members who could communicate in English without any trouble. From the lobby, I could hear people preparing food busily in the kitchen, only separated from the rest of the room by a curtain. On the other side, the dining room was already full of guests in their yukata. The mouth-watering smells of home-made dishes coming from the kitchen made me long for dinner.
Comfort and convenience
But first, I was guided to my room. To get there, you actually need to step out of the main building and cross the garden. The individual rooms—only seven of them in total—are like small bungalows.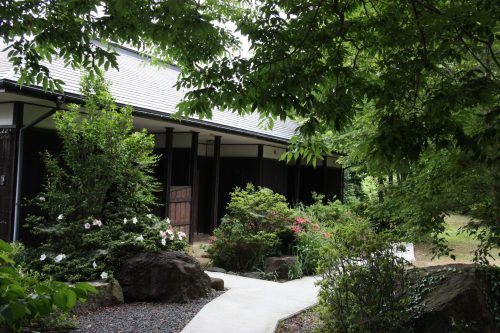 When I entered my room, the futon was already set for later. The Japanese-style room was spacious and equipped with just what was needed in modern facilities for great comfort: a TV, fridge and air conditioning. The room also comes with its own private bathroom. All in all, the room is minimalist with careful attention to details, such as the low table arranged just in front of the window with everything set out to make a cup of tea.
Tasting Sado Island's local specialties
Back in the dining room for dinner time, a few appetizers were already waiting for me, laid out on the table in beautiful ceramic dishware. On the menu that evening, a cuisine only prepared from fresh Sado Island ingredients: vegetables in season (tiny eggplants), fresh fish prepared in a variety of ways (raw sashimi, cooked, etc.), and even a whole crab! Dinner ended on a sweet note with a sasa-dango, the local version of mochi filled with red bean paste and wrapped in a bamboo leaf.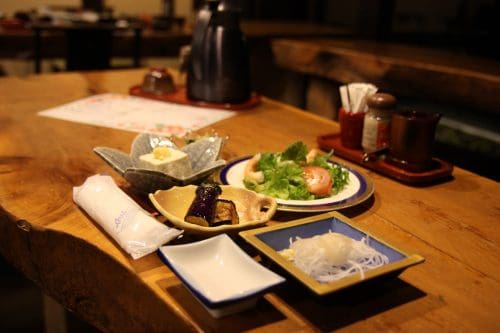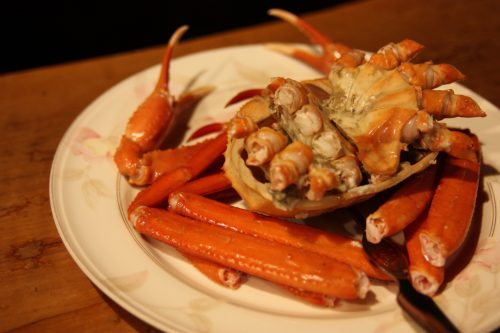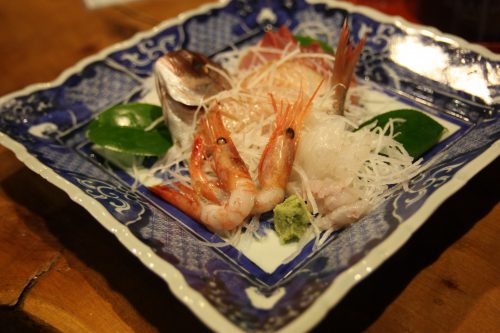 Once you've finished your dinner, staff members will take care to ask you at what time you wish your breakfast to be served the following day. You will have the option to choose between a Japanese-style breakfast or a Western-style one.
A quiet night in full nature
On the way back to my room across the garden, a tiny green frog followed me along. Just like I said, spending the night on Sado Island allows you to discover it from another perspective…and meeting some of its other inhabitants.
After a day spent walking, concluded by a delicious meal, I was delighted to find the comfort of my futon and a thick blanket. I fall asleep cradled by the sound of frogs and crickets in the distance, looking forward to discovering the view from my window in the morning.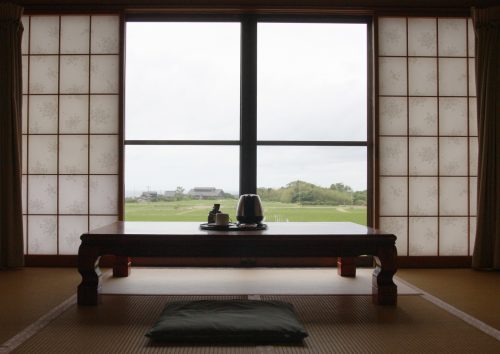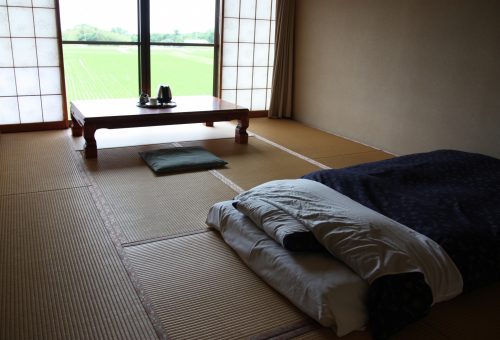 It did not disappoint. As I opened the sliding door covered with rice paper the next morning, I discovered endless rice fields stretching out before me. I could have spent all day here enjoying the view but breakfast was waiting.
Starting the day well
Seated at the same table as the previous evening, I could take another look at the dining room now bathed in the morning light. With wood as the central element, the room was warm and bright. An entire side of the room opened onto the garden with an immense bay window. You could even see the outdoor greenery reflecting onto the wooden tables' varnished surfaces.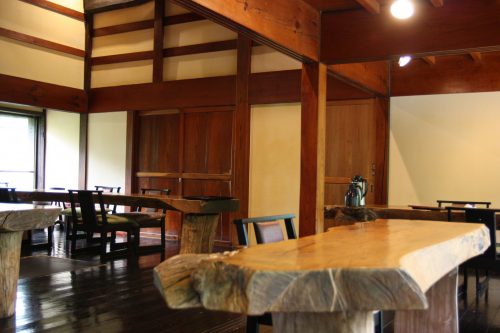 I chose the Japanese-style menu and was served a savory breakfast. Fresh salmon, Japanese omelet, miso soup, pickles—it was an opportunity for me to finally taste the (in)famous natto, those fermented soybeans with a strong taste that many Japanese have for breakfast. Although everything was tasty and generous, I have to say that I appreciated the rice the most. Very renowned in the region for its quality, the rice I tasted that morning was cooked to perfection, both soft and subtly flavored.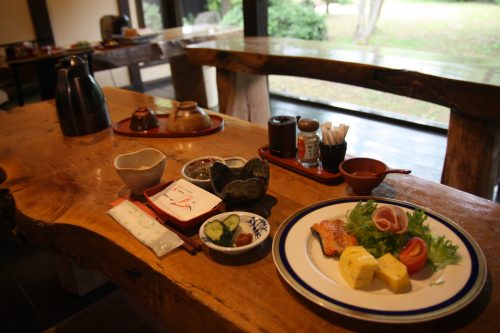 It was then, with a belly filled by a breakfast of champions and a soul relaxed after a night in the fresh air, that I resumed my exploration of Sado Island, leaving behind the beautiful building and lovely garden of the Hananoki Inn.
Reaching Sado Island
From Tokyo:
Start your journey by reaching Niigata. The Tokyo-Niigata trip is easily made via the Joetsu Shinkansen Line in about 2 hours. You will then need to take a ferry from Niigata Harbor, located 3km away from Niigata Station.
The Sado Kisen ferry boats travel from Niigata to Ryotsu Harbor on Sado Island several times a day. You have the option to take an express ferry taking you there in just over an hour, or a regular ferry connecting the two harbors in about 2 hours and 30 minutes. Here is the ferry company's website (available in english) for more information on the timetables and prices.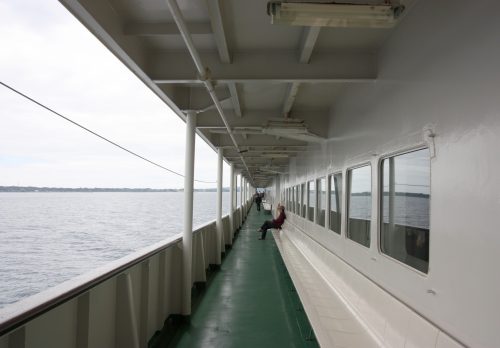 You can also take advantage of the Sado Niigata Pass which includes a one-day bus pass in Niigata, a round trip ticket from Niigata Station to Niigata Harbor, a round trip ride on the ferry bound for Sado Island, as well as a 3-day bus pass on the island. All of this at a rather attractive price: 4,000 yen for adults and 2,000 yen for children. You can find more information about the pass here. To get around the island you can also rent a car or travel by taxi.
From Kanazawa:
You will need to reach Naoetsu Harbor via the Hokuriku Shinkansen Line and a local bus before taking a ferry to Ogi Harbor. Feel free to check out the ferry company's website for more information.
You can also take advantage of the Sado Joetsu Pass which includes a 2-day unlimited ticket on the Echigo Tokimeki Railway, a round trip bus ticket from Joetsu-Myoko JR Station to Sado Kisen Naoetsu ferry port, as well as round trip ferry tickets. The pass is 7,000 yen per adult and 3500 yen per child. To get around the island you can also rent a car or travel by taxi.
For more information on transportation, check out our previous Voyapon article on the topic here.
Practical information
For more information on Hananoki Inn, make sure to visit this website.
Do you need more information? You can find up-to-date information on Sado's history, main tourist attractions, accommodation, gastronomy, and transportation right here.
| | |
| --- | --- |
| Name | Hananoki Inn |
| Category | Ryokan |
| Address | 78 Shukunegi, Sado, Niigata Prefecture 952-0612 |
| Access | [map]78 Shukunegi, Sado, Niigata Prefecture 952-0612[/map] |
| Opening Hours | Open all year, check-in from 15:00, check-out at 10:00 |
| Price Range | Room+dinner+breakfast for about 11,000yen |
| Payment options | Both |