Sponsored by Wakasa Takahama Tourism Association
If you haven't heard of Wakasa Takahama by now, the three things you should know about it are.,,, One: it's less than two hours from Kyoto. Two: it's home to one of Japan's two Blue Flag beaches. And three: it's the perfect place to enjoy the ocean in Japan! A symbol of this stunning beach town is Meikyodo, a picturesque cave engulfed by trees which sits along the Sea of Japan.
The residents of Wakasa Takahama pride themselves on their home's beautiful coastline, so as you may expect, there are numerous ways to enjoy it. Ranging from surfing and paddle boarding, to fishing, there is an activity for all ages and fitness levels here. But during a hot and sticky August morning, one of the best ways to enjoy the cool sea breeze around here is stand-up paddle boarding (SUP)! In this post, I'll share everything I know about "how to enjoy SUP" in this scenic spot!
How Can I Book Water Sports in Wakasa Takahama?
All water sports activities can be booked directly at the Wakasa Takahama Tourist Association which is located within Wakasa Takahama Station.
Two of the most popular summer activities are kayaking and SUP (surfing is also popular but the waves are too calm in the summer). There are different courses available for both kayaking and SUP depending upon how much energy you have, and of course, what you want to see!
All About Stand Up Paddling (SUP)!
The courses for SUP (and kayaking) cost 5,000 yen per person, we decided to do the most popular course around Meikyodo Cave and Wakasa Bay.
SUP is well-loved because of its accessiblity for most people. It's low impact, low risk and requires low physical exertion. This makes it perfect for a hot and lazy day!
At the moment, the SUP courses in Wakasa Takahama are generally about two hours long (8,000 yen per person for 5 hours are available too), and they are run twice per day at 09:30 and 13:30, by the incredible English (and Japanese) speaking instructor, Yuki. This incredible lady won a bronze medal at the Women's Lifesaving World Championships 2016! Now, I don't consider myself to be much of a water baby at all, but her expertise and warm persona made me feel so relaxed, so quickly!
The minimum height for SUP here is 146 cm (4 ft 8 inches).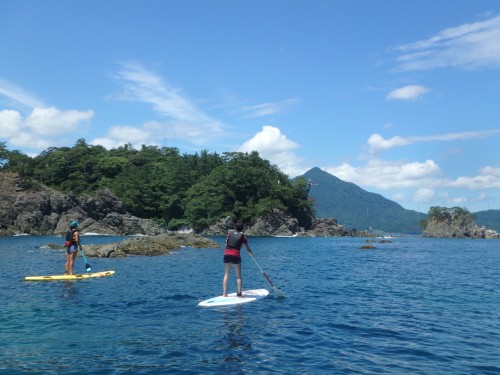 Where is the Meeting Point for Wakasa Takahama SUP?
The meeting point for our course was right next to the town's symbol – Meikyodo Cave, next to Shiroyama Park. Check the map below for the exact location!
What to Bring for Your SUP Experience
One of the great things about this SUP here is you'll get access to the onsen (hot spring) and bathing facilities at the hotel besides Shiroyama Park (城山荘) which costs you 400 yen additionally. There is a net at the front of the paddle board so you can put any items which are okay to get wet (water, sun block etc.) in there. For anything that needs to stay dry, there is a shipping container nearby where you can lock all of your things away securely. With that in mind, here are the main things you will need!:
Swim wear (bikini/swimming costume/shorts), or anything you are comfortable to swim in – most people wear a t-shirt/shorts too.
Sun-block
Water
Change of clothes (for afterwards)
Body towel (and hair towel if you need)
Beach shoes (flip-flops/sandals) – make it much easier to get around, the floor gets hot!
If you've forgotten anything before your trip, there are numerous stores around selling all kinds of beach-related items. If you need a towel, then the hotel should have some you could borrow – you'll just need to ask!
The Basics of SUP
You only really need three things for SUP: a board, a paddle and a lifejacket! When you've got those, you're almost ready to go. But first, your instructor will show you the basics of SUP. Including:
How to hold the paddle
How to transition the paddle from left to right
How to row
How to position yourself on the board
And how to stay safe!
The SUP Course Around Meikyodo Cave
Although everyone else had tried SUP before, this was my first time. Thankfully, Yuki helped me to get the hang of it by spending some time paddling around the shallower waters of Meikyodo Cave, before heading out around the bay to the other side of the beach.
After the first trial run, we headed out around the cave. The cave itself is a little narrow and rocky, so it probably would have been too much for me to go through straight away. Further out from shore, the wind was a little windier and the sea was a little stronger. If you feel wobbly (or lazy) at any time, no worries, just sit down on the board. I almost fell over a few times but somehow managed to avoid it, despite some rather interesting wobbling!
When we reached the other side of the beach, we stopped for a quick breather, before heading back.
The second time on the board felt a lot easier and required much less concentration. I stopped to appreciate the turquoise glow of the clear water against the beaming sun and the leafy hills. The views were breathtaking.
This time around, we went through Wakasa's famous cave!
After the SUP Course…Onsen and Sunset!
After the SUP, it was time to unwind at this onsen before going back to the beach to catch one of Japan's Top 100 sunsets! Is there a better way to end the day?
Bookings/Enquiries
More information about the SUP Course is available here. Alternatively visit the website for Wakasa Takahama Tourist Association or contact them directly on info@wakasa-takahama.jp or +81(0)-770-72-0774. They can also help with accommodation enquiries, or any other questions related to the area!
Access
I've done another post all about how to get to Wakasa Takahama from Kyoto, Osaka, Kanazawa and Tokyo, for full info, please check that out! If you are a foreign visitor to Japan, it may be worth getting a JR Pass (Japan Rail Pass) for your Japanese expedition! If you are planning to travel from Tokyo, then a JR Pass would cover your cost to and from Wakasa Takahama, and then some!
Access from Kyoto
By Train
From Kyoto Station, take the JR Maizuru Line to Higashi-Maizuru, then the JR Obama Line to Wakasa Takahama. Duration: approx. 2 hours, cost: approx. 4,400 yen.
By Car
Rental cars are available from Kyoto Station from around 6,000 yen per day.
Take the Kyoto-jukan Expressway to Ayabe Junction and then the Maizuru-wakasa Expressway to Wakasa Takahama. Duration: approx. 2 hours, distance: approx. 110 km. Please note that this route has tolls!
Access from Kanazawa
By Train
From Kanazawa Station, take the JR Thunderbird or Shirasagi Limited Express train to Tsuruga, then the JR Obama Line to Wakasa Takahama. Duration: approx. 3 hours, cost: approx. 6,200 yen.
By Car
Rental cars are available in Kanazawa from around 6,000 yen per day.
Take the Hokuriku Expressway to Tsuruga Junction and then the Maizuru-wakasa Expressway to Wakasa Takahama. Duration: approx. 2h 30 minutes, distance: approx. 200 km. Please note that this route has tolls!
Access from Tokyo
By Train
From Tokyo Station, take the Shinkansen (bullet train) to Maibara then the Limited Express Shirasagi to Tsuruga and finally the Obama Line to Wakasa Takahama. Duration: approx. 5 hours, cost: approx. 15,000 yen.
By Car
Rental cars
are available across
Tokyo,
but the best deals for foreign visitors are usually found at either
Haneda
or
Narita
Airport
. Prices start at around 5,000 yen per day for the smallest class. Take the
Chou Expressway
to
Nagoya
Junction,
then the
Tomei Expressway
to
Maibara Junction,
then the
Hokuriku
Expressway
to
Tsuruga
Junction
and then the
Maizuru-wakasa Expressway
to
Wakasa Takahama.
Duration: approx. 7 hour, distance: approx. 600 km. Please note that most routes from Tokyo will have tolls!
| | |
| --- | --- |
| Name | |
| Category | |
| Address | |
| Access | [map][/map] |
| Opening Hours | |
| Price Range | |
| Payment options | |