Sponsored by Fukushima City Tourism and Convention Association
Whether you're a fair-weather wanderer or a steadfast hiker, there are numerous trails available for the outdoor enthusiast to explore all-year-round at Mount Azuma (吾妻山), in Fukushima, Tohoku region. 
The most popular hiking routes of Mount Azuma are around Azuma-kofuji (吾妻小富士), a volcanic crater with an elevation of 1700m. Situated in the east of the Azuma Mountain Range, Azuma-kofuji is next to the Jododaira Marshlands – an area which I was able to explore on a cloudy May day.
Reaching the Jododaira Marshlands is an experience in itself. The winding roads of the famous sightseeing road of the Bandai-Azuma Skyline offers stunning panoramic views of fluffy clouds and towering trees. More importantly though, the perfect starting point for hiking many of the trails around Mount Azuma is Jododaira Resthouse. Here you can park all day for 500 yen and make use of the food and restroom facilities.
What are the Hiking Trails at Jododaira Like?
Depending upon how much time you have, and how determined you are, there are a few different hiking routes around Mount Azuma to choose from:
This post covers my experience of Hike No.2 – the hike towards Mount Issaikyo via Lake Kamanuma. I also did Walk No.4 so please feel free to check that out too!
There are also other trails around Mount Azuma but they have different starting points.

The Mount Issaikyo Trail
Starting at Jododaira Resthouse, the first 0.4km of the trail starts as narrow, but sturdy, wooden bridges spanning over the picturesque marshland.
Due to the openness of the marshland, I found this part of the course extremely windy! I travelled lightly from Tokyo to reach Fukushima, and I had optimistically yet foolishly, underestimated just how cold it would be! The day had started with a blazing 25°C sun but had slowly progressed into rain with gailforce winds! Nevertheless, I decided to explore every angle of the breathtaking marshlands.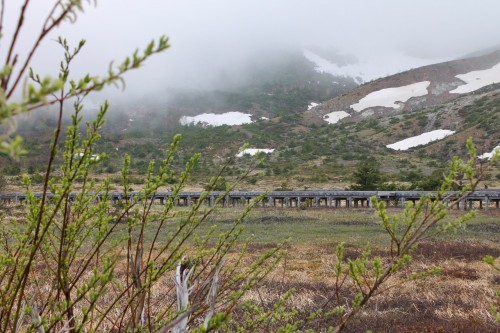 When I progressed closer to the base of Mount Horai, I was shocked by the sudden appearance of snow!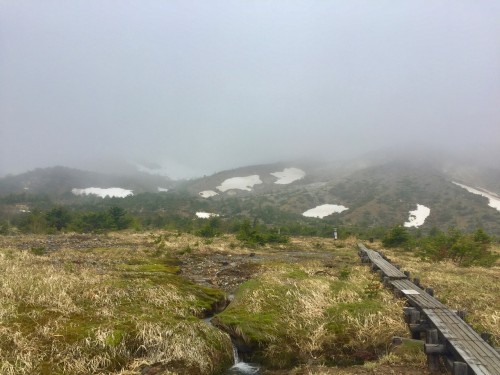 As I meekly shuffled along the wooden planks, the enormity of the mountain loomed in front of me. Hikers returning to the resthouse greeted me as the passed, clinging firmly to their walking sticks. I certainly didn't have any walking sticks… What was around the corner? I felt worried but tried to override my doubt with optimism. Perhaps they were just over cautious? On paper, the route appeared to be relatively easy. Either way, I dismissed my worries and urged myself forward, thanking the sun for making an appearance.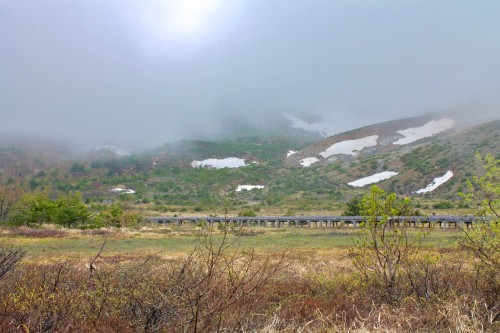 The guiding wooden pathways came to a halt as edged closer to Mount Horai. Instead the ground was replaced by muddy earth, scatterings of rocks and small tightly-packed trees. It had started to rain but luckily the trees were protecting me from the cold breeze that I had encountered earlier.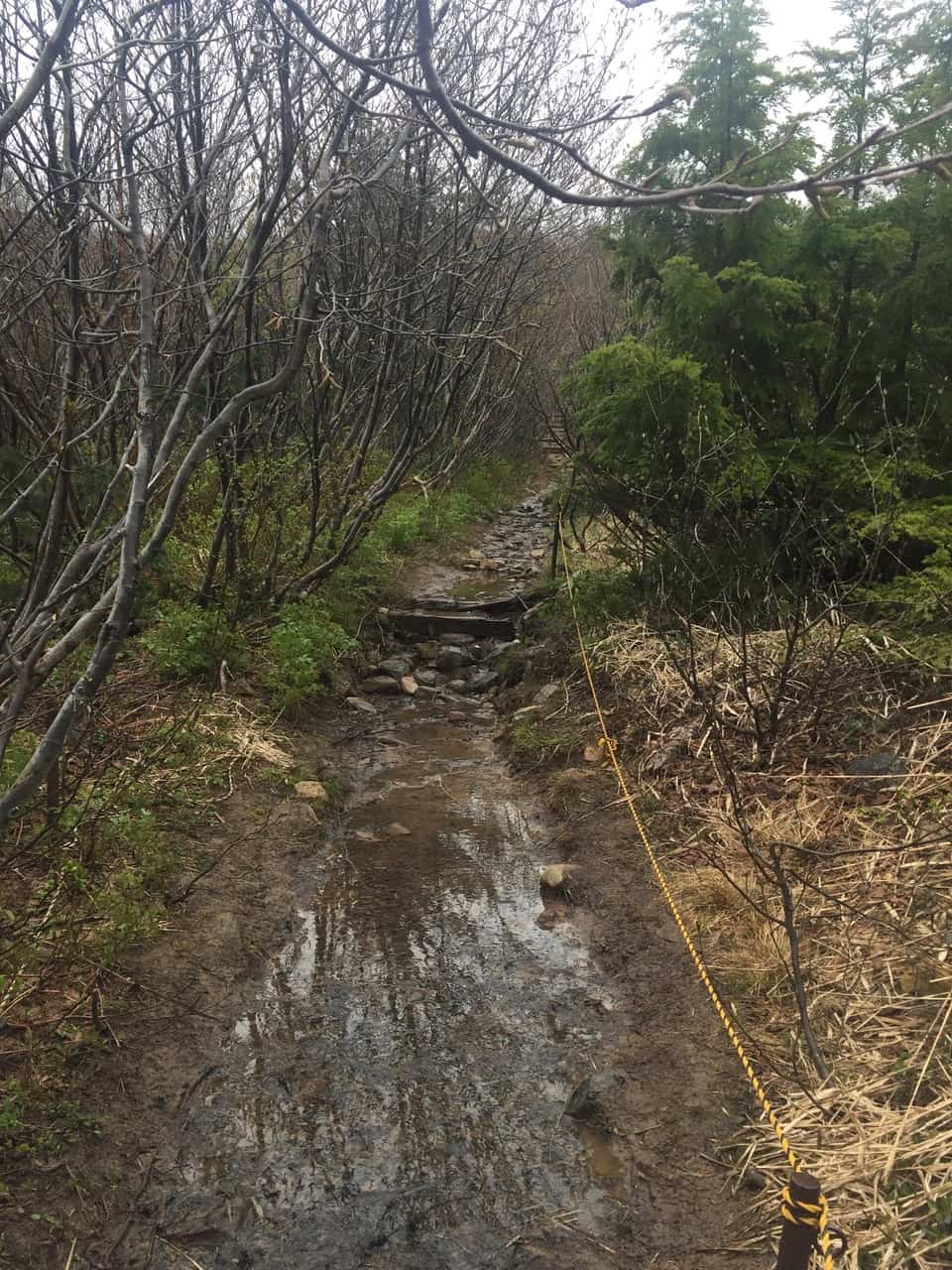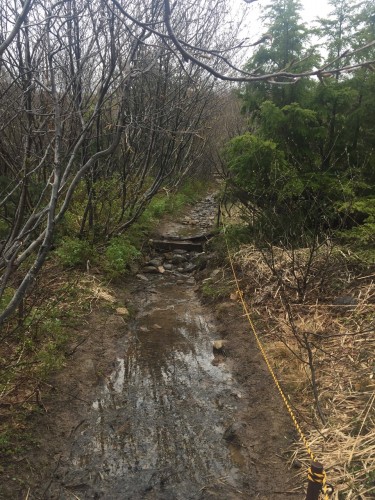 Following the trail was straightforward because the ground was well-trodden and didn't have any forks or open areas to cause confusion. The incline and intensity of the walk started to increase as I gained elevation.
As the trail winded up the side of the mountain, I looked below me and saw a sea of snow. How was there still so much here?
Pressing on through the drizzle it all seemed to be going quite well, until I saw this…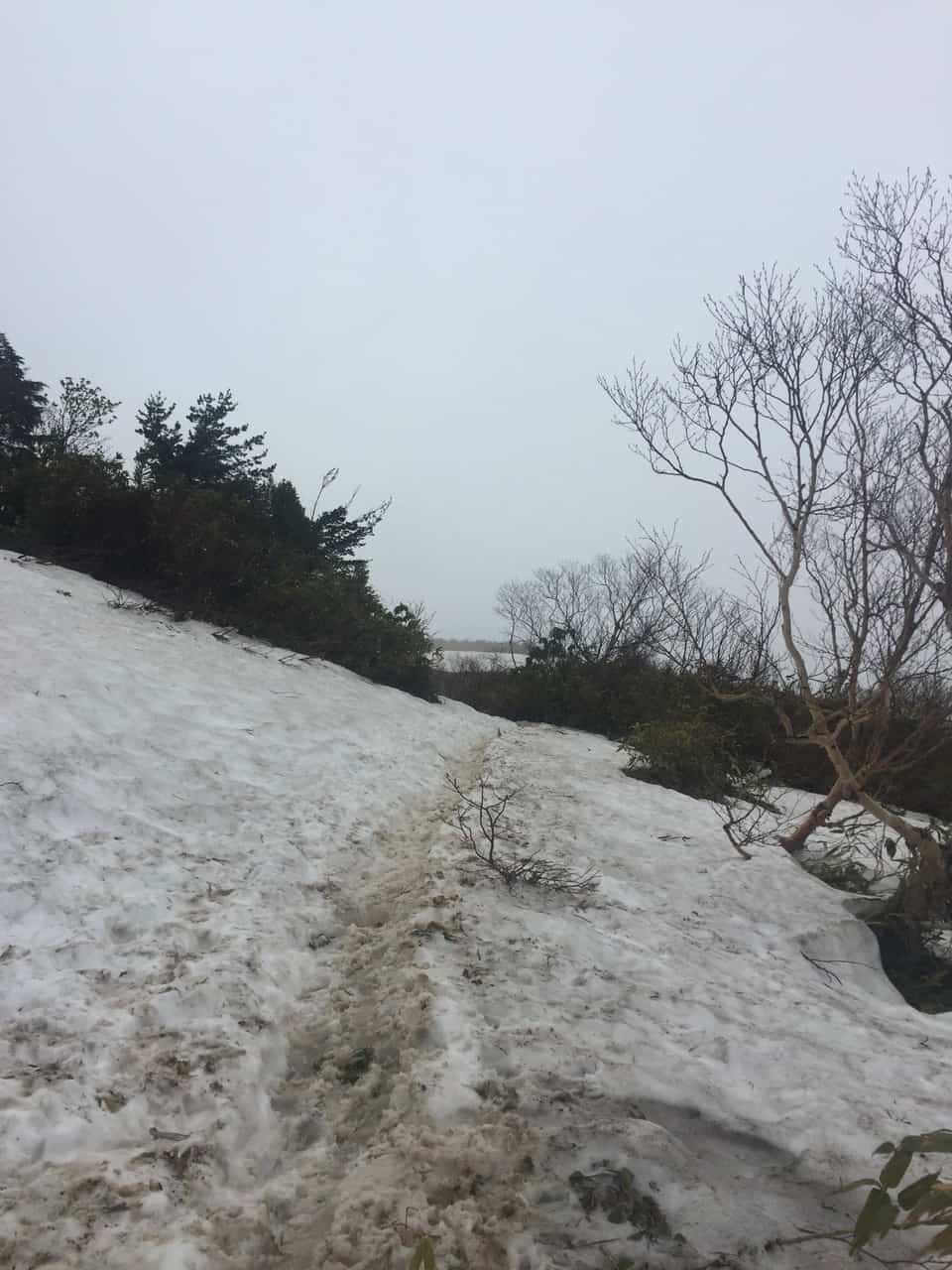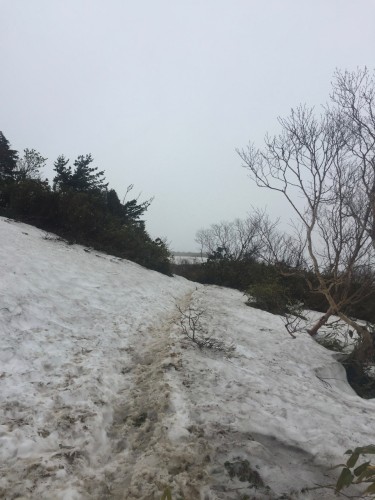 The snow-covered land was somewhat off-putting but I could see steps around the corner so I started climbing.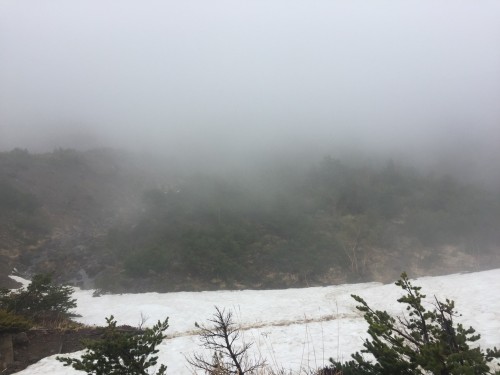 After a few slips and slides, I had manage to successfully scuffle my way through the snow – laughing at myself along the way. Finally I reached the end of the snow section and approached the wooden steps.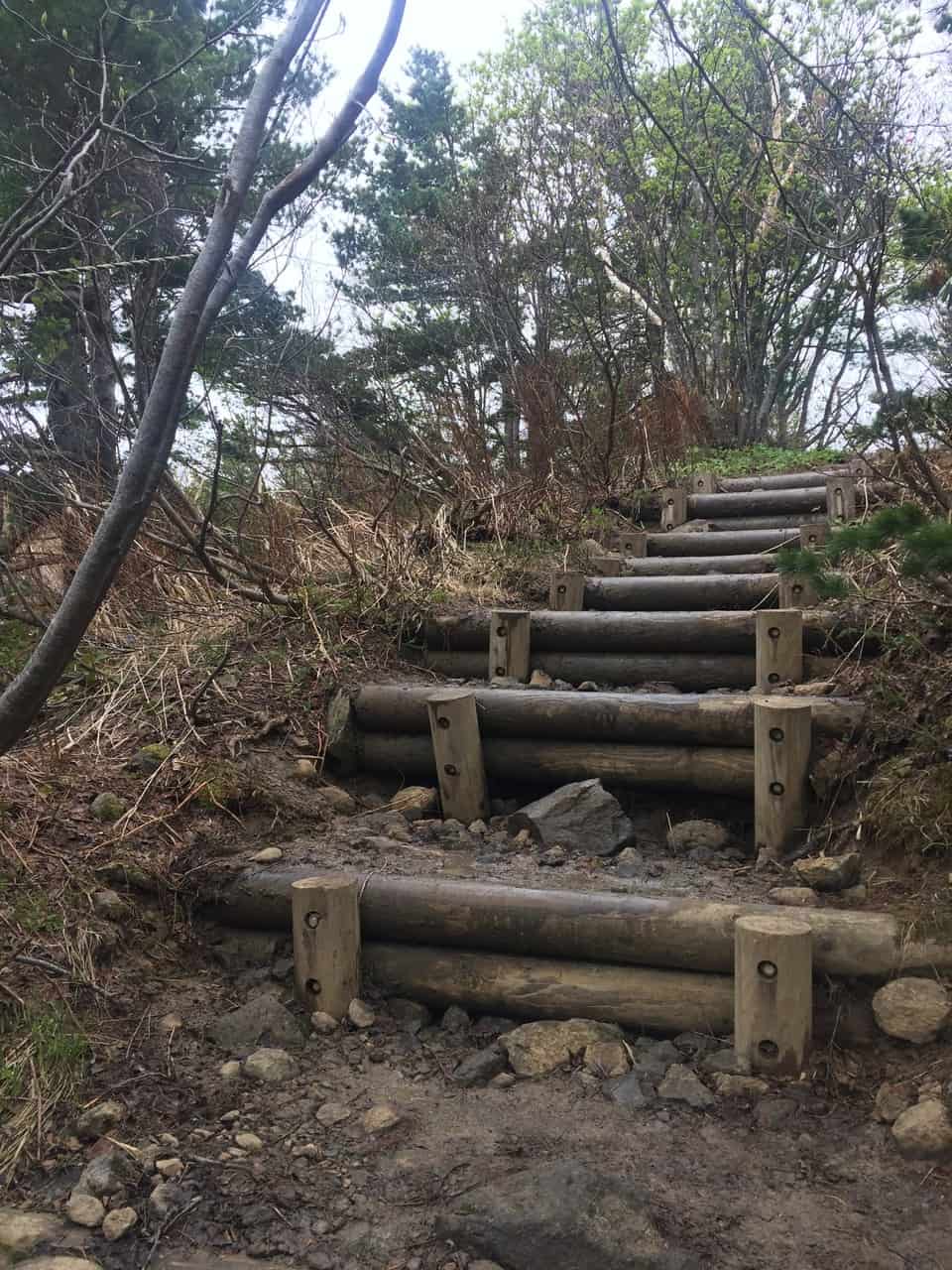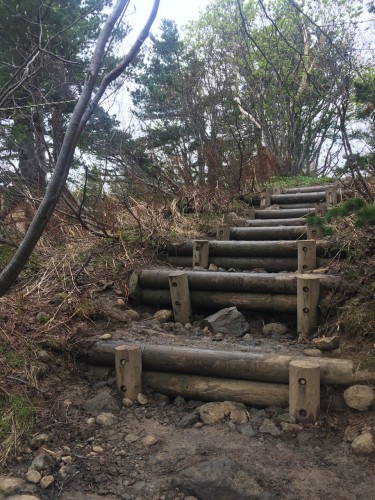 The trees re-emerged and I felt relieved that the snow was over. Unfortunately the relief was short-lived. Because around the corner was this…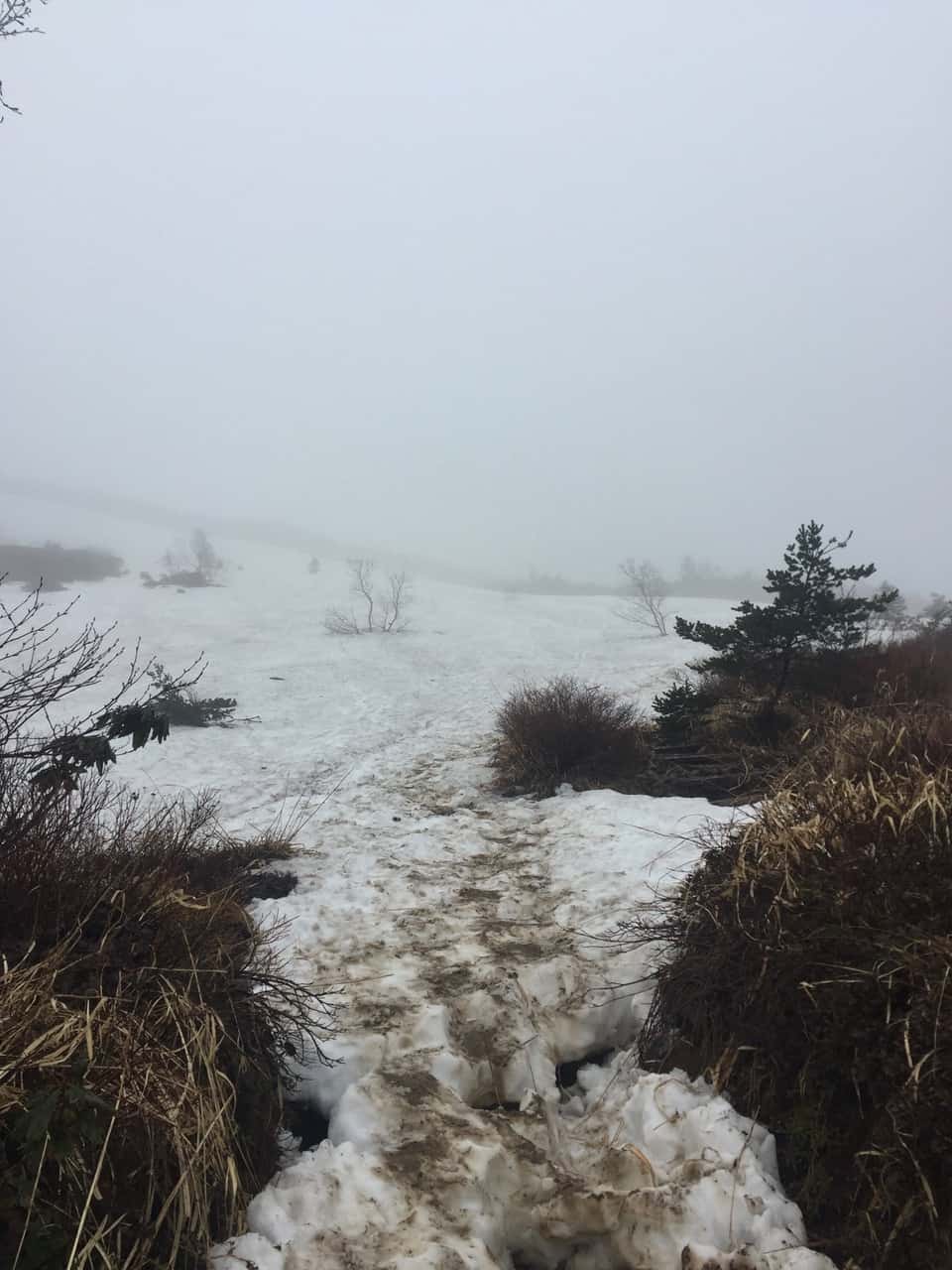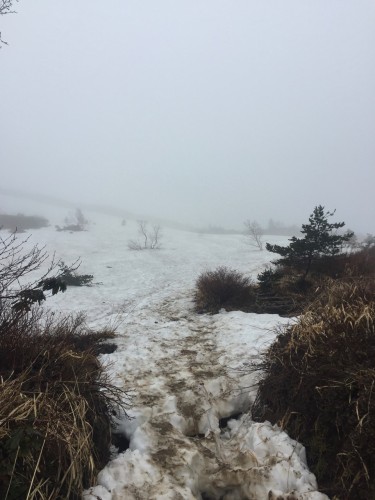 I then realised I was totally unequipped to climb this 'easy' mountain and it would be foolish to continue. I decided to head back, feeling defeated. I hadn't managed to get to Lake Kamanuma, but usually it is as beautiful as the picture below!
When the resthouse was in sight, I stopped in  my tracks and thought about my aborted mission. This is reality of nature. It's unpredictable and inspiring at the same time. And our intuitions exist for a reason!
I suddenly felt extremely grateful for my unexpected funny, but beautiful adventure!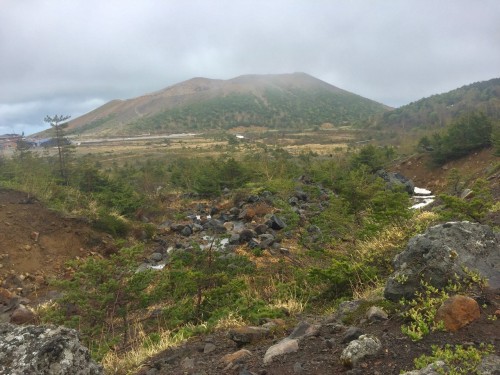 What to Bring
Safety recommendations and how to best enjoy hiking at Mount Azuma are available from their official website here. What you need to bring will vary based upon which route you decide to follow but my personal recommendations for a normal day hike are:
Warm, waterproof clothing – whatever the weather.
Waterproof hiking shoes
Bells – just in case!
Hiking sticks – if you're determined on being successful then these may be necessary.
A hiking bag to carry your phone/water/etc.
Access
By Bus: Fukushima to Jododaira
In 2017 the Kotsu bus runs: only on weekends and national holidays 3rd May to 30th September, every day from from 1st October to 5th November
The bus from JR Fukushima Station to Jododaira runs twice a day, takes around 1.5 hours and costs 1810 yen.
– Departure from Fukushima West Exit (Platform No.3): 09:50 and 12:50,
– Departure from Fukushima East Exist (Platform No.11): 10:00 and 13:00
The return bus from Jododaira to Fukushima Station runs twice a day, takes around 1.25 hours and costs 1330 yen. 
– Departures from Jododaira at 12:45 and 15:40.
By Train: Fukushima from Tokyo
To reach Fukushima from Tokyo, take the Shinkansen Yamabiko  from JR Tokyo Station. Departures are from platforms 20-22. Duration – approx. 90 minutes. Cost – unreserved seat 8450 yen one-way, reserved seat 8950 yen one-way.
By Car: Fukushima to Jododaira
From Fukushima central, follow Route 126 and then Route 70 eastbound. Duration: approx. 60 minutes, Distance approx. 30 km. You can park at Jododaira Rest House (浄土平レストハウス) for 500 yen.
| | |
| --- | --- |
| Name | Jododaira Resthouse |
| Category | Visitor Centre |
| Address | Tsuchiyu Onsenmachi, Jododaira Rest House, Fukushima 960-8053, Fukushima Prefecture |
| Access | [map]Tsuchiyu Onsenmachi, Jododaira Rest House, Fukushima 960-8053, Fukushima Prefecture[/map] |
| Opening Hours | 09:30-16:30, Early April to Mid-November |
| Price Range | 500 yen for parking |
| Payment options | Cash |