Takayama City: Higashiyama Walking Course
Takayama city is most well-known for its old town area, which boasts a good many well-preserved private houses, along with its morning markets, where friendly old ladies sell fruits, vegetables, hand-made pickles and handcraft products. But because of their popularity, they're often packed with tourists. For those who would like to stay away from the crowd, there are no lack of alternatives, not least because Takayama is surrounded by nature. Additionally, there's little need to venture very far. Looking at the upper right hand side of the Takayama town map, one can easily find a walking course named Higashiyama walking course. Better still, the trail itself is well marked with signboards in multiple languages pointing users to the right direction along the way. Thus, there's little need to worry about getting lost even if you've hardly any sense of directions. Grab your camera, fill your bottle with water, wear a good pair of sneakers, arm yourself with a town map, and you're ready to go.
The whole walking course is only 5.5 km long, a comfortable distance that can normally be finished within two hours, making it suitable for people of all fitness levels, solo travelers or families with children. Unlike regular walking or hiking trails, where there's usually no choice but to finish the whole trail once started, it's possible to make an early exit whenever you feel like you want to. The walking course takes the visitor through a good number of historical temples and shrines which were built or relocated by the Kanamori rulers, generations of feudal lords reigning the Hida region during the Sengoku period in Japan. In particular, Daioji temple, which collapsed due to a typhoon, was rebuilt by a skilled carpenter in 1807. There you'll also find the oldest belfry in the Hida region which was built in 1689. Don't forget to halt your steps to admire the marvels of craftsmanship.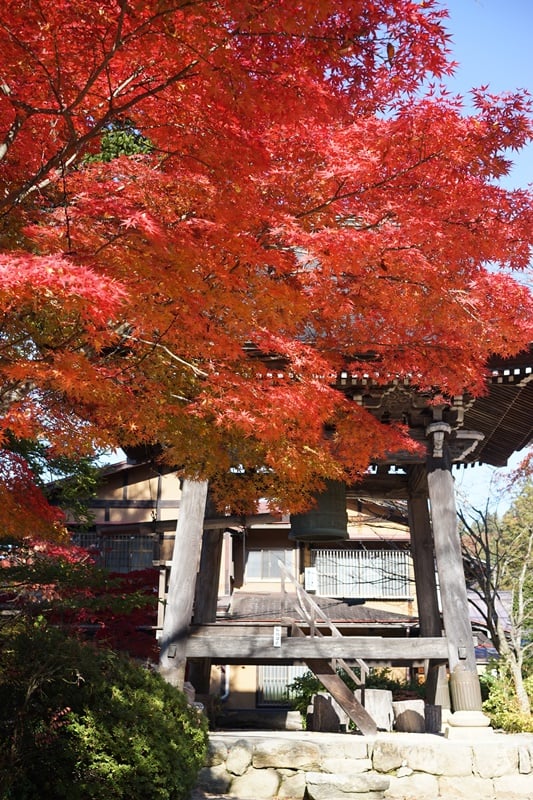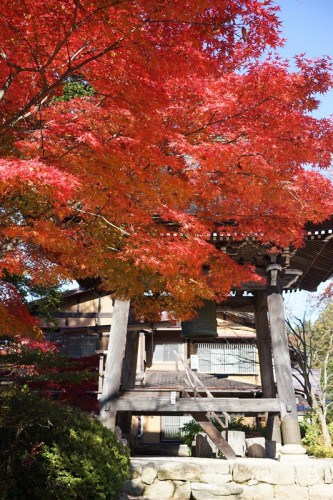 Belfry at Daioji Temple.
Springtime at Shiroyama Park
Another major spot along the trail would be of course, the Shiroyama Park, where the original Takayama castle was built. Now only the castle ruins remain. Around 1000 cherry blossom trees were planted at the park, making it a popular spot for hanami, or cherry blossoms viewing. If you're lucky enough, you might even run into a kamoshika, or Japanese serow which people sometimes mistake for bears given the thick layer of fur they have. Speaking of bears, when you're walking in the park, you'll notice clear warning signs along the walking course. There have indeed been sightings of bears in the park before but it's pretty rare. To play safe however, you're advised to bring along a bear bell, and make as much noise as you can while walking this course in Takayama.
Shiroyama Park in the autumn season.
Autumn Colors on the Higashiyama Walking Course
My favorite time of the year to hit the walking trail would be in late October and early November, during the season of autumn colors, when a variety of trees adorn red and golden clothes. They will also roll out a red carpet of fallen leaves to welcome all visitors to Takayama, the beauty of which will surely take anyone's breath away. The best spots to see the autumn colors along the walking trail are Shiroyama Park, or Tenshoji temple, which currently also doubles as a youth hostel. For the more experienced, if you don't mind the mind-numbing cold in Takayama, and the prospect of having the trail all to yourself beckons you, it's also possible to visit in winter. The best time to go is in the early morning when the ground becomes covered in fresh snow that has secretly gathered overnight. You'll then have the luxury of stepping on the soft carpet of snow of Takayama, leaving your footprints on your way.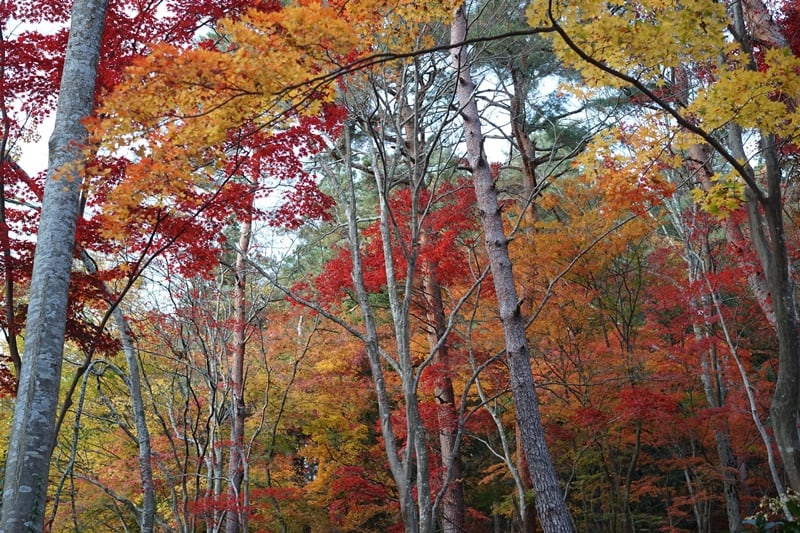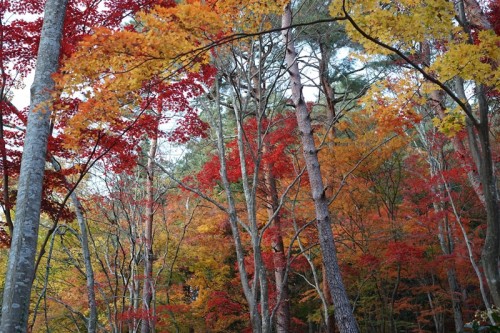 Trees adorning new clothes in red and golden colors in autumn.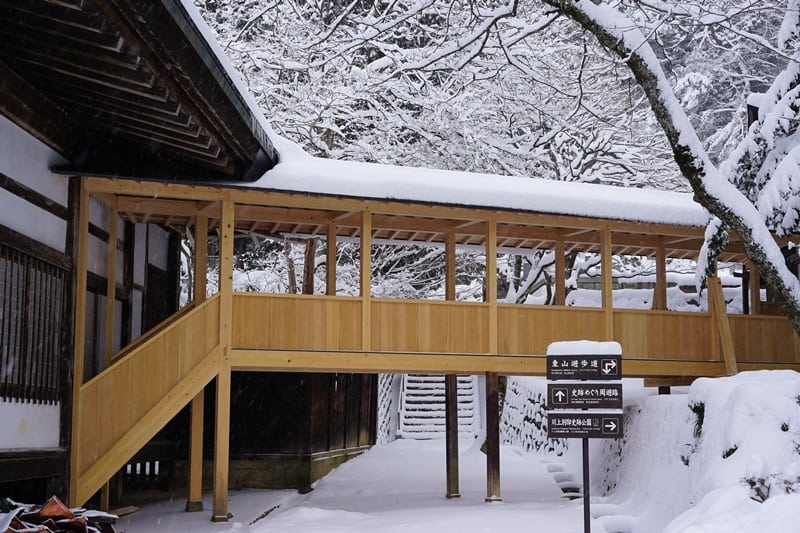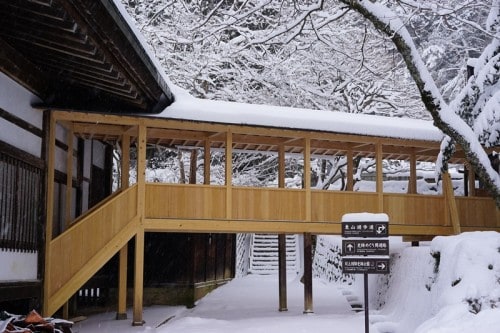 Snow-covered walking trail in winter.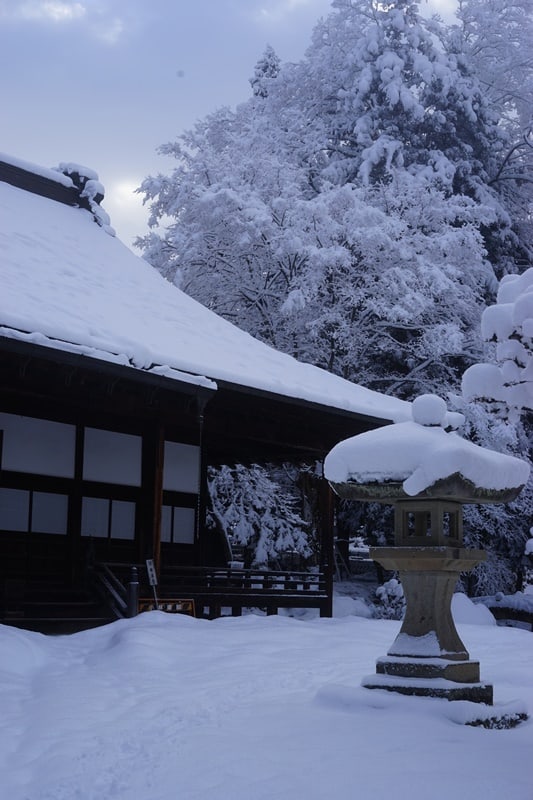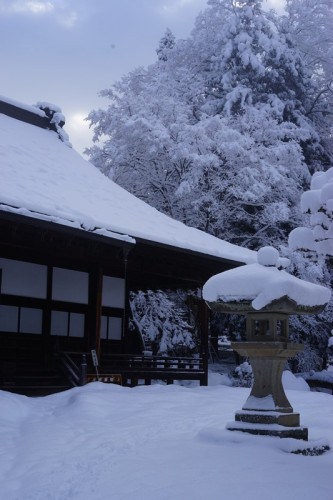 Make temple visits in the quiet winter.
Now that the cherry blossoms season has ended, the trees once fast asleep during winter in Takayama are now awake, with new green leaves sprouting from their bald branches. Join me on the Higashiyama walking course to see the new greens!
To see the location and the details, click here.