The international terminal of Fukuoka Airport offers routes to several countries, and is the process of expanding its offerings.
The first international flights offered from Fukuoka were to Busan in South Korea, in 1965. Since then, the routes offered have increased, connecting Fukuoka to other countries and providing a convenient link to Kyushu and Japan.
As of April 2018, Fukuoka Airport has routes to cities in China, Korea, Thailand, the Philippines, Vietnam, Taiwan, Hong Kong and Singapore, as well as Guam and Hawaii. During summer, a new service to Helsinki will begin, once again connecting Fukuoka to Europe. Fukuoka Airport overall is expected to be developed in the coming years, so it is very likely more international routes will be offered.

Fukuoka is surprisingly close to places like Seoul and Shanghai, giving you a chance to easily visit Japan if you are in these cities or areas nearby. Thanks to these routes, more people are visiting Fukuoka and discovering what it has to offer, along with the rest of Kyushu. If you are spending a couple of weeks in Korea, why not take a weekend trip to Fukuoka? You can explore the city and prefecture, or go a little further afield and discover some of Kyushu's stunning nature and relax in the hot springs.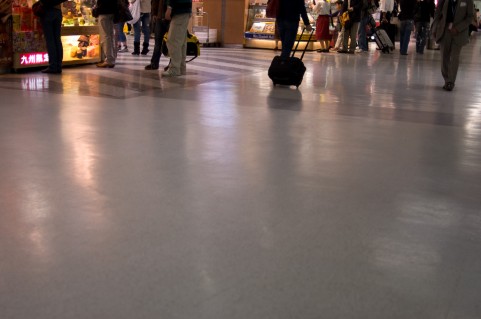 Reaching the international terminal is quick and easy. The domestic terminals are directly connected to the underground, and from there the shuttle buses connect to the international terminal. Despite being a relatively small terminal compared to larger airports like Narita, Fukuoka's international terminal has plenty of facilities and is very easy to find your way around.
Transport from the airport is simple and very convenient. Free shuttle buses run regularly to the domestic terminals, where you can take the underground. You can also take the bus directly from the international terminal to Fukuoka City, or take one of the highway buses to one of several destinations in Kyushu. If you are thinking of taking a short visit to Kyushu to try some of the famous hot springs in Oita, you can get there directly by bus.
Kyushu is perhaps not the first choice for anyone thinking of a trip to Japan, and it can be difficult to fit in a trip there if you spend your holiday in areas like Tokyo or Kyoto. Why not start off your trip to Japan from Fukuoka? With the international lines and connections from the airport to the rest of Kyushu, it is a great place to start!
| | |
| --- | --- |
| Name | Fukuoka Airport International Terminal |
| Category | Airport |
| Address | 778-1 Shimousui, Hakata Ward, Fukuoka, Fukuoka Prefecture 812-0003 |
| Access | [map]778-1 Shimousui, Hakata Ward, Fukuoka, Fukuoka Prefecture 812-0003[/map] |
| Opening Hours | - |
| Price Range | - |
| Payment options | |