Sponsored by the Minamisatsuma Tourism Board.
A breathtaking view of Akime's steep coastline, soaring heights, an incredible sensation of freedom…this is what awaits you on a tandem paraglider flight from Mt. Kamegaoka in Minamisatsuma. Such a unique way to discover the beautiful natural landscapes of the south west tip of Kyushu Island!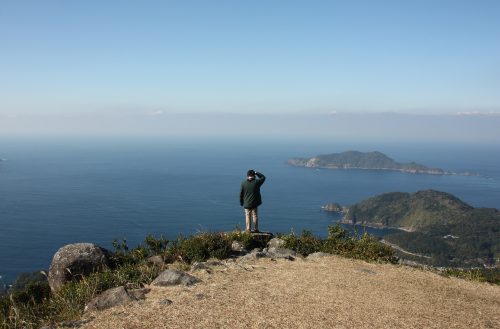 Getting ready for take-off at Mt Kamegaoka
Taking a trip to Minamisatsuma is a nice break from the fast paced city life to enjoy the best of what nature has to offer on Kyushu Island. In between mountains and sea, cycling and diving, the region and its gentle climate are best discovered one outdoor activity at a time. And today we take you to the top of Mt. Kamegaoka to try one of the most memorable of them all: paragliding!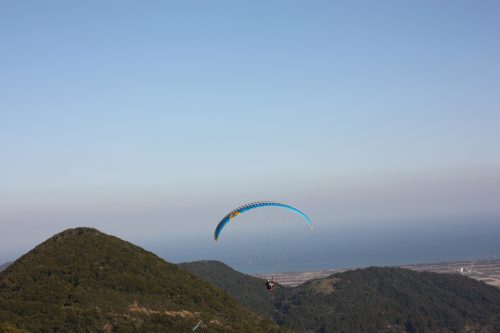 On a beautiful winter morning of January, I was on my way to meet my paragliding instructor on the heights of Minamisatsuma. With the sun shining in a cloudless sky, it seemed like the perfect day and weather conditions to fly. But one element was missing, as my instructor Akira Shimoozono explained: the wind, the most important element, being what everything relies on.
You will not find a big take-off area here, nor a paragliding school. The paragliding starting point on Mt. Kamegaoka might not be grand, but it is a peaceful place nonetheless. Getting out of the car, I could hear music floating in the air, accompanied by the wind sock rustling in the distance. Thermoses of coffee and tea with a few cups and biscuits were  waiting for us while Akira carefully prepared the gear.  In this peaceful and friendly setting, all my worries about flying quickly vanished.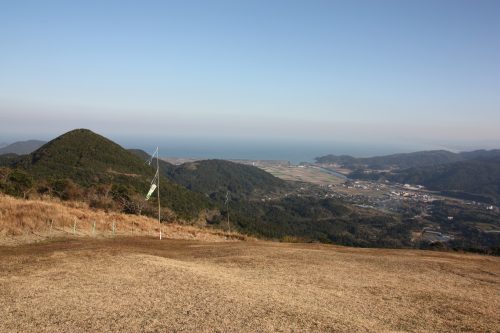 After briefly introducing ourselves, it was time to get down to business. Once my suit and helmet were on, my instructor attached me to a harness hung from the eaves, the same position I would be in during the flight.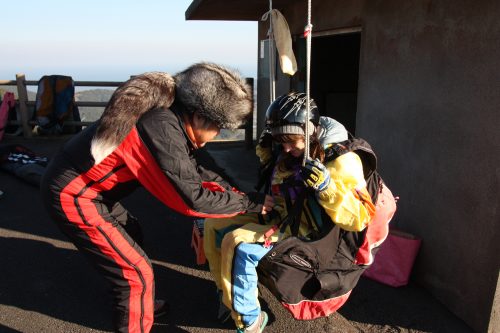 There are only a couple of instructions (sit as far back in the harness as possible, run for the take-off, lean when making turns), but each of them is repeated to make sure everything is clear before taking the big leap. On that note, please remember that Akira only speaks a little bit of English and that it might be best for you to come with someone who can help you translate if you don't speak Japanese.
Minamisatsuma from a bird's eye view
One last step is left before taking off: preparing the wing. Once it has carefully been laid down on the ground, the wires connected to it, called hangers, have to be untangled and straightened.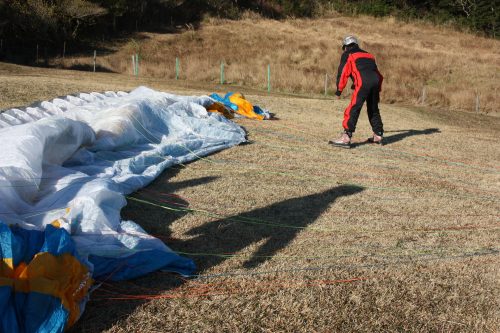 Once the gear is ready, the last thing to do is to create the tandem, connecting your harness to the instructor's and to the wing. While my instructor was inflating the wing, quietly whispering to the wind, I could start to feel the sensation of being carried by the wind.
Suddenly, he gave me the signal that conditions were right and we are good to start running! Everything went quite fast from there and a few seconds later our feet are no longer touching the ground.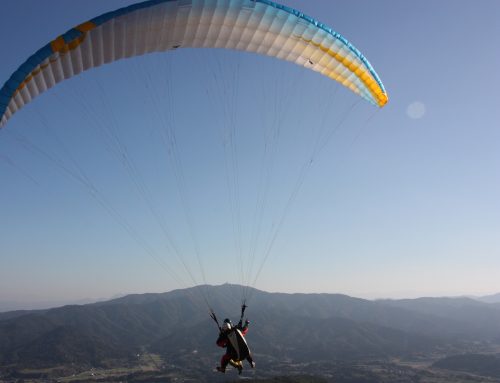 Seated at the back of my harness, with my eyes wide open and grinning from ear to ear, I enjoyed the most breathtaking point of view of the bay below us. The forest covered hills, the green fields, and the immaculate sky and the sea in the distance filled me with awe.
If you are expecting a thrill ride, you might be disappointed; the sensation is actually rather smooth, making the experience ideal to relax and take in the panoramic view. As we go higher and higher, only the sound of the wind carrying the wing can be heard. Seeing our tiny shadow cast on the ground below, you cannot help but feel miniscule compared to the immensity of nature.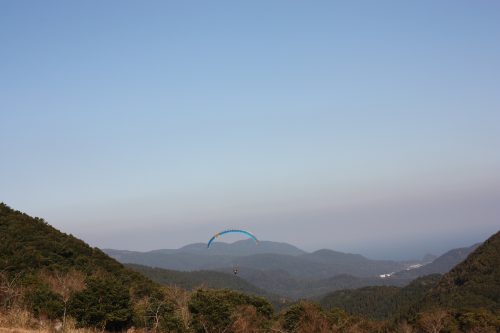 If you wish to spice up your flight a little, feel free to ask! Your instructor might give you the steering commands or start taking slightly more speedy turns. Whatever you want from this paraglider flight, make sure to seize the moment!
Once back on solid ground and with the wing all packed up, we went back to Mt. Kamegaoka to put away the gear and share a cup of tea. And as it is common practice in Japan, you will not be leaving from this experience without a small souvenir, or omiyage. As it turns out, Akira isn't only a paraglider instructor but also he also creates jewelry from pieces of polished glass he collects on the local beaches! A little something that will allow me to remember this experience forever.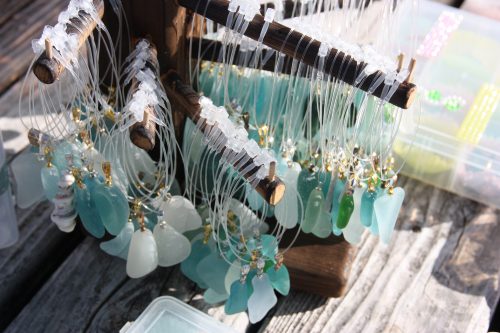 Even if you haven't the nerves for taking a paraglider flight, I would still recommend driving all the way up to Mt. Kamegaoka to enjoy the spectacular view, keeping your feet on the ground!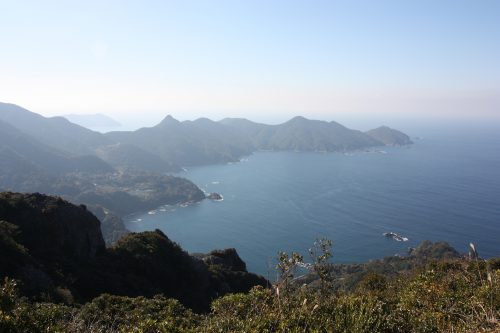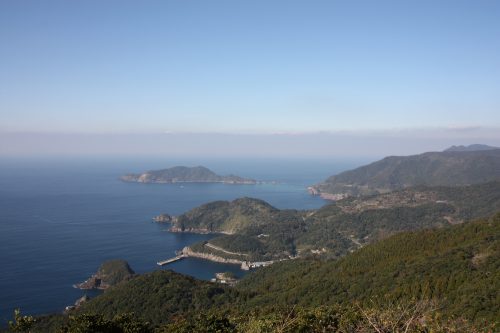 Practical information
If you wish to book a paraglider experience like this one, please contact Minamisatsuma's Tourism Office directly at the following email address: kanko-minamisatsuma@iaa.itkeeper.ne.jp (in English). Write down in your message your preferred date and time, as well as the number of participants and contact details. If you feel like discovering other outdoor activities in the area, check out Minamisatsuma's official website.
Located only an hour by car or by bus from Kagoshima, Minamisatsuma can be more easily reached than you might imagine. A flight from Tokyo to Kagoshima only takes about 2 hours, and a Shinkansen ride from Fukuoka 50 minutes. Please note however that going around the area is more easily done if you rent a car (which can be done at Kagoshima airport or train station, for example). Check out the following website for more information.
[cft format=0]