Sponsored by Saga Prefectural Tourism Federation

Karatsu is a city in Saga prefecture, facing the ​​Genkai sea. The city is known for Karatsu castle, Karatsu ceramics, pine forests and the famous Nanatsugama caves, sculpted by the waves. In this article, I would like to talk about Mount Kagami where you can admire the beautiful view of the Karatsu bay. At the peak, there is even a nice shrine to visit.
Kagamiyama Park in Karatsu
Mount Kagami in Karatsu rises 284 meters above sea level. It is known as a place to observe spectacular views of Karatsu city, as well as the famous Niji-no-Matsubara beach at Karatsu Bay. On a clear day, you can even see Iki island in Nagasaki Prefecture! To reach the summit, just follow the path for about 5 km. The park at the top is beautiful and features a wide pond. In May, the azaleas must be in full bloom, so it would be a beautiful time to visit. Different trails lead to the park's various places of interest.
Kagamiyama Shrine
At the top, there is a pretty shrine with beautiful red torii gates, and beautiful statues dedicated to Inari.
The Kagamiyama Observatory
Only a 5-minute walk from the shrine, you should definitely go to the observatory. From here, you can see the whole of Karatsu city – Karatsu castle and all the islands in the bay and the famous landscape of Niji no Matsubara beach, where Jacques Mayol often visited. There are also beautiful 360-year-old pine forest along Niji no Matsubara.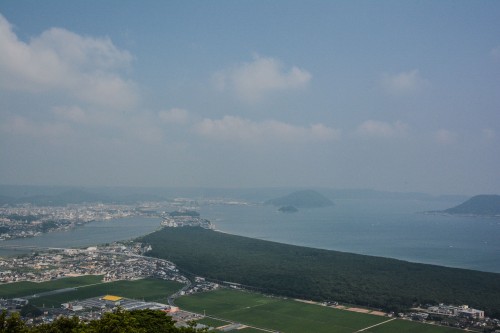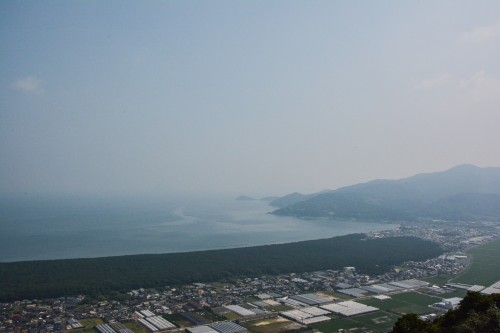 How to Get There
By car: the easiest way. From Karatsu station, it takes about 20 minutes (9.0km). At the top, there is the parking lot for free.
By bus: Take the Showa bus bound for Hirota at the Karatsu Oteguchi Bus Center and get off at Kagamiyama Iriguchi stop. (¥310/17minutes)
24/7 Assistance available in English, French, German, Italian, Spanish, Portuguese,Russian,Thai, Korean, Chinese (Mandarin & Cantonese), Vietnamese and Indonesian!!