Prayer Rooms in Japan
Japan is a multicultural country which does not only consist of shrines and temples, but also churches and mosques providing its citizens and tourists with a place to contemplate deeds and pray based on their own beliefs. Since Japan does not have a large Muslim population, prayer rooms are quite rare. Nonetheless, there are 80 mosques and more than 50 prayer rooms located throughout Japan that are available for worshippers.  Even in the ancent Japanese of Kyoto you will find a mosque which provides prayer room for citizens and tourists in the very heart of the city.
Kyoto's Mosques, Prayer Rooms, and Muslim Friendly Shops
Kyoto mosque, located in the Kawaramachi area, is easy to reach by getting bus number 205 from Kyoto Station or Shijo Kawaramachi and get off in Kojinguchi (about 30 minutes). In Kyoto mosque you will also find a Halal shop that provides a lot of foods and beverages, ingredients, and much more which is all halal.
Procedures for Japan's Prayer Rooms
One may also find many humble prayer rooms in Kyoto, such as the one in the Kyoto Tourist Information Center, on the third floor under Kyoto tower. There are some procedures to consider when you want to make use this prayer room:
Firstly, when you arrive at the information center the staff will kindly help you fill out your personal data and give you a card to use the prayer room.  Inside the prayer room you will find a comfortable and cozy area which is very private and enjoyable.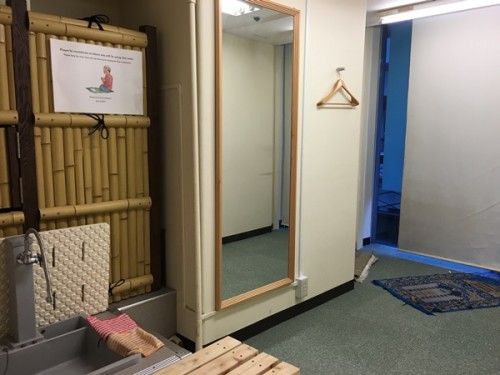 After finishing your prayers, you hand back the card back to the staff. If you have a resident card or are living in Japan more than 6 months, the staff will make a member card for you – so you don't need to fill out the personal data every time you visit prayer room.  You just need to show the member card and they will guide you to the prayer room.
This prayer room, as far as I know, is the only prayer room in Kyoto which is very easy to find. It is very comfortable, with a unique interior design identifiable with Japanese style: ergonomic, simple and very chique!
Prayer Rooms: Cleanliness and Restrictions
Moreover, the staff clean the prayer room everyday so it is kept very clean and clear. To ensure everyone has a rightful experience there are some restriction inside the prayer room, such as no drinking or eating, talking loud, sleeping, and playing with your mobile phone.
After you have entered the prayer room, a staff member will hang an "occupied" sign on the door to ensure you will be disturbed.
How to Find Prayer Rooms in Japan
Overall, Kyoto is a Muslim-friendly city with complete facilities provided especially for citizens and tourists who follow Islam. There is information for finding prayer rooms in Japan on special websites, such as Masjid, HalalMedia and HalalinJapan. Some of the prayer rooms and mosques you will find here include:
Masjid's Official Name
Area
(Prefecture)
Address

Nagoya Masjid

Aichi

2-26-7 Honjin Dori, Nakamura-ku, Nagoya-shi,




453-0041

Masjid Hira




[Gyotoku Mosque]

Chiba

3-3-19 Gyotoku Ekimae, Ichikawa-shi,




272-0133

Niihama Masjid

Ehime

2-2-43 Ikku-cho, Niihama-shi,




792-0025

Fukuoka Masjid

Fukuoka

3-2-18 Hakozaki, Higashi-ku,, Fukuoka-shi,




812-0053

Matsuyama Musalla

Ehime

1-20 Dogo Imaichi, Matsuyama-shi,




790-0845

Fatiha Masjid




[Kakamigahara Mosque]

Gifu

4-18 Mi-i-cho, Kakamigahara-shi,




504-0941

Babul Islam Masjid




[Gifu Mosque]

Gifu

8 Higashi Machida, Furuichiba, Gifu-shi,




501-1121

Jame Masjid Muhammadiya Masoomiya




[Isesaki Mosque]

Gumma

37-4 Kita-machi, Isesaki-shi,




372-0056

Sapporo Masjid




[Sapporo Mosque]

Hokkaido

3-7-2 Nishi, Kita 14jo, Kita-ku, Sapporo-shi,




001-0014

Kobe Masjid




[Kobe Mosque]

Hyogo

2-25-14 Nakayamate Dori, Chuo-ku, Kobe-shi,




650-0004

Tsukuba Masjid




[Tsukuba Mosque]

Ibaraki

315-10 Kaname, Tsukuba-shi,




300-2662

Morioka Masjid

Iwate

 

Takamatsu Musalla

Kagawa

3-4 Yasaka-machi, Takamatsu-shi,




760-0049

Kyoto Masjid

Kyoto

92 Miyagaki-cho, Kamigyo-ku, Kyoto-shi,




602-0853

Sendai Masjid




[Sendai Mosque]

Miyagi

7-7-24 Hachiman, Aoba-ku, Sendai-shi,




980-0871

Madni Masjid




[Niigata Port Mosque]

Niigata

15-1 Tarodai, Kita-ku, Niigata-shi,




950-3101

Okayama Islamic Center




[Okayama Masjid]

Okayama

2-1-7 Tsushima Higashi, Kita-ku, Okayama-shi

Osaka Masjid

Osaka

4-103-1 Owada, Nishi Yodogawa-ku, Osaka-shi,




555-0041

Jamea Masjid Ghousia




[Yashio Mosque]

Saitama

649 Ukizuka, Yashio-shi,




340-0835

Fuji Masjid

Shizuoka

2561-29 Nakazato, Fuji-shi,




417-0826

Mohammadi Masjid




[Hamamatsu Masjid]

Shizuoka

161-2 Terawaki cho, Minami-ku, Hamamatsu-shi,




430-0841

Indonesia Musalla

Tokyo

3-6-6 Meguro, Meguro-ku,




153-0063

Kamata Masjid




[Kamata Mosque]

Tokyo

5-1-2 Kamata, Ota-ku,




144-0052

Masjid As-Salaam




[Ueno Okachimachi Mosque]

Tokyo

1F As-Salaam Bldg., 4-6-7 Taito, Taito-ku,




110-0016

Masjid Darul Arqam




[Asakusa Mosque]

Tokyo

1-9-12 Hihashi Asakusa, Taito-ku,




111-0025

Shibuya Mushalla

Tokyo

1107 Sagas Bldg., Dougenzaka, Shibuyaku




150-0043

Tokyo Jamii




[Tokyo Mosque]

Tokyo

1-19 Oyama-cho, Shibuya-ku,




151-0065
Source: www.masjid.jp
[cft format=0]