Sponsored by Murakami city
Among the things that are fundamentally associated with the Japanese archipelago, tea probably takes one of the top spots. More than a plant or a drink, it is a true art form and way of living. Murakami City has some of the most beautiful teahouses and will provide you with a full tea experience. From the moment your taste buds awaken you will find yourself fully relaxed in one of these kissatens, traditional teahouses nested in magnificent wooden buildings and covered in tatami.
Kokonoeen 九重園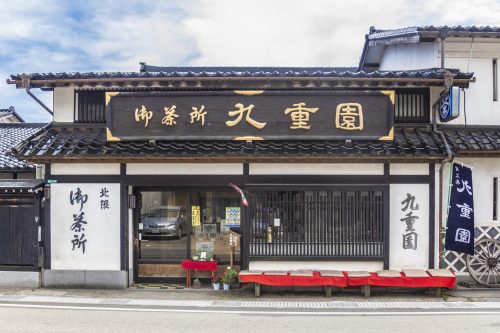 Along one of the main streets, only a couple of minutes by bus or walking from the train station, you will be able to recognize Kokonoeen teahouse immediately by its massive, traditional wooden sign.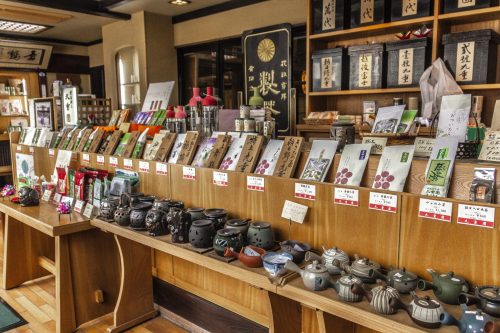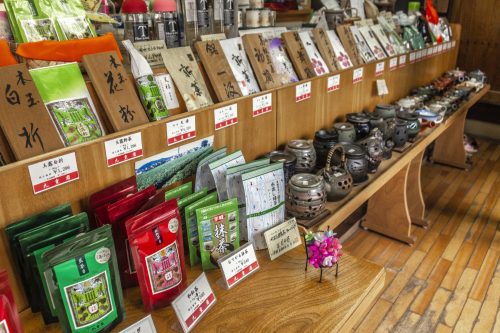 Inside, you'll receive a friendly and cheerful welcome along with helpful advice on what tea or teapot to choose to best match your tastes.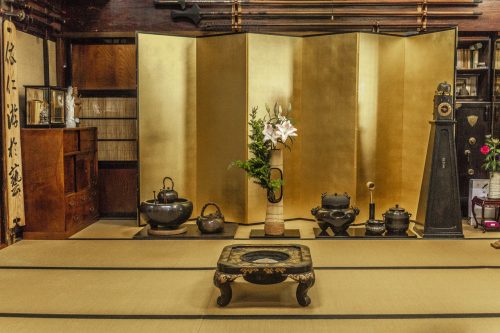 The transition from the shop to the teahouse happens through a very delicate room arrangement. There is a traditional hearth at the centre of the room and several teapots placed in front of a golden folding screen as a prolog to the tasting room.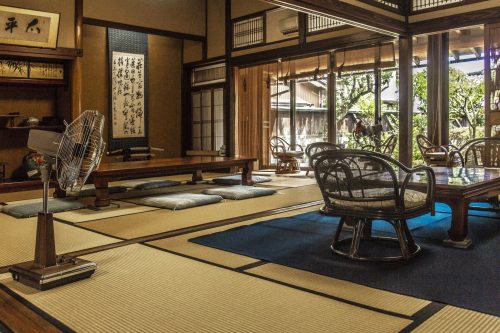 Even before your sense of taste is satisfied, your four other senses will be delighted. The wood and tatami add perfect scents, there is the right amount of humidity in the air, and delicate sounds come from the nearby garden. As for sight, there's no need to explain why this room has such beautiful harmony.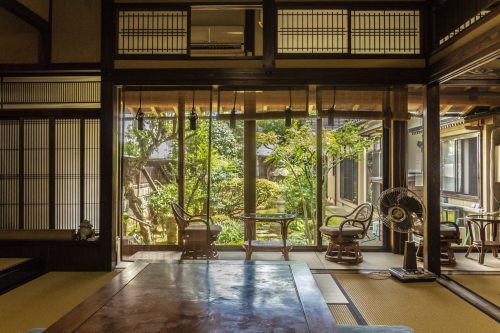 What would be a traditional teahouse without a garden to be admired that has been arranged with elegance to create a balanced and subtle combination of plants.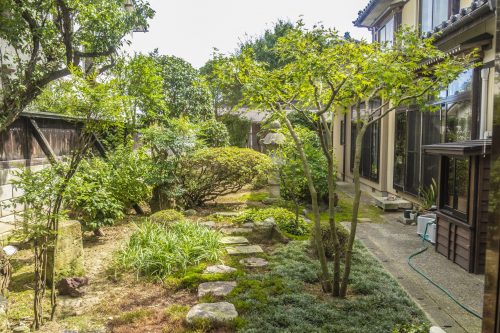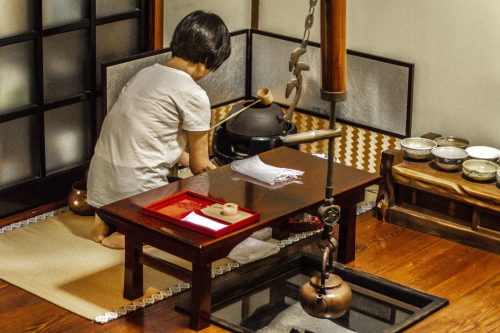 It is the owner of the teahouse herself who concocts the famous matcha tea, blending the powder with a small wooden whisk. It will take a few minutes for a bowl to be prepared, with the waitress patiently waiting by her side.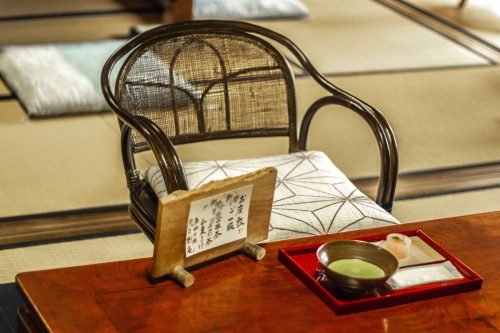 Take a seat, tea is served.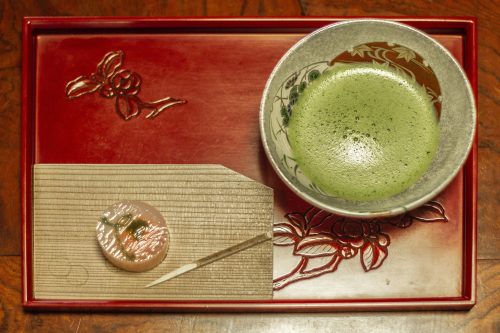 The combination of the matcha's bitterness with the tiny cake's sweetness always produces a little miracle when combined in your mouth. One can hardly go without the other. While admiring the handmade lacquer of the tray your tea set has been served on, you can fully unwind and take the time to savour each tiny bite of cake, cut with the small wooden spoon, along with sips of tea.
Fujimien 富士美園
Fujimien teahouse is another one of the most renowned establishments in Murakami City.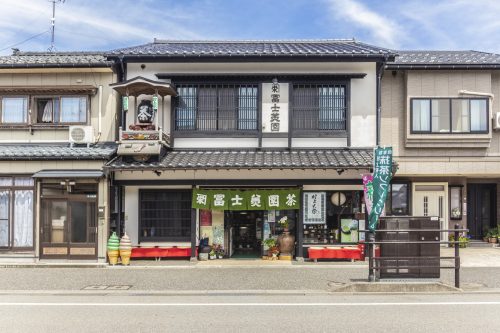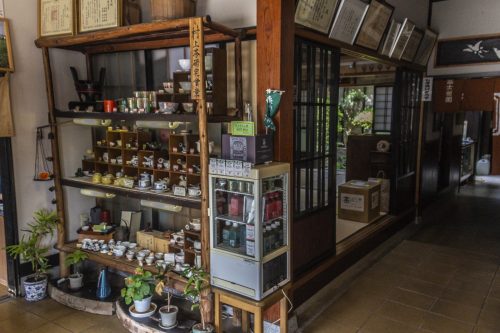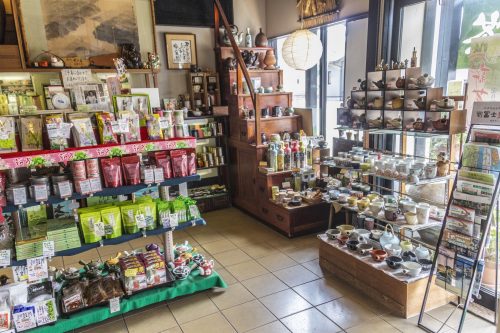 Their shop offers as many, if not more, tea products with a few extra accessories such as sleek aluminium and tin tea boxes.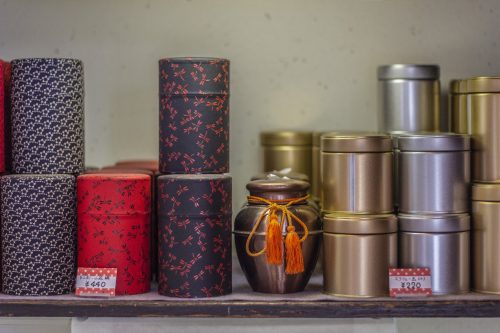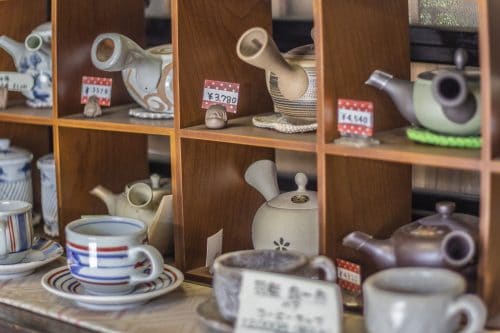 Dozens of teapots are lined up everywhere in the shop, from the most common ones for those operating on smaller budgets to more sophisticated tea pots for those looking to invest in elaborate dish ware.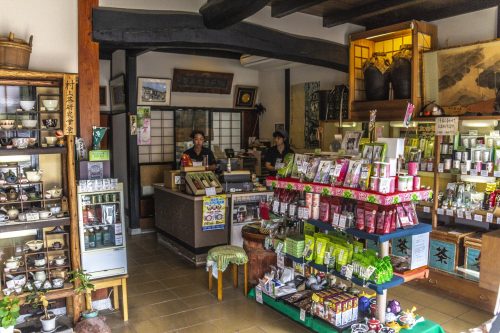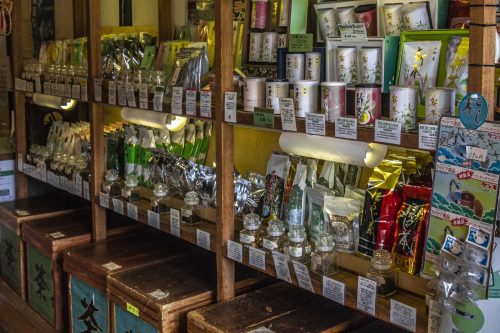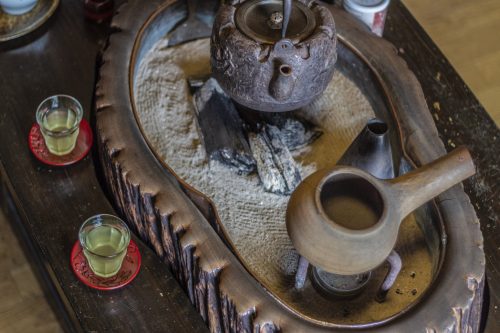 The shop also comes with an intimate room located in an annex where you can gather with your friends around the warm central hearth.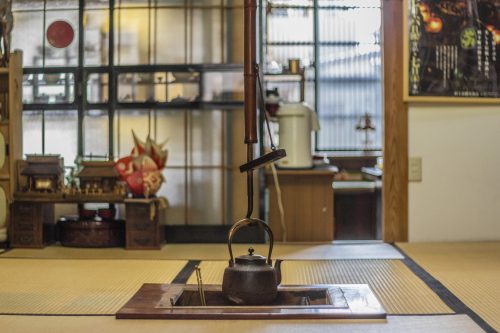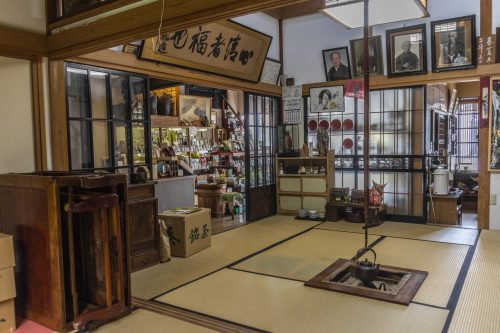 In the back shop you will find the main teahouse with a central hearth and a teapot hanging above it from the ceiling surrounded by portraits of the family members who were the former owners of the teahouse.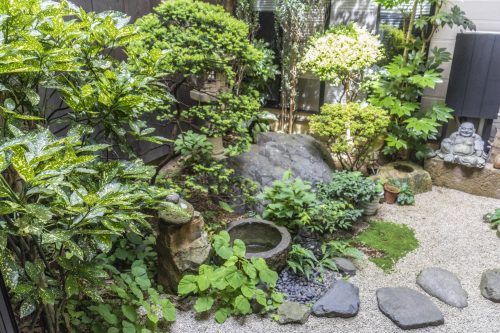 You will also find yet another garden to enjoy in peace during your tasting session.
Yamagamisomemonoten 山上染物店
Yamagamisomemonoten is the odd one out in Murakami City. As a matter of fact, it is a textile and clothes printing workshop where the ink is made from tea! It offers initiation workshops for just a few hundred yen in the back shop where the working space of the owner is installed.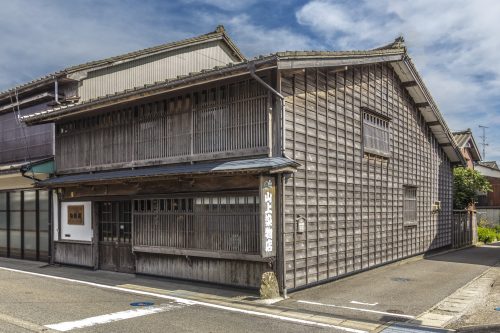 The architecture of the building is impressive, the complexity of its design contrasting with the monochrome storefront.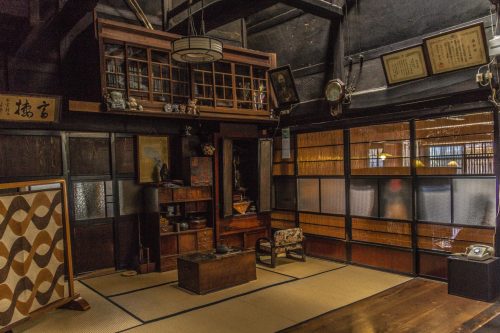 The atmosphere inside is very serene and it feels like the place is unshakeable as time and trends pass by. The work technique used here is unique and famous worldwide, inspiring many professionals and curious guests to come, generation after generation.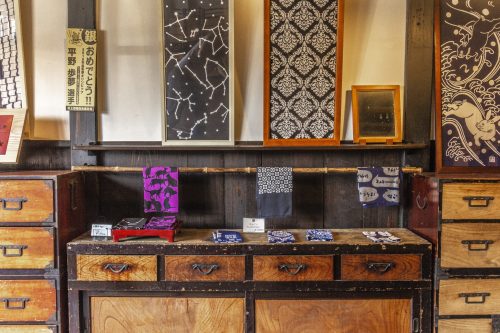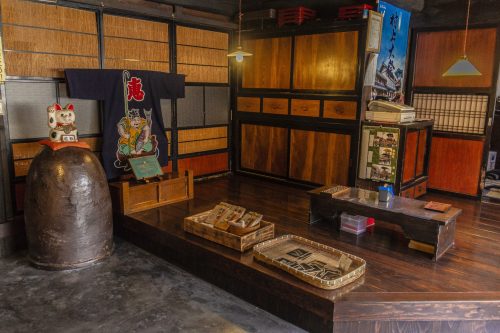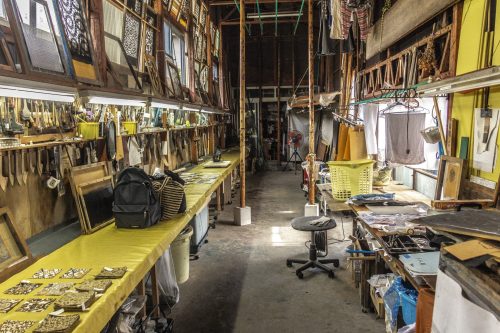 And here we are in the rather impressive workshop filled with hundreds of tools. But rest assured that each and every one of these tools has a specific function and that everything is in its proper place.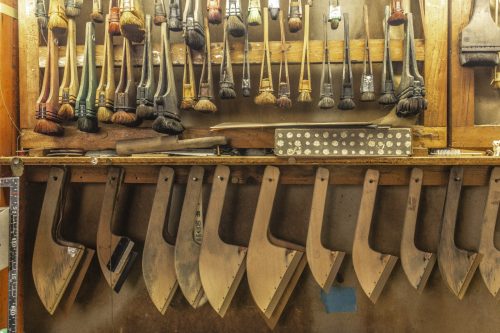 Brushes and trowels by the dozen, canvas, stencils, hammers…visiting a workshop is always a fun thing to do, trying to imagine the purpose of each of the tools on display.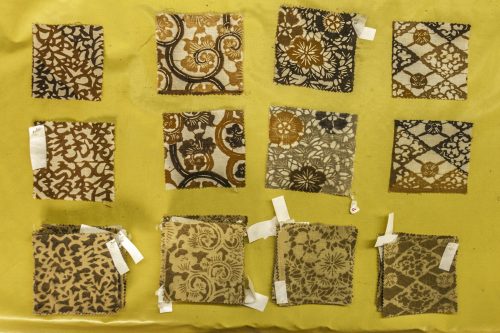 During your initiation, you will get to print a small piece of fabric made of rice—which you can pick among a variety of samples—with an ink that was made using several tea extracts as pigments.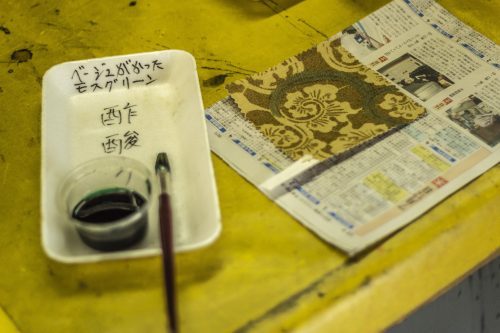 You will get to choose among five to six different hues. It is then up to you to find the right balance between elegance and originality in your composition.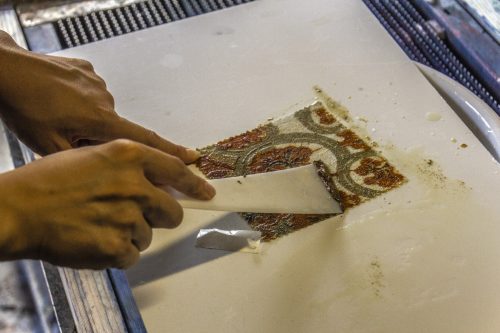 Just like you would do with a photo negative, you will have to soak your printed piece of fabric for a few minutes in warm water. Just enough time for the pieces of cooked rice protecting the non-painted parts of your fabric to peel themselves off, thus revealing the pattern underneath. This will give enough time for the craftsman to pour you a fresh drink.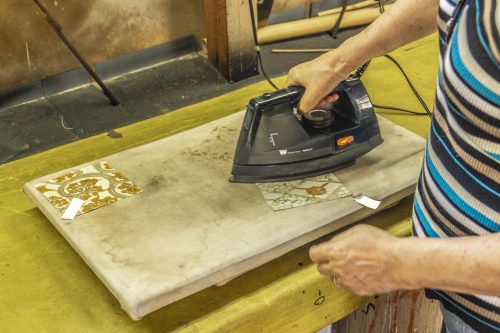 Once the fabric has decanted and been scraped, the final touch is to use an iron to flatten and dry it all. You can then leave the workshop with it after about 40 minutes.
Reaching Murakami
Murakami is located only three hours away from Tokyo by train (with one connection). Feel free to visit the Tourist Office website for more information. Other suggestions on what to do in Murakami can be found here.
Practical information
Kokonoeen 九重園
Address: 3-16 Ogunimachi, Murakami-shi, Niigata-ken 958-0848 (Google Maps)
Telephone: +81(0)254-52-2036
Website: www.kokonoen.com
Fujimien 富士美園
Address: 〒958-0844 Niigata-ken, Murakami-shi, Nagaimachi, 4 (Google Maps)
Yamagamisomemonoten 山上染物店
Address: 〒958-0864 Niigata Prefecture, Murakami, 22-17 (Google Maps)
Telephone: +81(0)254-52-3570
Website: www.yamagami-some.com
Original text: Léo Martial
Translation: Marion Pont