Share Castle – World Heritage Site that is a Royal residence for Kings of Ryukyu Kingdom
In the concrete jungle of Naha there is one particular place where you can immerse yourself in alluring Okinawan heritage, truly distinctive form Japanese culture. What I am talking about is Shuri-jo castle that served as a royal residence for kings of Ryukyu Kingdom until 1879. Sitting atop a hill, just few kilometers from central Naha, it is World Heritage Site that represents a unique combination of Chinese and Japanese architectural influences.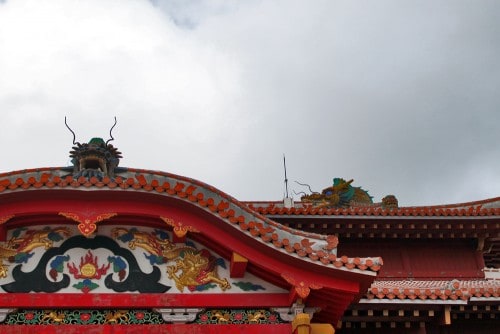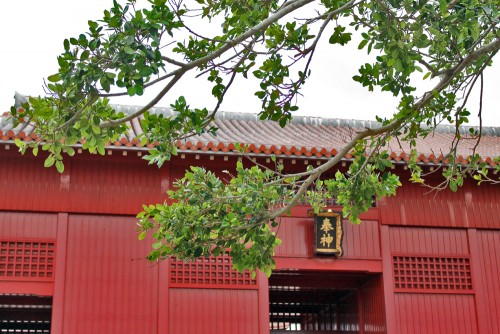 Undeniably, it is one of those places where people can experience ancient Okinawan culture that Okinawan inhabitants are very proud of. In the past, the Shuri-jo was playing a significant role in contacts with China and lords from Kyushu region in Japan. In its opulent throne room, Chinese and Kyushu envoys were enjoying elaborate imperial ceremonies, delicious Okinawan food and beautiful court dance.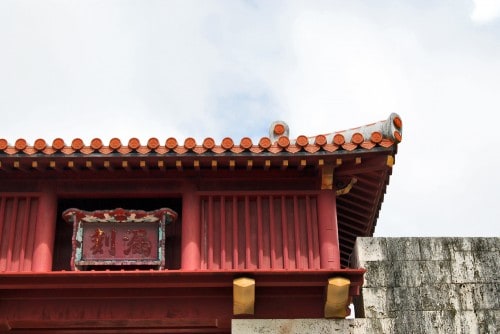 Unfortunately, very little of the original remains. Nevertheless, the whole complex was restored and rebuilt in 1990 and it is worth visiting due to its immersive character and offbeat blend of Japanese and Chinese architectural design.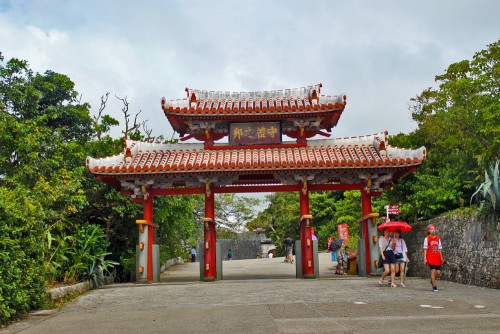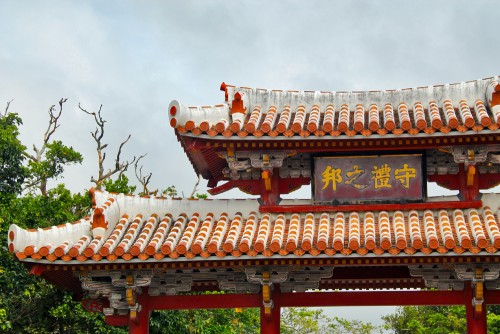 Shuri-jo Castle, What to see
I strongly recommend to enter Shuri-jo through enhancing and decorative main gate called Shurei-mon and easily accessible from the Suimuikan, a modern information and shopping center. It is a great spot for group photos and at the same time a starting point that will lead you to a more impressive inner gate Kankai-mon. It is a monumental guard defense tower made out of limestone constantly baked in the pouring sun. After going through few more inner gates you finally will approach a ticket office before reaching the main courtyard.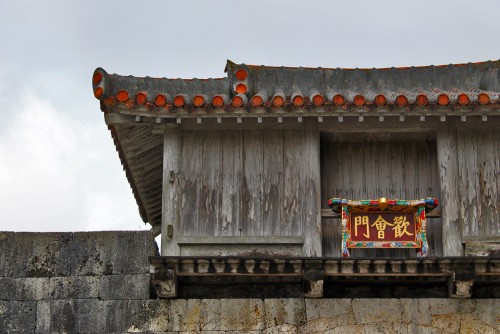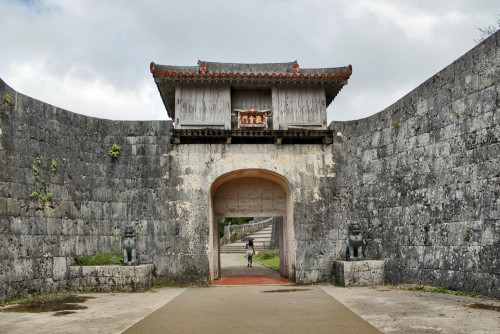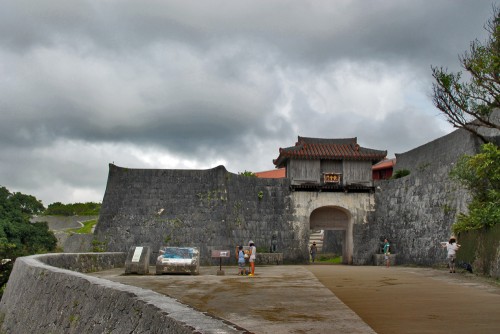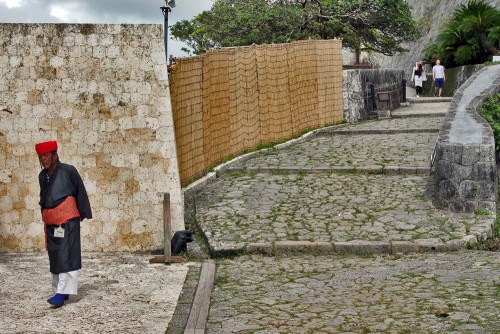 The main pride of place goes to a beautiful structure Seidan. It is a double-roofed palace with enormous and full of colors porch and two throne halls. The upper throne room is stunningly elaborate and a masterpiece in design details with its gilded dragons structures. The colors of intense, vivid red combined with black lacquer can make you feel "dizzy" and astonished. In the past, it was a place where king would review his troops or watch interesting ceremonies in the courtyard below. But was was the most compelling thing above all, it was a room that had to thrill the foreign delegates coming to deal with Ryukyu Kingdom. And, certainly it did impress the foreign ambassadors. Other buildings exhibit remains of the past dynasty and a brief history of  reconstruction work.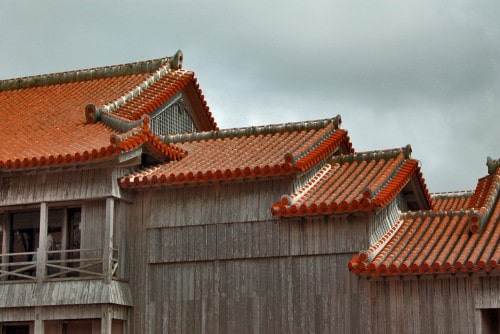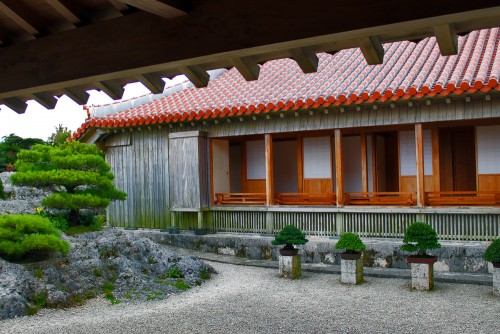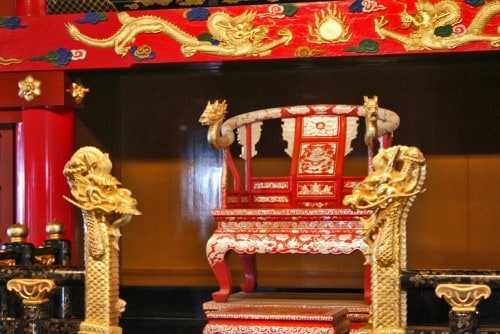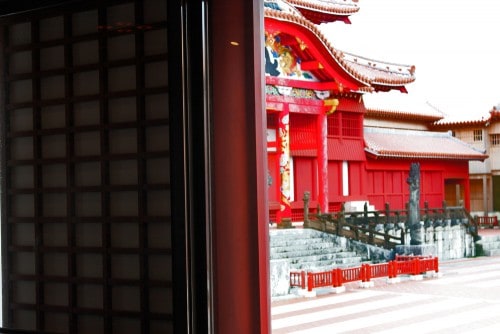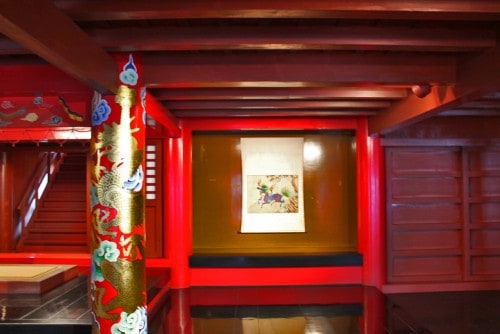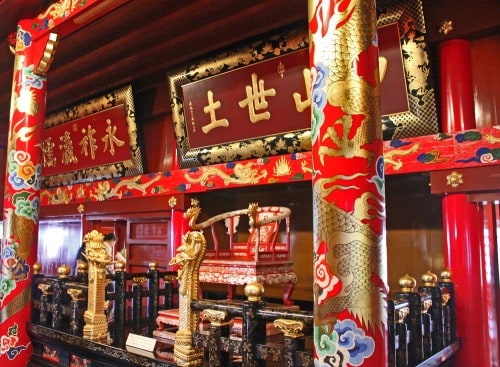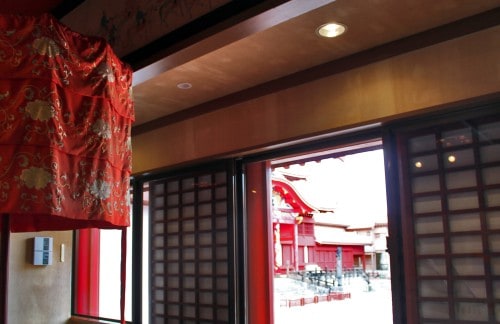 Another things to see after Shuri Castle
Once you finish doing sightseeing within the castle you might enter a tranquil park featuring a stone-walled pond and remnants of the most beautiful temple in the Ryukyu Kingdom: Enkaku-ji. Alternatively, and highly recommended, you can eat traditional Okinawan goya (bitter melon) dish and  a sweet delicacy, Okinawan doughnuts, in the restaurant located close to the exit.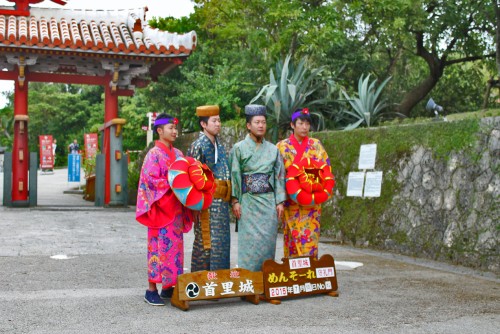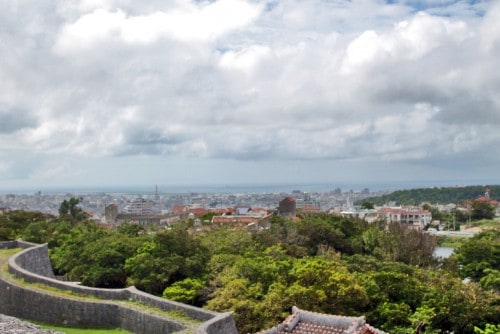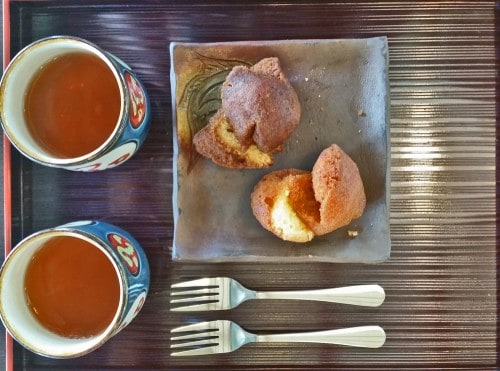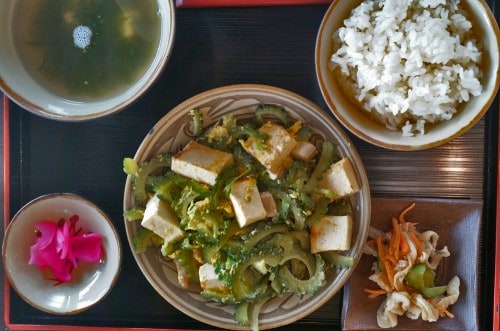 Useful links and information:
The official website of the Shuri-jo Castle: here
How to get there:
To get there take a bus No 1 from Kokusai-dori  (every15-20 minutes) or bus No 17 from Naha Bus Terminal (every 30 minutes). You need to get off near the Suimuikan, an information and shopping center where you can get a fairly sketch English map.
Alternatively, you can catch the monorail to Shuri-jo Station where it terminates.
For more information on transpiration please visit: here
| | |
| --- | --- |
| Name | Shuri-jo Castle |
| Category | World Heritage Site |
| Address | Shurijo Castle 1 Chome-2 Shurikinjocho Naha, Okinawa Prefecture 903-0815 |
| Access | [map]Shurijo Castle 1 Chome-2 Shurikinjocho Naha, Okinawa Prefecture 903-0815[/map] |
| Opening Hours | Various |
| Price Range | Various |
| Payment options | Both |