Located a few kilometres from Kyoto and Osaka, Nara (奈良市) is one of the historical capitals of Japan. Numerous Buddhist temples and traditional buildings from its glorious past make it one of Japan's top tourist destinations. But when we are visiting Nara, while strolling between its historical monuments, we are struck by the presence of hundreds of deer freely roaming in Nara Park and approaching tourists to beg for a portion of the rice crackers they are addicted to.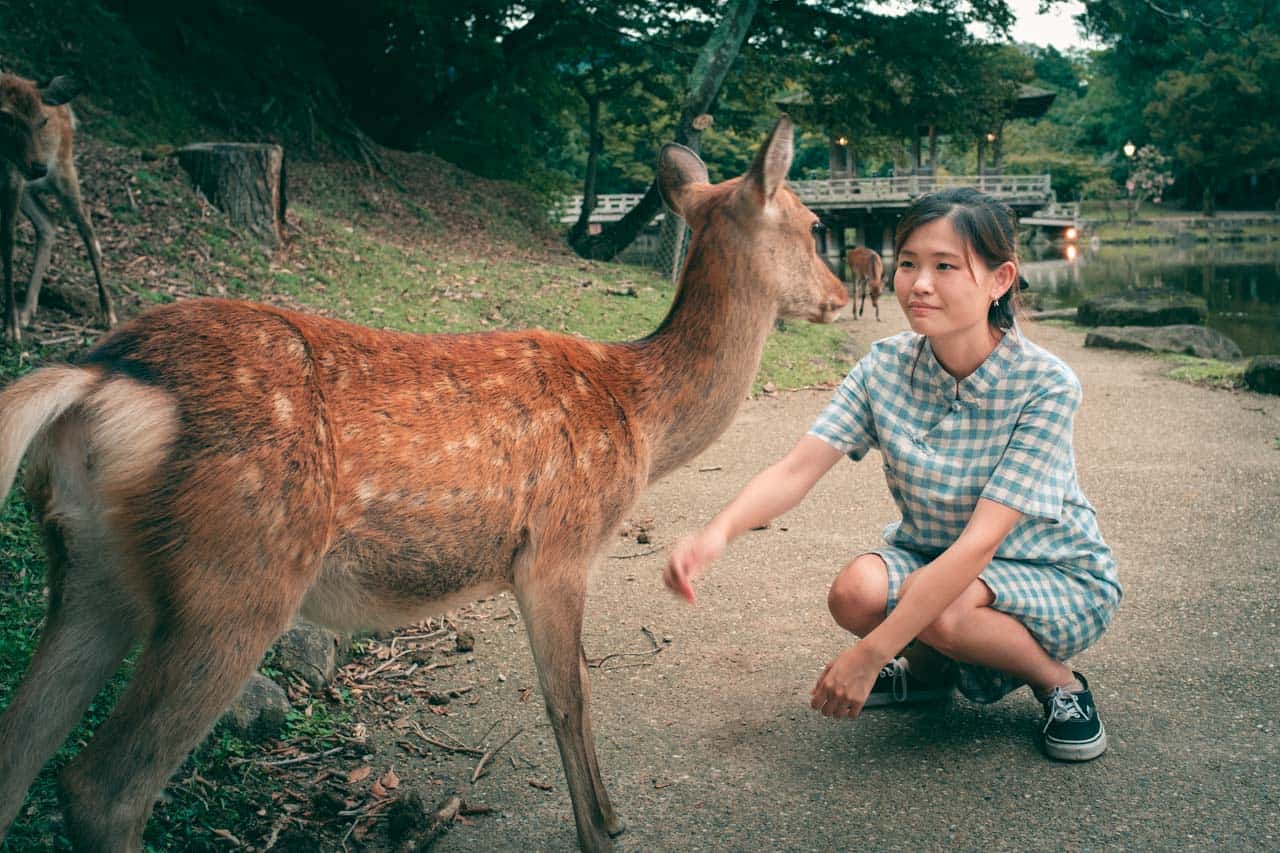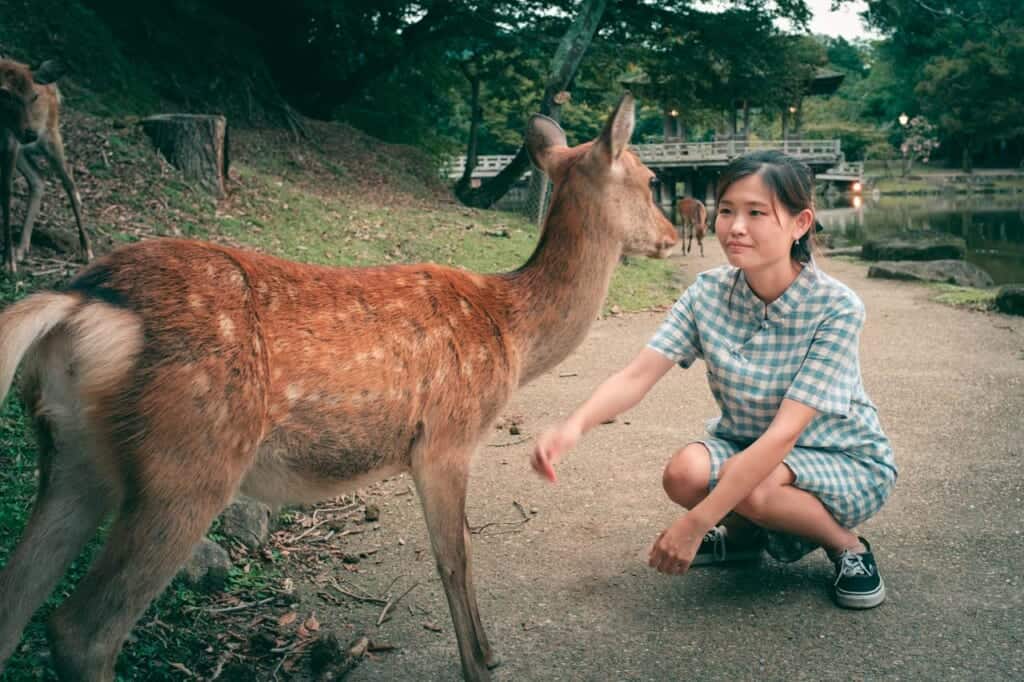 The Deer of Nara, Sacred Animals Who Became National Treasures
The 500 hectares of Nara Park are home to more than a thousand sika deer, called shika (鹿) in Japanese. Not shy, the deer of Nara allow people to approach them and even often go to meet the tourists by themselves. The recklessness of these wild animals can probably be explained by their unique place in Japanese mythology which guaranteed them a special treatment throughout history.
According to the legend, the deity Takemikazuchi-no-Mikoto, the God of Thunder, arrived in Nara riding a white deer. Therefore, the deer of Nara were themselves considered gods, and the Japanese had to pay them respect by nodding their heads when they met one. Until 1637, killing one of these deer could be punished with death.
The divinity of Nara's deer was revoked after the end of World War II, but they soon became Living National Treasures, a status that guaranteed their protection.
Tips on Feeding the Deer in Nara Park
Through the centuries, the deer of Nara learned how to live among humans and adopted some of their customs. They use the zebra crossing, patiently wait for the cars to pass, and nod their heads like people when you greet them.
But their civility may not be selfless. They approach tourists hoping to receive one of these precious rice crackers that they devour in seconds.
For 150 yen, you can buy a packet of these rice crackers for deer, called shika senbei, in one of the numerous small stalls found anywhere in Nara Park. As soon as you take possession of the crackers you will be surrounded by the deer who will want their part of the treasure you hold in your hands!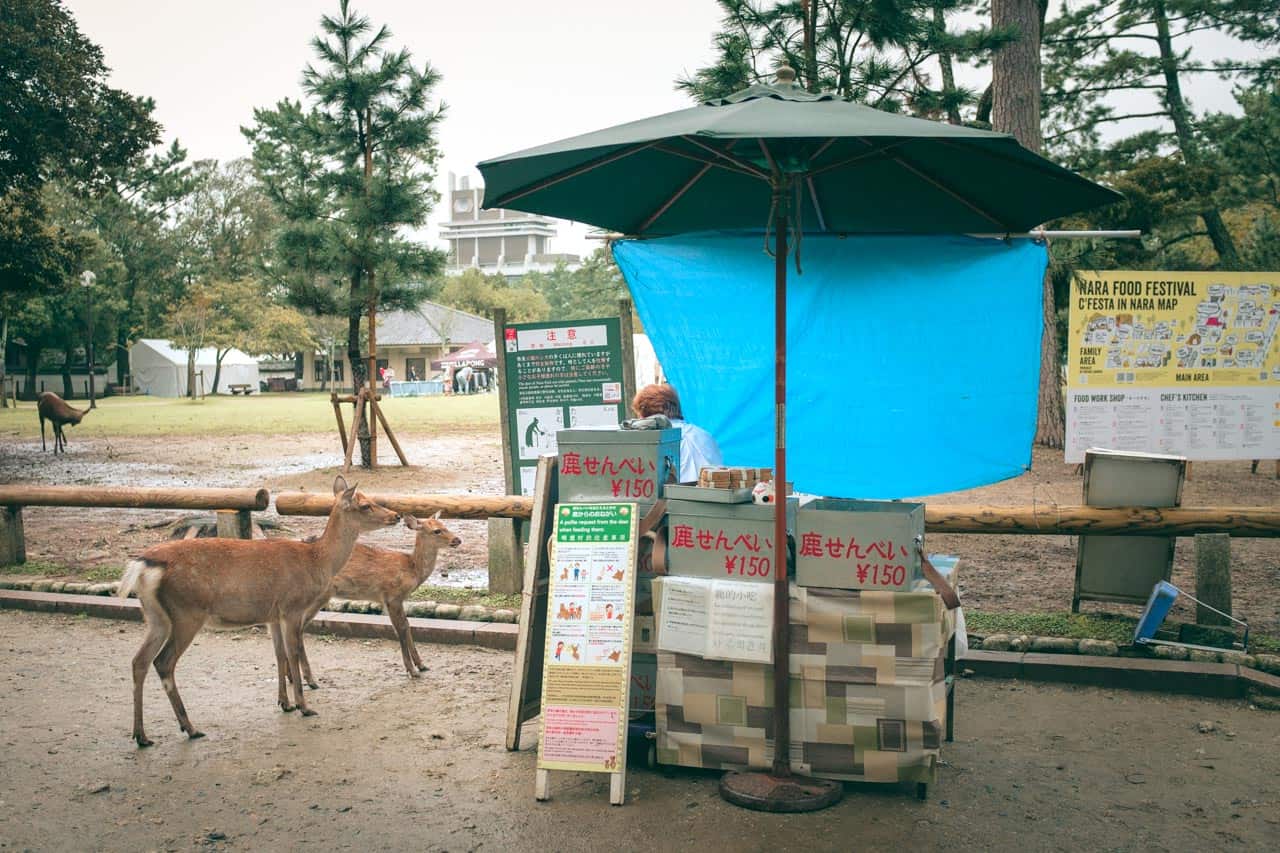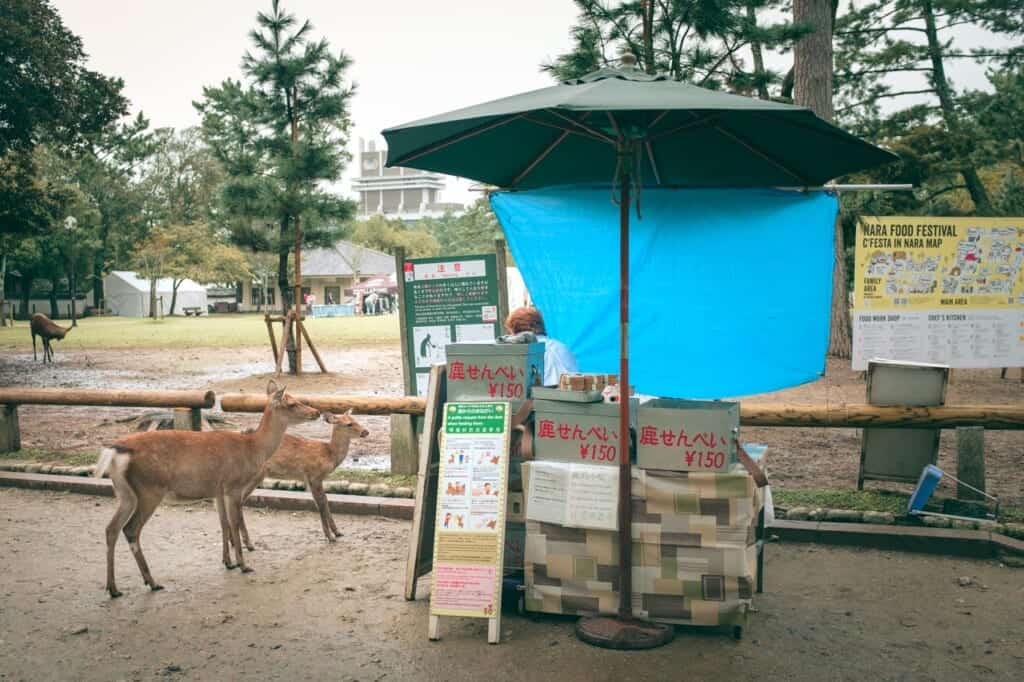 You will have to be careful, as Nara's deer can be particularly pushy, especially if they notice that you carry some shika senbei with you. A moment of inattention, and you may very well realise that a deer is searching into your bag (it happened to me several times).
It's essential to keep in mind that, while these deer are not fearful, they are wild animals. They can bite, push, or kick. Deer can sometimes become violent during the mating season between September and October or when females are protecting their newborns between May and July. Some tourists are injured by deer in Nara Park every year, so be careful, especially during these two periods.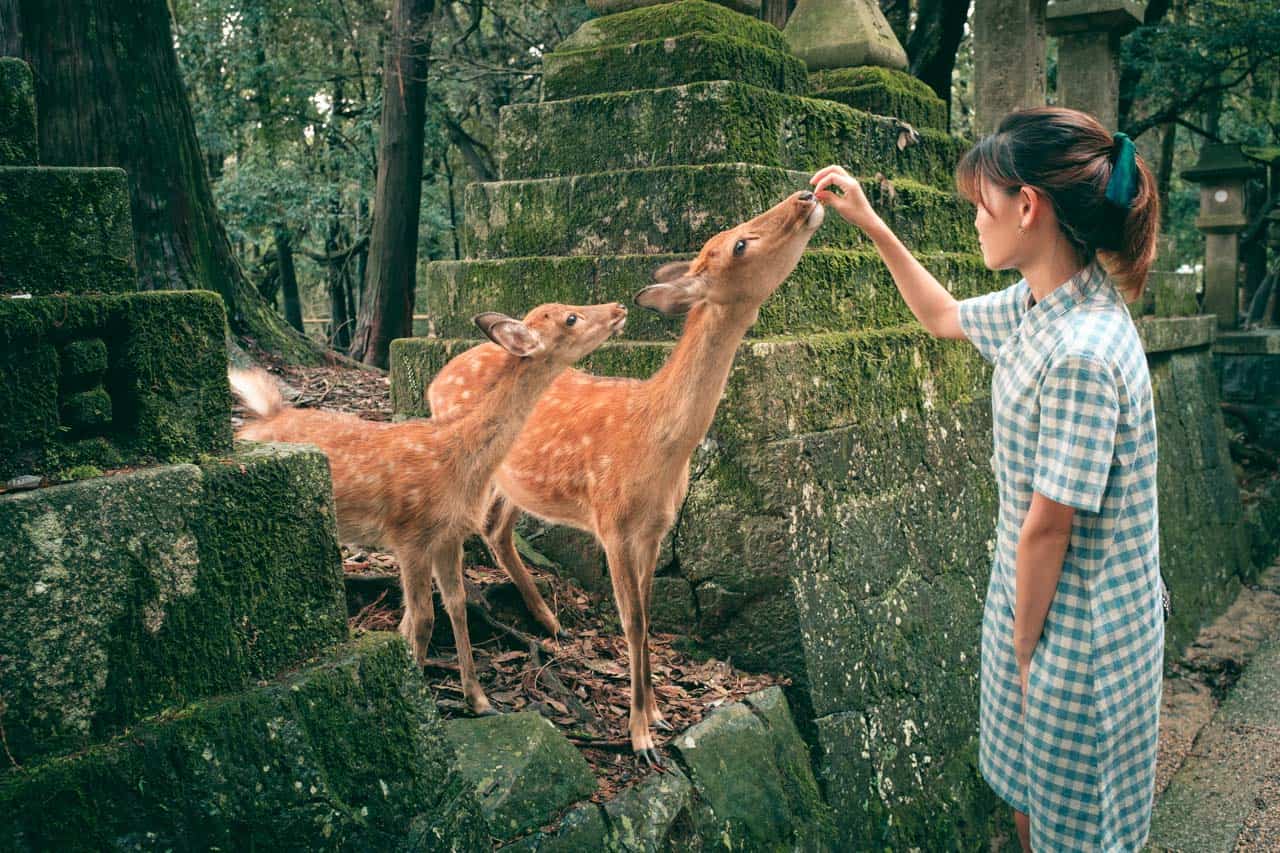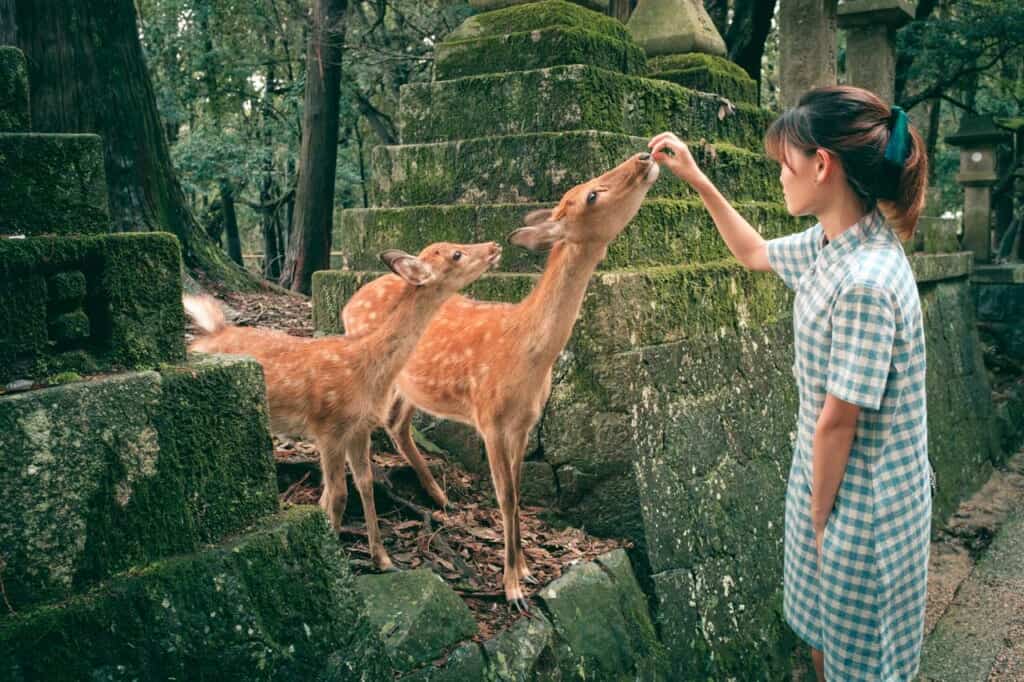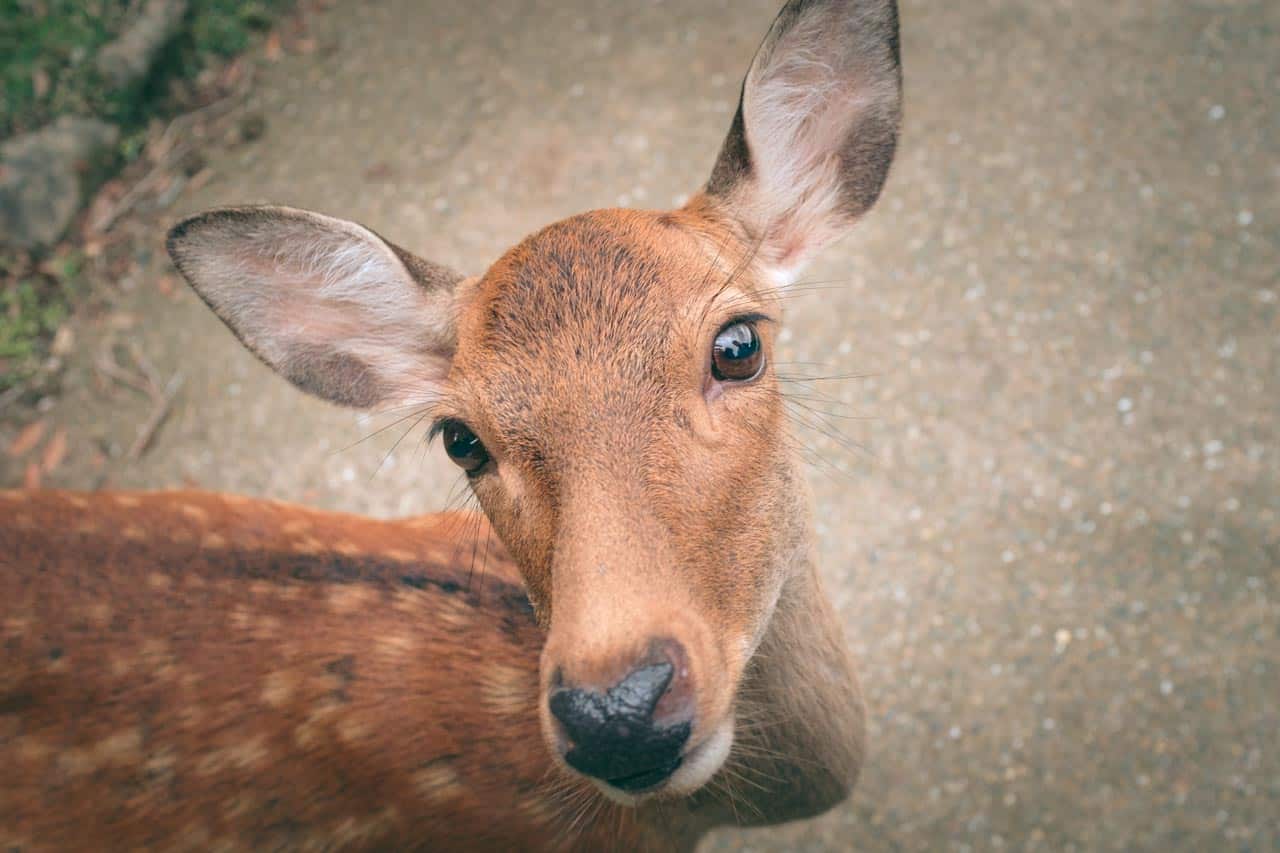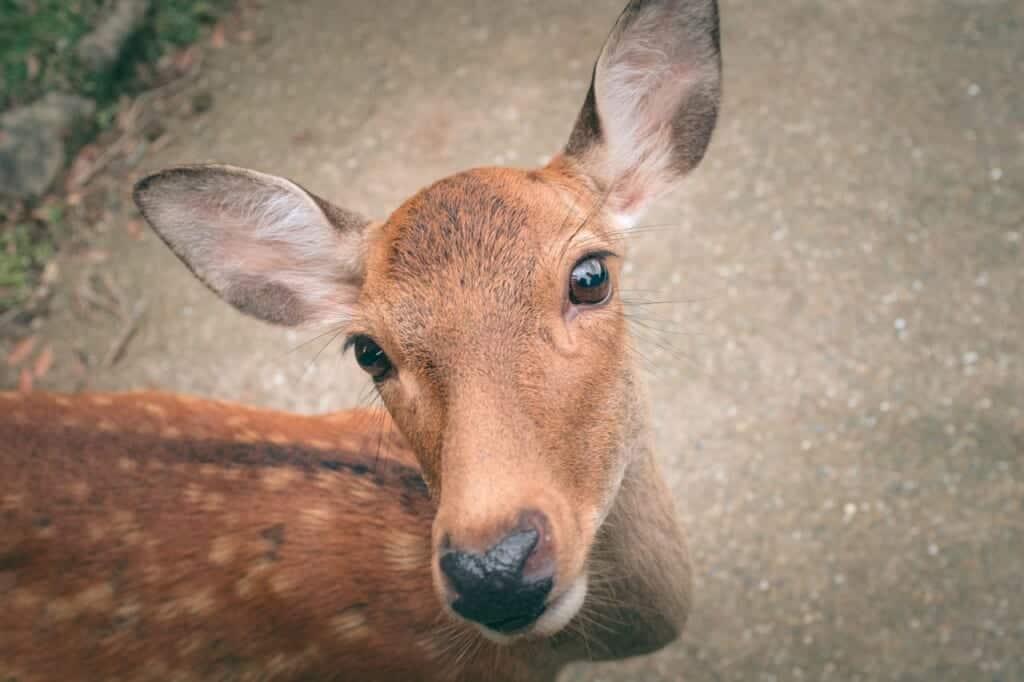 That being said, no reason to panic here. The vast majority of Nara's deer are calm, and their presence makes up part of Nara Park's unique atmosphere. This cohabitation between humans and deer is quite exceptional. A moment here is all the more pleasant as a perceptible good mood reigns with many street-food stands of Kansai specialities such as takoyaki. And the presence of the deer is not the only reason why Nara Park is a beautiful place.
The Best Historical Monuments of Nara Park You Shouldn't Miss
Aside from all these deer sleeping peacefully or chasing tourists for that tasty shika senbei, Nara Park is home to many World Heritage monuments. Temples can be found in every corner of the park, and there is no doubt that you will discover some hidden gems during your exploration. Here are the most famous monuments in Nara Park that you shouldn't miss.
The Todai-Ji Temple and One of Japan's Largest Bronze Buddha Statue
The Todai-Ji temple (東大寺) is mainly known for the Daibutsu-den, the hall of the great Buddha, listed as a World Heritage Site. While the original building was built in the 8th century, the one you can visit was built during the 16th century. A third smaller than the original building, it is one of the largest wood structures in the world.
The reason for its enormous size is the presence of a massive statue of Buddha. This bronze daibutsu (大仏) is over 15 meters tall, making it one of Japan's largest bronze statues. The amount of bronze needed to create this masterpiece was so tremendous that it took most of the bronze resources available in Japan at the time of the construction.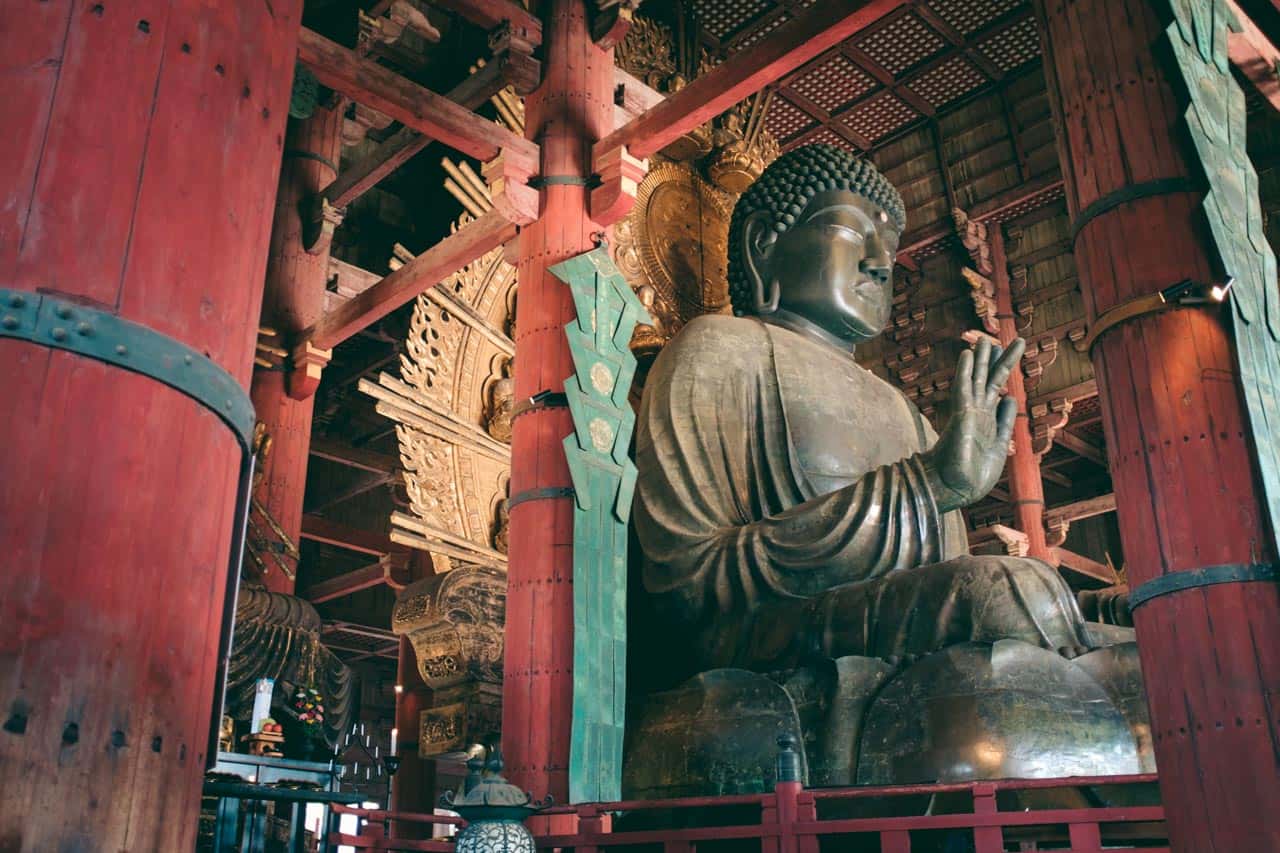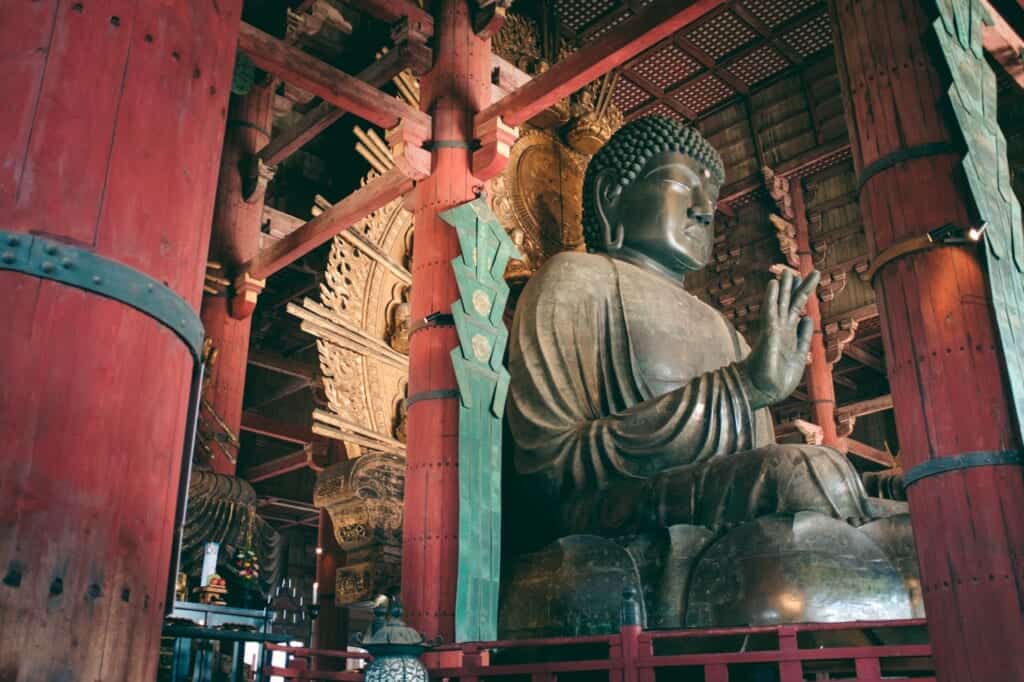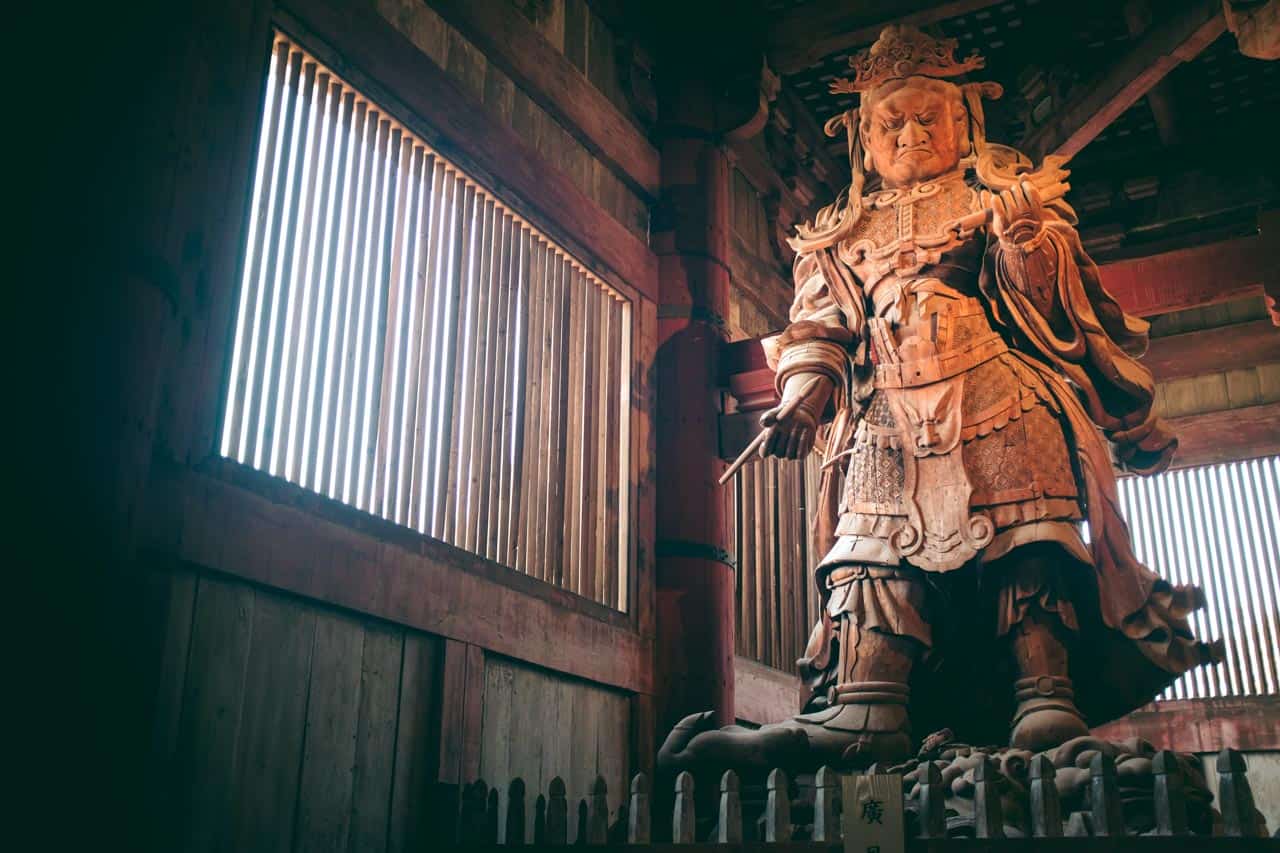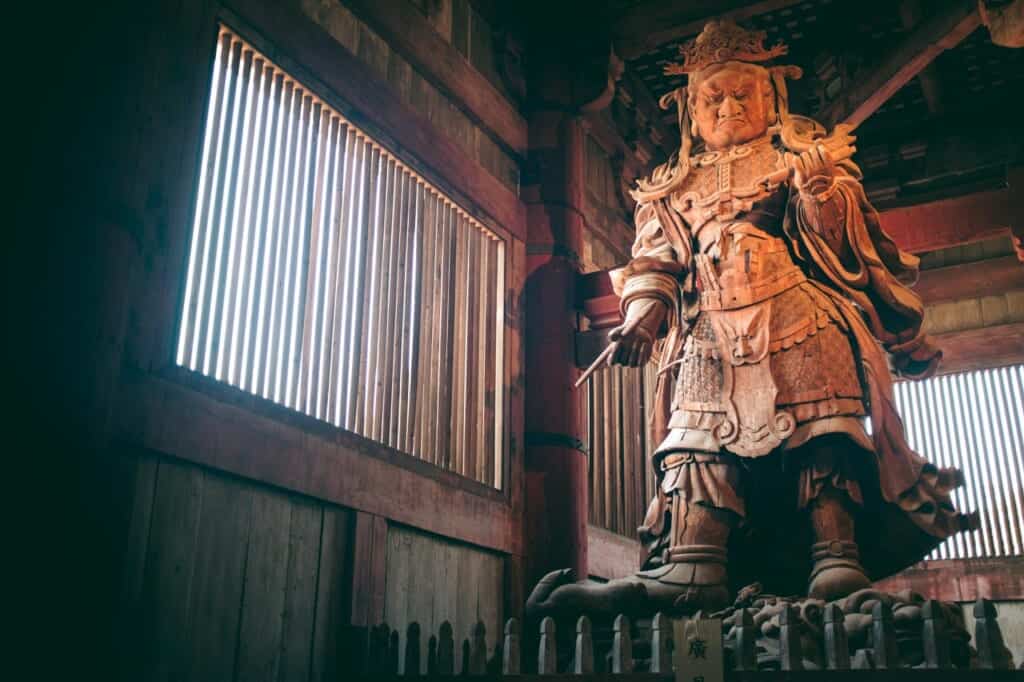 All around the Buddha statue are other massive sculptures that are just as impressive as they protect the temple. You can even try to pass through a hole in one of the pillars of the building, an experience that should guarantee you a Buddhist awakening for your next reincarnation.
But Todai-Ji is way more than Daibutsu-den. If you take the time to explore the temple's grounds, you will pass by a shoro (kind of bell tower for Buddhist temples) and climb to the Nigatsu-do, a temple built on stilts and offering a fantastic view of Nara city.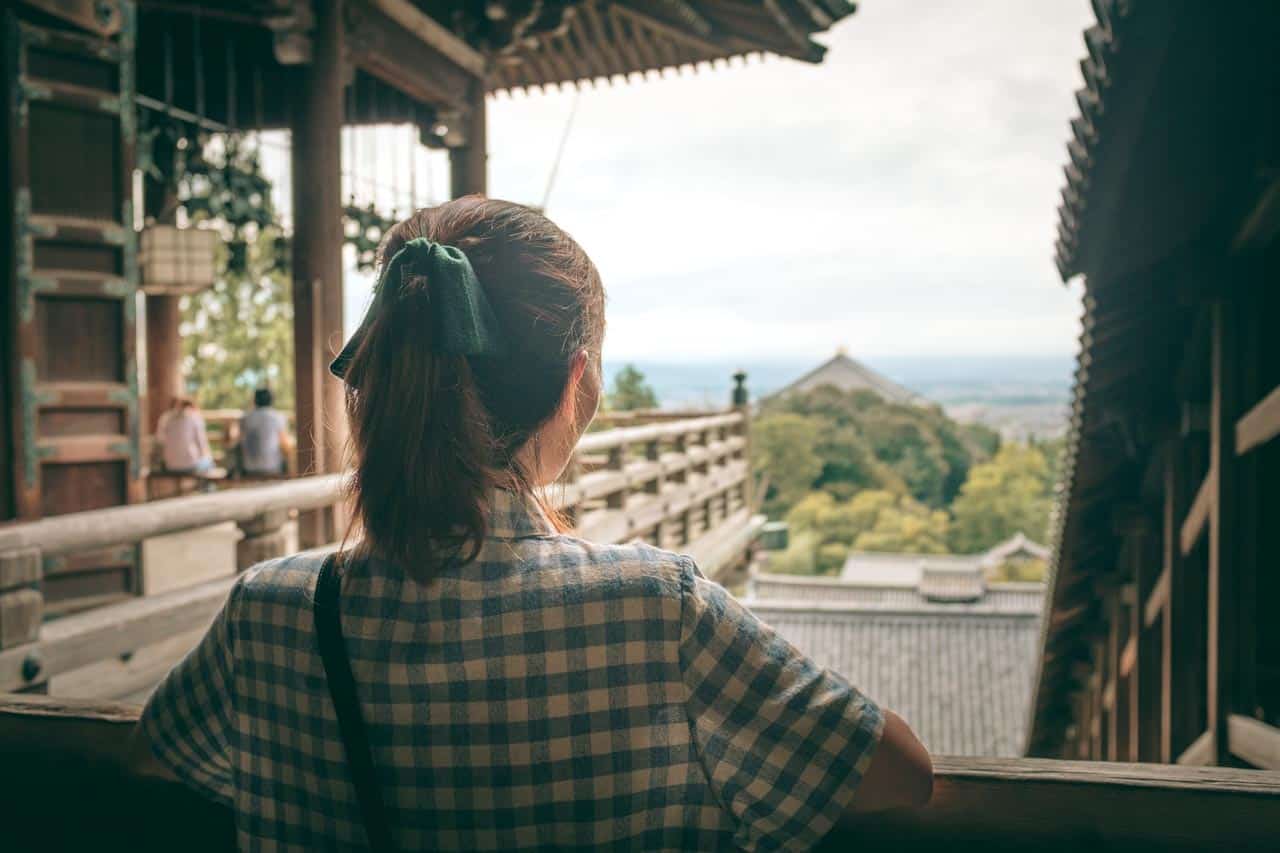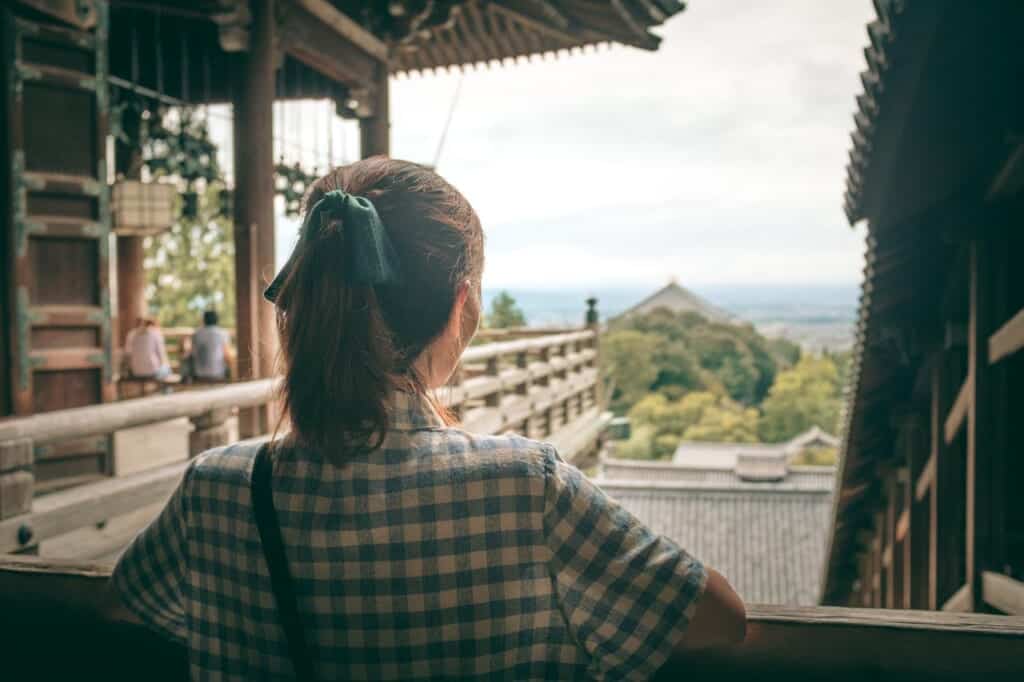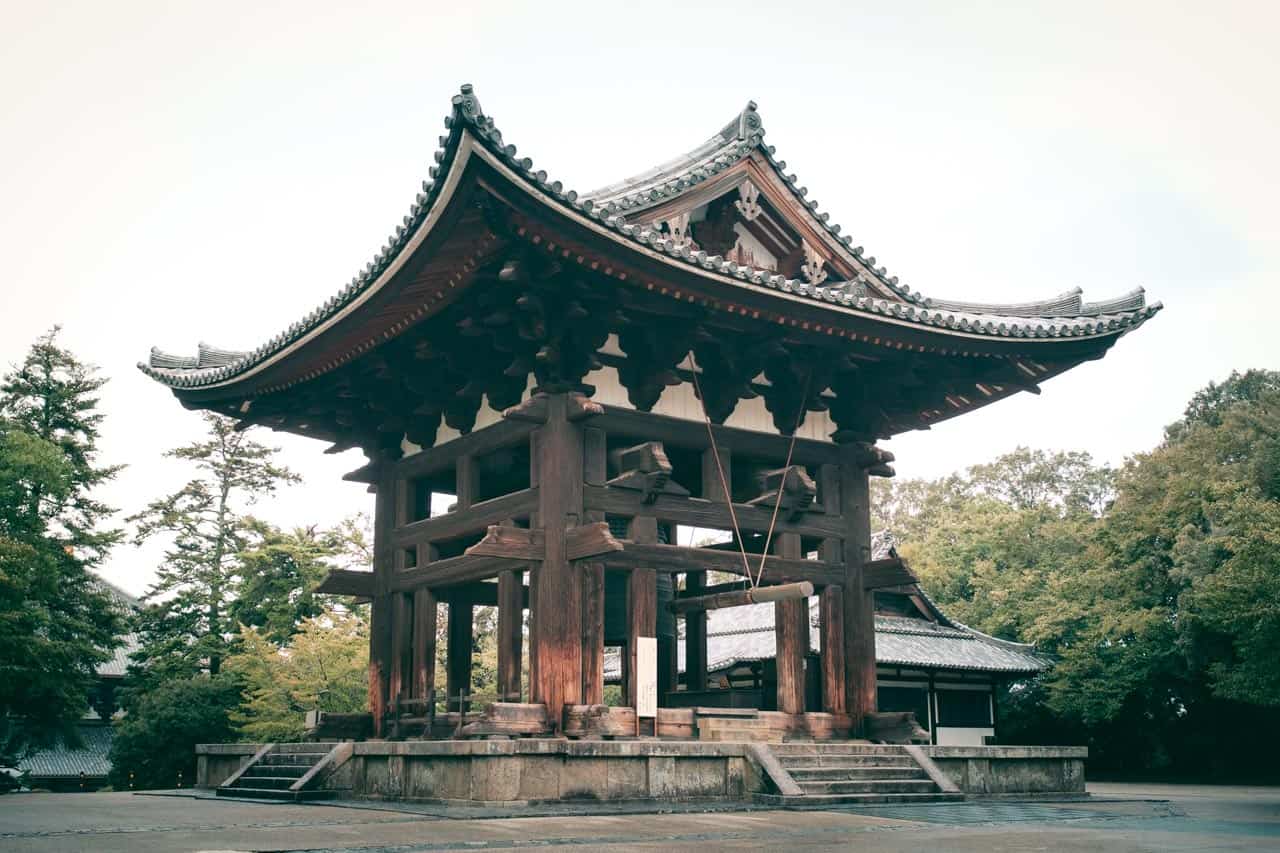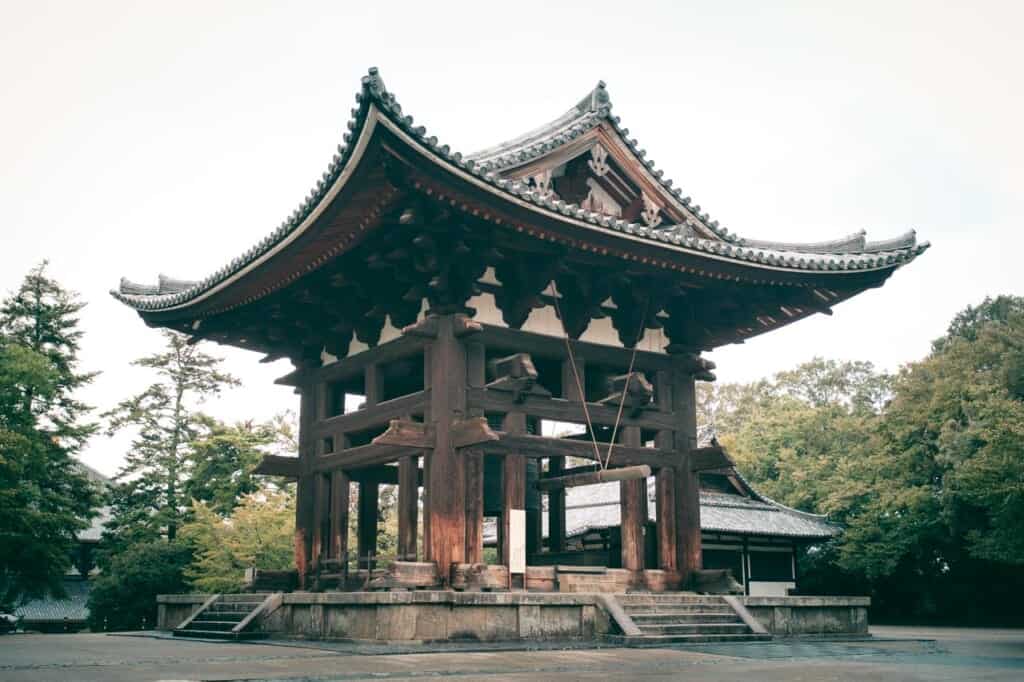 History lovers can visit the Todai-Ji Museum to discover a great collection of historical objects related to Buddhism.
The Kofuku-Ji Temple: One of the Main Symbols of Nara
Like the Todai-Ji, the Kofuku-Ji temple (興福寺) is more than a single building. Located near one of the main entrances of Nara Park, the Kofuku-Ji includes several historical buildings known as national treasures, and the whole temple is now a World Heritage Site.
At its peak, Kofuku-Ji consisted of 175 temples. Unfortunately, fires and other natural disasters damaged and destroyed many of them through the centuries, so few of the temples can be seen in their original forms.
The five-story pagoda (五重の塔) of Kofuku-Ji is probably the most impressive monument of the temple. Initially built in 730, it was devastated by fire and lightning on several occasions. However, the pagoda was tirelessly rebuilt and is now considered one of Nara's symbols. With its 50 meters height, it is the second tallest pagoda in Japan.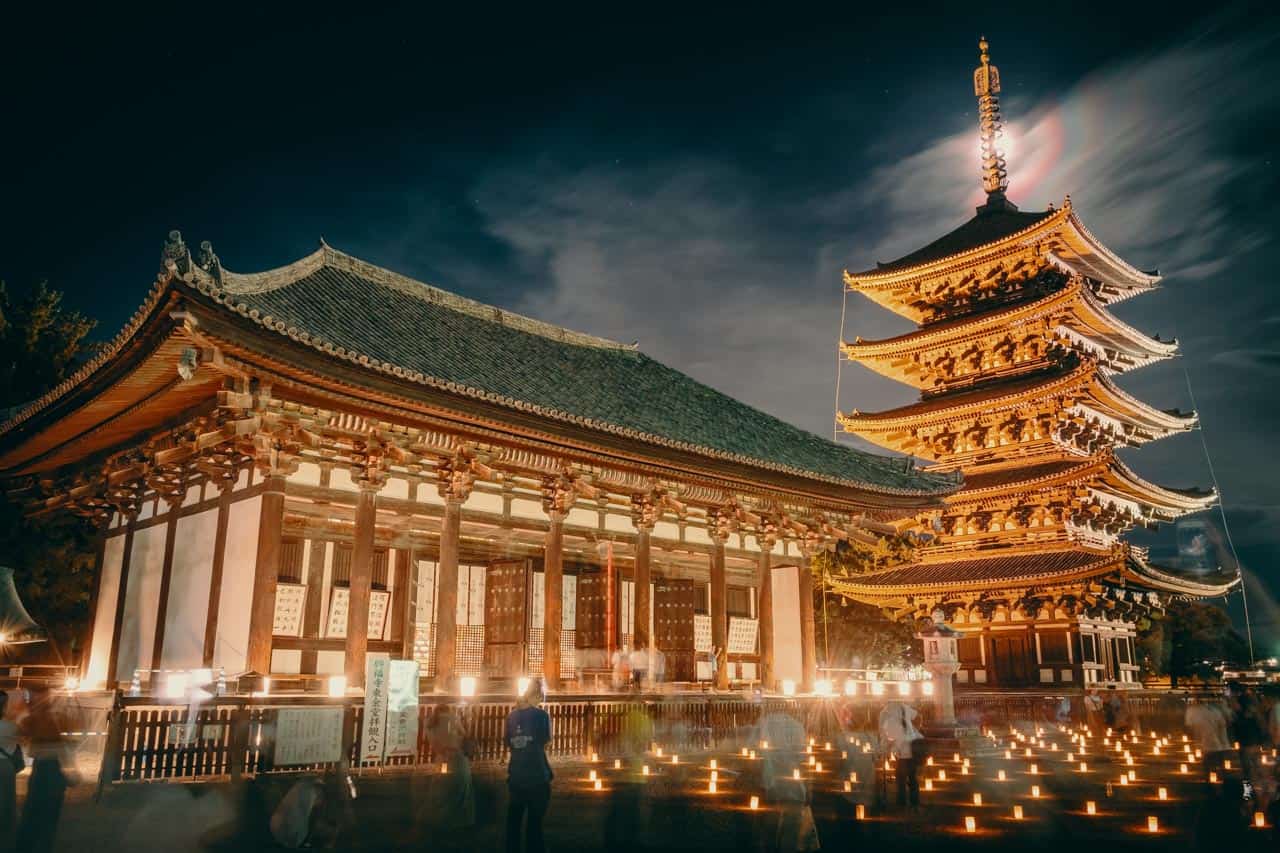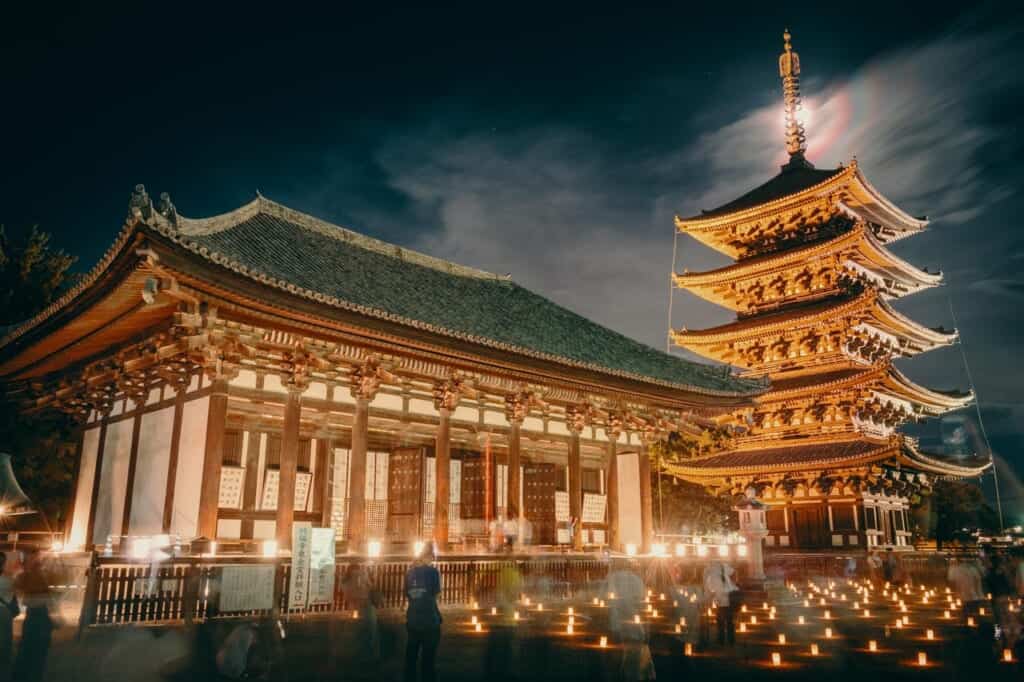 More recently, a museum was built within the grounds of Kofuku-Ji, the Kofuku-Ji National Treasure Museum. This museum preserves and displays the national treasures of Kofuku-Ji, including wonderful religious statues, paintings, and historical documents.
Kasuga Taisha Shrine: The Lantern-Illuminated Forest Shrine
The Kasuga Taisha Shrine is also a World Heritage Site, just like the forest in which it is located. The original shrine dates back to the 8th century. The current site of the shrine is the place where Takemikazuchi, one of the deities enshrined in Kasuga Taisha, visited Nara while riding a white deer.
You will find the shrine at the end of a path lined with old stone lanterns. These lanterns are still used the same way it was centuries ago. They are lit with candles at nightfall, lighting up the wonderful path through the Kasugayama forest.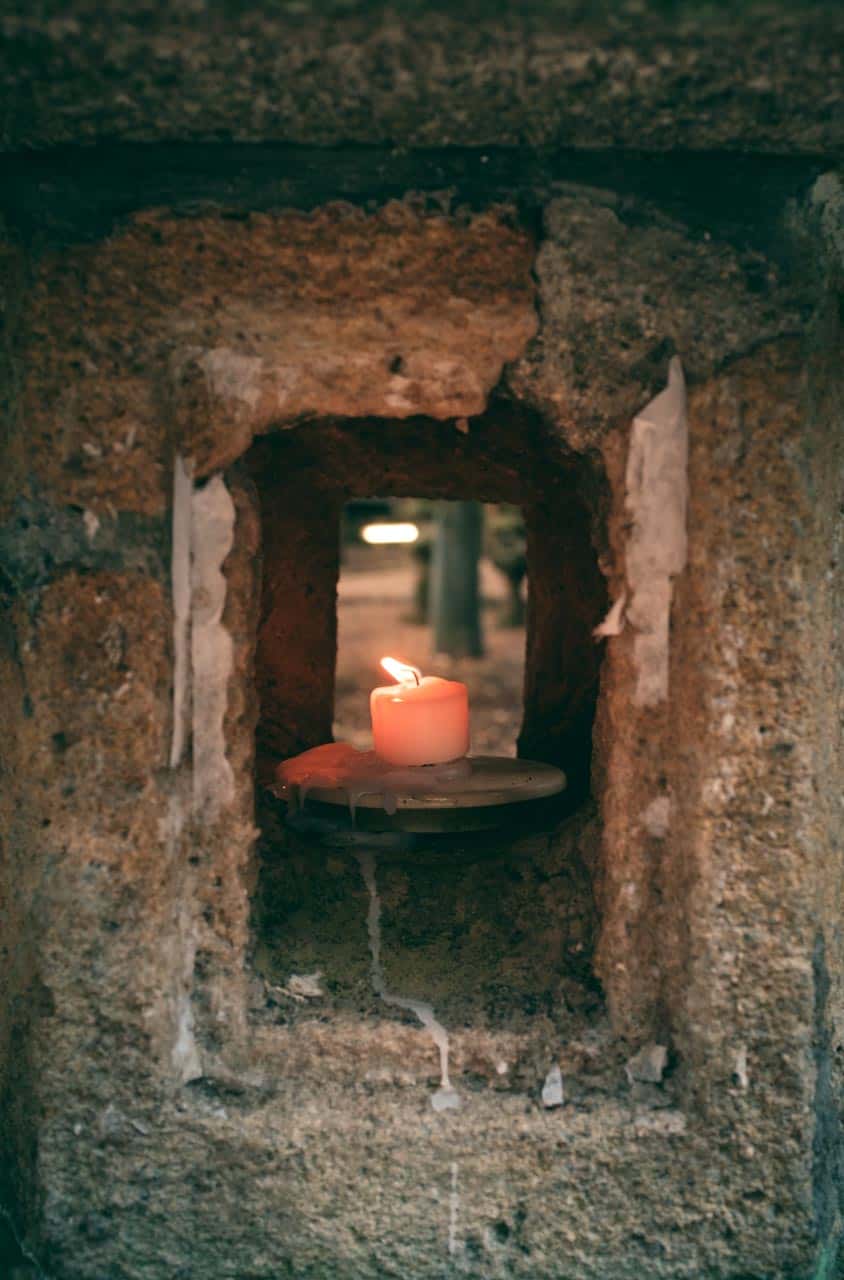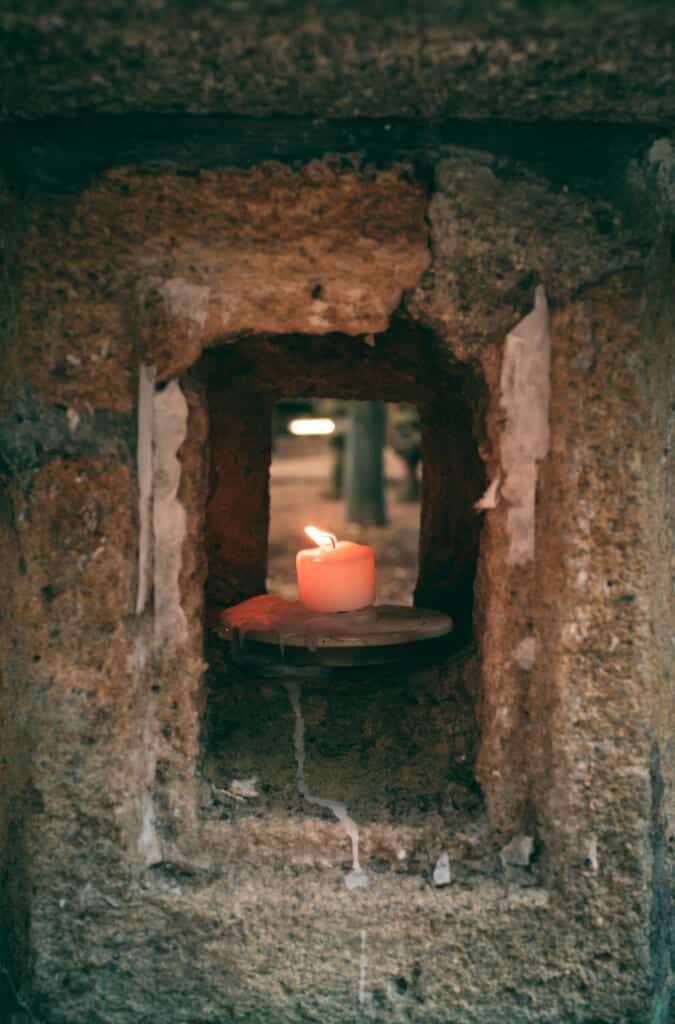 Inside the shrine, visitors can admire different kinds of lanterns. Beautiful bronze lanterns are suspended alongside the wall of a colourful and elaborate traditional building. A corridor formed by red pillars gives the illusion of a path of red torii gates, contrasting with the raw wood of the building. This is a very photogenic place to discover the Shinto aesthetic that is drastically different from what can be seen in the Buddhist temples.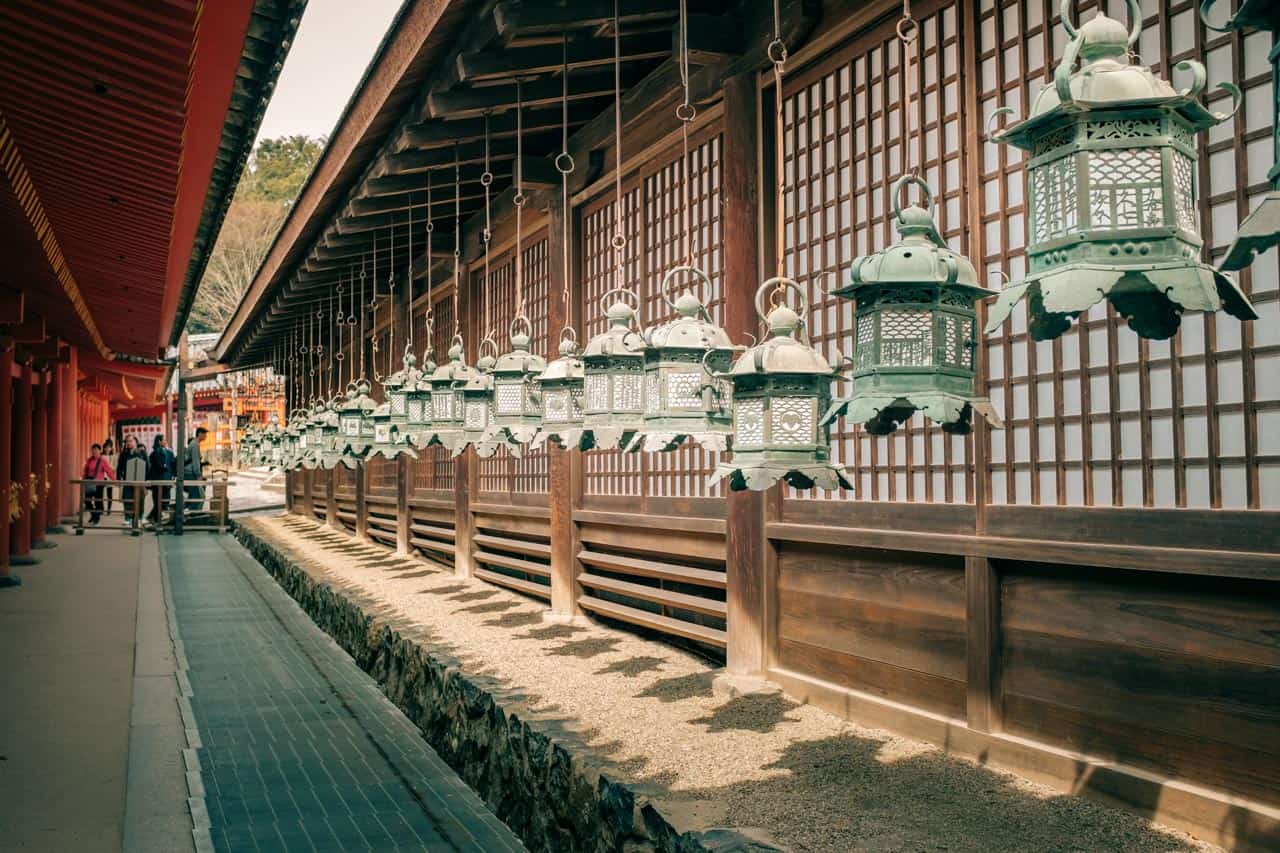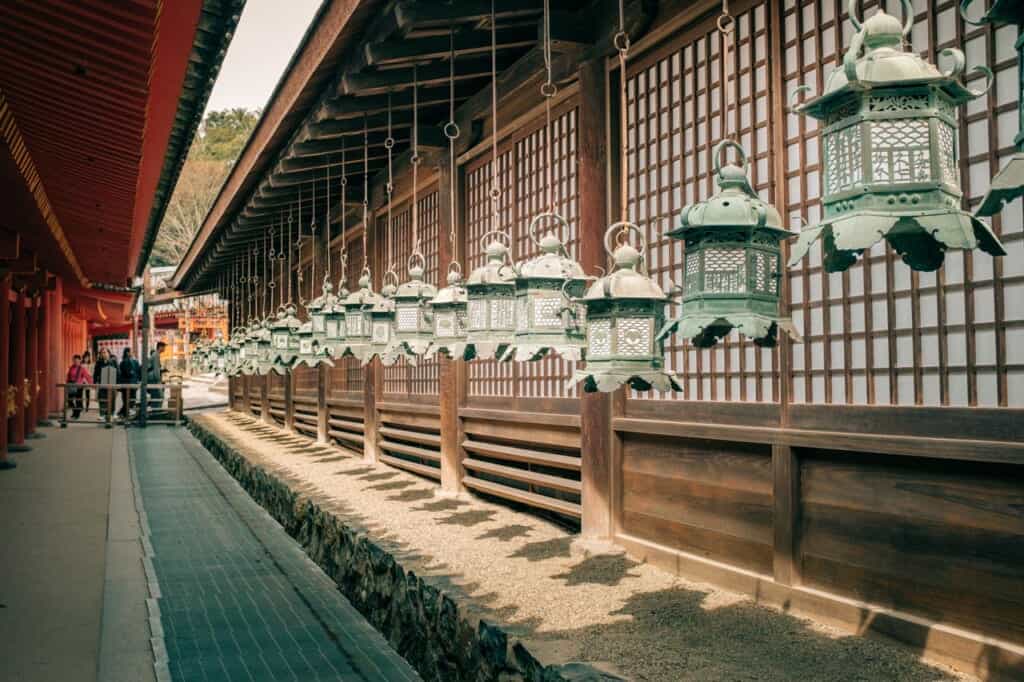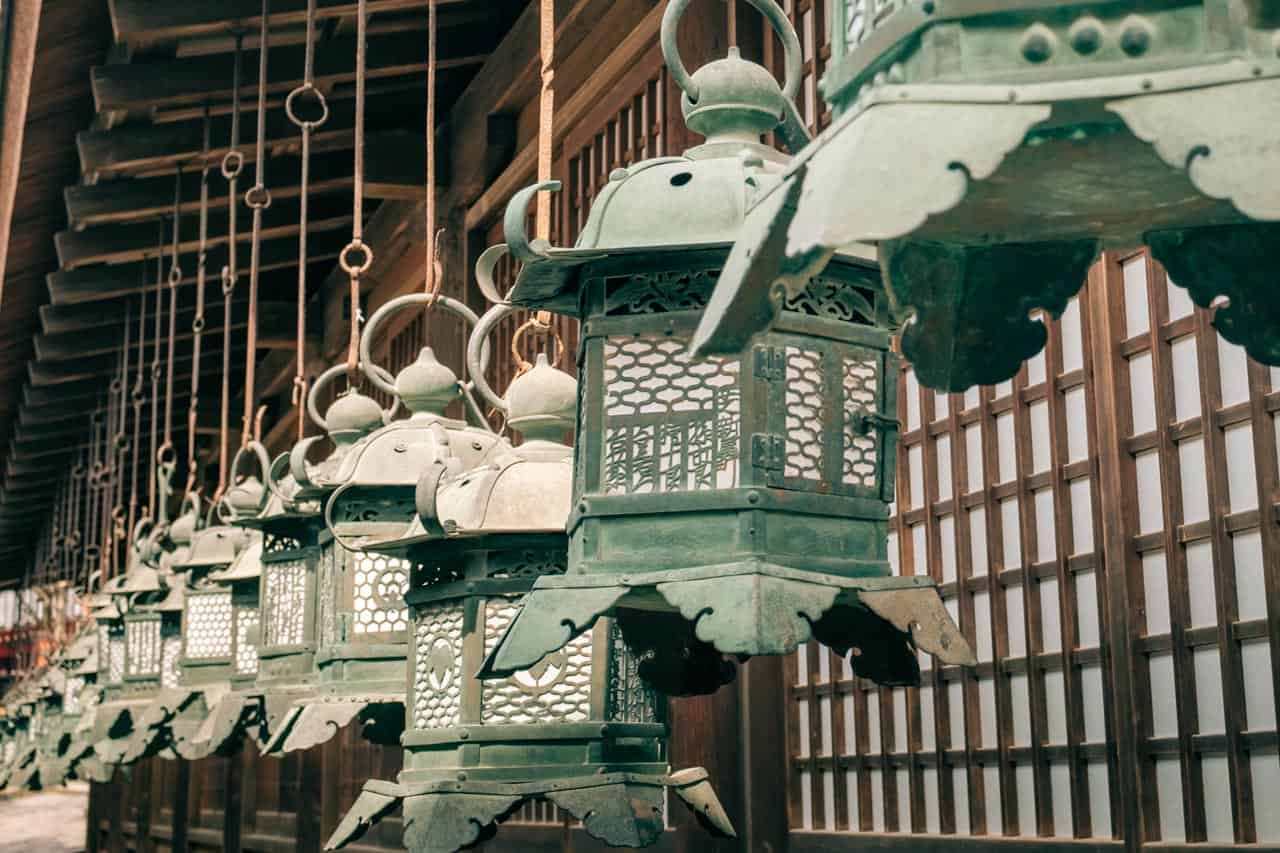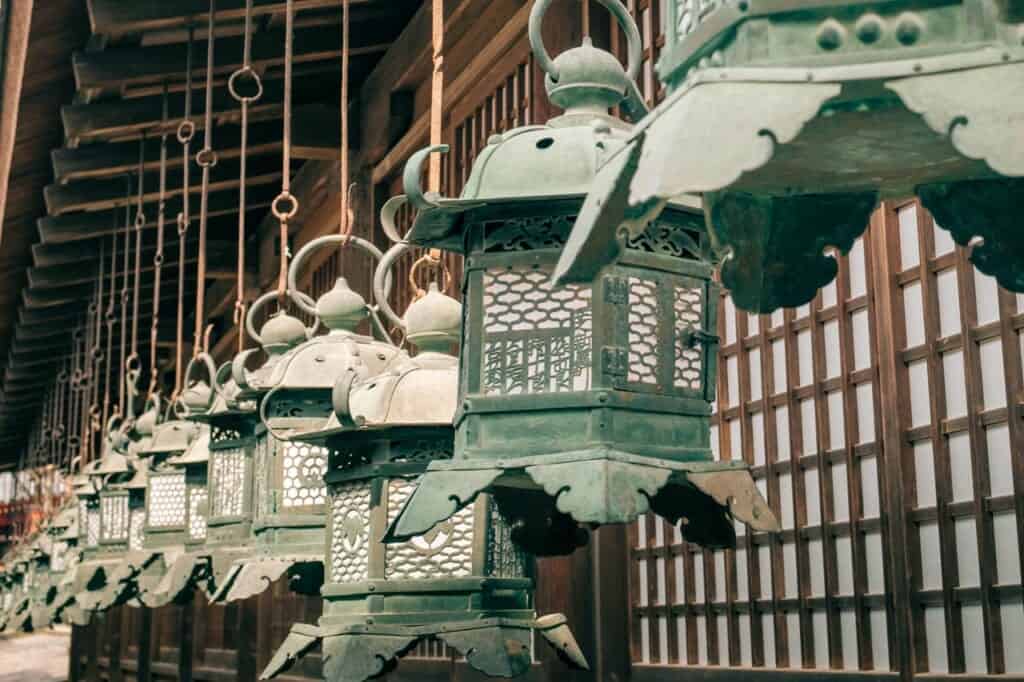 The Floating Pavilion at Sagi-Ike and Lantern Festival
Slightly off the main path of Nara Park and less crowded with tourists, Sagi-Ike Pond is the perfect place to rest in a refreshing and quiet environment and enjoy Nara deer's company.
This small pond is mainly known for its wooden pavilion called Ukimi-do (浮見堂). After a long walk in Nara Park, taking a seat in this small traditional building above the water is highly relaxing and lets you enjoy the lush nature surrounding the pond.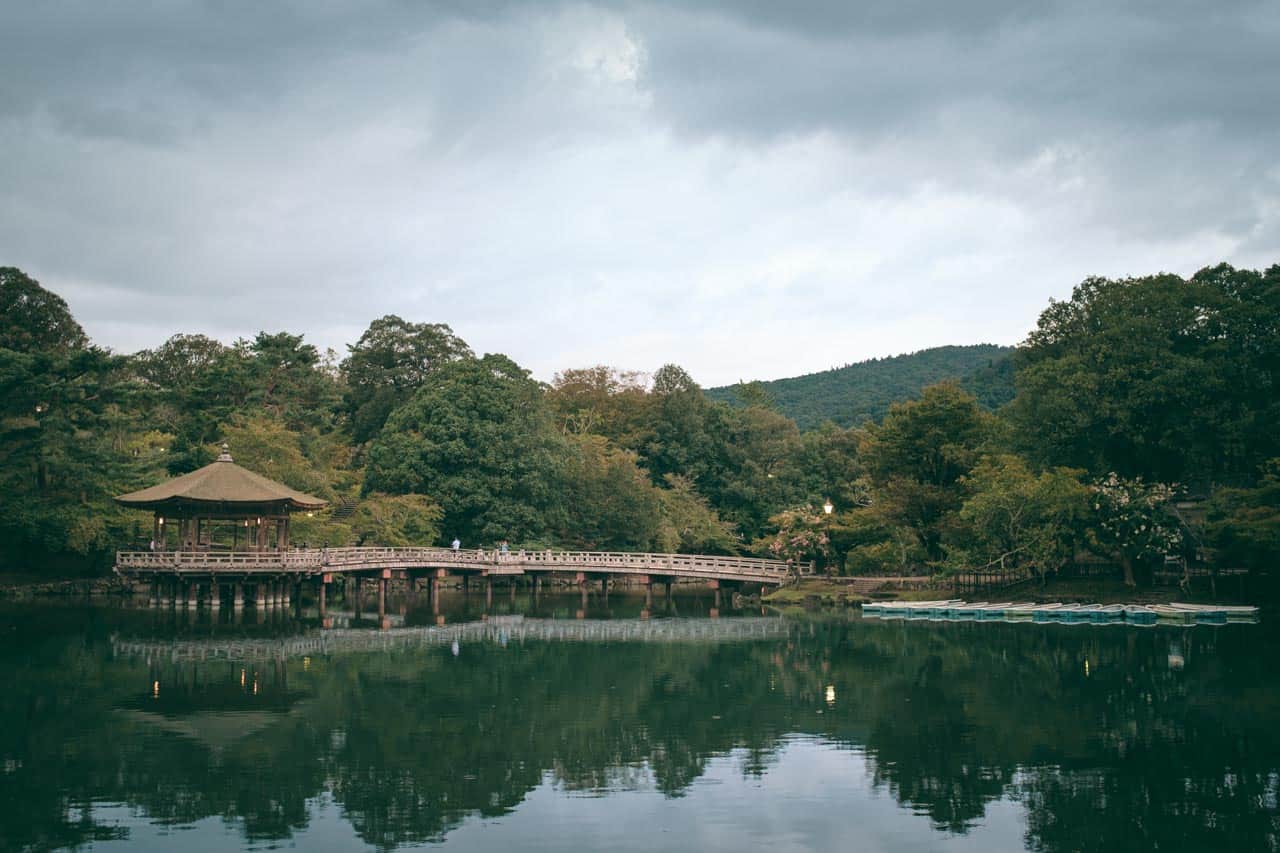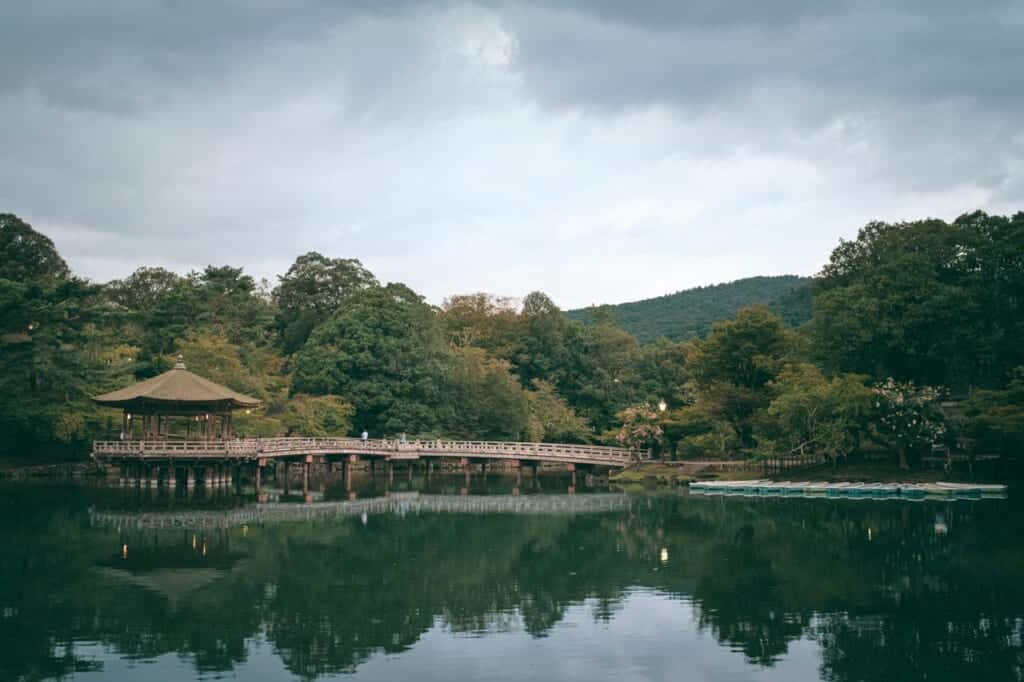 For ten days in August, Nara Park is lit with lanterns and candles for the Nara Tokae Lantern Festival. The candles around the Ukimi-do pavilion are reflected in the pond's waters, a fascinating view that made this place one of the most famous spots of the Nara Lantern Festival.
Near the Sagi-Ike Pond, the traditional district of Naramachi is the perfect place to continue a visit to Nara after a stroll in the park. Hundreds of shops and restaurants built in beautiful traditional Japanese houses give Naramachi an atmosphere that can only be experienced in old Japanese towns. You will even be able to visit some traditional houses.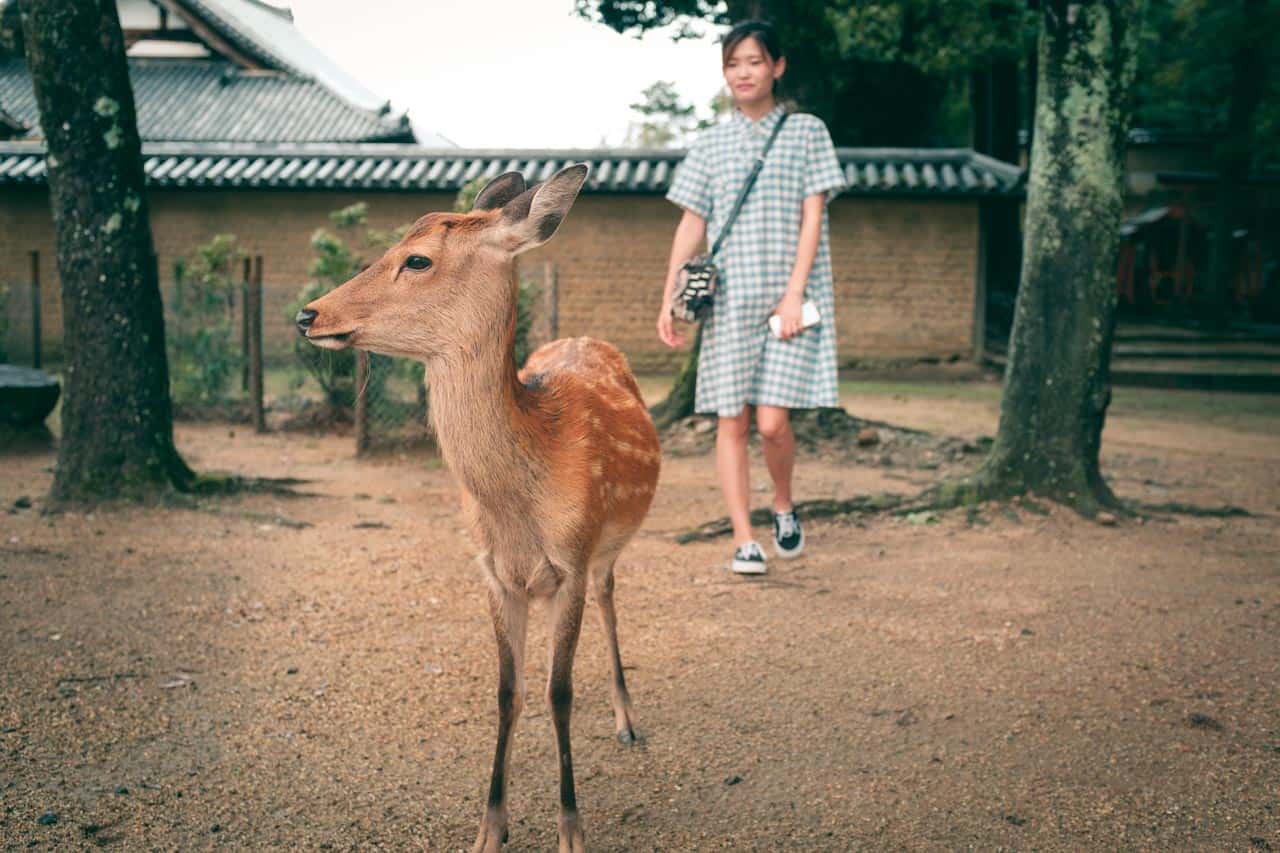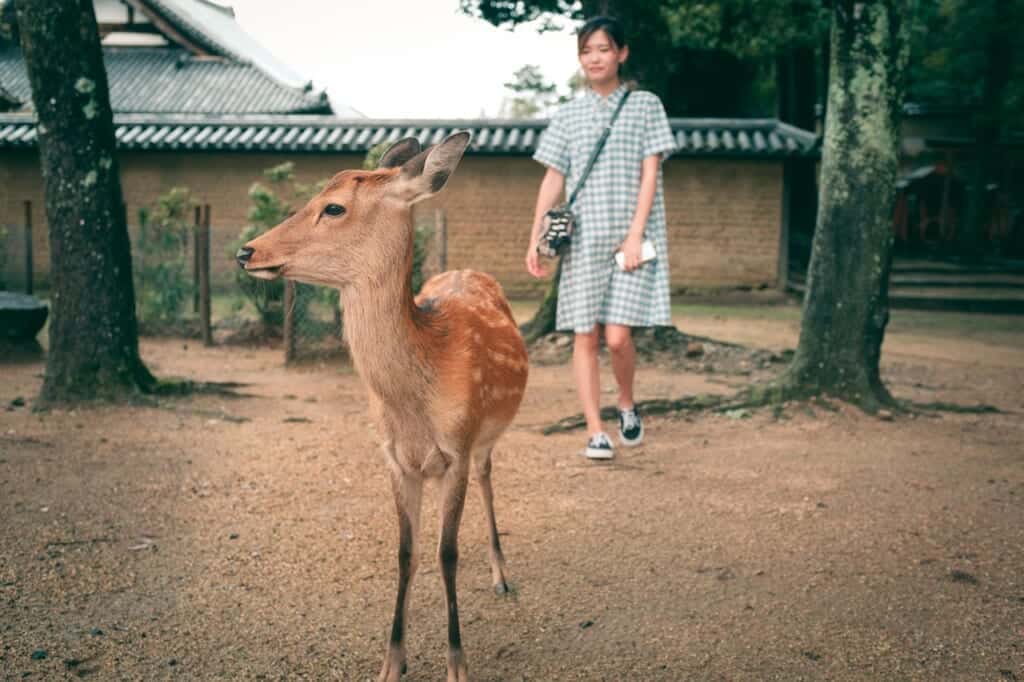 Access and Business Information
Getting to Nara is very easy, especially from Kyoto and Osaka. A short ride will bring you to one of the two main train stations that are located within walking distance of Nara Park.
How to Get to Nara Park
To get to Nara from Kyoto station, you can choose the JR Nara Line or the Kintetsu Nara Line. The Kintetsu Nara Line is slightly faster and will bring you to Nara in 35 minutes. But if you have a Japan Rail Pass, you can ride for free on the JR Nara Line that can take you to Nara in 45 minutes.
From Osaka, you can choose between a JR train or a Kintetsu train. The trains of the Kintetsu Nara Line leave from Namba station and arrive at Nara in 40 minutes. The trains of the JR Kanjo-Yamatoji Line, accessible with a JR Pass, leave from Osaka station and arrive at Nara in 50 minutes.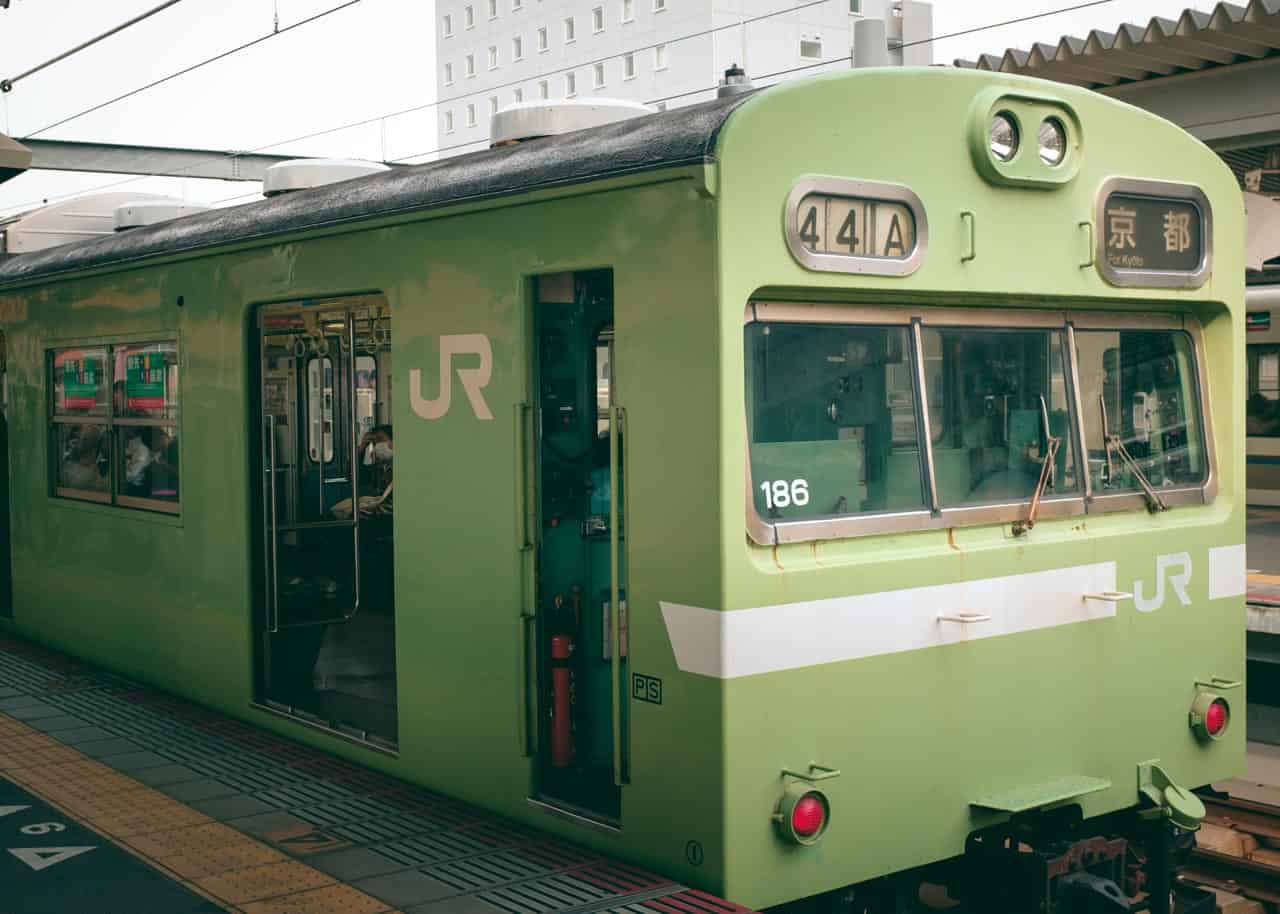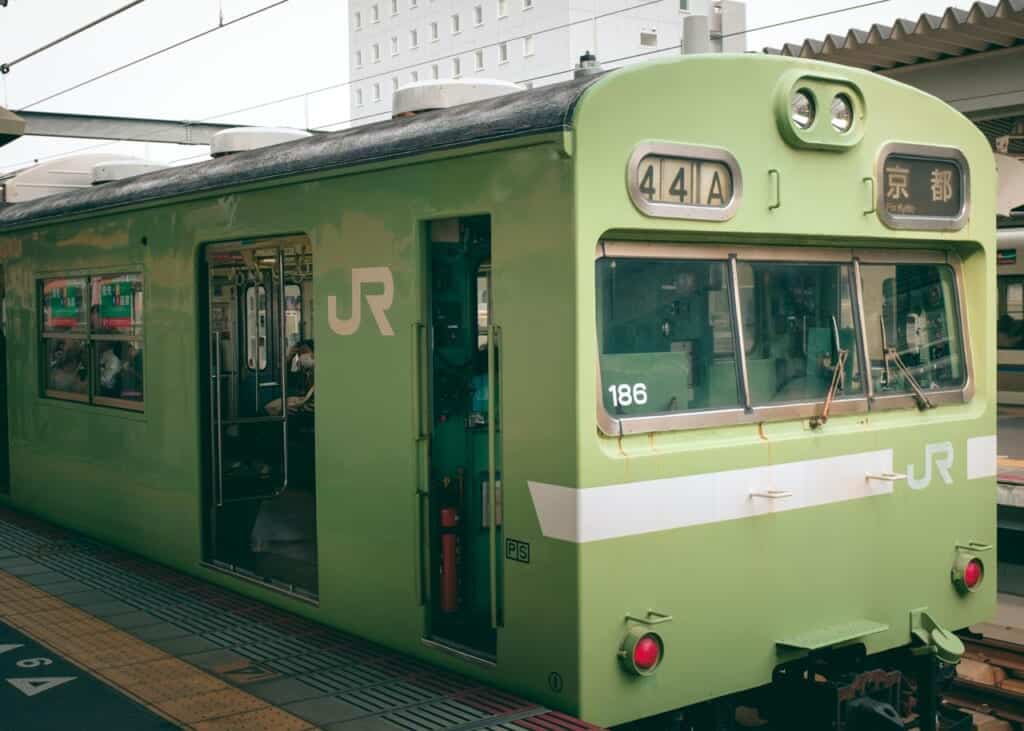 Once in Nara, you will only have to walk 5 minutes from the Kintetsu station to reach Nara Park and 15 minutes from the JR station.
Todai-Ji Temple Business Hours
The Todai-Ji Temple grounds have free entry, just like Nara Park. However, you will require a ticket to access some temple buildings, including the Daibutu-den, the Hokkei-do, the Kaidan-do, and the Todai-Ji museum.
Temple Opening Time: Open every day from 7:30 to 17:30 between April and October and from 8:00 to 17:00 from November to March.
Museum Opening Time: Open every day from 9:30 to 17:30 (last entrance at 17:00) from April and October, and from 9:30 to 17:00 (last entry at 16:30) from November to March.
Fee: The entrance ticket gives access to all the temples of Todai-Ji. It costs 600 yen for adults and 300 yen for children. To visit the Todai-Ji Museum, you can buy a ticket that'll get you access to the temples and the museum at 1,000 yen for adults and 400 yen for children.
For more information, visit the Todai-Ji official website.
Kofuku-Ji Temple Business Hours
The Kofuku-Ji grounds are free all year long. A ticket is only needed to access the Kofuku-Ji National Treasure Museum.
Opening time of the museum: Open every day from 9:00 to 17:00 (last entrance at 16:45)
Fees: It costs 700 yen for adults, 600 yen for middle-school and high-school students and 300 yen for elementary-school students.
For more information, visit the official Kofuku-Ji website.
Kasuga Taisha Shrine Business Hours
Opening time: Open every day from 6:30 to 17:30 between March and October and from 7:00 to 17:00 between November and February.
Fees: It costs 500 yen to access the main shrine
For more information, visit the official Kasuga Taisha website.
The deer of Nara Park will leave incredible memories to the visitors. Feeding these wild animals with shika senbei while they peacefully walk between countless Japanese temples and shrines is one of these unique experiences that can only be made during a trip to Japan. A must-see destination if you are in Kansai!