When I moved to Iwate, the Ryusendo Cave was one of those places that everyone and their mom recommended seeing. Maybe because of that I ended up putting it off until well into my third year in Japan. When I did finally make the trip, my friends and I combined it with a trip to Jodogahama Beach, and together they made up the perfect day trip.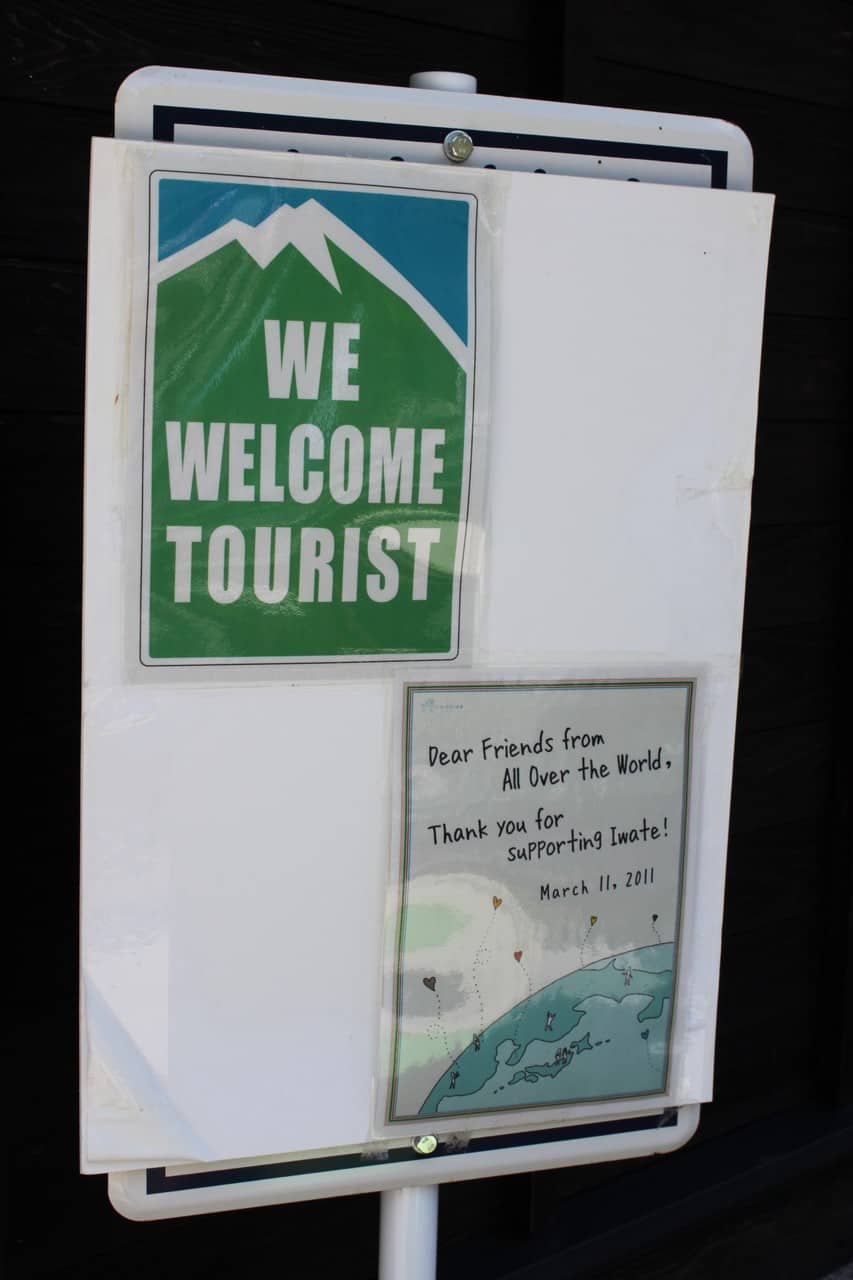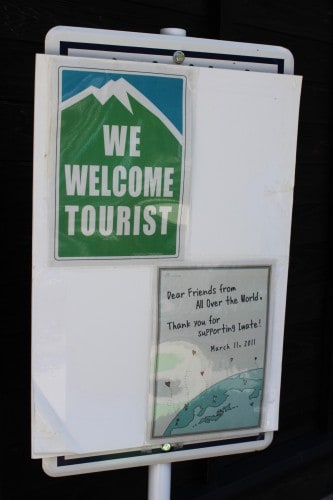 The temperature was about sixteen degrees, not hot but pleasant. After paying for our tickets at the ticket machine we headed across the pathway toward the entrance to the cave.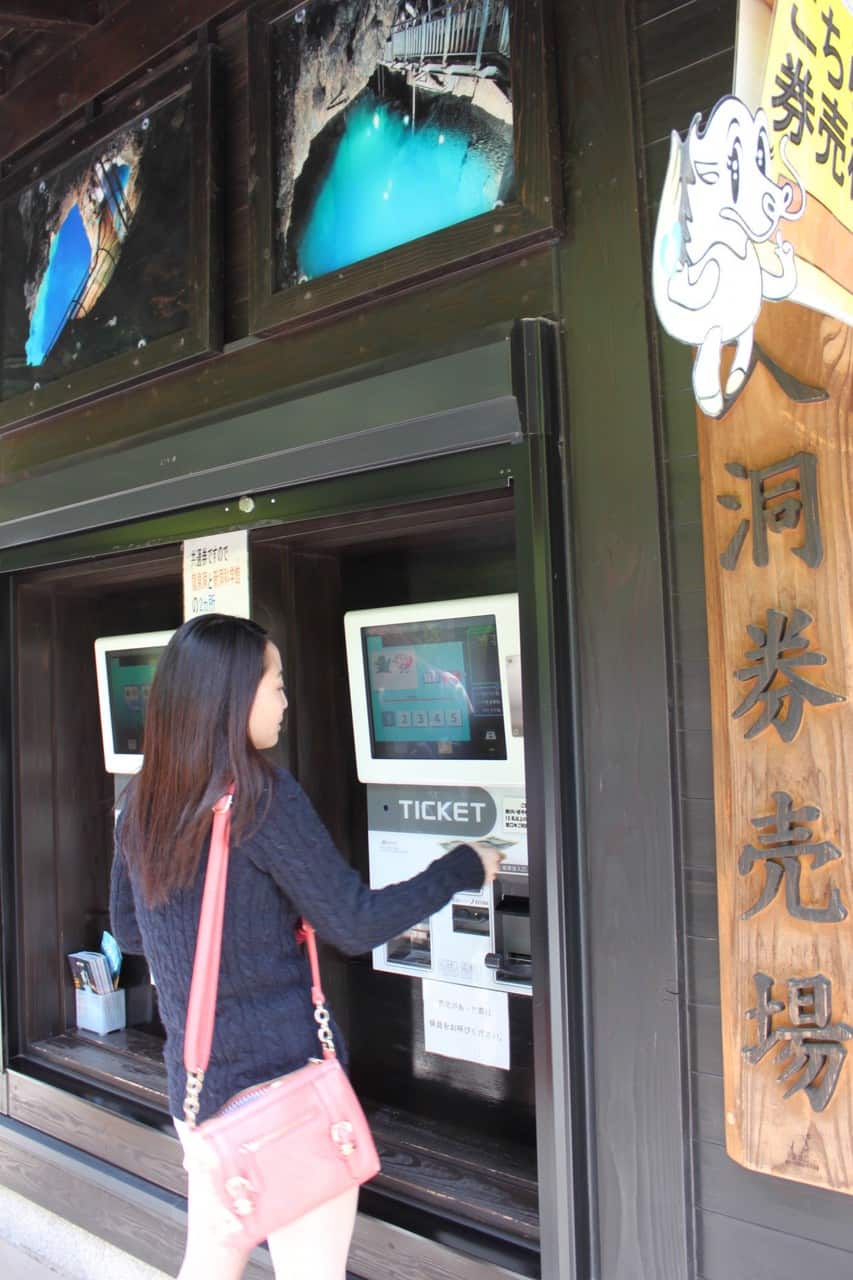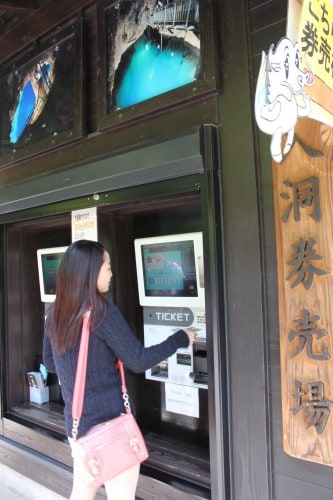 It didn't look very impressive, a large doorway sized opening in the rock face. A blast of cold air hit us as we shuffled through the entrance, and I half heartedly regretted my decision to wear shorts.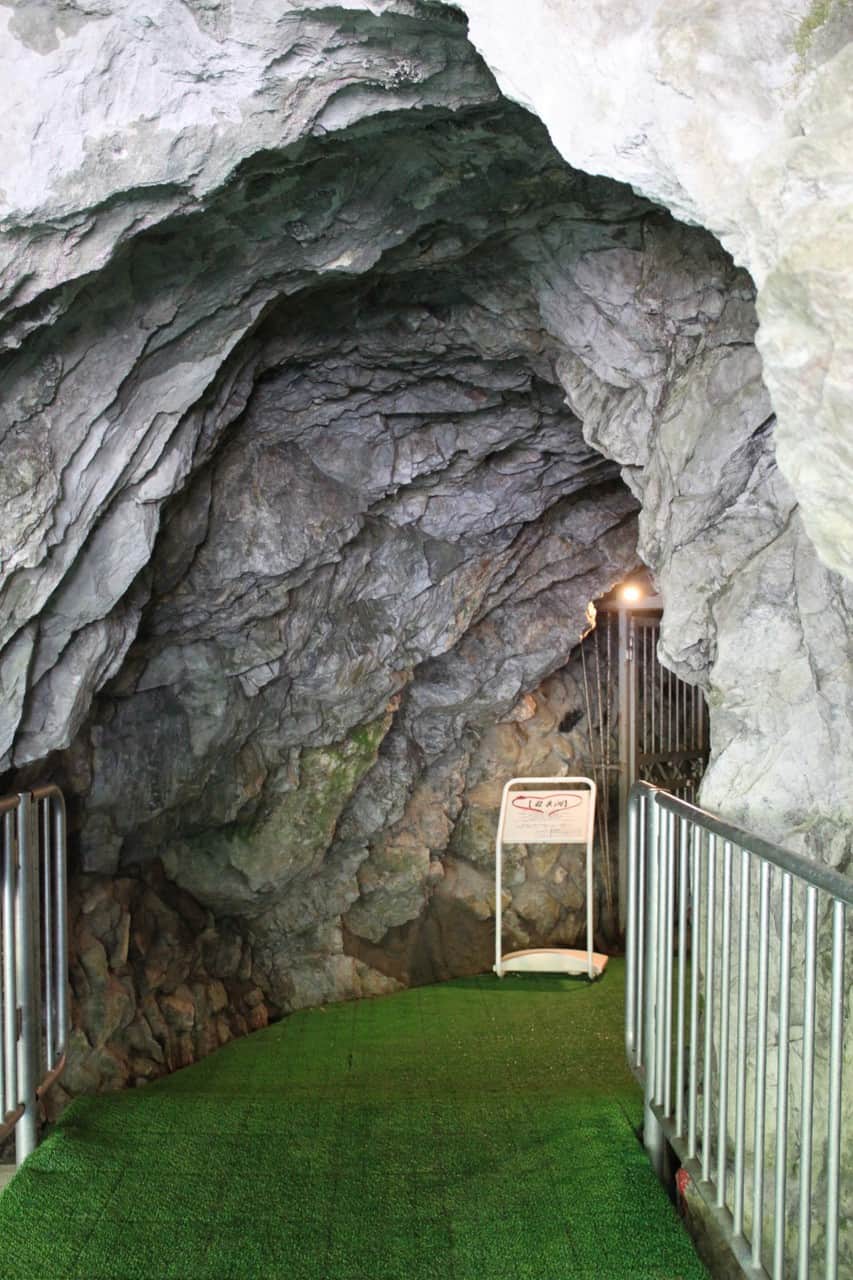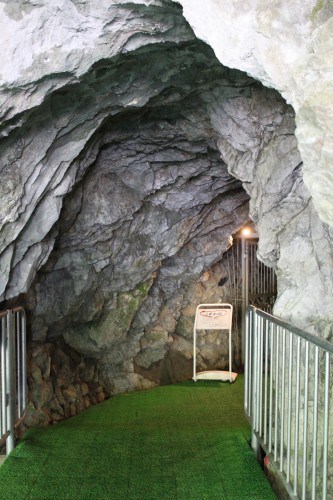 The pathway followed an underground stream, which rushed beside us, the sound of the moving water echoing and filling the spaces. Occasionally a pocket of calm water would sit beside the path, a measuring stick showing the depth of the pool. Here and there along the route informative signs gave detailed information about species of bats dwelling in the caves, and pool depths, along with the methods used to explore the freshwater pools, and the tunnels we followed.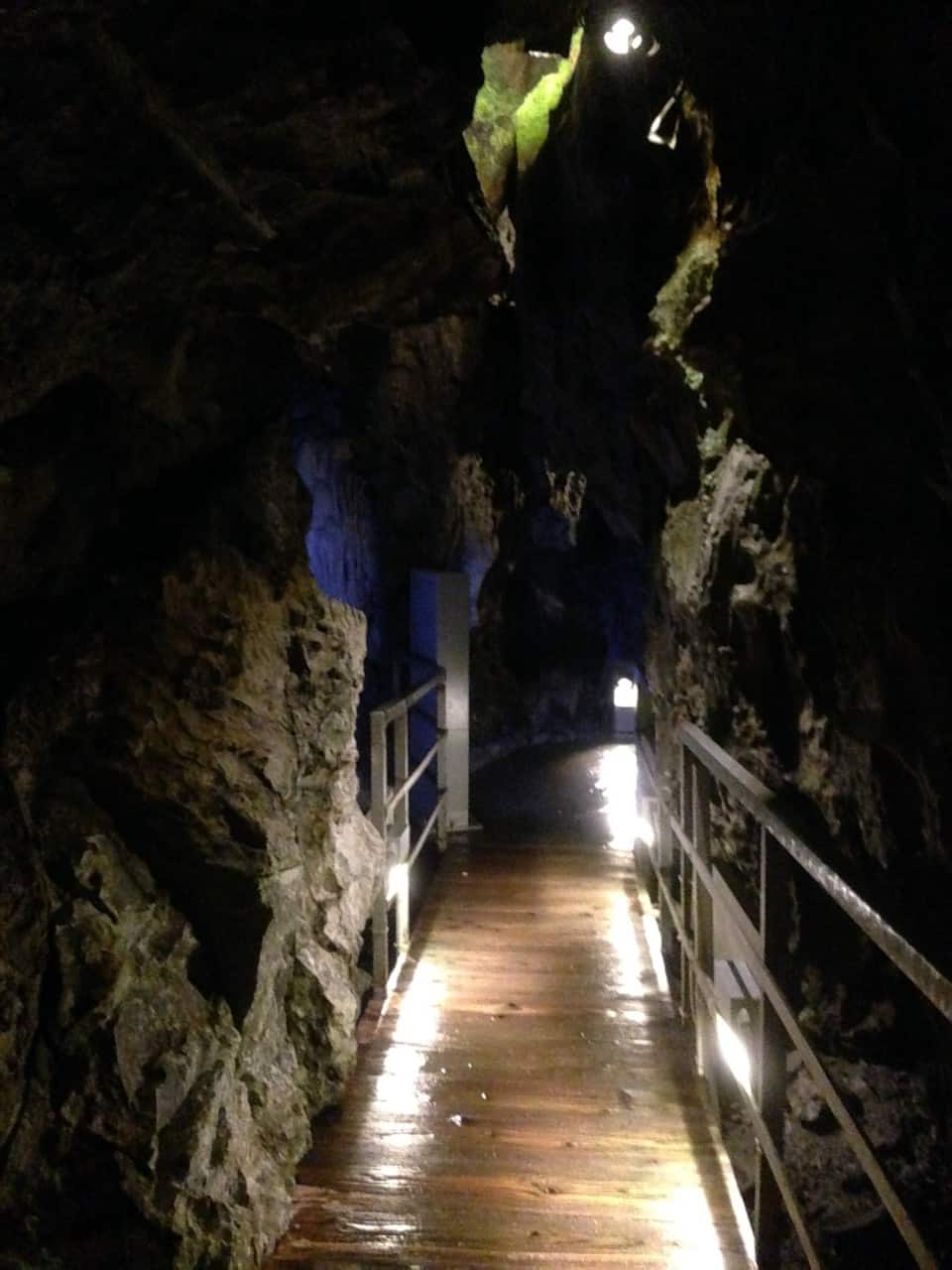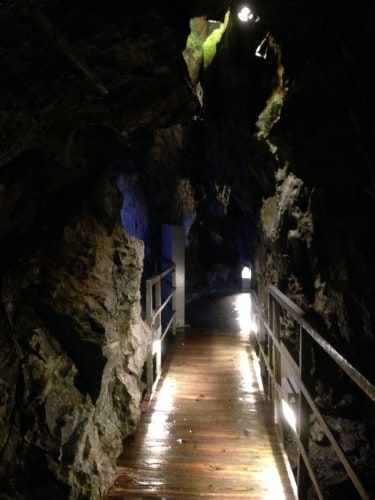 Soon after entering the cave it widened, opening into a cavern, the ceiling stretched above us like a cathedral, with pockets of darkness tucked among the stalagmites.  The walls were lit by colored lights which reflected and transformed the darkness into something surreal, and beautiful.
We continued t0 follow the path, occasionally ducking our heads to avoid the ceiling when it became too low, and observed the various pools of crystal clear water, one of the main features of the Ryusendo Cave. Each pool of water was measured and lit from beneath the surface. The water shone azure above the lights, fading to a darker indigo below. They looked bottomless, and without the measuring stick, I would have believed they were.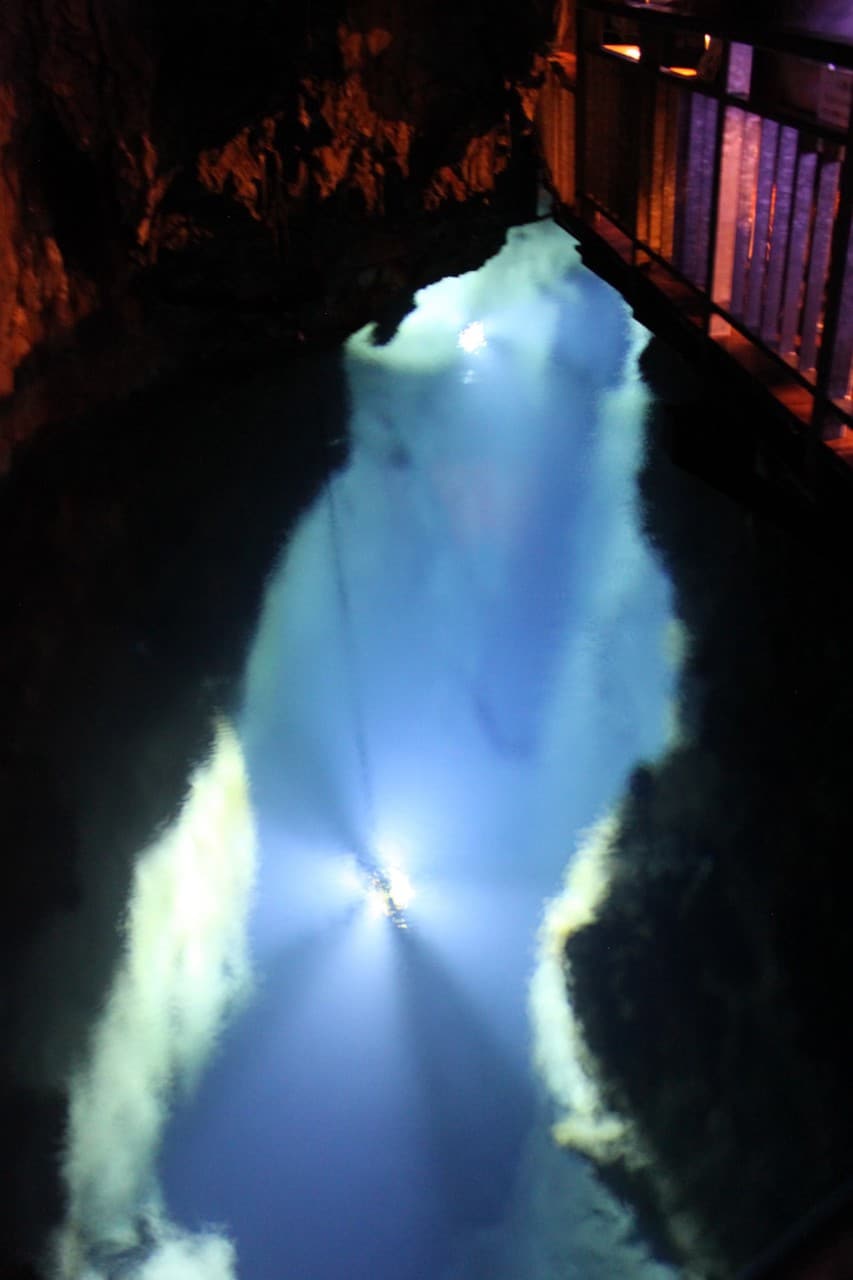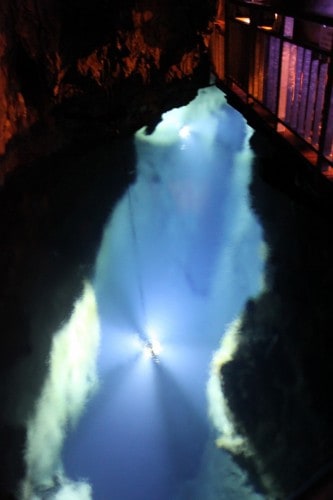 Ryusendo Cave is one of three limestone caves in Japan. It stretches over 3,100 meters, and the tour takes approximately thirty minutes, with a bit of stair climbing involved. The fresh spring water forms in pools, the deepest viewable lake is 98 meters in depth, but there is a deeper underground lake reaching to 120 meters, making it the deepest underground lake in Japan. The mineral water from Ryusendo Cave is bottled and sold, and used in sake, tea, wine and coffee, it is prized for being rich in calcium.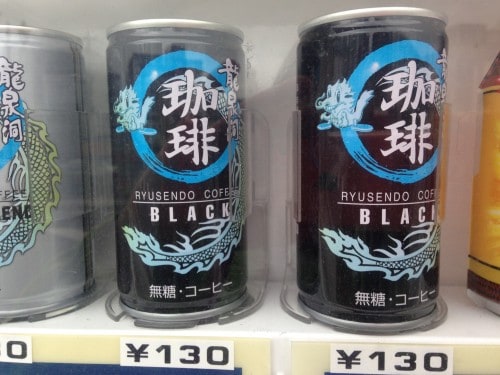 Across the street there is the New Ryusendo Cave Science Hall, which gives information about cave dwelling insects and animals, and features displays of archeological finds such as stone tools, and earthenware items.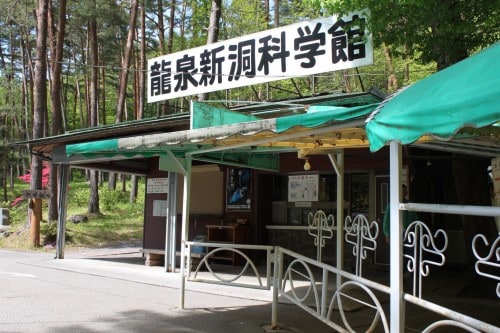 Access:
From Morioka : There are four direct JR Tohoku buses which operate daily between Morioka Station and Ryusendo Cave. A one way trip takes about 2 hours and 15 minutes, and costs 2660 yen. It is covered by the Japan Rail Pass.
| | |
| --- | --- |
| Name | Ryusendo Cave |
| Category | Cave |
| Address | 1-1 Iwaizumiaza, Kaminari, Shimohei-gun, Iwaizumi-cho 027-0501 , Iwate Prefecture |
| Access | [map]1-1 Iwaizumiaza, Kaminari, Shimohei-gun, Iwaizumi-cho 027-0501 , Iwate Prefecture[/map] |
| Opening Hours | October - April : 8:30 - 5:00 May - September: 8:30 - 6:00 |
| Price Range | Adults : 1000 yen Children : 500 yen |
| Payment options | Cash |