Welcome to Japan's Setouchi region, home to some of the country's most beautiful natural landscapes, historic sites, and cultural experiences. Located in western Japan, the Setouchi area is comprised of seven prefectures around the Seto Inland Sea, Japan's largest inland sea dotted with numerous islands and countless attractions to explore. Setouchi has it all: historic towns, modern cities, lush gardens, azure seascapes, secluded temples and shrines, natural hot springs, and culture-rich landmarks at every turn. In any other country, seeing all of that would take weeks, but what if we told you that you could visit all seven Setouchi prefectures, each with its own unique attractions and highlights, in just five days? And from Tokyo, no less?
If we have piqued your interest, pack your bags and get ready to embark on an unforgettable 5-day tour of Setouchi to learn about the history of this stunning region!
Day 1: From Tokyo to Kobe and Tokushima
The first destination of our trip is Kobe (神戸), the capital city of Hyogo Prefecture (兵庫県), famous for its Kobe beef (wagyu beef), numerous sake distilleries, and cozy hot springs.
The city is best reached by train from Tokyo. If you have a Japan Rail Pass, we recommend taking the Hikari Shinkansen; the journey to Shin-Kobe Station only about 3 hours, and it's entirely included in the pass.
Explore the Historic Neighborhood for Foreign Merchants at Kobe Kitano Ijinkan-Gai
From Shin-Kobe Station, a 15-minute walk will take you to the historic district of Kobe Kitano Ijinkan-Gai (神戸北野異人館街). The area used to be a hub for foreign merchants and diplomats who settled here following the opening of the Port of Kobe to foreign trade in the 19th century. Today, you can stroll through the charming neighborhood and visit the more than two dozen former foreigner residences known as Ijinkan, which have been preserved as museums open to the public.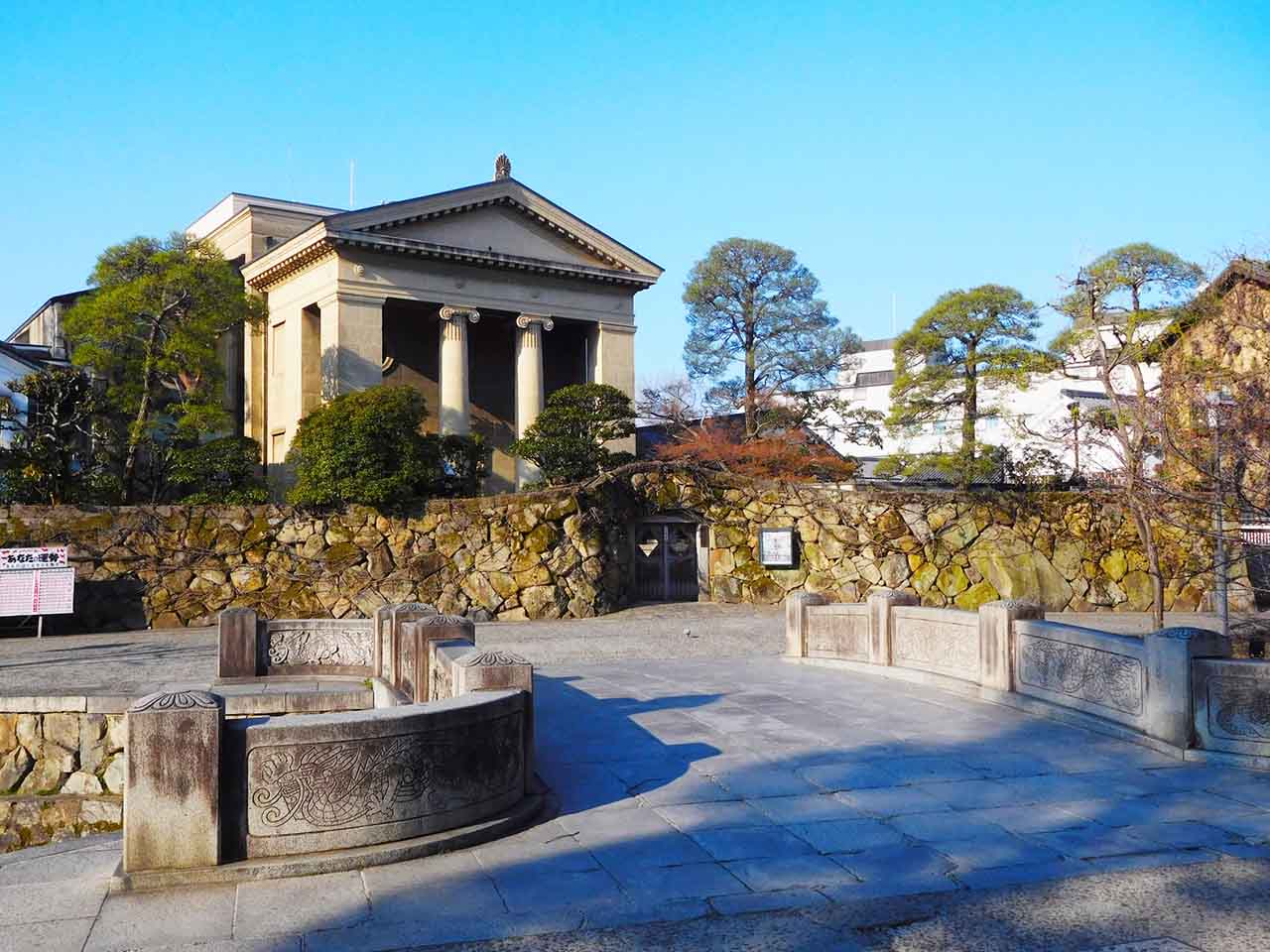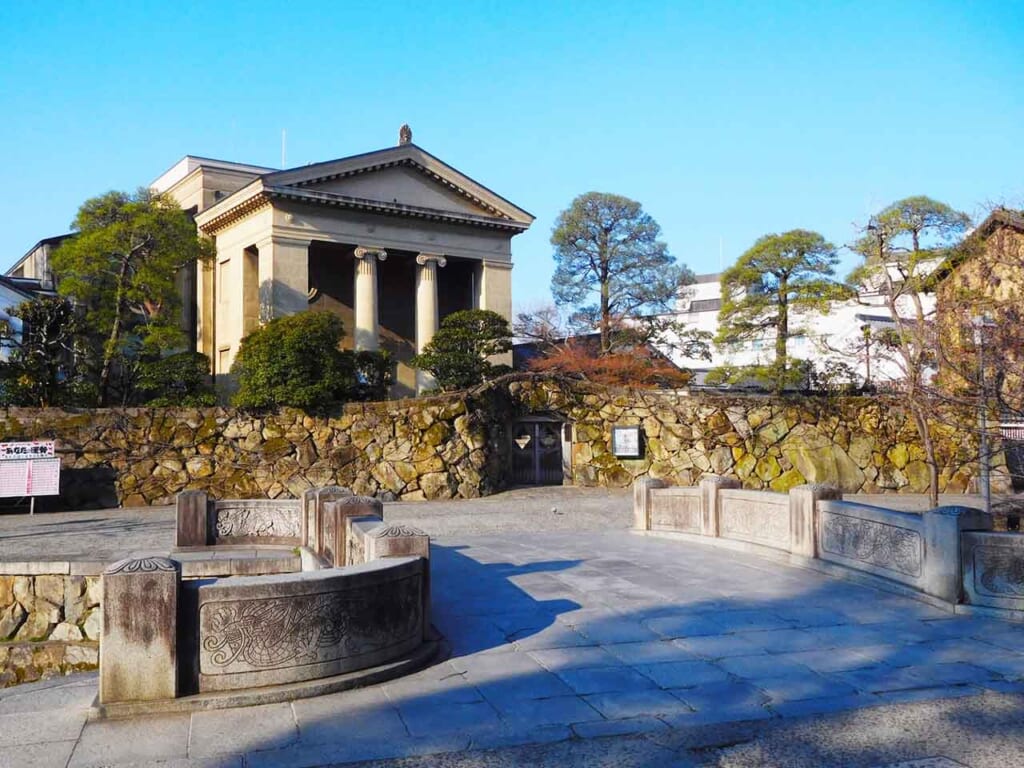 Individual residence admission fees range from 550 to 750 yen; combination tickets are also available. Notable landmarks include the Weathercock House, a red brick mansion built in the early 1900s as the residence of a German trader, the Moegi House, a former residence of the Consul-General of the United States in 1903, the Kobe Kitano Museum, once the former US consulate and now exhibiting historical items from the Kitano district, and… We could go on, but the best way to experience this iconic historic district is to wander around and see what piques your interest simply.
Aside from its cultural attractions, the district also has a variety of cafes, restaurants, and boutiques, making it a popular destination for young Japanese couples looking for a romantic day out.
After a revitalizing walk through the Kitano district, you're ready to board a bus bound for Tokushima Prefecture (徳島県). The highway buses departing from Kobe travel through areas with breathtaking sea views, including Awaji Island (淡路島), the largest island in the Seto Inland Sea, which is connected to the mainland by Akashi-Kaikyo Bridge, one of the world's longest suspension bridges.
Learn About the Awa Dance at Awa Odori Kaikan
Get off the bus at Tokushima Eki-Mae, directly in front of the train station, and walk for about ten minutes to Awa Odori Kaikan (阿波おどり会館). This is a must-see destination for anyone interested in traditional Japanese culture and dance, as it gives visitors a chance to learn more about the colorful and vibrant Awa Dance, a folk dance that originated right here in the Tokushima Region.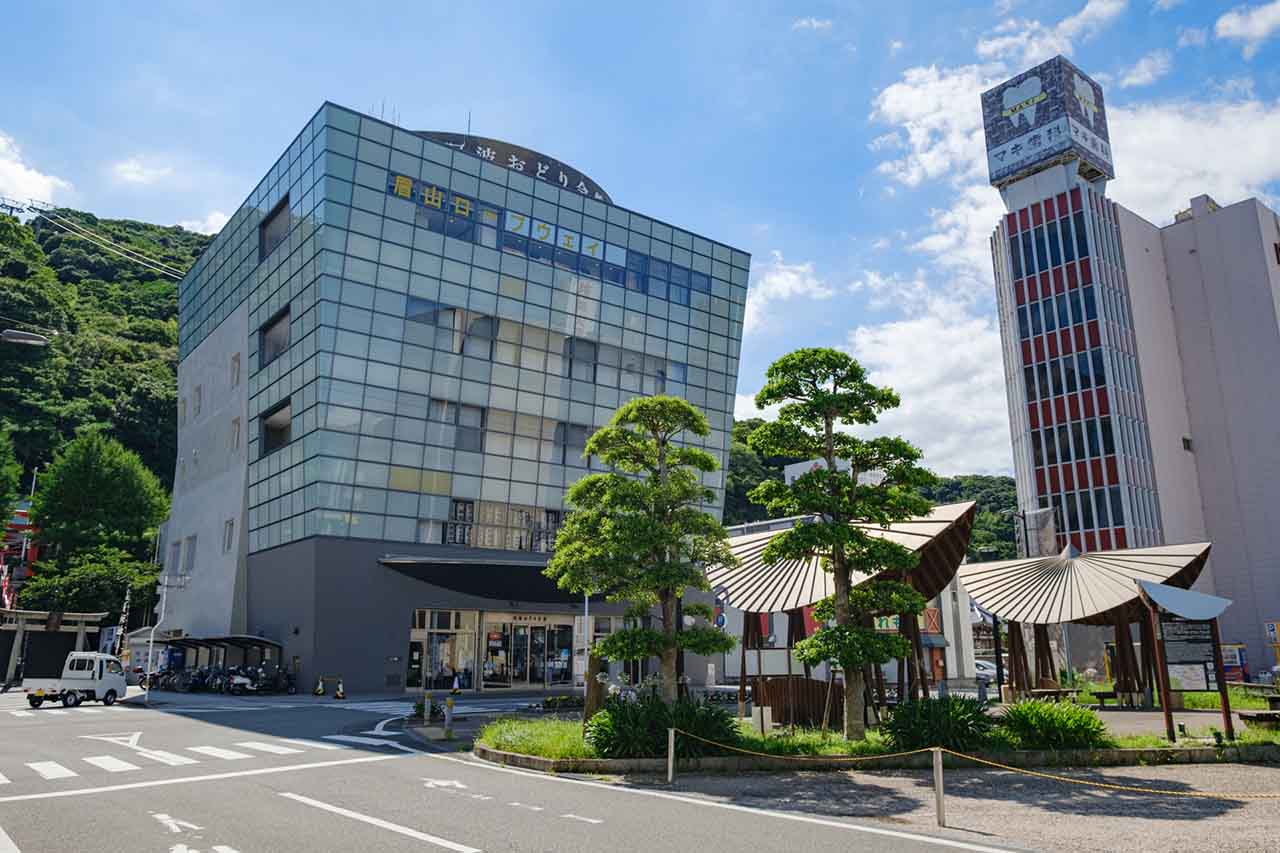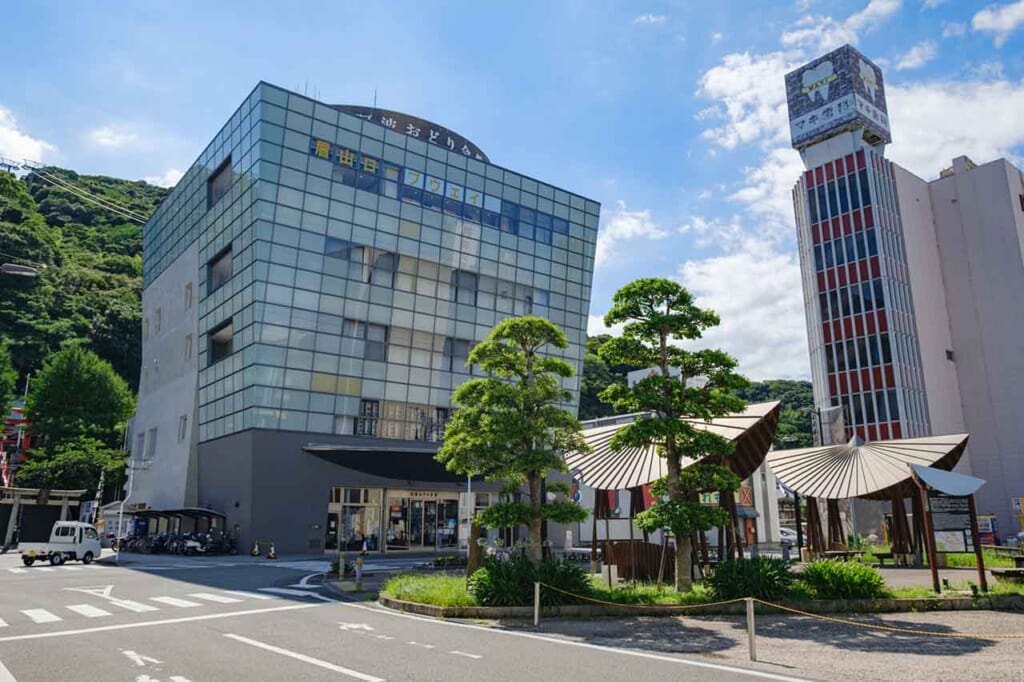 Here, you can see Awa Dance performances all year round, buy local products, visit the library and an exhibition hall, which showcases the history and cultural significance of the dance, and even visit a museum that features exhibits on the history and folklore of the Tokushima region.
Book an Overnight Stay in Tokushima
Tokushima will be the base camp for your first night exploring the Setouchi region. The area offers a wide range of accommodations, including budget-friendly hostels, ryokan inns, and more upscale hotels, catering to all budgets and traveling styles.
Day 2: From Tokushima to Takamatsu and Kurashiki
Another day, another discovery. The second day of your itinerary will take you out of Tokushima and into the prefectures of Kagawa (香川県) and Okayama (岡山県).
Enjoy a Traditional Wasen Boat Ride at Ritsurin Garden, One of Japan's Most Beautiful Gardens
From Tokushima Station, a limited express train will take you to your next destination, Takamatsu (高松市), the capital of Kagawa Prefecture, in a little over an hour.
After a short walk from Takamatsu Station, you'll reach the Ritsurin Garden (栗林公園), one of the largest and most beautiful gardens in Japan. With a history dating back to the 16th century, this garden was awarded three stars in the Michelin Green Guide Japan and recognized as a Special Place of Scenic Beauty. Wander through the garden's many paths and discover its ponds, streams, and landscaped hills. "A change of scenery at every step," as suggested by the Japanese saying ippo ikkei (一歩一景), which is frequently used to describe this garden.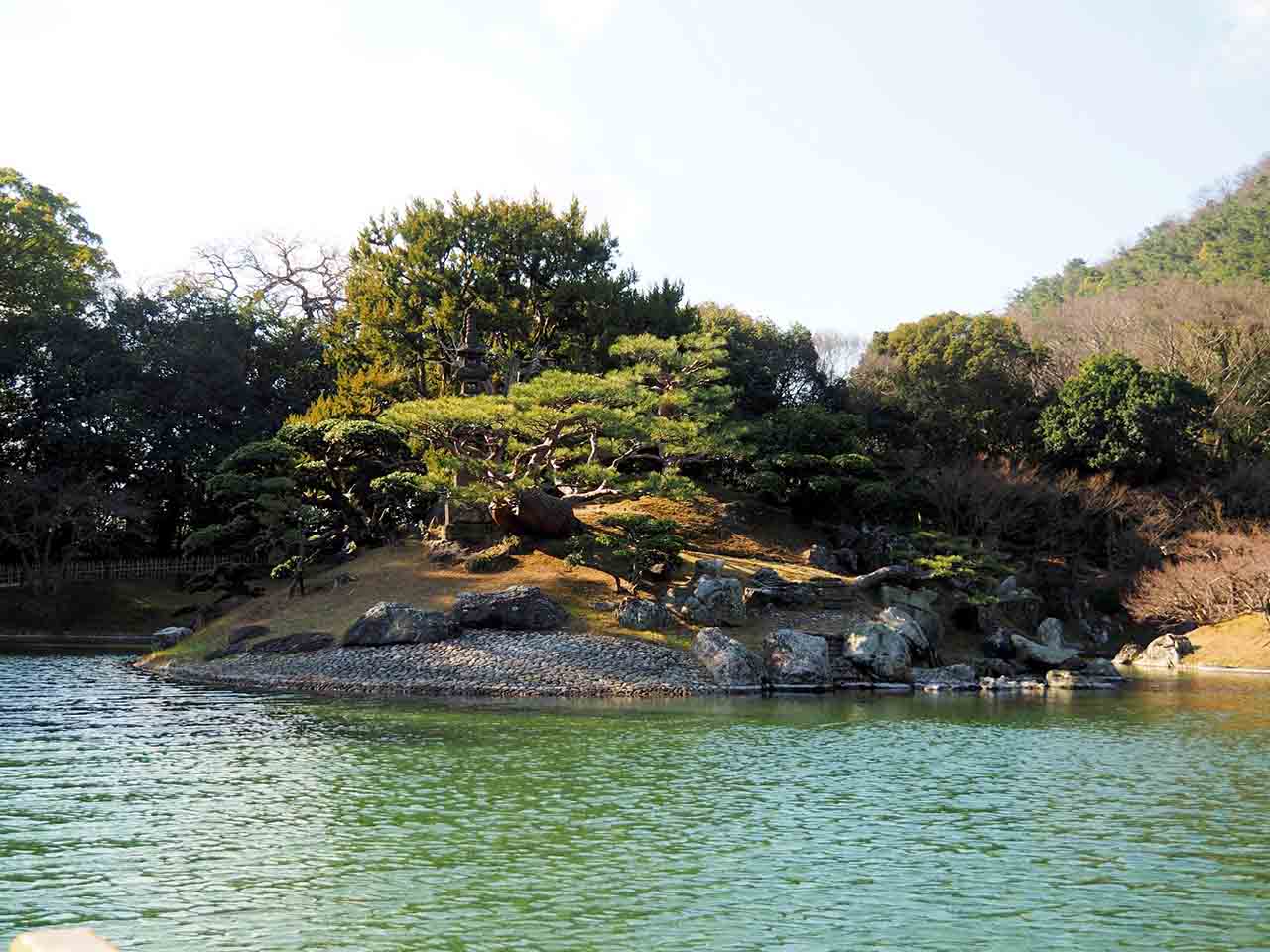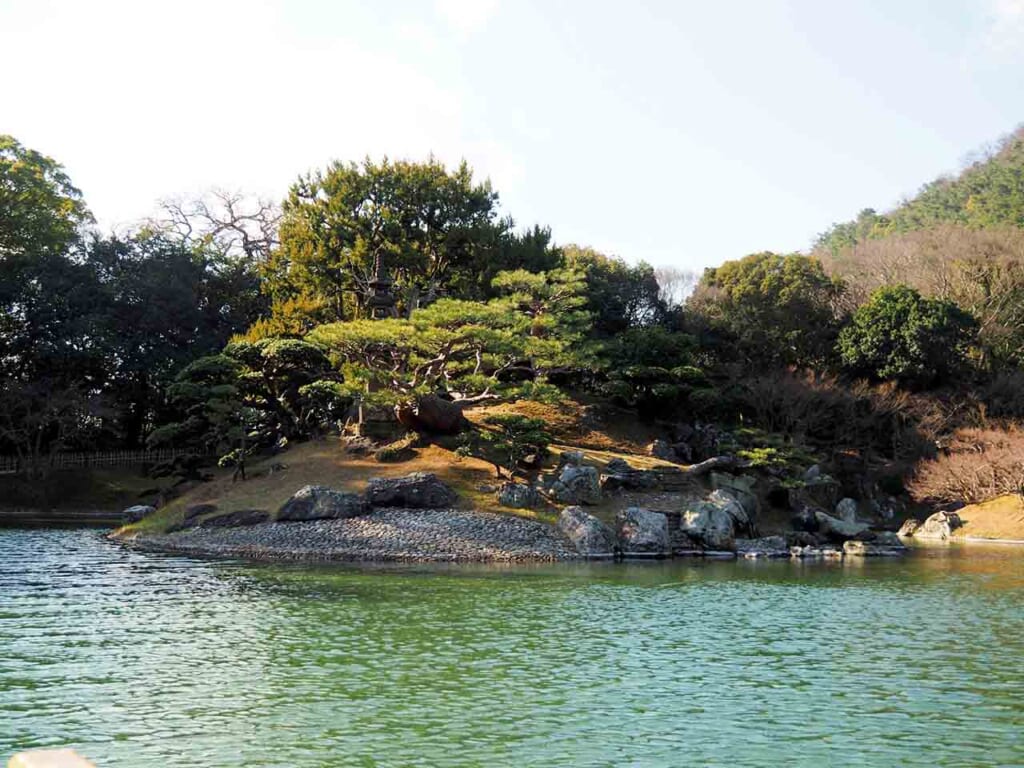 For a tour of the garden from a different perspective, we recommend a Wasen boat ride around Nanko Pond, where you'll learn about the history of the garden from one of the garden's boat guides. After your stroll or boat ride, make a stop at Kikugetsutei, an Edo-era teahouse overlooking Nanko Pond, and enjoy learning all about folk crafts at the Sanuki Mingeikan Museum.
Explore the Canal-Lined Kurashiki Bikan Historical Quarter
After a brief stop on the island of Shikoku, it's time to hop on another train to reach the fourth prefecture of this trip. On the way, the train will travel over the Seto Ohashi Bridge, a bridge that combines a railroad and a road. Your next stop is Okayama Prefecture (岡山県). The Kurashiki Bikan Historical Quarter (倉敷美観地区) is a lovely historic district located in Kurashiki, Okayama Prefecture. Once a bustling center of trade and commerce, the area now boasts picturesque views of the white plaster walls of the kominka (traditional houses) reflecting off the water of the Kurashiki River: a townscape so pretty and unique that it was designated as an Important Preservation District for Groups of Traditional Buildings in 1979.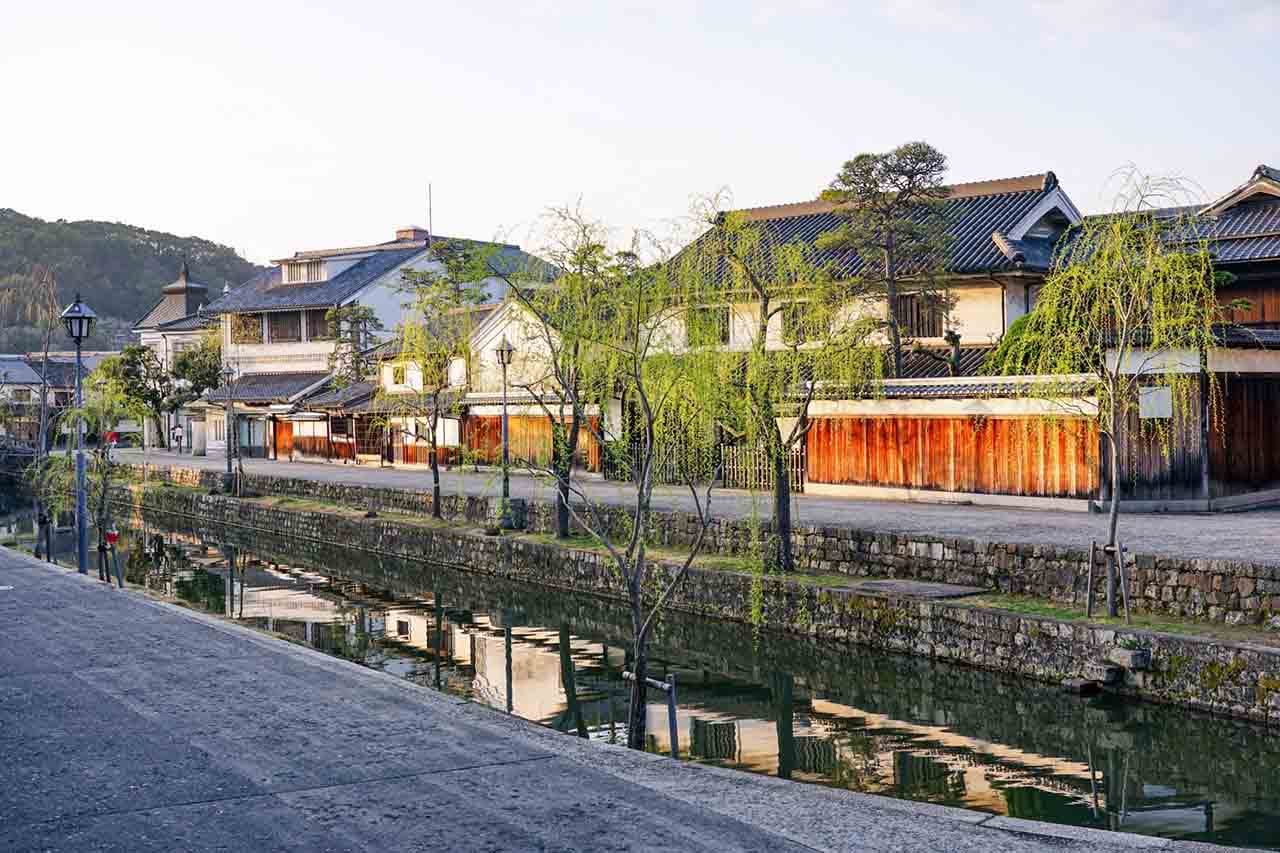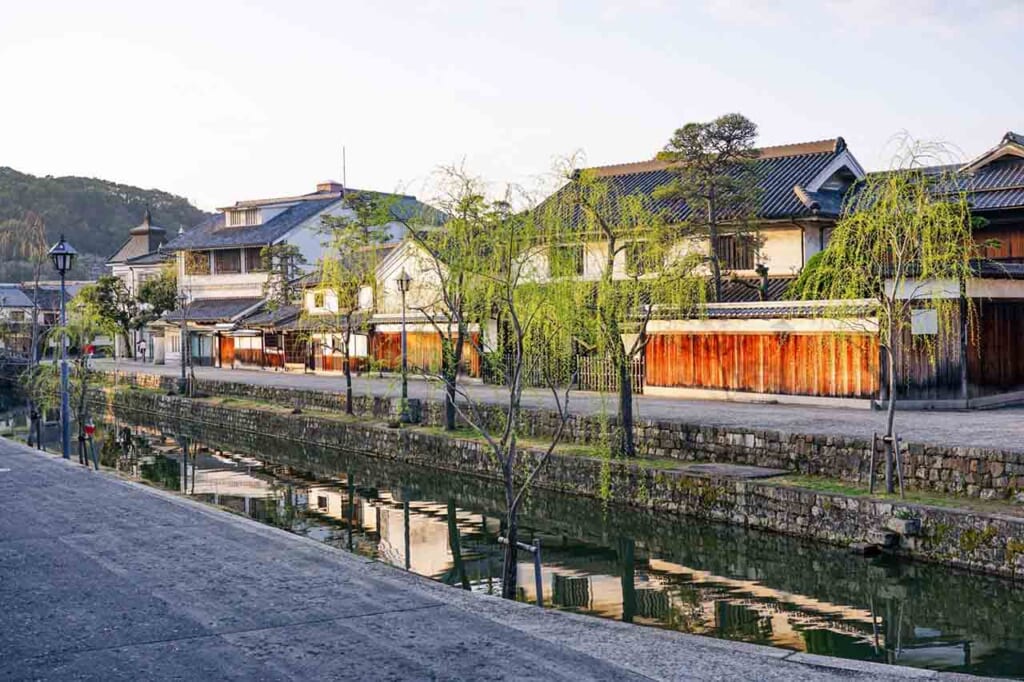 If you have the chance, we recommend taking a traditional Kurashiki Canal boat tour (adults 500 yen, children 250 yen for a 20-minute cruise).
Explore the area's rich history and culture by visiting the Ohara Museum of Art and the Kurashiki Museum of Folkcraft, as well as several Nationally Designated Important Cultural Properties. And, just as importantly, get a taste of Japanese tradition at one of the many washoku restaurants and local sweet shops in the neighborhood.
Book an Overnight Stay at Kurashiki
There are various places to stay within the Kurashiki Bikan Historical Quarter. If you want to see the lovely nightscapes along the Kurashiki River, staying in the historic district is your best bet. If you're traveling on a budget, we suggest looking into the ryokan inns and hotels just outside the city center. Kurashiki is relatively small, so you won't be far from a train station even if you stay outside the city center.
Day 3: From Kurashiki to Dogo Onsen through Onomichi, Shimanami Kaido, and Imabari
On the third day of this itinerary, you'll leave Kurashiki and travel to Hiroshima (広島県) and Ehime (愛媛県) prefectures. The city of Onomichi (尾道市), in Hiroshima Prefecture, is just an hour away from Kurashiki by train. It's a beautiful coastal town surrounded by verdant hills, narrow streets, and stone paths perfect for exploring.
Today, Onomichi is also a popular destination for cyclists since it serves as the gateway to the popular Shimanami Kaido (しまなみ海道) trail (also known as Nishiseto Expressway), which spans eight islands in the Setouchi Sea and connects Honshu and Shikoku.
Go Island-Hopping on the Shimanami Kaido Cycling Trail
After a stroll around town, head back to Onomichi Station and walk a few minutes to Onomichi Port Bicycle Rental Terminal. From here, you can catch a ferry to Mukaishima (向島), the starting point of the Shimanami Kaido cycling trail. The full length of the trail is approximately 70 km, but there are several rental points along the way where you can also drop off your rented bike. Renting a bicycle for a day costs about 2,000 yen. City bikes, cross bikes, and e-bikes are also available.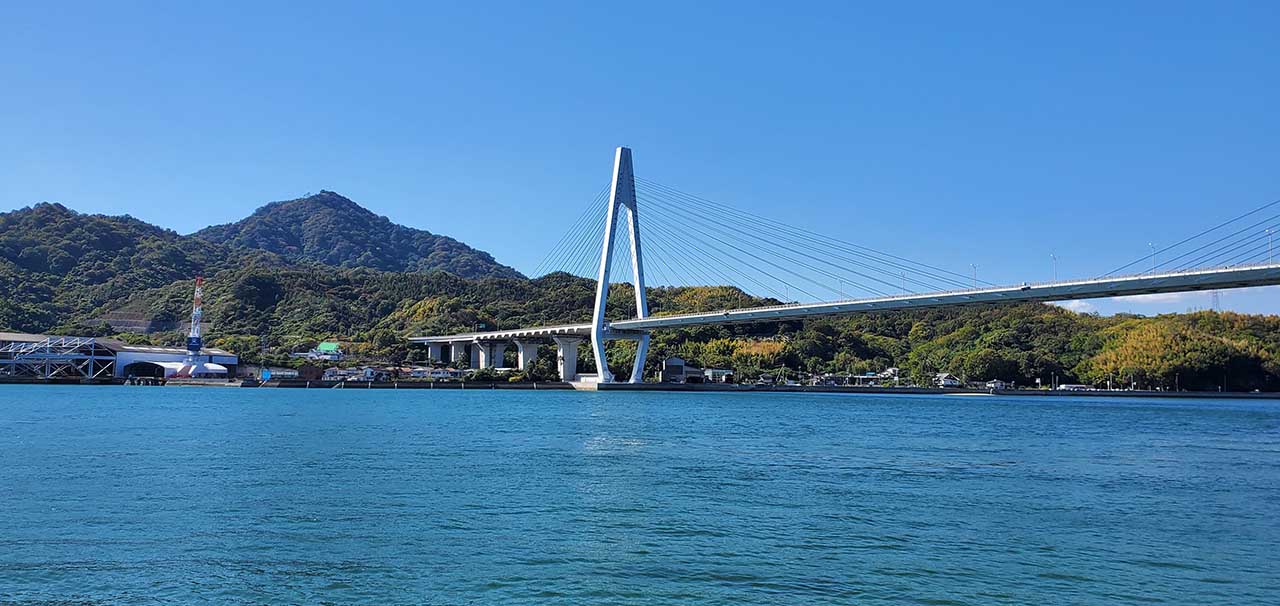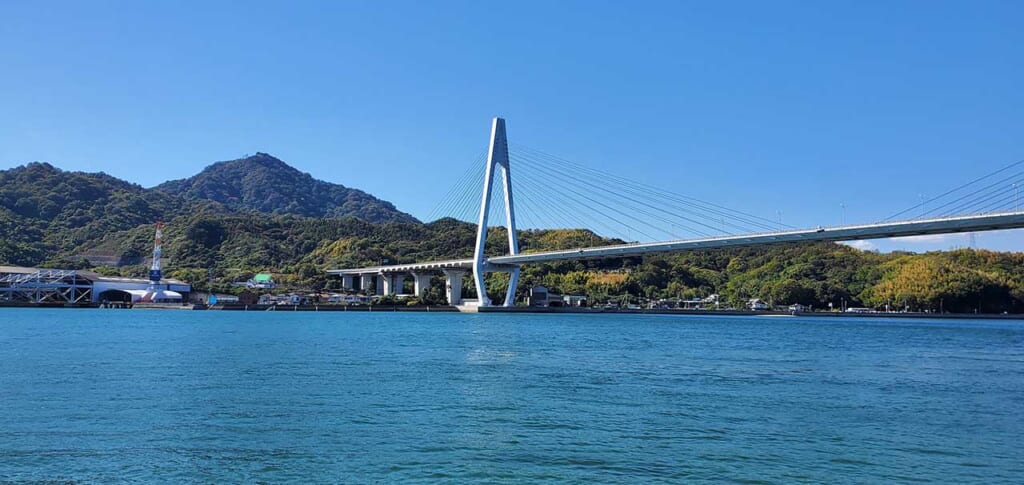 Visit the Lively Port Town of Imabari
Imabari (今治市) is another lively port town and the second biggest city in Ehime Prefecture. It's also home to the Imabari Castle, a building that has been completely restored and now includes a museum and an observatory from which you can enjoy a stunning view of the Seto Inland Sea. Traveling from Onomichi to Imabari by bus is also an option: the trip takes around 1.5 hours.
From Imabari Station, hop on a train to Matsuyama (松山), the prefectural capital of Ehime, and then take another 25-minute train to Dogo Onsen.
Dogo Onsen, the Real-life Spirited Away Bathhouse & One of Japan's Oldest Hot Springs
Dogo Onsen (道後温泉) is one of Japan's oldest hot springs, dating back 3,000 years. The Dogo Onsen Honkan, a wooden public bathhouse, dates back to 1894 and is popularly known as one of the inspirations behind Miyazaki's animated film "Spirited Away."
The surrounding Dogo Onsen area's grandiose hot spring spas, quirky boutiques, fascinating museums, and easygoing vibe are sure to leave you feeling refreshed and reinvigorated. After a soothing bath, explore the city in a cotton yukata robe and enjoy some local delicacies like Dogo Beer and freshly squeezed mikan juice, and head to Dogo's shopping arcades to find unique gifts and souvenirs to bring home with you.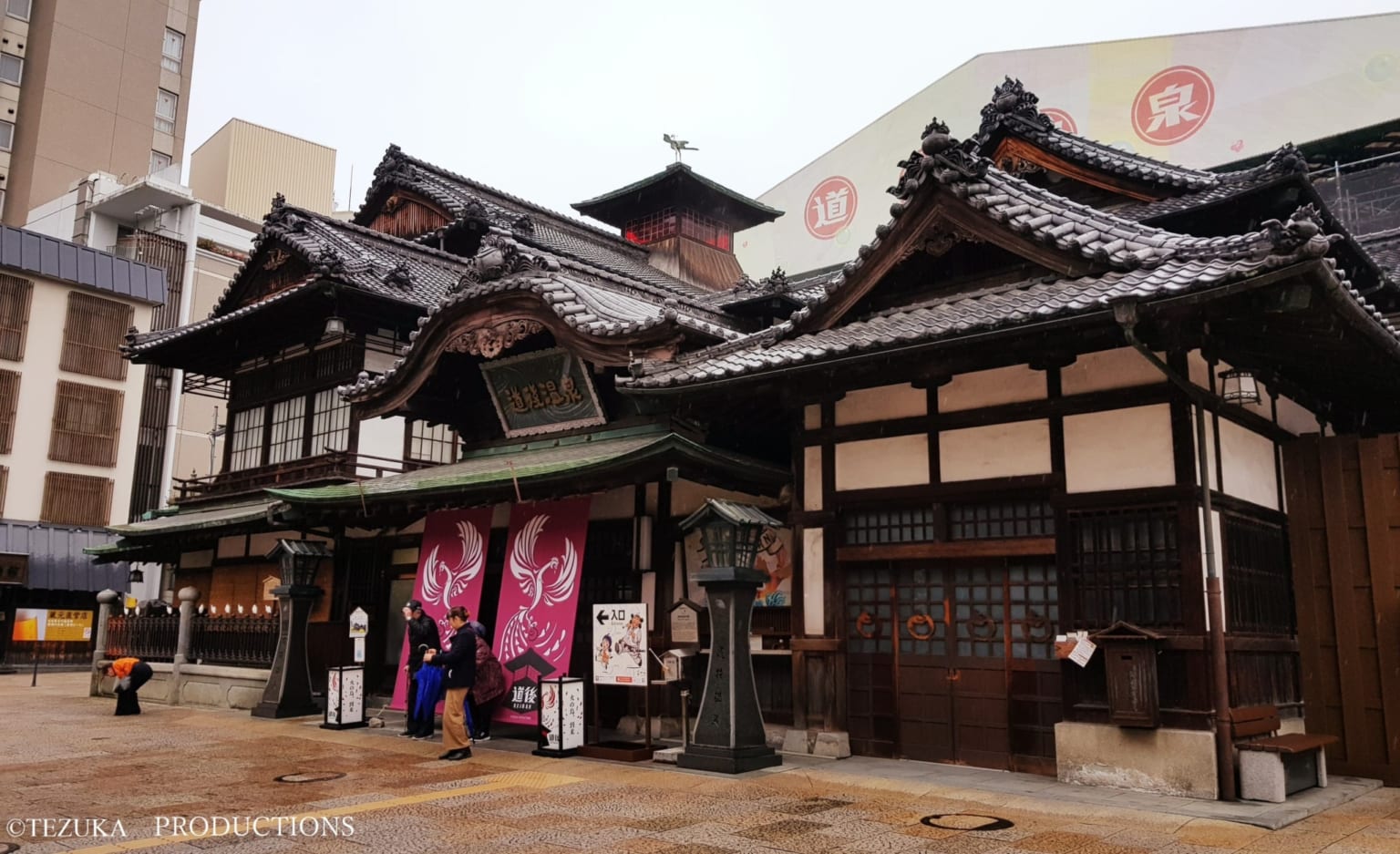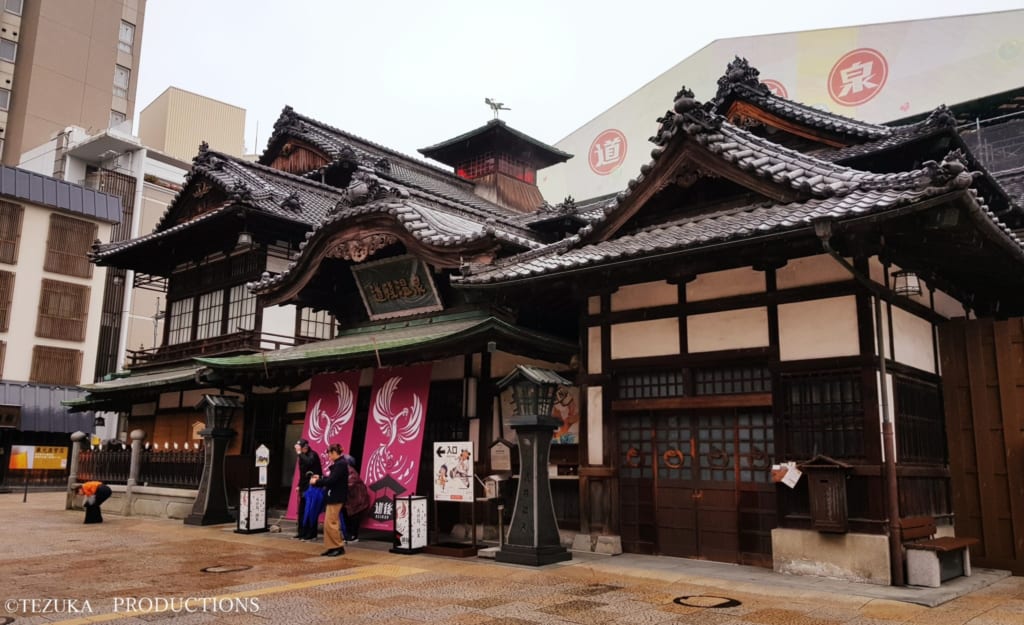 The bathhouse offers different entry tickets, as well as yukata rentals and access to a private tatami room with tea and snacks.
To cap off a long day, consider staying at one of the many ryokan inns in the area.
Day 4: From Dogo Onsen to Iwakuni and Hiroshima
On the fourth day of this itinerary, you'll leave Ehime and head once again to Hiroshima and Yamaguchi Prefecture (山口県).
After relaxing in the mineral-rich waters and exploring the charming Dogo Onsen district, return to Matsuyama Station and take a bus to Mitsuhama Port (三津浜港). From here, you can take a two-and-a-half-hour ferry ride to Yanai Port (柳井港) in Yamaguchi Prefecture, which offers stunning views of the Seto Inland Sea and surrounding islands. From here, take the train (around 30 minutes) to Iwakuni Station, and change to a bus to get to Kintai Bridge bus stop.
Visit the Picturesque Arched Bridges of Kintaikyo Bridge in Iwakuni
Kintai Bridge (錦帯橋, Kintai-kyo), also known as Kintaikyo Bridge, is one of Iwakuni's must-see attractions. The bridge was designed in a unique style with five steep arches, and it used to be an important and strategic crossing point for trade and travel between Iwakuni and Hiroshima.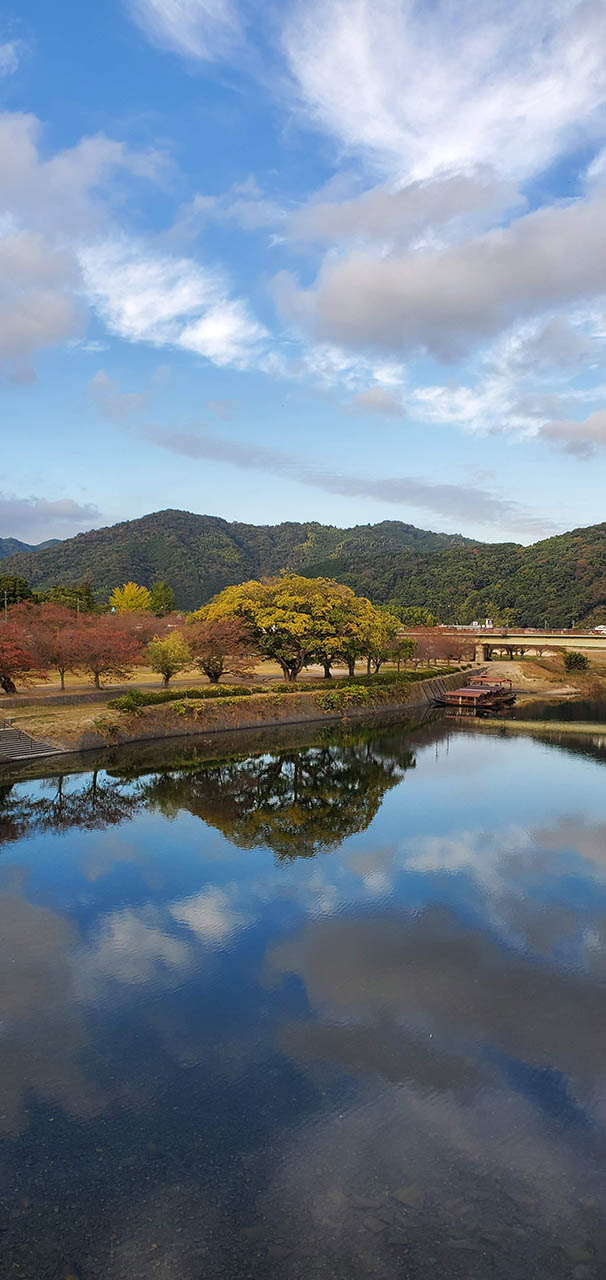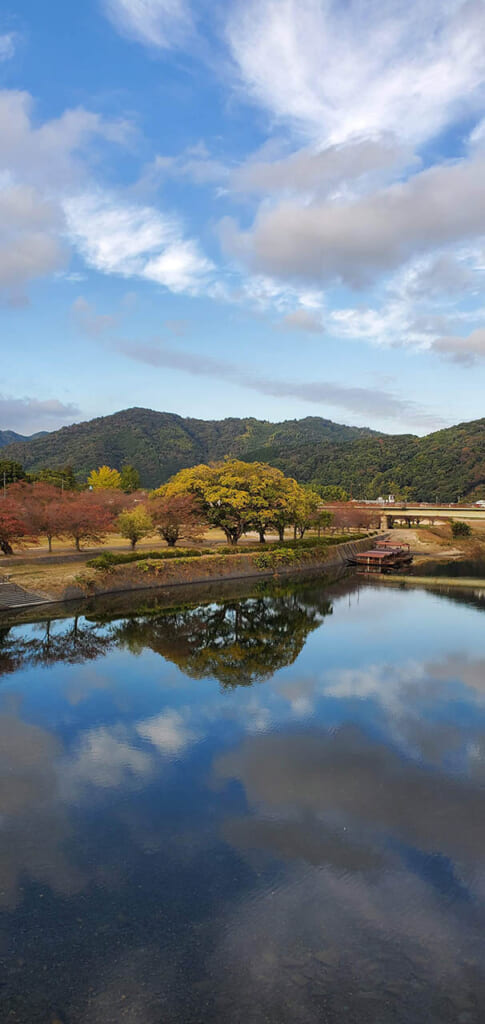 Today, the Kintai Bridge stands as a symbol of the enduring spirit of Iwakuni, reflecting the region's traditional beauty and unique cultural heritage. Enjoy the beautiful river views and surrounding scenery while strolling across the bridge.
Visit Hiroshima, the City of Peace, Memorial, and Revival
Next on the itinerary is Hiroshima. From Kintai Bridge, take another bus to Shin-Iwakuni Station. Shin-Iwakuni is only 15 minutes by bullet train to Hiroshima.
Hiroshima (広島市) is a city steeped in history and culture. Although it is primarily remembered for the atomic bombing in 1945, the city has since been rebuilt. Now, reborn as the City of Peace, Hiroshima offers visitors a mix of modernity and traditional Japanese experiences with much to see and do in one day, or at least an entire weekend to fully explore. The Peace Memorial Park, the Genbaku Dome, and the Hiroshima Castle are all must-see attractions conveniently located around the city center and easily accessible by foot or public transportation.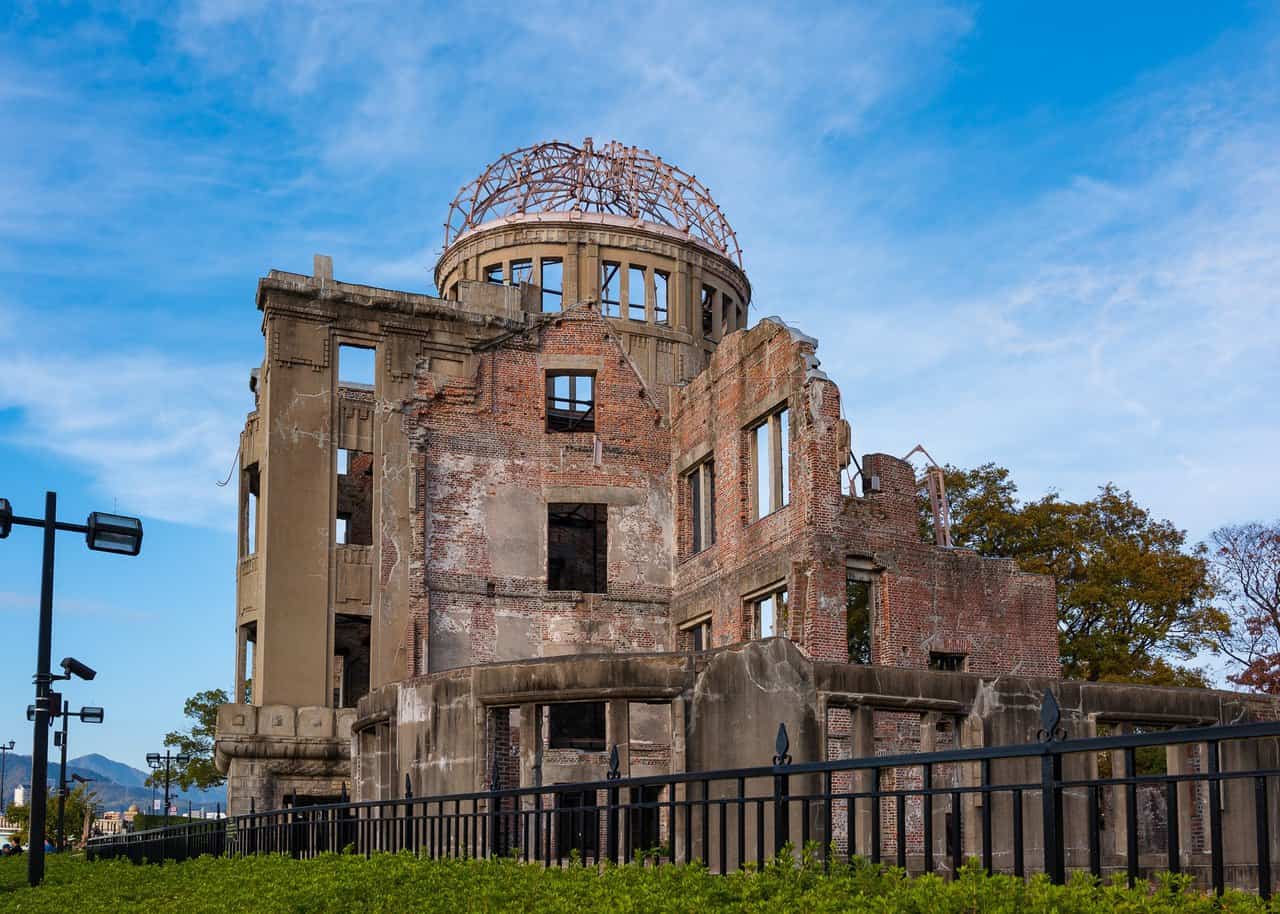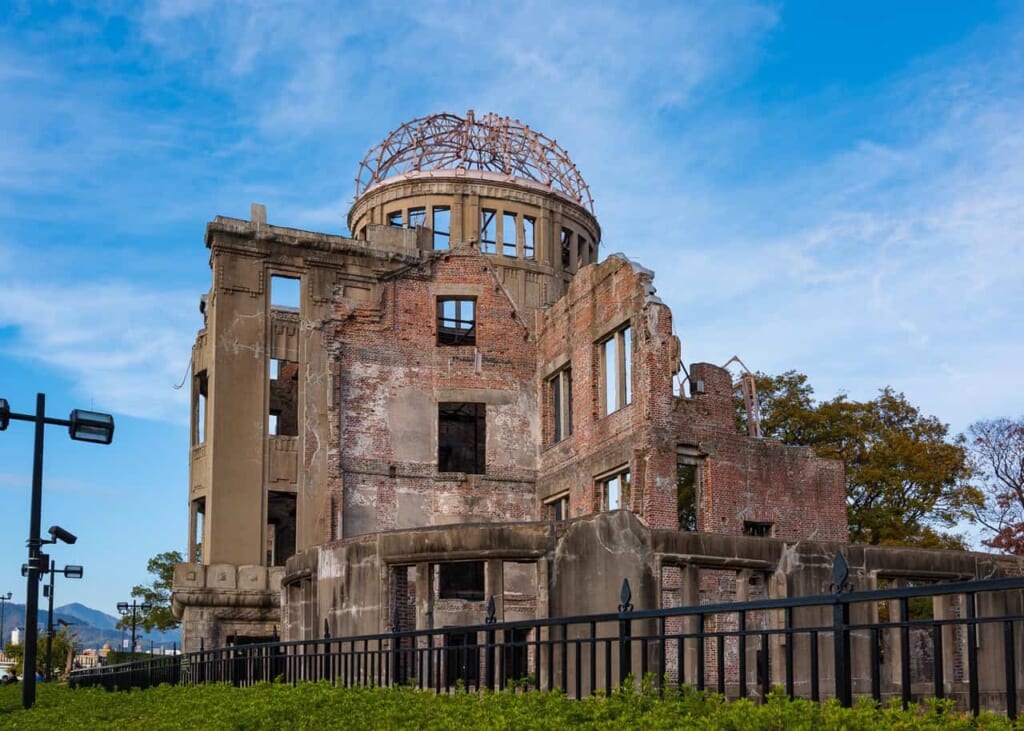 After a long day of travel, walking through the city streets to clear your head may sound like just the thing to do. If you do decide to go out for the night, be sure to sample some of Hiroshima's delicious local specialties, such as the city's renowned okonomiyaki.
Day 5: From Hiroshima to Miyajima and Back to Tokyo
On the final day of this itinerary, you'll make a detour to the beautiful island of Miyajima before returning to Tokyo. Miyajima (宮島) is one of the most popular day trips from Hiroshima. The island can be reached by ferry from Miyajimaguchi Station, and the total journey time is about 40 minutes.
Explore the Sacred Island and Floating Torii Gate of Miyajima
Take your time to discover one of Miyajima's and Japan's most iconic views, the Itsukushima Shrine (厳島神社) and its colorful torii gate built on the coast. At high tide, the gate is only accessible by boat and the shrine looks to be floating; but, at low tide, you can walk up to the gate out in the water.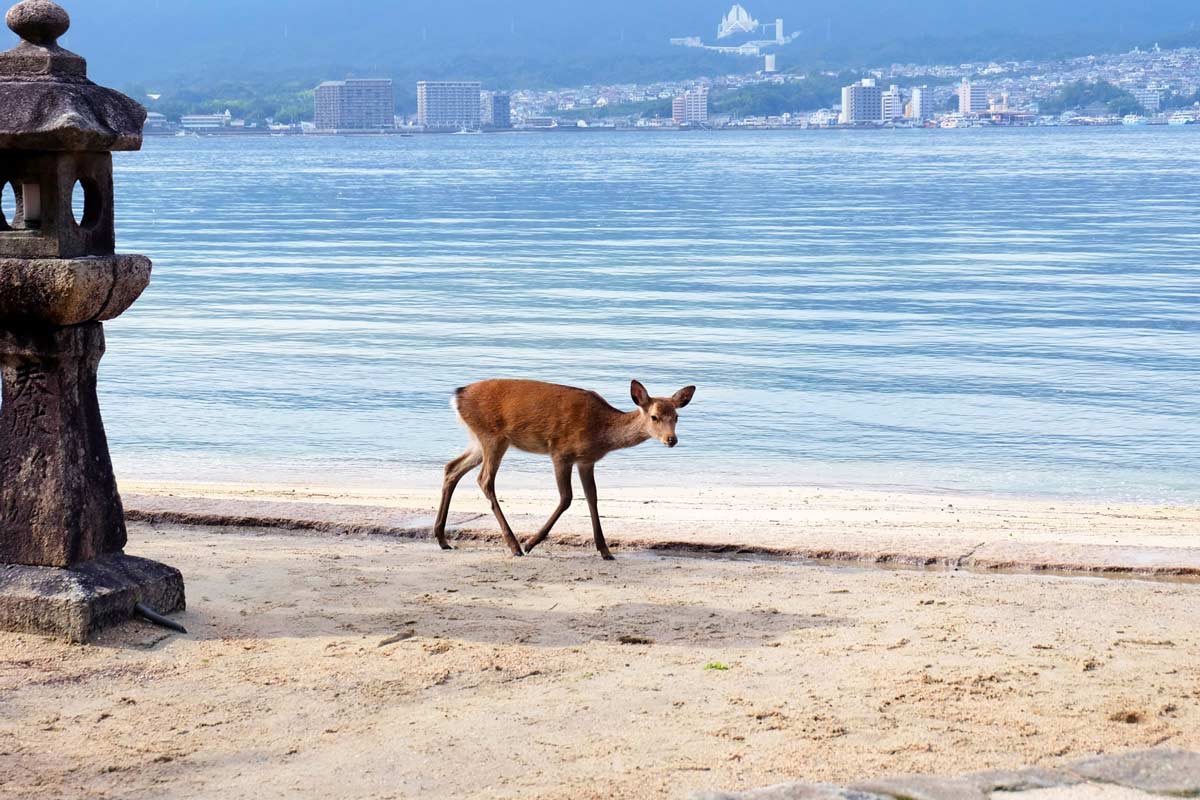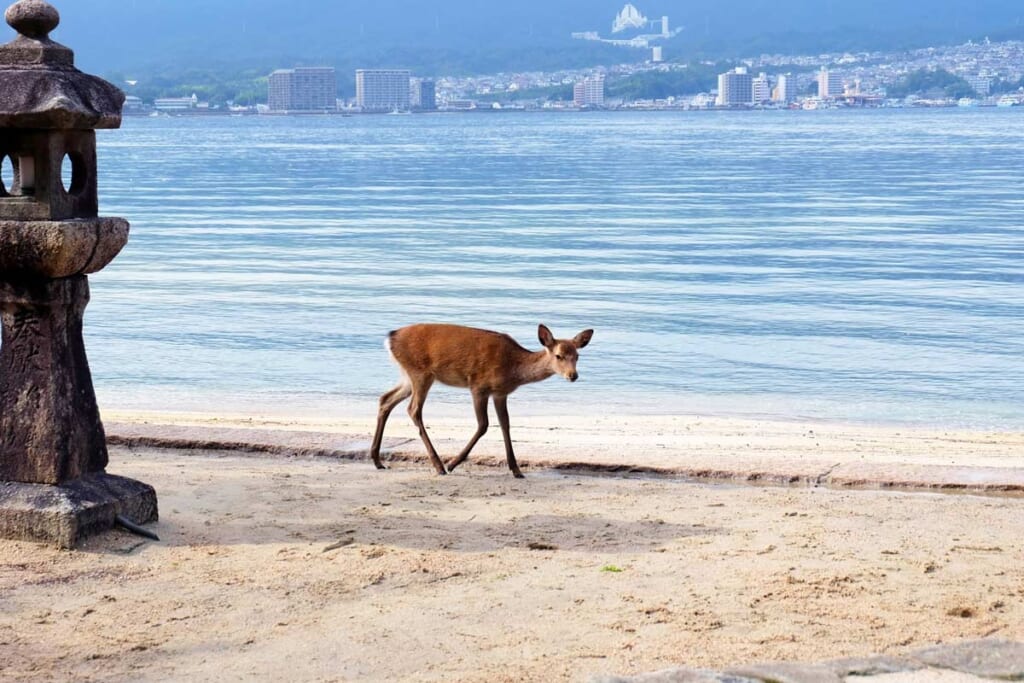 Then, visit the Daisho-in Temple (大聖院), perched on a hillside and offers breathtaking island views. Take a stroll along the island's beaches and hiking trails to experience the island's natural beauty. Miyajima is also famous for its delicious oysters, so we recommend trying some for lunch at one of the many food stalls on the island.
Travel Back to Tokyo
Alas, we have finally reached the end of our journey. Make your way back to Hiroshima and take a bullet train that will take you to Tokyo in about 4 hours.
How to Get Around
All destinations listed in this article are accessible by train or bus from major and local stations in the Setouchi area.
With seven stunning prefectures just waiting to be discovered, the Setouchi region is a must-see for your next Japan trip. This 5-day itinerary allows you to experience its diversity, from the beauty of the Seto Inland Sea to the vibrant cultural and historical landmarks the area has to offer. The memories you will make on this trip will last for a lifetime! So what are you waiting for? Pack your bags and embark on an unforgettable journey through one of Japan's most fascinating regions!
This article is current as of March 16th, 2023, so please check the latest rates and information on each official website.
Sponsored by: The Inland Sea, SETOUCHI Tourism Authority