ℹ Advertorial
Central Japan is home to some of Japan's best-known traditional culture and crafts, with many places offering you the chance to experience it first-hand. One such place is the picturesque riverside town of Gujo Hachiman, which is located deep in the mountains of Gifu Prefecture.
Gujo Hachiman in Gifu Prefecture
This authentic small castle town with its pristine natural springs and traditional architecture is famous for its important bon dance, known as Gujo Odori, one of Japan's three most important dance festivals. It is also known across Japan for its unique local crafts, which we will explore in this article.
Gujo Odori
Gujo Odori is a massive street party started in the late 1590s by a local feudal lord, Endo Yoshitaka, to encourage all the people of his domain to get together and harmonize regardless of rank or social position.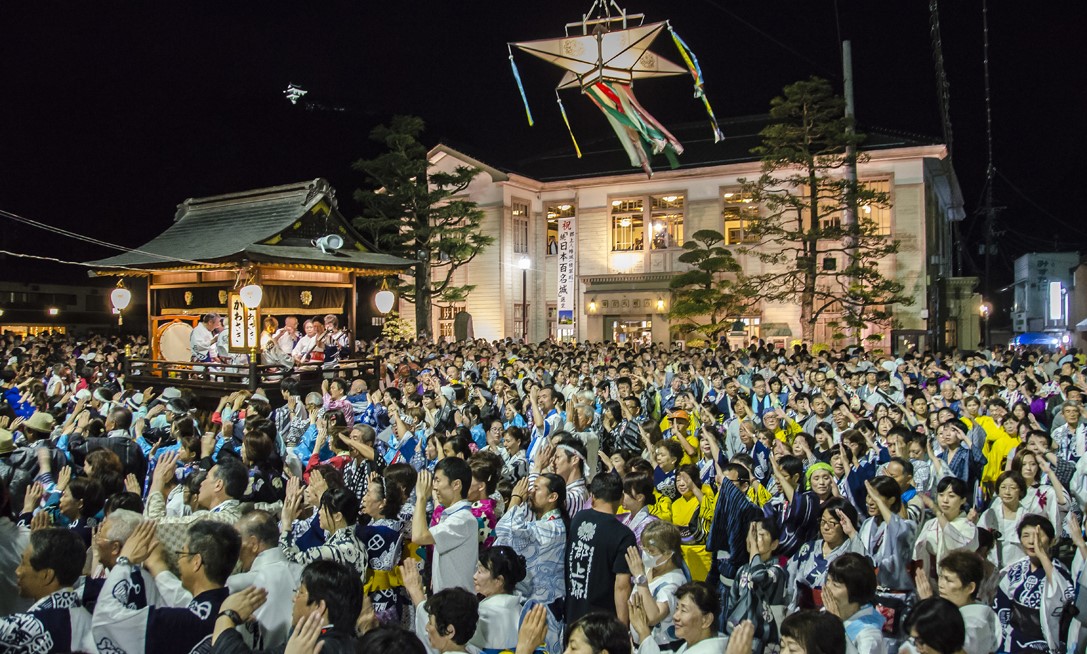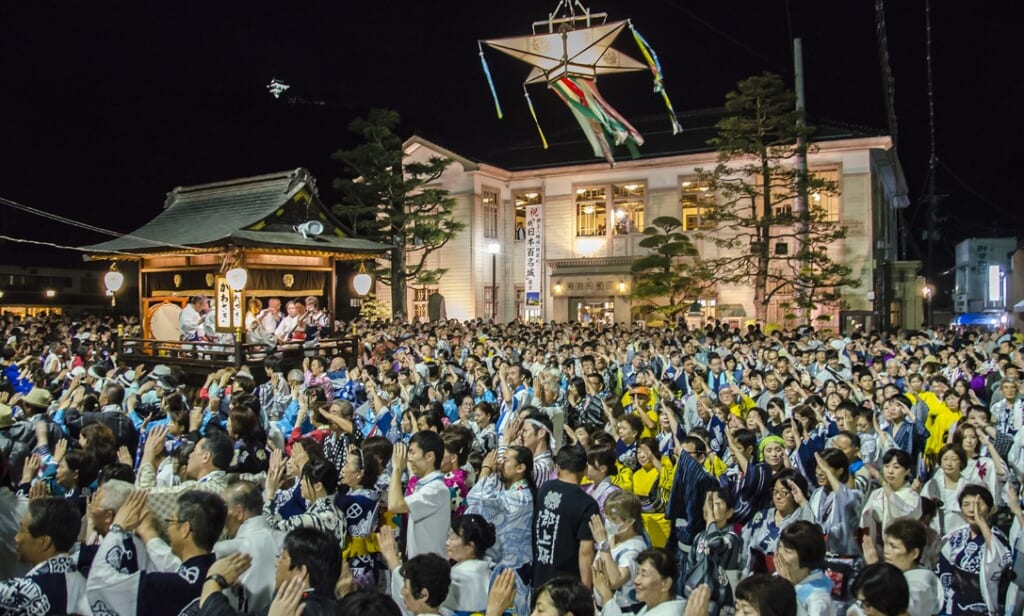 The traditional bon dance consists of 10 different dances and corresponding songs, which are preserved by the Gujo Odori Preservation Association. The society will celebrate its 100th anniversary this year and has the goal of trying to grow the association to preserve the traditional dances and instruments used to perform Gujo Odori.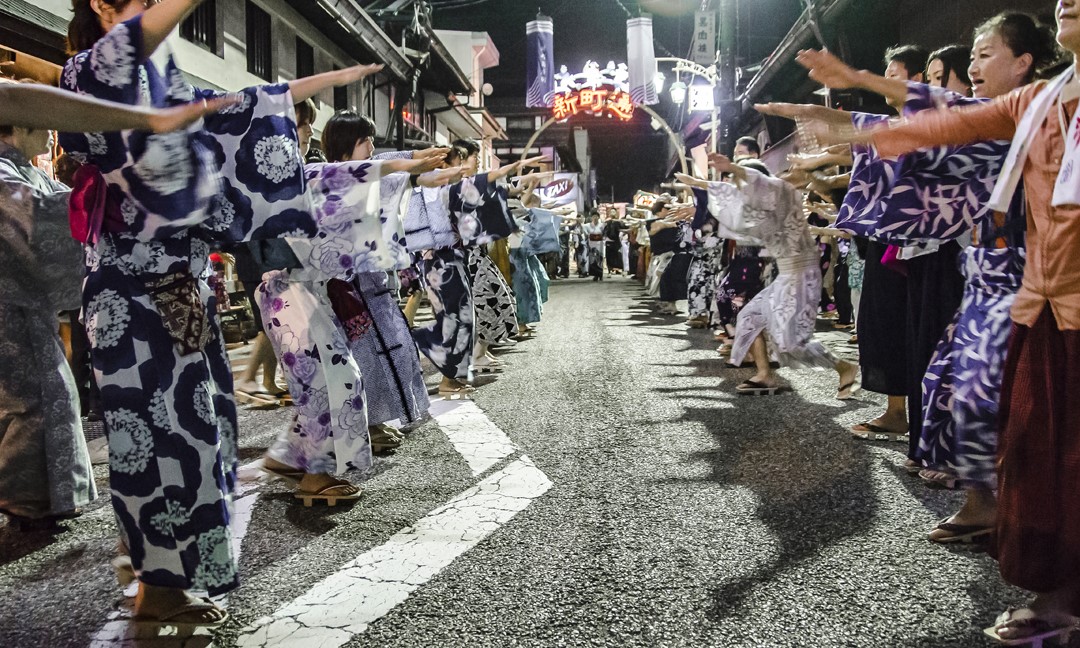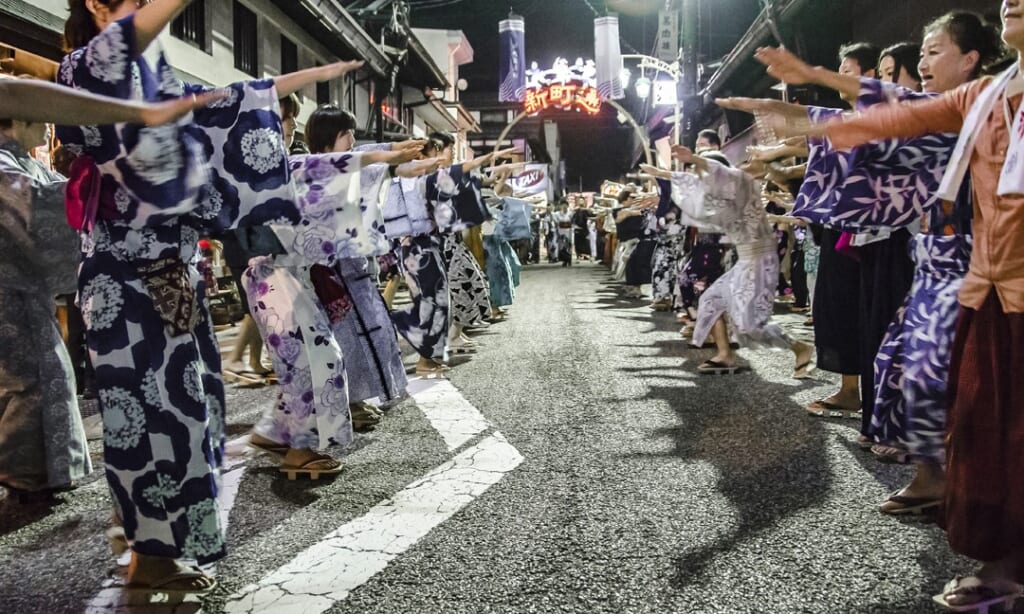 The Gujo Odori Dance Festival is held every summer from mid-July to early September, climaxing in mid-August during the Obon period with four nights of all-night dancing.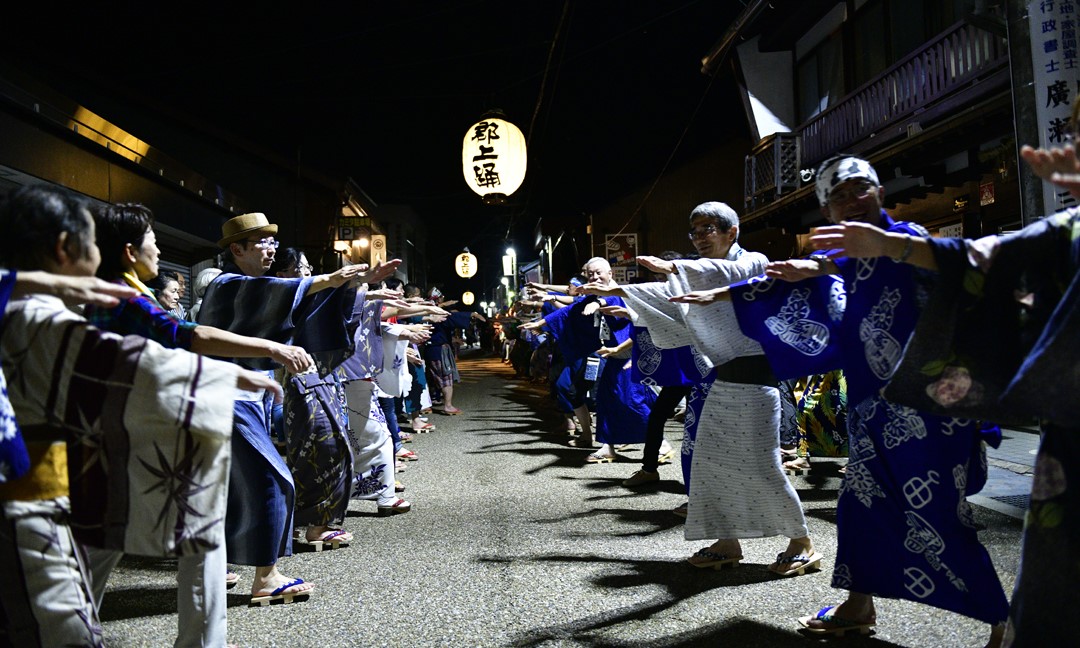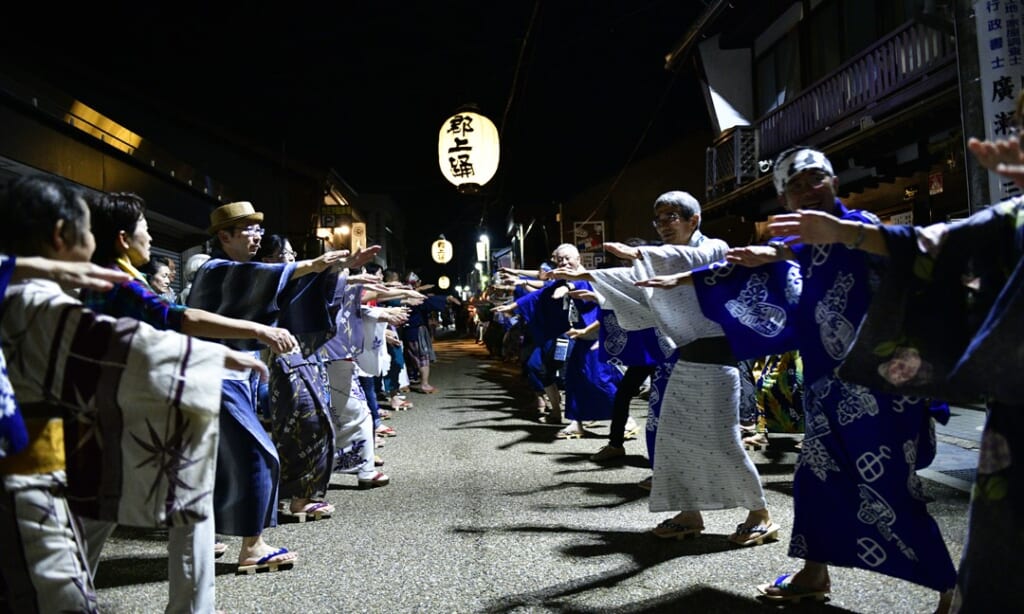 Hakurankan Museum
The best place to start your journey in Gujo Hachiman is the Hakurankan Museum, where you will learn all about the old town and its local culture. The museum is split into four different sections: water, history, crafts, and Gujo Odori, each highlighting a key component of the town.
Gujo Odori is demonstrated four times a day at the museum, giving you a chance to pick up and practice your dance moves from the staff before the big event.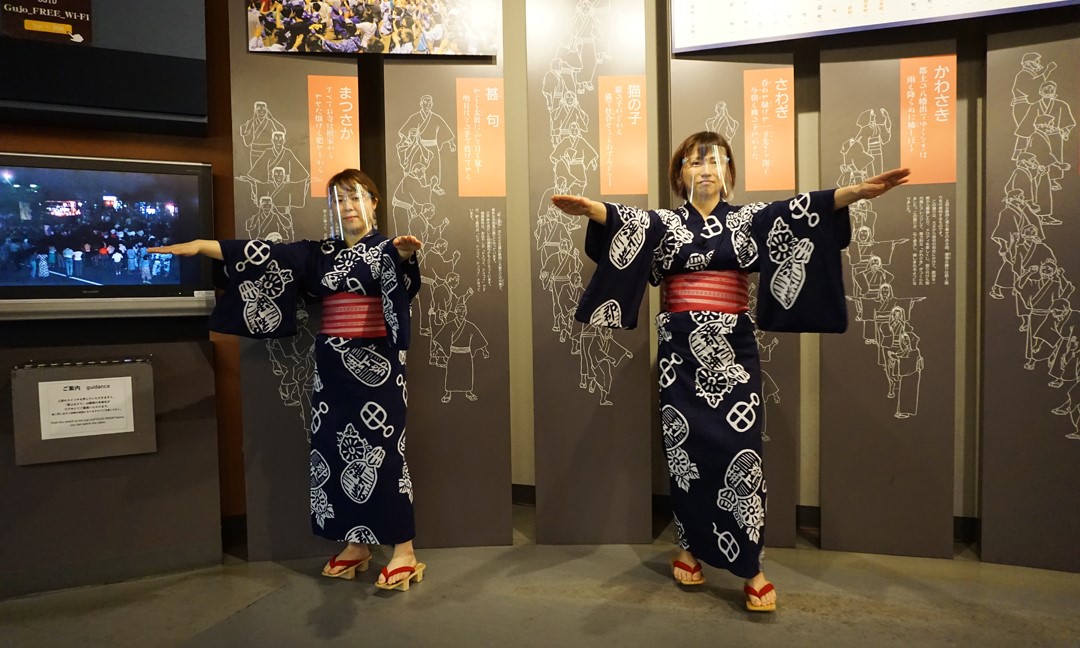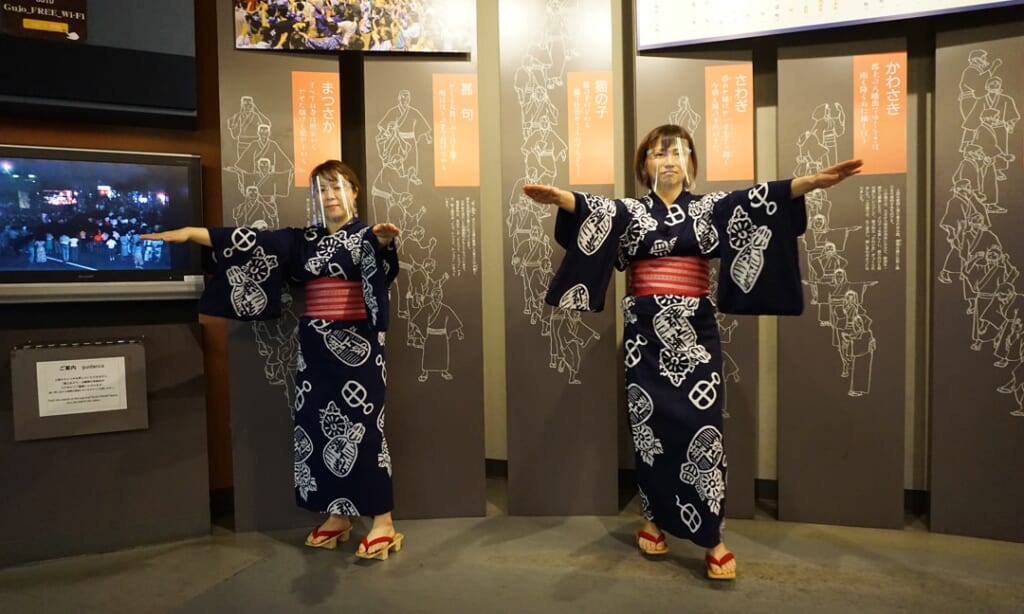 Traditional Local Crafts
Gujo Hachiman flourished as a castle town during the age of the samurai, with many merchants and artisans making the town their home. Local artisans were involved with Gujo Odori by producing the yukata (light summer kimono), geta (traditional wooden sandals), and tenugui (hand towels) used by the participants of Gujo Odori.
The wooden geta sandals were made with hinoki wood from the Kiso Valley area and the yukata and tenugui were dyed using traditional techniques by local indigo dye masters.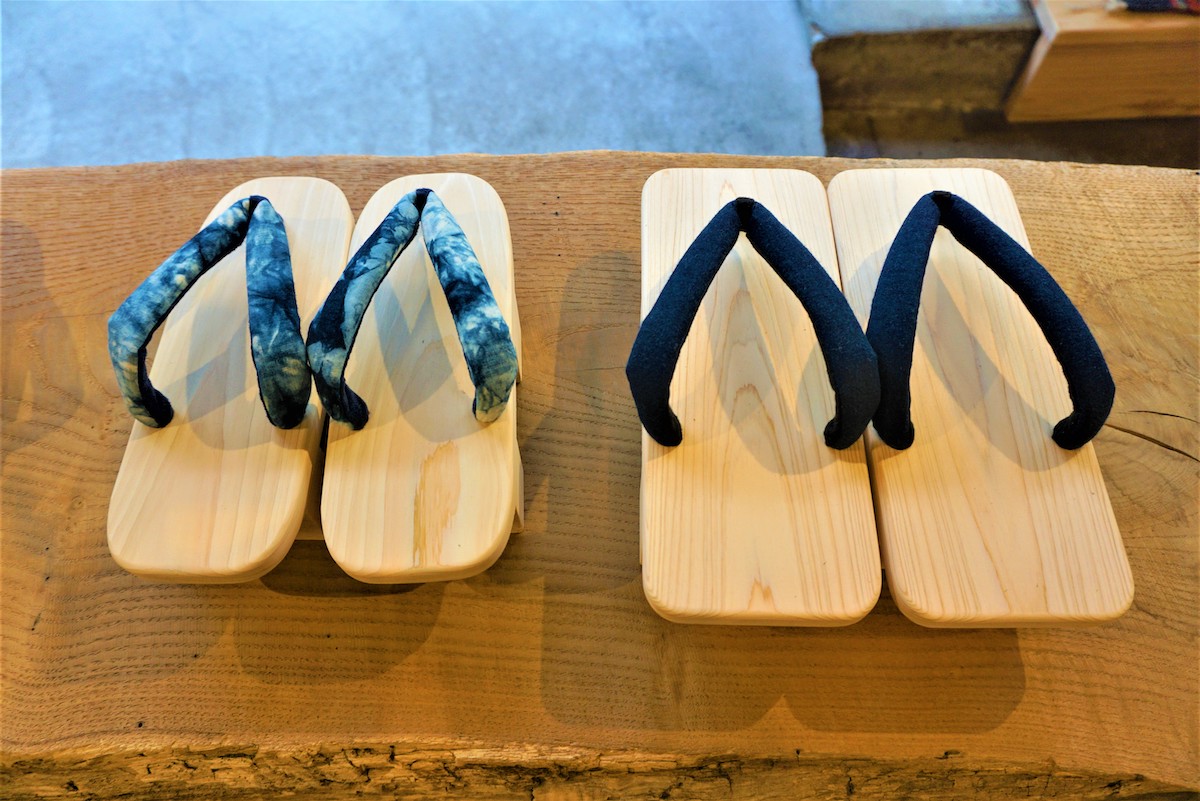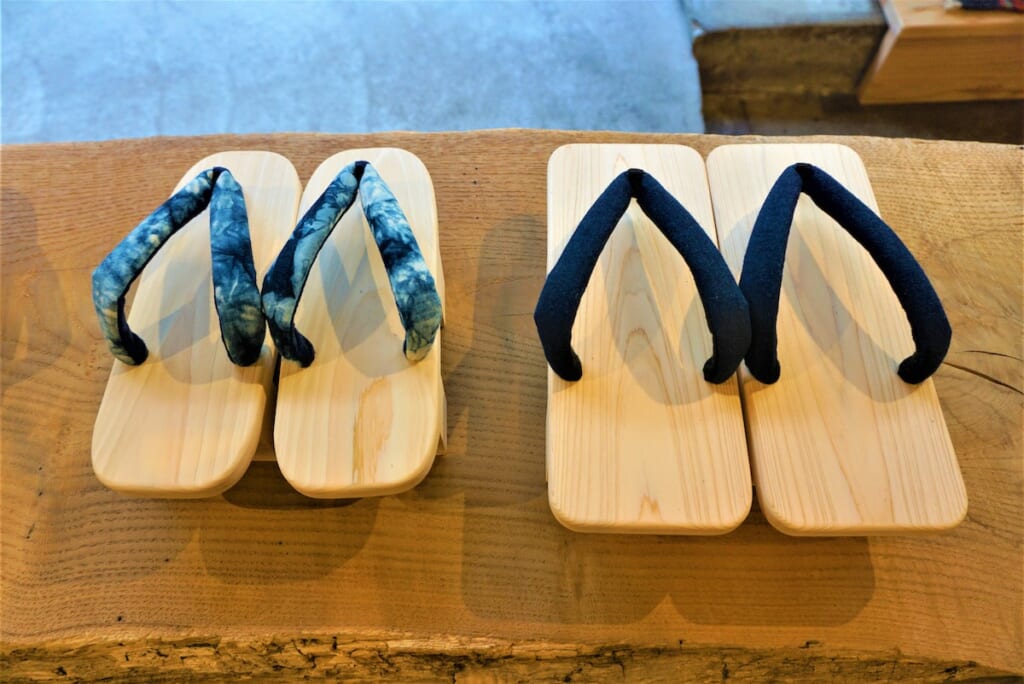 The Kiso Valley in central Japan, with its heavily forested mountains and abundance of timber, is famous for its Kiso-hinoki cypress used by local artisans to make various woodcrafts such as Kiso Lacquerware and Oroku Combs.
Kiso Lacquerware
Kiso Shikki (Kiso Lacquerware) is a specialty of Kiso Hirasawa and vicinity, a lacquer work area located in the Kiso Valley in central Japan. The historic town developed outside of the Edo period post town of Narai and has a history of more than 450 years. It has been selected as an Important Preservation Area for Groups of Traditional Buildings. Kiso Hirasawa developed along with the Nakasendo Highway producing various large and small lacquerware products such as tables, shelves, bowls, plates, and chopsticks. In recent times, lacquerware products have been made using various materials such as metal, glass, and leather and have become popular with a wide range of generations.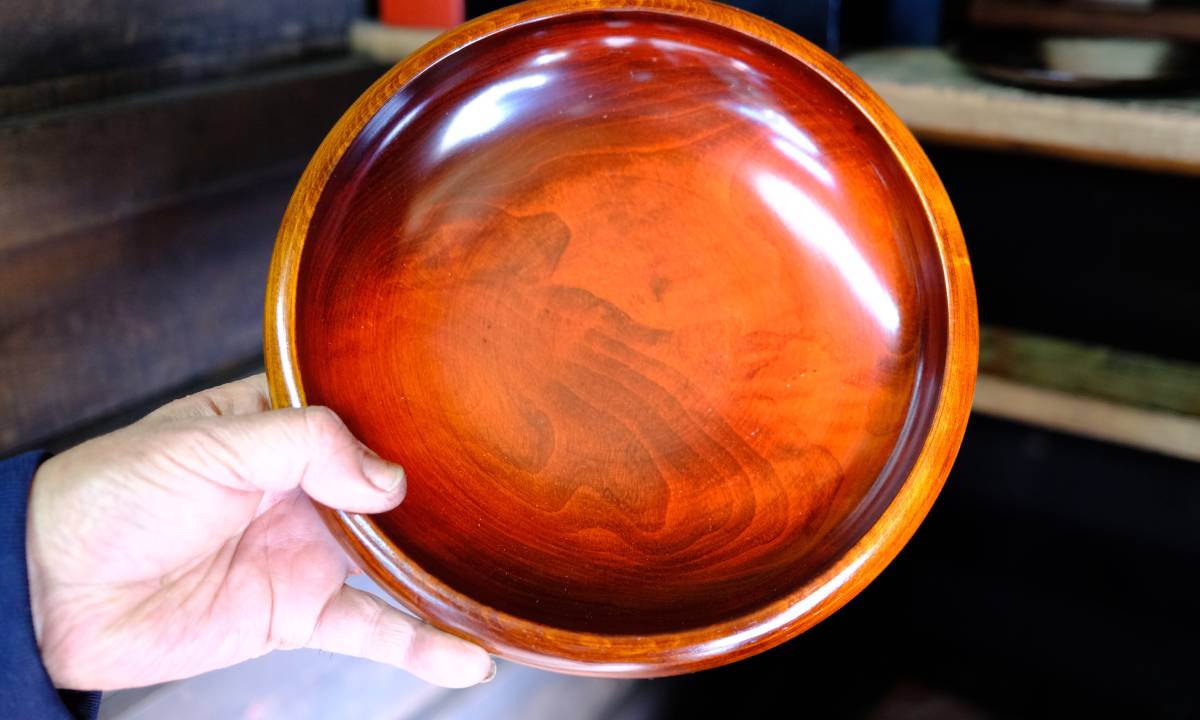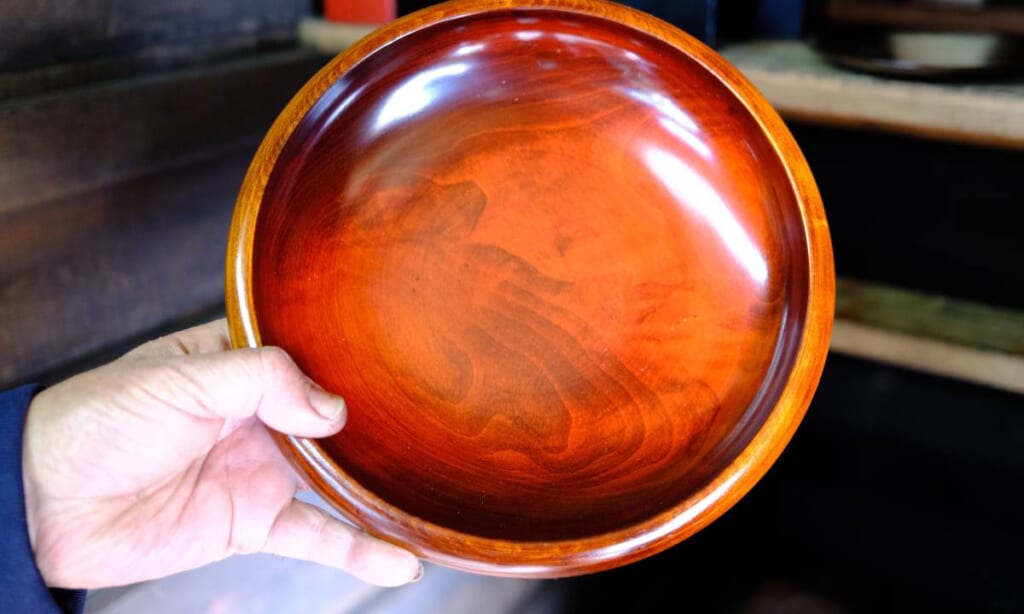 Oroku Gushi
The beautiful Oroku Gushi (Oroku combs) is a traditional wooden craft from nearby Nagano Prefecture. The small combs are about 10 cm wide and consist of between 70-100 teeth. They are traditionally made from the hard wood from the minebari tree (Japanese green alder), which a master craftsman engineers into a delicate comb.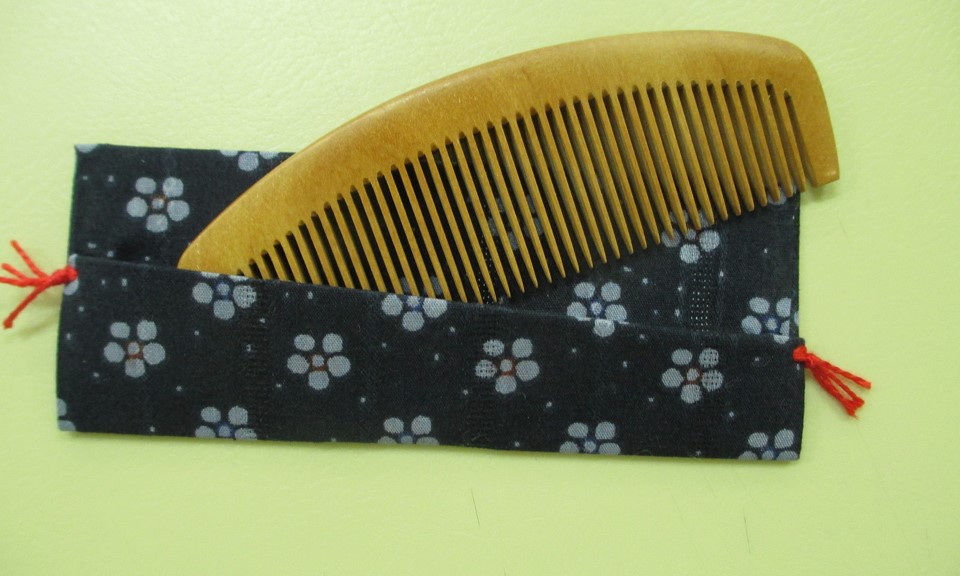 Traditional wooden crafts such as Kiso Lacquerware and Oroku Gushi have long been sought after as souvenirs by pilgrims walking the ancient Nakasendo Road through the Kiso Valley from Edo (Tokyo) to Kyoto during the Edo period (1603-1868).
The Watanabe Indigo Dye Workshop
The Watanabe indigo dye workshop in Gujo Hachiman was founded over 430 years ago in 1580 by the Watanabe family. During the Edo period (1603-1868), they produced samurai clothing, tenugui (hand towels), and hanten coats for the Gujo Odori festival.
Today, the hand-dyed creations of Kazuyoshi Watanabe, the 15th master of the family business, still feature tenugui hand towels and hanten coats, but also noren (entrance curtains), tapestry, koinobori (carp streamers), and modern items such as western-style stoles, bags, and masks.
Mr. Watanabe draws all the patterns and designs by hand using an old technique called tsutsugaki. He freehand draws the designs onto the fabric using a homemade glue made from rice flour which resists the natural dye. The fabric is then dyed repeatedly to produce the dark tone, which has become known as "Japan Blue" overseas by its many fans.
The natural dye is made from indigo grass grown in Tokushima in Shikoku and is rarely used today by modern craftsmen, who prefer faster chemical dyes.
During the peak of indigo dye production in the Edo period, there were 17 different family-run indigo dye businesses in Gujo Hachiman. Now, only Mr. Watanabe's family-run business survives.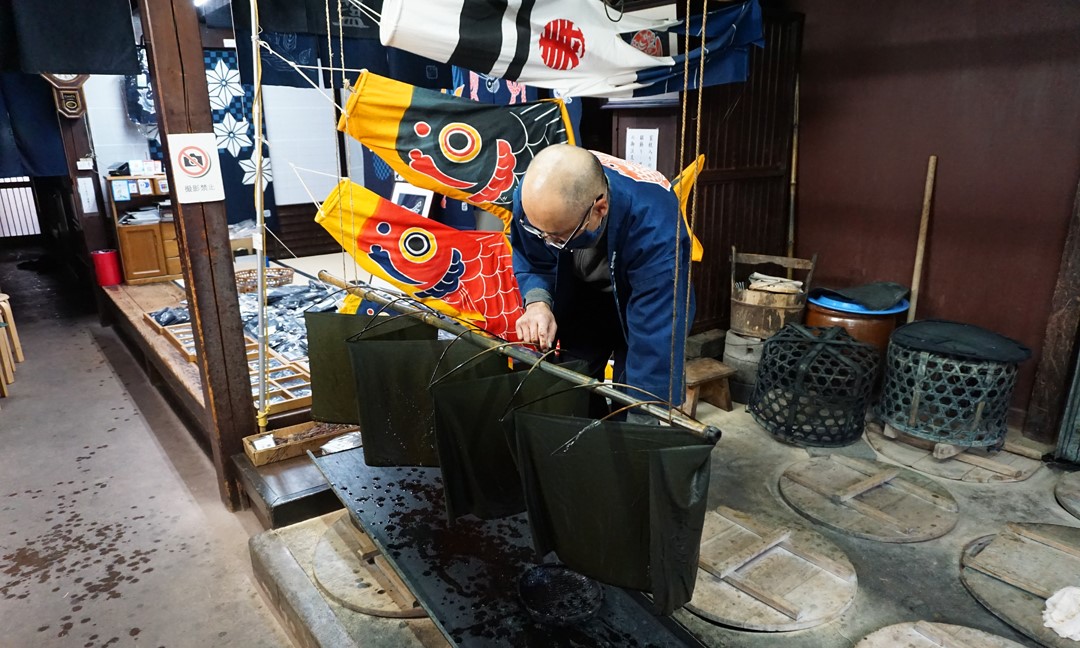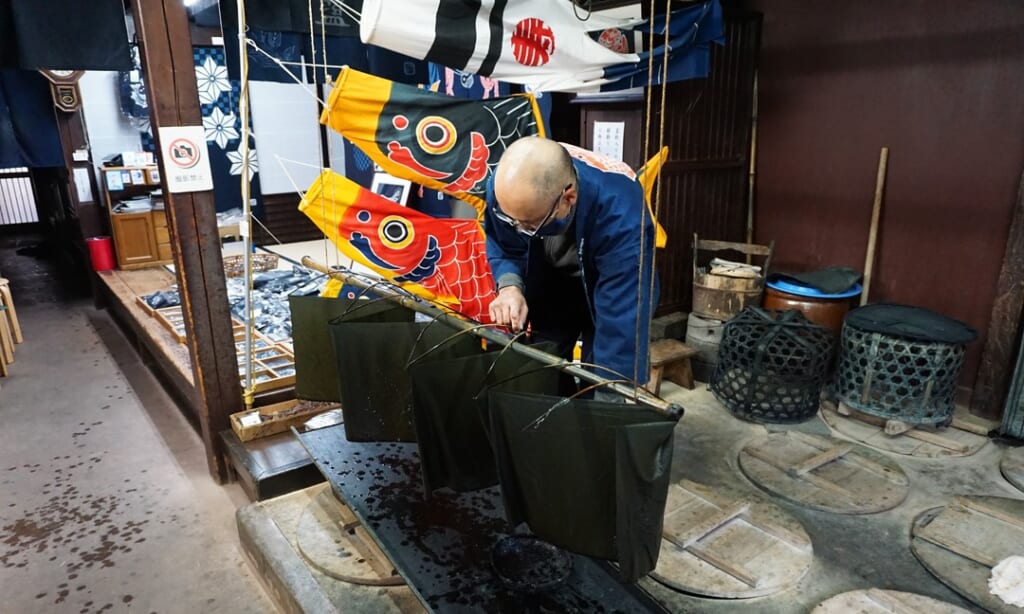 Gujo Hachiman Castle
Gujo Hachiman Castle is regarded as one of Japan's most beautiful mountain castles. It commands a stunning view of the surrounding mountains and castle town below from atop Mount Hachiman.
The castle first started life as a wooden fort back in 1559 before being formally recognized as a castle in 1667 by the Tokugawa Shogunate. Unfortunately, the original castle no longer remains, but the current wooden structure was reconstructed in 1933, making it the oldest reconstructed wooden castle in Japan.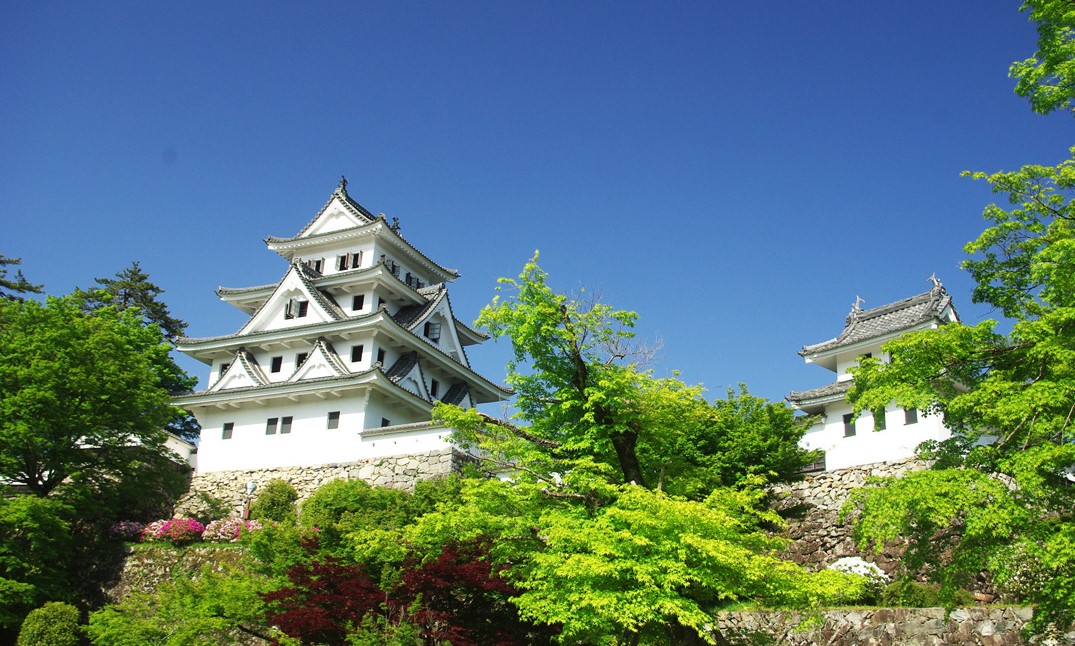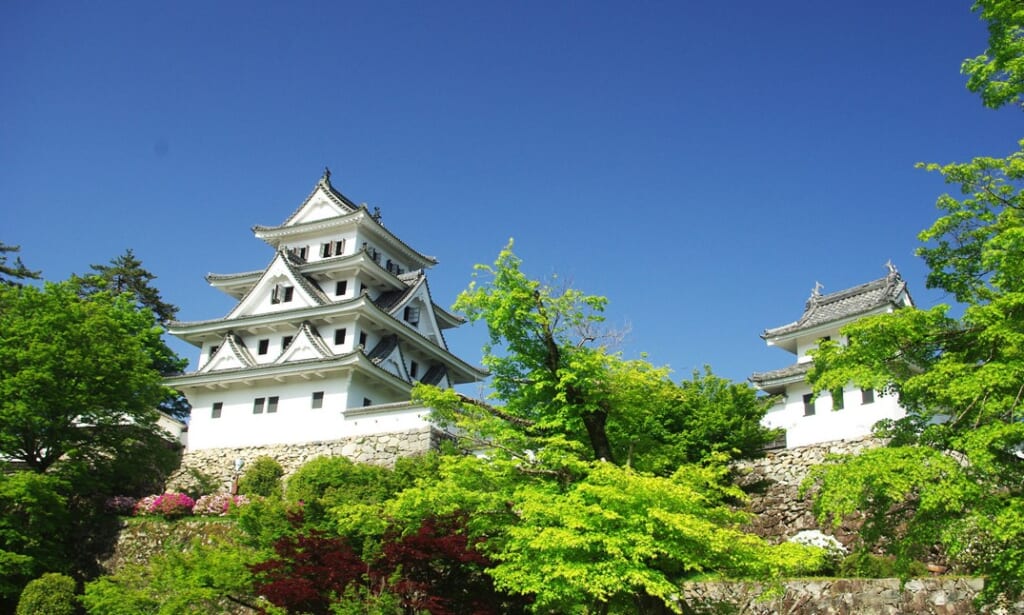 Below the castle is the jokamachi, or castle town, where you will find traditional wooden buildings and architecture beautifully preserved from the past. A gentle stroll here is like taking a step back in time to the age of the samurai, with the experience enhanced further by dressing in a yukata and geta to enjoy the atmosphere fully.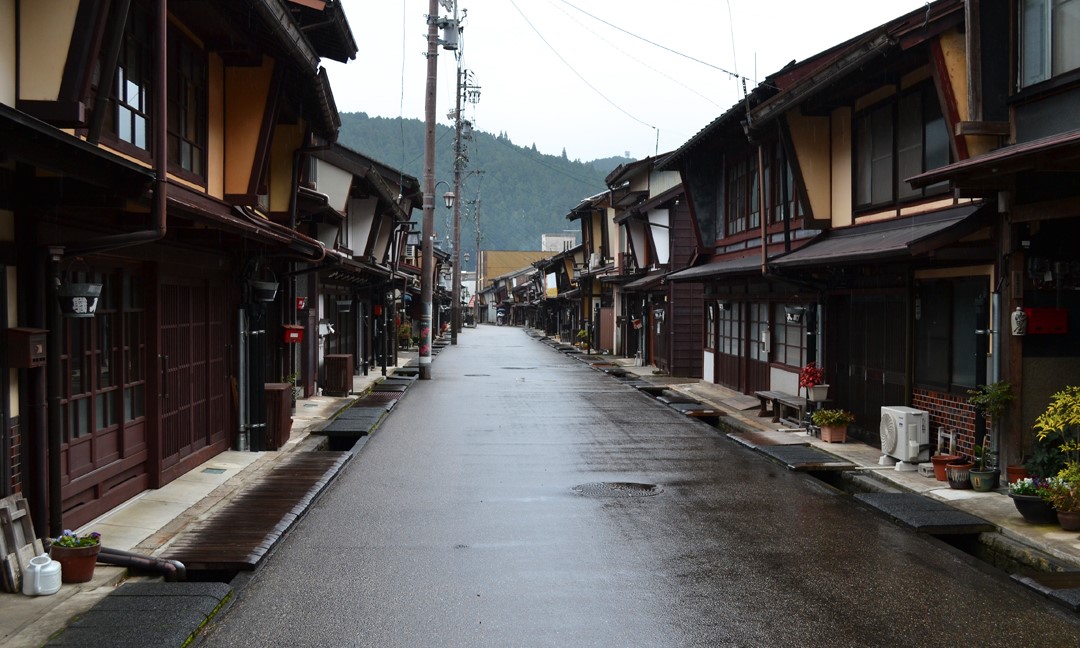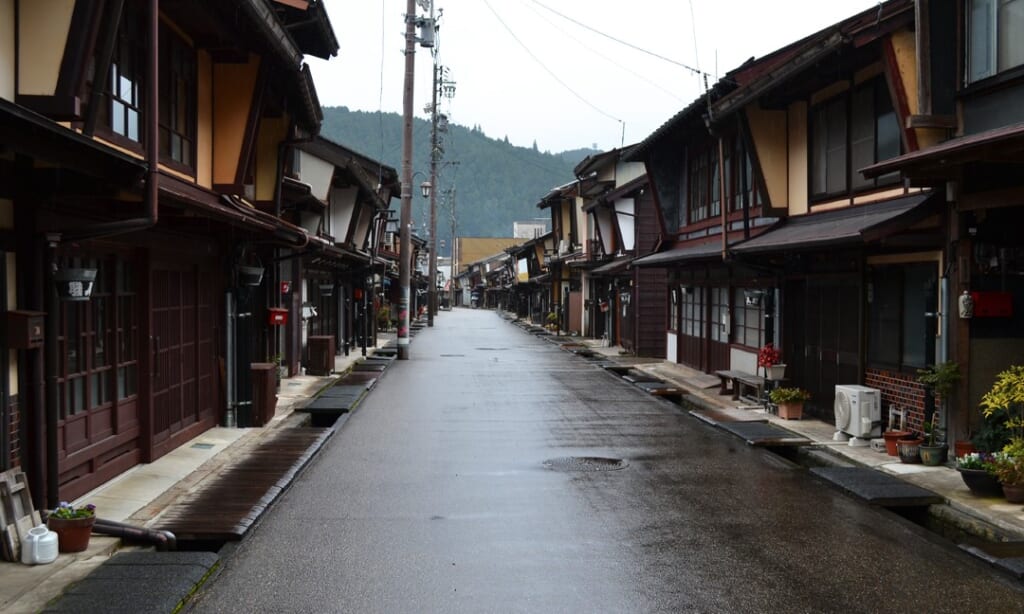 Gujo Hachiman offers visitors a chance to get off the beaten track and explore an old castle town unlike any other in Japan.
How to Get to Gujo Hachiman
From Nagoya Station, take the JR Tokaido Line to JR Gifu Station. From JR Gifu Station, the easiest way to get to Gujo Hachiman is via a highway bus. Take the highway bus to Gujo Hachiman Jokamachi Plaza, which is 1,550 yen (one-way) from Gifu.
Find out more: https://owarihan.com/