Sponsored by Saga Prefectural Tourism Federation
Daikozenji Temple (大興善寺) in Saga Prefecture, established in the early 9th century, is also the perfect site to appreciate the changing seasons in nature.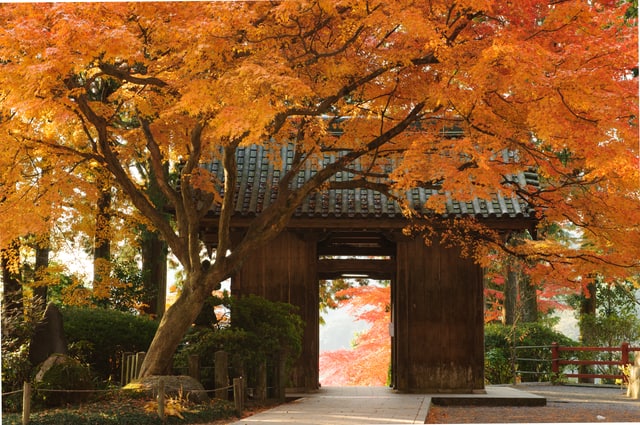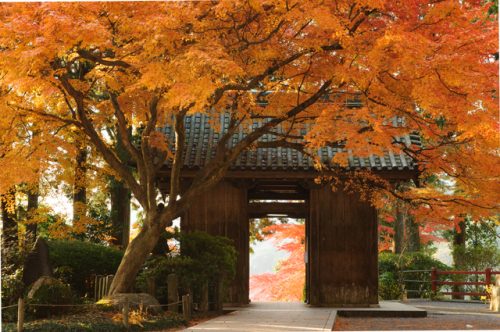 Daikozenji Temple by Season
Daikozenji Temple boasts 50,000 azaleas (tsutsuji in Japanese), which are in full bloom between late April and early May, and momiji, the Japanese maples, which makes it a remarkable area for the flowers and autumn leaves. Cedars, maples, and hinoki – the cypresses – spread over an area of ​​75,000 m2, providing us with a magnificent palette of changing colors, green, yellow, orange, and red.
Check out the architecture of Daikozenji Temple, with its thatched roof, which resembles Kunenan House, also located in Saga Prefecture. And it is a rare example of sukiya zukuri style (数寄屋造り) in Kyushu Island.
Azaleas were planted from the end of the Taisho Period (1912-1926). However, it was not until the 1950s that the Daikozenji began to attract visitors to admire their flowering, receiving the nickname "temple-azalea" in Japanese (tsutsuji tera).
Take an Autumn Tour of Daikozenji
As you climb the steps leading to the top of the mountain, you will discover views that delight the eye.
Just behind the sacred buildings, in a valley, zen wooden houses are erected on terraces. Small streams flow into basins where koi carp abound. The atmosphere at the top has something magical, like a reward after climbing the sacred mountain.
The temple was also recently chosen as the 115th "sacred place for lovers" in Japan, as we also can see the heart shape of ema (絵馬 in Japanese, the wooden plaque on which prayers or vows are written).
How to access the Daikozenji?
By train: From JR Hakata Station to JR Kiyama Station, it takes 23 minutes. A special bus then connects Kiyama Station to Daikozenji for about 10 minutes. It is in service only during the full bloom season of azaleas (late April-early May) and during the blooming of maple leaves (November 18-27).
By car: Daikozenji is 5 minutes from the Sonobe IC interchange on Route 17, and 15 minutes from Kyushu Expressway Tosu IC or Kyushu Expressway Chikushino IC.
Prices: 500 yen for adults (300 yen for children)
24/7 Assistance available in English, French, German, Italian, Spanish, Portuguese, Russian, Thai, Korean, Chinese (Mandarin & Cantonese), Vietnamese and  Indonesian!!
| | |
| --- | --- |
| Name | Daikozenji Temple |
| Category | Temple |
| Address | 3628 Sonobe Kiyama-chō, Miyaki-gun, Saga-ken 841-0203 |
| Access | [map]3628 Sonobe Kiyama-chō, Miyaki-gun, Saga-ken 841-0203[/map] |
| Opening Hours | 08:30-17:30 (April - September: until 18:00) |
| Price Range | 500 yen |
| Payment options | Cash |