A place where the energy of life on Earth gathers is known as a "power spot" amongst Japanese people. The Japanese often visit these places to pray for a certain fortune, such as "a wish to come true", "to get healed" or "to become healthy". The volcano Mount Aso in Kyushu is such a power spot budding with life-energy.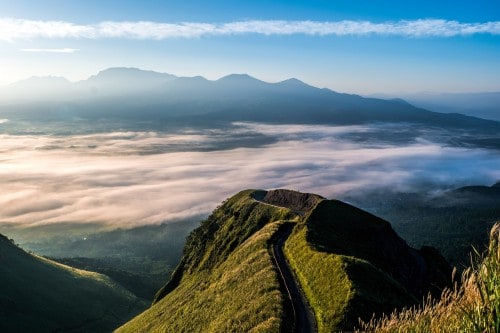 Mount Aso is an active volcano which has formed the world's largest caldera and consequently became a certified UNESCO World Geo Park. Let us introduce some of Mount Aso's power spots and perhaps you will feel also feel compelled to feel the mysterious energy that runs through the earth.

Aso shrine
The caldera of Mount Aso extends over 20,300 hectares encompassing vast green meadows and forests yet also being inhabited by about 6 million people. Within that caldera lies Aso shrine and it is said that it has a history of over 2500 years!

If a man circles the "Pine of Takasago" from the left and the woman twice from the right, their marriage will be blessed with good fortune. For perpetual youth and longevity one just has to drink a sip of the God of the fountain's water warmed by Aso from the ground.

Sugi of Takamoridon
In the dim forest, a couple of cedar trees named Osugi and Mesugi reach their brenches out in every direction yet specifically to one another. Many couples and parents come here to pray for good fortune in marriage. The trees are more than 400 years making their trunks more than 10m in width! The mystical powers and sheer size of Osugi and Mesugi are quite overwhelming.

Oshitoishi – Hills of Stones
At Oshitoishi there are several mysterious megalithic ancient characters engraved. The site has become a popular place for any heart to be healed by touching its stones. However, who could miss the spectacular 360 degrees panorama view of Aso from Oshitoishi?

Shirakawa water sources
Shirakawa's water is famous for its amazing beauty and extreme clarity. The water comes straight from Aso and is in fact one of the leading water sources of Japan.

Its surroundings are rich with pleasant greenery and when you take a moment to have a drinking of the refreshing water you are instantly brought in the right mood.

You truly feel the blessings of the Earth!

What do you think?  Aso is where you can feel the strong life from the earth and its natural landscapes make it an ideal destination for walking or trekking. Since there are still many more attractive destinations to go through, we will certainly return to Mount Aso and introduce some more very soon!
■Aso shrine(Website:English)
【Address】3083-1 Miyaji, Ichinomiya Town, Aso City,Kumamoto prefecture
■Takamoridon no Sugi (Website:Japanese)
【Address】Takamori murayama,Takamori Town, Aso-gun,Kumamoto prefecture
■Ositoishi(Website:Japanese)
【Address】Nakahara, Aso-gun, Minamioguni-machi , Kumamoto Prefecture
■Shirakawa water sources (Website:English)
【Adress】 2092-1 Shirakawa, Minamiaso-mura, Aso-gun , Kumamoto Prefecture