Japan is home to some of the world's greatest street food — it's hardly a secret to anyone interested in the country that Japan's food culture runs robustly and deeply throughout the entire island nation. From okonomiyaki in Osaka to yudofu (simmered tofu) in Kyoto, to the pan-Asian melting pot of Ueno's Ameya-Yokocho, you'd be hard-pressed to find a place in Japan that isn't serving up some incredible eats. But while takoyaki, kushiage, and yakitori are all delicious, if you're looking for some lighter, simpler Japanese street food, look no further than Shibamata, Tokyo.


Located just 30 minutes from Asakusa by train, Shibamata (柴又) is a pocket of Tokyo untouched by time, boasting a retro atmosphere brimming with Showa-era nostalgia. Upon arrival, you'll be greeted by the area's most famous destination, Taishakuten-Sando (帝釋天参道): a temple-bound street lined with artisan stalls, souvenir shops, and food vendors. For many older Japanese folks, this Shibamata road holds a special place in their hearts as the home of Tora-san, the protagonist of the 1960's comedic film series, "Otoko wa Tsurai yo" (It's Tough Being a Man). After snapping a picture with the beloved character, you'll begin to notice the scents of various baked, boiled, and grilled goodies wafting your way. If you're anything like I am, your stomach will already be rumbling, and you'll be on the hunt for your first treat.
Haikara Yokocho: A Nostalgic, Japanese Candyland
Before entering Taishakuten-Sando, to your left will be Haikara Yokocho (ハイカラ横丁) — an old-school candy store where you can find all of the sugary goodies that many Japanese people grew up with. This store is packed with different kinds of treats, from chocolate to gummies to hard candies! Not only is the candy a feast for your inner child, but the store's massive variety and colorful retro packaging make a feast for the eyes.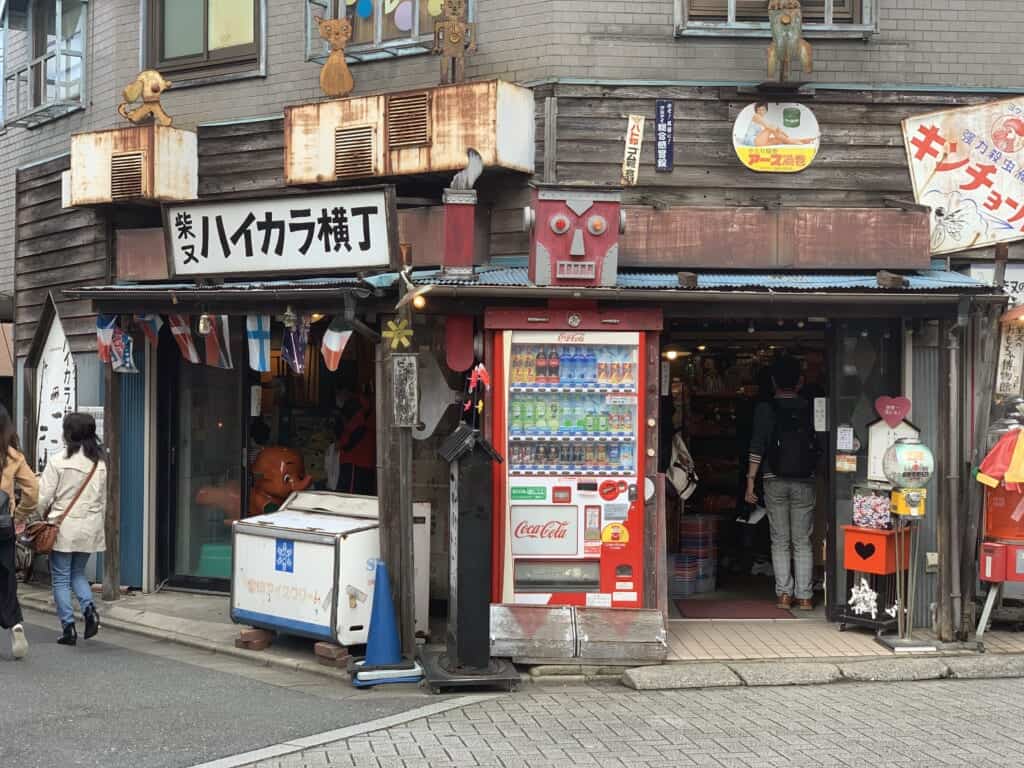 Takagiya Roho: Traditional Japanese Dango Desserts
After you've indulged in 8-year-old you's wildest desires, it's time to hit some of the real stuff. As you take your first steps through Taishakuten-Sando, you'll be able to pick up some yakitori and charcoal-grilled river fish, if that's your thing. You'll soon come across our first stop, Takagiya Roho (高木屋老舗), a vendor specializing in traditional desserts, namely dango (rice dumplings). There are a few different flavors that you can try, such as sesame, soy sauce, and grilled varieties. However, we went for some classic kusa dango, mugwort-infused rice dumplings topped with red bean paste.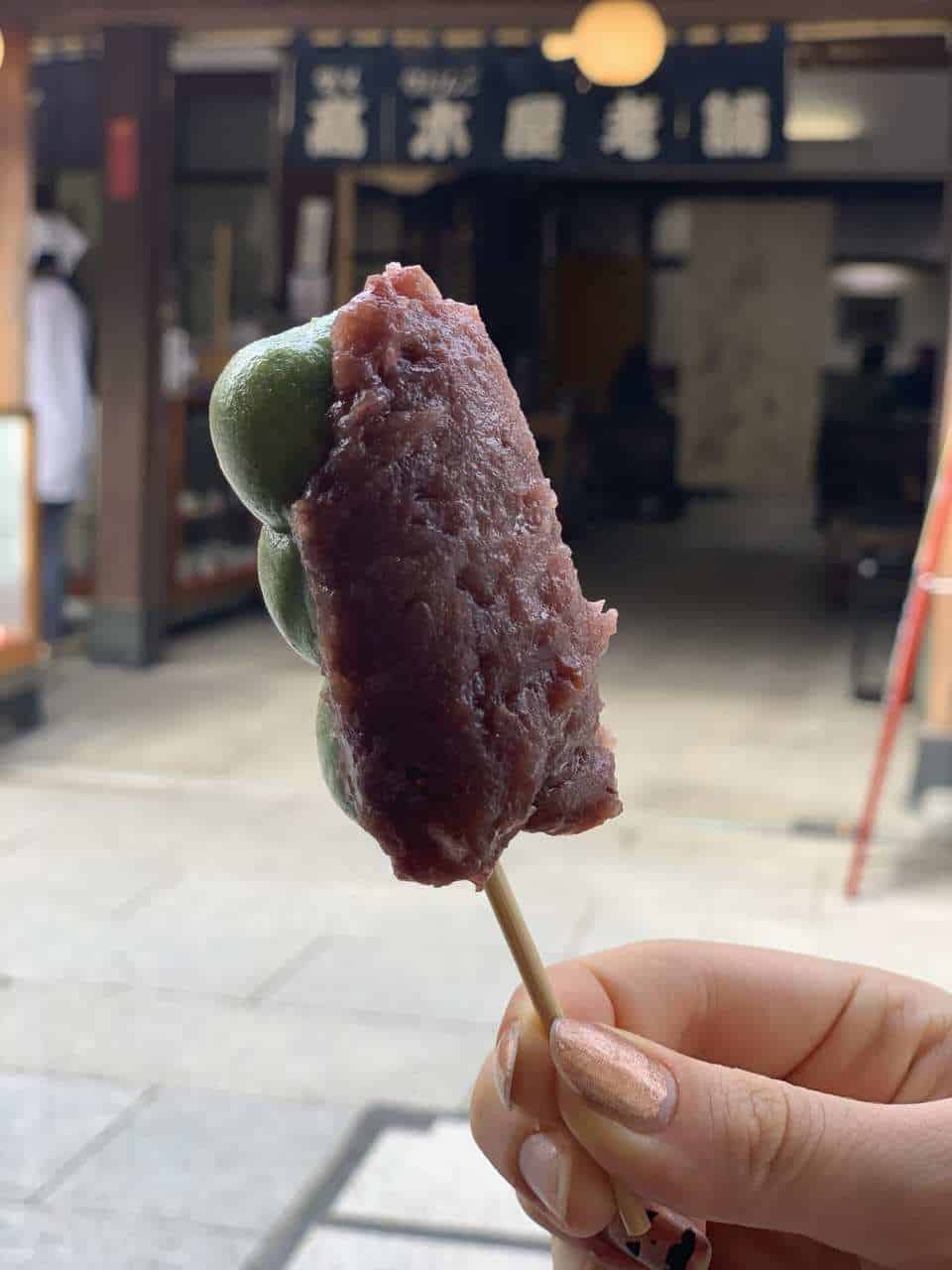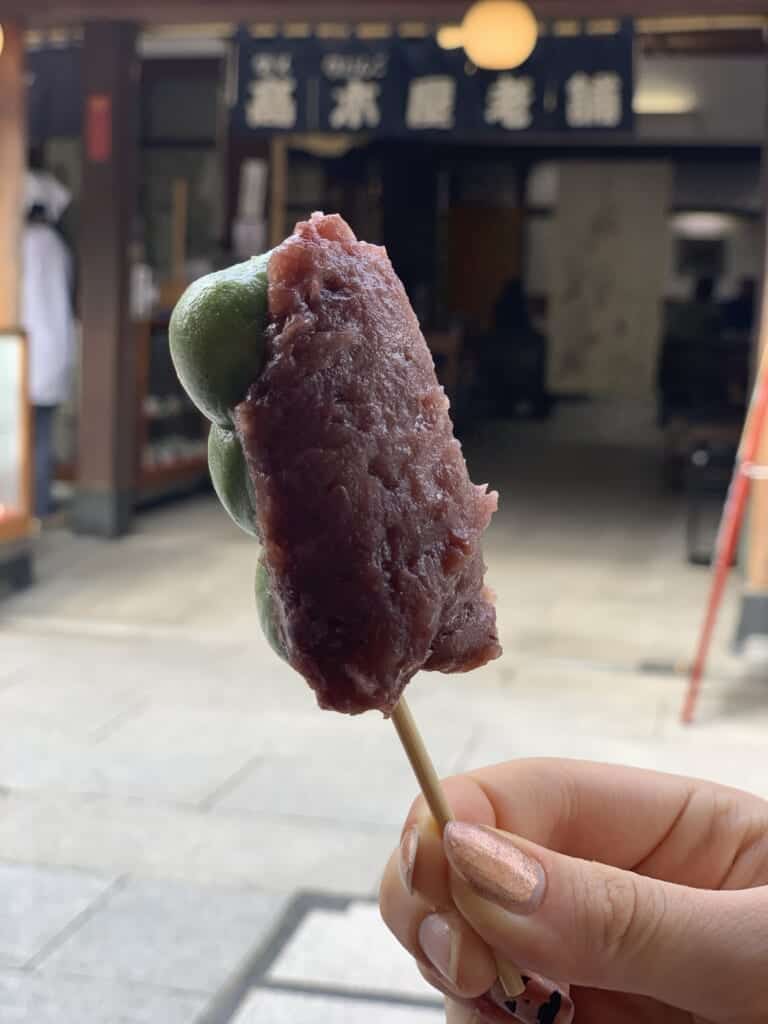 Dango of all kinds are a staple among Japanese street foods, but Kusa dango reigns the superior variety in Shibamata and can be found at a number of the vendors along Taishakuten-Sando. While we only tried the ones from Takagiya Roho, we can confirm that they were delicious! Soft as a cloud and not too sweet, these chewy treats made for the perfect start to our tour.
Ishii: Traditional Japanese Desserts
On your way to our next stop, you'll pass a few teishoku (traditional japanese set meal) restaurants and artisan stalls before coming to the star of our tour, Ishii (い志ゐ). Ishii is a vendor serving up all kinds of goodies, like dorayaki (red bean pancakes), daifuku (a filled mochi variety), manju (a filled cake-like confection), roll cakes, and even ice cream! (More on that later).
We enjoyed some sweet potato yokan, a thick, jelly-like bar, prepared two different ways: one grilled in butter, and another served as a cold cream bar, bruleed to perfection. The sweet potato flavor was the perfect complement to the brisk autumn weather, and experiencing it twice made it all the better. The warm, soft, and gooey texture of the butter-grilled yokan made it seem like an entirely different treat than the smooth cream and crunchy caramel of the bruleed one!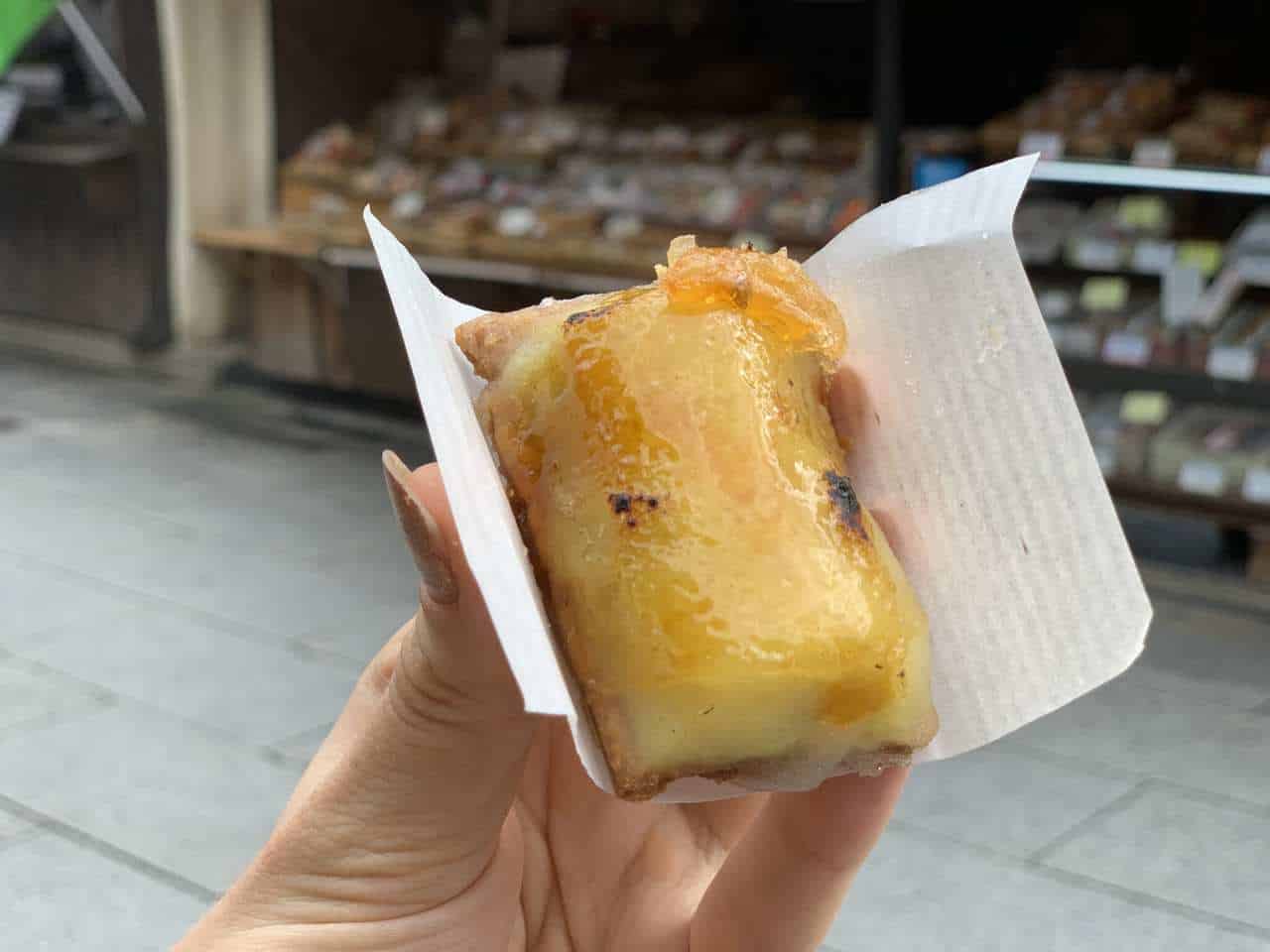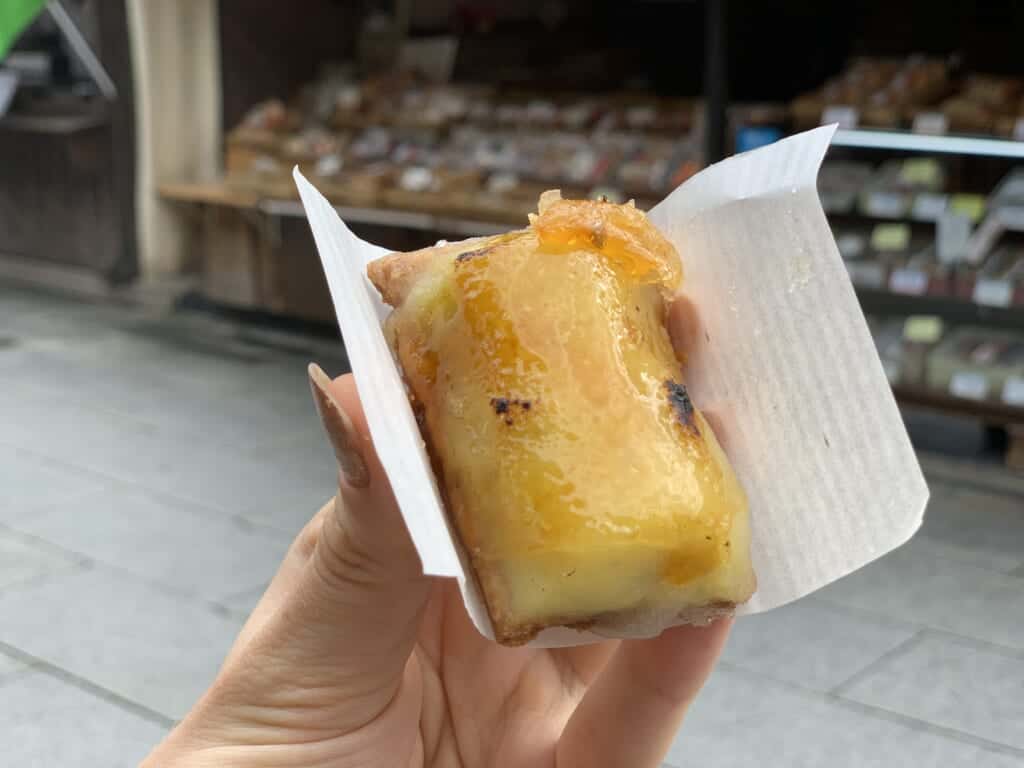 From here, you'll pass a few more food stalls, including the long-running Toraya, whose kusa dango has gained somewhat of a cult following. Kanekoya is another shop you may want to hit up — their rice crackers and other hard-baked snacks are a good way to bring Shibamata's charm home with you.
Asanoya: Rice Cracker Heaven
And then comes Asanoya (浅野屋), or as I like to call it, senbei heaven. Simple as rice crackers may be, there's just something so enjoyable about their unmuddled flavor and crunchy texture, and this place gets it right. The flavors are really allowed to shine, and if the massive quantity of jars lining the store's perimeter hasn't yet tipped you off yet, Asanoya has a crazy variety of them for you to choose from. Be it red pepper, shrimp, seaweed, black sugar, or simply soy sauce, they'll have what you're looking for.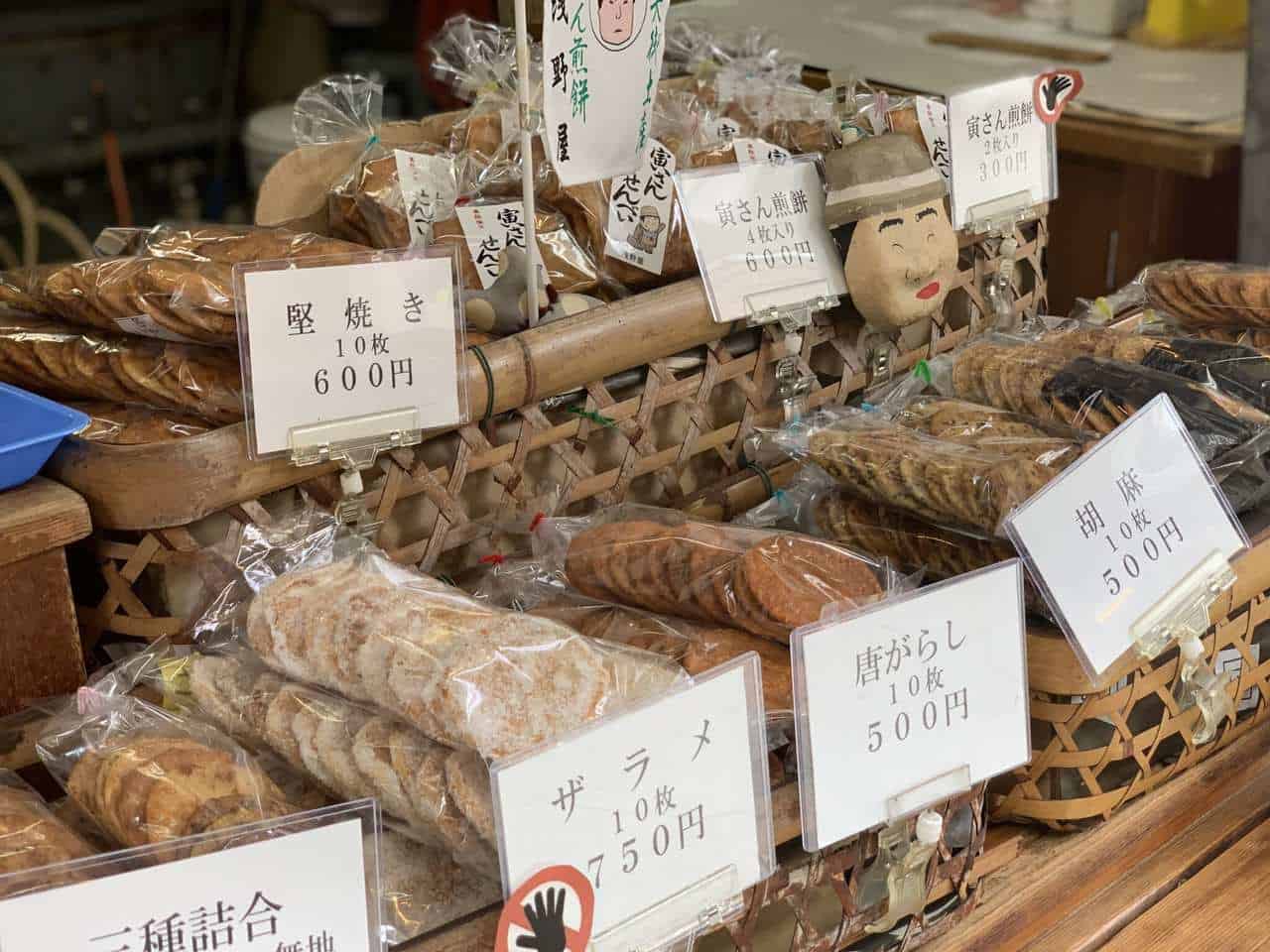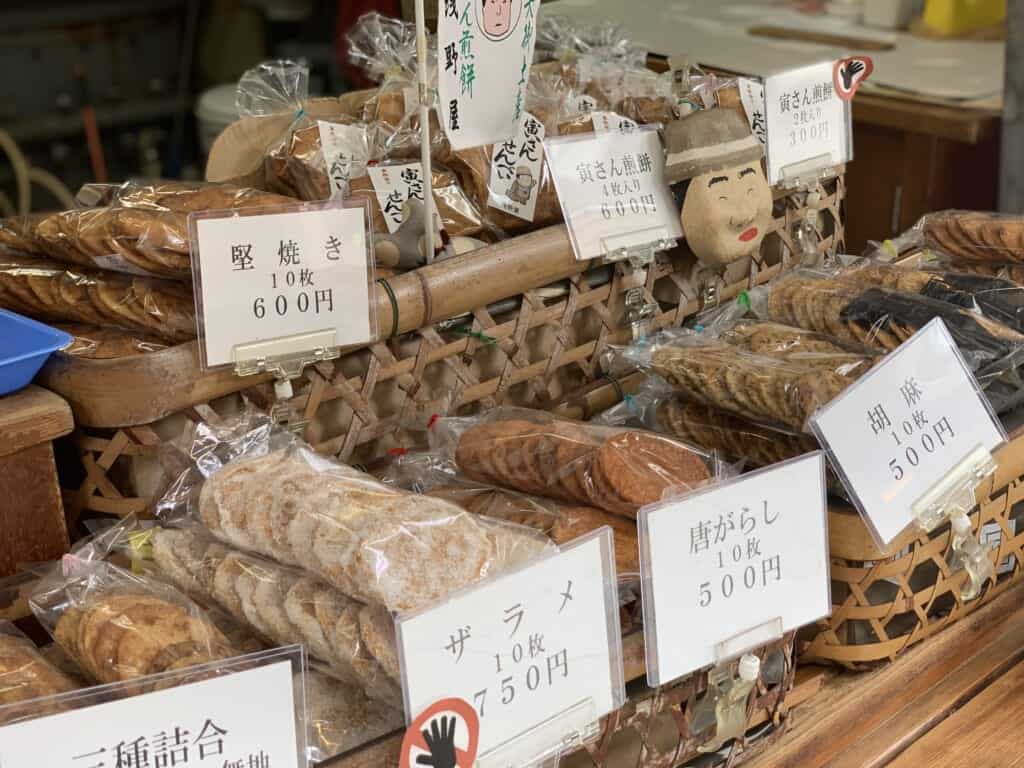 Our personal pick was the black sesame, because, well, when isn't sesame a good choice? The unfiltered nutty flavor was a real delight, and for only 60 yen, I left feeling like (a very satiated) thief.
Kameido Masumoto Suzushiro: Umami-packed Rolled Omelets
Just a bit further after this, you'll have reached the end of the street and our (almost) last stop, Kameido Masumoto Suzushiro (亀戸升本 すずしろ庵). Firstly, you should take a moment to appreciate the shop's exterior. The fusion of modern and traditional makes this funky little joint stand out a bit from the rest of the vendors along Taishakuten-Sando, but don't be fooled — despite having opened in 2019, their tamagoyaki is based on a centuries-old family recipe from their original Kameido Masumoto shop opened in 1905.
Steaming hot and served in a handy little cup, Kameido's rolled omelets may well be the best I've ever had. Ever so slightly sweet, perfectly salty, and packing an insane amount of umami, the depth of flavor in this little treat is unrivaled. The dashi, or Japanese fish stock, was so clear and savory that I was caught completely off-guard. I even considered getting a second serving. Alas, I knew that there was still some more eating to be done, so with every ounce of self-restraint I had, I rounded the temple and began to make the journey back to Shibamata station.
Ishii: The Sequel (ft. Ice Cream!)
Apparently, I had exhausted my willpower pretty quickly because I ended up stopping at Ishii again for an encore: ice cream. It had gotten to be a little warmer by this point in the day, and suddenly, the frozen treat was calling my name. I suggest you don't skip out on it like I almost did, as it was oh so good. The tofu flavor is what I went with, and true to its name, it was overflowing with the earthy, sweet, soy flavor that I've come to adore.
Aside from tofu, Ishii's ice cream selection includes sea salt, matcha, black sesame, vanilla, strawberry, mango, and Japanese sake. I did quite an awful job at sharing my cone, so if you're feasting with a friend (or even if you're alone — I won't judge!), consider trying a few of the flavors. It's the perfect excuse to eat more ice cream!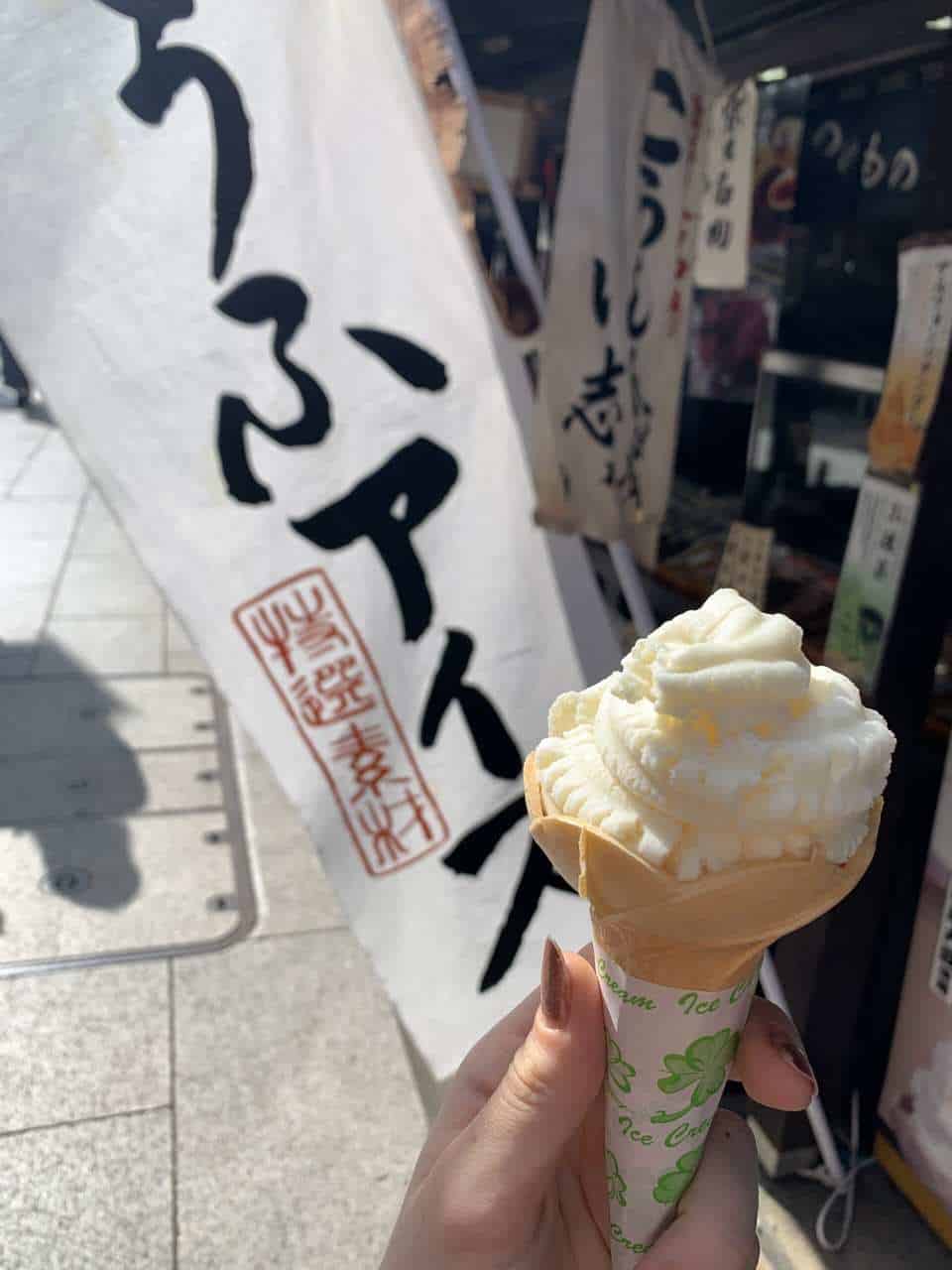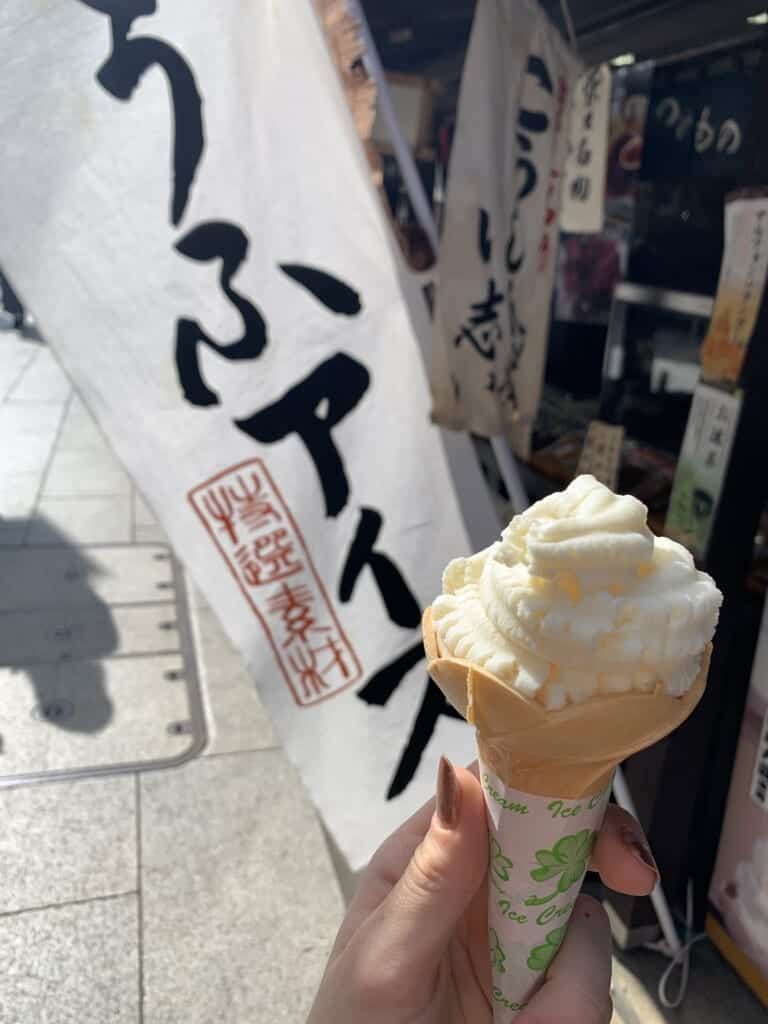 How to get to Taishakuten-Sando
From Kanamachi Station on the JR Joban Line, you'll need to take the Keisei-Kanamachi line to Keisei-Kanamachi Station, where Taishakuten-Sando will be just a 1-minute walk away. Alternatively, you can take the number 55 bus bound for Koiwa Station directly to Taishakuten from Kanamachi Station.
Still Hungry?
If your stomach's still not full by the time you've made it back to the station, the Keisei Kanamachi Line offers great access to Ueno and Asakusa, where you can continue your street-food adventure.
As you continue to wander your way back down Taishakuten-Sando, you may find yourself stopping for more kusadango or sweet potato yokan. While traditional Japanese street food is certainly worthy of a second helping, after you've munched to your heart's content, you can explore the rest of Shibamata. I'd highly recommend checking out some of the artisan stalls or mingling with the shop-tenders. The hand-made crafts being sold would make for some great omiyage, and the locals are extremely friendly. You might learn some things about the area that you won't find anywhere else!